Many people will hear of the Greek island of Rhodes and immediately think of long sandy beaches and a hedonistic nightlife scene. You wouldn't be wrong for thinking Rhodes offers this too, but there's so much more to Rhodes than meets the eye. Our guest author Rebecca Hall shares her tips on things to do in Rhodes, and why the Medieval Old Town is one part of the island that culture lovers shouldn't miss.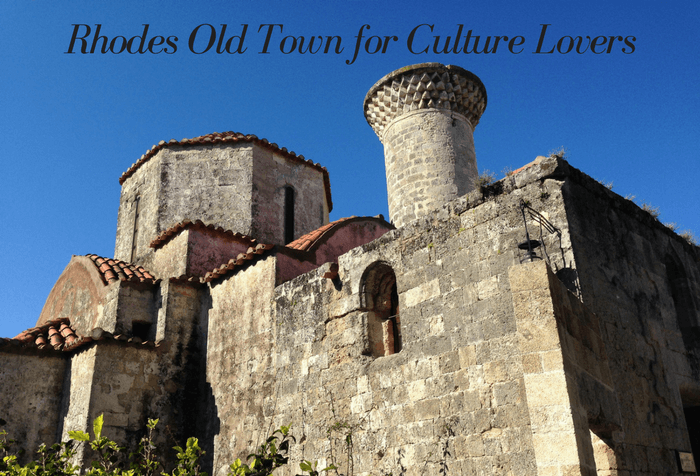 Rhodes Old Town – a UNESCO World Heritage site
The Medieval City of Rhodes was designated World Heritage status in 1988. It's the oldest inhabited medieval old town in Europe, with local people still living here. One thing to remember; as you enter through one of the eleven gate entry points, you will get lost, and that's OK. With over 200 winding, cobbled streets and lanes, some with no name, it makes navigating the area quite fun…but maybe take a torch at night.
You may also enjoy: 20 fabulous things to do in Paxos, Greece
The main thoroughfare street is Sokratous, and 'all roads lead here' (more or less), so ask a friendly local to point you in that direction and you're sure to end up where you need to be. Also, remember that Rhodes Town—with its walls and winding streets—was designed for invading pirates to get lost. So go with it and enjoy!
Things to see and do in Rhodes Old Town
The 'must do' activity in the Medieval Old Town is a visit to the Palace of the Grand Masters. Built in the 14th century by the Knights of St. John, it's prominent due to its round towers either side of the imposing arched gate. Originally with 158 rooms, now the visitor can view merely 24, however it's well worth paying the €6 to visit them. You'll see antique furniture from the 16th and the 17th century, stunning multi-coloured marbles, sculptures, carpets and fine Oriental vases. The Grand Reception Hall and Ballroom on the ground floor are also magnificent.
Walking the castle walls of Rhodes Old Town
On a beautiful sunny day, I love taking a slow walk atop the castle walls. The entry is just beside the palace and costs only €2. It's only open Mon-Fri 10 am-3 pm, however for a bird's eye view of the city below you, this hour long walk takes in many sites including the harbour. It's not a circular walk. You will exit your walk just by St. John's / San Francisco / Kokkini (meaning red) gate (depending on which local you speak to.) Just to confuse issues the gates all tend to affectionately have their own names.
A walk around the castle moat in Rhodes
Equally enjoyable is a walk down below – the exact opposite of the walls, this time around the moat. The lush, well-tended gardens are a wonderful breeding ground for parakeets, birds, wildlife, butterflies and you'll also see bastions, artillery firing posts, low case mates and long ramparts. Coupled with random underground passages dotted around, the moat feels like a true adventure waiting to be explored. It's free of charge, open 24/7 and makes a perfect place to go and jog at sunrise/sunset.
Need a guide book for Rhodes? Take a look at the Rhodes Marco Polo Pocket Guide
Where to stay in the Old Town
Despite the recession and economic crisis in Greece, there has been an upsurge of boutique establishments opening their doors, and where better to stay in a boutique hotel than within a Medieval Old Town? There are so many lovely hotels in Rhodes and here are a selection of my favourites:
Stay at Kokkini Porta Rossa in Rhodes Old Town
This hotel is located by the previously mentioned San Francisco or St. John's Gate, Kokkini Porta Rossa literally translated as 'The Red Door' and, as I'm sure you've guessed, is distinguished from the outside by the red door at its entrance. Enter and you'll gasp at the lovingly restored Turkish Mansion with grand piano in the reception area – and then take a seat in the sun dappled courtyard, sipping your homemade chilled tea before being shown to one of the six exclusive suites.
The 50 sq m suites are restored to showcase their former grandeur, with extras such as a pillow menu, tablet in each room with personalised recommended things to do. With a freshly prepared four course breakfast each morning using local products, Kokkini Porta Rossa is the luxury choice to stay in Rhodes Old Town.
Check prices and book for Kokkini Porta Rossa
Recommended for: Honeymooners, anniversaries and special occasions
Stay at In Camera Art Boutique Hotel in Rhodes Old Town
Right in the heart of the Old Town – Sofokleous Square to be exact – lies a traditional Greek house restored in a way to respect both the environment and culture, yet with a modern twist. The owner of In Camera Art Boutique Hotel is a multi-exhibited, award-winning photographer and each of the seven suites are named after one of his exhibitions.
They offer a special selection of carefully chosen art photos, as well as an exposition of the various cameras that have been used over these years by the photographer. Together with its unique décor (there's even an old hammam bathroom in one of the suites) In Camera Art Boutique Hotel makes for an exclusive stay.
Check prices and book for In Camera Art Boutique Hotel
Recommended for: Honeymooners, anniversaries and a perfect location inside the Old Town.
Also recommended are Spirit of the Knights Hotel—a class of its own and Zacosta with its cute bougainvillea covered courtyard, both within the walls of the Old Town, a stone's throw from the Mosque.
All in all, Rhodes Old Town is a stunning place to either spend an afternoon in, or splash out and treat yourself to spending a couple of days living like a king and queen.
Getting to Rhodes
You'll find good charter flight connections in the summer months to Rhodes Airport from the UK and other Northern European cities. There are also several daily connections from Athens, thanks to Ryanair having a base in Athens and local award-winning carrier Aegean.
About the author: Rebecca Hall left the UK to teach in Greece, fell in love with the country and is now a full time travel writer living in Athens. She writes for Rough Guides, Huffington Post and numerous other publications as well as on her blog at Life Beyond Borders. You can also follow Rebecca's travels on Facebook, Twitter and Instagram.

Check out Rebecca Hall's debut novel Girl Gone Greek, which draws on her experiences of Greek life and culture. The book is a lighthearted account of her alter ego Rachel's time teaching in a remote Greek Village where she falls in love with the unconventional characters and local culture. If you're looking for a holiday read or a bit of escapism, Girl Gone Greek will instantly transport you away to the sunshine.
Pin It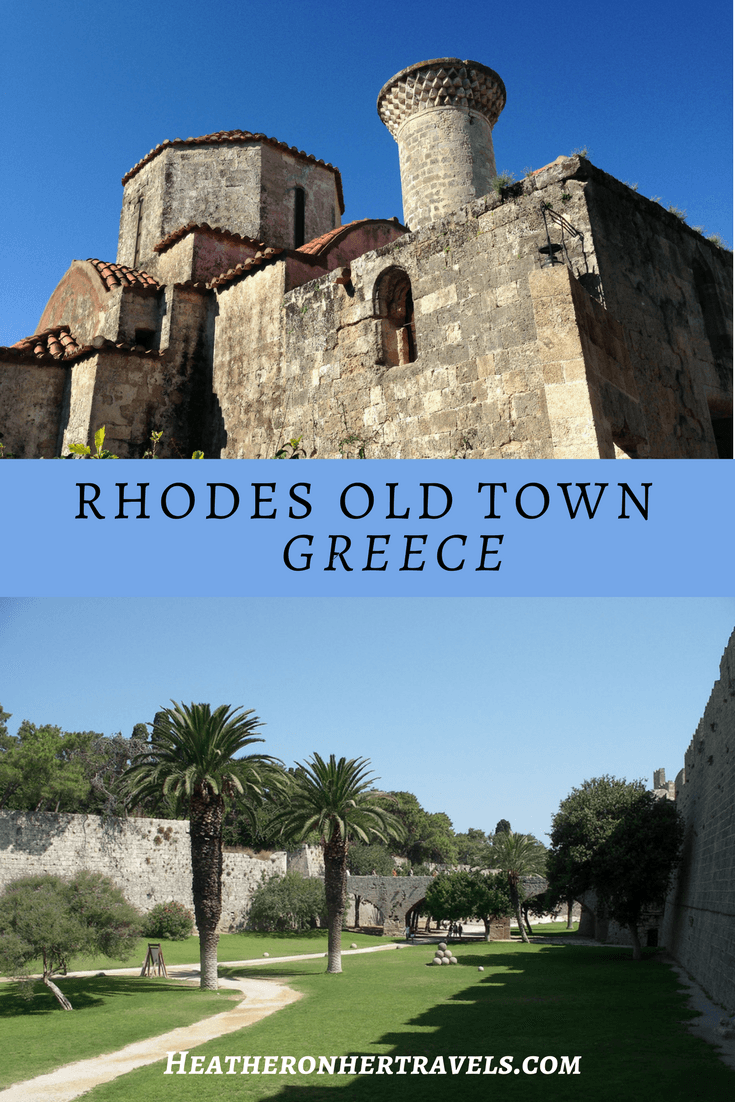 Photo credits: Palace of the Grand Masters by Arixaa, Castle Moat by Shadowgate, In Camera Art Boutique Hotel by InCamera.gr, Other photos by Rebecca Hall
Some of the links in this article are affiliate links which earn me a small commission that supports this blog.
This article is originally published at Heatheronhertravels.com– Read the original article here