The wines of this island in the Atlantic ocean were drunk by Shakespeare and it features in Greek legend as the island of Atlantis, governed by the god Poseidon. We're talking of course, about Tenerife, the largest of the Canary Islands, which is part of Spain, even though it's situated off the coast of North Africa. Tenerife is well known for beaches and sunshine, but you'll also find UNESCO World Heritage Sites, surreal volcanic landscapes and ancient forests.
Just four hours flying time from UK, the island has a year-round, subtropical climate, offering world-class surfing, golf courses, and some challenging and historic walking routes. Our guest author Linda Wainwright has lived on Tenerife for 30 years and uncovers its rich cultural life and traditions, the hiking routes and cuisine. In this article we've partnered with Iberostar.com, who offer 4 and 5 star resorts on the island of Tenerife. Read on to discover all the things to do in Tenerife that we recommend;
1. Hiking in the Anaga Mountains, Tenerife
The island known today as Tenerife was formed by volcanic eruptions over millions of years. The Anaga Mountains on the north-east tip, home to those Tertiary Age forests, is one of the oldest parts of the island. Here trade winds meet mountains, and descend like fairytale mists, creeping through the trees.
It's often chillier and damper than other parts of the island, and if hiking doesn't appeal, it's a beautiful drive, curving along mountain roads from one side of the island to the other. Take the road above the famous white-sand beach of Las Teresitas, just ten minutes from capital Santa Cruz, and lunch on fresh fish and seafood in Benijo on the other coast.
For those who enjoy hiking in Tenerife, there are walks for every level, from challenging coast to coast hikes, to family strolls, like La Ruta de los Sentidos (the Path of the Senses). In suspect weather, stop at the information centre in Cruz de Carmen, where many routes begin, and they can advise which areas and trails are better on the day. Walking in Tenerife is a great way to learn about the history and environment, and two tour companies we recommend are Patea tus Montes and Teno Activo.
2. Visit the Tiede National Park, a UNESCO World Heritage Site
To see the mountains of Anaga one day, and those of the Teide National Park the next is truly a study in contrasts. Declared a Unesco World Heritage Site in 2007, Mt Teide is Spain's highest peak and sits in an other-worldly, volcanic caldera, often described as a lunar landscape. After 30 years, these weird shapes, that look as if they belong in a sci-fi movie, still take my breath away.
The caldera is criss crossed by walking trails and well sign-posted. As in Anaga, the island microclimates mean that you can go from sunshine to mist within a very short distance. There are well-run information offices at each end of the road which traverses the crater, in El Portillo coming from La Laguna/Santa Cruz, or opposite the iconic Roques de Garcia rock formations coming from Costa Adeje or the south west. Remember that you are at around 2,000m so altitude is to be considered, but the terrain is mostly flat.
If walking isn't on your menu, it's still a magnificent drive. I take visiting friends up via one route, and back down via another, leaving them in awe of the variety of scenery they've seen. More information on tours and activities.
3. Wander the streets of Santa Cruz de Tenerife
The island capital of Santa Cruz in Tenerife, has a wealth of history dating back to the 15th century, with architecture to match in the carefully restored houses of wealthy, colonial merchants. The stunning Auditorio de Tenerife, designed by Santiago Calatrava, opened in 2003. It's home to the Tenerife Symphony Orchestra, offering an autumn/winter opera season, as well as jazz festivals, world music, plays and concerts.
Tenerife was a centre of trade following its conquest by Spain in 1496, and the island's history was entwined with the British Isles, long before tourism was invented. Perhaps the most famous connection is the Battle of Santa Cruz in 1797, when Horatio Nelson lost his arm, an event marked each July by re-enactors. Last year I was invited to participate in the inaugural excursion of Living Tenerife Tours, a city tour company specializing in tours based on the shared history, which brought history alive for me. Read Linda's review of Living Tenerife Tours.
You may also enjoy: Cesar Manrique and the volcanic island of Lanzarote
I was recently introduced to a restaurant I'd never noticed, yet said to be one of the oldest in the city. Tucked away in a side street, but close to the main thoroughfare, Calle Castillo, I swooned over the carefully restored ambience of La Hierbita, where polished floorboards creaked, and traditional dishes took star place on the menu..
Where to stay in Santa Cruz de Tenerife
Iberostar Grand Mencey is a 5 star luxury hotel just 10 minutes walk from the city centre in Santa Cruz. This historic hotel has played host to many celebrities over the years, with elegant and contemporary rooms and a chance to relax in its gardens, pool and spa. Take a look at this and other Iberostar 4 & 5 star hotels in Tenerife.
4. Explore La Laguna in Tenerife – UNESCO World Heritage Site City
The original capital of Tenerife wasn't Santa Cruz, but San Cristobal de la Laguna, founded in 1497 and declared a UNESCO World Heritage Site in 1999. The heart of this small city is the area around The Church of the Conception (with its impressive bell tower, which you can climb) and the Cathedral. It's easy to navigate on foot. In fact, the town plan was used as a model by the Conquistadors in South America. Travellers often remark that they feel as if they are on that continent rather than in Europe.
La Laguna is also a university city, with a creative vibe, trendy cafés and bars (with plenty of vegan and vegetarian choices) and a certain energy. The university is sited on the outskirts, the more modern extension of the city, where you will also find the Museum of Science and the Cosmos.
Good times to visit are Easter for the traditional processions, and the city's feast day on the second Sunday in July, when folk groups come from around the island to take part.
5. Golf in Tenerife – Play all 7 golf courses!
Golf courses in Tenerife have proliferated over the years. There was just one when I arrived, and now there are 7, plus some 9 hole courses. If you are mad for the sport, then you can in theory play a different course on every day of a seven day trip. It goes without saying that the climate (this is not nicknamed the island of eternal spring for nothing), makes it the ideal choice in winter.
In the north there are the original Club Real de Golf founded in 1932, and the new course in Buenavista del Norte designed by legendary golfer Severiano Ballesteros. To anyone staying in Santa Cruz, Puerto de la Cruz or Garachico, the coastal road affords easy access (and a very pleasant drive, overlooking the ocean and out to the island of La Palma). Visitors to the popular south west coast of Tenerife have no less than five courses lying between the airport and the resort of Los Gigantes.
You may also enjoy: Discover an unexpected side to Ibiza
Where to stay in Tenerife for luxury lovers
Iberostar Grand Salome is a 5 Star boutique hotel in Tenerife, offering a romantic getaway on the seafront at Costa Adeje. The 33 suites have been recently refurbished and this is an Adults Only hotel offering stylish, contemporary decor, with butler service and Mediterranean dining overlooking the sea. Take a look at this and other Iberostar 4 & 5 star hotels in Tenerife.
6. Whale Watching in Tenerife on the South Coast
Waters around the Canarian archipelago teem with ocean life, and nowhere more than the channel between Tenerife and La Gomera. These nutrient-rich waters attract whales, dolphins, turtles, rays and countless fish. The adventurous might choose to dive, but most prefer to view from the comfort of a boat or catamaran. Excursions sail from the marinas of Las Galletas, Los Gigantes and Los Cristianos, but the majority can be found in Puerto Colon in Costa Adeje.
A personal favourite for whale and dolphin watching in Tenerife is Atlantic Eco Experience, a small boat with a marine biologist guide, who explains the pilot whales' behaviour. Mostly I am a fan because they drop a hydrophone over the side. Listening to the clicks and whistles the dolphins make as they play around us, our guide, Misael, explaining what the different sounds were, enhanced the experience immeasurably.
If you prefer a more gregarious excursion on one of the bigger boats, please remember to choose an accredited boat which respects the animals and the local laws which protect them. They fly a yellow "blue boat" flag which is easy to spot.
Where to stay on Tenerife's South West Coast
Iberostar Sabila is a tranquil 5 star Adults Only hotel, with bright, modern decor, with three pools overlooking the sea. This is a luxury all inclusive hotel with seven specialist cuisines to choose from in its bars and restaurants and is well situated for all the beaches and boat trips from Tenerife's South West Coast. Take a look at this and other Iberostar 4 & 5 star hotels in Tenerife.
7. Wine tasting in Tenerife
Blessed by sunshine and rich, volcanic soil Tenerife's hillsides are perfect for vineyards, and wine has been produced here for centuries. "A cup of Canary" is mentioned in several Shakespeare plays, and George Washington kept a supply in his cellar. For wine tasting in Tenerife, visit the Museum of Wine in El Sauzal on Tenerife's north coast, to discover all about the history of wine in Tenerife, and allow you a tasting at a moderate price. There is also a highly recommended restaurant.
Several vineyards also now do their own tours, the best-known being the Bodega Monje also in El Sauzal. I am lucky to be 15 minutes from my own favourite, Cumbres de Abona in Arico on the east coast, which recently garnered several awards. They do tours by appointment, as do Brumas de Ayosa in Arafo, and both include a very generous wine tasting in their price!
If vineyard visiting isn't on your agenda, do try local wines when eating out. Following a slump in the early 20th century, the industry has been making a big comeback over the last 20 years or so. Originally famous for sweet, white wines, the island now offers a good selection of world class wines.
8. Visit Icod de Los Vinos in Tenerife
Speaking of wine, there is no doubt in my mind about the best time to visit the northern town of Icod de los Vinos. It is, specifically, November 29th the eve of St Andrews Day, when the new season's wines are celebrated, and streets are closed as children and teenagers whizz down almost vertical, cobbled streets on wooden sledges. It's crazy, it's fun, and, basically, it is a huge street party, best experienced in the evening, when thoroughfares are closed to traffic, and fill with chestnut vendors and other stalls.
If you can't make it in November, Icod de los Vinos is still a town worth exploring with the celebrated Dragon Tree, the stuff of legend, which is at least hundreds of years old; a butterfly museum; a fascinating doll museum; pretty squares in which to chill, and several bars offering good, traditional Canarian dishes. It's a town I love to stroll.
9. Visit Cueva de los Vientos – Tenerife's Underworld
In the hillsides above Icod de los Vinos is one of my very favourite places, la Cueva de los Vientos (the Cave of the Winds), and yet it's relatively unknown. The cave is the 4th longest lava tube in the world. The 3 larger are in the Hawaiian Islands, that other volcanic archipelago, making this the largest in Europe. The caves in Tenerife are certainly not for anyone who suffers from claustrophobia, and as tourist destinations go, it is very low key. Tours are limited in both size and number per day in order not to disturb the amazing subterranean environment. As little as possible has been touched, and there are no lights, we wore headlamps, and at one point turned them off to experience total darkness.
The guides are very knowledgeable, creating an experience which makes you feel as if you have visited another world.
If you want a taste of great, Canarian food after your visit, one of my favourite traditional restaurants, La Barca, is close by. Family run, they serve fresh local produce, including fish delivered daily straight from the boats which dock below in the bay of San Marcos.
You may also enjoy: Discovering Menorca's prehistoric past – the Talayotic culture
10. Garachico – Tenerife's pretty northern town with rock pools for swimming
Of course, in this day and age, nowhere is really secret, yet the northern town of Garachico in Tenerife manages to stay low key and quiet. This town was a thriving port until an earthquake in 1706 almost destroyed it, the path of the lava can still be clearly seen on the hillsides above the town. After the quake, Santa Cruz became the main port, and the people of Garachico set about rebuilding their town, making it one of the prettiest on the coast.
On summer weekends local families flock to the shoreline to cool off in the natural rock pools left along the coast when the tide goes out, but, fiestas apart, the tranquil atmosphere prevails. I usually try to visit the Craft Fair in July when crafts, art, and food and drink both traditional and innovative are on display.
Eateries in Garachico these days are varied and high standard, but the one that stands out for me is Restaurante Arístides, where seasonal produce is used to create dishes based on traditional recipes. It's original and yet highlights the abundance of island cuisine.
11. Tenerife's delicious food – here's what to try
Along with wine, Tenerife has a long exported the abundance of its subtropical climate. In the early 20th century, so much was exported to the UK that a whole area of London Docks was named for the archipelago – Canary Wharf. The three principal crops were bananas, tomatoes and potatoes, and these still feature largely in local dishes.
Papas arrugadas (wrinkled potatoes) served with spicy sauces (mojos) are found everywhere, from family bars to avant garde restaurants. Fish and seafood of course are integral to coastal cuisine, and in the hills goat stew and rabbit are still traditional.
Recent years have seen a massive growth in both haute cuisine, and trendy vegan and vegetarian eateries, most of the latter taking advantage of the variety of fresh produce available year round. If you are a cheese lover you will love to sample the local varieties, most of them goats cheese, which constantly win international awards.
12. Carnivals in Tenerife – join the fun of the fiesta
It's an event which largely escapes notice outside of Spain, but the Santa Cruz Carnival is second in size only to Rio, and is an overwhelming experience, which should be experienced once in a lifetime. If you dislike crowds, then you can find smaller versions around the island, in the weeks following the big procession in Santa Cruz on Shrove Tuesday. The main places to see the Carnivals in Tenerife are Puerto de la Cruz, Los Cristianos and Los Gigantes, but many towns have their own versions.
The town which gives its name to Costa Adeje, in the hills above the resort, hosts one of the island's more remarkable events, an Easter Passion Play, which takes place along the main street. Only the figure of Christ is played by a professional actor, with the rest of the cast made up of local citizens. It is an impressive experience, even for those who are not especially religious.
Every town and village has its own saint's day and fiesta, and it would be too much to name them all. You might come across one by chance as you drive around, but places to especially note, as well as those already mentioned are Tegueste, Puerto de la Cruz and Tejina in the north, and Candeleria on the east coast.
These fiestas, are mainly in the summer months, but those which attract many visitors are the feast of San Sebastian in Adeje in January when farmers take livestock to be bathed in the ocean on the beach of Enramada in Costa Adeje, and the annual Romeria in Arona, also January. Transport is usually laid on for the latter, and your hotel should be able to help with dates and alternative transport.
Where to stay in Tenerife
If you are looking for hotels in Tenerife, check out Iberostar Hotels, who offer some of the best 4 & 5 star hotels in Tenerife. With seven stylish hotels on Tenerife, Iberostar offer something for all tastes, from the historic Grand Mencey and the boutique adults only Grand Salome, to the lively Las Dalias that's perfect for families.
Visitor Information for Tenerife
For more information to plan your holiday in Tenerife, visit the Tenerife tourism website and Canary Islands tourism website.
International flights arrive in Tenerife South Reina Sofia airport, while Tenerife North airport is for domestic and inter-island flights. Numerous airlines offer flights from the UK and Europe to Tenerife, including British Airways, Easyjet, Ryanair, Jet2.com and Thomas Cook.
Looking for a guidebook for Tenerife? We recommend the Pocket Rough Guide to Tenerife and La Gomera
Map of Tenerife
You can find all the places mentioned in the article on this Map of Tenerife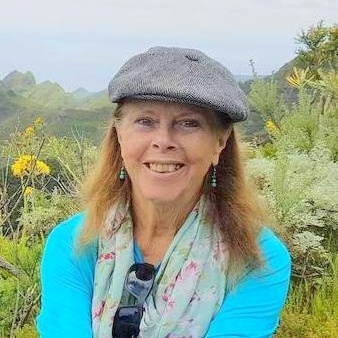 About the Author: Our Guest Author, Linda Wainwright is a blogger at IslandMomma where she writes about life on the island of Tenerife and other travels. Thirty years ago, Linda transplanted from the flatter, damper scenery of north west England to seek new challenges and a healthier life for her children in the Canary Islands. When she became redundant just short of retirement age, her nest having emptied, she began to write and blog, creating a new life for herself. Having reached the watershed age of 70, Linda uses IslandMomma to brings you stories of life and travel in third age. You can also follow Linda's travels on Instagram | Facebook | Twitter | Pinterest
Pin it
Advertising Feature – This article was sponsored* by Iberosar.com
* More info on my policies page
Photo Credits: All photos by Linda Wainwright except Garachico and Garachico pools CC Pixabay
This article is originally published at Heatheronhertravels.com – Read the original article here