One of my favourite games is to dream of the places that I might travel to, the things I could see, imagining the pleasure of sharing the experience with friends and family. Let's face it, at this time of year when the days can be dark and cold, we could all use a little escapism, to imagine ourselves in a place with blue skies and sunshine or at least one that has new and fascinating possibilities. HomeAway have come up with a clever game to help with the daydreaming in a Places to see before you die micro-site which allows you to plug in your interests and see what places you could visit at each age of your life.
To give it a try, I put in my age and location, then selected some of the things that I enjoy such as culture, gastro, activity. To be honest I love doing a whole range of things depending on where I am and who I'm with, but the things I didn't bother to tick were clubbing (I leave that to my kids), shopping (although I love searching out local crafts), beach (love walking along them but not so good at relaxing) and romantic (although I enjoy spending time travelling with my husband).
Here's the link to my passport page
I was impressed to discover that I would be travelling until I'm 82, and why not? My parents are in their late 70s and are always off somewhere interesting, and they were the ones that gave me the travel bug from our family camping trips around Europe. Here are  the HomeAway Places to see before you die recommendation for me and what I thought of them.
When I'm 56 I should visit the Dead Sea in Israel/Jordan
The Suggestion: Bordering Jordan to the east and Israel to the west, the Dead Sea is a unique body of water that lies 423 metres below sea level. That alone ought to make the Dead Sea an intriguing proposition, but its peculiarities don't just end there. With a salinity level of 33%, the Dead Sea is one of the saltiest bodies of water in the world
My Thoughts: Israel and Jordan are both on my bucket list, ever since I spent a week in Lebanon a few years ago. I know that in the Middle East the hospitality is boundless, the people incredibly welcoming, the culture rich and the landscapes varied. I suspect that rather than spending much time drifting around in the Dead Sea, I'd have a quick dip and then get my hiking boots on to explore some of the desert and mountain landscapes of this part of the world.
When I am 61 I should visit Meteora in Greece
The Suggestion: Situated in Thessaly, central Greece, Meteora is one of the world's more unusual destinations. Famed for the ancient monasteries which sit perched atop its cloud-topping rock towers, it's a fantastic spot for those seeking a rural retreat in the mountains; and those looking to discover some of Greece's finest natural landmarks.
My Thoughts: My sister lives on the Greek island of Zakynthos, where I visit her each year. Many years ago, when we were en route to her wedding to her Greek husband, my younger sister and I took a detour through northern Greece. I do believe that we may have visited Meteora or at least some of the rocky peaks and villages of this area, although I know that in some of them women are not allowed. I'd be very happy to go back, perhaps in the spring or autumn and link up with my Greek sister for a stay in the mountains.
When I'm 67 I'll be visiting Socotra Island, Yemen
The Suggestion: Made up of four islands in the Indian Ocean, Socotra is an amazing archipelago; an area of isolated, alien landscapes. Famed for its plant life, a third of which can be found nowhere else on earth, its main island Socotra sits amidst three smaller and stranger isles; Samhah, Darsa and Abd al Kuri.
My Thoughts: Yemen is also a place that's on my list to visit at some point and hopefully by the time I'm 67, some of the political volatility in this part of the world will have calmed down. I've heard that Socotra is one of the safest areas of Yemen to visit and I was fascinated to read what my friend Anil from Foxnomad had to say; It's sort of like evolution got bored with the rest of the planet and decided to drop acid while creating the four-island archipelago. However I probably won't wait until I'm 67 as my spirit of adventure may be waning a little by then.
When I'm 70 I should visit Sapporo, Japan
The Suggestion: Japan's city of Sapporo is famed for a number of things. It boasts the country's oldest beer (Sapporo Draft has been around since 1876), it's the capital of Hokkaido (where the indigenous Ainu people are now settled), and it's home to the Sapporo Snow Festival, which takes place every frost-laden February. Hats and scarves at the ready!
My Thoughts: This is one suggestion that I'm not really sure about. Although in a detatched way I find Japanese culture fascinating, it's not a destinations that would be top of my list. The thought of discovering the country's oldest beer is not especially enticing, although I can see my husband knocking back a few pints, and I'm afraid that I can happily miss out on frost-laden February, as I am more of a sunflower, gravitating towards warmth and sunshine when I travel.
When I'm 82 I should visit Jerusalem, Israel
The Suggestion: Not only is it the capital city of Israel, but one of the most important holy cities to the religions of Christianity, Judaism and Islam. Brimming with historical sites, it's one of the oldest cities in the world, and known as the 'City of Gold' in Hebrew. When you're looking for a destination where glistening skyscrapers sit aside first century dwellings, head for Jerusalem.
My Thoughts: As a Catholic, I would love to visit the Holy Land, in fact I'm not quite sure why I haven't already been as I enjoy connecting with my faith through pilgrimage travel. I'd love to experience at first hand the melting-pot of cultures and religions and to feel the history of the place, to walk where Jesus walked, and connect with what happened there centuries ago.
I've picked out the places I fancied most, but there were also some other suggestions that I might try in the future;
St Helena, the volcanic island in the Atlantic that I'll be visiting when I'm 64
Rome, Italy I'll be visiting when I'm 73
Vienna, Austria I'll be visiting when I'm 76
Knossos, Greece I'll be visiting when I'm 79
If you would like some inspiration for the places you could visit in the future, do check out the Places to die site from HomeAway.
More Travel Inspiration
A culinary tour of Israel
St Anthony's monastery in Lebanon
More than Moussaka – some delicious Greek dishes to try
This article by Heather Cowper is originally published at Heatheronhertravels.com – Read the original article here
You'll also find our sister blog with tips on how to build a successful travel blog at My Blogging Journey
 Don't miss out – subscribe to Heather on her travels
April 10, 2013 by Heather Cowper
Filed under Art and design, Eating and drinking, featured, Japan, Leisure, Podcasts, Shopping, Sightseeing, Street art, World
In Travel Podcast Episode 27, I talk to La Carmina; fashion blogger, TV host and expert in Japanese street style, about Tokyo. We find out where to shop if you'd like to dress in Gothic style or as an antique doll from the forest. Hear about the Tokyo theme restaurants that will give you a night out you'll never forget and some of the more extreme body modifications like snake tongues and bagel heads, as well as hanging out in Cat Cafes and finding things that you can enjoy in Tokyo with the family. Even if you've never thought of Japan as a place to visit, you'll be fascinated by all the cool and quirky things that La Carmina recommends in Tokyo.
Podcast: Play in new window | Download
To subscribe to all my podcasts in ITunes click here
If you enjoyed this podcast, check out all my other Travel Podcasts in my Podcast Archive
An Introduction to La Carmina
La Carmina lives in Vancouver in Canada, although her family is originally from Hong Kong. As a child, she travelled widely in Asia with her family and started to fall in love with Japanese street style, the cute Hello Kitty culture, the punk and Gothic styles and Harajuku. Her experimentation with crazy fashion continued when she went to college in New York and she started blogging to share her photos and fashion style. Since then she has written books and worked on TV shows about Japanese street culture. You can follow her on her blog at La Carmina.
So what makes Tokyo unique and special?
There's something for every type of traveller in Tokyo. Whether you love fashion and nightlife or whether you want to go for adventure or relax with the family, Tokyo has it all. The food is wonderful and the people are so nice. Of course it can be a bit of a culture shock – the movie Lost in Translation sums it up. It's hustle and bustle, neon lights, and people don't necessarily speak English so it can be a challenging place. But if you give Tokyo a try, it can be an eye opener and shock you out of your comfort zone.
Which areas should we explore in Tokyo?
Ideally you'll want to stay a minimum of 5-7 days to explore some of the main Tokyo neighbourhoods as well as take some day trips. La Carmina recommends that people stay in Shinjuku, because it's the hub for the famous subway system and the bullet train. Shinjuku is also an area where there are a lot of great restaurants and nightlife, and only one stop away on the subway is Harajuku, famous for the Harajuku girls who pose in their Gothic and Lolita fashions. Also nearby is Shibuya, where you'll find shopping, the trendy Gal culture – it's shopping central.
Getting around in Tokyo
The subway is the best way to get around unless you can afford the taxis, which are very expensive. If you're not careful a 20 minute taxi ride could blow your entire budget for the week! On the other hand the subway works very well, the trains come very frequently and are always on time. However you need to remember that the subways stop running between 1am and 5 am so if you are going out late, make sure you have a ride back or you plan to stay out all night, otherwise you could get stuck.
Tips on Japanese etiquette
Everyone knows that the Japanese are very polite and always bowing, so when in Tokyo you should try not to be too loud. On the subway it's considered rude to speak on your mobile phone – you can text message but otherwise you should only be whispering. The subway is not the place for you to be chattering loudly with your friends. Then there's food etiquette, for instance you should not put your chopsticks into the bowl of rice so they stick up vertically, as this is a symbol of death and you don't want to be thinking of death as you eat.
How do you describe your fashion style?
My look is influenced by so many Japanese street styles. There are so many different tribes and fashion sub-groups that have a particular fashion outlook. For example there are the J-Rocker or Visual Kei group, then there are the Goths, the Punks, and also groups that only exist in Japan like the Mori girls who look like antique dolls that live in the forest like Hansel and Gretel. It's fascinating to walk through Harajuku and see the stores that carry these designs and see the teenagers all dressed up. I personally like to mix up all these styles, but I don't associate with any particular one group or style as I find them all fascinating. I like to find my own personal style and I don't like having rules for ways to dress. Sometimes these fashion sub groups are very strict about wearing things a certain way and that's not for me.
Harajuku – the place to see and be seen
I love Harajuku, it's a great place to go, even if you're not into fashion. It's a wonderful place to people watch, to just sit in a cafe and check out the scene. I'd recommend taking the train to Harajuku station and go down Takeshita-dori, which is a narrow street with a colourful arch over it. Down there you'll find all these bizarre, quirky, wonderful stores, that sell toy accessories, colourful bracelets, crazy stockings. Walk through there and browse around. There's also the famous Jingu Bashi bridge in Harajuku, where young people come in their flamboyant costumes and styles to pose for photos. It isn't as popular a hangout as it used to be but you'll still see people there, especially on Sundays. You can't go wrong if you stop in Harajuku and walk around – you'll see crazy fashions and you'll find something funny to buy.
Shibuya for crazy clothes shopping
Shibuya is also a wonderful place to go, especially if you're into Gyaru or Gal fashion. For this style, the girls might have bleached blonde hair and wear shorts and boots; it's a trendy celebrity style and a lot of them have big doll-like eye-lashes. The main hub for these shops is a place called Shibuya 109 which is a craziest department store you'll ever set foot in. Once you walk inside, there are tons of little shops, each blasting techno music, it's a total assault on the senses. These cute Japanese shop girls are yelling at you to come into their store and try on the clothes. You wander around and see everything from hip hop to trendy to doll-like fashions. You'll find Shibuya 109 by the big red sign when you step out of the Shibuya subway station.
Designer fashion or vintage in Tokyo
If you're more into the high end fashions, then go to Omotesandō, which is also in Harajuku, just a few blocks away from the station. Ginza is also famous for being the ritzy part of Tokyo, you can find some beautiful fashions there from all over the world and I've seen some gorgeous kimonos on sale there. If you're into bohemian, vintage and young hippy fashion, there's a neighbourhood called Shimokitazawa, that not many first time visitors know about. It has a really laid back atmosphere, and feels a bit like college town with lots of cafes, tons of vintage stores and you can get some pretty good deals.
Cute inexpensive souvenirs
All my friends are happy when I bring back souvenirs from the 100 Yen stores, which are like dollar stores in the USA. However, where dollar stores can have a reputation for being full of junk, the 100 yen stores are full of colourful, unique gismos. You can get everything from cute stationary to bizarre cleaning products such as sponges shaped like teddy bears. When you buy something in these stores to give to a friend, they think, Wow! only in Japan. The most famous 100 Yen store is called Daiso and there's a big one in Harajuku, where you'll find an amazing selection of things you'll love.
Japanese foods to try when out and about in Tokyo
A lot of travellers know about the typical Japanese food like Sushi and Ramen which you can find everywhere. For a unique experience try the vending machines, where if you want to buy a bowl of Ramen or hot noodles, you would  punch in your order then get a ticket which you give to the cook to make your order. With Sushi you can go from the most high end $100 a meal to conveyor belt sushi, and although it's inexpensive, you're in Tokyo so you know the quality will be amazing.
Quick bites on a budget
If you're looking for a quick bite to eat on a budget, try the convenience stores. In the West nobody would dare to eat there but in Japan you can find delicious foods in the 7-Eleven stores. For instance, they serve rice balls with intriguing fillings such as plum or fish eggs and although you only spend $1-2 on these they can be a delicious and filling meal. They don't have any place to eat inside, but are full of little take-out boxes for rice balls and tofu platters. There are convenience stores on every block in major neighbourhoods, so stop by and grab something that will make a cheap and delicious meal.
Theme restaurants in Tokyo
The Theme restaurants in Tokyo are an  immersive experience – it's as if you are entering a theatre world and you are part of the play. Take the Monster Theme Restaurant which I went to quite a few times. As soon as you walk inside you are surrounded by jail cells, the waitress is wearing a skimpy nurse uniform and she handcuffs you, then she leads you to your table which is inside a jail cell and locks you up. Then when your waiter comes and you order a drink it might come in the form of a syringe or a bedpan and while you're eating, the monsters would run around, the lights would go off and the monsters would pop into your jail cell and scare you. It's completely over the top and you are a part of the experience.
To be honest the food is not the main draw, although it has got better as theme restaurants continue to pop up, creating more competition, so the restaurants started to put more emphasis on the quality of the food. The main thing that distinguishes the food is how quirky it is and how well it fits the theme. For example there's something called Russian Roulette Takuyaki which are octopus balls. You would be served 6 octopus balls but one would be filled with Wasabi which is green horseradish paste, which if you bite into it your head would explode. Everyone would take one octopus ball but the victim would be the one running to the bathroom, sweating all over.
Sounds scary, but where can I eat with my family?
There are all sorts of theme restaurants and not all are frightening. Some have a fairytale theme, for instance, there are Princess cafes where the guys would treat you like a princess, they put a crown on your head and bend to your every whim. There are Cat cafes and Dog cafes that pet lovers would love. In a Cat cafe you will have a dozen little kitty cats running around and you can play with them; you can hang out and drink your coffee and eat your cake with cats all around you. In Japan there's very little space in apartments for people to have pets, or they work too long hours, so a Cat cafe is a great way for them to have a pet for a few hours. On the other hand the dog cafe is where you bring your dog, and you can eat at the same table as your dog and dress them up, and even eat the same food as they prepare food that is edible for canines and humans.
Which Theme restaurant do you suggest for teenagers?
Teenagers might love the Ninja restaurant – you walk through secret passageways as if you were in a hidden Japanese cave, and the Ninjas are doing acrobatics and magic tricks at your table. They might serve you a desert shaped like a frog, or an appetiser where the fire travels down a string until it hits the appetiser which bursts into flames. Theme restaurants are also very popular with groups of friends and co-workers in Japan, as it gives them a chance to hang out and also something to talk about.
For a group night out my favourite restaurant is Kagaya, and it's impossible to describe if you don't want to ruin the surprise, let's just say that when you walk in it seems like a homey little restaurant/bar and the owner seems perfectly normal until he pops into a closet and comes hopping out, dressed in a frog costume, it's a bit of a surreal performance art. It's completely unpredictable, there are gags everywhere. He'll serve you beer and then the beer starts shaking so you can't drink your beer – that's just one of the 50 surprises that will happen all evening.
How about bars and nightlife in Tokyo?
A lot of tourists go to Roppongi and although I can't especially recommend it, it's the Disneyland version of Tokyo. If you want to hang out with other foreigners then Roppongi is the place where people let loose, but the locals don't really go there. It reminds me of a Las Vegas environment.
Another fun area is called Golden Gai in Shinjuku, it's a series of little streets packed with tiny bars, where you might only fit three people inside and each one may have something unique about it. One has a punk theme, another a Gothic theme and some offer Karaoke, so that could be an interesting place to bar-hop. If you want to try drinking something that's uniquely Japanese, try the Sake or the Soju which are the rice wines. I personally love cocktails that use a Yusu flavour, it's a Japanese citrus which is a cross between an orange and a lemon, it has a distinctive taste and it's very hard to get outside Japan, so be sure to check if they have any drinks that have a Yusu flavour on the drinks menu.
Where should I go clubbing in Tokyo?
For clubbing it depends what kind of music you like, and the sub group you associate with – there's an amazing music scene in Tokyo. They bring in DJs from around the world so whether you're into techno or into hip hop there will be a fascinating scene for you. I personally love the Gothic and alternative parties which are centred in Shinjuku, and my two favourites are called Midnight Mess and Tokyo Decadance. At the parties they play everything from classic Gothic to Industrial to Synth pop and everyone dresses up in these flamboyant, elegant Gothic costumes, they are some of the best parties I've been to ever, On the extreme side there are fetish and experimental nightlife events as well, especially one called Department H, inside you'll see people in head to toe handmade costumes and body-moders who do extreme modifications like snake tongues and temporary piercings all over their body or even bagel heads.
Sorry, did you say Snake tongues and Bagel heads?
Yes, a snake tongue is when you split your tongue in half, so that it now has two points instead of one, and the two points can flip back and forth or dart in and out like a snake. There are other temporary forms of body modification, for instance I've seen some people who get their mouth sewn shut; it's a half fetish, half body modification thing.There are  also suspensions, where people have metal hooks inserted into their backs, and then they are suspended above the ground and they can swing back and forth. Extreme as they are, these effects are temporary. In a society like Japan people can't go around in the streets with permanent body modifications and there's a great stigma against tattoos in particular, as they are associated with the criminal culture, that's why temporary modifications can be pretty popular at these events.
The bagel heads are created where you place a needle under the skin of your forehead and drip saline solution into the skin, so that your forehead bulges out into a bubble shape, then you press your thumb into the centre of the bubble so that it creates a doughnut or bagel like shape, which lasts for around one day. (Although La Carmina hasn't had a bagel head done herself, her company worked on four TV shows about bagel heads) If you get a bagel head done in Japan, although it looks extreme, they use sterile solution and are very experienced and qualified.
So where do I get my party outfit?
I think people in Tokyo are very creative with their outfits. I have friends who go into 100 Yen stores and create costumes out of surprising materials there; they might use a plant or a broom, or fake flowers to create an incredible costume. There are plenty of costume stores especially in the district called Akihabara, where all the geeks go, as it's a centre of electronics, video games and comic books. However, even though you see these crazy costumes in photos, not everyone dresses up, for instance some people if they go to a Gothic party would just wear all black.
Any other places I could take the family for a unique Tokyo experience?
One area that is fun for all ages, but especially families and kids is Odaiba, it's the Tokyo port on the east side, right by the ocean and not that many first time visitors know about it. It's a great little half day trip where you take the subway there, and there are a number of different attractions. There are a few museums and as is typical in Japan, there's a theme everything. For instance there is a cat petting zoo, similar to a cat cafe except that you only go there to play and pet cats. There's a gigantic video game centre with every video game you could think of, there are giant robot panda bears that you can put a coin in and ride on the back of the Panda bear, there's a Rainbow bridge and a Little Hong Kong, It's an indoor recreation of Hong Kong, you walk inside and you see neon signs and Chinese restaurants and even sound effects like the hustle and bustle of Hong Kong – everything but the smells!
Where to find La Carmina
My thanks to La Carmina for sharing her tips on all the cool and quirky things to see and do in Tokyo. You can find more about every aspect of Tokyo culture on La Carmina's blog and on Twitter @LaCarmina on the La Carmina Facebook Page and watch some cool travel and fashion videos on the La Carmina Youtube Channel
La Carmina's Books
For more information about the Tokyo Theme Restaurants, you can read La Carmina's book on Crazy, Wacky Theme Restaurants: Tokyo and Cute Yummy Time with 70 recipes for the cutest food you'll ever eat.
Photo: All photos are copyright of La Carmina
This article is originally published at Heatheronhertravels.com – Read more travel articles at Travel Blog Home
You'll also find our sister blog with tips on how to build a successful travel blog at My Blogging Journey
 Don't miss out – subscribe to Heather on her travels
If you're looking to experience Tokyo from an offbeat, street-wise perspective, then read today's guest post from Mike at Previously Bitten. Mike's blog is named after the Travel Bug that bit him and inspired his backpacking trip to Tokyo.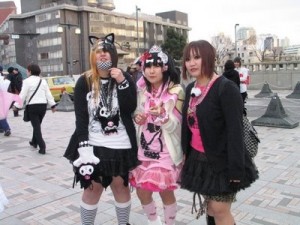 It was exactly one year ago that I had just confirmed my travel plans for Tokyo. Back then I was flipping through travel books (much as I hate to admit it, I bought three. I was limited to this option. Now I understand there are other tools available for me.
So what was this tool? What is this new resource? Travel blogs. The kind that you're reading right now. They are full of information that is directed to a specific audience; they try to convey a personal and human love of a city, a place or a culture.They do not simply direct you to the same places every other tourist has been before. So I hope to help you in setting up your own path perhaps incorporating some less than obvious sites from Tokyo into the mix.
Ten Offbeat experiences  in Tokyo
1. Harajuku Graffiti
Everybody visits Harajuku. And why shouldn't they? It's a wonderfully Japanese experience on a warm Sunday evening. The Elvises are out and about, girls are dancing with poodle skirts, and kids run around dressed like robots, or burn victims, or little girls in a sexually confused Eighteen hundreds United Kingdom. But that seems to be all people experience. I've watched people walk out of the subway, stare across at the Snoopy Mega-store, best avoided, and turn towards the bridge. There they will take their pictures, make some comments, perhaps grab a "free hug" and then get right back on the train.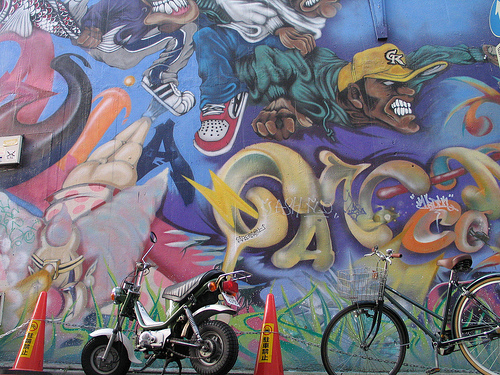 There is a whole culture that is being neglected. Heading East into the streets, laneways, and alleys will give you access to a word of unprecedented street art and Graffiti. There is a style to Japanese graffiti that is unique to the country alone. And while some artists embrace it, others branch out creating a more universal image. As graffiti is always changing, and always being taken down, painted over, and created anew there are no specific directions that I can give you here. But, walking around in a virtually crime free city, during the day time? You'll have no worries as you explore the environment and make new finds all of your own.
Ready that camera again: there's more here than just Harajuku girls.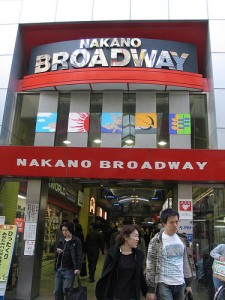 2. Nakano Broadway
If you're looking for Manga, or previously unknown candy, or just a change of scenery I would recommend heading to Nakano Broadway. It's straight up the road from the station exit, you can't miss it. Now, obviously, I had to miss it. Any time instructions are simple, I'm sure to mess them up. But this put me in the middle of a wine festival where people were buying like mad, and smashing bottles every time they turned around.
Across the street was a large bike lot, where you could leave your bicycle until you needed it. As I paused for a moment, I noticed two high school boys setting up guitar amplifiers, and opening up their gig bags. For the next twenty minutes I listened to brain melting guitar solos interspersed with cascading melodies that evoked powerful emotions. Yes, I eventually found the mall. Yes it too was wonderful. But those moments, as I bumbled around were some of the most memorable from all my trip.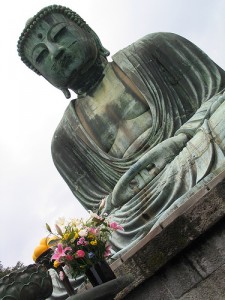 3. Day Trip to Kamakura
Japan is a system built on rails. And it's fantastic. Because of the interconnectedness of all the towns, an inexpensive train ticket will pull you from the rush of the Japanese epic-centre and settle you in the small town of Kamakura. The town itself is relatively small, and perhaps easy to overlook. However, they are home to one of the worlds largest Buddhas.
For a nominal fee, you can make your way through the temple gates, and gaze as the casting, towering above you – seemingly untouched for hundreds of years. For the almost laughable price of ten yen, you can enter into the Buddha and walk around. For over four hundred years it has rested here. In 2004 a couple from America wrote their names inside. Graffiti in Harajuku? It's beautiful. But the irresponsible tag here? It's just upsetting.
4. Visit the Water in Odaiba
Remember to see the beach. Well, if not the beach, then the water. A train to Odaiba will allow you the privilege of gazing at the Fuji TV building. More of a skeleton with a globe somehow suspended, it is an architectural masterpiece. But why stop there? Take a look at the Statue of Liberty (wait – what?).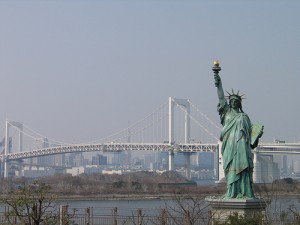 Yes, a replica of the Statue of Liberty stands proudly in Odaiba. Be sure to take a picture of it, or have a friendly local – dozens of them will be posing in the area, with peace signs held high – to grab a shot of you with it. Don't forget to put your first two fingers up! Cheese-o!
5. Explore Seedy Akihabara
Those who know Akihabara need not read on. You understand this place. Don't you? To be honest, I thought I knew what I was in for. I had read all the stories, and done my research. But Akihabara is so much more. It is the worst parts of the internet come to life, right before your very eyes.
Hentai Pornography lurks in every alley. Posters are proudly displayed for small booths selling the latest DVDs, but it doesn't stop there. Every building you walk into will seem normal at first. Some new accessories for your Nintendo DS, a flashy memory card for your camera phone, a micro sized piece of every day tech you've known and loved for years. But beware, for Tokyo is a city built up.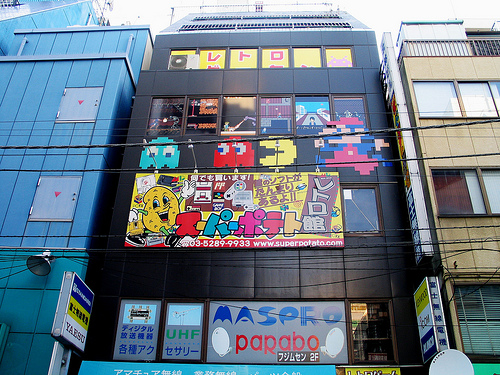 There are elevators in these buildings. The higher you press on these lifts, the more obscene your world becomes. Press button five and you may end up with nothing more than near naked anime girls. But continue on to floor seven, and you will be faced with businessmen searching, shoulder to shoulder, through discount bins of naughty comic books. And if you dare to push all the way up to the top floor?  Well, there you will find costumes of all sorts, best kept to the bed room, and toys the likes of which you never could have dreamed.
But Akihabara is not all overly sexualized. No. It is a video game lovers paradise. Two words: Super Potato. You can't miss it. It has the giant 8bit Mario and Pac-Man art on the front. You'll be taken back in time when NES games were new, and shrink wrapped and… cost eight thousand yen? Wow. It really is 1988 in there. Still, it's the closest you'll ever come to a video game museum.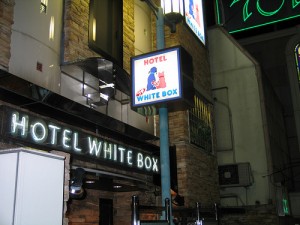 6. Wandering the Shibuya Alleys
When you disembark the train at Shibuya station you will be overcome by the giant crossing infront of you. But do not cross, and get lost in the madness. No: Turn right! Walk up the hill, and find the love hotels. These will surprise and delight you with all manner of names. My favourite? Hotel White Box.
But once again, do not limit yourself to these often visited destinations. Walk the alley ways, and get lost for an hour. It was here that I saw the most bizarre thing in my life. A dance battle. A real life dance battle.
A group of similarly dressed youth approached another teenager, seemingly at random. They started shouting at him, and then began to dance in tandem. This kid, not to take things lightly, threw off his jacket. From nowhere three of his friends appeared. They too were in matching clothes. They were not going to just take this affront, no. They danced back. The battle raged on for ten minutes before one group left, admonished, and beaten. A real life dance battle, with battlers battling in their own natural habitat. Only in Tokyo!
7. Using the Toilet
We've all had our share of toilet related travel tales. I've read about the luxurious restrooms the hotels in newcastle have and I've also heard stories about the dreadful toilets in gas stations and drive throughs. But it's only in Tokyo that I've found such juxtaposing washrooms so close together. In Ginza you will find the Sony Building. Go in, browse around, take in a tech demo and check out all the latest gizmos. But please do not leave before using their washroom.
The toilet has all number of buttons on it. Some super heat the seat, others send a jet of water at your rear, still more control the temperature of that water. Play with them all. Expand your horizons, but beware: when you've set the jet on, and you can't stand up less water rushes everywhere, it's probably best not to turn the temperature to thermonuclear, unless you know how to turn it down once again. Mistakes? They were made.
Once you've left, continue down the street, away from the subway. Less than a kilometer later, you will come to a public washroom. Go inside, check that one out. A rusted squat toilet with no paper, and broken pipes is all you will find. Remember though, this is all in the name of cultural experiences.
8. Discovering the Best Sashimi
Located at 3-2-9 Nishi Shinjuku is Zauo Sushi. This is the best uncooked meat you will ever devour in your life. Stepping inside the restaurant you will notice that tables are laid out on a boat, surrounded by a moat. In that moat are fish; in that moat is your dinner.
A man at the door with pass you a fishing rod, and some squid for bait. It's now your job to work for your meal. Don't be afraid though, as the fish are mostly unfed catching one is not a problem. And when you do? Well – fish don't come any fresher than this.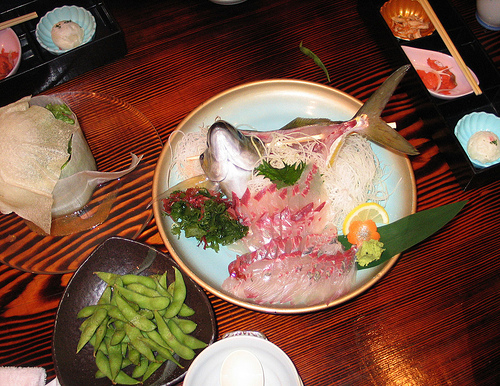 <
Be warned though, this is not for the squeamish. When your meal comes to you, you will have a plate presented, with the meat cut off. The fish, too, will be on the plate, skewered by a wooding rod, still twitching. Watching as you eat it. Once you are done, the fish body is deep fried, and you begin to eat once more.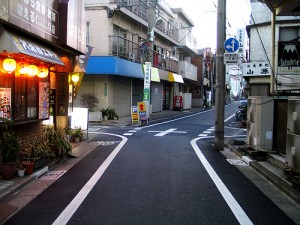 9. Exploring Ikebukuro
Tired of the loud streets and bustling neighbourhoods in Tokyo? Take a brief trip to Ikebukuro. There you will find calm, peace, and serenity. Not to mention an abundance of ninety nine cent yen stores.
Walking those back alleys transports you away from Tokyo to a simpler time, without removing the city atmosphere. Whenever possible, I will try to stay in this district. At the end of a long day, there's nothing better than walking home in the silence created by parties going on everywhere, but where you are.
10. Drinking too Much
If you want to experience the culture of Modern Japan you need to drink. I would never force this on anyone, but I do stress the importance of it.
These are the people that created a Sake can that self-heats to optimal drinking temperature when you pull a tab at the bottom. These are the people that place vending machines on every other corner stocked with cans full of beer, rum and coke, whiskey and water, and flower flavoured booze. Did I mention that there are other vending machines that sell 26oz bottles of hard liquor?
Drink or don't. That's up to you. But by all means, appreciate the significance of these landmarks.
There's so much more to explore. Shinjuku at night, Golden Gai, the shrines located just off the main streets. This is by no means a comprehensive list, but I wouldn't want to spoil everything. Sometimes just getting off the train, and allowing yourself to safely get lost is the best way to enjoy a city. Discover landmarks all your own. But please, if you wouldn't mind, drop me an email at tokyomike3(at)gmail(dot)com and let me in on your secret.
Like what you saw and read? You can read more by the author / photographer over at Previously Bitten , which is updated multiple times a week. The blog is hosted by a twenty-something year old high school teacher. After years of teaching, he's ready to get off the proverbial treadmill of life, and take a year to travel the world. On September 2009 he will embark on a journey that will touch all seven continents, and over thirty countries. His preparation, journey, and past travel tales are all waiting for you to read.
trav.el bug [trav-uhl buhg]
1. something that bites, forever altering the course of your life.
Find the places mentioned on a Google Map
Al photos by Mike at Previously Bitten