Living in Bristol I often get asked for recommendations on the best places to stay as well as what to do in my lovely home town. For travellers who enjoy taking short city-breaks, I believe that the choice of hotel is a big factor in how you experience a place. I prefer to stay at hotels that are centrally located, with stylish decor and a personal touch with staff who really care. I have my own comfy bed in Bristol, so I haven't stayed overnight in the hotels I'm going to recommend, but I have visited them all for one event or another and they are hotels that I would choose myself, if I were visiting Bristol.
1. Brooks Guest House – for quirky charm and affordability
This charming guest house is right in the middle of the old city, tucked down a lane by St Nicholas Market. It's a great choice if you are arriving in Bristol by coach or train since there's no parking at the hotel, but then you will be bang in the heart of things. There's a contemporary but slightly retro feel in the decor, with painted woodwork and Cole & Sons wallpaper.
The big talking points are the four shiny Rocket caravans on the roof where you can stay in a cosy twosome (and yes they do have bathrooms).  Breakfast is downstairs in the light and airy kitchen area and there's a pretty paved courtyard which is perfect to sit outside as the weather gets warmer.
Brooks Guest House, St Nicholas Street, Bristol, BS1 1UB. Check out the best prices and book for Brooks Guest House at HotelLook.com
What do do while staying at Brooks Guest House
Wander around St Nicholas Market where the Guest House is located and try something delicious from the food stalls under the glass roof. This is a favourite spot for locals to come and buy their lunch, and you can choose from a multicultural selection, from Jamaican to Portuguese hot dishes, Pieminster pies to pulled pork in a bun. Inside the Covered Market and Exchange Hall are lots of small stalls selling clothes, jewellery and a whole range of interesting things, all run by small indie businesses.
Visit Castle Park which is a short walk through the market. If the weather is fine, this is a great place to take your lunch from St Nick's market to sit on the grass overlooking the river. The church of St Peter's was bombed in the war but its shell remains as a monument and there's a sheltered herb garden and sculpture avenue next to it. There's also a children's playground tucked away on the mound beyond the church.
Watch a play at the Theatre Royal close to Queen's square, where the Bristol Old Vic Theatre Company puts on everything from Shakespeare to family shows. The theatre dates back to the 18th century and has an impressive classical facade and original gilded Georgian auditorium so it's always worth checking on the latest productions.
2. Hotel du Vin – for old school style and luxury
Housed in an old stone sugar warehouse, I love Hotel du Vin for its sense of style and old school luxury. As the name suggests, there's a wine theme going on in the Bistro restaurant, with polished dark wood, panelled walls and a French inspired menu, as well as a bar area with squashy leather sofas to relax with a cocktail or coffee.
Due to the character of the old building, no two bedrooms are exactly the same, but all are luxurious with roll-top baths or powerful showers, soft velvet furnishings and antique leather easy chairs. The hotel is centrally located in the oldest part of Bristol, and where the road now runs in front of the hotel was once the original waterfront where ships would have moored.
Hotel du Vin, The Sugar House, Narrow Lewins Mead, Bristol, BS1 2NU. Check out the best prices and book for Hotel du Vin Bristol at HotelLook.com
What do do while staying at Hotel du Vin
Walk up the atmospheric Christmas steps, to imagine how Bristol looked in the 17th and 18th century when the road in front of the hotel was part of the harbour, then check out some of the quirky independent shops. At the top of the steps there's an old Alms House and plenty of other small arty shops along Colston Street and Perry Road.
Colston Hall is just a short walk from the hotel, Bristol's main music venue hosting an eclectic mix of international performers, community choirs and pop tribute bands. An open copper foyer was added to the original Victorian building a few years ago, often hosting free live music in this space with a stylish cafe too.
Visit Red Lodge which is set on Park Row, on the hill above Hotel du Vin and the Colston Hall. It's one of the oldest houses in Bristol where you can see oak panelled Elizabethan rooms and fireplaces in the Great Oak Room, with views over the city. The wealthy merchants who once lived here would have had a grand view of their ships coming up the harbour as well as being able to take their leisure in the Elizabethan knot garden. Entry is free and the house is open from end March to end December, closed Weds/ Thurs/ Fri.
3. The Bristol – for luxurious rooms overlooking the harbour
From the ouside The Bristol may not be the prettiest of hotels – although there's something iconic about its listed 1960s facade that was originally built as a motel. Step inside and the rooms are spacious and stylish in relaxing natural tones with luxurious velvet throws in highlight shades of  plum, mushroom or aubergine.
You can take their popular afternoon tea, order some sharing plates in the Lounge or have dinner with a view of the harbour in the River Grille restaurant, with drinks in the Shore Cafe Bar next door. As there's a multi-story car park next door, this is a convenient choice for those who are driving but want a central location by the harbour in Bristol.
The Bristol, Prince Street, Bristol, BS1 4QF. Check out the best prices and book for The Bristol at HotelLook.com
What to do while staying at The Bristol
Take a Bristol Ferry Company boat from the steps opposite the Watershed Arts Centre which will take you around the harbour with lots of different stops on the way. You could get off at the furthest point for a pleasant walk back along the water or just stay on board for a mini tour which will take around 40 minutes to see harbour sights like the ss Great Britain and Underfall Yard from the water.
Just along the harbour front is M-shed, a free museum that brings to life the history and people of Bristol. With plenty of hands-on exhibits it's great for all ages and since its free, you can dip in and out depending on how long you've got. When your tummy is rumbling it's time to discover Bristol's latest foodie hub which is just next door at Wapping Wharf – a pedestrian street full of indie restaurants and bars, including Cargo – a group of food retailers housed in shipping containers.
Take the steam train or walk down to ss Great Britain – from M-shed, there's a small steam train that runs at weekends, manned by enthusiasts that will take you along the harbourside down to ss Great Britain (of course you can also walk). This historic iron steam ship was built by Victorian engineer Isambard Kingdom Brunel who also designed the Clifton Suspension Bridge and the ship was returned to Bristol from the Falklands. Now fully restored, it is one of Bristol's leading visitor attractions and a great day out for families and those interested in Bristol's maritime history.
I hope you enjoyed my mini-tour of some of my favourite places to see and stay in Bristol. If you're planning a weekend break in Bristol, do check out the best prices and book at  Hotellook.com.
Pin It
Disclosure: This article was brought to you in partnership with HotelLook.com
This article is originally published at Heatheronhertravels.com – Read the original article here
Stepping out onto the white painted balcony I breathed in the warm Caribbean air, edged with the freshness of morning. Below me the pool area was still, except for the murmur of running water. Over the tops of the palm trees a cruise ship was moored in the bay at Port Zante, with the green slopes of Mount Liamuiga rising beyond. This was Ocean Terrace Inn in St Kitts where I stayed recently, a stylish 4 star hotel that is looking fresh and bright after its recent renovation. Read on for my review.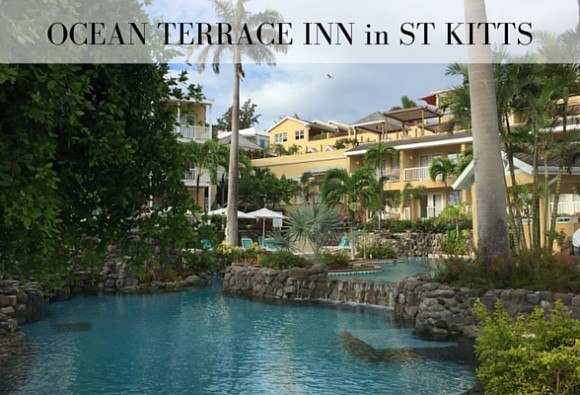 Where are we staying?
On checking in I was shown to my bedroom, in one of the lower hotel buildings built on the hillside. Thank goodness for the helpful young man who carried my bag across the terraces and down all the steps. There are around 50 rooms here, mostly in the modern buildings around the pool that were built in the 1960s and have recently gone through a full renovation.
In my bedroom I found bags of space, with two queen beds just for all for little old me, cool tiled floors and cheerful yellow, red and green scheme that reminded me of the colours of the St Kitts flag. By the window was a cushioned built in seat and out on the white painted balcony, a couple of wicker chairs and a table to sit overlooking the pool area.
I wondered whether my room was exceptional in its size but when I had a look around some of the others, I found they were just as spacious, with dark, plantation style wood, fresh colours and contemporary style.
My bed was extra comfy, the ice bucket filled ready, with a percolator and ground coffee should I need to make some in the morning. The air conditioning kept everything comfortable, although having just left the chilly UK, I was more interested in feeling the warmth of a Caribbean than in shutting the heat out.
My huge bathroom with separate bath and shower incorporated a dressing and wardrobe area, with open hanging space, shelves and a small safe (although disappointingly not large enough for my laptop). The iron and ironing board was most welcome since the clothes in my case were looking a bit sad and crumpled.
My view of the Pool area
One of the favourite things from my two night stay at Ocean Terrace Inn was the view from my balcony over the landscaped pool area towards the bay and the island's capital of Basseterre. There was often a cruise ship in port and I can see why the hotel is a popular choice for cruise guests and crew to come and spend the day by the pool.
The hotel is built on several different levels with most of the rooms overlooking the pool area. In some places the water was shallow for children to splash about, in others deeper for swimming. Everything was beautifully landscaped with local stone planted with palms, shrubs, and purple flowering bougainvillea, as well as a swim up poolside bar.
The jaunty turquoise sun loungers matched the turquoise of the pool with orange and white cotton sunshades completing the colourful scene. Even though I was out sightseeing most days so didn't get much sun lounger time, I found the a walk around the pool and gardens before breakfast with the sound of the cascades and waterfalls very soothing.
Around the hotel
From the pool and surrounding garden area, steps led up to two tiled terraces for guests to sit outside. Wooden pavilions and green sunshades offered protection from the heat of the sun and colourful seating provided a relaxing place to sit, with flowering shrubs and palms to soften the tiling.
Continuing to the upper level, the reception and main hotel entrance adjoins the quiet residential road where a taxi will drop you off and opposite was the Verandah restaurant with more attractive planting and a water feature at the entrance.
Breakfast and Sunday Brunch
On my arrival I enjoyed a late lunch in the Verandah restaurant, at the end of the Sunday Brunch buffet which is quite a tradition on St Kitts. Sunday is very much family time on St Kitts when everyone will go to church in the morning and than relax with a big family lunch at home. Those who prefer not to cook will treat themselves to leisurely Sunday Brunch at one of the local hotels or restaurants around the island, so this is a popular weekend event.
Those who aren't having an extended Sunday brunch will probably be found at the beach just liming (that's the St Kitts version of relaxing and chilling out with your friends). I arrived at the end of the buffet when most guests had left but enjoyed the excellent spread of salads, and hot dishes both local favourites and international dishes.
The bright and airy Verandah restaurant, with traditional dark wood flooring and colourful paintings, is also where you'll also have breakfast. Rather than sit inside, I preferred a table on the terrace with a view over the bay. My only quibble was that the clear plastic blinds were rolled down masking the view, due I think to catering for American tastes to keep everything fully air conditioned.
I didn't get the chance to eat at Verandah in the evening, but their Carib-Asian menu using local island produce infused with an Asian flavour looked delicious.  I also enjoyed my breakfast from the a la carte menu, and decided to order the bush tea which I'd heard about, made of local herbs like basil and lemon grass with an inbelievably fragrant aroma.
If you are from the UK or Europe where a breakfast buffet in normally included in your room rate, you should be aware that the hotel follows the American approach of breakfast being charged separately. You can either select from the a la carte menu or choose in advance to book breakfast under a set price meal plan. ($15 Continental buffet breakfast, $20 Full breakfast). Depending on how you book, be sure to check whether a breakfast package is included.
Dinner at Fisherman's Wharf
During the stay I tried the Fisherman's Wharf restaurant which belongs to the hotel, although it's just across the road at the bottom of the hill (the security guard will let you out through the gate by the pool). The restaurant is set right by the water with an open verandah and a beautiful view over the lights of Basseterre and the port.
As the name suggests, Fisherman's Wharf is all about the seafood, a highlight of St Kitts since it's all locally caught and the fishing boats offload their catch along the seafront nearby. Typical island dishes are on the menu with starters of conch chowder or coconut crusted shrimp and for a main course Grilled Mahi-Mahi with a citrus salsa or Lemongrass scented grilled snapper.
Of course I couldn't go without trying the lobster with ginger lemon butter sauce which was delicious, but if you are looking for meat dishes there are also several options such as steak, ribs or ginger chicken with passionfruit sauce. The restaurant is open evenings only from 6.30pm to 10.30pm Monday to Saturday, closed Sundays.
Are we being served?
From the reception staff to the guy who carried my bags down all those flights of stairs, to the waitresses in the restaurant, I found all the staff at OTI were friendly and enthusiastic, falling over themselves to be helpful. I'd heard that investment in staff training was part of the refurbishment programme and re-opening and it certainly showed in the positive attitude of everyone I met at the hotel.
Are we in the digital age?
The free wifi worked very well for me, both in my room and in the restaurant and reception areas – not bad considering the hotel is spread over a number of different buildings. You can also keep up with hotel news and happenings on the social media channels on Twitter @OceanTerraceInn on Facebook and on Instagram
Location Location
Ocean Terrace Inn is set on the hillside, on the edge of the island capital of Basseterre, overlooking the bay towards the north of the island. It's a pleasant 10 minute walk along the sea front into town or to the cruise port of Port Zante where there are plenty of shops catering for tourists. The location is ideal for those who want to be located close to Basseterre, but have a base to see the rest of St Kitts, since you're a 15 minute drive from the beaches of the south east peninsula or the historic sites of the northern-east part of the island.
Who is Ocean Terrace Inn best for?
Ocean Terrace Inn will suit leisure or business travellers looking a relaxing base for visiting Basseterre and the rest of St Kitts. The friendly atmosphere and medium size will suit couples, solo travellers and groups of friends as well as families with school age children. Because the hotel is built on multiple levels, visitors with mobility issues or with very young children may find it difficult to manage all the steps. The hotel is a short taxi ride from the airport, so would be a good choice for those who want to explore Basseterre and the surrounding area at the beginning of their holiday, perhaps combined with a stay at another hotel by the beach for a few days after that.
To Book Ocean Terrace Inn

Book your stay at Ocean Terrace Inn on their website at OceanTerraceInn.com and follow their social media channels on Twitter @OceanTerraceInn on Facebook and on Instagram. To compare prices and book for hotels on St Kitts use my Hotels Combined Booking comparison page.
Good to know
There is no shop on site or close by so you might need to get any local items in Basseterre (10 mins walk) or walk along the seafront to the shops in the cruise shop, Port Zante (10-15 mins walk) if you need tourist items.
If you're visiting St Kitts on a cruise, the hotel can also sell you a day pass for use of the pool area and other facilities.
The hotel offers a free daily shuttle service to the beaches on the south-west peninsula of the island.
If you are there on a Sunday, be aware that shops will be closed and everything very quiet in Basseterre as this is considered a day of rest when Kittitians like to go to church and spend time with their family.
If you want a change from eating in the hotel's Verandah or Fisherman's Wharf restaurant, there's also Serendipity next door serving both Caribbean and International cuisine, with a view over the bay.
What to see in Basseterre
Your stay at Ocean Terrace Inn is the ideal opportunity to visit the island's capital of Basseterre and some of the other things nearby. Here's what we recommend;
Wander around the streets of Basseterre, especially Fort Street and Bank Street to get the feel for the relaxed island capital of St Kitts. If you are looking for something in paricular don't hesitate to ask for help from any of the locals, the Kittitians are known for their friendliness.
Check out the green Victorian-style clock at the Circus roundabout, modelled on London's Picadilly Circus and have lunch as Ballahoo with an open terrace that overlooks the Circus.
Pop in to the National Museum close to the Circus. While the displays are rather old fashioned, there's plenty of fascinating information about the island's history.
Walk through the shady and green Independence square that was once Basseterre's slave market, noticing the doors to the cellars in the houses around the square where the slaves slept.
Visit the Gallery Cafe on the north side of Independence square, featuring the work of local artists with a charming cafe serving home made cakes, fresh juices and coffee which you can enjoy in the shady courtyard garden.
If you need tourist souvenirs, you'll find plenty of choice at Port Zante, including a craft market. The covered Pelican Mall has more small shops and also offers free wifi.
At lunchtime, especially on Fridays and Saturdays, check out the vendors along the Bay Road and in the steets of Basseterre selling all kinds of delicious street-food and local food specialities.
Take a short taxi ride to Ital Creations close the airport, a small organic farm with a food trailer selling delicious vegetarian and vegan dishes at lunchtime as well as fruit smoothies and juices.
The closest beach is a 10 minute drive away at Frigate Bay, normally quiet during the day but a popular place for locals, expats and visitors to enjoy a drink and a meal in the evening when all the beach shacks and restaurants are open on "The Strip" – we enjoyed the relaxed sports bar style and excellent local dishes at Boozies.
If you'd like to explore further afield, there are plenty of beautiful spots on St Kitts – read about the 10 perfect postcard shots of St Kitts.
Have you visited St Kitts and if so, what did you enjoy?
Visitor Information for St Kitts
To plan your visit to St Kitts check out the tourism board website at www.stkittstourism.kn or follow their social media channels: Twitter @StKittsTourism | Facebook | Instagram | Google+ | Pinterest |
British Airways flies to St Kitts from London Gatwick twice a week on Saturdays and Wednesdays with the flight going on to nearby Antigua. There are regular ferries every day to Nevis, with a journey time of 45 minutes from Basseterre, making it easy to plan a combined stay on both islands.
To start and end your holiday on St Kitts in style, the YU Lounge offers a private terminal at the airport. A private car will meet you from the plane and whisk you to the luxurious lounge where snacks and drinks are available. While you are waiting your luggage will be picked up and you'll be cleared through security by the YU Lounge staff.
Thanks to Ocean Terrace Inn who hosted Heather's 2 night hotel stay and to the St Kitts tourism board who provided Heather's visit to St Kitts.
Read more about St Kitts
10 perfect Postcard Views of St Kitts
A Stylish Guide to St Kitts
A taste of Caribbean Luxury at Ottley's Plantation Inn
Pin It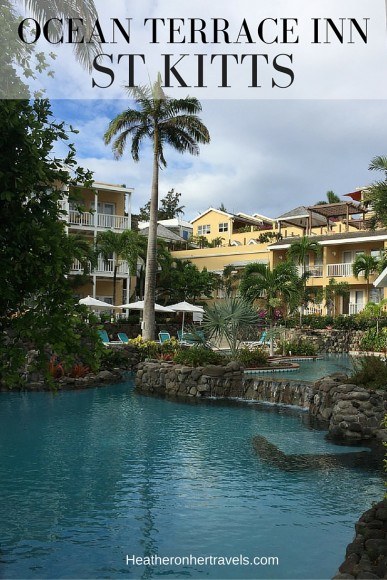 This article is originally published at Heatheronhertravels.com – Read the original article here
Ah, the smell of Athens in springtime, the aroma of eucalyptus warmed by sunshine with a whiff of cigarette smoke curling through the air. The freshness of winter lingers, the dust and heat of summer is yet to come, the sun warm enough to relax in a pavement cafes of Plaka to watch the world go by.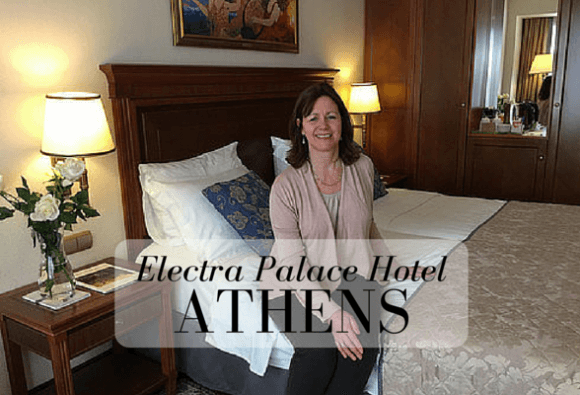 I was visiting Athens for a weekend break with my parents and sister who lives in Greece, staying at the 5 star Electra Palace Hotel, in the Plaka district at the foot of the Acropolis. It suited us perfectly for our weekend stay, since we could walk easily to most of the ancient sites and have a haven of calm and luxury to return to at the end of each day.
I hope you enjoy the video below about Electra Palace Hotel
If you can't see the video above Electra Palace Hotel Athens see it on my blog here or Youtube here and please do subscribe using the button above
Click here for direct download of video
Subscribe to all my videos in I-tunes
The Electra Palace Hotel is one of a family-owned group of five Electra Hotels celebrating 50 years since the first Electra Hotel opened in Athens. The group includes the Electra and Electra Palace in Athens, as well as hotels in Crete, Thessaloniki, Rhodes and the soon to be opened luxury lifestyle Electra Metropolis in Athens. We could feel the slick professionalism that you get with a major hotel chain but perhaps with a little more personal touch from being a smaller hotel group.
Our 5th Floor Bedroom
Our bedroom on the fifth floor was classic and elegant with Italian style wooden furniture and muted blue, gold and cream in the colour scheme with red woollen patterned rugs on the floor. The lighting fittings were of heavy brass with cream shades and a large gilt mirror on the wall above the desk.
Outside the French windows we found a balcony where we could sit on wicker chairs at the marble table separated from our neighbours by olive plants and admire the view of the Acropolis across the rooftops. We had all the conveniences: a kettle to make tea and coffee, a fridge and mini bar, a large safe with room for my laptop and towelling robes and slippers for lounging around after a bath.
The bathroom was in similar classical design, with pale blue marble edged with mosaic tiles and a bath with powerful shower above. In the recess of the ceiling was painted a blue sky with white fluffy clouds to remind us we were in a land where the sun always shines.
One of the delights of a luxury hotel is to be spoiled by the toiletries and Korres is one of my favourite Greek brands, known for its natural products. We tested out the citrus shower gel and body lotion as well as the handy shampoo and conditioner with aloe to smooth away the frizz.
Breakfast in the Motivo Restaurant
In the large Motivo restaurant on the ground floor we relaxed over breakfast, finding our favourite table by the window with a view of the garden. The decor was again classic with comfortable green upholstered chairs, wooden parquet floors and sparkling square chandeliers.
We tried a wide selection of breads including the Greek sesame rings that are found on every street corner, as well as a spread of cereals, yoghurt and fruit, cold meats, cheeses and hot dishes like scrambled egg, bacon, beans and mushrooms. There seemed to be something to suit every taste of the international guests, including a range of healthy choice yoghurts, cheeses and meats and even a machine where you could make your own waffles and douse them in maple syrup. Apparently the hotel is a popular choice for American guests.
Motivo Garden Terrace Restaurant
Leading off the reception and adjoining the ground floor restaurant was a courtyard garden that became my favourite place to sit in the sun with a coffee. The tables were laid at lunchtime and the flowering pots under the large palm tree made a welcome retreat from the narrow streets outside the hotel.
The Pool Terrace with a view of the Acropolis
Up on the 5th floor we got another perspective on Athens from the rooftop pool terrace. In summer the sun loungers are laid out and the pool bar is open so you can relax in the heart of the city with that Acropolis view that any self respecting hotel in Athens with a roof terrace aims to offer.
Dinner in the Electra Roof garden restaurant
Adjoining the pool terace was the Roof garden restaurant with a wall of windows to make the most of those Acropolis views. In summer they open all the windows and you can dine outside too, which would be perfect for a romantic dinner.
The food is a fusion of Mediterranean dishes that incorporate Greek produce and fresh flavours. Our dinner managed to strike just the right note, balancing elegant dining with familiar tastes so that everyone found something to enjoy. To start my father tried the ravioli which was stuffed with pumpkin, ricotta cheese and smoked ham drizzled with basil oil.
I ordered the veal fillet which was juicy and tender, served with polenta and a flavoursome tarragon sauce, while my sister had the lamb chop with gnocchi and wild mushrooms. Finally we tried a light but delicious desert of poached apple with halva mousse on a bed of crumbs made from dehydrated chocolate and milk.
I'd recommend this restaurant for a very enjoyable dining experience, with delicious food and friendly and professional service, especially once the weather makes it warm enough to eat outside.
Starters €10-18, Pasta €14-17, Main Course €19-26, Deserts €8-9. With a nice wine our bill was around €40 per head.
The Pool and Spa
After walking around the Acropolis all morning, I felt I deserved a relaxing afternoon and headed downstairs to try out the hotel spa. There's an attractive small pool with a jacuzzi at one end which is open to guests from 8am to 9pm and to children with their parents up to 3pm. There's a small gym and a spa which is best reserved in advance so the staff can prepare it for you, since there is room for three people.
After changing into my robe and slippers I was shown into the treatment room for my relaxing massage followed by a facial. The spa uses products by a Greek company called O.live which is based in Crete and uses organic products based on olive oil infused with essential oils of lavender, eucalyptus and mandarin. As my back was massaged I drifted away to the sounds of the sea washing on the pebble beach and the wind blowing through the pine trees, transporting me to Greek summer holidays past and future.
Next my face was cleansed using a gentle chamomile cleanser, with an exfoliation treatment and face mask with green argyle followed by a massage with calendula anti-aging cream. By the end my skin truly felt glowing and soft and I relaxed on the loungers outside the treatment room drinking green tea with honey and breathing in the steam of hot water with eucalyptus to revive me after the treatment.
If you'd like to try a spa treatment, all guests are offered a voucher for a complimentary 15 minute massage on arrival, or you may see the therapists as you come out of breakfast to arrange an appointment.
Massages are from €60 including the Ancient Greek massage with relaxing hot towels to remove tension and the Cretan massage that uses oil mixed with raki to sooth tired muscles. Facial massage starts at €25 with a full facial €65. I'd also recommend the lovely O.live products that are on sale in the spa using different fragrances such as lavender for calming, green tea to revitalise and mandarin to energise. If you're a fan of Jo Malone perfumes as I am you'll love the O.live mandarin, lime and basil that's just like the Jo Malone signature fragrance.
Are we being served?
All our party agreed that the Electra Palace Hotel had a lovely atmosphere of calm and professionalism combined with friendly and attentive service. The cool, spacious lobby with marble floors and chandeliers felt like an oasis as you stepped off the street after navigating the narrow streets of Plaka or the bustle of Syntagma square. The staff always greeted us with a warm smile, helped us with directions and restaurant reservations and were quick to offer help with bags and taxis, so we felt very well looked after, which was especially important for my parents who are in their 70s.
Are we in the digital age?
It's so nice to find an upscale hotel that offers good free wifi for all its guests and at Electra Palace Hotel I had no problems at all staying connected. The free standard service was pretty good and the passwords were easy to remember and only required logging in again every few hours. If you need faster internet access for business, this is available at an extra charge. You can follow the hotel news on their Twitter, Facebook and Instagram channels too.
Location Location
Location is a major reason for staying at Electra Palace Hotel as it is set in the heart of the old town Plaka district, with atmospheric bars and pavement cafes. You're just a 10 minute walk from the Acropolis museum in one direction and from Syntagma square in the other so it's an excellent base to see the sites on foot. All the nearby streets are full of bars, cafes and restaurants so it's easy to find places to eat and enjoy the evening nightlife.
 Who is Electra Palace Hotel best for?
Most of the other guests at Electra Palace Hotel were aged 40+ with a few families with school age children. We heard that many of the guests are from the USA, UK and Greece as well as a broad range of other nationalities and the hotel had a cosmopolitan, international feel. Because of the location close to all the sites, Electra Palace Hotel is an ideal base if you are visiting Athens for a short break and want to make the most of your stay. If you are looking for a luxurious hotel with classic and elegant decor and friendly service, this is the hotel for you. Double rooms for a weekend stay in spring for 2 people including breakfast are from £150 per night and in peak season from £200 per night.
Electra Palace Hotel, 18 N. Nikodimou Str., 10557 Athens, Greece | Twitter | Facebook | Instagram
Have you stayed in the Plaka district or at the Electra Palace Hotel? If so do let me know what you enjoyed in the comments.
Getting there
The taxi from Athens airport takes about 30 minutes outside the rush hour and costs €40-45. Alternatively you can get the metro from the airport to Acropolis station which again takes 30 minutes and costs around €8, then walk 10 minutes to the hotel.
Good to know
From summer 2016 there will be a new hotel in the Electra family, the Electra Metropolis. Located close by the Electra Palace Hotel the Metropolis will be a 5 star luxury lifestyle hotel, with modern design and style. With high speed internet everywhere, smart TVs and smartphone gadgetry, this will be the place for those who like to stay connected while travelling in style.
Pin It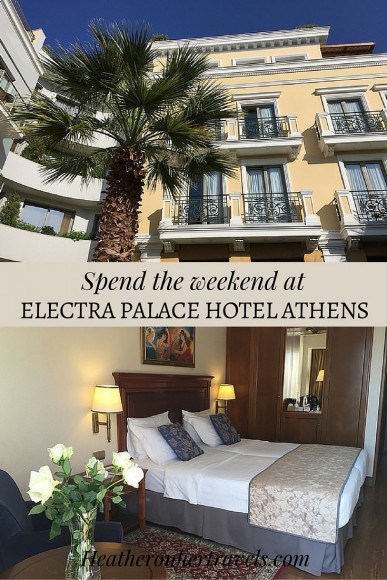 Thanks to Electra Palace Hotel who hosted Heather's hotel stay in Athens
This article is originally published at Heatheronhertravels.com – Read the original article here