The Hampshire town of Basingstoke has plenty to see and do, both in the town centre and in the unspoiled countryside nearby. Look out for the Basingstoke festival, held each summer to celebrate the connections with Jane Austen who lived nearby and highlight the creativity, food and heritage that's on offer locally. If you're visiting Hampshire here are some of the things to do in Basingstoke that we enjoyed.
This article may contain affiliate links that provide commission on purchases you make at no extra cost to you. As an Amazon Associate I earn from qualifying purchases.
Follow the Jane Austen Trail
While Bath and Winchester are well known for their Jane Austen connections, not so many people are aware that Jane Austen was born at Steventon, just outside Basingstoke, where her father was the rector at Steventon church. To mark the Basingstoke connection and the 200th anniversary of Jane Austen's death in 1817, we followed a trail of painted book-benches at different locations in and around Basingstoke.
Each of the 24 benches in the Sitting with Jane Art Trail was decorated by a different artist, showing themes from her life when she shopped, danced, visited friends and wrote her novels in and around Basingstoke. I picked up a leaflet showing all the different locations of the benches with ten of them in the town centre and others in locations close to Basingstoke that had a connection with the author.
I especially loved the bench in War Memorial Park showing Chatsworth House, which was used as the location for Mr Darcy's home in the film of Pride and Prejudice and the Regency Doll's House bench outside Goldings which lets us glimpse the domestic world that Jane Austen knew and wrote about. Many of the benches have quotations from Jane Austen's writing, so take a closer look for insights into the society she observed and captured so beautifully in her novels.
The Sitting with Jane art trail has now finished and the benches have been auctioned for charity but you can find more information on the Sitting with Jane website.
Look out for these Jane Austen themed activities in Basingstoke this summer;
Jane Austen at the Willis Museum – you can find out more at the Willis Museum about the Basingstoke that Jane Austen knew when she came shopping and attended dances at the Assembly Rooms.
The Basingstoke Jane Austen Statue: A statue of Jane Austen to commemorate her connections with Basingstoke can be found outside the Willis Museum
Jane Austen Themed Afternoon Tea: Book for a special afternoon tea at the Red Lion Hotel
I hope you enjoy the video below about things to do in Basingstoke this summer
If you can't see the video above on things to do in Basingstoke this summer you can view it on YouTube here, or on my site here and click for direct download of video here
Getting foodie in Basingstoke
If you're visiting Basingstoke for the day, you'll be spoiled for choice of places to eat around the town centre. Within the Festival Place shopping centre, there are plenty of popular restaurants in the food quarter of Festival Square close to the Vue cinema. For a quick lunchtime bite I recommend Festival Street Kitchen, an independent street-food cafe who offer a different big pan dish each day, as well as tasty Burrito wraps with different fillings. The cafe is clearly popular with locals and as soon as the big pan was ready at 11.30am a queue started to form – once the big pan dish is sold out there's no more until next day!
If you're eating out in the evening, the old quarter of Basingstoke, called Top of the Town is the food hub for independent restaurants, and we tried a delicious Thai meal at The Lime Leaf (25 London St). The restaurant is in an old Tudor building on what was once the main street through Basingstoke leading to London, and if you sit upstairs you can see all the old oak beams.
We ordered our meal from the well priced Early Bird menu and I really enjoyed the Mussaman chicken curry with coconut milk, potatoes and peanuts with a big bowl of rice. In the same part of town there are some other good independent restaurants, such as Number 12 (12 London St) serving steak and classic dishes and the popular Mayflower Chinese restaurant (1 May Place).
Afternoon tea in Basingstoke
If you enjoy meeting friends for afternoon tea, the Red Lion Hotel on London St serves a classic afternoon tea with scones and cream, a selection of sandwiches and cakes, as well as a new Jane Austen afternoon tea which includes a glass of Bucks Fizz.
In the Willis Museum in the heart of the old town is a pretty café tucked away at the back of the ground floor, serving tea, coffee, homemade cakes and local Hampshire produce. With a sparkling chandelier, marble fireplace and pretty floral wallpaper, it is a setting that Jane Austen would have felt very much at home in.
I also enjoyed a coffee at the Proteus Creation Space on Council Rd which has a light and airy café, serving teas, coffees, home made cakes and sandwiches at lunchtime. The café is open daily except Sunday 9.30am-5pm.
In the Top of the Town area, look out for the markets on Wednesday and Saturday where there's lots of fresh and local produce on sale – more information on the Top of the town website.
Getting creative in Basingstoke
When I visited All our own crafts, a pop-up shop within Festival Place, I found a hub of creativity with the work of up to 40 local crafters and artists on display in the shop. The shop started in 2014 and has since moved to several different locations around the centre, depending on where there is an empty shop that they can use for a few months. I met co-owners Kate Donohoe and Jackie Denham whose aim is to inspire people to try different crafts, as well as supporting the creative businesses of crafters in Basingstoke.
While I was there I tried my hand at making a crochet butterfly, one of the different craft workshops that was being run for the Made in Basingstoke festival. The shop may be at different locations, so keep an eye on their Facebook page. If you're looking for some family entertainment, check out what's on at the Basingstoke Discovery Centre, the library and community hub that's located within Festival Place – they often have creative and storytelling events, especially in the school holidays so check out what's on here.
Read more in my article Summer Festival Fun in Basingstoke
Discover Basingstoke's Heritage Trail
Basingstoke was once an important staging post on the coaching route from London to Andover. While London Street in Top of the Town (Basingstoke's Old Quarter) is now pedestrianised, this was once the busy main route to London. You can pick up a leaflet for the Town Trail which gives information about all the old buildings, some of which date back to Tudor times, in the heart of Basingstoke.
When you walk around Wote St, London St, Church St and Winchester St, look out for the Heritage information boards that tell you about the history of what you'll find nearby. Did you know, for instance, that the famous Thomas Burberry raincoats were originally made in Basingstoke and the company had their first showroom at 17 London Street? Look out for the Heritage Open days in September, with free access to many old buildings that are not normally open to the public.
For more information about what's on check out the Top of the Town website.
Shopping in Basingstoke
There are two adjoining shopping centres in Basingstoke, The Malls and Festival Place. You'll find most of the top High Street Brands here in a light and airy covered mall, with plenty of places for refreshment, a sports centre, information desk and the Vue cinema.
I particularly liked the Festival Square part of Festival Place where they had made a Mediterranean garden area, with olive trees and floral plantings as well as a children's sand play area. There are some ceramic water features here, which are fun for children to splash around and cool off on sunny days, as well as café seating for the nearby Festival Street Kitchen. Both shopping centres put on summer activities and events, so check out what's on on the events pages for Festival Place and The Malls. There's also plenty going on at the Basingstoke Discovery Centre which is situated within Festival Place.
Read more in my article Summer Festival Fun in Basingstoke
Getting cultural in Basingstoke
There's a thriving arts and theatre scene in Basingstoke with Anvil Arts running the Haymarket Theatre, The Anvil and The Forge. The main theatre on Wote St is The Haymarket which was once the Corn Exchange building, becoming a cinema in 1913 and then a theatre in the 1950s. The Anvil is a music venue, the Forge hosts smaller scale productions and both are close to the station, while the Haymarket is in the Top of the Town. If you're visiting Basingstoke, it's worth checking out what's on at the different venues which host a wide variety of productions and performers – see what's on here.
Also worth checking out is the Proteus Creation Space, a dynamic creative hub in the heart of Basingstoke, based in a beautiful Victorian building. They host theatre shows, events and exhibitions, and you can often see interesting productions from emerging artists. Check out what's on at the Proteus Creation Space website.
The Willis Museum and Sainsbury Gallery in Basingstoke
I especially enjoyed a visit to The Willis Museum in the old part of Basingstoke, housed in what was once a Town Hall and Corn Exchange. During my visit, works were underway outside to install a new statue of Jane Austen, to commemorate her connections with Basingstoke. This has now been unveiled and you'll find Jane's statue at the heart of the town that she knew so well.
On the ground floor of the museum is the Sainsbury Gallery with regularly changing exhibitions. Upstairs at the museum are the permanent galleries, which trace the history of Basingstoke from Roman times to the present day. On the way up the stairs, you'll encounter a Roman gentleman who will tell you about the impressive stone burial casket he commissioned which was found nearby. Upstairs you'll learn about how the rural poor lived in the 18th century and how Basingstoke's character changed in the 1960's as it became a popular place to move from London.
Discover what's on in the centre of Basingstoke on the Visit Hampshire Website.
Milestones Museum in Basingstoke
After visiting the centre of Basingstoke, I decided to check out some of the things that are on the edge of town or a short drive away and found Milestones Museum on the leisure park just off Churchill way. It feels a little incongruous to find a heritage attraction like this on a leisure park among an aqua dome, ice rink, bowling alley and indoor skydiving, but the Museum has lots of fun things to see in a large hangar and of course you'll benefit from plenty of free parking. As you enter you get a view from above of the whole building which is a little like walking through the town streets of a hundred years ago, with old fashioned buses and cars, parked on the cobbled streets in front of shops and businesses.
You can go inside the shops for a look around at what they are selling – in lots of places, the voices of the past will tell you their stories of how people lived in yesteryear. A lot of the things on display have a connection to Basingstoke, like the Thorneycroft cars that were made in a factory nearby. I rather wished that the sweet shop had been open so I could buy my penny's worth of sherbet lemons, as I used to do as a child.
If you go: Milestones Museum, open daily except Monday
The Vyne near Basingstoke
Also close to Basingstoke is The Vyne, a 16th century country house that was built for Lord Sandys who was Lord Chamberlain to King Henry VIII. The house is managed by the National Trust and is set in beautiful countryside, the portico entrance overlooking the lake. From the car park you walk through the garden, with a pretty summer house surrounded by lawns and flower filled herbaceous borders.
The house is notable for the visit paid by King Henry VIII and his wife Anne Boleyn in 1535 when they stayed here on their royal progress around England, incurring huge expense as well as honour on their host. If you go into the Tudor chapel, you can hear the sounds and music of the high mass that would have been sung at the time when Henry visited, and there are beautiful panelled rooms that also date back to that period.
While I was there, the roof was being renewed and it was fascinating to take a tour and look down on the roof shrouded in a canopy of scaffolding and plastic sheeting, to see the red roof tiles being carefully removed and replaced one by one. After your visit to the house, it's a lovely place to spread out your picnic on the lawns in front of the lake or have refreshments in the tearoom courtyard.
If you go: The Vyne, Open daily 11-4 for house, 10-5 for garden.
Where to stay in Basingstoke
If you're looking for a comfortable hotel as a base to visit Basingstoke and tour the beautiful Hampshire countryside, I recommend The Hampshire Court Hotel where I stayed. It's situated on the edge of Basingstoke, a 10 minute drive from the centre of town, with ample parking so ideal if you are travelling by car. This modern four star hotel is part of the QHotels group which has 26 hotels throughout the UK, with rooms set around a courtyard, which is beautifully landscaped with walkways and plantings of lavender and grasses.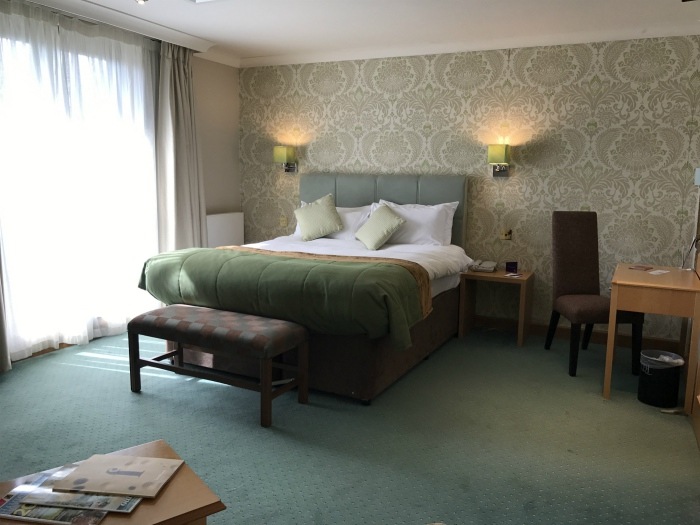 I had a very spacious room on the 1st floor which was decorated in restful shades of soft green, with light wooden desk and coffee table. The comfortable sofa in my bedroom, with magazines laid out on the table, made a nice area to relax and I also enjoyed the view from my window over the courtyard.
My large bathroom at The Hampshire Court Hotel had both bath and shower with luxurious ESPA toiletries and I felt very spoiled with the spacious size of the rooms as well as a separate lobby area with wardrobe and tea making facilities. Breakfast was served buffet style in the dining room on the ground floor overlooking the courtyard and had a good selection of pastries, cereals, healthy fresh fruit and yoghurts as well as hot options for those who like a hearty English breakfast. I noticed that there were gluten free cereals and other dietary options clearly marked as part of the buffet.
I'd happily recommend this hotel as a base for business or leisure when visiting Basingstoke. For more information or to book: The Hampshire Court Hotel

Visitor Information for Basingstoke
There's plenty going on this summer in Basingstoke during the Made in Basingstoke Festival – discover what's on in the centre of Basingstoke on the Visit Hampshire Website.
Read more in my article Summer Festival Fun in Basingstoke
Pin It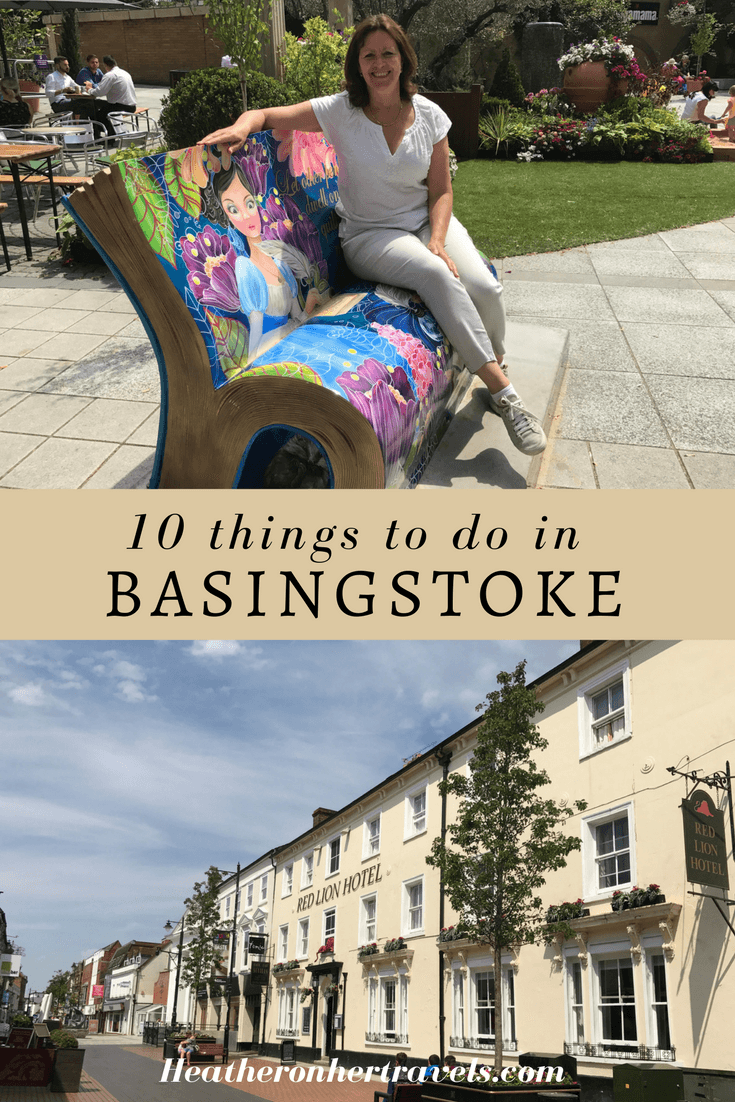 This article is a collaboration with the Made in Basingstoke Festival who kindly hosted my stay in Basingstoke. Some of the activities mentioned were provided on a complimentary basis.
This article is originally published at Heatheronhertravels.com – Read the original article here