Our Uniworld river cruise with Titan Travel took us through the South of France, from Lyon in the heart of Burgundy, to the medieval walled city of Avignon in Provence. It was one of the most stress-free holiday I can remember in a long time, with the Titan VIP airport transfer, daily escorted excursions and the attentive on board service. The week flew by with rich insights into local culture and history, some delicious food and wine (we were in France!) and great company. If you're thinking of taking a European river cruise, here's what you can expect when you travel with Uniworld.
I hope you enjoy the video below about SS Catherine with Uniworld Boutique River Cruise Collection
If you can't see the video above about SS Catherine with Uniworld see it on my blog here or YouTube here and please do subscribe using the button above
Click here for direct download of video
1. The ship is a floating luxury hotel
Having stayed before at a Red Carnation hotel (read my review of The Acorn Inn), the sister company of Uniworld Cruises, I knew that the SS Catherine would be something special. Both the Red Carnation Hotel Collection and the Uniworld ships are known for their opulent interiors, with antique furniture, sumptuous fabrics and gorgeous artworks that have been carefully selected to reflect the locality. Everywhere we found rich textiles, gilt furnishings, marble and mirrored tables and artworks that would not have been out of place in a major art gallery; think Joan Miro, David Hockney and Henry Moore.
You may also enjoy: 10 things we enjoyed on our Titan river cruise – Netherlands and Belgium on MS Serenade I
Matching the green and pink theme of the Van Gough lounge were delicate Murano glass wall lamps and in the lobby a Venetian glass horse sculpture, one of only two in the world, the other being in the palace of the Emperor of Japan.
While the main Van Gough lounge was light and feminine, the Bar du Leopard at the back of the ship had the feel of a gentleman's club, with an African theme in the wild animal paintings, leopard sculpture and leopard print furnishings. The Tollman family who own Uniworld Cruises are from South Africa, so I guessed that this was a reference to their African heritage.
The staterooms were beautiful too, in a fresh white and green theme and felt much more like a boutique hotel room than a ship's cabin, with their signature padded fabric wallcovering and Italian marble in the bathroom.
2. You'll receive attentive and personal service
To match the luxurious surroundings on board SS Catherine, we received 5 star service from all the Uniworld staff we met. Everyone we passed greeted us with a smile and a Good Morning and by the end of the cruise I swear that everyone knew us by name, and probably my favourite flavour of macarons too. We felt that we were not just another guest, but the most special guest on board, and I'm sure every one of the other guests felt the same.
Each time we left our stateroom we returned to find it returned to its pristine state with bed made and towels carefully arranged. In the lounge and restaurant, a cup of coffee or glass of wine would barely be empty before a member of staff would check if we wanted another. We were even asked which were our favourite chocolates so that the jar in our room could be refilled with them each day.
Both Hotel Manager Yann and Cruise Manager Thierry were ever present around the ship to greet guests and check they had everything they required. And all of the service was given with such humour and cheerfulness so that we felt by the end that we were all part of one extended family. Of course it was rather a shock to come home and have to make my own beans on toast, but lovely to feel completely spoiled while I was on board.
Read more articles from this cruise:
12 Culinary highlights from our Burgundy and Provence cruise
Tasting the wines of Burgundy on our Uniworld Cruise
3. Every detail is taken care of
I've come to realise that part of the luxury experience is to find that every little detail has been taken care of and we found this attention to detail permeated throughout the our cruise with Uniworld. As an example, our stateroom had plenty of wardrobe space including room under the bed for cases and a bathroom with two large drawers so that toiletries could be put out of sight. We found a metal water flask that could be filled from our carafe of water to take on excursions, rather than having to buy lots of environmentally unfriendly plastic bottles.
On the lower floor was a laundry room to wash and iron clothes, ideal for me to smooth out the creases after unpacking, so that I could look smart at dinner. There was always somewhere around the ship to get a snack or cup of coffee, including a 24 hour self service area with coffee machines and biscuits. Lovely L'Occitane toiletries were provided in big, refillable bottles to avoid waste, but I found a welcome bottle of conditioner and lip salve as well.
For excursions we had excellent Quietvox audio sets that enabled us to hear the guides through our own headset, allowing me to wander off and take photos while still hearing what the guide was telling us. I could go on about the numerous things that had been carefully chosen to give us a great holiday experience, but let's just say that if you need it, Uniworld will probably have thought of it first.
4. Stress free transfers and excursions
We found that from the moment we left our front door, everything had been arranged to give a stress free start to our holiday. We especially enjoyed the VIP Titan Home Departure Service which is an additional benefit when you book your Uniworld Cruise through Titan Travel. All Titan guests get a free transfer between the airport and their home in one of Titan's own vehicles and our car was duly outside our house to pick us up at 2.30am. As it was an early start to catch our 7am flight, I was thankful not to have to drive, but could doze all the way to the airport. On our return to Heathrow, the nice man with the Titan sign was there, waiting to drive us the 2 hours back to Bristol.
Once we arrived at Lyon for the start of our cruise we were greeted by one of the Uniworld staff who took us to our coach to transfer to the ship. This experience of seamless logistics extended to Uniworld's own luxury coaches which took us on all the excursions, with excellent English-speaking guides to bring the places we saw alive with their stories.
5. It's an all-inclusive holiday
Uniworld Cruises originally introduced the all-inclusive concept as a result of customer feedback and it certainly made for a stress free holiday. From the moment you arrive at the airport to join your cruise, you really don't need to spend a euro unless you want to buy a few souvenirs along the way (and who could resist buying some Valrhona chocolate when they visit the Cité du Chocolat in Tain-Hermitage?).
You may also enjoy: Highlights of our Amsterdam river cruise with Titan Travel – Through Holland and Belgium
So what does all-inclusive really mean on a Uniworld's cruise?
To start it means that a choice of excursions are included in your cruise, normally a walking tour to see the sights, a gentle walker's group who might take a slightly different route or be taken on a tourist train, and a Go Active option for those who enjoy hiking through vineyards or kayaking down the Rhone. The excursions normally took up half a day, allowing the other half of the day for exploring on our own or relaxing on board the SS Catherine.
The excursions normally included a little extra, such as a wine tasting, visit to a museum or castle, or a local experience. There were also some optional excursions which cost extra and we tried a couple of these which we really enjoyed, visiting the Château de Rully for a wine tasting, lunch and tour of the privately owned chateau, and a cookery lesson at the Institut Paul Bocuse in Lyon.
All meals are covered on board and the excursions will generally bring you back to the ship for lunch so you only need to eat in a café if you want to soak up some local atmosphere. We were served really excellent wines, so no need to upgrade when you are served wine like ink. Practically all cocktails and spirits were covered too – unless you have a taste in 20 year old whiskey. Coffee, tea and all other hot drinks were available whenever we wanted them.
Another feature of the all-inclusive package is that all gratuities for both staff and tour guides were covered, so no need to worry about tips at the end of the cruise. All of this meant that I felt a bit like the queen with hardly any need to carry cash which was a very relaxing feeling, although a bit of a shock to come back to the real world where everything has to be paid for.
Read more articles from this cruise:
12 Culinary highlights from our Burgundy and Provence cruise
Tasting the wines of Burgundy on our Uniworld Cruise
6. Excursions that are an enriching experience
I mentioned that there were some optional excursions that were an additional charge but this didn't mean that we felt short changed if we didn't take them, since all the excursions were led by excellent local guides who gave us an insight into the local history and culture. One of my favourites was the village walk in the riverside town of Viviers which was so full of local charm that we could totally understand why it had been used to film some of the scenes in the film, Chocolat.
After the walk around the old streets and an organ recital in the Cathedral at the top of the hill, we ended up being welcomed into our guide Frances' house in the old town, drinking rosé wine in her flower filled garden and hearing how her aunt had used the house to shelter fleeing Jews in the Second World War.
Another highlight was the optional excursion to a cookery demonstration and lunch at the Institut Paul Bocuse, a cookery school founded by the famous chef who was born in Lyon and runs a 3 Michelin star restaurant there. As you can imagine the surroundings of the Institut were suitably elegant and on the first floor top chef Philippe, who normally ran a 3 Michelin star kitchen demonstrated how to make some of the local specialities such as Salade Lyonaise with lardons and poached egg on top, followed by the Pike quenelles with crayfish sauce and a delicious soft meringue desert in a nest of spun sugar.
While we didn't exactly work hard, or have to do any of the washing up, it was fun to have a go at scooping up the perfectly formed quenelle or poaching the eggs for the salad. At the end of the demonstration we all sat down to a relaxed lunch with excellent wines and ate the dishes that we'd had a hand in cooking, although I'm not sure that we could take much credit for how delicious and perfectly cooked they were.
7. You can Go Active if you like
Uniworld is very much into promoting a healthy lifestyle, with fitness and wellbeing incorporated into the cruise. On some days there was a 'Go Active' excursion option such hiking through the vineyards or kayaking under the Pont d'Arc, the famous Roman Aqueduct near Avignon. Bikes were available for guests to use and while I was walking around the picturesquestreets of Viviers, Guy was cycling beside the Rhone, discovering another castle of the opposite bank of the river.
Of course for those who like to maintain their fitness routine on holiday, there was a gym and a particularly splendid pool next to The Leopard Bar where you could admire the wildlife mosaics while taking a dip.
I also appreciated the healthy menu choices on offer with plenty of delicious options such as fruit smoothies, a salad selection and fresh fruit as well as a 'Traveling Lite' menu with recommended dishes that would be lower in calories.
8. But you can also relax
There may have been plenty of activities on offer but our Uniworld Burgundy and Provence cruise was also about wellbeing and relaxation, with time to unwind and enjoy the beautiful scenery on the river. Unfortunately, at the beginning of the cruise we experienced rainy and cloudy days, but later on in the week the sun came out and we were able to bask the sunshine on deck.
Depending on the level of the river and the number of bridges, the top deck is sometimes closed, to avoid guests being knocked out by a bridge that is only inches above their head. However on other stretches such as the one between Avignon and Tarascon, we had a few hours to enjoy the unspoiled river views and relax in the sunshine.
9. The fabulous food on board
The food served on board our Uniworld cruise was outstanding, with a buffet for breakfast and lunch although there were always some hot dishes available. In the evening we had waiter service with a good range of fish and meat dishes, a 'Traveling lite' menu and a vegetarian menu, so whatever your taste you would find something to enjoy. If all else failed and you really wanted a steak, the chef could usually make it for you.
Each evening before dinner, while having drinks in the lounge, the enthusiastic sommelier would tell us about the menu and the carefully selected wines that would accompany each dish. I enjoyed the local flavour of the menu, and if we'd heard from our guide about some local speciality such as Boeuf Bourguignon or Valrhona chocolate, we would invariably find it on the menu that evening, with accompanying local wines.
Read more articles from this cruise:
12 Culinary highlights from our Burgundy and Provence cruise
Tasting the wines of Burgundy on our Uniworld Cruise
10. You'll enjoy good company
We really enjoyed meeting some of the other guests on board, which was easy to do since the ship holds a maximum of 159 guests. At dinner there was a free seating arrangement which meant that rather than being allocated a table for the whole cruise, we were free to sit on our own or join other couples as we wished. We normally sat at a different table each night and got to know many of the other guests over dinner.
The majority of guests on our cruise were American with a few couples from the UK and others from Canada, Australia and other English speaking countries. Most guests seemed to be aged between 50 and 80, although there were a few younger couples, and many had sailed with Uniworld before and were returning for a second or third cruise. We had a lot of fun comparing notes on the day's activities and getting to know other couples over a few glasses of the excellent wine.
Who will enjoy a Uniworld cruise through Titan Travel?
We really enjoyed every moment of our Uniworld Burgundy and Provence Cruise and it was a bit hard to come back to reality after being so well taken care of. The cruise is more about cultural enrichment and relaxation than entertainment, and those aged 40+ will feel most at home. A Uniworld Cruise will suit the discerning traveller who is looking for a luxurious and stress free experience while discovering the local culture and cuisine. In the UK, Titan Travel is one of the best ways to book a Uniworld cruise since they provide some additional perks, such as the VIP Home Departure Service.
Have you taken a river cruise through Uniworld or Titan Travel and if so what was your experience?
Travelling with Titan Travel and Uniworld Cruises
You can book your Uniworld Cruise through Titan Travel who specialise in escorted holidays and cruises. When you book through Titan Travel you enjoy their VIP Home Departure Service which is included in your holiday, to transfer from your home to your departure airport in one of Titan's own vehicles.
Uniworld offer boutique river cruising on the rivers of Europe as well as other worldwide destinations. Like their sister company, Red Carnation Hotel Collection, the Uniworld ships feature luxurious furnishings and artworks with outstanding, personalised service.
Heather and Guy travelled on Uniworld's Burgundy and Provence River Cruise through Titan Travel, on an 8 day cruise from Lyon to Avignon, from £2049 per person. As with all Uniworld cruises, the holiday is all-inclusive and covers meals and drinks on board, daily excursions, gratuities and airport transfers.
Pin It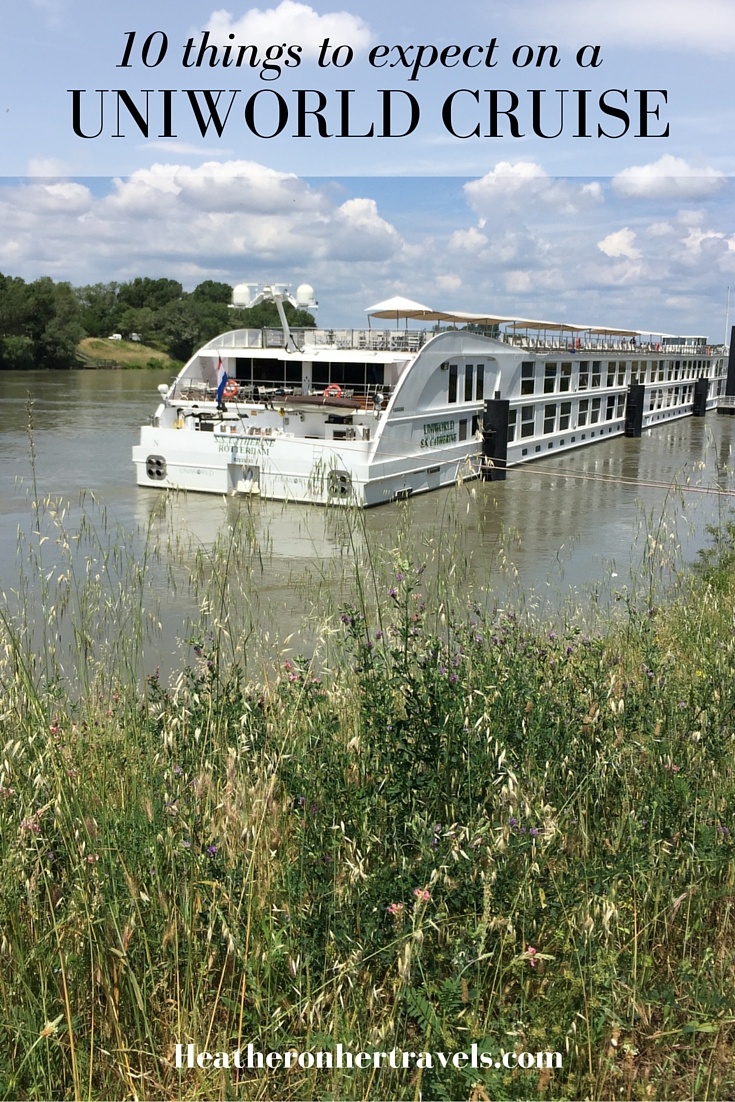 Thanks to Titan Travel and Uniworld for hosting* our cruise.
* More info on my policies page
This article is originally published at Heatheronhertravels.com
This article may contain affiliate links that provide commission on purchases you make at no extra cost to you. As an Amazon Associate I earn from qualifying purchases.