If you love to dip into the history of the Mediterranean, to understand the cultures and landscapes that create the countries we see today, then I'd highly recommend the Voyages to Antiquity cruise we took on the Aegean Odyssey through Titan Travel. Our Renaissance and Rivieras cruise took us from Rome, to the islands of the Mediterranean; Corsica, Sardinia and Elba, with stops to explore the heritage of Renaissance Italy at Lucca, Pisa and Florence. We ended our cruise at Marseille on the French Riviera with further opportunities to explore Avignon, Cannes and Aix-en-Provence as the ship sailed on to Nice.
With the Titan VIP door-to-door travel service, excursions with knowledgable local guides and relaxed atmosphere on board, it was a stress-free opportunity to visit many places but only unpack once. But you should be aware that not all Mediterranean cruises are created equal, so if you're thinking of cruising with Voyages to Antiquity, here's what to expect on board their ship, Aegean Odyssey.
Aegean Odyssey reviews
1. Elegant decor in your cabin and around the ship
With the emphasis on history and culture I was half expecting that the decor on Aegean Odyssey would not be terribly exciting. I was pleasantly surprised, however, to find that the ship was both elegant and modern. In our cabin the colour scheme was fresh and inviting in greens and yellows, with pale wood furniture giving an airy feel. Our cabin number 750 on the upper deck had a small balcony with two easy chairs, but when I peeped into some of the inside cabins they also looked very pleasant.
You may also enjoy: A guide to luxury cruising on Azamara Pursuit – with Azamara Club Cruises
Our bathroom had marble effect tiles and flooring with a large sink area and walk in shower. There were plenty of delicious Molton Brown toiletries to spoil us too. Storage was plentiful in the double wardrobe and drawers, with space for our cases under the beds and a fridge to keep drinks cool.
Around the ship was colourful artwork with an abstract feel and our favourite place on the whole ship was the Terrace Café where we ate almost all our meals. With the scrubbed wooden deck and white safari chairs, we almost felt as if we were in a harbourside café with an uninterrupted view of the ocean.
Read more: A Mediterranean cruise for culture lovers with Voyages to Antiquity
2. The joy of small ship cruising
Having taken a few cruises, I've found there's a cruise ship to suit every taste and interest. Some travellers love the bigger ships with a range of on board restaurants and buzz of activity, while others prefer the more intimate feel of a small ship like Aegean Odyssey. So what does small ship cruising mean for your holiday experience?
Firstly a ship that holds only 350 passengers never feels crowded, so you don't feel that you have to fight for a sunbed, even on a day at sea. Let's think of it as the difference between staying in a small boutique hotel, compared to a larger holiday resort. You'll get to know your fellow passengers and make friends easily, while the staff quickly get to know you and your tastes.
Small ship cruising does tend to be more expensive as there are not the economies of scale that you get on a ship with thousands of passengers. We found our fellow guests were affluent and well educated, more interested in the places they were visiting than in having a climbing wall, nightclub and three swimming pools. As one guest told me " We don't want a cruise that's all eat, eat eat, drink, drink, drink. We want a cruise where we go home feeling that we've learned something." With Voyages to Antiquity it's more about the enrichment you get from visiting fascinating historical sights than the entertainment on board, which is fairly low key.
Read More: Delicious Mediterranean foods to try on your cruise (and where to find them)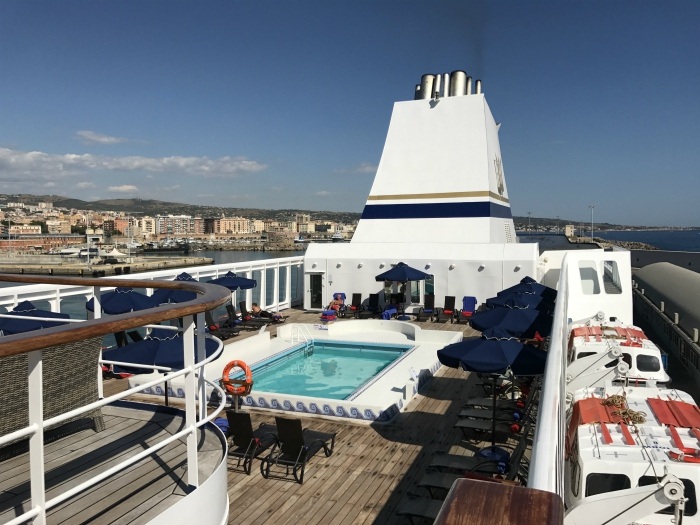 Smaller ships like the Aegean Odyssey are also able to visit ports that would not be suitable for the mega-ships holding thousands of passengers. We especially appreciated this when we visited some of the Mediterranean islands like Corsica, Sardinia and Elba, where although there were other ships in port, none of them were especially large. In Marseilles we docked in the Vieux Port, a short stroll from the sights, rather than a mile down the road in the new port that's designed for larger ships.
Small ship cruising works well for those who don't want to fight their way through the crowds that can flood a destination from a larger ship. When you have to take the ship's tender into port, as we did at Bonifacio, it's a relatively quick process to disembark 350 guests compared to the long waits you can get on larger ships with ten times as many passengers.
3. Excursions for those who love history and culture
As the name suggests, Voyages to Antiquity is all about enjoying the historical places and ancient sites that you will visit on your cruise. On our Renaissance and Rivieras cruise, our excellent local guides at each destination gave us insights on Napoleon's life on Elba, explained how the Medici family came to dominate Florence and told us why the campanile in Pisa began to lean. We were provided with QuietVox headsets with built in earpieces making it easy to hear the guide explain everything, even while wandering off to take a million photographs (as one does as a blogger).
We enjoyed the balance of guided tours and free time on most excursions. A guided walking tour provided plenty of information and was generally combined with some time to stroll around town, window shop, buy local specialities or find a shady café for lunch. In some places like Bonifacio the visit was entirely self-guided and we wandered on our own using the maps and information provided by the ship. In other places such as Pisa, where time was limited, and the crowds more intense, our tour was mainly with a guide.
As a history graduate, I found it fascinating to learn about Napoleon's life on Elba. We visited Villa dei Mulini, his home on the island, where in 1814 he entertained the local nobility and governed the island, making his escape from exile only a year later. Almost all the excursions like this one were included in the cruise price, which was a real benefit, since the cost of excursions on some cruises can be substantial. There were only a couple of extra excursions that incurred an additional cost, but we preferred to use this time to explore on our own or relax on board.
Read more: A Mediterranean cruise for culture lovers with Voyages to Antiquity
4. Expert speakers for an enriching experience
Voyages to Antiquity are known for the programme of on-board talks given by expert lecturers. And when they say Expert, these really are leading academics in their field of history, art, antiquity or geology. On our Renaissance and Rivieras cruise we enjoyed the lectures from Jeremy Boudreau of the British Institute of Florence, in preparation to our visits to Lucca, Pisa and Florence. He shared his in depth knowledge of the art and culture of Renaissance Florence, so that we could look out for the development of perspective when visiting the Uffizi and understand why the Baptistry was so significant when visiting Florence or Pisa. We learned why the famous David statue was "the stars and stripes of Republican Florence", representing the city state's struggle for independence in the face of a threat from more powerful Rome.
The second lecturer, Dr David Price-Williams of the University of London was equally entertaining, making us see how the geology and geography the region of the Mediterranean had impacted the history of places we would be visiting. Once thriving ports such as Pisa were now miles from the sea and other ancient cities were now underwater following earth tremors that had caused them to sink below the waves. According to Dr Price-Williams, cities like Venice that are also built on precarious foundations of sediment may in time face a similar fate. We also learned about the great nephew of Napoleon Bonaparte, who as an ambitious young soldier, had been killed by Zulus in South Africa, ending all hope of a Napoleonic dynasty.
Read More: Delicious Mediterranean foods to try on your cruise (and where to find them)
5. It's all about the destination
Another benefit of small ship cruising is that the spotlight is firmly on the destinations you visit. In the Mediterranean most of the ports are close together, so you visit a new place almost every day. With Voyages to Antiquity we usually arrived into port at breakfast time and stayed until dinner time, giving us a full day for sightseeing. Each evening of our Renaissance and Rivieras cruise, there was a talk about the next day's destination, so that we would know what to expect and we were given a printed guide on the key things to look out for. For those who wanted to explore independently, information was provided on what to see in and around the port area. I never felt the lack of a guidebook or map, as further information was often available as we got off the ship or in a nearby tourism information office.
Our local guides gave us an excellent overview of the culture and history of each destination, as well as the individual places we saw on each tour. Although the time in each destination was quite limited, I came away with a much better understanding about each place and mentally earmarked a few that I'd love to return to and explore in more depth. On our Renaissance and Riviera cruise, we boarded the cruise in Rome and visited Olbia (Sardinia), Bonifacio (Corsica), Elba, Florence, Lucca and Pisa and would have finished with some visits on the French Riviera, had we not disembarked a day early in Marseille. It was fascinating to visit these Mediterranean islands so close together whose history had given them such a different flavour.
Read more: A Mediterranean cruise for culture lovers with Voyages to Antiquity
6. A lot is included in your cruise price
If you're new to cruising you may not realise that there's a lot of variation in what different cruise lines include in their holiday price. The key items that can seriously dent your budget are excursions, gratuities and drinks, which are often charged separately, on top of your cruise price. You'll be pleased to know that on a Voyages to Antiquity cruise these big ticket items are mostly included, in fact there's little need to spend much on top of your cruise price. There was an included excursion most days and sometimes a second optional second excursion which was moderately priced at $65-80 per person, but we only took the included excursions and were very happy with them. When it comes to drinks, you are offered unlimited table wine with your evening meal, but need to pay for drinks at lunchtime or when served in the Charleston Lounge before or after dinner. Gratuities for restaurant and cabin staff are also included in your cruise.
So to give you the full picture, here's what's included in the price of a cruise with Voyages to Antiquity;
All meals on board with a choice of buffet style and a la carte in two different restaurants.
Red or white house wine with your evening meal
Most excursions, which usually included a coach transfer and a local guide to show us the sights, with some free time to wander on our own.
Some but not all exercise classes
Gratuities for cabin and restaurant staff are included in your cruise price although 12.5% service is automatically charged on drinks.
Depending on the package you book, scheduled flights and transfers to the ship on arrival are included unless you opt out.
When you book through Titan Travel you get the additional benefit of their VIP door-to-door service, with a driver to take you from your home to the airport and back home on your return.
Read More: Delicious Mediterranean foods to try on your cruise (and where to find them)
You need to budget for the following, which are extra charges;
There were a few optional excursions which were reasonably priced, for instance including a wine tasting. The excursions on our cruise were in the range of $65-80 per person.
You need to pay for alcoholic and soft drinks at lunch and drinks other than the table wine at dinner.
Cocktails, post or pre-dinner drinks, speciality coffee in the Charleston lounge or pool bar were extra.
Exercise classes such as Yoga and Pilates were extra however some classes were included.
Laundry and pressing are charged and there was no self service laundry on board, although we understood that the laundry service was free with some superior cabins.
7. A relaxed atmosphere on board
On Aegean Odyssey we found that the atmosphere was very relaxed and informal, with free seating at dinner and no fixed dinner sittings. During restaurant opening times we could wander down to whichever of the two restaurants we preferred and be seated at our own table or join some of our newly made friends at a larger table. The service was excellent, with plenty of smiling staff ready to bring what we required, open a door or carry a tray from the hot station back to the table.
The dress code was also relaxed on board, and while guests would tend to dress more smartly at dinner, there were no formal nights requiring a tuxedo or evening dress. Even though Guy had packed a jacket, he only wore it a couple of times in the Marco Polo restaurant, where it was all waiter service from an a la carte menu. Most days we preferred to sit outside in the less formal Terrace Café, enjoying the warmth of the Mediterranean evening and views of the ocean or port.
There was plenty of time after a morning excursion to relax by the pool on the lido deck, or find a quiet corner of the ship where other sun loungers had been placed. Tea and coffee were readily available from the drinks station in the shady area at the end of the pool, where many guests would sit reading a book from the well stocked on-board library.
Read more: A Mediterranean cruise for culture lovers with Voyages to Antiquity
The food on board was excellent, with a wide choice at all meals and delicious fruits and salads as well as hot dishes. While Guy sometimes preferred the Marco Polo Restaurant with more formal service, I must admit that I enjoyed sitting outside on the Terrace Café and choosing from the buffet where there was plenty of choice. In addition to the hot buffet choices available, we could also order from the a la carte menu, or go to the pasta station for a bowl of freshly made pasta. On our day at sea we really enjoyed the curry lunch with plenty of different curries and chutneys, salads and side dishes.
I don't think I would ever pass a member of staff without without them wishing me a good afternoon or good morning and our cabin was kept immaculate by our cabin steward.
8. Good deals for solo travellers
We noticed quite a few solo travellers on board our cruise with Voyages to Antiquity, who were all having lots of fun mingling with other guests. The Aegean Odyssey seemed ideal for those travelling on their own. With around 350 passengers on board it was easy to make friends with other guests, both couples and singles. As one friend commented "It's small enough to meet the people you want but big enough to avoid those you don't". The atmosphere was relaxed and friendly and at dinner in the Marco Polo Restaurant we had the option to join a table of six or to be seated on our own, giving us plenty of opportunity to meet different people if we wanted.
Many cruise lines are expensive for solo travellers, because if you want a room on your own you will need to pay a single supplement. However, Voyages to Antiquity has 26 single occupancy cabins with low or no single supplements, rising to 39 in 2018, making it an excellent value choice for solo travellers. It's also worth getting on their mailing list so that you hear about special offers where the single supplement is either waived or reduced.
Read More: Delicious Mediterranean foods to try on your cruise (and where to find them)
9. Titan's VIP door-to-door travel service
Our cruise was booked through Titan Travel, one of the UK's leading travel companies who are specialists in luxury holidays, escorted tours and cruises. One of the joys of travelling with Titan is that you get a VIP door-to-door travel service, with transfers from your home to the airport if you live on the UK mainland. What a pleasure it was to be picked up by a smartly dressed driver in a large, comfortable people-carrier to take us to the airport for our early morning flight, with no worries about driving when we were half asleep! Even better to be greeted as we arrived back at the airport by someone to take us home after a day of travelling. It really means trip becomes hassle free and extends that relaxed holiday feeling for as long as possible.
10. Who is a Voyages to Antiquity cruise best for?
We found that a Voyages to Antiquity cruise booked through Titan Travel is well suited to 50+ travellers who enjoy exploring new destinations and discovering the history and culture of the places they visit. While there is some entertainment on board, things are fairly low key and relaxed, so if you are looking for a party atmosphere and lots to do on the ship, this may not be the cruise for you. The other guests on our Renaissance and Rivieras cruise tended to be well educated retired travellers, mainly from the UK with a smaller proportion from the US, Canada and Australia. Most were in their 60s and 70s with a few younger passengers who were accompanying older relatives. We thoroughly enjoyed our cruise and would certainly recommend it to those looking for an enriching travel experience.
Read more from this cruise
A Mediterranean cruise for culture lovers with Voyages to Antiquity
Delicious Mediterranean foods to try on your cruise (and where to find them)
Book your cruise with Titan Travel and Voyages to Antiquity
You can book your cruise with Voyages to Antiquity through Titan Travel who specialise in luxury holidays, escorted tours and cruises. When you book through Titan Travel you enjoy their VIP door-to-door travel service which is included in your holiday, to transfer from your home to your departure airport and back in one of Titan's own vehicles.
Voyages to Antiquity cruises are on board the classically elegant Aegean Odyssey, which offers passengers every comfort at sea, with a relaxed atmosphere and the high levels of service. Carrying an average of 350 passengers, Aegean Odyssey's ideal size is perfectly suited for coastal cruising to the small inlets of the Mediterranean that larger ships cannot reach, offering a unique combination of ocean and river cruising.
Heather and Guy travelled on Voyages to Antiquity's Renaissance and Rivieras Cruise through Titan Travel, on a 13 day cruise from Rome to Nice, similar cruises around £2500 per person. The Voyages to Antiquity cruise includes all meals on board, wine with evening meals, daily excursions, gratuities and airport transfers.
Pin It
Thanks to Titan Travel and Voyages to Antiquity for hosting* our cruise.
* More info on my policies page
This article is originally published at Heatheronhertravels.com
This article may contain affiliate links that provide commission on purchases you make at no extra cost to you. As an Amazon Associate I earn from qualifying purchases.