With luxurious boutique style, Azamara Pursuit is the latest ship to join Azamara Club Cruises and I was delighted to be invited along to the naming celebrations and a short cruise from Southampton to Cherbourg. I'd previously spent a week cruising in Greece and Turkey on Azamara Journey and absolutely loved the small ship atmosphere with under 700 guests and the focus on the destinations – what Azamara calls Destination Immersion.
Azamara Pursuit is essentially the same size and style of ship as her sisters Quest and Journey but with every new launch, Azamara is looking to enhance and improve the guest experience, so read on for my guide to luxury cruising on Azamara Pursuit and everything we enjoyed on board.
An introduction to Azamara Pursuit
Azamara Club Cruises launched in 2007 with two ships designed for luxury small ship cruising, as part of the Royal Caribbean portfolio. Having successfully established the Azamara brand with sister ships Azamara Quest and Azamara Journey, Azamara Pursuit is the latest new ship to join the cruise line.
As a luxury cruise line, Azamara is known for small ship cruising and with a maximum of 700 guests in 351 staterooms on its new ship, the experience feels exclusive and intimate. Like the Quest and Journey, Pursuit is one of the R-class ships that were originally built for Renaissance Cruises and has recently completed a refit with Harland and Wolff in Ireland to bring the decor and facilities in line with the luxury Azamara brand.
You may also enjoy: Azamara Club Cruises – 10 things to expect on your luxury Cruise
The Azamara Pursuit Cabins
We checked into our balcony stateroom 6061, our home from home for the two days of the Azamara Pursuit launch festivities. When we last sailed with Azamara Club Cruises in 2015 we were on Azamara Journey (read about it here) and the decor, although luxurious was more classic. Since then all the ships have been re-imagined with a new more contemporary look of restful neutral shades and accents of colour.
As we had expected, our stateroom on Azamara Pursuit felt very luxurious, with soft carpets, gorgeous bedlinen and a cloud-like duvets and pillows. Some of the original dark wood remains but the overall effect is light and airy with an outside seating area on our balcony, which was a lovely place to relax in privacy. Our bathroom was small but perfectly formed, with a small shower with curtain, a moulded basin and lovely "Eco-boutique" Aloe Vera and Green Tea toiletries.
You may also enjoy: Windy Mykonos – Day 2 of our Greek Island Cruise with Azamara Club Cruises
The Azamara Pursuit Suites
I was also able to have a look around some of the suites on board which take luxury cruising to a whole new level. The style of decor is the same but of course you get a lot more space, with a separate sitting room, larger and more luxurious marble bathrooms and in some cases a balcony big enough to allow your own sunloungers.
I was told that "on Azamara, we sell from the top down" and the suites are normally the first to sell out on every cruise, often being booked a year or two ahead. For spa lovers, the Club Spa suites are close to the Sanctum Spa and have a large bathroom that includes a glass enclosed bathtub overlooking the ocean. On Azamara Pursuit, the refit has allowed more suites to be added, and these include services such as butler service, complimentary laundry, specialty dining, internet and in-room spirits.
You may also enjoy: Tips for Travellers Video: Azamara Pursuit Review and 8 things you need to know
The Naming Ceremony for Azamara Pursuit
The naming ceremony for Azamara Pursuit took place in the afternoon after we had boarded in Southampton, always a special moment for a new ship. Traditionally each ship has one or more Godmothers, women of achievement who are felt to represent the values and spirit of the ship.
During the ceremony Azamara's President and CEO Larry Pimentel explained that he wanted Godmothers for Azamara Pursuit who represented both their UK and US guests and were ambassadors in the field of travel, especially the experiential cruise travel and destination focus that Azamara espouses.
You may also enjoy: Visit With Us: A short but sweet cruise on Azamara Pursuit
From the UK, Azamara Pursuit's godmother is Lucy Huxley, Editor-in-chief of Travel Weekly UK and from the US comes Ellen Asmodeo-Giglio, EVP and Chief Revenue officer of AFAR Media. Larry Pimentel also spoke about the Beacon of Hope statue which stands 60 feet high in the centre of Belfast, where the ship was refitted by Harland and Wolff, with a similar sculpture standing in the Mosaic Café atrium. We were all given a small replica of the statue as a memento, to represent the wish for hope, peace and harmony for mankind.
The naming ceremony celebrations continued after dinner with an amazing display of fireworks over the water as the Azamara Pursuit sailed out of Southampton.
You may also enjoy: CruiseMiss: Azamara Pursuit Naming Ceremony and a French Market Extravaganza
A tour of Azamara Pursuit
Over the next couple of days I had a chance to look around the ship and found plenty of spaces to relax so you never feel crowded on an Azamara ship. The small pool and sunbathing area is on Deck 9 with elegant sun loungers for relaxation around the deck. On a ship of this size you don't expect the multiple pool areas of larger ships and as the Azamara philosophy is all around the the destination, with limited days at sea, the space works well.
There is more outdoor space on the Sunset Verandah and the Sanctum Terrace (for spa guests) as well as more sunbathing areas on the Deck 11 Sundeck. The pool deck is also the setting for the White Night Party which happens once on each cruise, when all the tables are arranged around the pool for an outdoor dinner with live music – magical when the weather is warm and you can dine under the stars.
You may also enjoy: Charming Patmos: Day 3 of our Greek Island Cruise with Azamara Club Cruises
The Mosaic Café on Azamara Pursuit
The Mosaic Café is at the heart of Deck 5, with the elegant original wrought iron staircase which adds a touch of drama and the coffee bar serving cakes and light snacks. With the couple of small shops in this area, it feels that this is the equivalent of the village square, a good place to meet friends for a coffee and to watch the world go by.
The Den on Azamara Pursuit
Near the Mosaic Café is The Den in partnership with AFAR, a large bar and lounge area which is a comfortable place to relax and have a drink before or after dinner. On the other Azamara ships, part of this space is taken up by a casino, but in the refit of Azamara Pursuit the casino was removed. The space is now used for the Shore Excursions and Cruise Again desks, where you can discuss your requirements in an informal and relaxed setting.
Removing the casino is something that will also be happening on the other Azamara ships in the future, since the emphasis of the brand is on Destination Immersion, with experiential shore excursions, evening and overnight stays. To appeal to the guests who enjoy this concept, it made more sense to use the space freed up by the casino for additional relaxation and cabin space.
On the same deck is the Cabaret Lounge, used for films, talks and evening shows, and where during our cruise we attended the naming ceremony.
You may also enjoy: Istanbul the golden: Final stop on our cruise with Azamara Club Cruises
The Living Room on Azamara Pursuit
One of my other favourite areas on board is The Living Room on Deck 10, which has a card room area, bar and spacious sitting area. The decor here is pale and elegant with accents of colour and luxurious velvets. I especially enjoyed the loungers that look out to sea – just the place I could imagine curling up with a good book or just taking a quiet moment to enjoy the ocean and daydream a little.
There is another small and elegant area called The Drawing Room also on Deck 10, which is a quiet wood panelled space, designed for use as a library or a room that can be used for private events.
The Art on board Azamara Pursuit
I tagged along to a tour by curator Michael Loveland of the artworks on board Azamara Pursuit which have all been carefully chosen or commissioned for the ship.
On display throughout the ship are pieces by well known or emerging international artists, some specially commissioned for each space, to reflect the destinations that the ship will cruise to. The artworks are contemporary and sometimes quite conceptual in feel, with photography, collage and sculptures that are beautifully in tune with their setting.
As an example, in the Guest Relations area we looked at the rose petals falling through the mist by Silvia Rivas from Argentina on a theme of migration, and behind the main desk a collage with layers of paper and and drops of red ink that had been sourced from different countries in the world.
The spa on board Azamara Pursuit
On Deck 9 on the same level as the pool, you'll find the Sanctum Spa which offers treatments using Elemis products, with a gym and salon area. There's a private outdoor relaxation area for spa guests with a small plunge pool and a programme of yoga and fitness classes in the gym. The Club Spa suites next to the spa with large bathrooms and an ocean view bath are especially popular for spa lovers.
Restaurants on board Azamara Pursuit
Informal dining in the Windows Cafe
Informal dining on Azamara Pursuit is in the Windows Café on Deck 9, adjoining the pool area at the back of the ship, which is where breakfast is served buffet style. The food on board is top notch with an incredible variety and beautiful presentation – I tend to stick to the fruit and healthy options and enjoyed the juice shots and freshly made smoothies, while others would be tucking into the pancakes or bacon and eggs. Much of the selection was self service, with some things made freshly to order and table service for tea and coffee.
The Windows Café was light and bright with window seating on both sides and extended to the Sunset Verandah where we would select from the buffet and then dine al fresco.
The Patio on Azamara Pursuit
At one end of the pool area and adjoining the Windows Café, was an area called the Patio, where lunch and dinner was served. The space is designed as a Pool Grill with a salad bar and casual dining although with table service. We ate here and enjoyed the atmosphere of being close to the pool although in a slightly more sheltered area, which would be ideal on cooler days. The menu included casual dishes like wraps, soups, open sandwiches and burgers, all served elegantly with a "Country Club" feel.
Discoveries Restaurant on Azamara Pursuit
More formal dining in the evening is in the Discoveries Restaurant and here the decor was classic and the atmosphere more formal. There's an open seating approach here, which means that you can dine when you are ready and mingle with other guests as you wish, rather than being at a fixed table for the whole cruise. The menu is extensive, the dishes beautifully presented and the cuisine international, with some dishes that nod towards the destinations the ship is visiting.
Speciality dining on Azamara Pursuit
There are a couple of specialty restaurants on Azamara Pursuit which are the same as the sister ships and situated on Deck 10. Aqualina serves Italian style dishes, such as tuna tartare, lobster ravioli or Dover sole with tomato risotto and the decor is elegant and classic with pale leather banquettes and formal table settings. Prime C is the second specialty restaurant, the mirror image of Aqualina and serves steak and seafood, although I didn't get a chance to see the decor as it was in use when we visited. Both restaurants are in high demand and there is a supplement of around $25 per person (based on our last cruise) when you eat there.
Service on board Azamara Pursuit
As you'd expect from a luxury small ship cruise line, part of the experience is the incredible service that you get on board an Azamara ship. The multi-national crew were beautifully dressed in their stylish uniforms, always welcoming and friendly, anticipating your requirements and nothing was too much trouble.
Of course if you've enjoyed a cruise holiday, especially a luxury cruise before, you'll know that the standards of service are generally very high. But on Azamara, the service feels very genuine and authentic, and we enjoyed conversing with the staff – they seem to enjoy that too, while always maintaining their professionalism. It's also worth noting that on Azamara Club Cruises gratuities are included in your cruise price, so that's not something you need to budget extra for, unlike many other cruises.
The Az-amazing evening on Azamara Pursuit
Another of the unique and most enjoyable features of an Azamara cruise is that each cruise includes an Az-amazing evening on shore when a special experience is offered to the guests included in your cruise price. On our previous Azamara Cruise in Greece and Turkey, we spent a special evening at Ephesus at a classical concert in the ancient amphitheatre, sipping a glass of wine under the stars.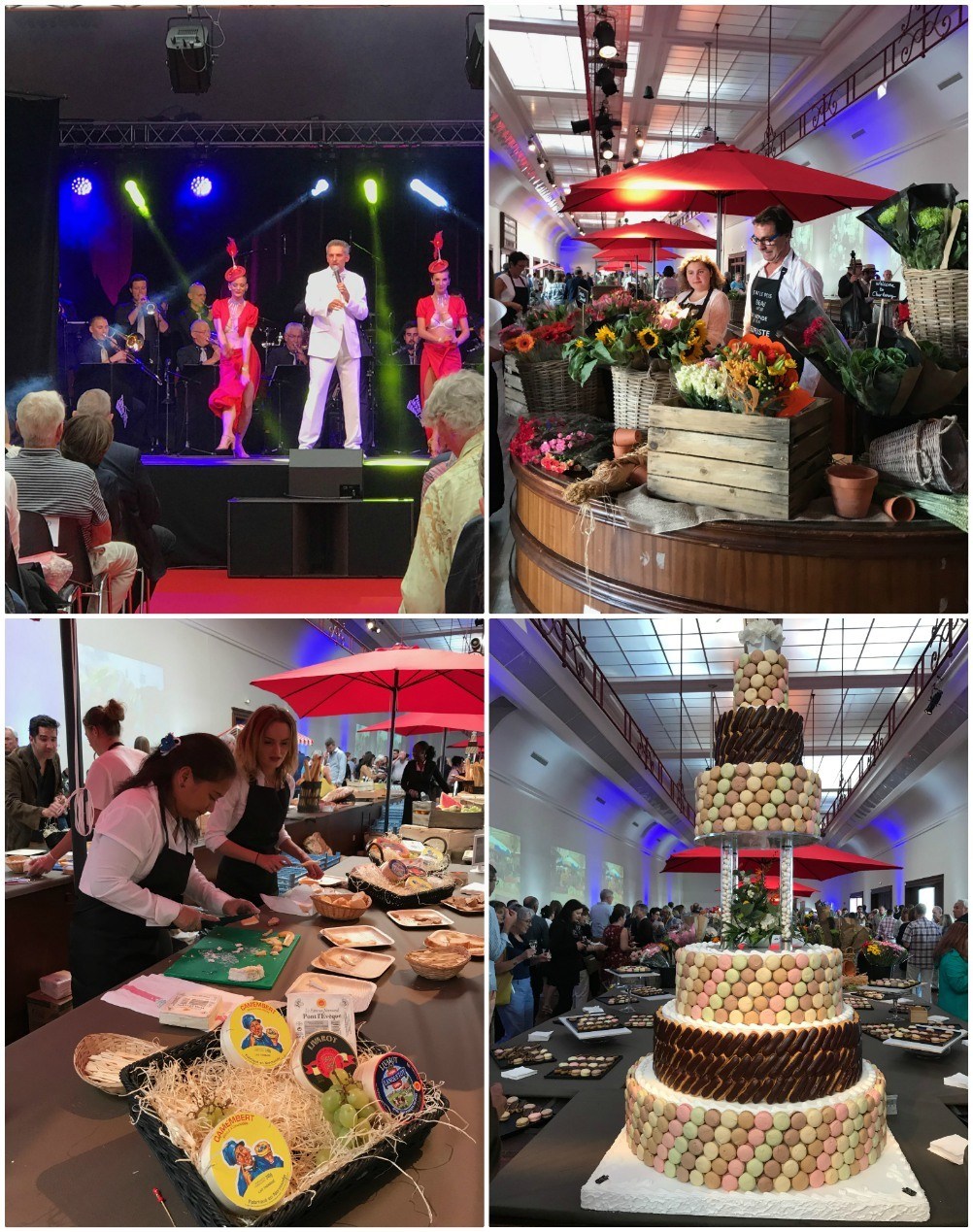 As we were only on board for a couple of nights, this time it was an Az-amazing afternoon in Cherbourg, where the art deco cruise terminal had been transformed into a French market, the stalls piled with flowers and produce, with a macaron tower and local cheeses, as well as a French trio of musicians and other entertainers.
After wandering around the French market, we were treated to a cabaret show with a 14 piece orchestra, singers belting out Edith Piaf favourites and a Moulin Rouge style dance show. The Az-amazing events are always designed to show off the local culture and give the guests a feeling of Destination Immersion, dipping into the energy and culture of a place, albeit a polished version of reality.
The White Night Party on Azamara Pursuit
Another highlight of each Azamara cruise, is the White Night Party that takes place once during each cruise, weather permitting. This is a really special event where guests are encouraged to dress in white, the restaurant is moved out onto the pool deck and a fabulous buffet dinner is served under the stars.
For our White Night party in Cherbourg, the champagne was flowing, the oysters were on ice and we dined on sushi, grilled lobster and other delicious dishes. On our previous cruise we experienced this off the Greek Island of Patmos and it was just as much fun in Cherbourg, even though the night air was not quite as warm. The live music and dancing on deck made for a party atmosphere to celebrate the ship's naming ceremony and new addition to the Azamara fleet.
Destination Immersion with Azamara Club Cruises
One of the things that differentiates Azamara Club Cruises from other luxury cruise lines is their focus on the places you visit on the cruise, which they call Destination Immersion, a concept that they have even managed to register as their trademark. It means that Azamara Club Cruises is perfect for travellers who are looking for an authentic travel experience and are fascinated by the food and culture of the places they visit.
While there's no compromise with quality on board, this isn't really a cruise that's about all the activities available on the ship. Instead you might think of the Azamara ship as a luxurious boutique hotel that transports you from place to place, enabling you to experience the essence of the destination even when you don't have a long in each port of call.
An example of this Destination Immersion concept is that the smaller ships are able to dock right in the heart of a city where larger ships might have to put you on a shuttle bus, and you'll be visiting ports that the larger ships can't reach.
The Azamara ships arrive early in port and stay late, often sailing after dinner or even staying overnight, so you can get the feel of a place after the coach parties have gone home and the other ships have sailed. The shore excursions are designed to be special and unique, so you meet local experts and personalities who can give you a feel for their own place and passion.
We heard from President and CEO Larry Pimentel, that having extended their fleet to 3 ships has enabled Azamara Club Cruises to extend their Destination Immersion concept even further. They can now offer cruises to a wider range of exciting new destinations and are extending their packages to include land based experiences such as safaris in South Africa. Also new for 2019 are country intensive voyages, where you can visit multiple ports in a single country for a more in depth experience.
Of course in a 2 day cruise it was difficult to experience all this in the same way as a full scale cruise, but we got a taste in our Az-amazing afternoon that was put on in Cherbourg, with a French market and cabaret show. Afterwards I wandered around Cherbourg and in just a 15 minute was strolling past the sailing boats in the harbour, arriving in the heart of the old town.
In the Place de Gaulle is the impressive theatre and fountain and there were plenty of small shops in the nearby streets selling local food specialties of Normandy, if you are looking for a souvenir.
I ducked through the low arches between the shopfronts on Rue du Ble to find the old stone houses built around a courtyard, some with their towers with spiral staircases and a lookout window at the top.
The display of umbrellas hanging above the streets was a reminder of the famous romantic film set here Parapluies de Cherbourg, where the young heroine is played by Catherine Deneuve and her family own an umbrella shop.
For more information on visiting Cherbourg visit the Cherbourg Tourism website

What's included in your Azamara Club Cruise
As all cruises are slightly different in what they include in their cruise price, it's worth mentioning exactly what is covered in your Azamara Club Cruise.
Included in your cruise package
All your meals and snacks in a range of different restaurants on board
Select standard spirits, international beers and wines which you can order throughout the day, not just at meal times.
Bottled water, soft drinks, specialty coffees and teas
Complimentary AzAmazing Evenings event on most voyages
Gratuities
Self-service laundry
Shuttle service to and from port communities, where available
Concierge services for personal guidance and reservations
Not included in your cruise package
Flights to and from your cruise start / end point
Shore excursions – the full day excursions from Cherbourg started at around £120 per person – you can browse all shore excursions here
Dining in the specialty restaurants Aqualina and Prime C – around $25 per person supplement
Who will enjoy an Azamara Club Cruise?
Based on our experience of Azamara Pursuit and our previous cruise on Azamara Journey, the Azamara Club Cruises are ideal for couples, solo travellers and small groups of friends. The guests we met tended to be experienced and affluent travellers, normally retired or semi retired and aged from 50s to 80s.
The ships have a luxurious grownup feel and are not really set up for children, so if you are looking for a family cruise I'd look at other cruise lines first.
Because of their emphasis on the destinations, the Azamara Club Cruises would be a great option for travellers who love to get an authentic travel experience and are trying a cruise for the first time. You could say that this is the perfect cruise for people who are not sure they will enjoy cruising!
Travellers who love style and quality will also enjoy the contemporary look and feel of the Azamara ships. This is a premium, luxury cruise line with the price to match, but a lot is included in the price that you might have to pay extra for with other cruise lines. To get a feel for the full cruise itineraries on offer and cruise prices take a look at one of the Azamara Club Cruise e-brochures
To book your Azamara Club Cruise
For more information and to book your luxury cruise visit  Azamara Club Cruises website and you can also connect with Azamara Club Cruises on Social Media via:
Azamara blog | Twitter | Facebook | Instagram | Google+ | Pinterest | YouTube | Flickr
Pin it
This article is originally published at Heatheronhertravels.com – Read the original article here
Thanks to Azamara Club Cruises for hosting me on the 2 night cruise on Azamara Pursuit as part of the naming celebrations.