Guernsey in the Channel islands is a delight for those who love fresh, locally produced food with flavours of both France and England. There are lush, flower-filled pastures for the Guernsey cows and goats to produce their milk, from the sea you'll find an abundance of crab, lobster and other seafood and from the land you'll find home-grown veg on the roadside hedge-veg stalls. From the sophisticated restaurants of St Peter's Port, to the fresh-sea-air beach cafes what's not to love? Here are some local traditional Guernsey food that you'll want to look out for on Guernsey itself and its Channel Island cousin, Sark;
I hope that you enjoy the video below about the delicious food on Guernsey and Sark
If you can't see the video above, view it on my blog or you can also view it on Youtube
Subscribe to all my videos in I-tunes
Download the Food in Guernsey Video [MP4]
If you enjoyed this video, check out the others in my Video archive
Discover Guernsey cuisine
1. Lobster and other seafood treats
As you walk along the cliff paths on the rocky south coast of Guernsey, your eyes might just pick out the colourful buoys bobbing in the sea below, each anchoring a lobster pot in place. Some of the best restaurants in Guernsey are serving great local seafood in St Peter's Port and at SeaFresh on the pier near Castle Cornet you can find the freshest fish for sale straight from the fishing boats. We caught the ferry to Sark for the day and found the perfect place to try locally caught lobster, sitting in the rose-filled garden of La Sablonnerie Hotel on a sunny day. The restaurant has a classic French style and we enjoyed half a lobster with a light, buttery sauce, that had been freshly caught that morning.
If you need a place to stay: Stocks Hotel: A luxury 16th century hotel on Sark with an outdoor pool that's a short walk from the beach.
2. Golden Guernsey Goat's cheese and other local Guernsey cheeses
We drove towards the beaches on the south-west corner of the island and stopped at St Pierre du Bois where Mandy and Peter Girard keep Le Douit Beuval Herd of Golden Guernsey Goats, a rare breed that they are trying to preserve, as there are only 1200 in the world. Around the back of the farmhouse is a glass lean-to where you can buy the soft, herb-flavoured cheese from their fridge, leaving your money in a box if they're not around. Past the chicken coop is the field where you might see the small flock of golden haired Guernsey goats. Another local cheese to look out for is the Torteval Fort Grey soft blue cheese which you can find on sale at local stores, the weekly Sausmarez Manor farmer's market and in restaurants around the island.
If you need a place to stay: Fermain Valley Hotel: With elegant rooms, an indoor swimming pool and view of the sea, the hotel is just a 5 minute walk from the beach.
3. Crab sandwiches
All around the coast of Guernsey you'll find beach kiosks and cafes by the sea that serve crab sandwiches as crabs are abundant in the seas around Guernsey. The crab meat is mixed into a soft paste and served on brown or white bread as a lunchtime sandwich. We tried them at the beach kiosk at Portelet harbour where you can sit at a table in the garden and peer over the hedge to the harbour and the rocky beach, with a sea breeze that's guaranteed to give you an appetite.

4. Crab salad
The crab theme continued when we had a late lunch at Cobo Tearoom and ordered a very prettily presented plate of Crab salad, a generous pile of crab meat with some coleslaw and mixed salad on the side and a couple of slices of fresh bread with Guernsey butter. The crab flavour is quite robust and almost gamey so after a while you may decide that crab every day is too much of a good thing! We sheltered in the Cobo Tea Room during a heavy shower of rain and can testify to its cosy and welcoming atmosphere and the tempting selection of cakes, scones and other goodies that will be the downfall of those of you who share my sweet tooth.
If you need a place to stay: St Pierre Park Hotel and Golf course: set in beautiful gardens with indoor pool and gym.
5. Guernsey Bean Jar
We'd heard about the local speciality of Guernsey bean jar, so when we saw it on the menu at the Cobo Tearoom we had to try it. It's the Guernsey equivalent of cassoulet or a haricot bean stew that's cooked slowly with beef shin, pig's trotters or ham hock, onions and carrots. The Jar is traditionally an earthenware jar that might be taken along to the local baker's on a Saturday night and left to cook slowly in their cooling oven. Traditionally it might then be kept and reheated to be eaten on Monday when the women would have been too busy with the laundry to cook a meal. It's a warming, homely dish that you'll look forward to after a blustery day out walking or fishing.
If you need a place to stay: Old Government House: a classic and elegant 5 star hotel that was once the Governor's residence.
6. Randalls beer
If you're looking for a local Guernsey tipple to wash it all down then you might try the Randalls Beer that's brewed on Guernsey. The Randalls Brewery was established in 1868 and run as a family business until it was sold to investors 5 years ago and moved to a new state of the art brewery. You can even visit the brewery, close to the quayside in St Peter Port where they run guided tours every Saturday morning between April and September which should be booked in advance. You'll find Randalls beer in shops and pubs around the island – look out for Breda, a fruity, full-flavoured lager; Patois, a malty best bitter and Oranjeboom, a light, premium lager with slightly lower alcohol content.
Also check out my article on 8 things to do on Guernsey for cruise visitors
7. Rocquette Cider
Being so close to the coast of Normandy, Guernsey had a strong cider making tradition with most farms in the past having their own cider press. Now the old traditions have been revived on a commercial basis by the Guernsey Cider Company who make and bottle Rocquette Cider at Fauxquetter de Hauts. New orchards have been planted on an old cider-making site to make this cider that is produced using modern equipment but using a small-scale artisan touch and you can find the bottled and draught cider in shops and pubs around Guernsey. Watch this video about how Rocquette cider is made.
8. A Guernsey cream tea
Guernsey has a long tradition of dairy produce from the rich pastures where farmers grazed their cows and goats. Centuries ago many of the fields were small with no hedges and so individual cows were tethered on a chain. This ensured they ate a patch of grass right down to the stalk and didn't just nibble the tasty shoots off the top, then the farmer would move the cow on to a fresh patch of grass the next day. In every tea shop you'll find delicious cream teas on offer with scones, jam and thick Guernsey cream. The rich milk and cream is also made into ice cream on the island – look out for Le Hechet ice cream that's made on a farm in the Castel parish.
If you need a place to stay: Duke of Richmond Hotel – well located in St Peter Port with elegant contemporary decor, a terrace and outdoor pool
9. Guerney Gâche
The Guernsey Gâche (pronounced Gosh) is a fruit bread that's a speciality of the island and can be served with butter and jam or with cheese. You'll find it on sale in most of the cafes and tea shops as well as the supermarkets and bakeries. The Guernsey Gâche is a yeast bread that's made with local eggs, butter and milk and studded with candied orange peel and sultanas. It's a delicious teatime treat and we enjoyed ours in the cafe at Sausmarez Manor where there's a fantastic sculpture garden. Our local's tip was that Senners bakery at St Martins has one of the best Guernsey recipes for Gâche on the island and is the ideal place to stop to buy some on the way to the airport to take home.
10. Hedge Veg
As you drive around the island, especially as you get inland and away from the coast you may wonder about those makeshift stalls by the side of the road, set in someone's front garden or beside a drive. This is where the locals sell off any fresh produce that they've grown in their vegetable patch or glasshouse. You might find new potatoes, carrots, fennel, salads or freesias and other flowers. On the way to the airport I stopped to buy a small bunch of sweet peas that perfumed my flight home and reminded me of our Guernsey holiday. Around the island you'll notice many large greenhouses in a state of disrepair as there was once a thriving tomato and grape growing industry on Guernsey but the cost of heating and competition from Holland made it uneconomic to continue. I expect that some of these greenhouses are still being put to good use on a smaller scale and if you are self-catering it's well worth stopping to see what you might find on the Hedge Veg stalls to add to your supper that evening. They operate on an honesty system and you will find a tin, jar or even a milk churn to leave your money.
Also check out my article on 8 things to do on Guernsey for cruise visitors
More to enjoy on Guernsey and Sark
Family impressions of Guernsey – French, English, neither or both?
Scarecrows for the Jubilee on Sark
A postcard from Guernsey
Pin it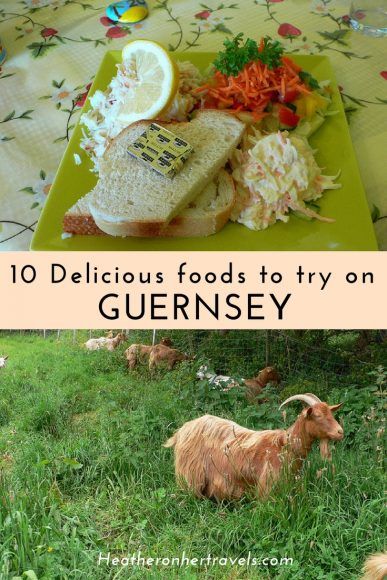 Visitor Information for Guernsey
For more information about food and best restaurants on Guernsey take a look at the Good Food Guernsey website where you can check for local food festivals, events and farmers' markets around Guernsey.
You'll find more things to see and do on the Visit Guernsey website , on the Visit Guernsey Blog and @VisitGuernsey on Twitter and on the Visit Guernsey Facebook Page
Accommodation – We stayed on Guernsey at Albany Apartments in St Peter Port, for comfortable self-catering holiday apartments that are ideal for families and at the St Pierre Park Hotel, a 4 star hotel with golf course set in parkland beside a lake. Check out more hotels on Guernsey with Booking.com
Getting there – We flew to Guernsey with Aurigny Airlines who fly to Guernsey from Bristol and other UK destinations. You can also book flights with Blue Islands Airlines and take the ferry with Condor Ferries from Poole or Portsmouth.
This article is originally published at Heatheronhertravels.com – Read more travel articles at Travel Blog Home
You'll also find our sister blog with tips on how to build a successful travel blog at My Blogging Journey
Don't miss out – subscribe to Heather on her travels