At this time of year I'm looking for dishes that are comforting against the cold of winter and the Heidelberg food specialties we ate was just what was needed to fuel our weekend break here. We enjoyed a hearty dinner of veal and vegetables boiled in broth served with dumplings and piping hot Kartoffelpuffer potato fritters with apple sauce from the Christmas market. Then of course there were the seasonal Heidelberg traditional food Zimsterne cinnamon star biscuits, not to mention the kaffee und kuchen in the cosy cafes of the Old Town or the chocolates and candies piled high in the shop windows. Here's my best food in Heidelberg guide to the things we enjoyed eating on our weekend break to Heidelberg in Germany.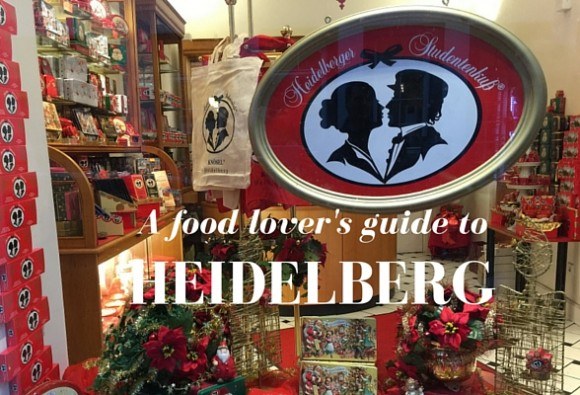 You can also read my previous article on the 9 German Christmas Traditions we enjoyed in Heidelberg.
Where to eat in Heidelberg, Germany
Hearty German food in Heidelberg
Before we get to the sweet stuff let's try some of the typical German dishes you'll find on every traditional restaurant's menu. We had dinner at Goldener Hecht, a hotel and restaurant in the heart of the Alstadt where the revered German poet Goethe 'almost' stayed in September 1815. Apparently he enquired about staying there, but there was no room at the inn (where have I heard that one before?)
I ordered the roast goose with dumplings and red cabbage, which is often served for the Christmas eve dinner in Germany ( read more about German traditions here ) while Guy enjoyed the boiled veal with vegetables served in a copper pan of broth with apple sauce on the side and a dish of crispy fried potatoes.
You may also enjoy: A taste of delicious food in Munich – where and what to eat
Another favourite dish that Guy likes to order for lunch in Germany is the Gulyassuppe, a hearty goulash that halfway between a soup and a stew, made with beef, tomato and paprika, served with crusty bread on the side. Just what we needed to warm us up in between sightseeing jaunts in the Old Town of Heidelberg.
Heidelberg Where to Eat
Goldener Hecht is at Steingasse 2 by the Old Bridge and we also heard good things about Hackteufel (Steingasse 7), Schnitzelbank (Bauamtsgasse 7) and Zum Güldenen Schaf or The Golden Sheep (Hauptstrasse 115), all of which have a convivial atmosphere and traditional German dishes on the menu.
How about some German beer?
Most of the beerhouses in Heidelberg serve both food and the famous German beer making them a good choice for dinner if you want a lively, cheerful atmosphere and in summer you can sit outside in the biergarten. Rather than ordering at the bar as you would in England, you will be served at the table, usually by a waitress in a traditional dirndl with her money wallet on her belt so that paying is quick and easy. Be aware that most places prefer you to pay in cash unless you're ordering a full meal.
We had a beer and supper at Zum Roten Ochsen (Red Ox Inn) a traditional student pub that's often recommended for tourists so we were a little doubtful about going there, since we prefer to seek out the local's choice. But on a Monday night our other recommendation of Zum Seppl next door was closed so we gave it a try. Despite it being quiet with a fair number of tourists (including us), we were pleasantly surprised, since we had friendly service and good food, with the dark wood panelling, cheerful red check tablecloths and old photo of Heidelberg students around the walls.
Where to Eat in Heidelberg
Zum Roten Ochsen is at Hauptstraße 217 and we also heard good things about Zum Seppl (Hauptstrasse 213) and Vetters (Steingasse 9) near the Old Bridge if you want to try the local beer and eat in a convivial pub atmosphere.
German food to try in the Christmas markets
One thing I love about the German Christmas markets is that they are very much about eating, drinking and having a good time with friends rather than just shopping for crafts and gifts. The traditional German food at this market in Heidelberg to try is the wurst or long German sausage sandwiched in a hunk of bread with ketchup and mustard on hand – practically impossible to eat elegantly without dripping sauce down your chin.
I preferred the Kartoffelpuffer or potato fritters which are eaten with a choice of either apple or garlic sauce. Being Germany where everything is environmentally friendly, they were served on a sturdy wafer which can either be eaten or recycled along with the food waste. Other choices in the Christmas market were Schnaufnudel, a dish of pasta made from potatoes mixed with fried cabbage as well as bread rolls filled with pork that had been slowly roasted over the wood fire.
You may also enjoy: 15 fun things to do in Dresden – in just one day!
What to drink at the German Christmas markets
The sweet smell of Glühwein and buzz of conversation warms the air at any German Christmas market, as friends meet for a drink and a chat in the evening, resting their drinks at the tall bar tables arranged nearby. The price for your Glühwein includes a deposit on the mug which is refunded when you return it, although you can decide to keep as a souvenir of Christmas past.
If you want something even stronger, look out for the Fuerzangenboule, which is laced with rum soaked sugar that drips into the mulled wine and is flamed before being served. There's a well known old movie from the 1940s called Der Fuerzangenboule, which Germans love to watch on Christmas eve, in which the actors sit around drinking Fuerzangenboule while recalling nostalgic memories of their schooldays.
A cosy café with cakes in Heidelberg
We lost count of the cosy cafes in the Alstadt or Old Town of Heidelberg and of course in summer many have a garden or outdoor tables where you can watch the world go by. We tried to keep our eating in balance by skipping the hotel breakfast so that we could have a guilt free Kaffee und Kuchen stop in between the shopping and sightseeing.
One of our favourites (we actually went there twice) was Café Knösel close to the Church of the Holy Spirit which has a traditional atmosphere and a delicious selection of creamy layered cakes including the Black Forest Gateaux. There's a small side room which is filled with old photos of Heidelberg students from the last century, many proudly wearing the bandages around their face that proclaim they had received a wound from duelling, a favourite sport within the student fraternities of Heidelberg University.
We had a lovely chat with an aristocratic looking gentleman who was having a quiet coffee there and proudly wearing his fraternity sash, since he had been attending a reunion of old university friends. We later found out that only students from the fraternities who have triumphed in a duelling competition can wear such a sash and there are different colours for each of the fraternities.
Where to Eat in Heidelberg
Café Knösel is at Untere Strasse 37 and we also heard good things about Holy Kitchen for vegan cakes and light dishes (Kettengasse 7) and Cafe Grano (Kornmarkt 9) near the bottom of the funicular.
Christmas biscuits in Heidelberg
In Germany the bakers produce special backwaren (baked goods) depending on the season. Our favourite place for this was Café Gundel which has a bakery selling cakes and biscuits next door to the cafe. If you have a coffee in the cafe you can look at all the lovely cakes in the shop and then tell the waitress what you'd like to order.
It's a German Christmas Tradition for families to make Christmas biscuits together, cutting the sweet dough into different shapes such as stars and crescents which are decorated with icing, nuts and chocolate. A favourite that we saw in many bakeries and in the Christmas markets were the Zimsterne or cinnamon stars topped with white icing, although every family has their own traditional German recipes handed down from mother to daughter. Read more about German Traditions here.
We also saw on sale the Springerle biscuits with their pressed relief designs. These German cookies are flavoured with anise seeds and traditionally made with a special rolling pin carved with the designs to press into the biscuit dough. As well as the small ones, Café Gundel had larger individual biscuits with antique motifs of angels and historic scenes that would make an unusual gift to bring home, but almost too beautiful to eat.
Another Heidelberg curiosity to look out for are the Schneeballen (snowballs) made of biscuit dough scrunched into a ball, often with a flavoured filling and icing or nuts on the outside. At Cafe Gundel they sell a special variation called the Heidelberger Kurfürstenkugel which is a ball shaped cake made of sponge with a creamy nougat filling, coated with chocolate. The cake is said to have been invented to commemorate the Prince Elector Frederik V who in 1613 married the beautiful Princess Elizabeth Stuart, daughter of King James I of England, with dark chocolate cakes representing the prince and white chocolate his wife.
Foodie curiosities in Heidelberg
If you happen to be passing the Church of the Holy Spirit when the small kiosk shops around its walls are closed, take a look at the carvings that are normally hidden by wooden shutters when the shops are open. You can spot a pretzel marked into the stone that dates back to 1737. In those days the stores that now sell postcards and souvenirs would have supplied the food, candles and cutlery needed for daily life and the town regulations determined the standard size of a pretzel. A baker could be punished if they were selling anything smaller than the size marked on the side of the church – 18th century quality control in action!
Chocolates to bring home from Heidelberg
When you have eaten your fill of traditional German food in Heidelberg washed down with a beer in the restaurants and pubs of the city, and taken your kaffee and kuchen in a cosy cafe surrounded by old student photos, I'm sure you'll be looking for some chocolates to bring home as a souvenir from Heidelberg. While we passed many lovely chocolatiers in the town, you'll find the ultimate chocolate souvenir of the Students Kiss at Knösel (Haspelgasse 16) down the lane beside Café Knösel which I mentioned before.
There's a lovely story that these chocolate truffles were invented in 1863 at a time when only boys were admitted to Heidelberg University and the young ladies of the local colleges would be chaperoned when they went out for a coffee in town.
For a young gentleman who admired a young lady from afar, what could be more innocent than a gift of chocolate, since the chaperone could not possibly object? However the not so secret message behind the gift was in the image of the beautiful lady and the student in his cap, their lips almost touching and only room between for a 'student's kiss'.
Another shop that we enjoyed looking around was the Heidelberg Bonbon Manufaktur (Steingasse 5) close to the Old Bridge, which makes candies and lollipops in all colours and flavours. To one side of the shop you can see the sugar being pulled and cut into bonbons or lollipops while on the other are jars of sweets to take home.
This is a great place for families to watch the bonbons being made and treat the kids to a handmade lollipop, whether it's a traditional red and white heart or the Darth Vader Star Wars theme lollipops that we saw being made.
My final recommendation for chocolates that are a little more grown up (perhaps you'll want to treat yourself) is the small shop of Pralinmanufaktur Vorbach (Hauptstrasse 211) that sells fresh handmade chocolates. We watched the owner Helgo Vorbach filling the chocolate casings to make the fresh chocolate truffles and you can even buy them individually to taste a few (which of course we did) before making your selection to fill one of the tins or gift boxes with the motif of Heidelberg castle on them.
I hope by now your mouth is watering and you'll be planning a trip to Heidelberg to try out some of the local food specialities – if so you can find more resources to plan your visit below. Enjoy the places we recommend and what to eat in Heidelberg but if you don't find them, don't worry. In the old town there are many restaurants that serve hearty German dishes, many beer houses that sell fruity German beer and many cosy cafes for your kaffee and kuchen. Have fun wandering the cobbled streets and exploring the alleyways to create your own food lover's guide from Heidelberg.
Read More about our trip to Heidelberg: 9 German Christmas Traditions we enjoyed in Heidelberg
Pin It
Plan your visit to Heidelberg
For more information about planning your trip to Germany, visit the Germany Tourism Website and read more about German Traditions | Follow them on Social Media | Twitter @GermanyTourism | Facebook | Instagram | YouTube |
You can also find information about Heidelberg on the Heidelberg Marketing website.
If you need a guide in Heidelberg, we highly recommend Susanne Fiek who runs culinary and other tours of Heidelberg.
Where to stay in Heidelberg
Heather and Guy stayed at Qube Hotel, a stylish boutique hotel that was a 20 minute walk or short tram ride from the Old Town. Our room was in Villa Qube, a large townhouse next to the main hotel, on the 4th floor under the eves. Our windows faced the gardens at the back and was quiet, with sloping ceilings and a grey linen sofa and desk as well as a huge comfy double bed.
There were interesting lighting effects which bathed the room in a purple glow and the bathroom was huge with both walk in shower and bathtub. The Qube restaurant has an excellent reputation, although we didn't eat there, and in summer you can reserve a table on the rooftop terrace with views towards the river.
If you prefer to stay in the Old Town of Heidelberg you could try Hotel Hollaender Hof, a traditional hotel right by the Old Bridge, Hip Hotel where every room is themed to a different country of the world, or Heidelberg Suites, a luxurious Boutique Hotel.
How to get to Heidelberg
Heather and Guy flew from Bristol to Frankfurt and took the train to Heidelberg. Trains run around every hour from the Frankfurt airport station with a change at Mannheim. On arrival in the airport follow signs for train station and then Fernbahnhof ( long distance train). Tickets can be bought from ticket machines as you reach the Fernbahnhof. The cost is €25 one way or €19 for a saver ticket which must be purchased 1 day in advance. The journey takes around 1 hour.
More about Heidelberg
My Top 10 things to do in Heidelberg – Video
9 German Christmas Traditions we enjoyed in Heidelberg
Thanks to the German National Tourism Board who hosted* Heather and Guy's weekend in Heidelberg
* More info on my policies page
This article is originally published at Heatheronhertravels.com – Read the original article here
This article may contain affiliate links that provide commission on purchases you make at no extra cost to you. As an Amazon Associate I earn from qualifying purchases.