You may think the food in Munich is all about beer and pretzels; after all this is the capital of Bavaria, where the dishes are hearty and the beer flows freely. In summer, what could be better than meeting up with friends in the biergarten for a weissbier under the shady chestnut trees? Perhaps you'll wander through the Viktualienmarkt admiring the fresh produce, stocking up for a picnic in the Hofgarten or stopping to buy a bratwurst from a street food stall?
But if you are wondering what to eat in Munich, be aware there's also a more sophisticated and cosmopolitan side to the Munich food scene, with plenty for foodies to enjoy. We visited Munich on a short break and can recommend where to eat in Munich for the most delicious German food.
Where to eat in Munich – let's start with the food at Munich Airport
We arrived from Bristol and found Munich airport is a surprisingly good place to eat in Munich, with a choice of 60 different restaurants and cafés, many with concepts that are unique to the airport. It's a popular place for locals living nearby to come for dinner or for a bite to eat before their flight. In the arrivals area there's the Bayern Lounge where you can use the touch screens for information on things to do in Bavaria and before you fly home pick up some regional specialties on sale in the adjoining café.
You may also enjoy: 15 of the best day trips from Munich by train
There's a food court with lots of different restaurants and things to eat in Munich Airport on the first floor mezzanine, and up one more level is the Cloud 7 café, which has a cute retro theme and is decked out like the interior of an old plane. The emphasis is on healthy food with some treats of Eisbaer artisan ice cream and crêpes for desert. The café is on the observation deck where you can watch the planes come and go, combining good coffee with plane-spotting and lots of space for the kids to run around.
Looking for a hotel near Munich Airport? Check out the best prices here
We also liked the SportsAlm restaurant which is on two levels and picks up the ski restaurant theme with authentic stonework and a cable car with a cosy table for two inside. You can sit outside (albeit under the glass roof) and sun yourself on a deckchair just as if you were taking a break on the ski slopes.
Sadly there are no mountain views but you'll be overlooking the main concourse where you can grab one of the favourite things to eat in Munich, a bratwurst from the silver retro Smoky Joe's van that looks like a plane. It's right next door the Europe's only airport brewery, the Airbrau brewery, biergarten and restaurant where we stopped for a meal on the way back through the airport.
You may also enjoy: 20 fabulous things to do in Munich, Germany
What to eat in Munich – check out the Viktualienmarkt in Munich
If you love to soak up the atmosphere of the local food markets on your travels, then the Viktualienmarkt in the centre of Munich is the place to wander on weekdays or on a Saturday morning (it's closed on Sunday). Munich's largest food market was originally situated in nearby Marienplatz but was moved to this site in 1807 when it outgrew the square, and is marked by a central maypole that has decorative figures to tell visitors what trades were available nearby.
I love to look around food markets as a way to discover more about the local food culture and to find out what's produce is in season, so that I can look out for it later on restaurant menus.
When we visited the Viktualienmarkt it seemed to be all about the fat white stems of asparagus that were in season as well as artichokes and rosy spring radishes, but if you visit at another time there may be different local produce in season, such as berries in summer or mushrooms in autumn.
You may also enjoy: A food lover's guide to Heidelberg in Germany
The neighbourhood of a market is always a good place to find excellent restaurants since they have access to the freshest and best quality produce and there's a great biergarten at the Viktualienmarkt where you can sit under the chestnut trees. They are relaxed about you consuming food that you might have bought at the market stalls so long as you order a drink.
More info | Viktualienmarkt on Munich Tourism website
Food in Munich – stop for a bratwurst
The Bavarian sausage or wurst, is a must-eat street food in Munich, served hot dog style in a fresh white roll with a squirt of mustard. Of course you'll see Bratwurst (a sausage made with finely minced pork or veal) served throughout Germany, typically grilled over charcoal and served with sauerkraut (pickled cabbage) and mustard.
In Munich the local variation is Weisswurst (white sausage), made with finely minced veal and spices, that in the days before refrigeration was made fresh each day without preservatives, hence it is traditionally eaten as a morning snack. There are a row of small shops selling sausages and meat products along one side of the Viktualmarkt so this is a great place to get acquainted with all the local sausages and meat products in Munich.
Beer and Pretzels in Munich
While we're on the topic of traditional German food, let's talk about the ubiquitous beer and pretzels that you'll find in every beer hall or biergarten. Beer is the drink of choice in Munich and my favourite is the Weissbier, the light coloured beer made from wheat with a slightly sweet flavour although Guy is also partial to the Dunkel bier – a darker and more bitter style of beer. To line your stomach, where we might buy a packet of crisps in an English pub, the most popular snack in Munich is the pretzel which is sold in every beer hall.
Read more about How to spend a weekend in Munich – in the sun or the rain from On the Luce
It's a chewy ring of soft bread that's liberally sprinkled with salt, designed to make you thirsty for more beer and a typical food to eat in Munich! The system in the biergarten and beer halls in Germany is to find a seat and the waiter or waitress (normally dressed in a traditional dirndl or lederhosen) will come to your table to take your order. When you are served you pay straight away in cash (often cards also accepted) and they will give you the change from the leather purse on their belt.
If you want to explore Munich's beer scene check out this 3-hour guided tour of Munich's beer halls and breweries
Hofbräuhaus Munich: The traditional beer hall of Munich
If you are wondering where to eat traditional German food in Munich, the popular choice which has become something of a tourist attraction is the Hofbräuhaus. It's a huge beer hall with many different rooms as well as a large biergarten and the atmosphere is very jolly as you drink beer from a foaming stein (beer mug) and listen to the oomph band.
The food here is traditional Bavarian fare, like roast pork or beef soup with dumplings, and although the place is huge, the service seemed swift and efficient. Despite being the best known place for tourists to drink beer in Munich, there are also groups of regulars dressed in their lederhosen and it's a fun atmosphere with locals and visitors mingling together.
More info | Hofbräuhaus website | Tripadvisor Reviews | Twitter | Instagram | Facebook | Platzl 9, 80331 Munich
Haxnbauer : Hearty German fare
Close to the Hofbräuhaus is Haxnbauer, another well known spot for hearty Bavarian food and a better choice if you want a restaurant rather than beer hall. I've eaten there on a previous visit to Munich and it's known for the huge pork knuckles that you can see roasting on the spit in the window. The restaurant is large, busy and informal with a fun atmosphere, although more for meat eaters than vegetarians – read about my previous visit here
More info | Haxnbauer Website | Read Tripadvisor Reviews | Sparkassenstraße 6, 80331 Munich
Where to find the best biergarten in Munich
Another German institution which you'll especially enjoy in Munich is the biergarten or beer garden – an open air terrace where best traditional food and beer in Munich is served. Since the summers in Munich can be quite warm, the biergarten are often situated under shady trees, or in parks, making it a delightful way to enjoy the outdoor lifestyle of Southern Germany.
If you want to get an easy overview of all the sights in Munich, check out this Hop on Hop off bus tour of Munich
Chineseturn biergarten in Munich
I've already mentioned the biergarten at the Viktualienmarkt which is very close to Marienplatz, but our favourite biergarten from the trip was at the Chinesischer Turm or Chinese Pagoda in the Englischer Garten Munich. The pagoda is a landmark in this huge park in the centre of Munich and the bus stops here, although you'll enjoy the park more if you arrive on foot, bicycle or hire one of the cycle rickshaws or horse and carriage rides that run through the park.
The Chinese Pagoda sits at the centre of the biergarten, with tables and benches set around it under the shady chestnut trees. It's an ideal spot for lunch in the summer months and even though it's hugely popular there always seems to be a place to sit.
You can buy your lunch at the self-service café areas where they serve Bavarian traditional dishes. We tried a selection of sausage and sauerkraut, potato salad, white sausage, a cheese Pâté seasoned with paprika called Obatzdaand of course lots and lots of beer. If you want something a bit more refined there's also an elegant restaurant with indoor seating and table service.
More info | Englischer Garten on Munich tourism website | Read Tripadvisor Reviews | Info about Chinesischer Turm
After lunch we cycled on through the Englischer Garten towards the Seehaus Biergarten beside the Kleinhesseloher lake. This is another popular biergarten with a similar self service café, where you can sit under the trees with a view of the lake. Nearby you can hire a rowing boat or pedalo to have some fun on the lake.
If you'd like to explore Munich by bike, check out this 3 hour guided bike tour to see the city
Best Munich restaurants for lunch
You may be forgiven for thinking from what I've described so far, that all you'll find in Munich is hearty Bavarian fare, but in fact the city has a sophisticated and cosmopolitan restaurant scene. If you're looking for an elegant but informal place to have lunch, here are a couple of options that we enjoyed;
You may also enjoy: 3 days in Munich – our itinerary of cool things to see and do
Bar Centrale in Munich
This popular Italian bar is right opposite Hotel Cortina where we stayed and part of the same family of hotels, bars and restaurants that serve some of the best food in Munich. It's a stone's throw from the Hofbräuhaus but you'd probably not notice it, unless by the crowds of locals that spill out onto the pavement for an after-work drink.
There's an understated yet stylish atmosphere here, like an Italian backstreet bar that's somehow been transplanted to Germany. Bar Centrale is open through the day with a small menu of freshly cooked pasta dishes coming from the tiny kitchen, if you can find a place to sit in the back room. We managed to get a seat and enjoyed the seafood linguine in a wine sauce, chosen from the blackboard menu that they bring around to you.
More Info | Bar Centrale Website | Read Tripadvisor Reviews | Ledererstraße 23 80331 Munich | Facebook
Tambosi Restaurant at the Hofgarten
If you are looking for a place to lunch with a biergarten atmosphere but fancy something a bit more sophisticated than bratwurst and sauerkraut, then head to the Hofgarten and the Tambosi outdoor terrace. The Hofgarten is a beautiful formal garden that was once a private space of the Wittelsbach rulers and their court, now a public park, with fountains, parterres and a central pavilion.
You may also enjoy: Coberg – Victoria and Albert's romantic retreat in Germany
We enjoyed our al fresco lunch here on the Tambosi restaurant terrace, watching the groups playing boules and the cyclists passing by. The menu was Italian inspired with pizza and pasta but we enjoyed our colourful salads served with fresh bread and beer. The prices reflected the prime location, but it was a very pretty and stylish place for lunch on a fine summer's day.
More info | Tambosi Website | Read Tripadvisor Reviews
Best places to eat in Munich for dinner
If you are looking for the best restaurants in Munich for dinner, we can recommend the informal but excellent Bar Buffet Kull, which is just around the corner from our Hotel Cortiina and close to the Viktualienmarkt (remember what I said about great restaurants being found near the market?). Bar Buffet Kull is Munich's answer to the classic French bistro, with red checked table cloths and tables packed closely together. The dishes are simply prepared and presented – I tried a delicious pan-fried wild salmon with the sweet white asparagus that was in season with melted butter.
You may also enjoy: Top 10 things to do in Heidelberg
We also ordered a delicious tuna tartare as a starter which is their signature dishes and I also enjoyed my Aperol sour aperitif, a popular local alternative to the Aperol spritz that has migrated everywhere from northern Italy. This is popular neighbourhood style restaurant that seemed to attract an elegant local crowd, with upscale bistro food that's consistently good and a bustling atmosphere.
More info | Buffet Bar Kull Website | Read Tripadvisor Reviews
As an alternative for a nice dinner on Saturday night, you might like to try Brenner Grill (Maximilianstraße 15) which is also part of the same restaurant family and is close to the Residenz. It's a large bar and brasserie with a stylish atmosphere and outdoor terrace. Much of the fish and meat is prepared over a charcoal grill but there are good veggie options too – we didn't eat here but thought it looked very nice.
Wine Bars in Munich – try Grapes Weinbar
For food that's light and elegant, with a well chosen glass of wine, you'll enjoy Grapes Weinbar which was next to our Hotel Cortiina. This is where hotel guests are served breakfast, but then it turns into an all day café and in the evening into an elegant wine bar.
There are small plates for nibbles and bistro style dishes such as smoked trout fillet, beef tartare, terrines and sorbets and if the weather is fine there's a small terrace at the back and they open the windows wide onto the street.
More info | Grapes Weinbar Website | Read Tripadvisor Reviews | Facebook | Instagram | Ledererstraße 8, 80331 Munich
For drinks and cocktails in Munich – Die Goldene Bar
Another great option if you are looking for somewhere atmospheric for drinks is Die Goldene Bar which is at the back of Haus der Kunst and has a terrace overlooking the Englischer Garten. The bar is known for the golden wall maps from 1937 which give the bar its name and show the places that the spirits and tobacco came from around the world.
We visited in the afternoon and had a drink on the terrace but thought the original bar would be a fabulous place for an evening cocktail or aperitif. They also have a menu of small plates, snacks and sandwiches. Read the Tripadvisor Reviews.
Airbrau – the brewery at Munich Airport
We may have been heading home after our weekend in Munich with Fly BMI but there was still time for a last taste of Munich at the airport before our flight. We stopped by at Airbrau which has a restaurant and biergarten in the outdoor concourse of the airport under the lofty glazed roof. It's the only brewery that's located inside an airport and you can see the shiny copper vats inside the restaurant, serving a selection of different beers that are brewed on the premises.
The menu has lots of Bavarian specialties and I enjoyed the trout, with parsley potatoes and the sweet white asparagus that was in season. You can even do a brewery tour here with the brewery master, which takes place most days except Sunday and it's the place to get your last taste of Bavarian beer before you fly home.
More info | Airbrau website | Read the Tripadvisor Reviews
Hotels in Munich – Hotel Cortiina
When visiting a city like Munich for a short break I love to stay in a centrally located boutique hotel like Hotel Cortiina. We flew in from Bristol on an early morning flight and were able take the train into the centre, leaving our luggage at the hotel and were out enjoying the city within the space of an hour.
Hotel Cortiina is located very centrally just 5 minutes walk from Marienplatz, on a charming side street with quirky independent shops like the gift shop opposite selling dachshund gifts and another devoted to Cuban cigars. The hotel is inspired by Italian style blended with subtle Asian elements. It's actually a Feng Shui hotel and it made sense that one of the owners is an architect and designer, which shows in the clean lines combined with the use of rich patterns and textures, creating a warm and elegant look.
Our bathroom was wall to ceiling marble, with a powerful walk in shower and a waxed paper door screen, echoing a Japanese style. The 4th floor room where we stayed was in an apartment annex next to the main hotel entrance, which had its own doorway from the street.
We had breakfast in the Grapes Weinbar next to reception, which served an exceptional breakfast, beautifully presented on a long table. There was a wide range of delicious things to try, from the hot dish of Turkish eggs, to the local artisan cheeses, to the freshly squeezed orange juice, outstanding coffee and array of nuts and seeds to sprinkle on your fruit or muesli.
The small internal courtyard was perfect to sit on sunny days leading through to a well equipped gym. Once breakfast was over, the Grapes Weinbar transformed into an all day café and evening winebar, serving light dishes, wine and other drinks. We loved the impeccable sense of style and very professional and friendly service at Hotel Cortiina, which is part of a small group of hotels and restaurants, such as Bar Centrale across the road and Buffet Kass Bar nearby, both of which we tried.
More info | Hotel Cortiina Website | Read Tripadvisor Reviews | Instagram | Facebook
More information for planning your trip to Munich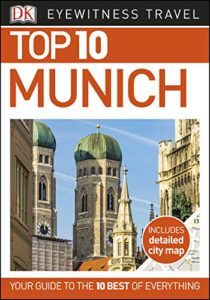 Need airport parking? We recommend APH for Airport Parking and Hotels
Looking for a hotel in Munich? Check prices here
Check out the Munich Airport website for all the things to see and do at this 5 star airport.
Check out the Munich Tourism website for more information to help plan your visit to Munich.
Check out the Germany Tourism website if you are planning to visit other parts of Germany
Need a guidebook for Munich? We recommend the DK Eyewitness Top 10 Munich
Getting from Munich airport to the city centre
You can take both bus and train from Munich Airport into the city centre and we decided to take the train as it was very easy and straightforward. From the airport concourse you go straight down into the train station and take the S8 train which stops at Marienplatz and other train stations in the centre of the city. An alternative is the S1 train which takes a different route and takes a little longer to Marienplatz. Buy your ticket from the ticket machine on the station platform with cash or card. If you are planning to make other journeys that day you may wish to buy a day pass which is €13. The train goes every 20 minutes and the journey is around 40 mins.
More info: Munich Airport Website
Another option is the Lufthansa Airport Bus which runs every 15 minutes and offers a non-stop service to the city centre. You can use the bus no matter what airline you fly with. Single tickets €10.50 Return €17
Pin It
I received complimentary flights, hotel and activities from Flybmi, Munich Airport, Hotel Cortiina as part of a sponsored* visit to Munich to highlight the Hidden Treasures of Munich.
* More info on my policies page
This article is originally published at Heatheronhertravels.com – Read the original article here
This article may contain affiliate links that provide commission on purchases you make at no extra cost to you. As an Amazon Associate I earn from qualifying purchases.