Menorca is the smallest and calmest of the Balearic islands, a haven for lovers of understated luxury. It's a place that doesn't like to boast too much about its charms, but is full of history, fashion and great food. If you're flying in to Menorca, or visiting on a cruise, why not take a day or so to explore Mahón, the elegant capital of the island. For those who enjoy mellow old buildings, stylish shopping and lazy seafood lunches by the port, here are some of the best things to do in Mahón, Menorca.
1. Mahon harbour – take a boat trip
Start your day in Mahón with a relaxing 1 hour boat tour around the harbour, to dip into the naval history of the area. Because of the city's deep harbour and strategic position in the Mediterranean, the British dominated the island for much of the 18th century and have especially left their stamp on Mahón, Menorca. Buy your ticket at the kiosk at the bottom of the steps close to the cruise terminal and take your seat on the top deck for the best view, although you can retreat downstairs if it's a bit too windy. As you pass the main sites of interest, there's a commentary in several different languages including English.
You may also enjoy: 15 fun things to do in Ciutadella – the ancient capital of Menorca
To start with, our harbour tour passed by some of the swanky villas where the wealthy folk of Mahón live. We passed the English Arsenal, painted red as was the custom for military buildings, and further on the Quarantine Island with a hospital where those with infectious diseases were treated. I imagine that those who went in wondered whether they would ever emerge alive. Near the harbour entrance, the water got quite choppy as we passed briefly to the open sea. As soon as we turned around the water calmed again, and we returned past Cales Font, the pretty harbour of Es Castell which was the 18th century British garrison town.
The harbour boat tour is run by 2 main operators, the Yellow Catamaran and the Don Juan Catamaran which cost around €12 per adult (cheaper if you book online). Between them they run every half an hour throughout the day, selling drinks and snacks on board.

If you'd like to take a full day tour of Mahon including the boat trip, check out this guided tour of Mahon and surrounding areas like Binibeca Vell and Cova d'en Xoroi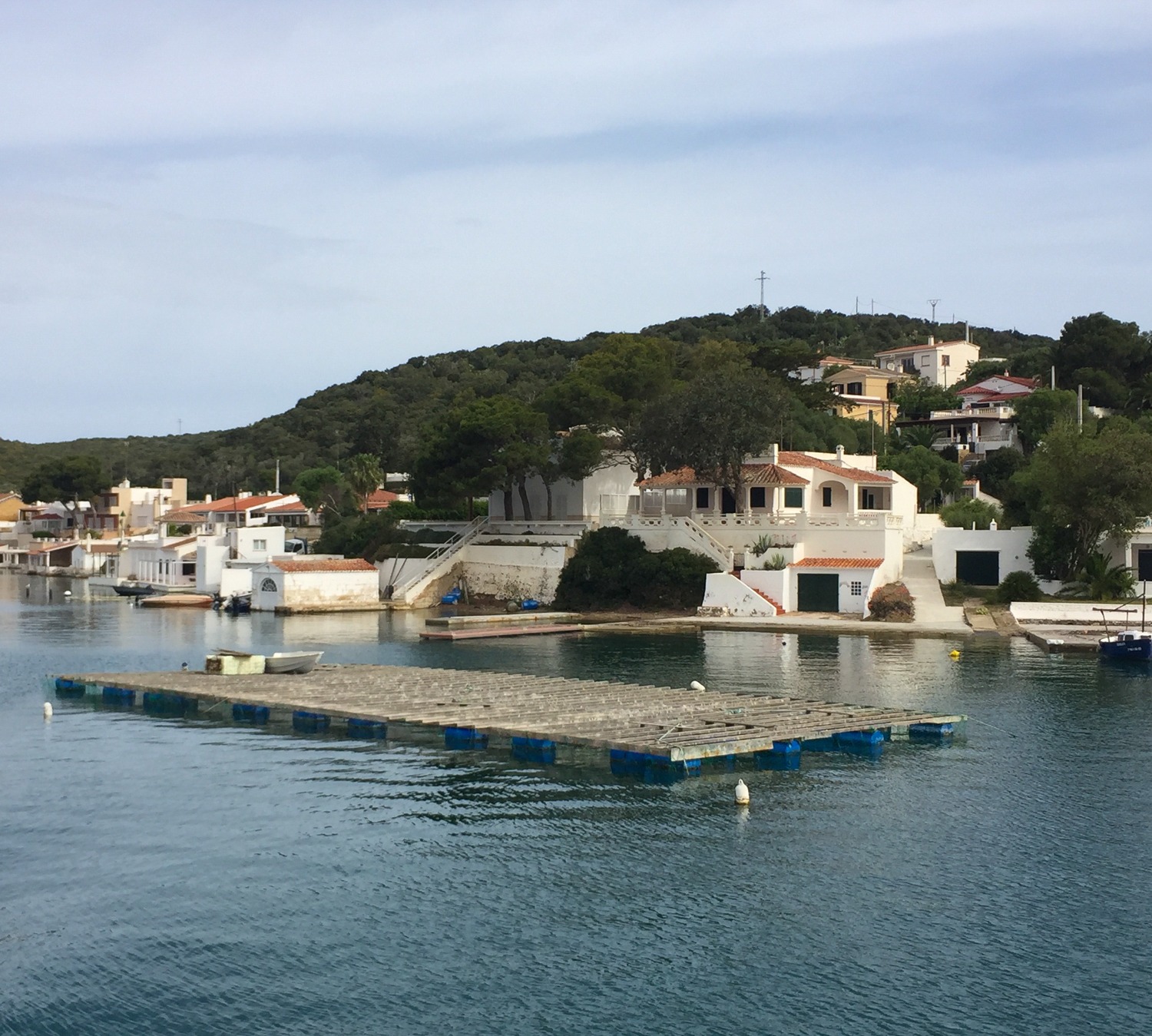 You can book your harbour boat tour in advance with this 1 hour cruise of Mahon harbour with commentary
2. Elegant buildings overlook the harbour
Back on dry land, let's climb up those white flights of steps to start to explore Mahón properly. As you near the top, look up to your right to see the elegant Art Nouveau facade of Casa Mercadel and up on your left there are plenty of viewpoints where you can have a drink with a view over the port. To your immediate left are two huge trees with roots like an elephant foot which are a well known landmark.
You may also enjoy: 12 fun and unexpected things to do in Tenerife
The elegant Casa Mercadel was one of the homes owned by a noble Menorcan family and was built in on the site of an ancient castle that overlooked the harbour, now housing a cultural centre.
3. Mahon fish market
In Placa d'Espanya at the top of the steps, you'll find the Mercat de Pescados or fish market with all the lovely fresh fish on sale until 2pm (closed Sunday and Monday).
The bright red prawns and spiny lobster are used to make the lobster caldereta and other seafood dishes that you can order at restaurants along the seafront. Despite all the groups of tourists trooping through to take photos, the stall holders were very good humoured and relaxed.
Need somewhere to stay? Check out Hotel Artiem Capri in Mahon where we stayed or if this doesn't suit you look at these other hotels in Mahon
4. Tapas in the fish market of Mahon
Walking past the fish you'll come around to the other side of the market with stalls selling tapas, snacks and drinks. If you're ready for a mid-morning break, this is the place to grab a drink and a snack, sitting at one of the stools inside or tables outside in the courtyard. On a Saturday lunchtime the place was buzzing with locals meeting their friends for a glass of wine and a chat.
The tapas typically cost between €1 and €3 and you can just point at whatever takes your fancy. I loved all the glistening olives and the appetising slices of bread topped with onions, peppers and anchovies. There was also a stall selling tasty seafood croquettes so I had to try a few of those as well, including one that was black with squid ink. If you just want an aperitif and a light bite in the evening, this is also a great place to come.
5. The Carmelite cloisters in Mahon
A little further up the square next to the fish market is the Carmelite cloisters which has been converted to a covered market selling everything from fruit and veg to shoes and local food specialities. It's a good place to shelter if you get caught in a shower and worth knowing that there's a public WC here as I didn't find one anywhere else in the old town. There are several stalls selling food and snacks and the central courtyard is often used for concerts and events.
For more ideas check out this article from The Travel Bunny on Things to do in Menorca
6. Ca'n Oliver in Mahon – a historic house in Menorca
If you'd enjoy visiting historic houses, pay a visit to Centre d'Art I d'Historia Hernandez Sanz at Ca n'Oliver, a mansion which belonged to one of the most powerful families of Mahon in the 18th and 19th centuries. This gorgeous house now houses the Hernandez Sanz collection of artworks which are on display over several floors around the ornate wrought iron staircase with a painted fresco to impress you in the lobby.
If you want to see more of Menorca, check out this Menorca 1 day highlights tour that takes you to Menorca's ancient capital of Ciutadella.
The paintings, maps and displays give insights into the British legacy on Menorca as well as the Oliver family who made their money as merchants in the Mediterranean and supplied the military in Mahón. I especially enjoyed the painted ceilings with religious and classical scenes in many of the rooms, designed to show the wealth and taste of the family who lived here.
Centre d'Art I d'Historia Hernandez Sanz at Ca'n Oliver, Anuncivay Street 2. Open daily except Monday 10-1.30pm and on Thursday, Friday, Saturday also 6-8pm.
7. The Museum of Menorca in Mahon
Another fascinating place to visit is the Museum of Menorca in the old Franciscan monastery which was built in the baroque style at the end of the 17th century but confiscated in 1835. There are rooms off the beautifully preserved cloisters with an interesting exhibition about the Talayotic culture on Menorca, explaining the background of some of the stone burial chambers and settlements I'd seen in different parts of the island.
On the upper floors you can also see rooms which cover the history of Menorca from the earliest times, through the 18th century when the island was occupied variously by the English, French and Spanish, to the 20th century when the industries of shoe and jewellery making replaced shipbuilding.
Museum of Menorca, Avinguda Doctor Guardia, Open daily 10am – 2pm and some evenings. Closed Mondays. Adults €2.40

You may also enjoy: Naveta d'es Tudons – Discovering the Talayotic culture of Menorca
8. A leisurely lunch by the Port of Mahon
By around 1.30 the shops and museums will be starting to close so it's time to find somewhere to have a leisurely lunch. Of course there are plenty of bars and cafes in the old town but a great alternative is to walk back down to the main port area where you'll find a string of bars and restaurants overlooking the marina.
Need somewhere to stay? Check out Hotel Artiem Capri in Mahon where we stayed or if this doesn't suit you look at these other hotels in Mahon
Settle in to a table with a view of the harbour, so you can people-watch from behind your designer sunglasses and oggle a few of those expensive boats. Most restaurants have a well-priced set menu at lunchtime that includes 3 courses, wine and bread with both seafood and meat options. We really enjoyed La Minerva – read the reviews here (Carrer Moll de Llevant, 87) which has a nice terrace and tried their Arroz, a cross between soup and risotto with rice and seafood in a rich sauce, which is what Menorcan families like to eat on a Sunday.
9. Wander around Mahon old town
After lunch most of the shops will be shut until around 4.30pm, so it's a good time to wander around the streets of the old town while they are less crowded and admire the mellow stone buildings. Turn your back on the fish market and walk up towards Placa de la Constitucia to see the Town Hall of Mahón with the clock presented by the English Governor, Richard Kane.
In the square is a bar called Boinder, named after the Menorcan term for the overhanging bay windows which you'll see in many of the older houses around town. They are a legacy of the English, along with sash windows, door latches and highly polished brass door knockers. I have quite a collection of door-knocker photos!
You may also enjoy: Walking in Menorca – on the Cami de Cavalls
From here follow Carrer Isabel II which runs parallel to the port and look out for the narrow passages between the houses that lead to viewpoints over the port. There are three that I found, the final one being at the end of the street where you'll reach the Museum of Menorca.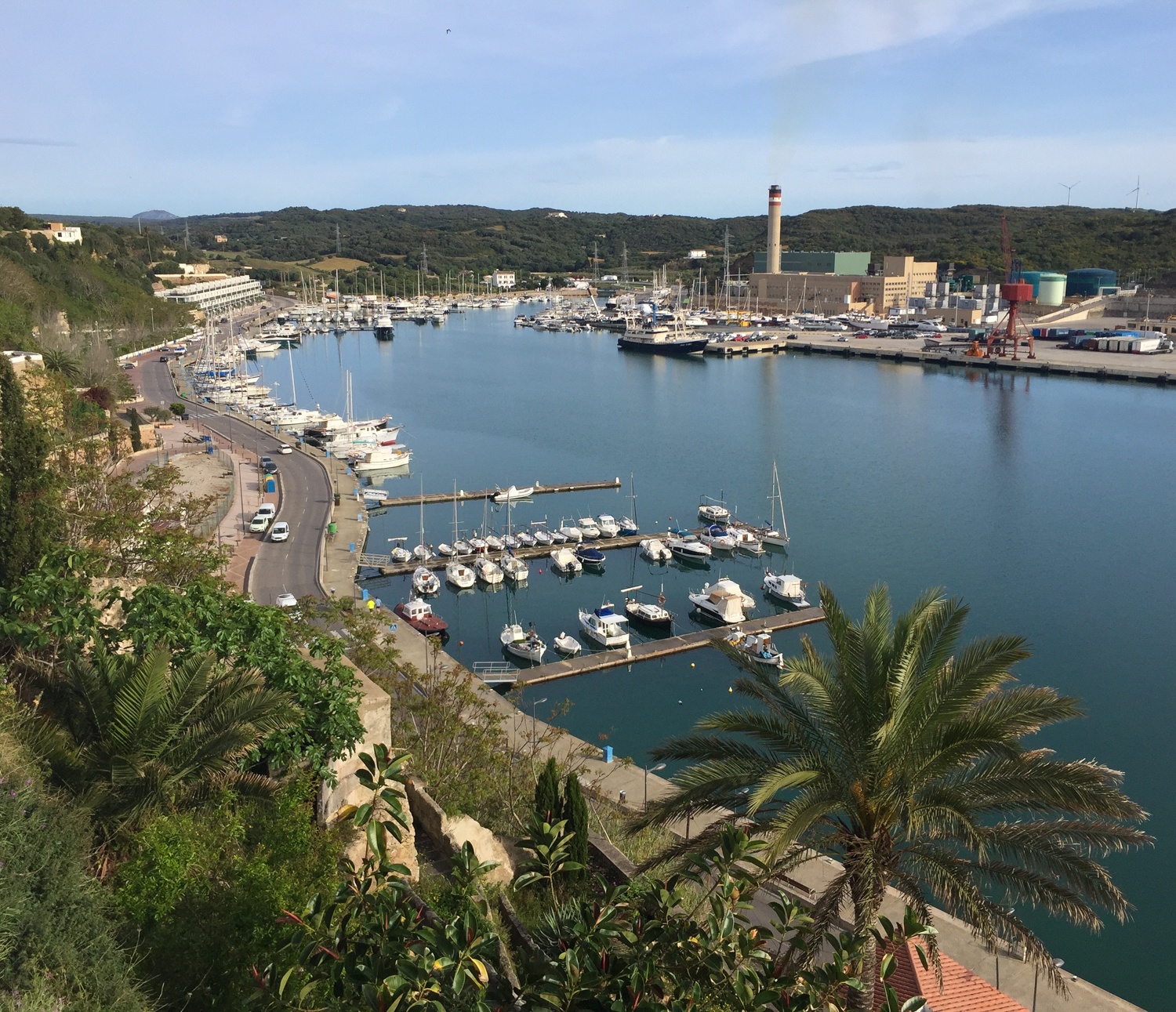 10. The influence of the British on Mahon, Menorca
On the right hand side as you walk up Carrer Isabel II is the impressive Governor's Residence, which was adopted by British Governor Richard Kane in 1722 when he moved the island's capital from Ciutadella to Mahón. Although Ciutadella had been the ancient capital of the island, Kane found it too inconvenient to travel back and forth from one end of the island to the other, since the English fleet was based in Mahon.
From the town hall, another interesting street to explore is Carrer de Sant Roc with some of the oldest houses owned by the noble families of Menorca leading to the gateway of Sant Roc which was once part of the city wall. The metal bands on the ground near the tower mark the line of where the city wall once stood. The gate overlooks a pleasant square, Plaça Bastio with café terraces and a children's playground in the centre, so if you have children you'll be able to sit with a drink and watch them play happily (at least that's the theory).
You may also enjoy: A guide to the Cami de Cavalls in Menorca
11. Mahon shopping – A girl can never have too many shoes!
Once the shops open later in the afternoon, it could be time do some souvenir shopping along the main shopping street of Carrer Hannover. Menorca has become a centre of quality shoe production and as we know a girl can never have too many shoes! The Avarca sandals that you'll see in almost every shop were originally made with soles of old tyres but are now a high fashion item with many sparkly and colourful variations. Also look out for Pretty Ballerinas, a high fashion brand that is based on the island – their main shop is in the port area.
12. Try the Mahón-Menorca cheese
You can't go home without trying the traditional Mahón-Menorca cheese which has a protected designation so it can only be made with milk from the island. The taste varies depending on how long the cheese has been matured and you'll tell the artizan cheeses by the wrinkles made by the cloths in which they are wrapped. Around town there are quite a few shops that will let you have a taste before you buy and one of the best is Autentic, a deli shop on Plaça de s'Esplanada which has a good range of cheese, sausages and other produce of Menorca such as honey and flavoured liqueurs.
13. Try the Mahon gin at Xoriguer
At some point in the day you will want to taste some of the local gin which was another happy British introduction. In the past there were many distilleries on Menorca to keep the sailors satisfied, but now only Xoriguer remains. They have several shops around town but a good place to try their gin is in the main distillery on the harbourfront near the cruise terminal (read the reviews here). Through the glass windows you can see the stills in operation and you are free to taste a range of the different gins and flavoured liqueurs that they produce and sell here.
The local way with gin is to mix it with fizzy lemonade to make a Pomada, deceptively refreshing in the summer and served in vast quantities at all the fiestas in Menorca. You might want to try it as an aperitif in one of the bars once you've finished your shopping.
14. Dinner at Es Castell in Menorca
Of course there are plenty of places to eat in Mahón, but for a change of scene why not take a 10 minute taxi ride to Es Castell where there are lots of restaurants around the pretty harbour of Cales Fonts. Take some time to look around the town square which was once a parade ground, with the red painted military buildings, before settling into a table at whichever restaurant takes your fancy. If you don't want to venture too far from the centre of Mahon, there are also plenty of excellent seafood and other restaurants as you wander along the harbourfront.
15. Hotels in Mahon – stay at Artiem Capri
Having enjoyed the sunset and fresh seafood for dinner, you'll return to your hotel in Mahón. I stayed at the very pleasant Hotel Artiem Capri close to Plaça de s'Esplanada and a 15 minute walk from the port. My room was spacious and modern and there is a lovely rooftop pool (which sadly I was too busy sightseeing to try out). The hotel is part of the Artiem Hotel group which has many excellent hotels around the island including the Hotel Artiem Audax in Cala Galdana where I also enjoyed staying.
Wherever you stay I hope you have a perfectly restful end to your perfect day in Mahón!
Hotel Artiem Capri, Caller San Esteban, 8, Mahón, Menorca | Check prices and book for Hotel Artiem Capri | Check prices for other hotels in Mahon
Read Next
15 fun things to do in Ciutadella – the ancient capital of Menorca
You may also enjoy
A guide to the Cami de Cavalls in Menorca
Walking in Menorca – on the Cami de Cavalls
Naveta d'es Tudons – Discovering the Talayotic culture of Menorca
Visitor Information for Menorca and Mahon
To plan your holiday in Menorca and Mahón visit the Menorca Tourism website or follow them on social media: Twitter @Turismhttp://www.menorca.esoMenorca | Facebook | Instagram
For holidays in other parts of Spain you can find more information at www.Spain.inf0 or follow them on social media: Twitter @Spain_inUK | Facebook | Instagram
Need somewhere to stay? Check out Hotel Artiem Capri in Mahon where we stayed or if this doesn't suit you look at these other hotels in Mahon
Looking for a guidebook for Menorca? We recommend the Rough Guide to Mallorca and Menorca to help you plan your trip.
If you need a hotel transfer, you may find it convenient to book this shuttle transfer from Menorca airport direct to your hotel.
Looking for boat trips and activities on Menorca? Check out these guided tours and excursions.
If you need a guide to show you the sites of Mahon and Menorca, I can highly recommend Luis Amella of Menorca Guides
Thanks to Menorca Tourism for hosting my stay in Menorca, in a project in partnership with Spain Tourism, Menorca Tourism and Travelator Media
Pin It
This article is originally published at Heatheronhertravels.com – Read the original article here
This article may contain affiliate links that provide a small commission on any purchases you make at no extra cost to you.