Is it worth flying Jet Airways Première class to India if you get the chance? Of course that's a silly question. Who wouldn't want to be pampered in Jet Airways Business Class with individual service, plenty of legroom, restaurant quality food and a glass of champagne?
But if we assume that your flight is not being paid for by the company and you're deliberating on whether to treat yourself to Première Class to start the holiday in style, then it's worth looking at what you'll get for the extra cost. On my recent trip to India flying with Jet Airways I flew economy class on the way out and Première Class on the return to London so was able to make a comparison of the two – read on for my Jet Airways Business Class Review.
Jet Airways Economy Class on the way out
So I'm off to India on Jet Airways Economy Class. I'm pleased to be flying with the second largest Indian airline on the way out since I start to feel the vibe of India as soon as I board the plane, through the flight attendants, the food, the movies and my fellow passengers. My Jet Airways Economy flight to Mumbai is full of cheerful Indian families, looking forward to visiting friends and family. Beside me is a chatty 3 year old with Mum doing her best to contain his energy. I remember being that parent myself with little ones, praying that they wouldn't annoy the other passengers too much and would sleep on the way.
I've spent a lot of time recently travelling in Europe and am out of the habit of these long haul flights so the plane feels enormous to me. My seat is right by the loos which means there's a constant ebb and flow of people queuing by me and pushing past each other.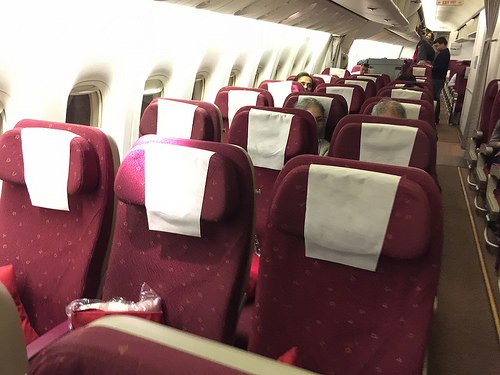 I turn my attention to the screen in front of me to check through the in flight movies. I remember from my last flight to India how I loved watching those East-Meets-West Indian movies, in this case it's The Hundred-Foot Journey in which Helen Mirren runs a Michelin star restaurant in rural France in competition with the Indian family across the road who arrive to start their own Curry Café. As in other Indian movies there's a film formula of family ties and loyalties matched against the forces of the ambition and progress in the modern world, plus every opportunity for a bit of song and dance Bollywood style.
Dinner at midnight
The flight moves on and dinner is served at nearly midnight, but in this flight bubble if feels as if time and routine is suspended, it's just about passing the hours. After watching the lovely liquid-eyes Indian chef Hassan in the movie, throwing a pinch of chilli here and some cardoman there, the chicken with spinach and noodles was not quite the Indian flavours I was hoping for, but I enjoy the cous cous salad with parsley and raisins and the creamy coconut rice pudding desert.
The lights are dimmed and we settle down to snatch some sleep under the brown checked blanket. Somewhere on the plane there is a Waaah, Waaah of an inconsolable baby but while feeling sorry for the parents I'm happy that it's not right next to me. By the time the breakfast tray comes round my bottom has fallen asleep and my legs are compressed, but I tuck into the sweet muffin and fruit salad to pass the time before stretching my legs on a wander up the aisle.
All change at Mumbai
At Mumbai we navigate the process of clearing customs, collecting our suitcases and then find the transfer bus outside the terminal that drive us the 15 minutes to the separate domestic terminal. It's a relatively short hop before we touch down at Bengaluru into another smart, international terminal. The new airport was built around 7 years ago and is an hour's drive from the city centre. From our taxi we admire the beautifully landscaped gardens bordering the airport road but soon the real, less manicured, more chaotic India emerges with streets bordered by rubble, half completed building projects and everything covered with a layer of dust.
Jet Airways Première Class on the way home
On the return flight, I have an an hour before I board at Bangalore my Jet Airways Première flight means I can make use of the Plaza Premium lounge which would normally cost 1000 INR (around £10.50). I welcome the complimentary breakfast since my early start meant I missed eating anything at the hotel. I deliberate between the two hot stations with chefs making freshly cooked dhosa and omelettes as well as the stations of fresh fruit, cakes, pastries, cereals and a machine for coffee. There's endless space in the lounge with large comfortable chairs to spread out and hardly anyone else there.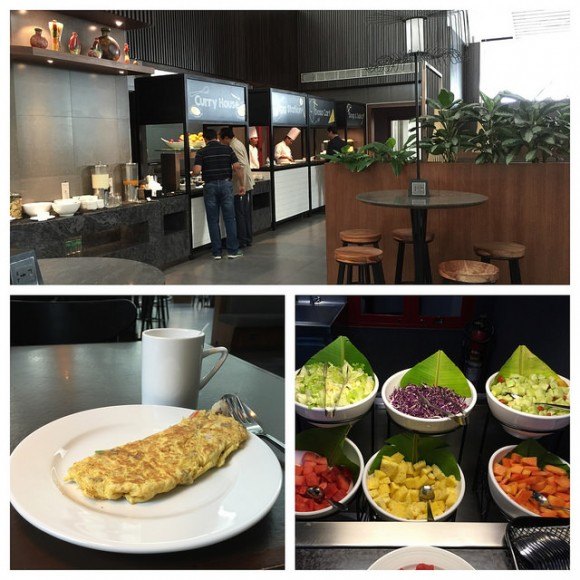 Seeing the Jet Airways flight called I go downstairs and wonder why no-one seems to be boarding yet, then realise that I've made a mistake with the gate and that they're actually giving the final call. Phew, thank goodness for my blogger's tendency to wander around and take photos or I wouldn't have spotted my mistake.
The Jet Airways business class flight from Bengaluru to Mumbai
I settle into my large Première Class seat at the front of the aircraft – with two seats abreast where there would normally be three there is plenty of room to relax. The charming steward Namesh comes forward, shakes my hand to introduce himself – he'll be taking care of me on this flight. I am offered a glass of coconut water or lassi and review the menu card to choose my breakfast, a mushroom omelette which of course I barely have room for due to the breakfast I've already had in the business lounge.
The flight is just a short hop from Bengaluru into Mumbai domestic terminal but the centre of attention is a well known actor or music star (of course I've no idea who he is!) who is travelling on the same flight. After having his photo taken with all the flight crew he is whisked away in a private car. Perhaps I was mixing with a big Bollywood star! Again there's a slightly chaotic wait in a queue for the connecting coach to take us to the international terminal.
The opulent business class lounge at Mumbai
Through security and I head for the third floor GVK Lounge which is included in my Jet Airways Première Class ticket (3,000 INR or around £30 for 4 hours). I feel I'm walking into the lobby of a fabulous 5 star hotel, awash with tasteful opulence, burnished gold partitions, expensive velvet and silk fabrics and plenty of opportunity for a large glass of chilled white wine from the bar or a meal from the buffet area. With more time I might even have tried a spa treatment at the far end of the lounge. While many are on their laptops, making use of the free Wi-Fi, I take one of the window seats and watched the planes taking off and landing – a most therapeutic pastime.
My reclineable Jet Airways Premiere Class seat
On boarding the flight from Mumbai to London, I settle into my Première Class seat with an individual reclining seat that has armrests and tables built in. Since each seat is set at an angle there is room to stretch right out and I wish my husband was here to enjoy it since he's over 6 foot tall and suffers on long flights with his long legs. I am able to have a play with the buttons to stretch out the padded footrest and recline the back almost flat for a very comfortable sleeping position. The large table slides out beside the seat and swings over, and the large screen swings round in front of me.
Dinner from a Michelin Star chef
As before I get the very personal service and dinner is served on a white cloth with china plates. From the dinner menu I choose an apple, cheese and tomato salad to start followed by a Goan fish curry; served with side dishes of lentils and Indian style vegetables. The menu tells me that on the London to India route some of the dishes are created by Michelin star chef Yves Mattagne who runs the restaurant The Sea Grill in Brussels. Although it's served on a different route, I love the sound of some of his dishes like the salad of golden and red beetroot with blue cheese or the pistachio tartlet with banana mousse. I'd normally jump at the chance of a glass of Bollinger champagne but decide to avoid any alcohol on the flight to preserve my energy on the long flight.
My Jet Airways flight from Mumbai to London passes quickly between meals, a little sleep and getting a bit of writing done and of course this is how I'd love to travel all the time, especially if I'm on my own. The benefits of flying Première class are many but these are the ones that I notice;
You get your own super comfy reclining seat in an individual compartment with loads of legroom.
The reclining seat makes it much easier to get some sleep on a long flight or to get some work done.
There's no waiting behind 10 other people in the queue for the bathroom and no need to disturb your neighbour when you need to leave your seat.

You are unlikely to be disturbed by boisterous children and crying babies.

You get personal and attentive service.

You eat restaurant quality meals served on white linen with proper plates and cutlery , some of the dishes created by Michelin star chef Yves Mattagne.

You enjoy complimentary wine, champagne and other drinks whenever you want them.
You get to use the business lounges in each airport where you can get free food and drinks, free Wi-Fi and a calm and relaxing exclusive space to work or relax.
You might get to travel with a film star!
On the downside if there is one
If travelling with your partner you might prefer to sit together rather than in an individual compartment.
The experience is a little sterile and remote from the real world if you are the kind of person that likes to be sociable.
Obviously the cost of flying Première Class is not one that everyone can afford – the cost is over three times as much as an economy fare.
If you gave me the option of flying Première Class on my next Jet Airways flight to India of course I'd jump at the chance – it turns the experience of flying long haul from something to be endured to a pleasurable and luxurious experience. Thanks to Jet Airways who provided Heather with complimentary return flight to Bengaluru and the opportunity to try out Première on the way back.
Planning a trip to India?
Jet Airways is India's premier airline, flying daily from London Heathrow to Delhi and twice daily to Mumbai, from there on to other Indian cities such as Bengaluru. Flights are also available from Manchester and Birmingham via Brussels. Jet Airways has the largest domestic network and flies to 74 destinations across India and beyond. For more information and to book: Jet Airways website | Twitter | Facebook | Pinterest | YouTube | Flickr |
Need Airport Parking?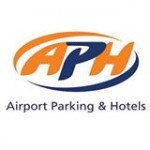 Heather used the Meet and Greet Parking Service booked through APH Parking and Hotels. APH is a multi-award winning company for airport parking & airport hotels, offering airport parking at a range of airports across the UK. APH also offer airport travel extras such as Meet and Greet parking, airport lounge booking and airport hotel stays so you can start enjoying a stress-free holiday before you even take off. Thanks to APH who provided Heather's airport parking on a complimentary basis. For more information: APH website | APH Blog | Twitter| Facebook | YouTube |
More India Inspiration
My charity visit to India – Podcast
Shopping and Sightseeing in Hyderabad
Meeting my Indian Sponsor Child
Pin It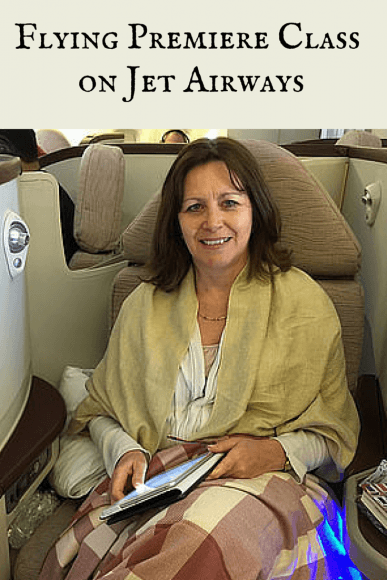 This article is originally published at Heatheronhertravels.com
This article may contain affiliate links that provide commission on purchases you make at no extra cost to you. As an Amazon Associate I earn from qualifying purchases.