Traveling to Morocco is a true culinary experience with so many delicious Moroccan dishes to taste and explore. If you love food and trying out new recipes, Moroccan food options will satisfy your taste buds whether you are vegan or a meat-lover.
Moroccan cuisine is internationally renowned and that's for a good reason. Moroccan recipes use spices and herbs to bring the best of each ingredient, while the slow cooking helps infuse and concentrate the flavors. Whether you are completely new to the food in Morocco or know a few Moroccan recipes, our guest author Safa of Moroccan Zest recommends some of Morocco's most emblematic dishes, delicious, hearty and flavorful, to try in Morocco.
You may also enjoy: Tagines and fresh orange juice – the food we enjoyed in Morocco
While it is hard to find a great Moroccan restaurant outside Morocco, it is rare to be deceived by a local Moroccan restaurant. In fact, recipes are respected thoroughly and restaurant owners can't take risks as local expectations are very high. So most of the time, you'll be in good hands.
1. Moroccan tagine
Let's start with Morocco's most famous dish: the Tagine, a savory meat-and-vegetable stew that cooks for hours in a special clay pot also called Tagine. The most common tagines in Morocco are salty, made using fresh meat and fresh vegetables like peas, artichokes, and zucchini. The famous Moroccan chicken with preserved lemon is one of the Moroccan salty tagine variations.
Most tagines are a healthy balanced meal, very flavorful and hearty. The different combinations of vegetables, meat and Moroccan spices make each tagine unique and worth the try.
Another variation of Moroccan tagines includes the sweet-and-salty tagines, which are tagines combining a salty meat stew with caramelized fruits and roasted nuts. The result is a super tasty sweet-and-salty flavor. The most common sweet and salty tagines are tagines with apricots or raisins.
2. Moroccan Fish Tagines
If you like fish-based recipes, or even if you don't like them, try Moroccan fish tagines and you probably will be surprised!
Moroccan fish tagines are far from boring or flavorless. They are made with a special sauce called chermoula in which fish is infused for hours. Fish is then dressed on layers of potatoes, tomatoes, and other veggies and cooked on slow heat to infuse the aromas. It can also be grilled, as with the spicy sardines dish.
3. Moroccan couscous
Another famous Moroccan dish is couscous, made of steamed semolina sprinkled with a delicious sauce combining vegetables, meat, and chickpeas. Couscous is a Moroccan classic dish, traditionally served in big clay plates and eaten in big groups using only the right hand. It is enjoyed by most Moroccan families at least once a week on Fridays, after the midday prayer.
You may also enjoy: Finding Josephine Baker at Riad Star in Marrakech – video
There are many variations of the couscous depending on the regions of Morocco, the most popular variations being the couscous with seven vegetables, and the sweet and salty couscous with caramelized onions and raisins.
4. Zaalouk – aubergine dip
Moroccan Zaalouk, also called eggplant caviar, is a delicious side dish served in Morocco to accompany tagines and other Moroccan main dishes. It is made with smoked aubergines /eggplants, olive oil and strong aromatics like cumin and herbs. Delicious cold or tepid, spread it generously on homemade Moroccan bread or crispy baguettes, and enjoy!
5. Moroccan Tangia
The Tangia is a specialty of Marrakech cuisine. There is a saying in Morocco that if someone visits Marrakech without trying the Tangia, it's as if they didn't visit Marrakech at all.
Tangia is a meat-based dish known for its cooking method that creates a super hearty and savory stew. The ingredients are mixed in a special clay jar which is covered and buried in hot ashes for overnight baking. The spices, herbs and slow cooking create one of the most tender meats you can eat and one of the most flavorful sauces you can taste. If you visit Marrakech, make sure you try the Tangia.
6. Harira
Harira is Morocco's official soup. Made with chickpeas, lentils, tomato puree, and aromatics, it's a delicious soup and probably one of the cheapest dishes you can eat in Morocco. Have it at night when it gets a little chilly outside and you will be so pleased and satisfied! If you like a light acidity in your food, ask for a slice of lemon to squeeze into the soup. Absolutely delicious!
7. Moroccan sheeps heads
This might surprise many, but cooked Moroccan sheeps heads are a staple in Moroccan cuisine. Sheeps heads are thoroughly cleaned, roasted and mixed with special spices and herbs, then cooked until super tender. The result is a meat-stew with interesting flavors of spices, herbs and an after taste of smoke due to the roasting. Delicious!
8. Bastilla
Bastilla is a spiced pie with a tasteful mix of sweet-and-salty ingredients, and delicate flavors. This is a fancy Moroccan dish usually made during celebrations and special occasions, but you can still find it in most Moroccan restaurants.
There are different kinds of Bastillas, but the most common ones are squab Bastillas, chicken Bastillas, and seafood Bastillas.
You may also enjoy: Marrakech – on shopping, sightseeing and (not) getting lost in the souk
9. Moroccan snails
Moroccan snails are one of the most popular Moroccan street food. Locals enjoy them all the time but especially during the winter season as this spicy snail stew has body-warming properties. Apart from being very flavorful, Moroccan snails are also believed to strengthen the body and immune system.
Moroccan snails can be found in most Moroccan medinas and souks. They are usually served in small bowls and eaten right away with a toothpick. They can't be missed with their spicy smell and many locals encircling the snails food truck.
10. Moroccan pastries
If you have a sweet tooth and like delicate pastries, look for a Moroccan pastry shop and choose from the numerous traditional treats Moroccan cuisine has to offer.
Most Moroccan pastries are made with delicious ingredients like almonds, peanuts, coconut, and honey. The most iconic pastry is the Kaab Laghzal (Gazelle horns), a delicate and tender pastry made with almonds and orange blossom water. You can also try the Baghrir, also known as the "thousands hole pancake", a fluffy Moroccan pancake sprinkled with warm melted honey and butter. Heaven!
For anyone who wants to bring a piece of Morocco back home and share it with family and friends, Moroccan pastries are a great pick. Some of them can even last up to a month when correctly stored in the fridge.
11. Moroccan bread – Khobz
Moroccan dishes are served with either crispy baguettes or Khobz, Moroccan homemade bread. Both are delicious but homemade bread is truly one of a kind. It's made with whole wheat, grains, and hand-kneaded to create the perfect fluffiness. Have it with your tagines or enjoy it at breakfast with some local honey and goat cheese.
12. Vegetarian Dishes in Morocco
Many think Morocco is unfriendly for vegetarians and vegans but it's totally the opposite. Most Moroccan famous dishes have a vegetarian variation as many Moroccans reduce their meat intake for a healthier and balanced diet.
If you are vegetarian or you just want to give yourself a meat break, you can compose your menus with Moroccan salads, vegan side dishes like Zaalouk, vegetarian tagines, vegetarian couscous, and Harira soup. The options will be endless and your whole trip will be a tasty culinary experience.
13. Dates and Figs
In Morocco, dates, figs and other dried fruits like apricots and raisins are often served with tea to welcome guests. It's Moroccans way to say how much you count and wish you a sweet stay in their company. In Morocco, dates and figs can be served natural or flavored with orange blossom water.
Dates and Figs are also the most common (and most delicious!) accompaniment of the Harira soup, as dried fruits' sweetness and the saltiness and acidity of the Harira are an exceptional mix.
14. Moroccan mint tea
Moroccan mint tea is an everyday drink in Morocco, enjoyed in family gatherings to hang out and chill. The basic recipe uses tea and mint as main ingredients, but there are many variations that depend on the occasion and time of the year. On some special occasions, mint tea can be flavored with rose petals or orange blossom water, while other herbs and spices can be added during winter time to warm the body and help with the cold temperatures.
While visiting Morocco, your hosts will probably welcome you with a traditional mint tea, which is their way to welcome you and show how much they care.
Pin it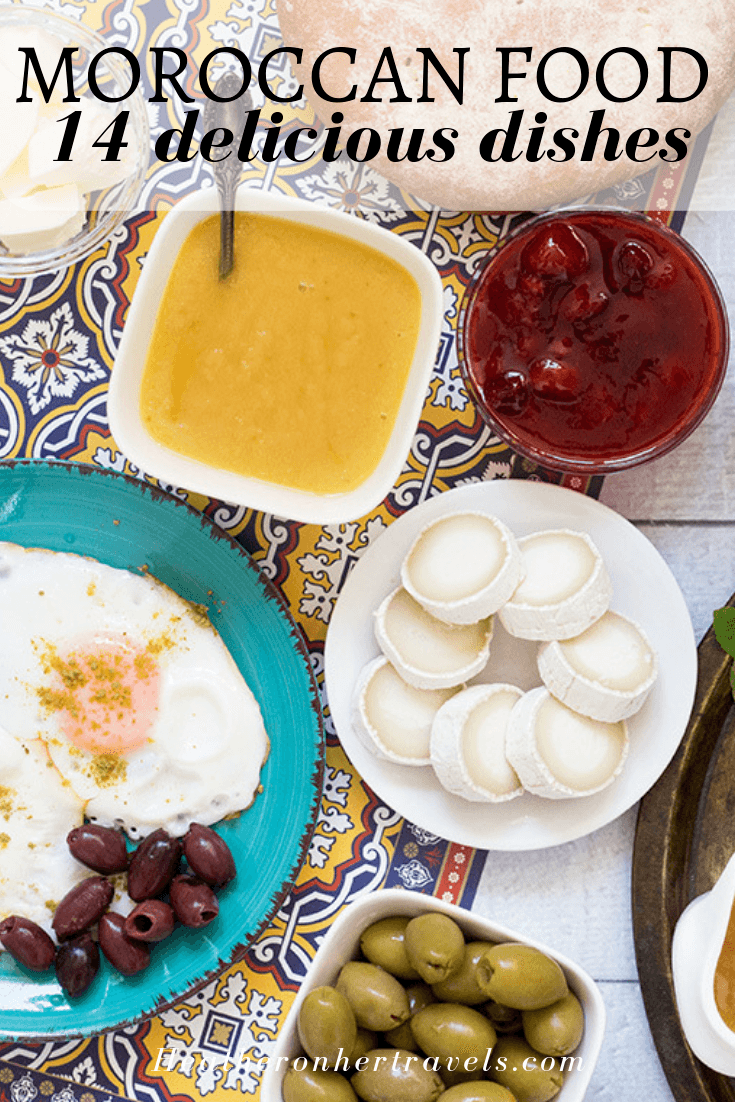 Information for visiting Morocco
You'll find more information to plan your trip to Morocco on the Visit Morocco website as well as lots of interesting articles on Safa's website Moroccan Zest
Morocco is well served by flights from the UK, Europe and other international destinations. The main airports are Marrakesh, Casablanca, Rabat, Essaouira, Agadir, Tangier and Fez. We recommend Skyscanner to plan flight routes and find the best prices.
If you are looking for somewhere to stay, check out the best deals on hotels in Morocco.
If you are looking for a guidebook for your visit to Morocco, we recommend the Lonely Planet guide to Morocco
If you are looking for food tours in Morocco check out these – how about a Marrakech food tour with lunch, a tagine cookery class or a full day cookery experience in Fes?
About the author: Safa is a Moroccan blogger, designer, and writer whose favorite thing to do is explore Moroccan Medinas and get lost in its labyrinthine streets. Visit her site Moroccan Zest where she connects you with her passions: Morocco, Moroccan food and Moroccan fashion and design.
This is a guest post* from Safa at Moroccan Zest
* More info on my policies page
All photos by Moroccan Zest except Moroccan tagine (pixabay), Couscous (pixabay), Moroccan salad (pixabay), Moroccan breakfast (goodfreephotos), Moroccan tea (pixabay) Zaalouk by Meng He on Flickr
This article is originally published at Heatheronhertravels.com – Read the original article here