The clear blue pool and waterfalls give Paradise Valley in Morocco its name, one that it certainly lived up to when we visited to walk through the valley and swim in the cold, crystal water. The area became a hippy hangout in the 60s when people came to camp there, although the stories that Jimi Hendrix visited and gave the valley its name seem to be just pop folklore.
The local Berber name for the valley is Tagharat Ankrim, as the valley runs the course of the Ankrim river and is now a nature reserve where you are still allowed to camp freely. We spent a day in Paradise Valley near Agadir on a day-trip from Taghazout, staying on Morocco's Atlantic surfing coast. If you are staying in the area it's one place you won't want to miss.
I hope you enjoy my travel video below of our day at Paradise Valley, near Agadir in Morocco
If you can't see the travel video above about Paradise Valley, Morocco, view it on my blog here or on Youtube here
Download this video – Paradise Valley, blue pool and waterfalls in Morocco
The Argan oil cooperative near Paradise Valley
Of course like every organised excursion there was a stop along the way, but fortunately not to someone's brother-in-law's carpet shop. We stopped on the road between Aourir and Paradise Valley at an Argan oil co-operative, where the ladies gave us a quick demonstration of how the shells of the Argan nuts are broken open with a stone, then their brown outer coating peeled off to reveal the white nut.
For cooking oil the brown kernels are ground into a paste and dried into a cake which is then pressed to make oil for cooking, while the white inner nut is pressed for the more refined cosmetic oil for face and hair.
You may also enjoy: The most delicious Moroccan food! – 14 dishes to try when you visit Morocco
The Argan trees are only grown in the south of Morocco and each nut just gives out a few drops of oil, making the Argan oil highly prized but expensive. Unless you are buying from a reliable source, beware of fakes and blends that are being sold as pure Argan oil.
Needless to say, my daughter and I stocked up on a few small bottles of the Argan oil to try at home in the hope of having even more lustrous hair and soft skin. Behind the showroom was a lovely botanic garden, where all the medicinal herbs and plants were labelled and laid out in beds with paths between, so we enjoyed our wander around before continuing our drive.
You may also enjoy: A scrub and massage in the hammam in Agadir, Morocco
Arriving at Paradise Valley
As we drove on up the valley, we found the landscape becoming more arid, as we passed into the foothills of the Atlas mountains. We arrived at a small car park with attendants (you will almost always have to pay for parking in Morocco, as much for people to "keep an eye" on your car as anything) and there was also an orange juice stall at the start of the path.
Loaded with water and swimming gear, we started hiking up the path, which tracked above the river, then snaked down to a place where we had to cross on stepping stones. There were a few small open air cafes around where locals who live in the village of Imouzzer-Ida-Outanane up the valley have made small businesses to serve food to the groups coming to the valley.
A traditional Moroccan breakfast at Paradise Valley
We'd arranged the trip to Paradise Valley near Taghazout with Surf Stay who we'd booked our apartment through and regularly organise these trips including a guide, transport, breakfast and a traditional tagine meal at the end of the day.
First we stopped at the small enclosure with bamboo walls and low tables and carpet covered benches where our Moroccan host was waiting for us. The blackened kettle was boiling over the open fire and we were brought mint tea and flatbread which we dipped in honey and Amlou, a sweet paste made from honey, ground almonds and Argan oil, a bit like peanut butter.
The first pool at Paradise Valley
After our late breakfast, we walked on for five minutes to the where the river started to make shallow pools and also some deeper ones where you could jump off the rocks. There was already a large group who had come from Taghazout, who had settled in for sunbathing on the smooth rocks, with much cheering and squealing as people jumped off the high rocks into one of the deeper pools.
Will, our guide suggested that we walk on to the next pool where we were likely to have a quieter time and have the pool to ourselves. It seemed as if most of the groups never get past this first swimming area, so if you visit Paradise Valley, be sure to ask your guide to take you to some of the other pools higher up the valley, which are even more beautiful.
The gorge at Paradise Valley
Ten minutes walk later and we arrived at a place where the cliffs rose into a gorge, which created a bowl around an area of deep blue water. There were places on the cliffs where you could jump or dive off from high up, which Will demonstrated by diving straight into the water, and my kids soon followed while I captured them on video.
Those who weren't so daring could scramble down the smooth side of the rock to some ledges nearer the water and go for a swim from there. I was so busy taking photos that I missed my chance to scramble down the rocks and swim before we were off to the next set of pools even higher up the valley, leaving the less energetic of our group here to relax.
The high pools of Paradise Valley
We picked our way over the boulders and rubble for another 15 minutes past a series of pools and cascades, until we came to a point where you had to wade thigh deep through a pool to get to the other side.
To avoid my camera getting a dunking, I passed all my bags to our guide, who put them safely in his rucksack so that I only had to worry about making sure I didn't fall over in the water. If you are planning to walk right up the valley to the highest pools, it's a good idea to have trainers that you don't mind getting wet, although at a pinch you can get by with flip flops.
You may also enjoy: Life's a beach – watching the surfers in Taghazout, Morocco
On the other side the way led to more shallow blue pools, perfect for swimming and one final pool through which you could swim to reach a waterfall with a perfect plunge pool beneath.
The waterfall at Paradise Valley
We were lucky to see the final waterfall flowing, as the river level is now much lower than it has been in the past, due to the water being used for irrigation. Fortunately, there had been several days of rain in the mountains before we arrived, so we saw the waterfall in full flow and could swim up to it, walk behind it and jump in the plunge pool beneath. We were told that these pools are only full at certain times, mainly in the springtime and later in the year they dry up.
After swimming for half an hour, we walked back down the valley with a full view of the pools and cascades flowing down the rocky gorge. It was a wonderful experience and we felt lucky to have seen this valley which really seemed like a little bit of Paradise.
A traditional Tagine lunch at Paradise Valley
Back down at the head of the valley after a couple of hours, we stopped again at the small hut where a tagine had been cooked for us over coals from the open fire, placed under the conical clay pot. The meat and vegetable tagine was really tasty and a lovely way to end our day in Paradise Valley.
The Moroccan way to eat the tagine is as a shared dish in the centre of the table where you use your hand and the flat-bread to scoop up the pieces of vegetables, meat and sauce, although we found this a bit tricky so asked for forks and plates to help us. After relaxing a while with our tagine, we continued our walk back to the car park by a different route that avoided crossing the river and took us on a high path looking down on the river and small settlements with palm trees below.
A visit to Paradise Valley is a fantastic day out and one that I highly recommend, especially if you are there in the springtime when the pools and waterfalls are most likely to be full of water.
How to get to Paradise Valley, near Agadir, Morocco
We travelled from Taghazout to Paradise Valley as a day trip with Surf Stay who we had rented our apartment through. The day trip cost 250 Dirhams per person ($30, €23, £20) and covered transport from Taghazout with a guide, breakfast and a Moroccan tagine at the end. Other companies that you stay with in Taghazout may also offer similar trips to Paradise Valley.
If you want to visit Paradise Valley on your own, the best way is to hire a car. I have not looked into public transport options, but suspect that if you travel by local bus, you would have to plan more than one day in the area with an overnight stay, whereas with your own car it is an easy day trip.
To reach Paradise Valley you drive south along the coast road from Taghazout or north along the coast road from Agadir until you reach the coastal village of Aourir, also known as Banana Village because local bananas are sold here on roadside stalls. At the roundabout on the main road (where there are 3 ATM machines, so worth a stop for cash) you take the road that leads inland and follow it for 30-40 minutes.
You will pass the Argan Oil showroom, and a number of roadside stalls selling large fossils and ceramics. As I remember (although I was not driving) there was only one road and you follow it until the landscape starts to become rocky and barren and passes through a gorge area and then soon after you will see the car park on the right and a sign for Paradise Valley.
You will be directed where to park in the small parking area for which there is a charge, and there is an information sign about the valley. I believe that the same road continues up the valley to the town of Imouzzer-Ida-Outanane where there are some hotels, if you need accommodation. The drive from Taghazout took around 45 minutes and I believe it is roughly the same from Agadir.
Jimi Hendrix at Paradise Valley
I noticed that many guide books and websites had references to Jimi Hendrix naming Paradise Valley or even writing a song about it. However, when I did a bit more research about this I found that these stories were more folklore than fact, after I read this article.
I contacted the author and learned that although Jimi Hendrix loved Morocco, he had only visited once on holiday in July 1969 when he stayed for 7-10 days. He spent time in Casablanca, Marrakech and Essaouira (which is around 3 hours further north up the coast) staying in nice hotels with his friends and almost certainly did not visit Paradise Valley, nor could I find any details of any songs that he wrote about the area.
Pin It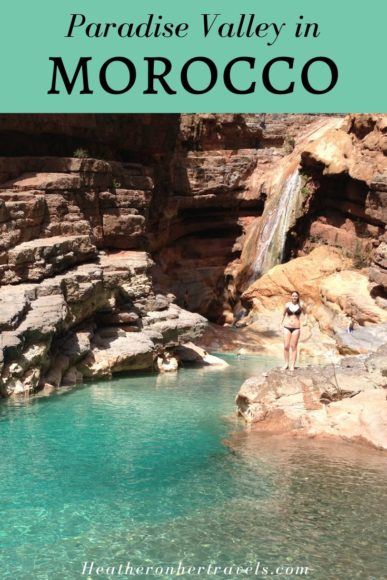 This article is originally published at Heatheronhertravels.com
This article may contain affiliate links that provide commission on purchases you make at no extra cost to you. As an Amazon Associate I earn from qualifying purchases.