Where in Paris can you buy the best fois gras for your celebration meal, eat oysters with a glass of chilled Sancerre on a Saturday morning or take away a delicious rotisserie chicken from the North African butcher for your bargain Sunday lunch? Marché d'Aligre is one of the oldest and most popular markets in Paris and has a repution for both its reasonable prices and fantastic quality produce, so we were deighted to explore the market with the help of  local guide David, on our gourmet walking tour with Viator.
We met outside the Metro Ledru Rollin and were looking around for the crowd of people when David approached us and explained that today the group would consist of only me and Guy (it would never be more than 8 people anyway). David gave us a quick orientation of the different neighbourhoods or arondissements that surround Marché d'Aligre which is in the 12th, before leading us down the street towards the market.
Marché d'Aligre was established 300 years ago and the area was originally a neighbourhood for carpenters and artizans, but now has a large North African poulation which gives the market a multicultural flavour. As a bonus you get three markets in one place; an outdoor fruit and veg market, an indoor food market and an outdoor flea market, as well as many food shops in the streets nearby – quite a magnet for gourmets. It's also a great area for bars and restaurants, as you can be sure that with access to the best of the market, the produce will be really fresh and high quality. David pointed out a few possibilities for lunch such as Le Baron Rouge (1 rue Théophile Roussel), an old fashioned Parisian wine bar where you can stand and order wine by the glass, accompanied by oysters which are served at weekends. Just around the corner we noted his recommendations for Le Charolais (15 rue de Cotte) for top quality meat or Le Chat Bossu (126 rue du Faubourg Saint Antoine) for steak tartare which I later tried for lunch.
We strolled with David through the open air market, marvelling at the beautifully presented piles of fruit and vegetables. Everything was plump and appetising, with not a leaf out of place and no sign of dirt or earth. Many of the stalls are supplied by small specialist farmers and because of its high turnover the market gets the pick of the produce from the huge wholesale Rungis market.
With the eye of someone who loves to cook and eat, David pointed out the unusual varieties of vegetables; the Topinambour or Jerusalem artichoke which was a cheap staple during the second world war and has now been made fashionable by the top chefs; the globe shaped courgettes that are used to make farcis or stuffed vegetables baked in the oven; and the speciality potatoes such as those from Noirmoutier on the Atlantic coast, the purple Vitelotte potatoes and the nutty Ratte de Touquet. As David described how the mild white onions should be cooked down slowly in butter to make a caramellised syrupy sauce, my mouth was starting to water.
We stopped at the Algerian butcher who sold some of the best meat around according to David, although you won't find it as beautifully presented as in the French butchers who prepare everything ready to pop in the oven. They sold an excellent Merguez, a spicy North African sausage made with veal or lamb and on Sunday mornings there's a queue down the road for their rotisserie chicken that we could see roasting on the spit. We popped into the Tunisian grocer who was having a chat to his customers, all ladies in headscarfs, and came out with a pot of saffron for a couple of euros to put in our risottos. Just around the corner was the Graineterie, with the old fashioned atmosphere of a hardware shop at home, although in fact it sold grains and flours for cooking as well bird seed for your canary with some household and gardening items at the back.
Next stop was the covered market with several butchers, cheese stalls and fishmongers which would be the place to buy some deli items for a picnic or the paupiette stuffed meat parcels to carry home and cook in your apartment. We noticed the large Fois Gras duck livers ready for Christmas that come from the Périgord region of France, the land of the Three Musketeers, and a luxury at around €60 for one liver. To prepare the fresh liver, David told us how to leave it in the fridge for a few days covered with sea salt and spices to cure, before serving as a luxurious starter or canapé.
In front of the covered market, there was a flea market which is here every day filling the square, with brocantes, vintage clothes, antique china and glass with a bit of African art thrown in. I was tempted by some pretty antique glasses engraved with stars but decided they were probably too delicate to get home in one piece.
Around the market were plenty of food shops and we popped into a fromagerie where David pointed out the sign on most of the cheeses that indicated they were Lait Cru or unpasteurised. Apparently this is a concept that some of David's American visitors find hard to believe – all those germs! "But it's the germs that make the cheese so tasty!" David assured us. On the counter running the length of the shop were the mild Brie de Meau and the stronger Brie de Melun, oozing gently. There was the Mimolette,  a French version of Gouda from Lille that had been aged for 36 months to develop the flavour, the Brebis made from sheep's milk from Pays Basque in the Pyrenees, the Saint Nectaire from the Auvergne that every French family has in their fridge and the Comté de Noel from the Jura, a 24 month matured version of Comté that's popular at Christmas.
As the cheese shop was getting pretty busy, we moved on the wine shop along the road to taste a platter of cheese that we'd brought from the fromagerie with a Tour de By red wine from the Bordeaux Medoc region which was a treat that they had opened for customers to taste. We worked our way through the cheeses in between sips of our expensive wine with David providing the tasting commentary. We tried a Rocamadour, a creamy goats cheese which is often served melted on salad and the Saint Nectaire which was mild and creamy with a sharp aftertaste of the ash that's put on the outside of the cheese and gives it flavour. Next we tasted the smooth and elegant Basque cheese Ossau-Iraty which was perfect with a glass of wine, then the rounded and flavoursome Comté which had been matured for 24 months rather than the normal six, finishing with the blue Roquefort served with a slice of Pate de Coings or Quince cheese.
For desert we moved onto Les Chocolats d'Aligre next door where they specialised in selling the chocolates of different artizan chocolatiers in and around Paris. The photos of the producers were on display, many of them proudly wearing the tricolour collar or ribbon that indicated they had been awarded the coveted status of Meilleur Ouvriers de France.
Like wines or coffee beans, the cocoa beans are from specific places in Madagascar, Venezuela and Peru and the French style of chocolate is to minimise the fat and sugar to make a darker, intense flavour, in contrast to the Belgian style which is more creamy, using the fat around the cocoa bean. We tried three different chocolates; an unusual coriander flavour, followed by one with a classic smooth ganache filling and then a nutty chocolate to finish. We couldn't resist buying a box of the prettily coloured chocolate tubes as a gift for our Cookening host that evening as well as some Sauternes soaked chocolate raisins for Christmas entertaining.
After a couple of hours our tour of the market was at an end but David was happy to share his gourmet's knowledge of the Paris food scene with us and told us where to go for the best chocolate and patisseries. As our tour ended right outside Le Chat Bossu, we decided to take David's recommendation and try it for lunch.
The restaurant was busy with no tables free but by now we'd adopted the Parisian attitude to food – if it's full it must be good and we were prepared to wait, sitting at the zinc bar with a coffee. Once we were seated at a tiny table with our backs against a large mirror wall, Guy ordered the Plat de Jour which was a dish of rabbit and vegetables while I decided to try the Steak Tartare that David had recommended. The waitress looked at me quizzically and asked "You know what it is Madame?" While many might find the idea of raw meat rather unpleasant, I enjoyed this dish of raw chopped steak with the texture of smoked salmon, flavoured with mustard, ketchup, tabasco, capers, salt and pepper. Our lunch of two dishes plus a couple of drinks and coffees was €33.50, quite a bargain for Paris.
If you'd like to visit Marche d'Aligre
Marche d'Aligre is open daily Tuesday-Saturday 8am-1pm and 4pm-7.30pm. On Sunday the market is open only until 1pm and it's closed Monday. The food shops and stalls in the covered market keep normal shop hours. Nearest Metro: Ledru Rollin
Our tour of Marche d'Aligre was provided by Viator.com who offer sightseeing tours and activities worldwide with knowledgeable local guides. Viator have many different food themed and other tours in Paris and you can book the same Walking tour of Marche d'Aligre here. The cost at time of writing was around £51 per person for a 2 hour tour (although David spend more like 3 hours with us as I was taking so many photos) which I thought was excellent value. The maximum group size is 8 people and we were the only people on that day, so we were lucky to get a personal tour. Thanks to Viator who provided a complimentary tour for Heather and Guy.
More tales from our trip to Paris
Our hotel room with a view – Review of Hotel Pullman Paris Montparnasse with video
A Postcard from Notre Dame de Paris
Dine with the locals in Paris (via Guadaloupe) – with Cookening
25 delicious food tips in Paris – from top bloggers and Paris locals
Our winter weekend in Paris – the food, the sights, the video
Visitor Information for your weekend in Paris
Flights: Heather and Guy flew with Air France from Bristol to Paris – thanks to Air France for providing Heather's flight. There are several flights per day with Air France to Paris Charles de Gaule Airport from London Heathrow and other regional airports.
Where to stay: We stayed at Hotel Pullman Montparnasse, a large, modern hotel opposite Gare Montparnasse which is very conveniently situated for transport links and an easy ride on the Metro to all the main sightseeing areas. The decor is vibrant and modern, with great views over the city from the upper floors, and we found the staff to be very friendly and helpful. Thanks to Hotel Pullman Montparnasse who hosted our 3 night stay in Paris.
This article by Heather Cowper is originally published at Heatheronhertravels.com – Read the original article here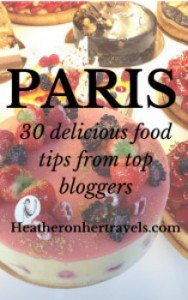 You'll also be subscribed to our free monthly newsletter for great travel resources, news and offers, but you can unsubscribe at any time and we'll never share your e-mail.
You'll also find our sister blog with tips on how to build a successful travel blog at My Blogging Journey