The bohemian neighbourhood of Psiri in Athens is a cool place to visit, if you want get a more authentic and less touristy feel of Greece's vibrant capital city. It's one of the oldest areas of Athens, close to all the major attractions, with artisan shops, coffee bars and street art to see in the day.
After dark, the area is transformed into a buzzing nightlife district, as bars and restaurants come to life. I explored the area over a few days, so read my neighbourhood guide to discover the best things to do, street art, restaurants and places to stay in Psiri Athens.
This article may contain affiliate links that provide commission on purchases you make at no extra cost to you. As an Amazon Associate I earn from qualifying purchases.
A brief history of Psiri
Being so close to the Acropolis hill and the ancient Agora or market, Psiri is one of the oldest neighbourhoods of Athens. It forms part of the "Historic Triangle" that was the heart of Athens in Ancient Greek and Roman times.
The Psiri neighbourhood took its current form before the Greek revolution of independence against the Ottomans in 1821, and the central square of Plateia Iroon was laid out in 1850. It was during this era in 1809 that the English poet Lord Byron stayed on Agias Theklas street and wrote a famous love poem to the "The Maid of Athens" who was his landlady's daughter, a young girl of 12 at the time!
During the late 1800s, Psiri became the hangout of criminal gangs, like the koutsavakides, who styled themselves with long handlebar moustaches and wore their jackets with only one sleeve on, making them easier to throw off in a fight. After 1900 the area was cleaned up and the gangs driven out by Athens police chief Bairaktaris.
As a result small businesses and workshops moved in and the area thrived during the first half of the 20th century, but gradually declined as residents moved to quieter neighbourhoods of Athens. By the 1980s and 1990s, Psiri had gained a reputation for being run down and unsafe.
The area's fortunes improved in the run up to the 2004 Olympics, when Monastiraki station opened nearby and licence laws were changed to attract investment to the area. Designated as a "nightlife" district, to encourage bars and restaurants to open, in the last decade Psiri has become gentrified, a trendy place to live and stay, with many small boutique hotels.
Note: I've used the widely used spelling of Psiri, but you may also see it called variations like Psirri, Psyri or Psyrri.
Things to do in Psiri Athens
A visit to Psiri is less about visiting museums or historic sites and more about soaking up the authentic atmosphere of a working Athens neighbourhood. During the daytime, when Psiri is quiet, it's the perfect time to wander around, look at the street art and browse in the artisan shops. At night, the narrow streets are buzzing as Athenians gather in the bars and restaurants to catch up with friends, eat, drink and listen to music.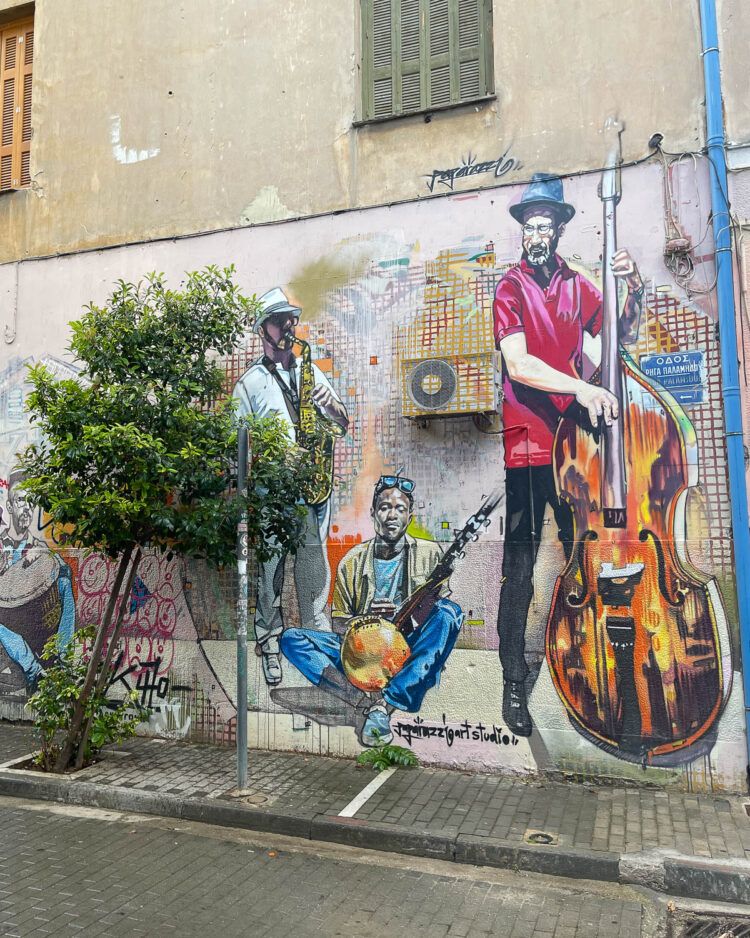 Street art in Psiri, Athens
One of the most enjoyable things to do in Psiri is check out the street art and murals around the neighbourhood. Best spots to find street art include;
The Old Fire station on Sarri that's covered with murals on the boarded up doorways and the first floor hoardings.
The side streets leading off Sarri, like Epikourou with more murals and street art.
The famous "Riot Dog" mural in Psiri on the corner Sarri and Riga Palamidou – read the story of the riot dog Loukanikos in my article about street art in Athens.
Wander down Riga Palamidou where the whole street is a constantly changing canvas of street art.
Discover murals by Vasmou, INO, Same84, Woozy, Alex Martinez and more on the buildings in Psiri – you can see photos and find out more in this article about the street art we saw in Athens.
See the latest INO mural "Breaking barriers of equality" on the side of The Foundry Hotel at the Thiseio end of Sarri.
If you'd like to discover more about the street art in Athens we highly recommend you take this street art tour which we personally tried.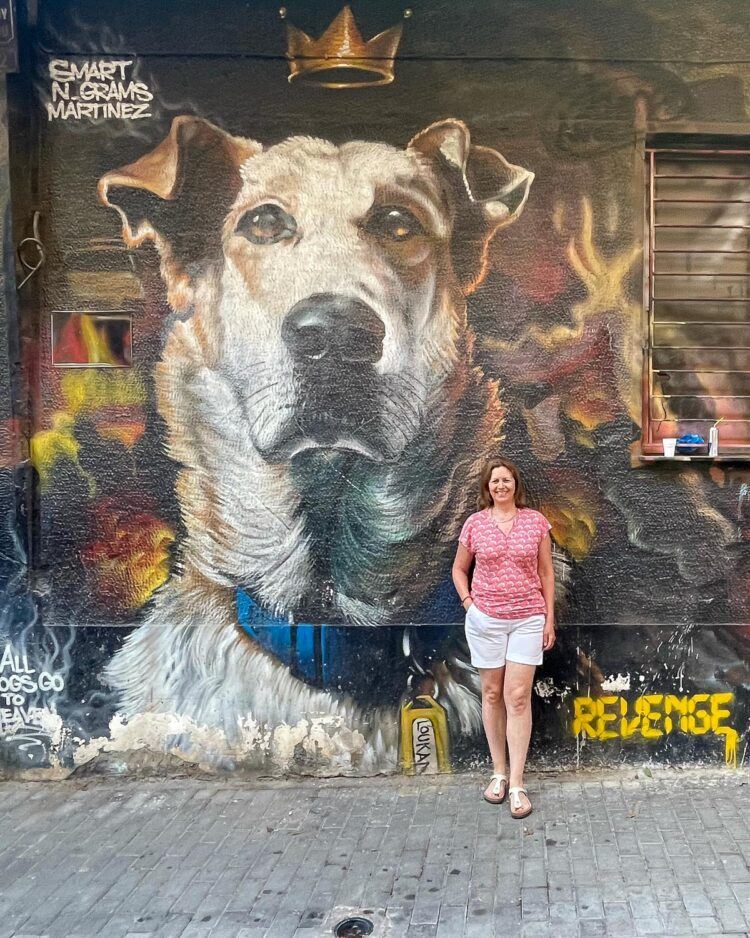 Shopping in Psiri
Psiri was formerly a working class neighbourhood, full of small artisan workshops, especially those for leather and textiles. This flavour of artisan shops still remains, so you won't find any high street chains here!
What remains of the leather industry that dominated the area, can be felt as you walk down Miaouli street. Check out the Karras shop selling hand crafted leather bags and the leather sandal shops nearby, as well as the wholesalers selling leather hides and tools for the trade.
Another place to hunt for quirky independent fashion shops are the streets of Protogenous and Pallados that run from the main street of Athinas, a great example being The Real Intellectuals specialising in cool biker gear.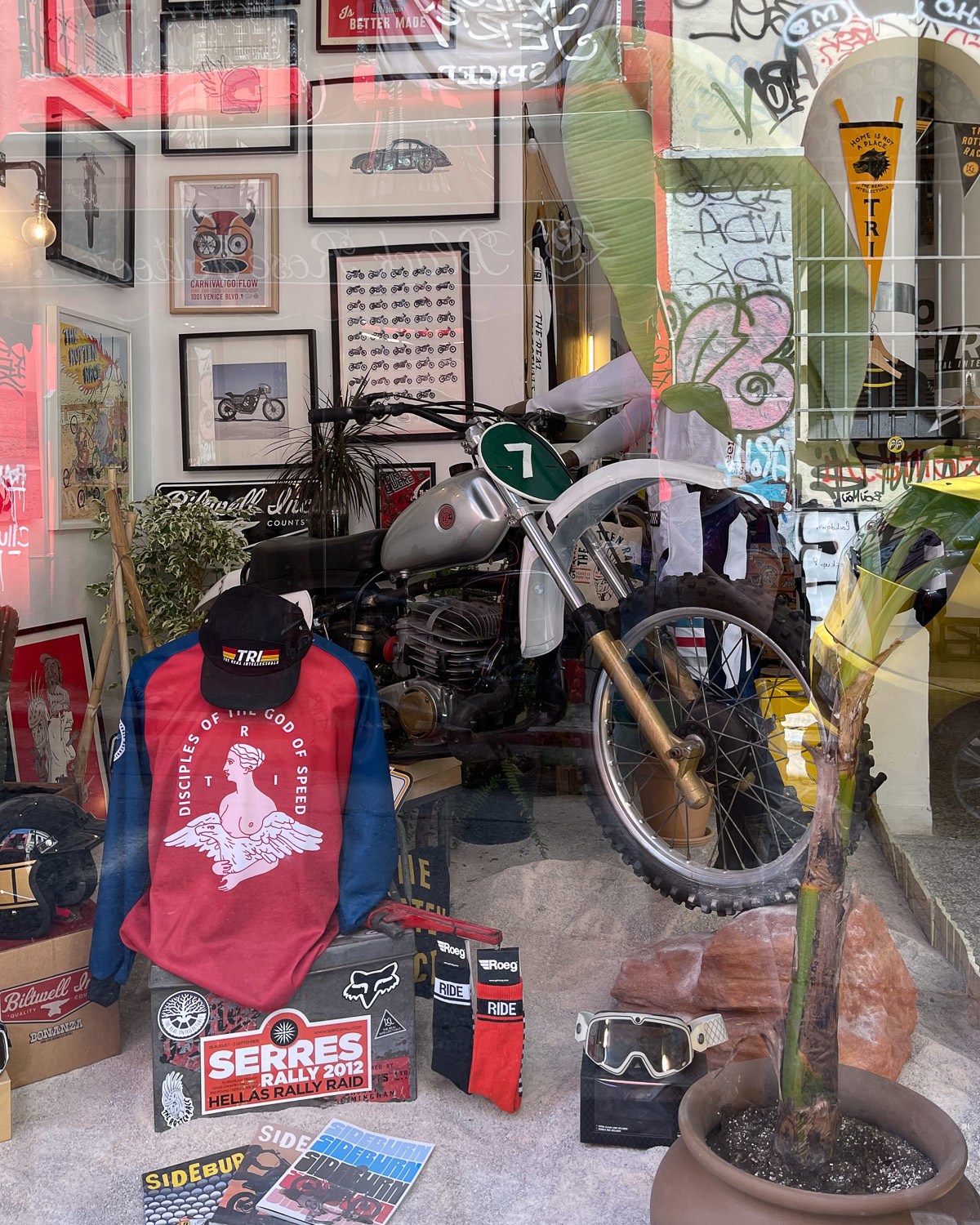 For gifts and souvenirs, hunt around Taki where there's a jewellery shop that specialises in worry beads, the Boubouki shop selling fragrant hand made soaps by Sabater and the Kartousa Art Shop on Georgiou Karaisakaki showcasing local arts and crafts.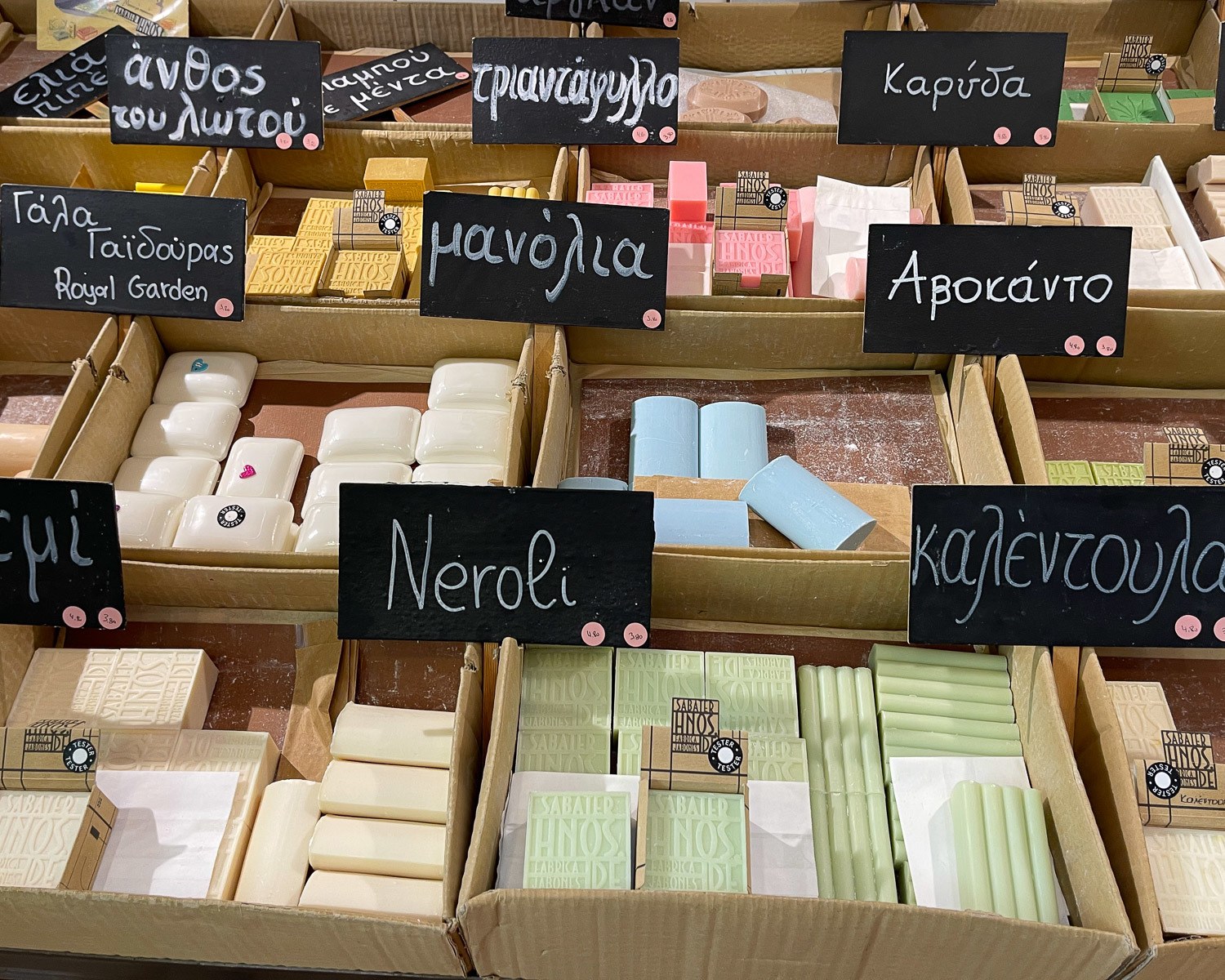 If you are into vintage and antiques, Psiri is your happy hunting ground, with shops that are more at the "junk shop" or "flea market" end of things, in the streets that border Monastiraki or near the fruit stalls of the Central Market.
Art Galleries in Psiri
With such an arty, creative vibe in Psiri, it's no surprise there are a number of art galleries in the area, focussing on contemporary artists. Unfortunately they all seemed to be closed when I visited, but if you want to take a look, pass by A. Antonopoulou Art (20 Aristofanous ), The Project Gallery (Normanou 3), Alpha Delta Gallery ( 3 Pallados), Alibi Gallery (12 Sarri). It's probably best to check the gallery websites to see when they are holding exhibitions, as they may be closed in between.
Read more: The best things to do in Athens for culture lovers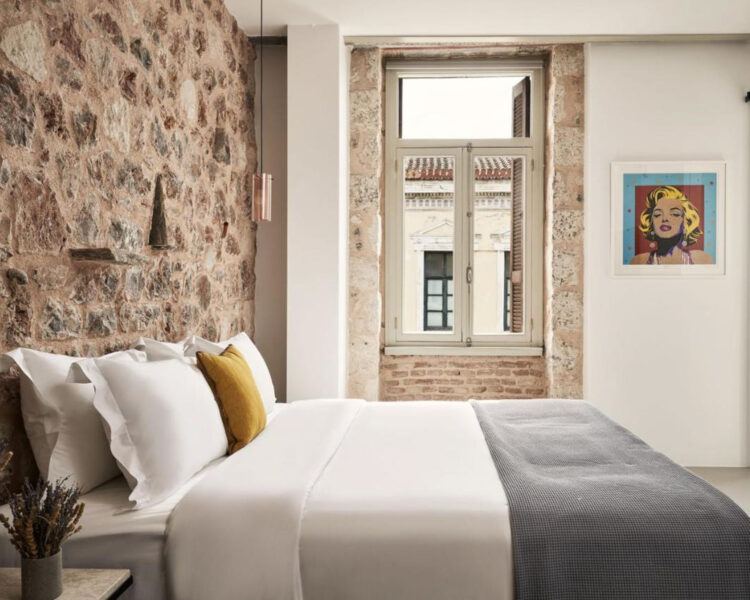 Stay at Asomaton near Thisio Metro – this luxury boutique hotel retains the original stonework of the old carriage repair shop.
Visit the Spice Street of Athens
The streets of Psiri closest to the Varvakios Central Market of Athens are full of specialist food shops, providing mouth watering shopping opportunities for foodies. Along the northern edge of Psiri, Evripidou Street is known as the Spice Street of Athens, with numerous shops selling herbs, spices, dried foods and deli goods.
Although these are probably not the type of souvenir you'd take home, Evripidou is a feast for the senses, with strings of dried chilli, garlic and spices hanging along the shop fronts.
Shopping for a picnic or want to taste some local cheese and charcuterie? Then Evripidou Street is the place to head for. The best known shops serving Pastourma (air dried veal) or Soutzouki (dried spicy sausage) are Miran (45 Evripidou) or Karamanlidika (41 Evripidou).
Both have an amazing array of dried sausages hanging from the ceiling, but while Miran only sells to take away, Karamanlidika also has a meze restaurant on the corner of Evripidou and Socratous. Stop here to order their popular cheese and charcuterie platters as well as other meze dishes with a glass of wine.
This food tour will take you along Evripidou Street and through the Central Market, giving a great overview of the tastes of Athens.
Visit the Athens Central Market
On the edge of Psiri, where Athinas and Evipedrou streets intersect, is the Central Municipal Athens Market, also known as the Varvakios Market. The Central Market and surrounding streets are home to numerous great food businesses, regularly featuring in food tours of Athens. In the covered area of the market, airy halls are devoted to fresh fish and meat, seen at their best in the early morning and winding down after lunch.
As a visitor to Athens you probably won't be shopping for produce, but there's a sense of theatre to enjoy in the market. Artfully arranged fish heads stare up at you, stall holders barter and banter with their customers and butchers wield razor sharp cleavers that narrowly miss their fingers.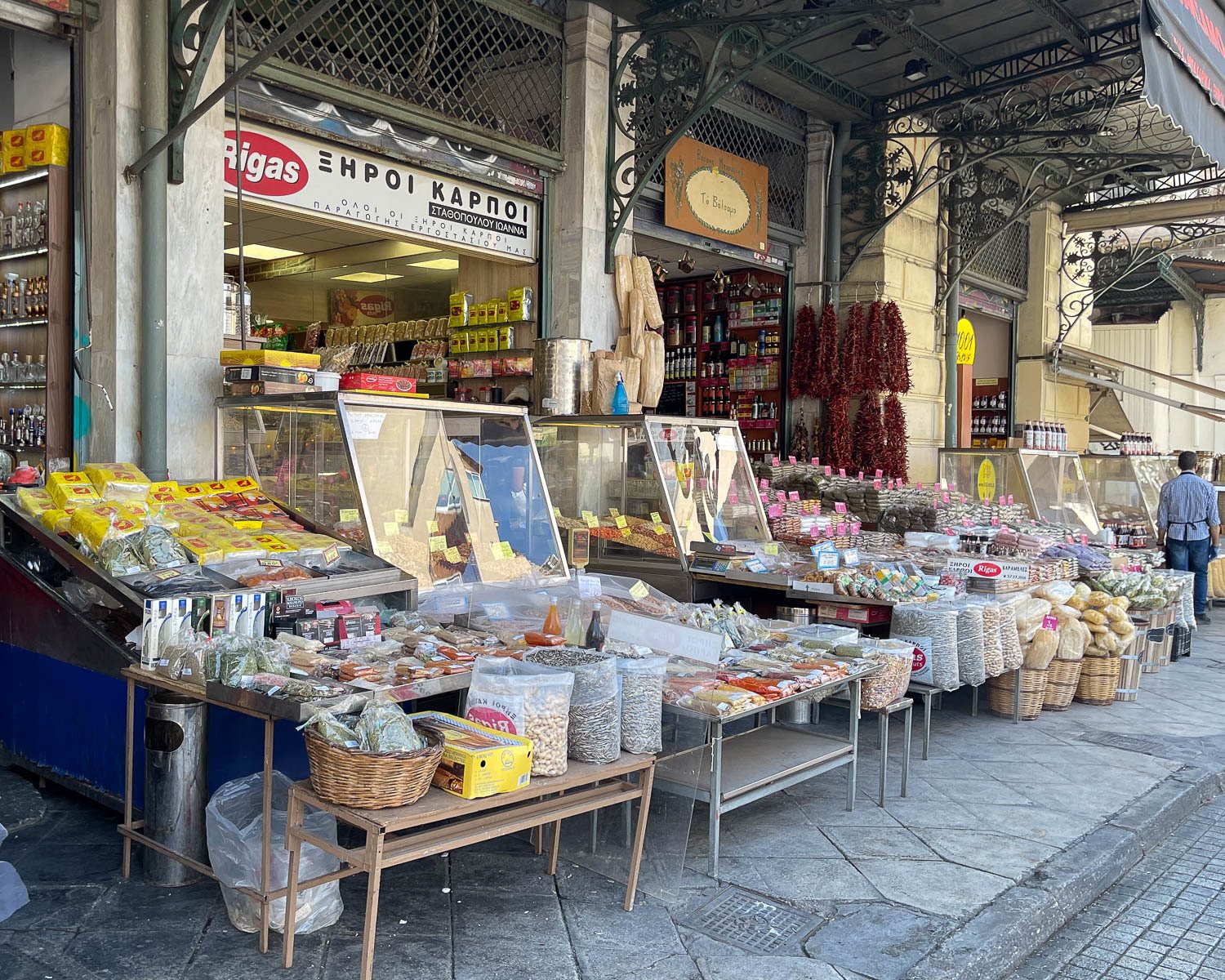 The shops around the perimeter of the market are where you can stock up on the spices or dried fruits.
Also look out for the cheese shops around the edge of the market. Chat to the stallholders to discover which part of Greece these cheeses come from, try a sliver or two and buy some cheese to eat later for a picnic.
Once you've finished looking around the covered area of the Central Market, cross the Athinas road to the open street market opposite. Here you'll find stalls full of beautifully polished and presented fruit and vegetables, at incredibly reasonable prices.
Buy some seasonal fruit like peaches or cherries to eat later. But don't make our mistake of asking for a half kilo, when a full kilo only costs you a euro or two anyway, as the stallholders might get a bit grumpy! We found a fantastic range of olives here, with the stallholders happy to let us try a few different types, to help us decide which to buy.
If you want to get a real flavour of Athens, its a great idea to take a food tour like this one, that includes 8-10 different food tastings.
Nightlife in Psiri Athens
In the warmer months, it's a delight to wander around Psiri at night and soak up the atmosphere of people having fun. This neighbourhood is where Athenians come to relax and meet their friends, over a drink or bite to eat. In Athens, being a nightlife district does not mean drunken-ness and rowdy behaviour, since there is no culture of heavy drinking in Greece. Instead it's about sitting around with your friends, chatting, enjoying good food and a convivial atmosphere.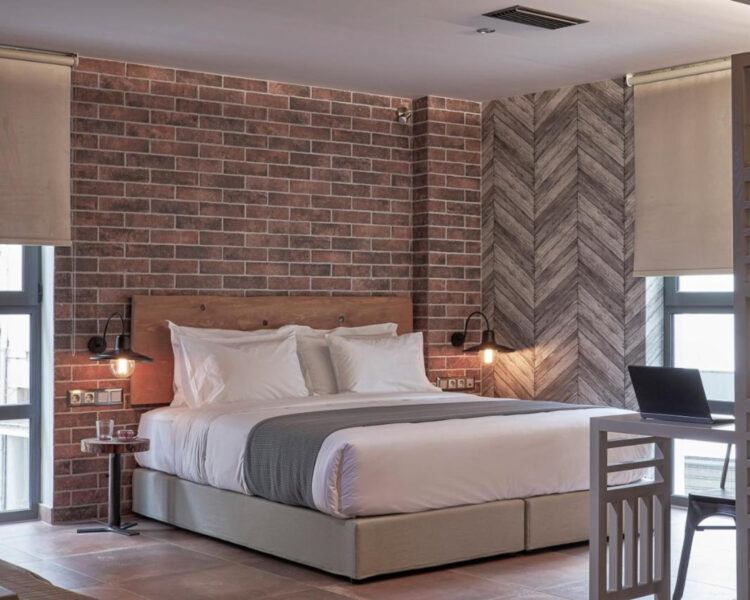 Stay at 18 Micon Street in the heart of Psiri – a boutique hotel in a converted warehouse.
Some of the bars may have the music turned up loud, and there are also nightclubs in the area. If you find it too noisy, just look for a quieter spot a little further along the street, where you can enjoy a drink and a good meal. The range of restaurants and bars to choose from in Psiri is huge, from the traditional tavernas or Ouzo bars that serve mezes with the drinks, to super-trendy cocktail bars or cafes serving world cuisine. I've listed our favourites among the best places to eat in Psiri later in this article.
Hotels in Psiri, Athens
Athens4
We stayed at Athens4, a small design hotel, that's centrally located in the old commercial and financial district of Athens. The hotel is in a quiet, pedestrianised side street, yet in 5 minutes you can walk to the heart of Psiri to enjoy the bars, restaurants and nightlife. The building was originally home to a textile factory and in homage to these connections, Athens4 has used lots of unique textiles, wall coverings and hand crafted furnishings in the rooms. Read my review of Athens4 here.
There are 23 colourful and individually designed rooms, and a large reception area where breakfast is taken. The hotel is perfect for short stays in Athens, where you just need a comfortable and stylish base for sightseeing, and don't require or wish to pay for additional amenities. Check prices and book for Athens4.
18 Micon Street
Part of the same family of boutique hotels as Athens4, 18 Micon Street is a 15 room boutique hotel in the heart of the Psiri neighbourhood. This converted warehouse uses industrial references of brick, wood and cement, softened by tactile fabrics in its individually designed rooms. A few of the suites have terraces with Acropolis views. If you'd prefer a self-catering apartment, they also have Micon Lofts just across the street. Check prices and book for 18 Micon Street.
Asomaton
Close to the Thisio metro on the edge of Psiri, Asomaton is a 19 room luxury boutique hotel that was originally a carriage repair shop. It was transformed from dereliction in contemporary industrial style while retaining the heritage brickwork. There's a small indoor pool, a roof terrace with Acropolis views and the rooms showcase the work of New York based Greek artist Philip Tsiaras. Check prices and book for Asomaton.
Looking for a more classic hotel? Read my review: Electra Palace in Athens – classic, elegant, close to the Acropolis
Where to eat in Psiri, Athens
If you're heading to Psiri to explore in the daytime or for a night out in the numerous bars and restaurants, the best place to start is the central square of Plateia Iroon or "Hero's Square". This small paved area is closely packed with shaded tables, belonging to the various cafes around the square.
Each cafe's tables, chairs and umbrellas are a slightly different in colour, but if you are not sure where to sit, then check with the cafe you'd like to be served by. Named after the heroes of the Greek revolution, Plateia Iroon is the prime coffee spot in Psiri and a great place for people-watching.
By night, the square becomes busier, and many of the tavernas and restaurants have traditional live music. From Plateia Iroon, narrow streets radiate out which are treated as if pedestrianised, although cars may pass through them during the day. Streets like Taki and Ag. Anargion, Proteodenous and Miaouli are full at night with bars and restaurants, which you may not even notice in the daytime.
The streets of Sarri and Evripidou that bound the northern edge of Psiri have less to offer after dark. Once the spice and deli shops close they are rather quiet, so I probably wouldn't venture there at night unless to visit a specific restaurant.
Here's a roundup of some of the best restaurants in Psiri that we tried when we stayed nearby at the lovely boutique hotel, Athens4.
Sweet treats in Psiri
Bougatsadiko Thessaloniki – on Plateia Iroon is a traditional pie shop where you can get a slice of feta cheese pie or bougatsa, the sweet breakfast pastry of Greece. Originating in Thessaloniki, bougatsa is made with layers of filo pastry, filled with custard cream, which I became quite addicted to while in Athens.
The bakery will normally ask if you want it sprinkled with icing sugar and cinnamon, to which of course the answer is Yes! If you pass by in the morning at Bougatsadiko Thessaloniki, you can see the skilled pastry chefs swinging the filo pastry around to stretch it out, so you can be sure that your bougatsa is freshly made.
Nancy's Sweet Home – Also on Plateia Iroon is this pastry shop that's ideal for a coffee and cake or after dinner desert. The Greeks call them "sweets" or "sherbets" (which means syrup) and the cake shop is a "Serbetia" but we would call them a cake shop or patisserie. Choose from the selection of cakes on display inside and be served on the pavement tables or on the square.
If you're an instagrammer looking for a cute photo, you'll want to nab that pavement table on the corner and get a shot that includes the street art on the building behind! I tried a mille-feuille pastry with cream and strawberries, which was huge and easily enough to share (although why would you?)
Read more: Uncovering the delicious food in Athens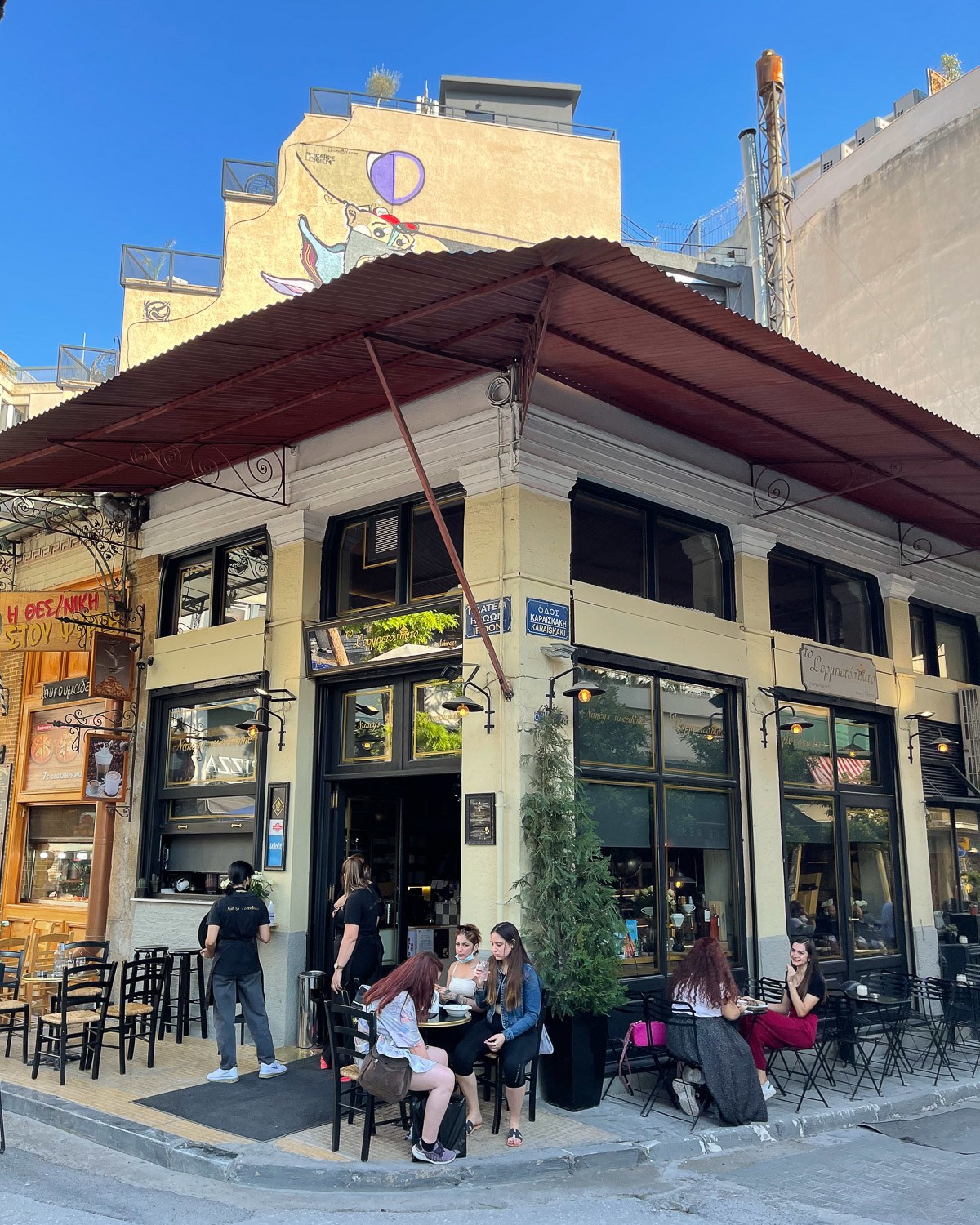 Another great option for sweet deserts in Psyri is Ta Serbetia stou Psyrri, a family business, which is just off Plateia Iroon on Eschilou Street.
For the typical Greek snack of Koulouri, the sesame seed covered ring bread that's found on street corners around Athens, pop into the To Koulouri tou Psyrri bakery on Karaiskaki. There's always a smell of fresh bread and they supply many of the other vendors that sell Koulouri around the city.
Ice cream in Psiri
Kokkion – while we're on the subject of sweet treats, be sure to visit the artisan ice cream shop on Protogenous, just off the busy Athinas that runs down to Monastiraki Square. The ice cream is freshly made on the premises and includes lots of interesting, seasonal and local flavours including vegan sorbets. It's the sign of an artisan ice cream shop, when the flavours are kept in lidded steel containers rather than piled high in technicolour mounds!
Brunch in Psiri
Nudie Foodie Psiri – tucked down the side street of Eschilou, this little cafe is worth seeking out, for those who want something healthy, veggie, vegan or gluten free. Chef Eva and her team serve colourful and tasty breakfast, brunch and lunch dishes as well as energising fruit smoothies (try the super cannabi smoothie) and gluten free cakes.
Little Kooks – If you are travelling with kids or enjoy the Disney-on-steroids aesthetic, Little Kooks is a Psiri institution that brings fairytales to life. The cafe's seating is surrounded by quirky and colourful decoration, themed for characters like Peter Pan or Mary Poppins, with seasonal decorations at Christmas and Halloween. The fairies (disguised as waitresses) will bring you pancakes, ices creams and even cocktails, although I guess the food isn't really the point of this place!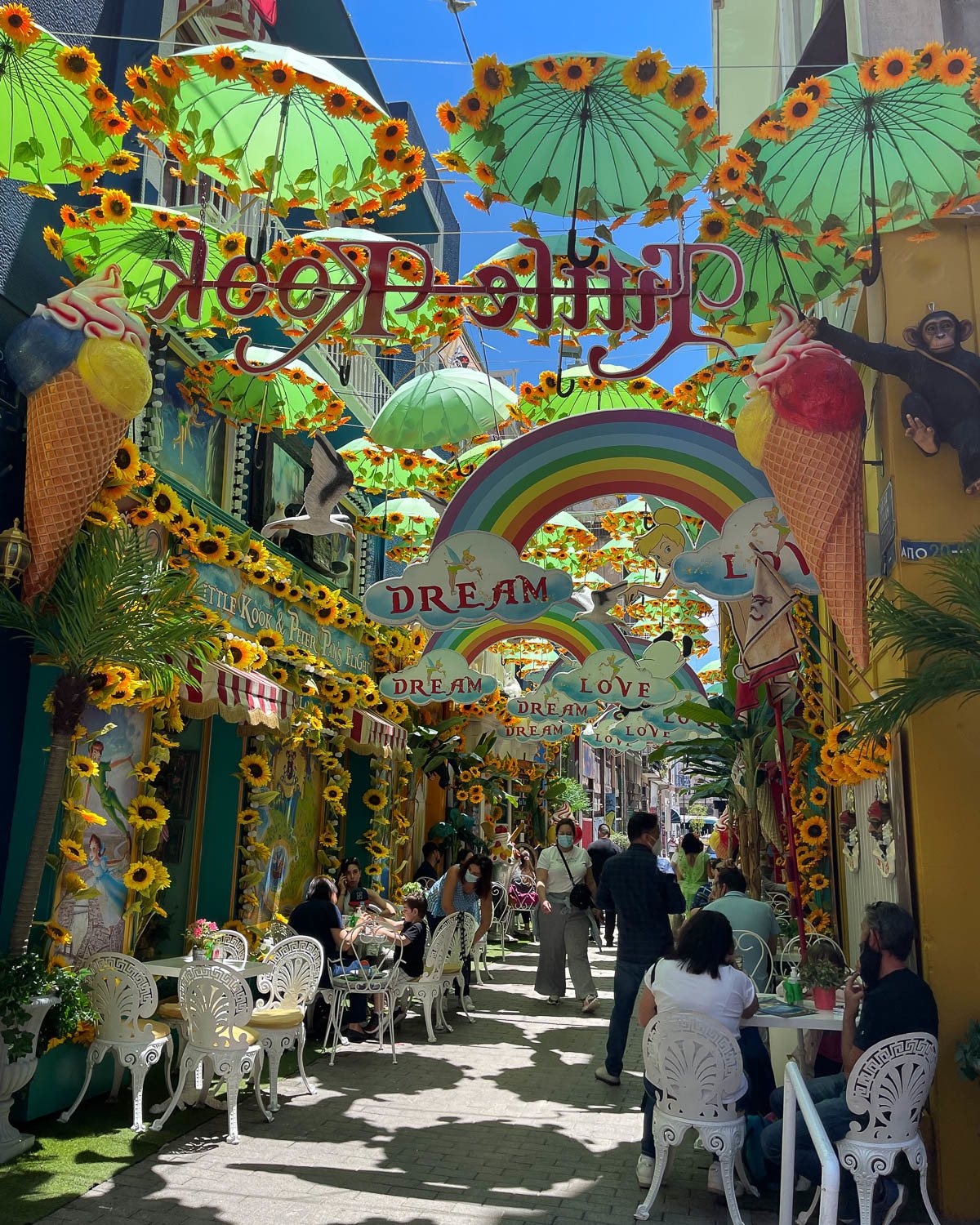 Street food in Psiri
Feyrouz – for inexpensive Levantine street food, join the queue of locals at this family run business that's located just outside Psiri on the corner of Karori and Agathonos. They serve delicious Lahmatzun flatbreads and Peinirli filled savoury pastries, with a range of different toppings and fillings.
Add to this home made soups and Middle Eastern salads, and you have all the makings of a delicious lunch on the go, which can be eaten at the tables outside the shop. They have another premises right across the street serving coffee and pastries, should you be wanting something sweet to finish the meal.
I originally discovered Feyrouz on a food tour – this one will give you a great overview of the different traditional dishes on offer in Athens, so you can go back afterwards like I did!
Drinks in Psiri
The Art Foundation / TAF – as the day turns to evening you may be looking for a fun place to stop for a drink or meet up with friends. If you cross over Ermou, which divides Psyri and Monastiraki look out for The Art Foundation (TAF), a cultural centre, all day cafe and bar on Normanou, that's in a complex of restored worker's houses.
These stone and wood two story buildings are typical of the accommodation lived in by factory workers in 19th century Athens. Each family lived in just one or two rooms, sharing a communal courtyard, kitchen and bathroom facilities. You can see similar derelict worker's houses in some parts of Athens, although these have been restored and are used for art exhibitions. We visited in the daytime for a drink in the shade, but it's probably more of a place for evening drinks and cocktails.
Six d.o.g.s – This is another well-known night spot that's on the borders of Psyri and Monastiraki at Avramiotou, with a huge courtyard restaurant tucked away between the buildings. During the day when we visited the atmosphere was quiet and chilled, and we ordered lunch from the Lebanese menu. In the evening a Thai menu takes over, the twinkling candles are lit and the DJs set up, making this more of a nightclub and music venue as the night wears on.
If you want to enjoy Athens after dark, why not take this night time food and wine tour to enjoy the atmosphere of Athens with a new group of friends.
Stay at Vasi in the Athens historic triangle – with light filled rooms and a natural colour scheme
Cocktails in Psiri
The Foundry Roof Garden – We loved this elegant rooftop bar and highly recommend it for a sunset cocktail with those all important Acropolis views. Take the elevator to the rooftop terrace of the boutique hotel on Sarri to discover the lush garden overflowing with a shady vines, herbs and flowering shrubs. They have a great cocktail and wine menu and serve pizzas made in their rooftop pizza oven. If you'd like to stay at The Foundry Suites you can check prices and availability here.
Look out for the huge mural on the side of the building, by leading Athens street artist INO – you can read more in my article about the Athens street art that we saw on this trip. If you enjoy street art, we highly recommend you take this street art tour which we personally tried.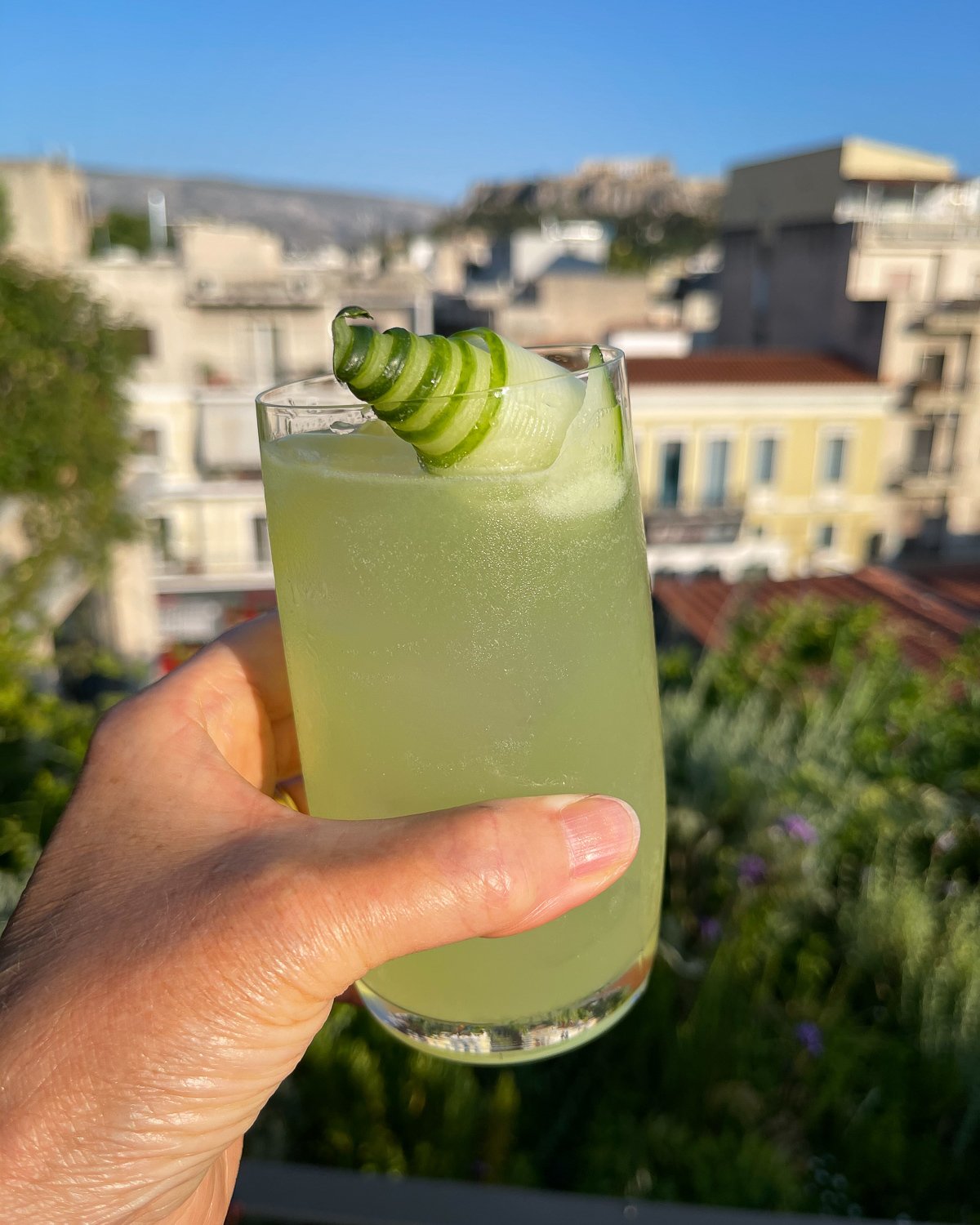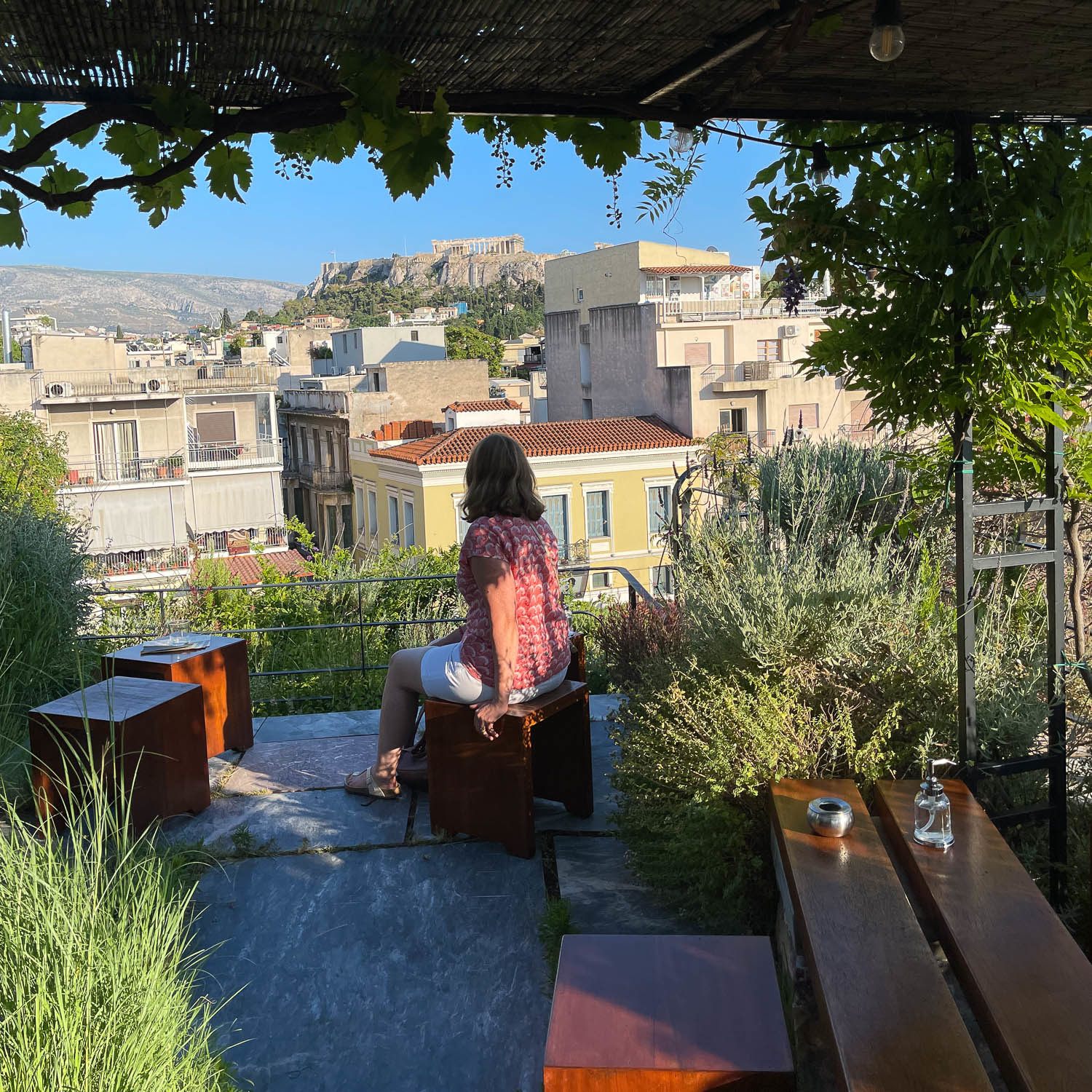 Dinner in Psiri
For dinner in Psiri, you are spoiled for choice with so many restaurants, from traditionally Greek to world cuisine. As we weren't there long enough to try them all, we recommend that you choose with your eyes, by wandering around and seeing which places seem popular or have menus that appeal. Restaurants that we heard were good, but did not try:
Zampano – a modern Greek bistro and wine bar, on the ground floor of the City Circus Hostel (Sarri 18)
Avli – simple fare of traditional Greek dishes and mezes in a hidden courtyard accessed by an alley between the shops (Agiou Dimitriou 12)
Atlantikos – This is where we chose to eat and it's the closest Athens has to a fish and chip shop, serving a whole range of inexpensive fish and seafood dishes. You'll easily miss it, tucked down a narrow alley ( 7 Avliton), with tables on the upper floor and in the street outside. The fish here is super-fresh, well priced, simply presented and the service was swift and friendly.
Where is Psiri?
Psyri is one of the oldest districts of Athens, sitting just north of the Acropolis and close to all the main sites, such as Syntagma Square, the ancient Agora and Roman Forum of Athens and of course the Parthenon sitting on top of Acropolis hill.
This small neighbourhood is bounded to the south by Ermou running past Monastiraki square, Athinas to the east within the historic triangle, Evripidou to the north which borders Metaxourgeio and Sarri to the west, which leads towards Theseio metro.
It's also a short walk from the mainstream high street shopping area, along the pedestrianised part of Ermou Street running towards Syntagma. In short, Psiri is a very central neighbourhood of Athens that's close to all the main sites.
Read more: Visit the Acropolis is Athens – here's what you need to know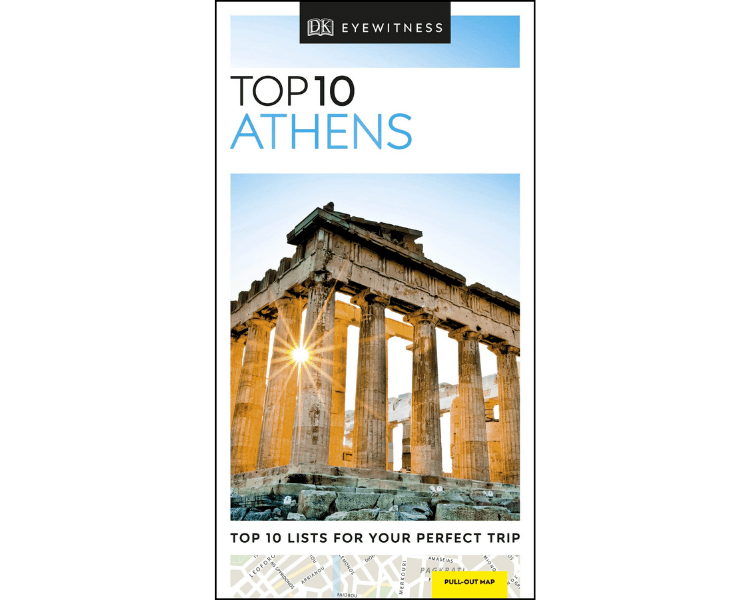 Read Next
If you'd like to explore accommodations in Athens, read my review of Athens4 – a colourful boutique hotel near Psiri
Map of Psiri Athens
Find all the places mentioned on this handy map of Psiri Athens.
How to get to Psiri, Athens
As it's such a small area, there's no metro for Psiri itself, but the closest station is Monastiraki metro stop (Blue line 3 to the airport). Also close to the western edge of Psiri is the Theseio metro stop (Green line 1 to Piraeus). Either of these metro stations is just a 10 minute walk into the heart of Psiri.
If you arrive by taxi, I recommend you get dropped off at one of the perimeter streets of Psiri, such as Ermou, Athinas, Evripidou or Sarri and walk into Psiri to find the bars and restaurants, as the streets are narrow and congested.
Even if you have a car in Athens, don't consider bringing it into Psiri. Although some of the streets are technically drivable, they are very narrow and people treat them as pedestrianised. There are a couple of small parking lots on the edges of the neighbourhood, but really, leave the car at home, use the metro or take one of Athens very reasonably priced taxis.
Is Psiri safe?
If you speak to a Greek who doesn't normally spend time in Psiri they may warn you against the area, based on an impression that is probably 10 years out of date. Psiri certainly had a reputation for being run down and anti-establishment in the past.
In the last 15 years investment has been pumped into the area, and planning laws favouring nightlife have encouraged bars and restaurants to set up. The area has been gentrified, although as with many neighbourhoods of Athens, you'll see buildings that are run down and derelict, next to those that have been renovated.
When you walk around during the day, there's a gentle hum of life around Plateia Iroon (Hero's Square) and the streets that radiate out from it. I certainly felt perfectly safe walking around during the day, especially as the neighbourhood is less touristy and more Greek than some others like Plaka.
In the evening, the area becomes more lively, but the atmosphere always feels friendly. Like any night out in a new city, you'll want to keep an eye on your valuables and stay to the streets that are busy with other people.
As you head north towards Sarri and the area of the Central Market, there are less bars and restaurants and more dark streets. This is one area where I felt a bit uncomfortable walking after dark, although it was fine in the daytime.
So in general Psiri is a safe neighbourhood, especially in the daytime. However, you should take the normal precautions of any big city, take care of your belongings and not walk alone down dark alleys.

Pin it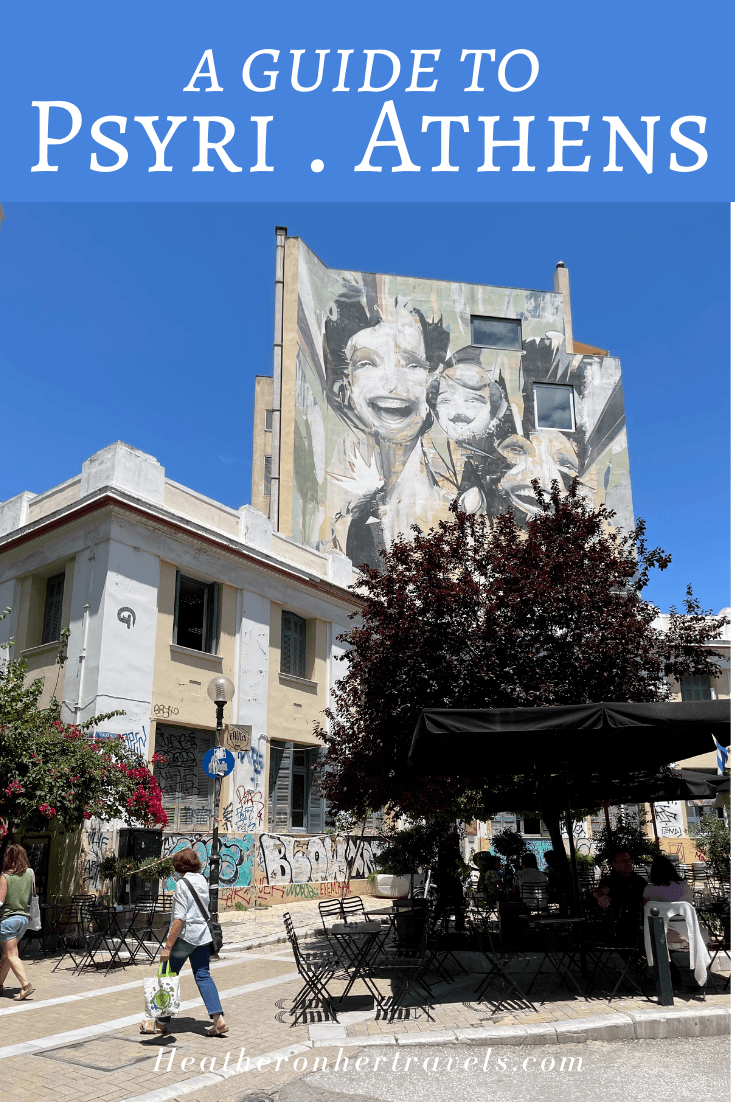 This article is originally published at Heatheronhertravels.com