The unspoiled island of Skopelos Greece is known as the "Green and Blue" for its natural beauty, with mountain slopes clothed in pine forests rising from pebble beaches and turquoise water. There's no shortage of things to do in Skopelos, it's just that they favour the calmer pursuits of swimming, hiking, visiting monasteries and exploring the narrow cobbled streets of Skopelos town and Glossa.
24 islands make up the Sporades archipelago, but only four are inhabited: Skiathos, Skopelos, Alonissos and Syros and the tourist season here is short, from May to September. An international airport on neighbouring Skiathos contributes to its lively reputation, while Skopelos is more peaceful and laid back, perfect for those who want to relax in nature.
Skopelos – the Mamma Mia Island
The sleepy island of Skopelos was catapulted to fame when a film crew arrived in 2007 to shoot the hit movie Mamma Mia. Ever since, Skopelos has been known as "The Mamma Mia Island" a connection the locals are happy to re-live, since it's so good for business! In bars and restaurants, look out for photos of cast members dining out during their filming and hear stories of what they got up to when many a glass of ouzo was enjoyed!
Although interior scenes were shot in the Pinewood studio near London, most of the outdoor scenes were filmed in different locations around Skopelos, with a few in nearby Skiathos and on the Pelion peninsula. The beaches at Kastani and Glysteri were used as film locations as well as the picturesque chapel of Agios Ioannis, perched on the top of a rock overlooking the sea.
If you are a fan of the film, you can take a guided Mamma Mia tour to spend a day visiting the Mamma Mia film locations by coach, with time for swimming and a nice lunch by the sea.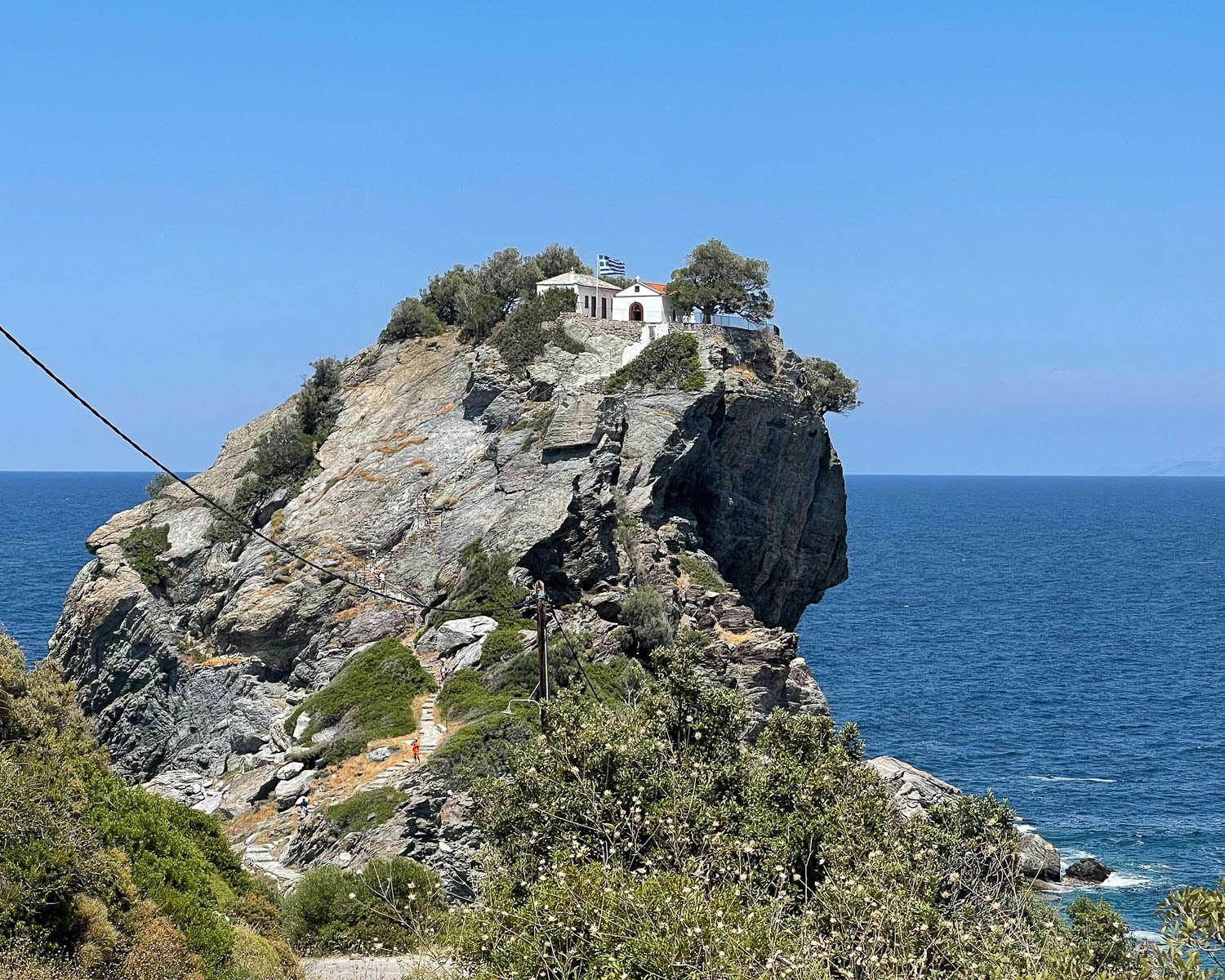 10 fun Things to do in Skopelos
With no airport, Skopelos tends to be visited by independent travellers arriving by ferry and yachts sailing around the northern Sporades. The island's all about nature, relaxation and people watching, with a gentle pace of life, but we still found plenty of fun things to do in Skopelos when we visited.
1. Wander through Skopelos Old Town (Chora)
Your first sight of Skopelos is likely to be Skopelos Town, also known by the locals as "Chora" which simply means "Town" in Greek. Arriving by ferry, you get a great view of the houses rising up from the port, built in the Venetian style, with balconies and terracotta roof tiles. Connecting them is a network of narrow stone paved paths, ideal for wandering on foot, but built with mules rather than cars in mind.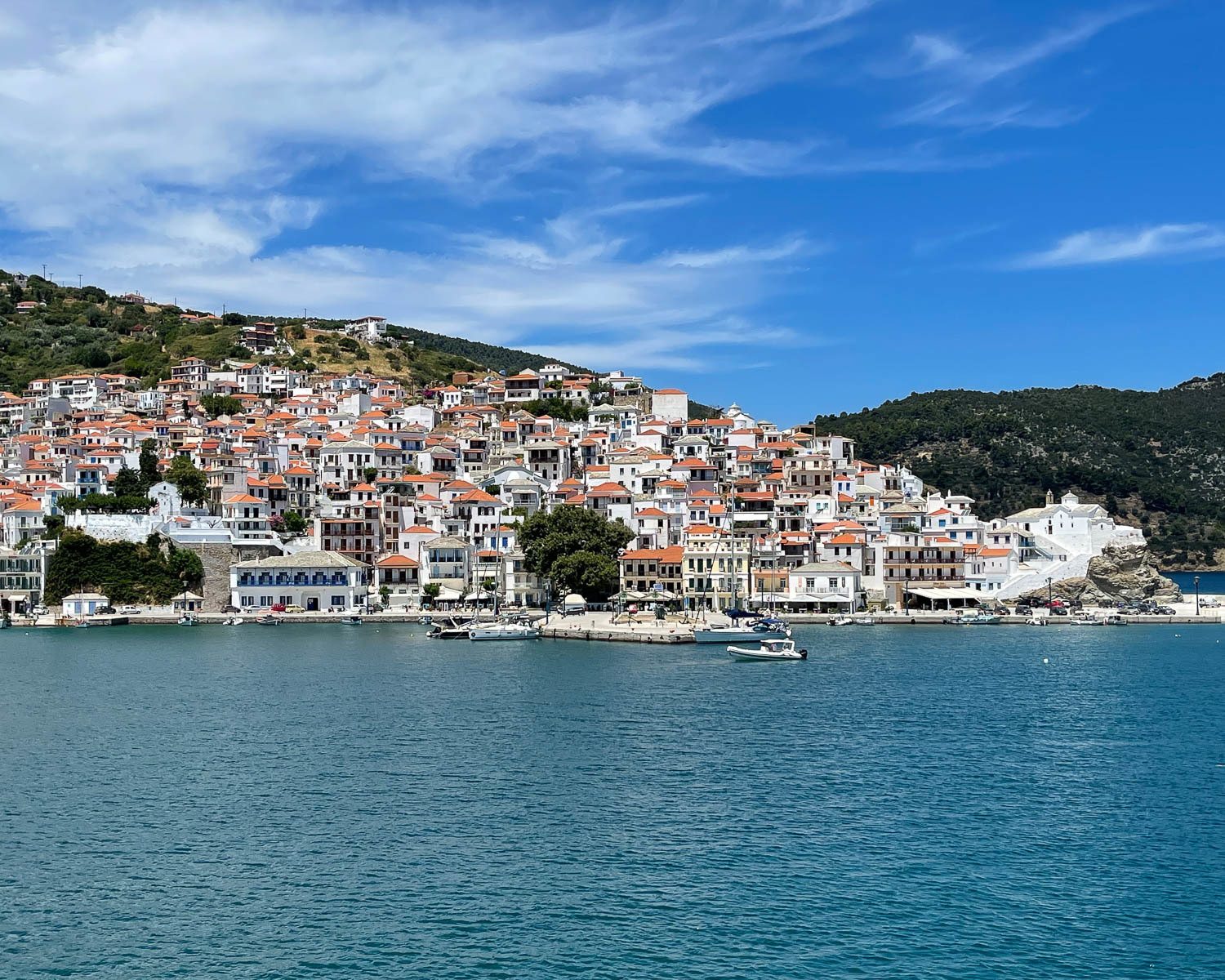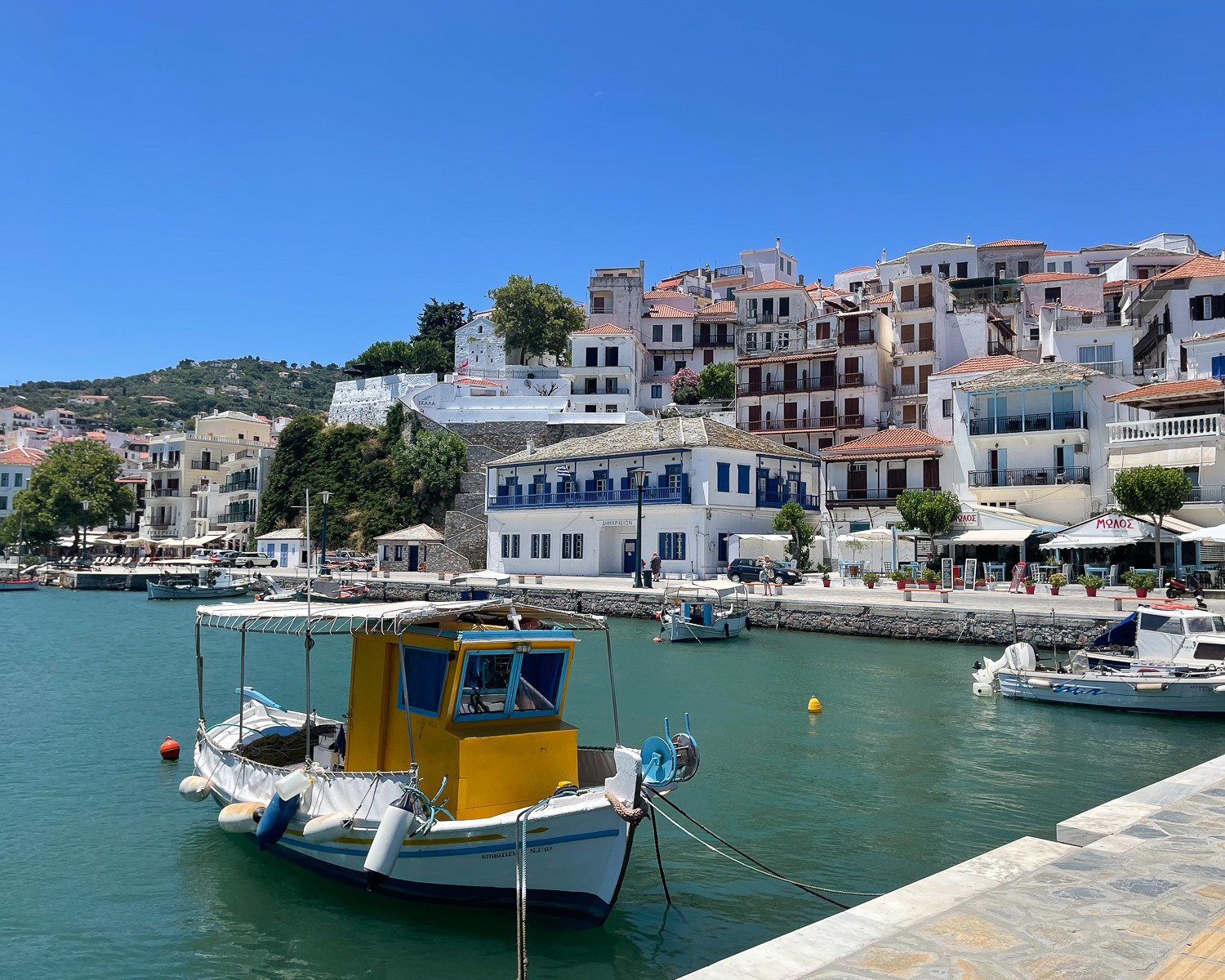 Luckily there's a large, free car park on the harbour front where you can leave your hire car then dive into the alleyways to explore. You'll find plenty of artisan and souvenir shops, pretty whitewashed houses and old churches full of frescoes and gold icons. Along the harbour front are numerous bars and coffee shops, a place to people watch or wait until the ferry comes in, disgorging new arrivals laden down with backpacks and suitcases.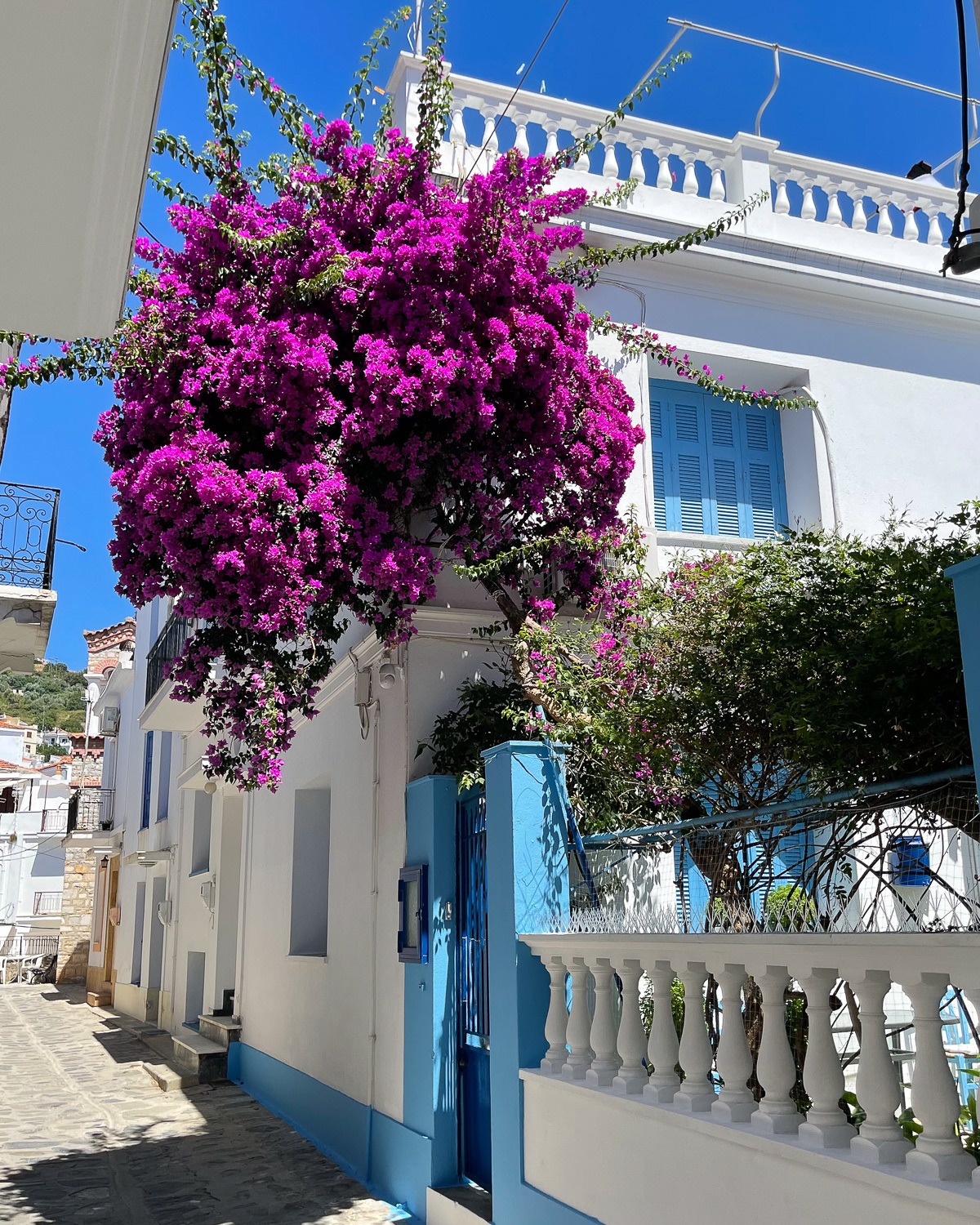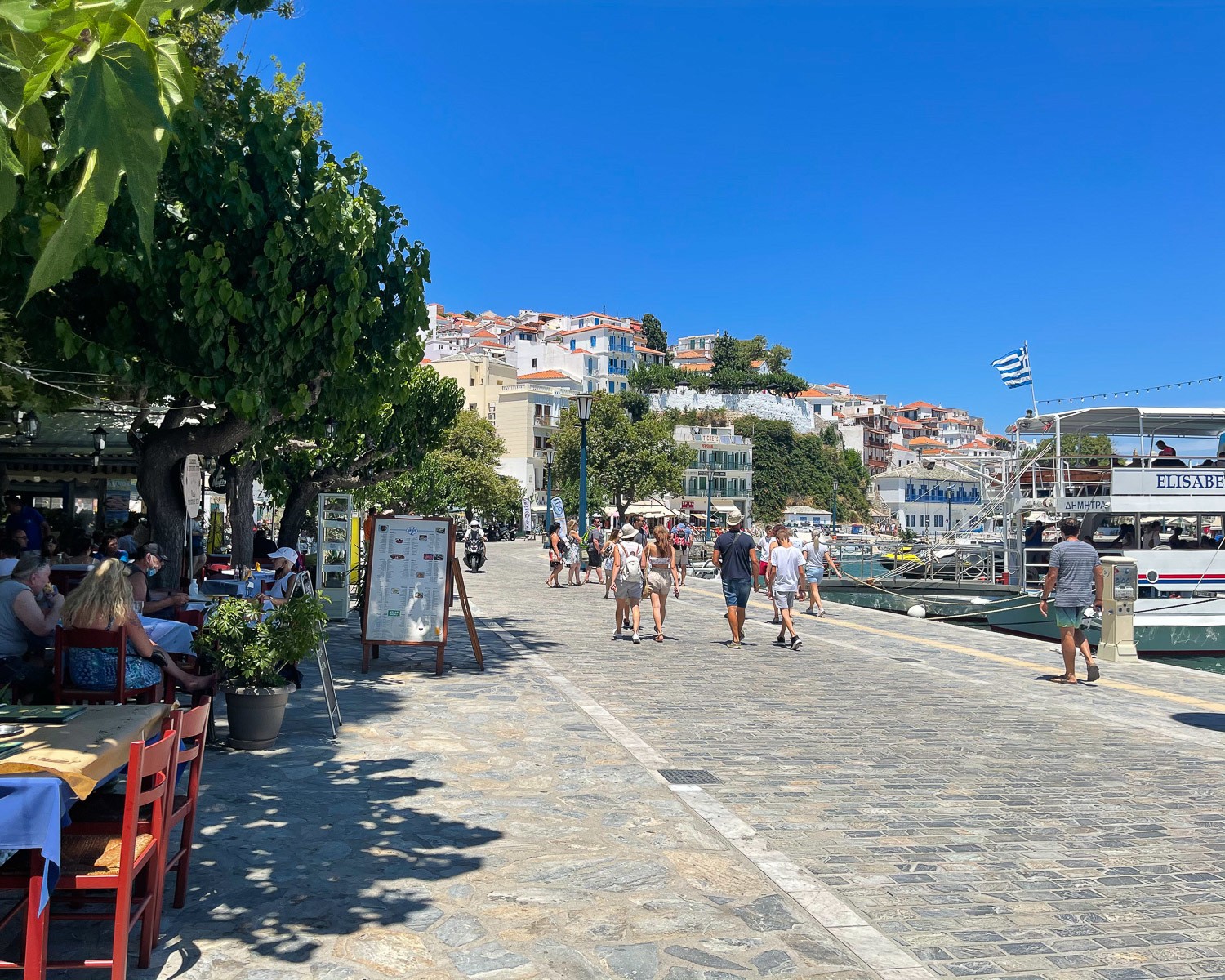 A walk along the harbour in Chora
Walk further along past all the tour boats waiting to take you on a trip to the Marine park of Alonissos, past the pretty fishing boats and climb the steps to the Church of the Virgin Mary at the furthest end of the harbour. Continue uphill past two more small churches and you'll arrive at the ruins of the Venetian Castle, which gives you great views over the town and is filled with a cafe to sit at the top and admire them. Skopelos town is a good place to shop for holiday essentials, with plenty of food shops and the best choice of restaurants, as well as the place for any practical matters like car or cycle hire.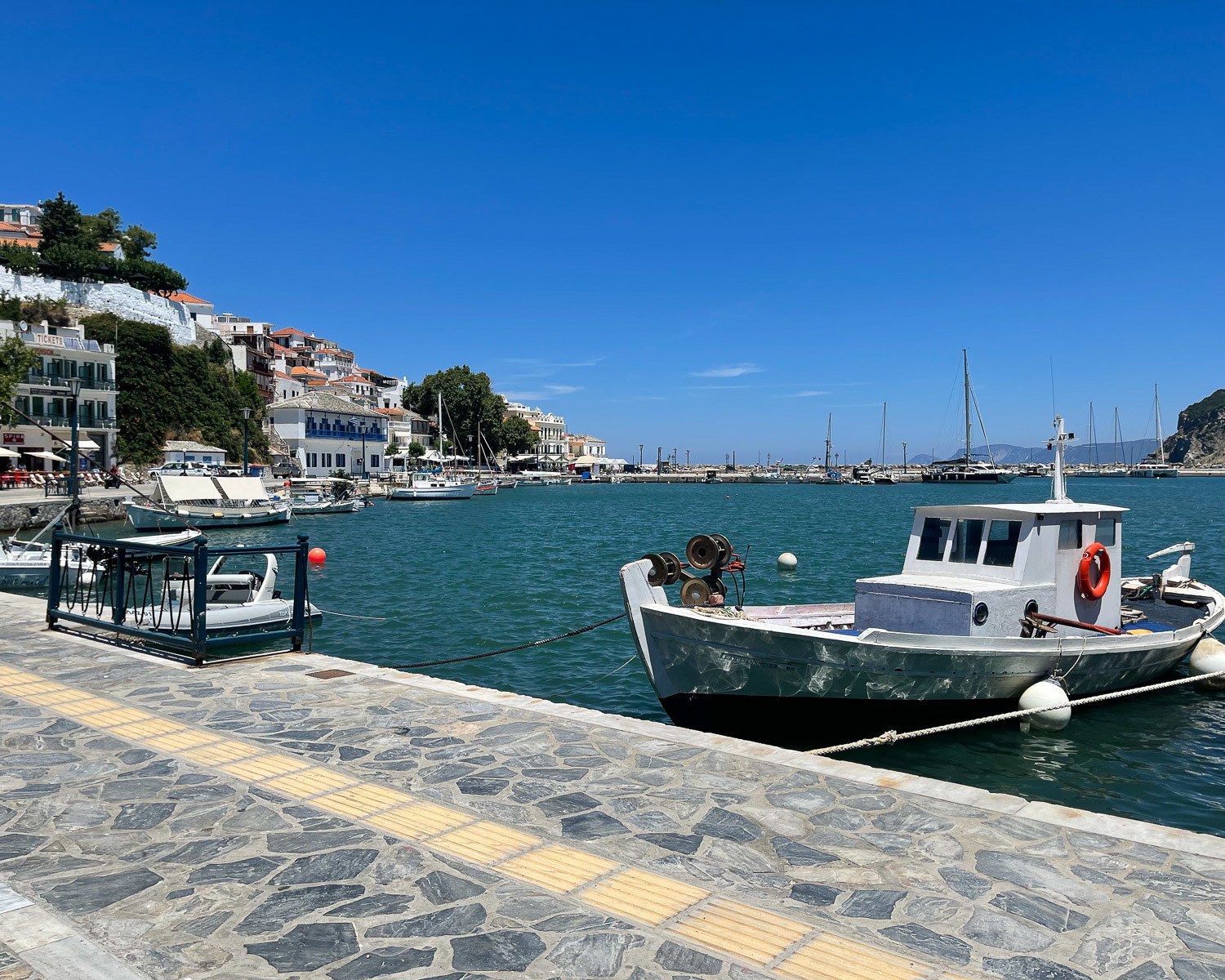 2. Hike up to the monasteries
On the pine clad eastern side of the island are a string of monasteries which you can visit by car or hike to as we did. From the eastern end of the port, a marked footpath leads up the slopes of Mount Palouki, skirting villas, crossing the winding road and leading through forest until you arrive at the 16th century Monastery of Iera Moni Sotiros.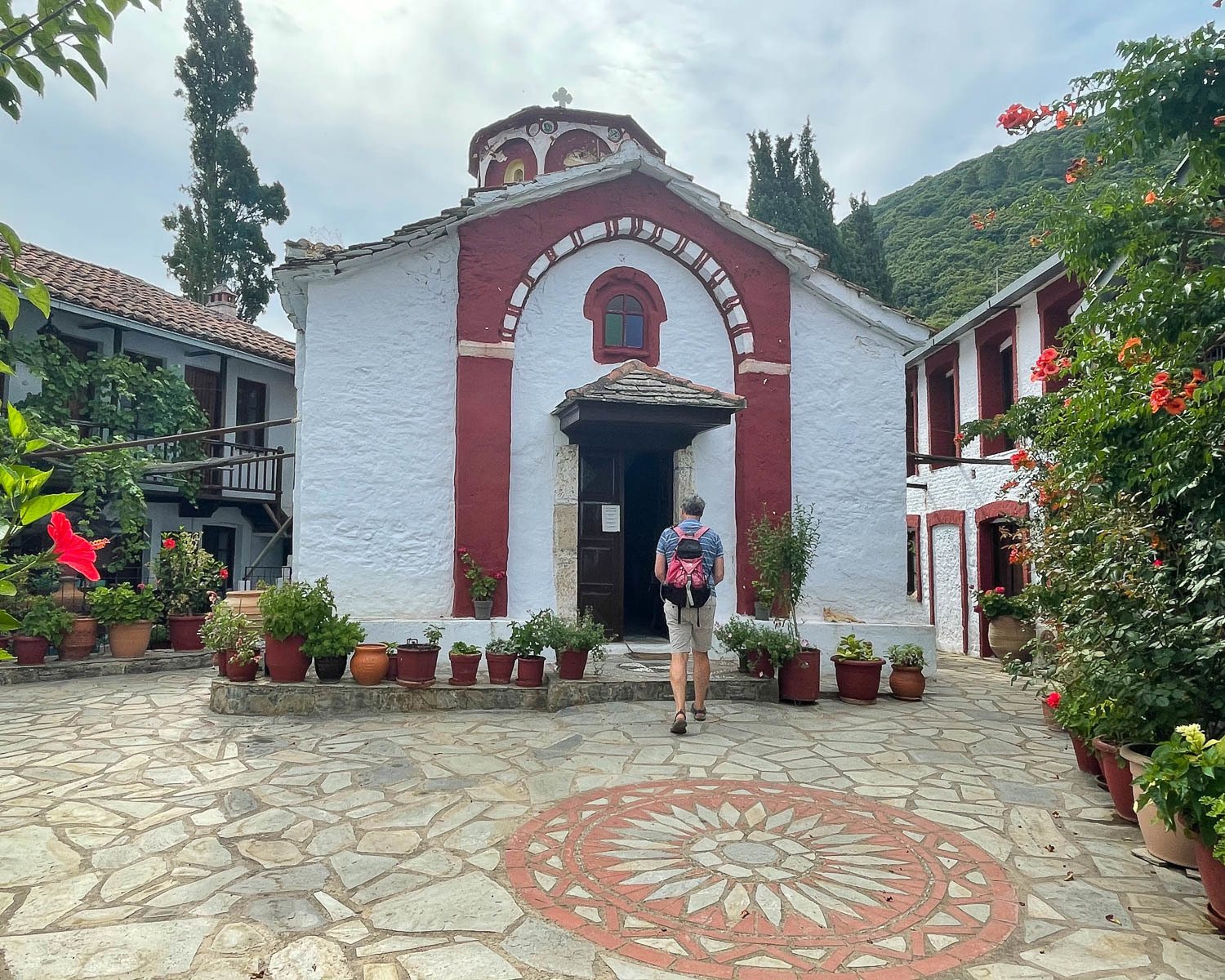 The Monasteries tend to open for visitors in the morning until around 1pm and then open again in the evening 5pm to 8pm, although you may find them closed for sightseeing during Sunday services. There's no entry charge but donations are appreciated, or you can make a small purchase of soap, postcards or religious items in their shop.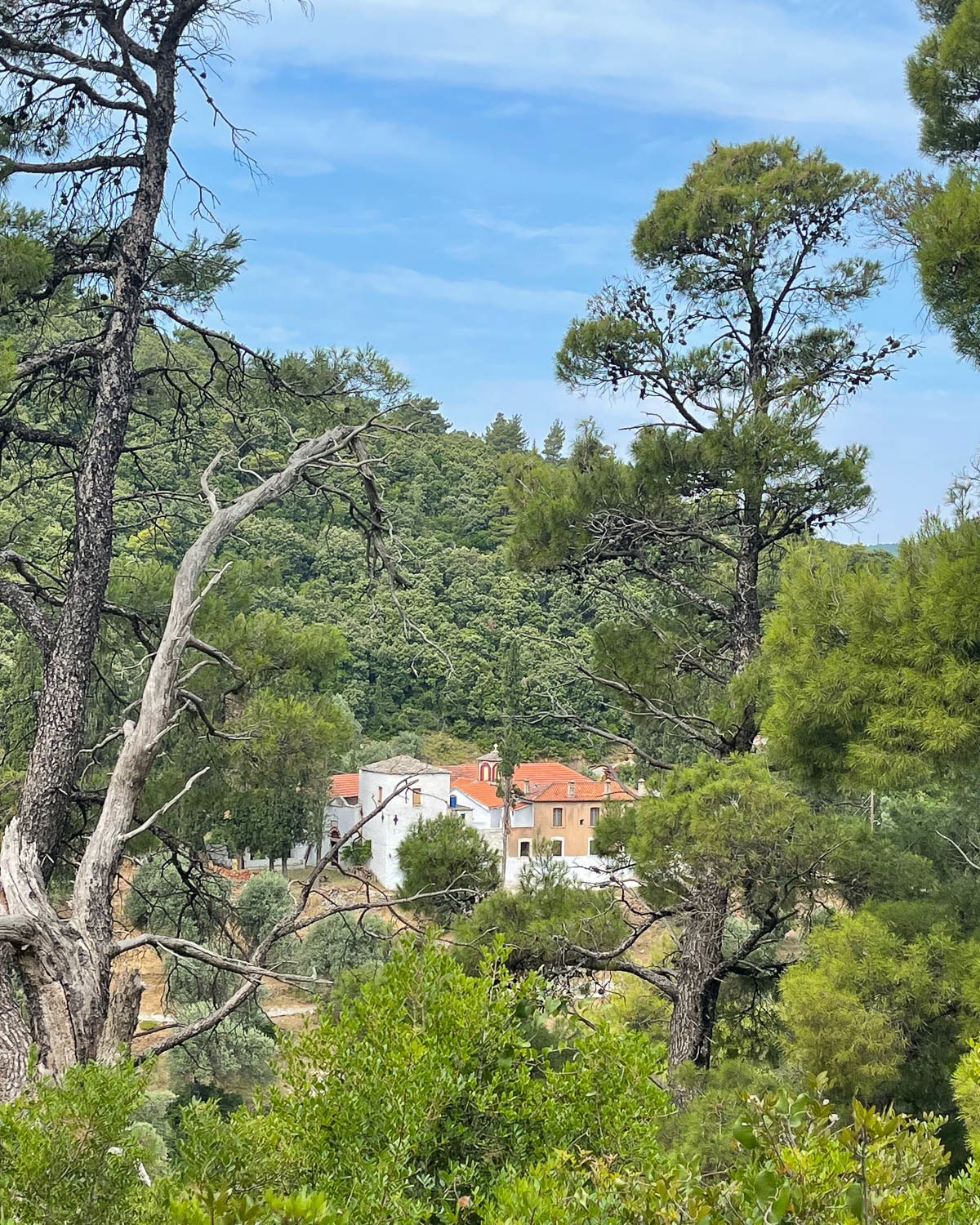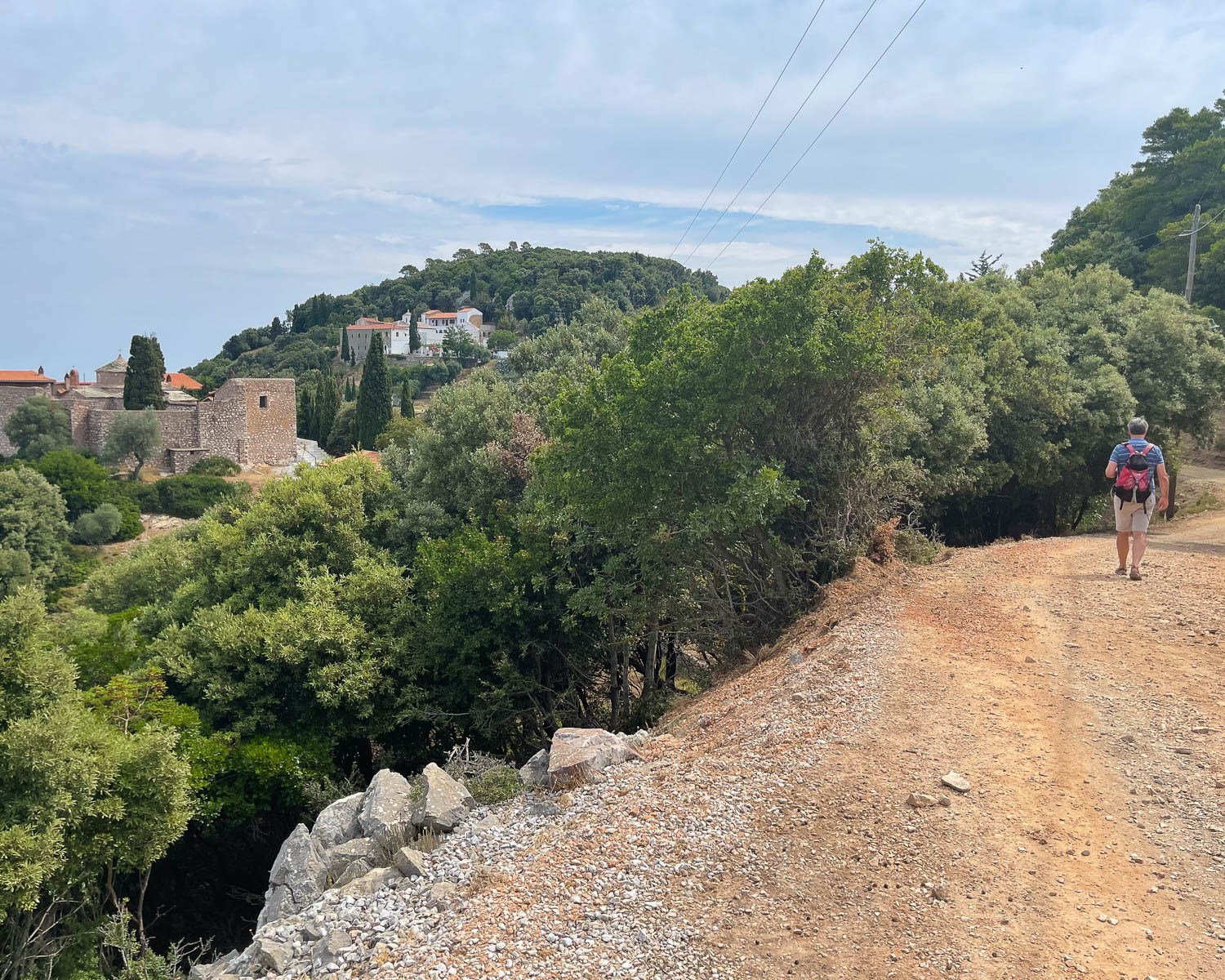 Monastery dress code
The monastery dress code is for both men and women to cover their shoulders, and ideally their knees, so shorts or revealing clothing are considered disrespectful. You may want to pack a wrap as I did (see my photos modelling the look!) to make an impromptu skirt or shoulder covering. Photos within the monastery walls and especially within the church may not be allowed, hence my photos were taken from the entrance.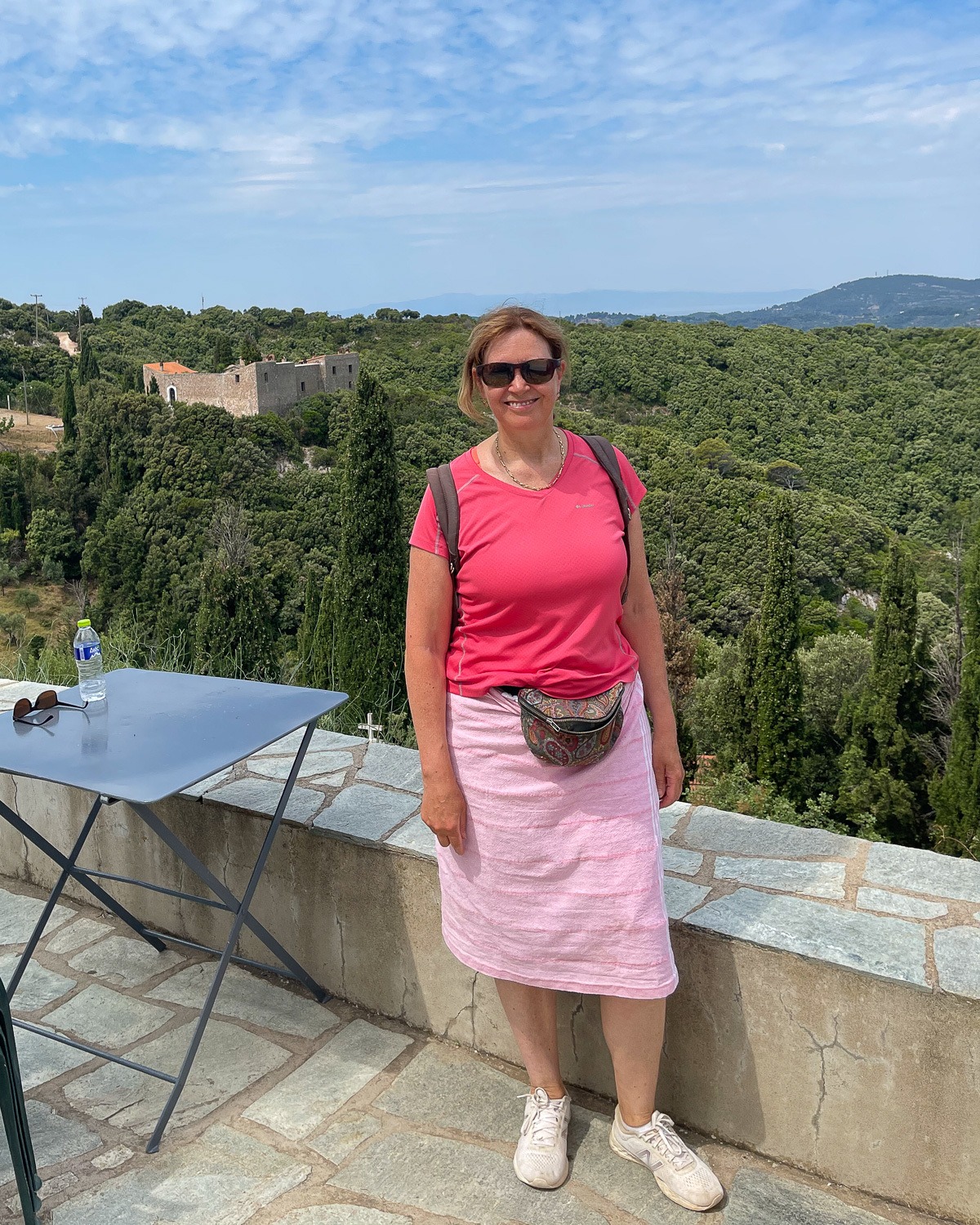 The Sotiros monastery has a pretty, flower filled courtyard and a beautiful old church where we made a donation and left a candle to be lit during the service. The path continued up the hill, flattening out near the convent of Agia Varvara which was closed, but we stopped to admire the mules grazing and rested on a handy picnic bench.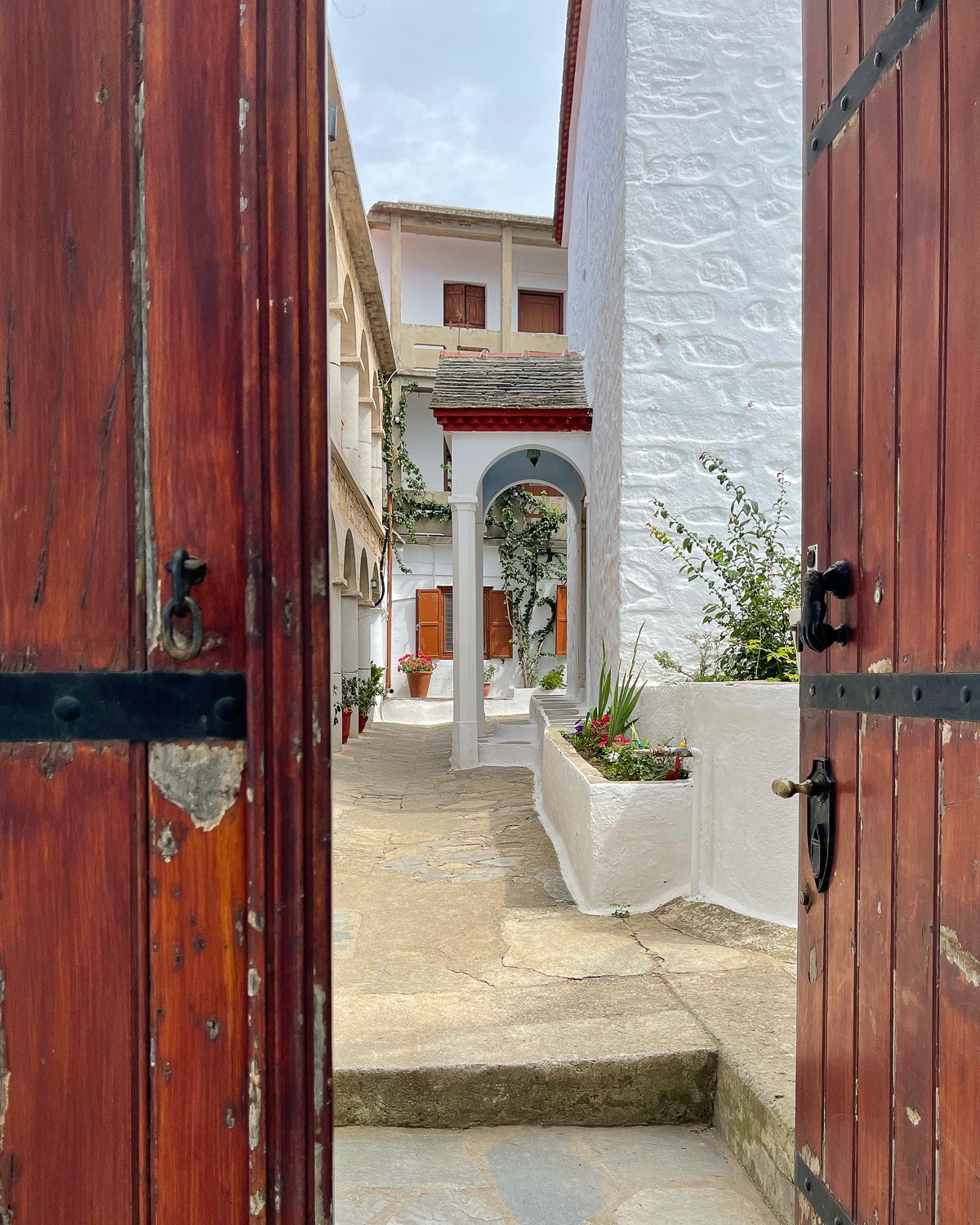 Monastery of Timios Prodromos
Not much further was the Monastery of Timios Prodromos, with an open outer courtyard and a small church within the walls. The monk offered us a Loukoumi sweet in welcome and again we made some purchases of local soap from their shop. It was a very enjoyable hike, which took us a few hours, and we could have continued to see the Vizantino monastery further along the trail, but decided that any more walking in the heat of the day would be too much.
3. Have lunch in the cute fishing port of Agnontas
From Skopelos town, it's a short drive to the south side of the island and the pretty fishing port of Agnontas. This is the ideal place to come for a long, lazy lunch followed by a swim, with a couple of fish tavernas on the sea front and small beach for swimming. We walked right along the long pier where there were numerous yachts moored up, a favourite with sailors visiting the North Sporades archipelago.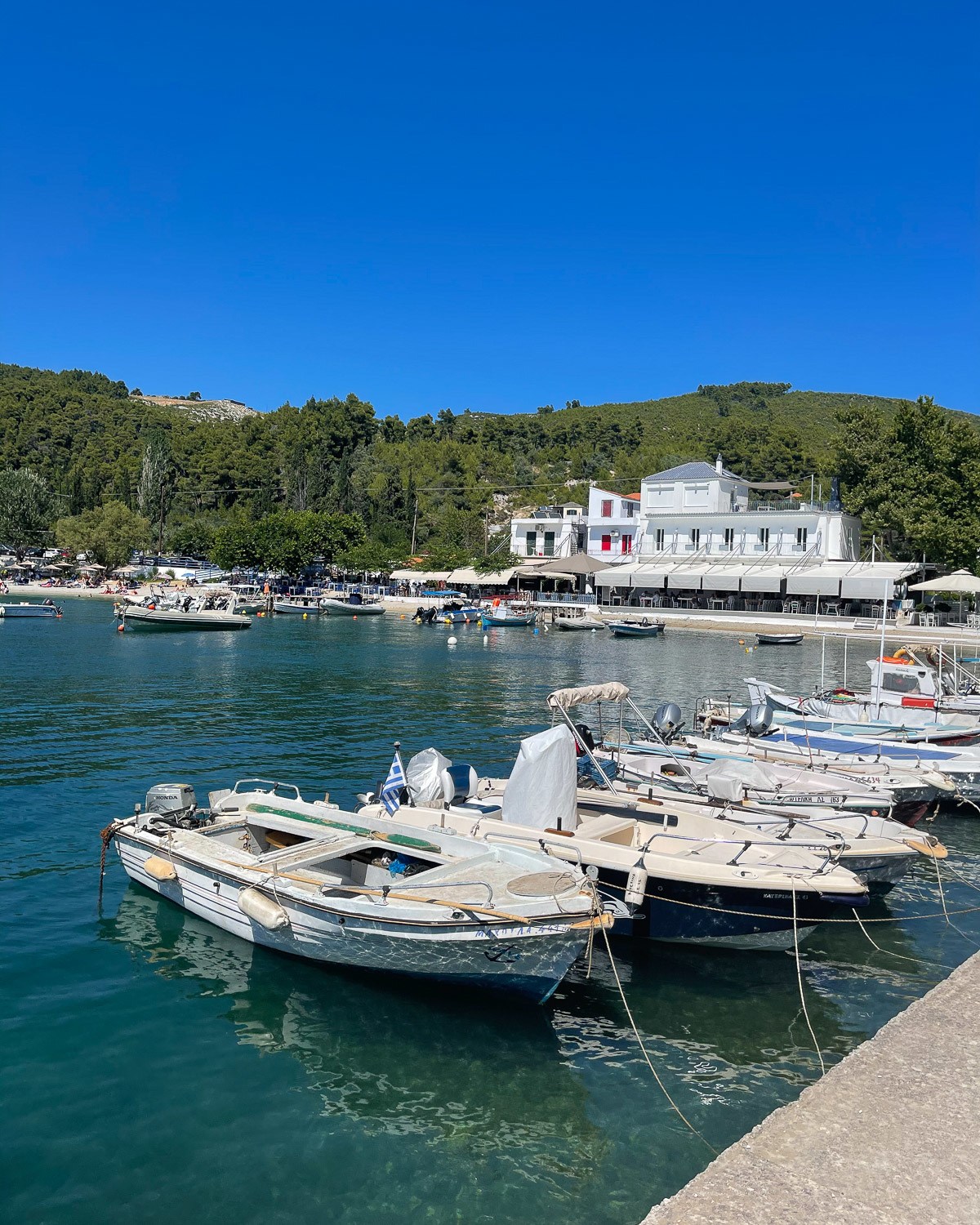 If you continue along the small road at the end of town that follows the coastline, there are numerous rocky swimming spots along the Amarandos Cape. Two pines sitting on top of a rocky outcrop with a turquoise inlets below, make one of the most photographed shots of Skopelos, a location used in the Mamma Mia film when Sophie spends an afternoon sailing with her three fathers.
In the opposite direction a small coastal road takes you around the cliff to the beautiful and popular beach at Limnonari where there are two more beach tavernas and plenty of sun beds.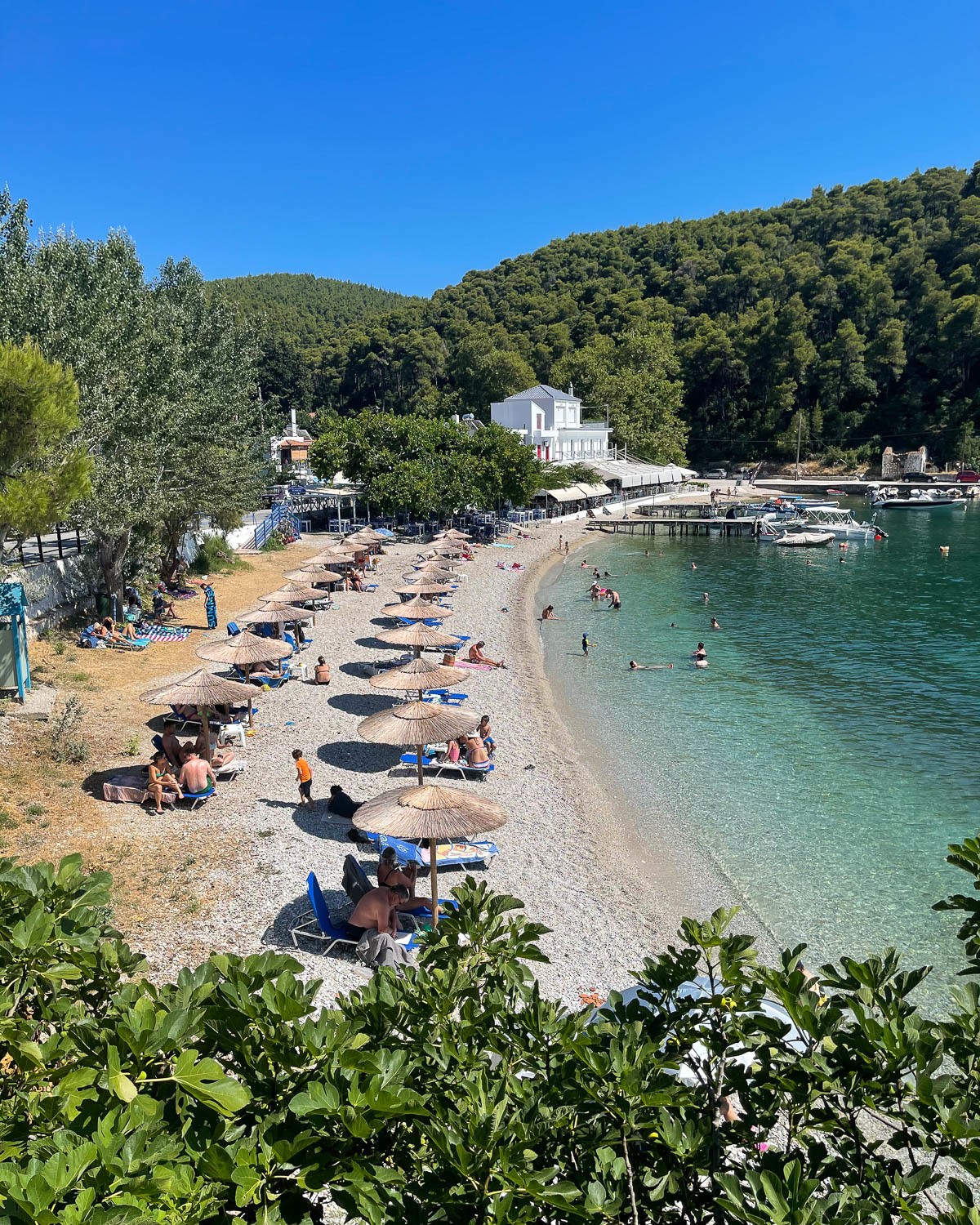 4. Visit some of the gorgeous Skopelos beaches
Skopelos is blessed with numerous gorgeous beaches and swimming spots, where the water is clear and clean and there are lifeguards in high season. We were staying close to Panormos beach, one of the best beaches in Skopelos, with a long stretch of pebble beach. Here you'll find a wide range of tavernas and beach bars although none of them seems to dominate the beach and there is plenty of space for everyone.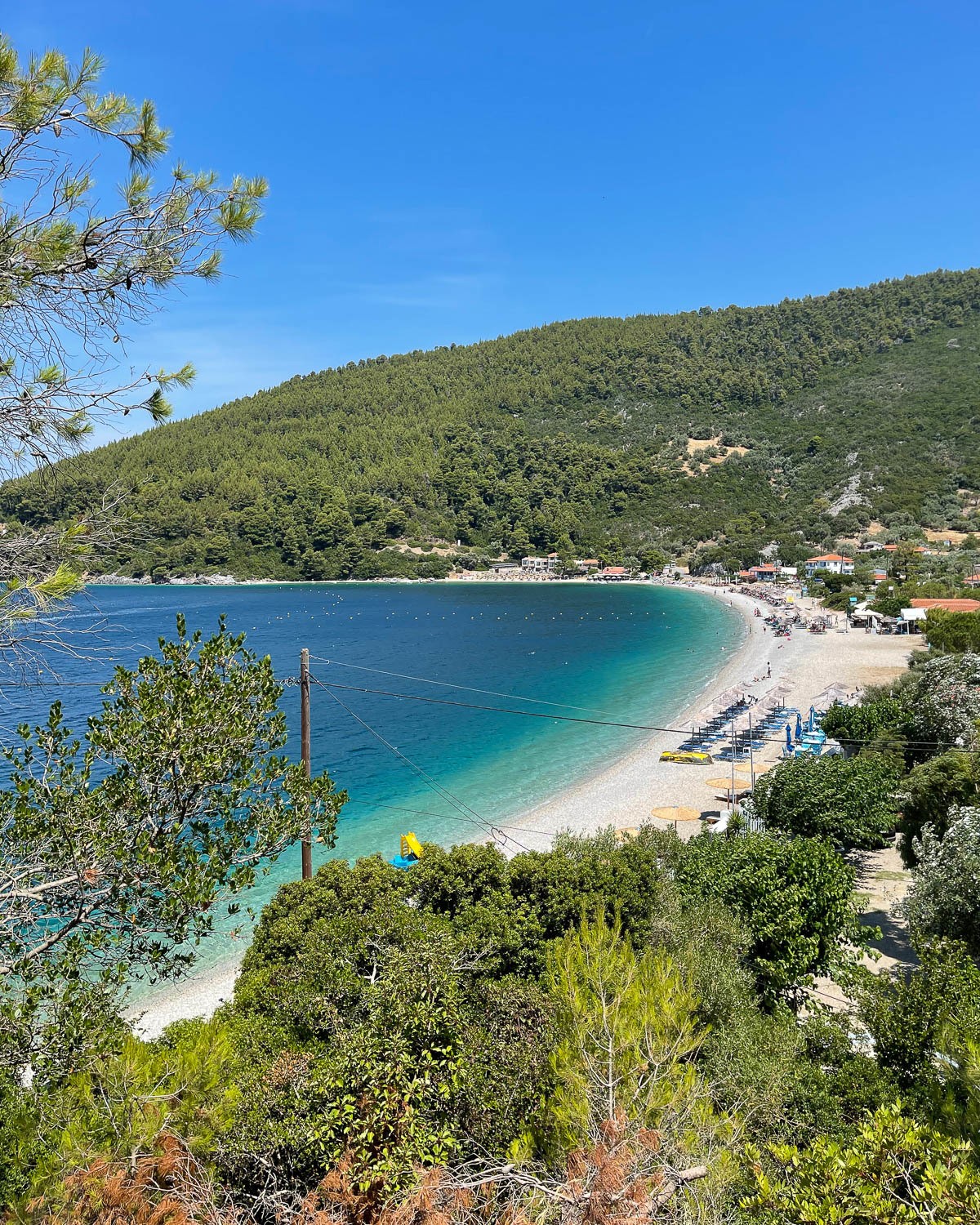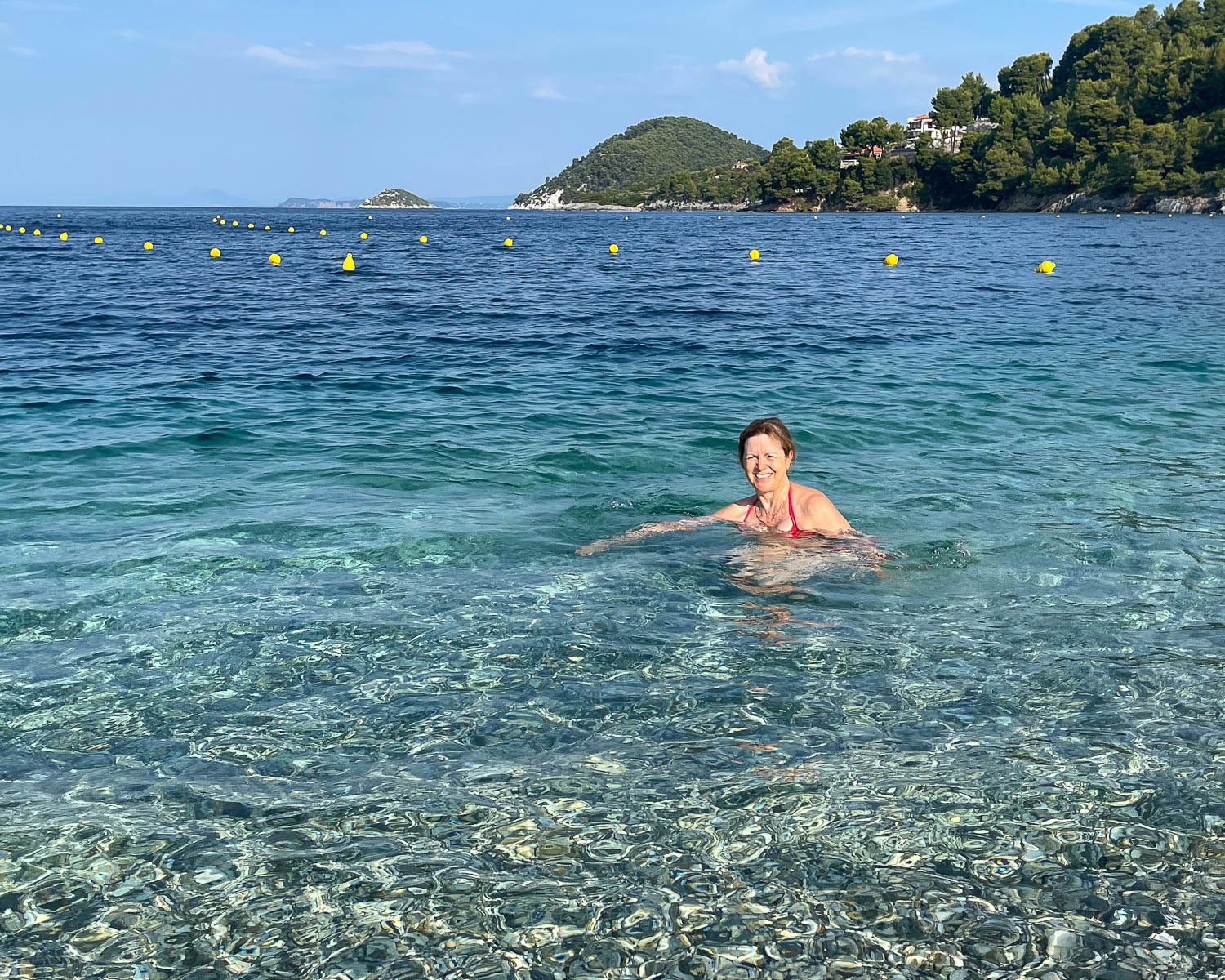 Most of the beaches in Skopelos are small pebbles rather than soft sand, so it's a good idea to pack your swimming shoes to save your feet from the "ouch" factor. Just up the coast from Panormos are the pretty beaches of Milia and Kastani, the latter much visited since several scenes from Mamma Mia were filmed here.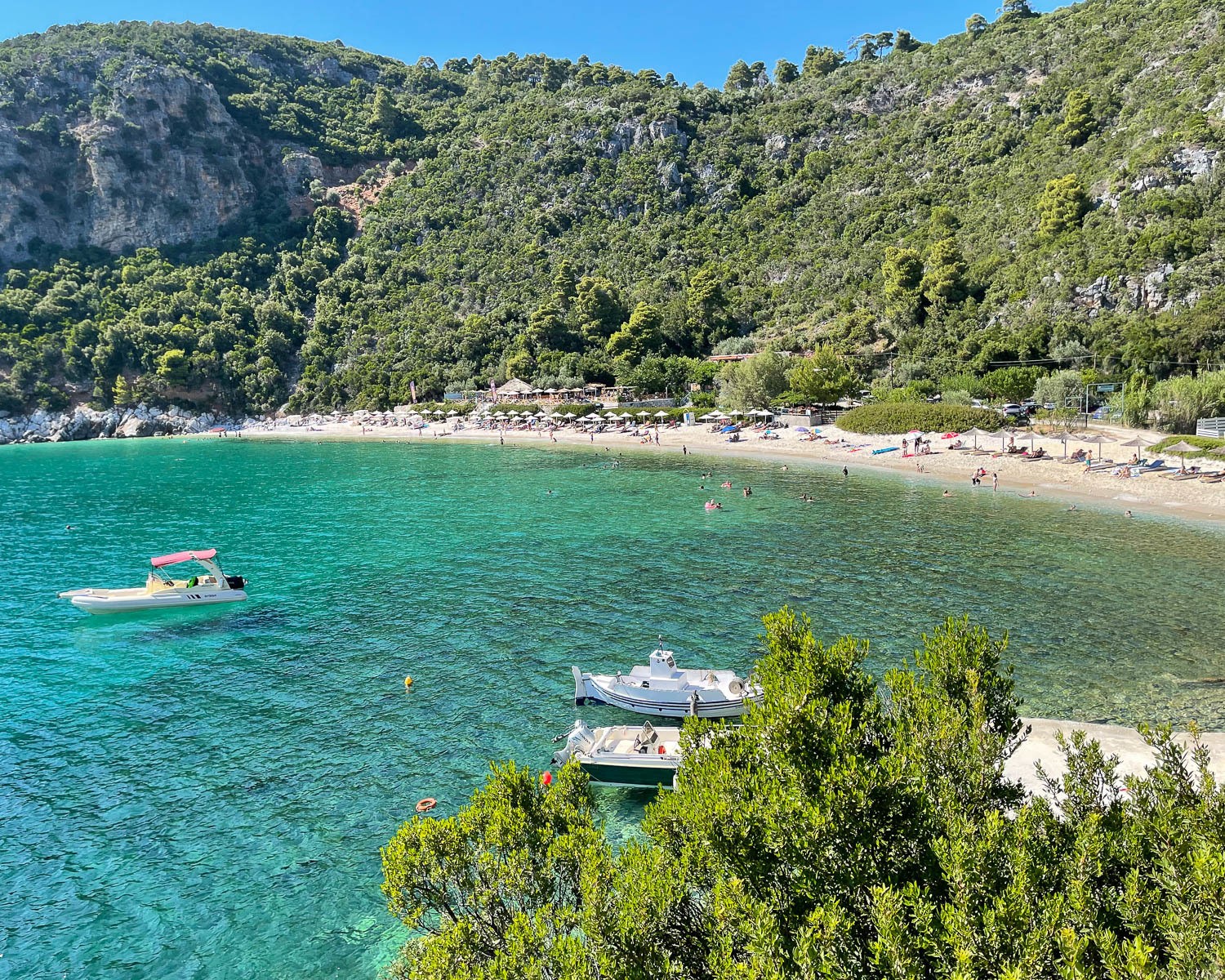 Our other favourite beaches were the the sheltered coves of Limnonari and Stafylos on the south coast, Glysteri on the north coast which is closest to Skopelos town and the small but pretty Agios Ioannis beach, set below the Mamma Mia chapel.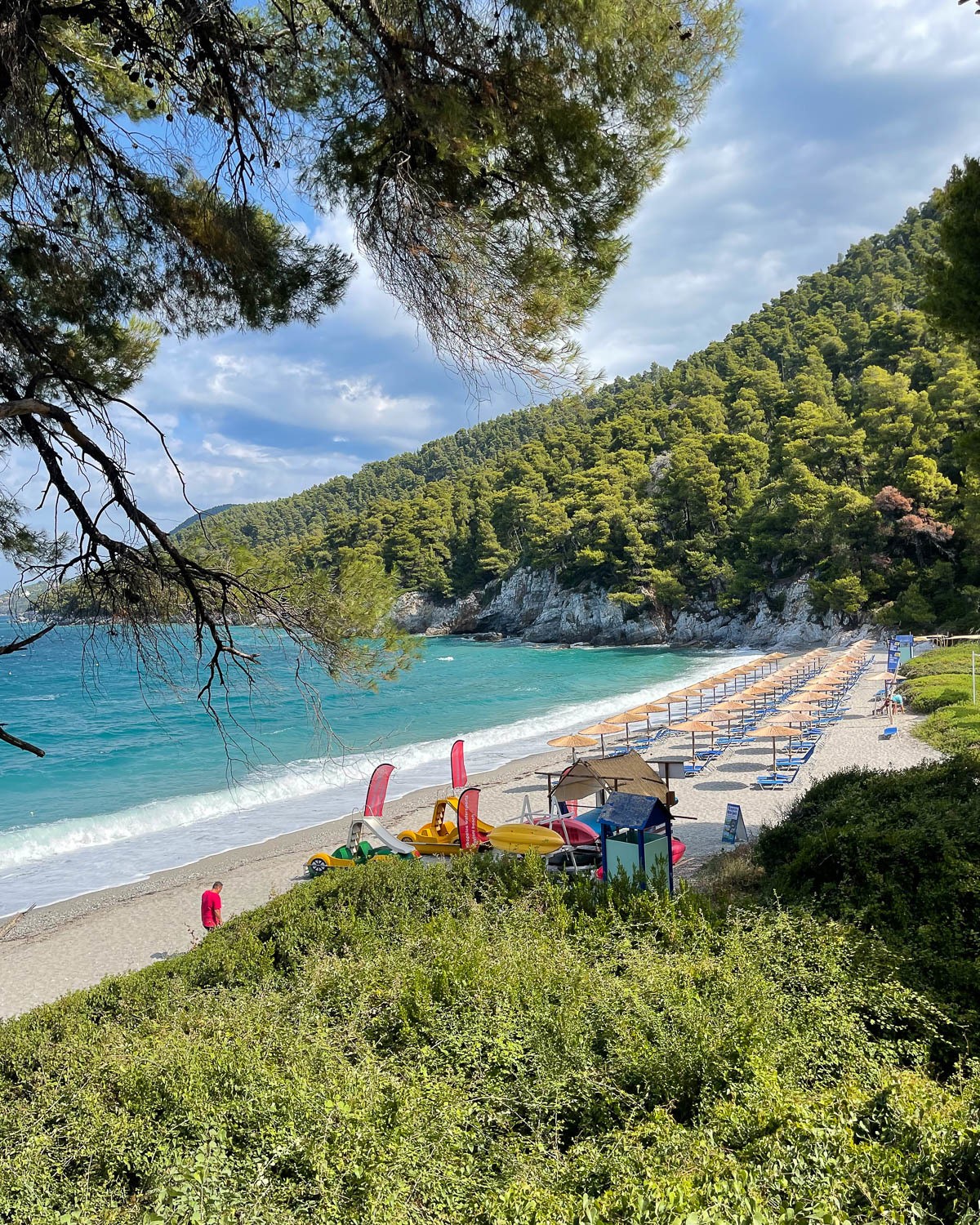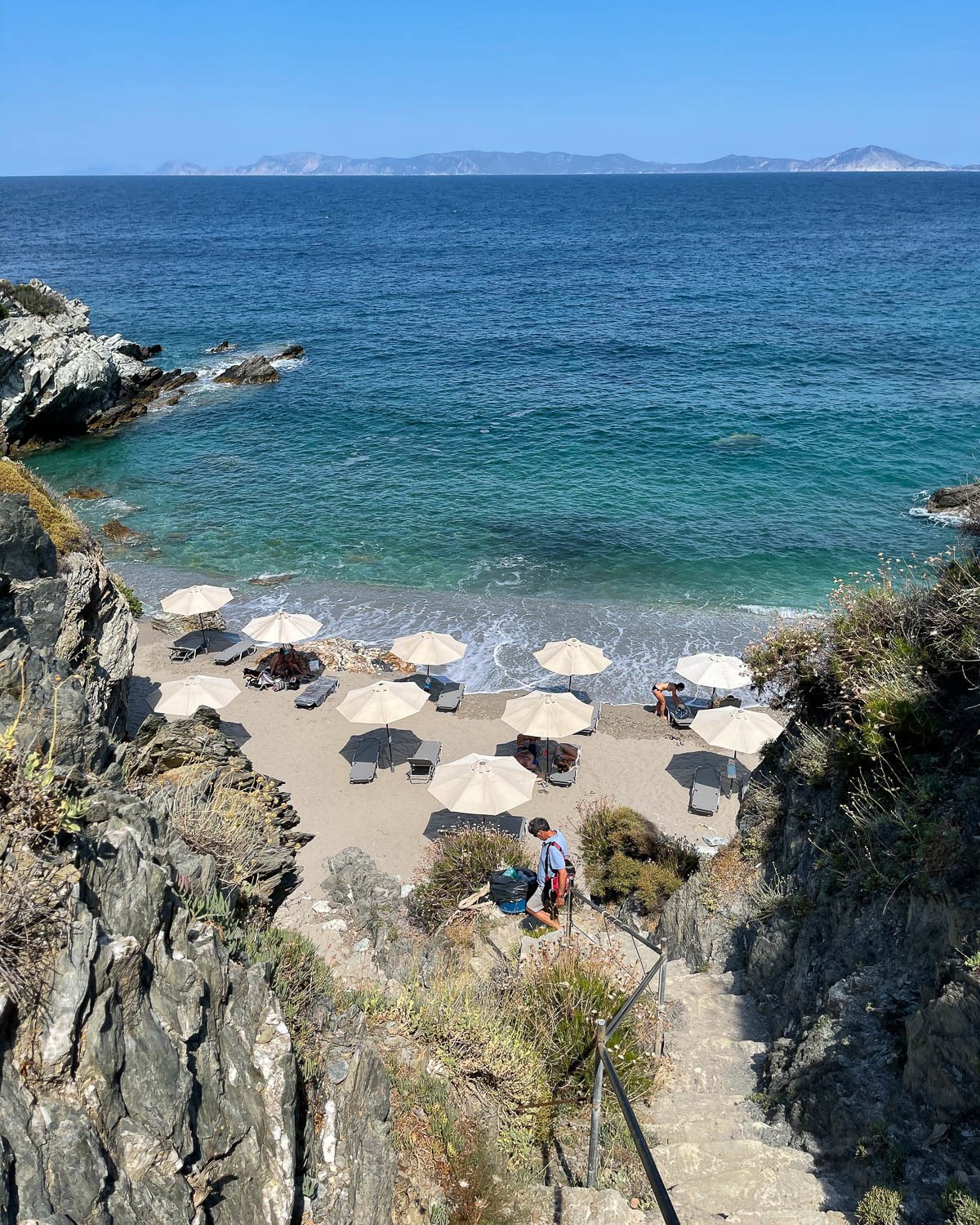 5. Visit the Mama Mia chapel and beaches
Ever since Skopelos was used in 2007 as the main location for the hit film Mamma Mia, people have been flocking to re-live the Greek island fantasy and sing along to those catchy Abba songs. Many of the interior scenes were shot at the Pinewood Studios near London, but you can also visit several gorgeous beach locations in Skopelos and especially the chapel of Agios Ioannis that featured in Sky and Sophie's wedding.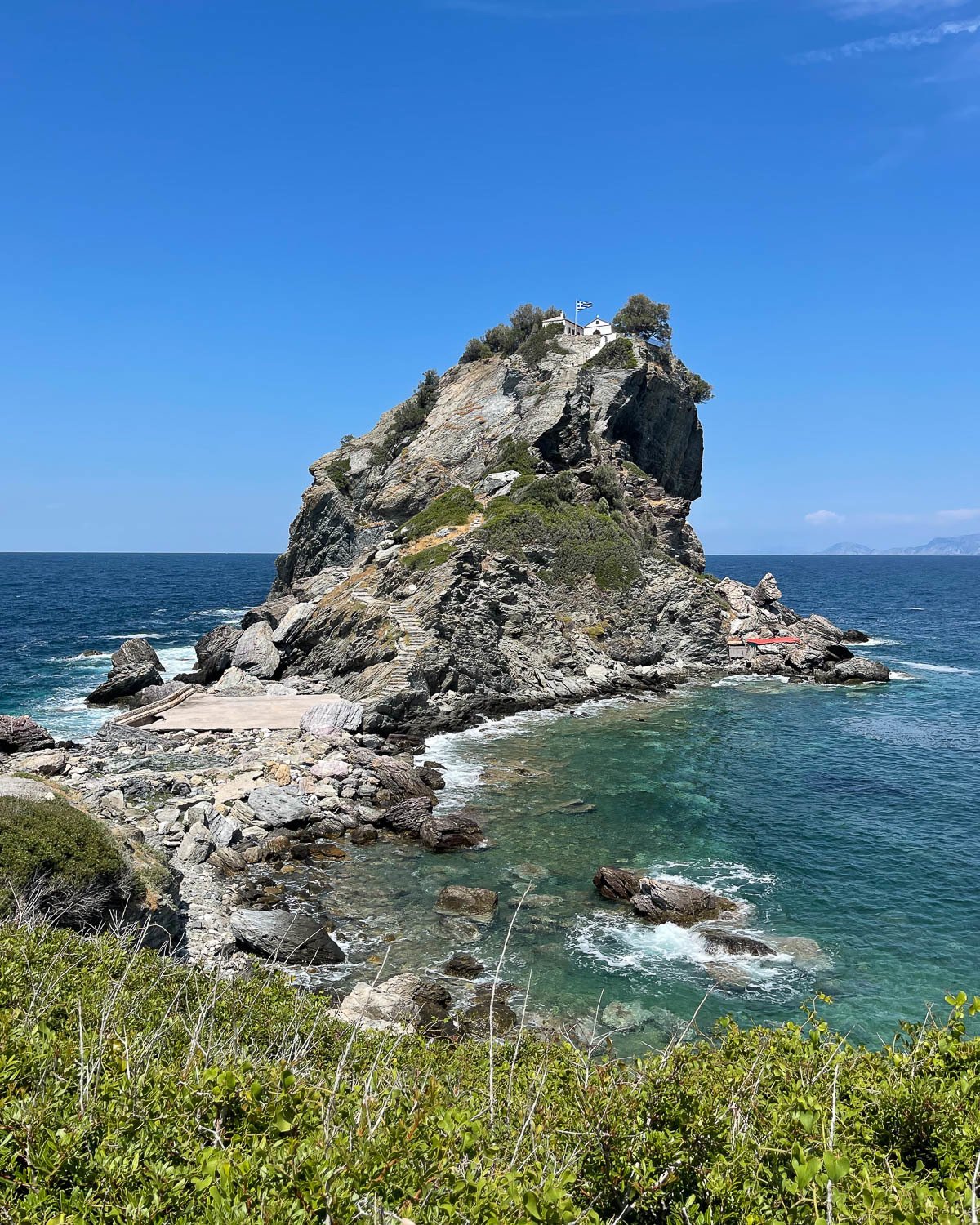 Perched on top of a rock, the climb up the 202 steps to the tiny chapel rewards you with views over the stunning rocky coastline and beach below. Due to the miniature size, a much larger version of the chapel interior was built in the Pinewood Studios to use for the wedding scene.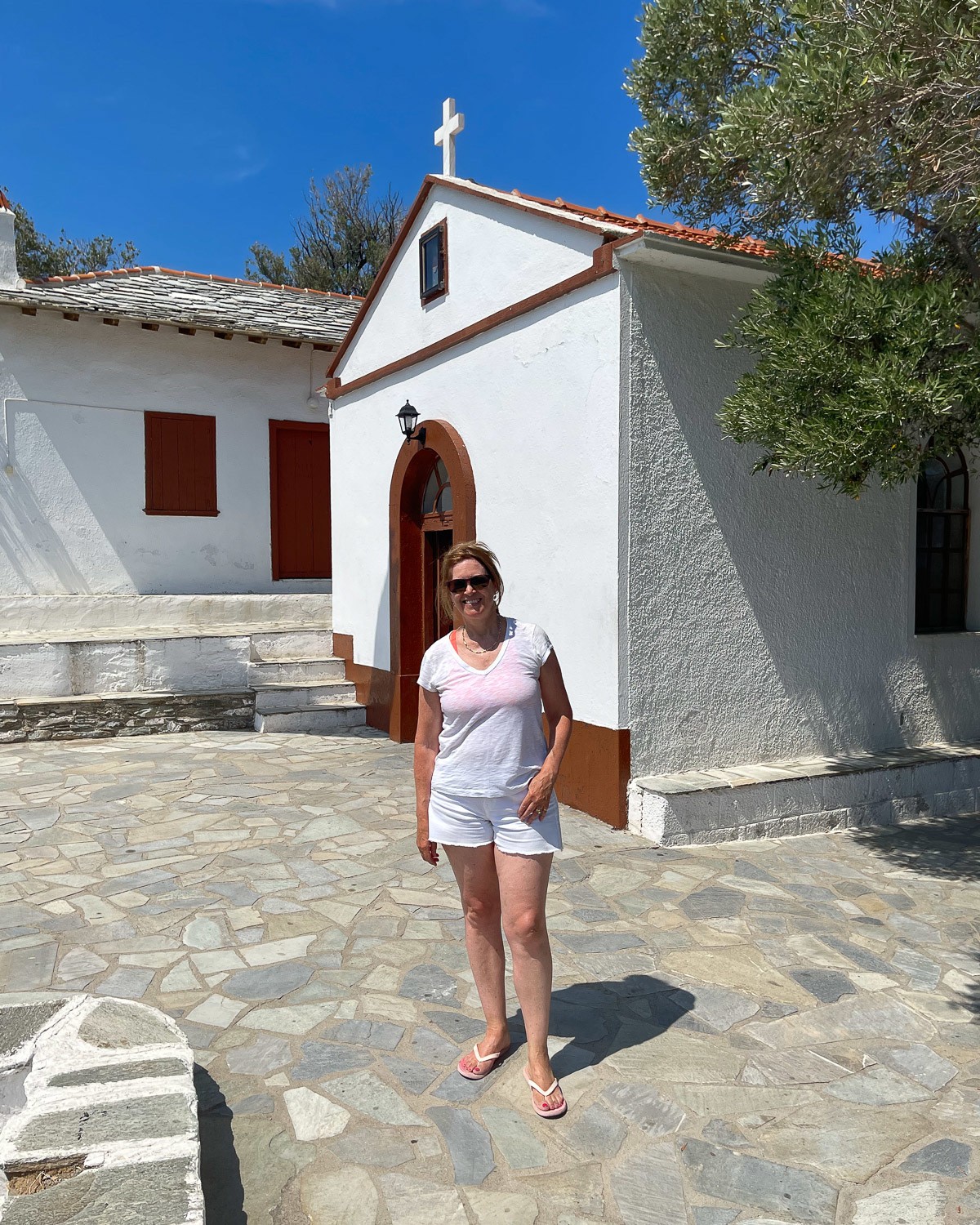 Parking is at the bottom of the hill along the road in front of the beach cafe, but in high season and at weekends there may be crowds and no room to park, so time your visit accordingly. The cafe also serves food and drinks on the beach and runs the beach beds and umbrellas that you can rent. There's also a small shop nearby called Sporades cosmetics that sells natural beauty products.
After climbing up to the chapel (it's free but donations are appreciated) you can walk down to the beach and cool off in the clear turquoise waters. Other beaches that were used as film locations for Mamma Mia were Kastani and Glysteri, and you can take a Mamma Mia tour to get all the best stories from the filming.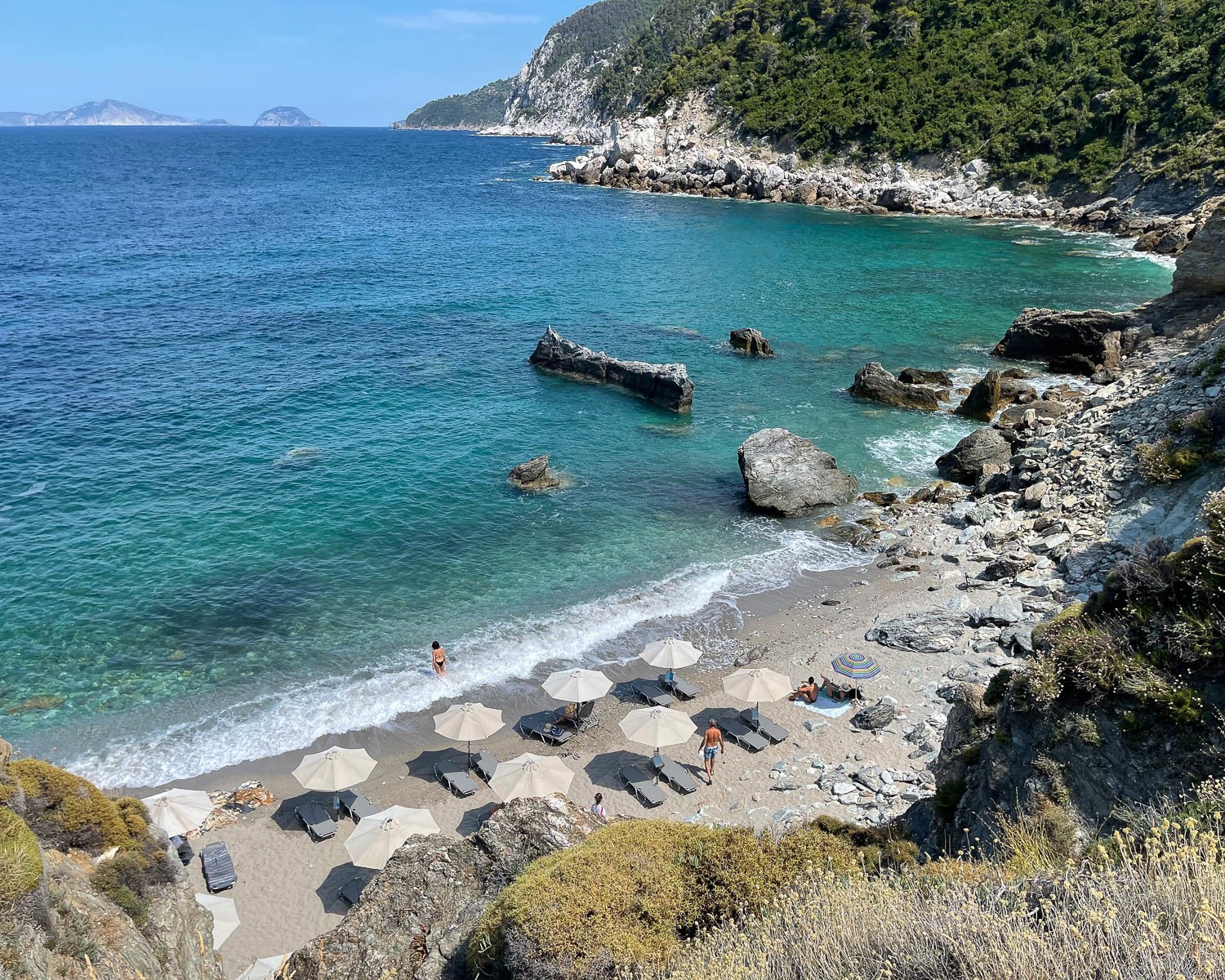 6. Visit pretty Glossa and Loutraki sea port
Glossa is the second largest town on Skopelos, situated on the north east coast on the hillside above the seaport of Loutraki, which is an alternative stop for the ferries. It's a charming place to visit for a few hours, all narrow winding streets, pretty traditional houses and flashes of colour in the painted shutters and bougainvillea.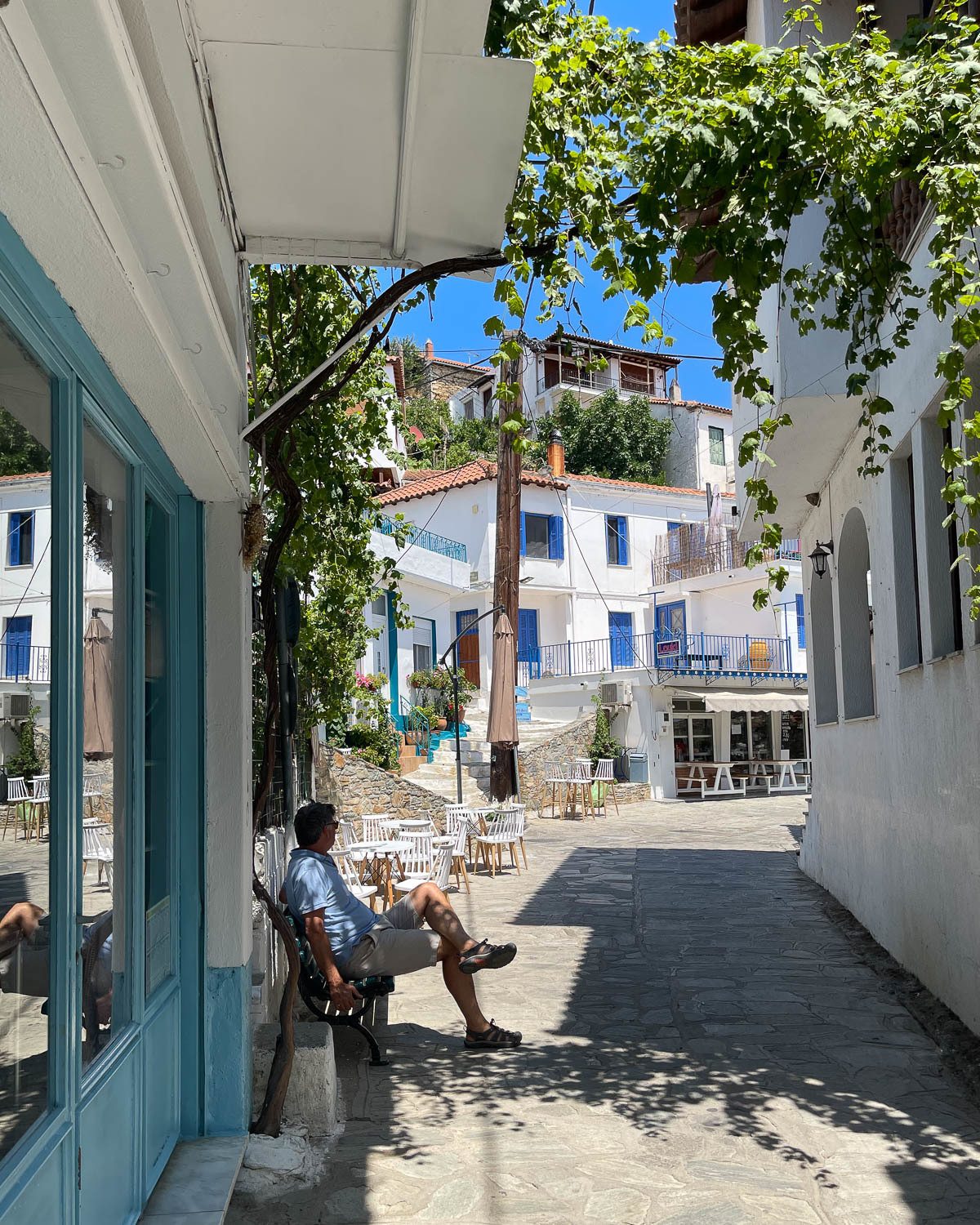 Don't attempt to take your car into or through the town, whatever Google Maps may tell you! Parking is limited, but there's a small parking area at the church as you come into town, or most people seemed to park on the main road just below the town that leads down the hill to Loutraki, then walk up into Glossa. A visit here is all about soaking up the atmosphere, exploring the pretty streets with glimpses of the sea and you can stop for a coffee or have lunch at one of the cafes and restaurants.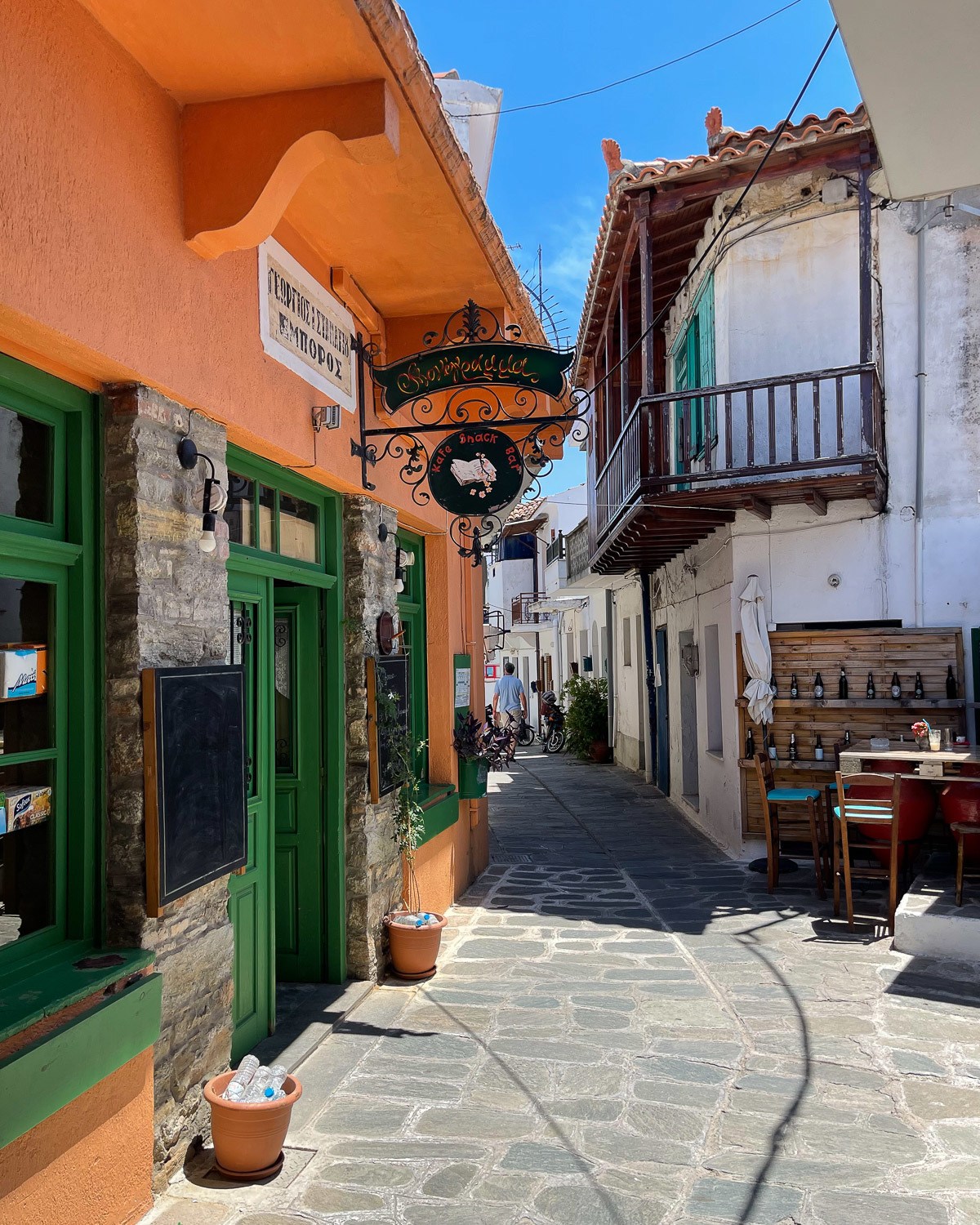 We ate at the "Platea" taverna in the main square next to the church, which had some tasty traditional dishes and you can also visit the church if it's open. Restaurant Agnanti in Glossa has an excellent reputation and stunning views from its terrace, serving Greek cuisine with a modern twist, a great place for something a bit more special.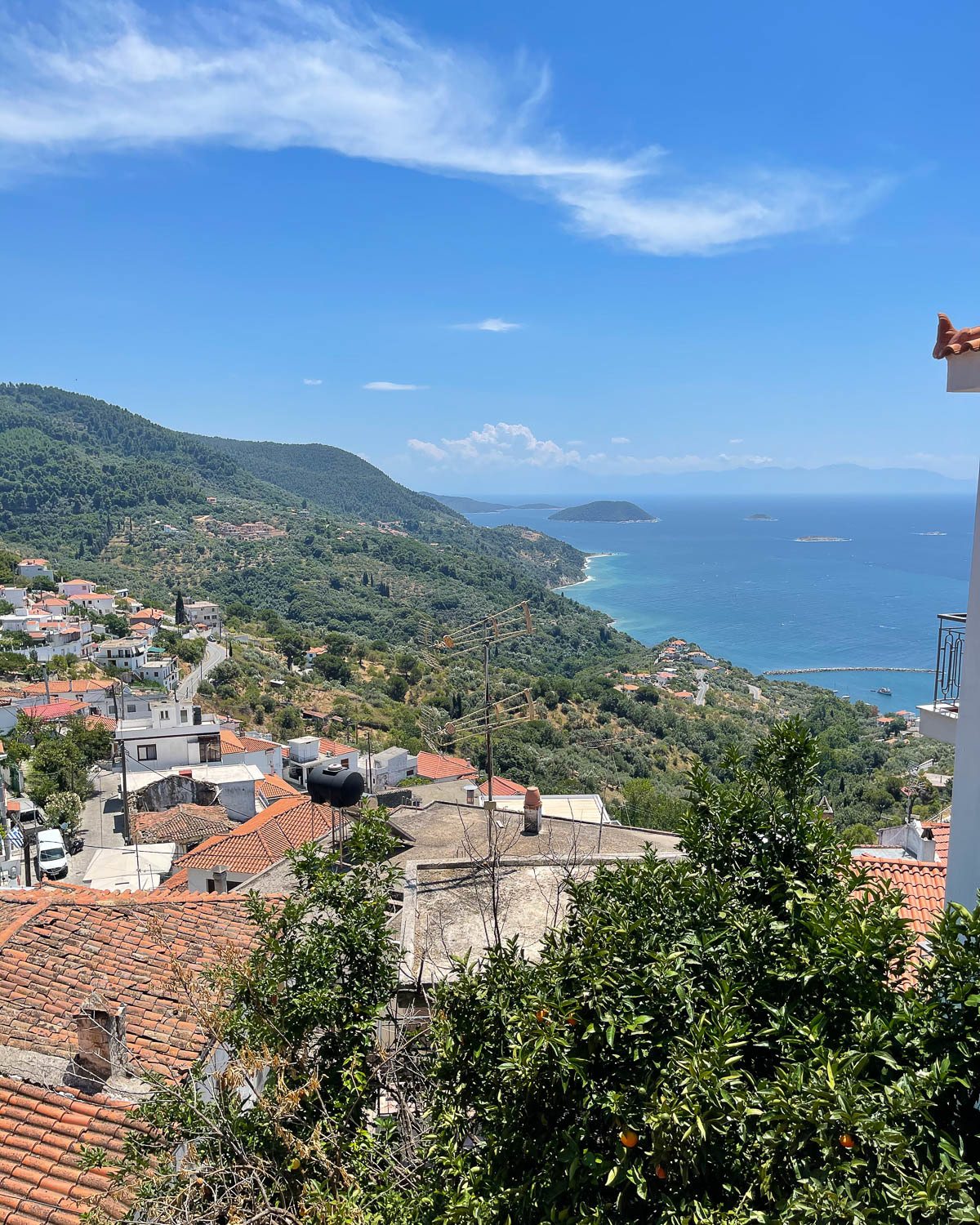 Visit Loutraki sea port
Combine your visit to Glossa with a stop at Loutraki, the sea port that sits below it, although you might want to avoid the times when the ferry is due to call as it will then be quite busy. At other times it's a sleepy little place with a pretty harbour and a couple of tavernas where you can have a coffee or nice lunch.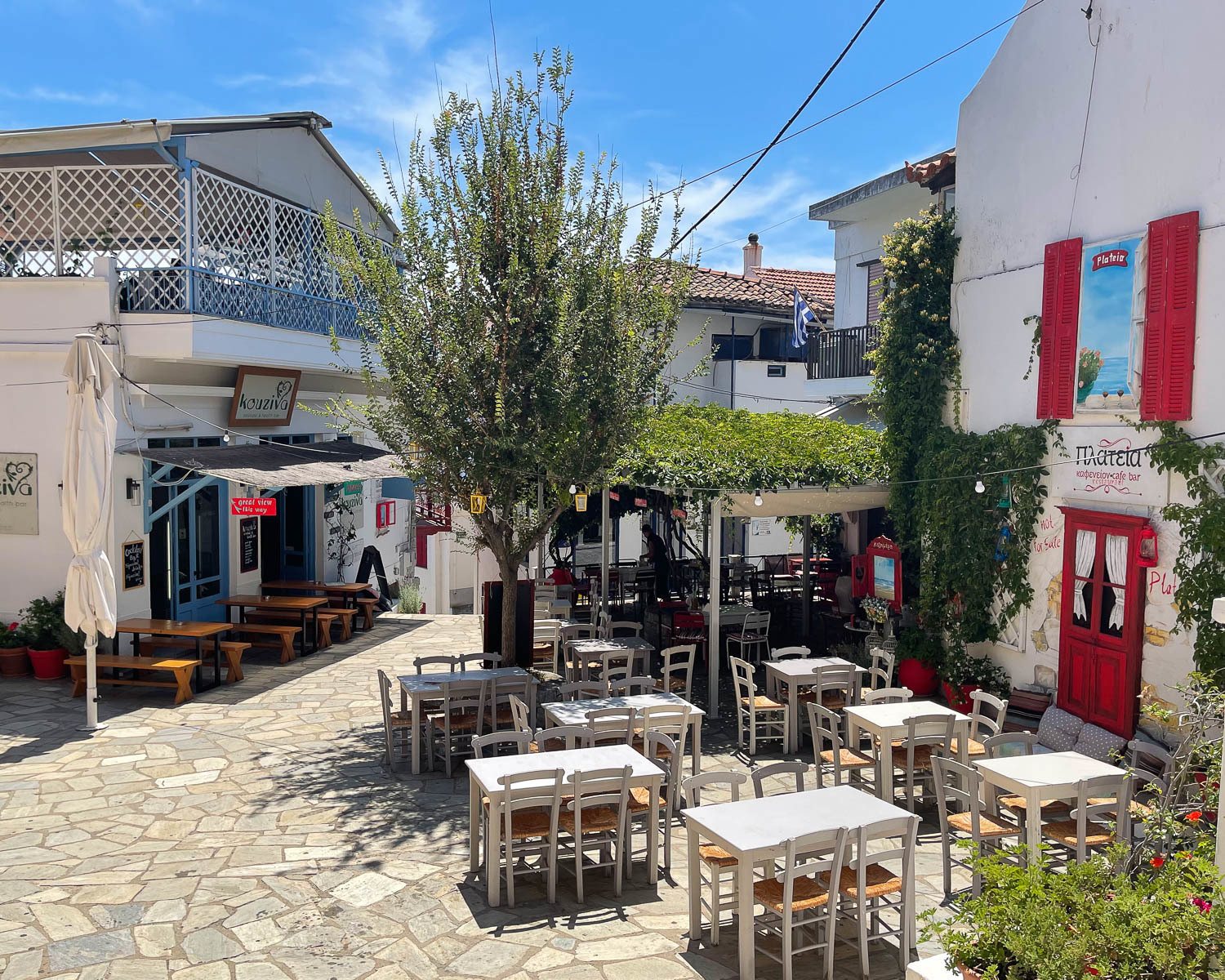 Until the mid 20th century Loutraki was a major centre for wooden boatbuilding, but the boatyards have now closed and the harbour is used as a safe haven for sailing boats. Another point of interest is that this was the site of the Ancient Greek and Roman city of Selinous, and we saw signs pointing to the site of the archaeological remains and Roman Baths although didn't manage to find them.
If you want to take a swim, follow the Roman Bath signs past the stylish Natura hotel on the seafront past the harbour and find a small rocky beach and swimming place beyond.
7. Hike up to the pirate graves of Sentoukia
We always like to incorporate some walking in our trips, and an easy but memorable hike in Skopelos was to the ancient tombs at Sentoukia on Mount Karia. They are locally known as the "Pirate Graves" and stories are told about the pirates who used to attack and plunder these islands being buried here along with their treasure.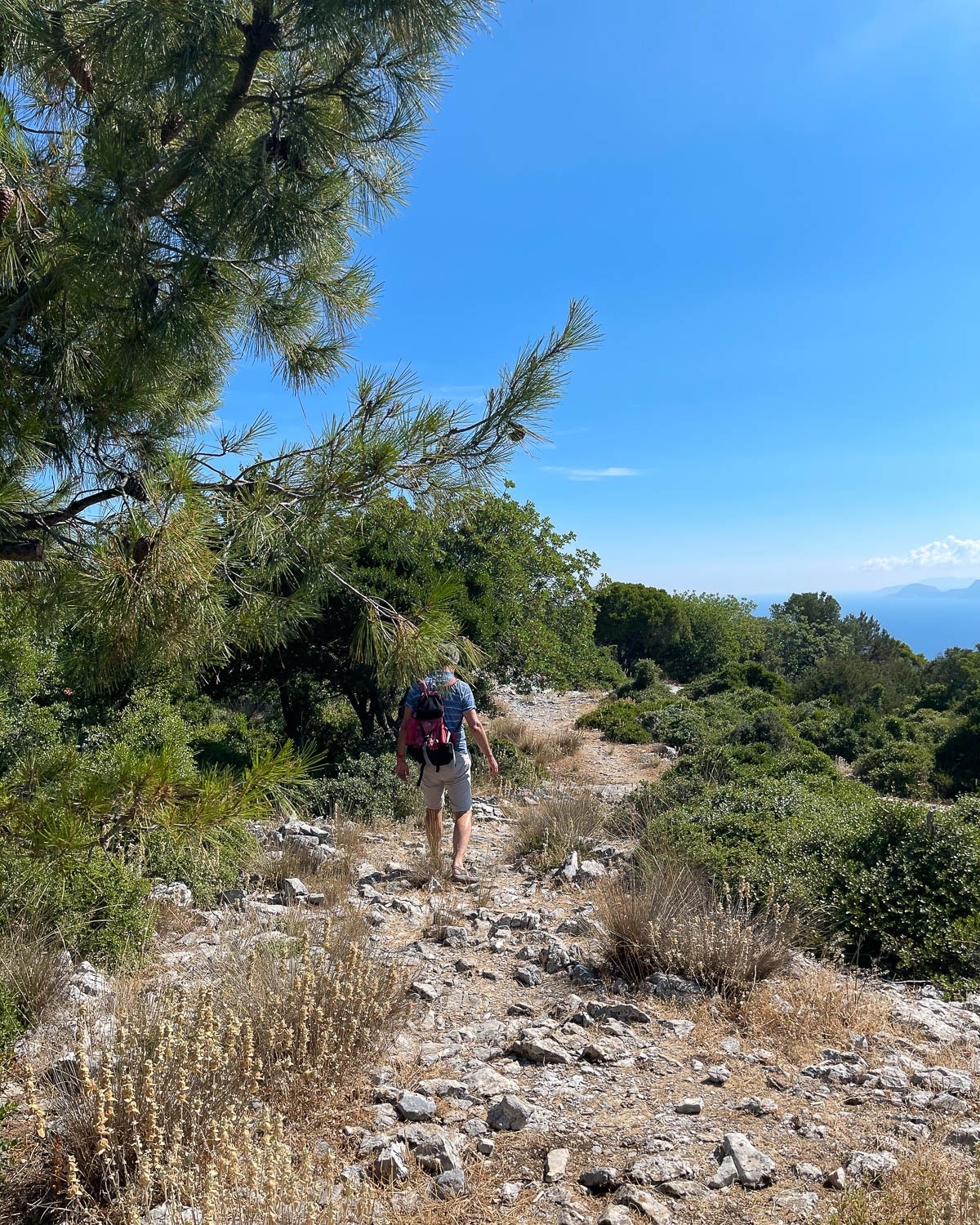 The reality is that very little seems to be known about these tombs cut into the bedrock and topped with enormous stones that have been pulled back by grave robbers. My guess is that the stories of pirate ghosts watching over their graves and treasure is a bit of local folklore that's been embroidered for the tourists and that these graves were the family tombs of a local leader in prehistoric times.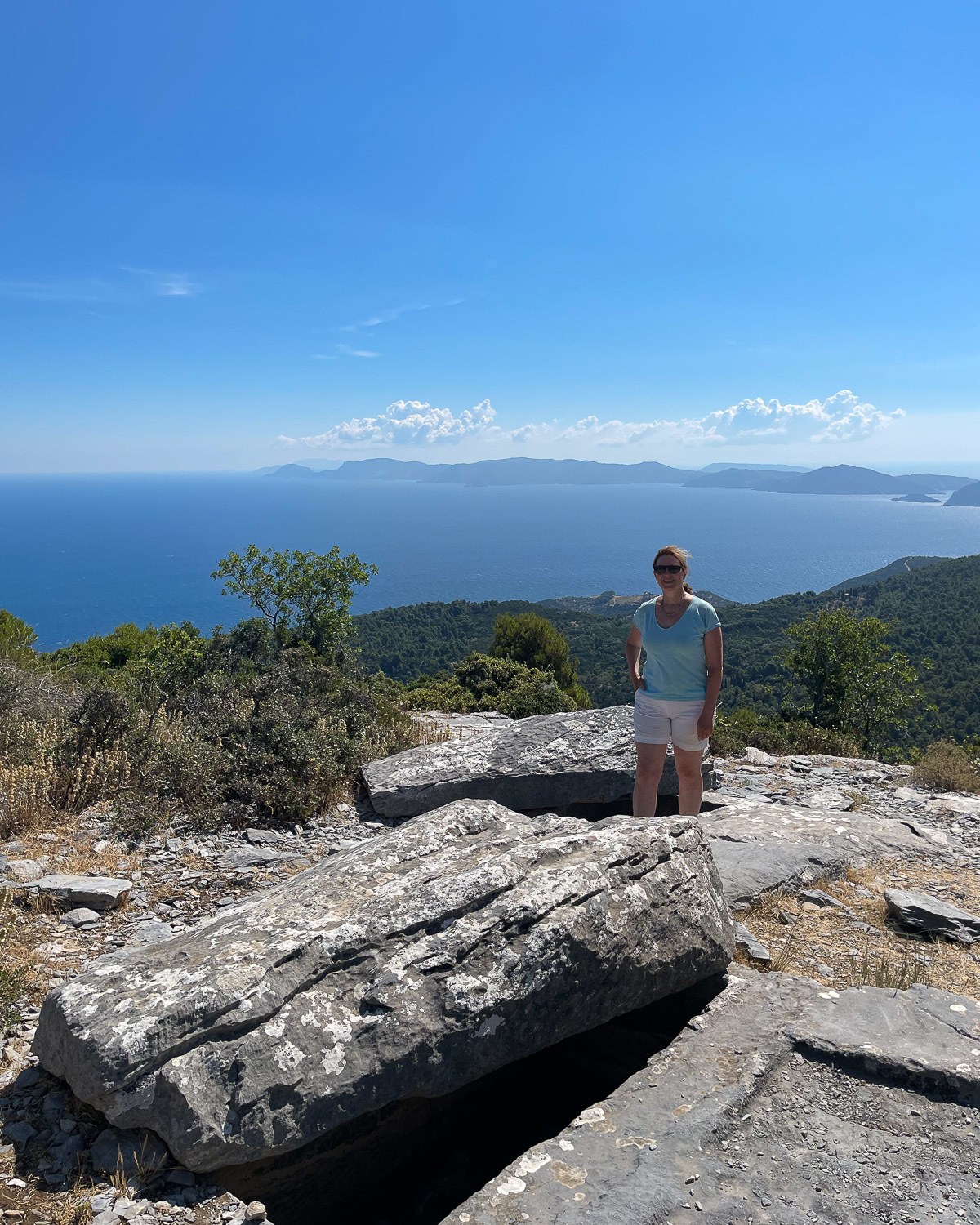 Were there really pirates?
There are 3 complete tombs next to each other and a fourth that is started but not completed. Imagine the work required to cut the tombs by hand from the rock, not to mention cutting and transporting the enormous stone slabs covering the graves! Set on the top of the hill, with a view over the sea, these must have been the tombs of someone very important indeed! Sadly the contents of the graves have long since disappeared and the pirate story seems to be the only thing that remains.
It's not difficult to find the tombs, which we located on Google Maps and then parked just off the main road where a gravel track continues up to a quarry area. Not knowing if it was suitable for cars, we decided to walk up this dirt track, but it would be possible to drive up it and park near a roadsign marked "Sendoukia", which directs you onto a walking path.
We followed the walking track which was marked by occasional arrows and red dots of paint, and eventually found the tombs, sitting there a while to drink in the views, before returning the same way. On a sunny day it would be a great place for a picnic, as you can see right across to the island of Alonissos.
8. Take a Boat trip to Alonissos
From Skopelos town, it's a short boat trip across to the neighbouring island of Alonissos where there's a National marine park surrounding the island encompassing the smaller uninhabited islands nearby. If you are interested, most of the tour boats line up along the harbour front in Skopelos town with information about the tours on offer.
While we didn't have time to take any of these boat trips during our visit, nature lovers will enjoy spotting the Mediterranean monk seals, dolphins and sea birds as well as having a chance for snorkelling and swimming in the clear waters.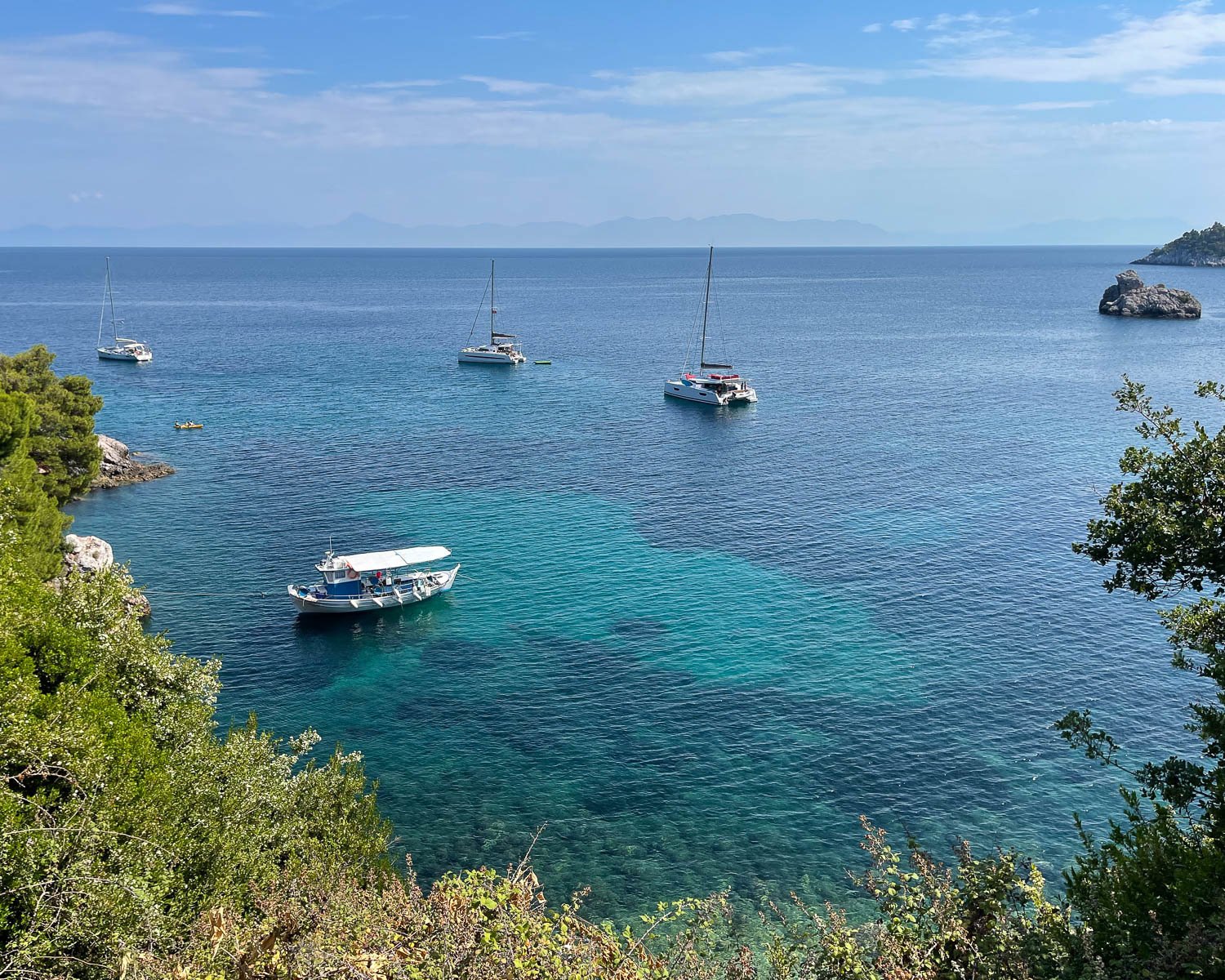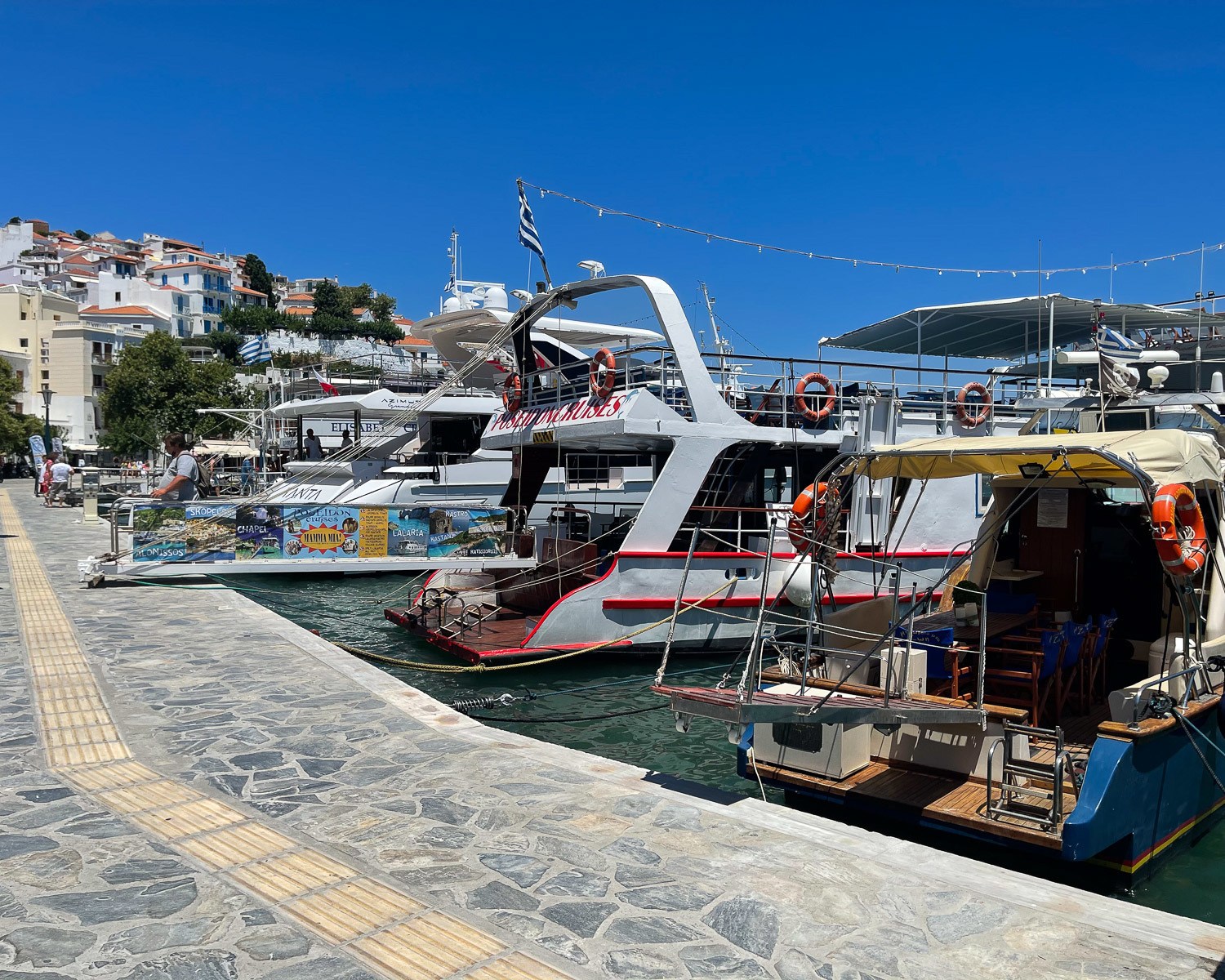 9. Shop for authentic Skopelos souvenirs
The best place for shopping on this small island is Skopelos Town, where you'll find a good range of souvenir shops along the harbour front and in the alley ways that lead up the hill behind the cafes. It's a fun place to explore on foot and browse in the cute gift shops for authentic gifts. In particular look out for: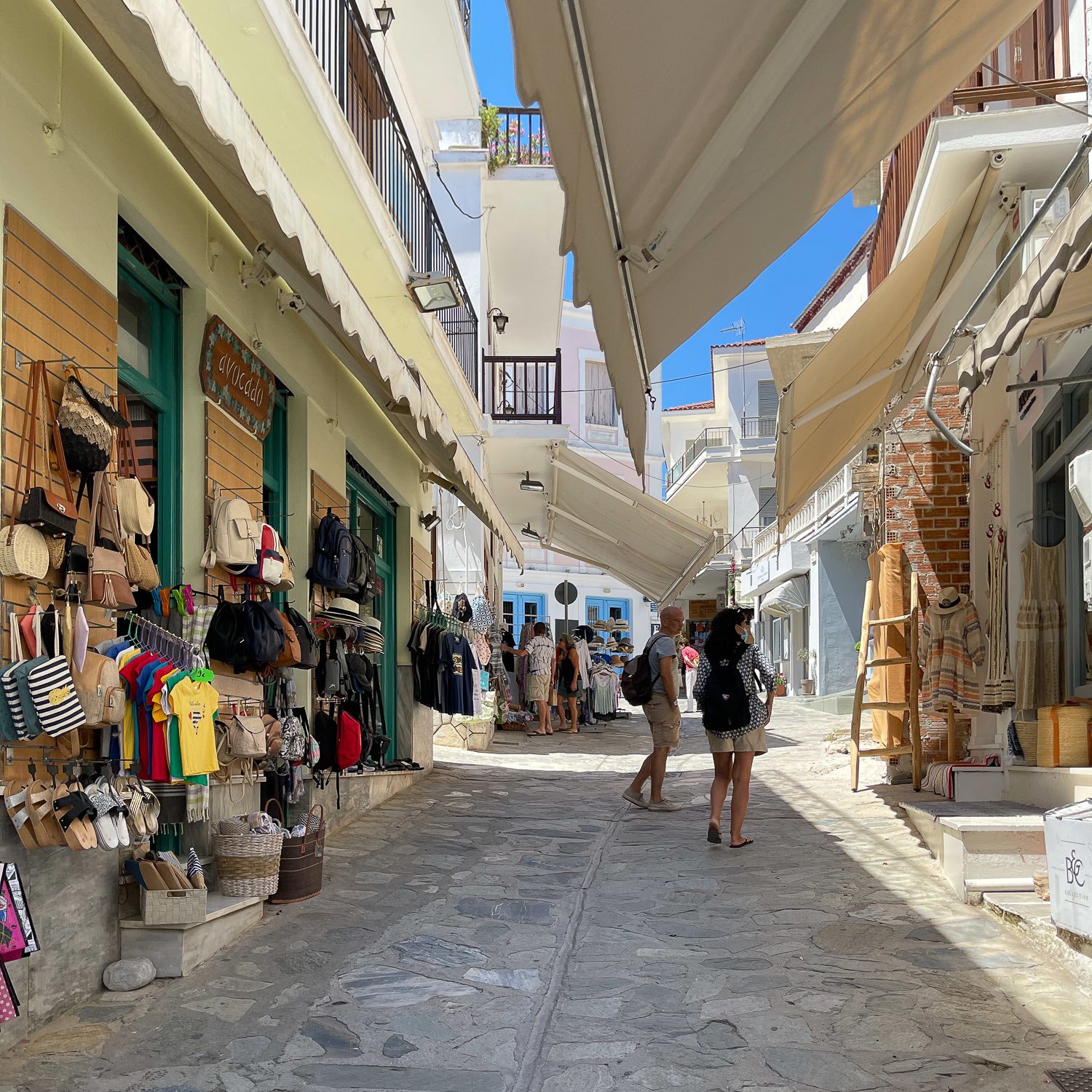 – Stylish Greek style summer dresses, tops and beachwear. Wait until you arrive to buy that floaty beach wrap for your holiday!
– Colourful Greek ceramics at the Armoloi shop on the harbour front and many other shops.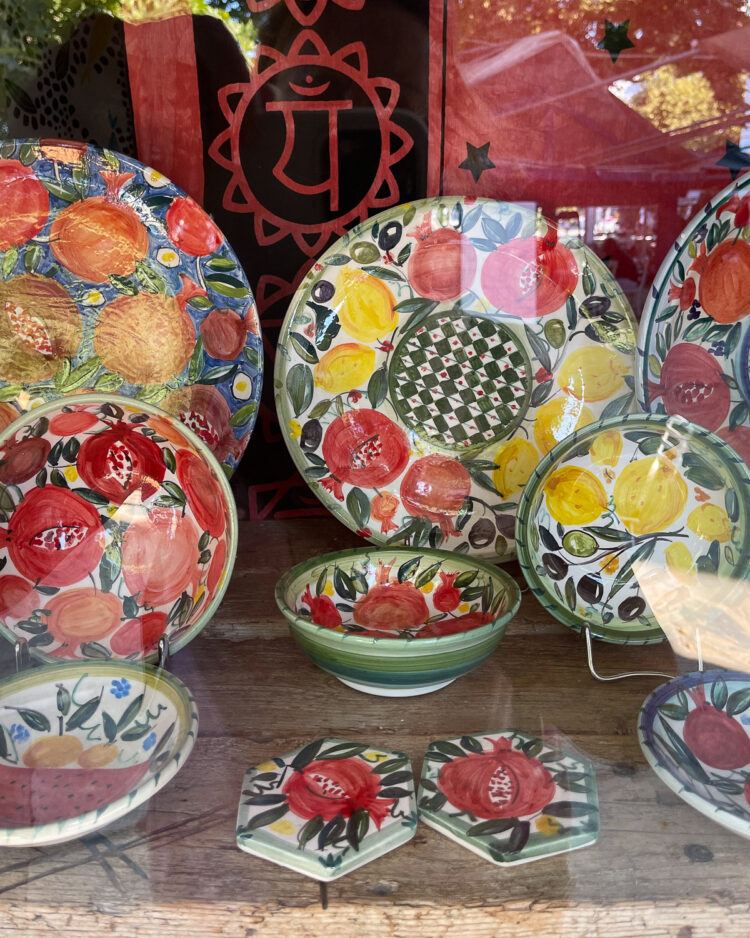 – Local honey, sweet fruit preserves and honey drenched almond cakes that are traditional to the island. Also look out for the dried prunes that Skopelos is famous for growing.
– Pretty jewellery, from gold and silver with precious stones to fun and inexpensive pieces that will help you re-live that Greek summer vibe long after you get home.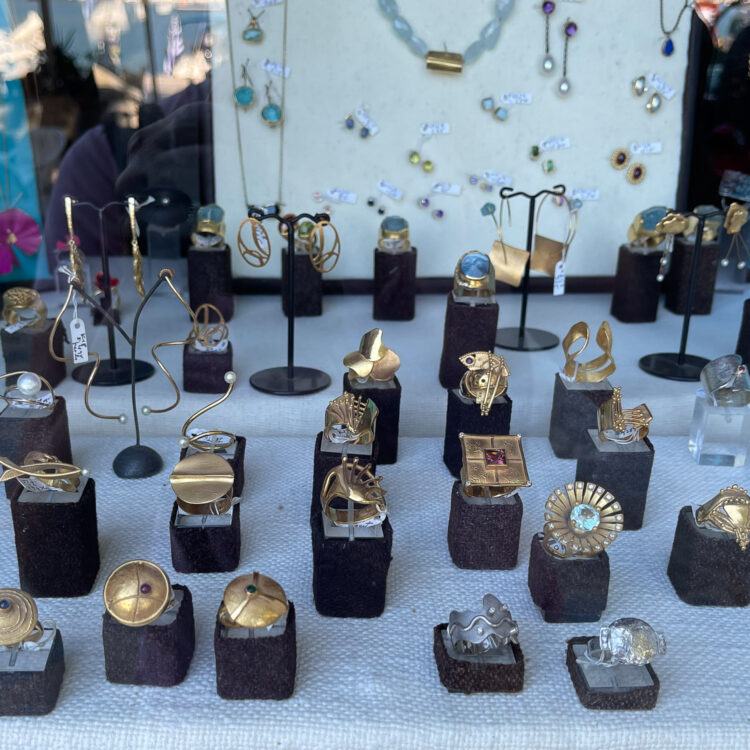 – Crafts and artworks by Greek artists from Skopelos and other parts of Greece at Archipeligos – worth a look just to see inside the beautiful old traditional house that's one of the oldest shops in town.
– Local olive oil – you can also visit the Antoniou Family Olive Oil museum and olive mill just outside Glossa for a tasting.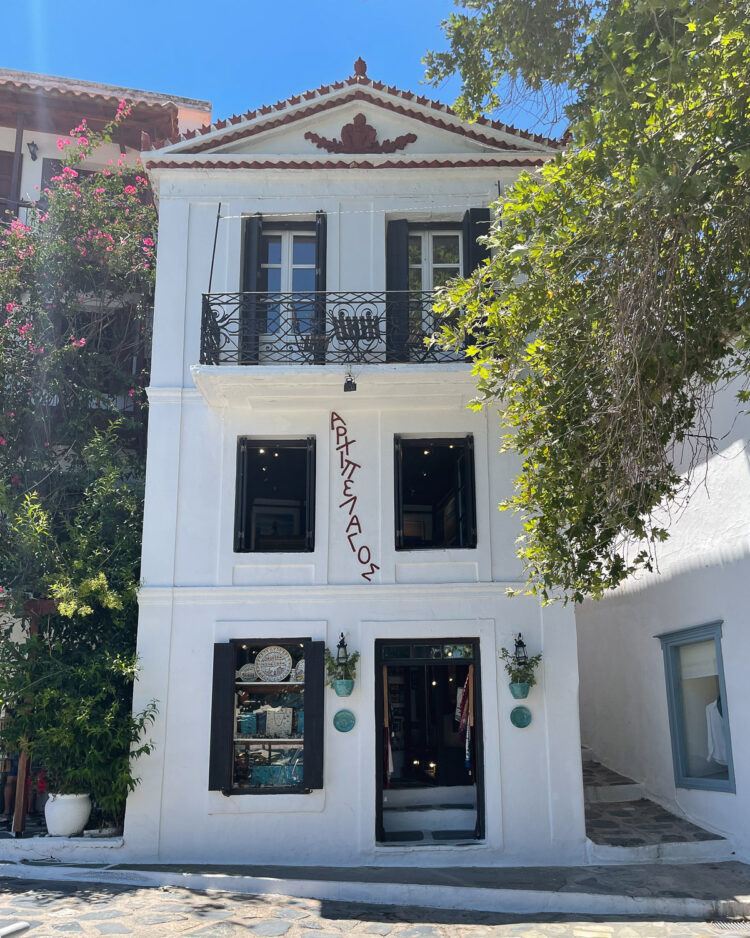 – Guide books, photography books and stationary at the cute Juices and Books on the western end of the harbour front.
10. Taste the delicious food in Skopelos
The food in Skopelos is typical of the Greek Islands with plenty of traditional dishes, seafood and a few local specialties thrown in. Of course in most tavernas you can try the typical Greek dishes like moussaka, beef stifado, tomatoes stuffed with herby rice or a traditional Greek salad topped with feta cheese.
When eating by a beach or port, fish and seafood is often a specialty and you can choose from a selection of fresh, locally caught fish which is priced by the kilo, or other seafood favourites like stuffed squid, grilled sardines, octopus rings and lobster spaghetti.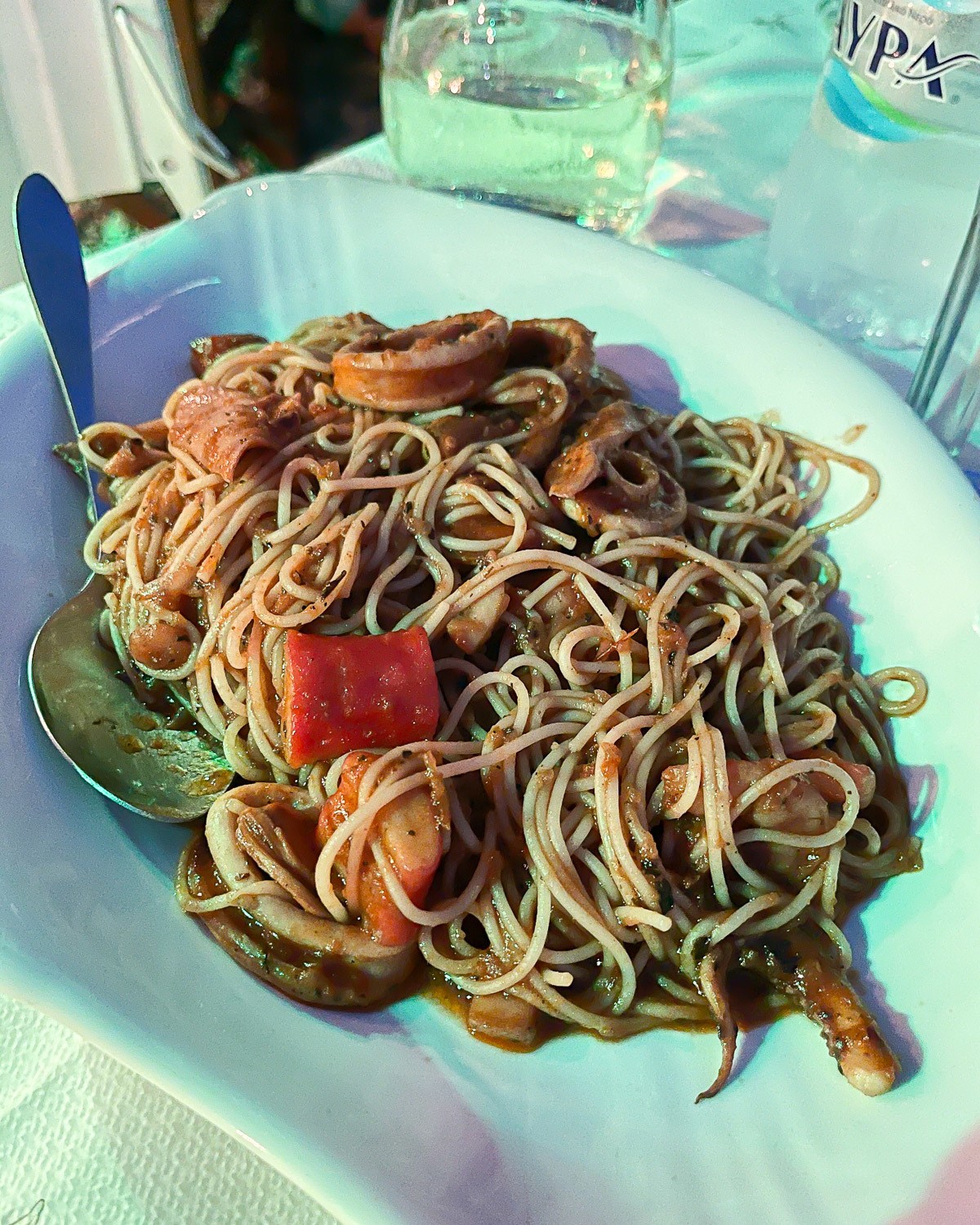 In the past Skopelos was famous for its plums which would be dried to make prunes and exported all over the world. You can still see them in local delicatessens and on restaurant menus where they may be served in a dish of pork or rabbit, slow roasted with prunes. Local honey is widely available and used to drizzle on deserts or drench almond cakes. Local fruits are preserved in syrup to make the "sweet spoon" that is offered to guests when they visit a home in the afternoon.
Another notable specialty of Skopelos is the Strifti pie, coiled into a spiral with a filling of goats cheese or spinach and deep fried, a variation on the traditional Tiropita cheese pie. Also worth a visit when you're in Glossa is the Antoniou Family Olive Oil museum and olive mill on the outskirts of town, where you can taste and buy their cold pressed olive oil made from the local fruit.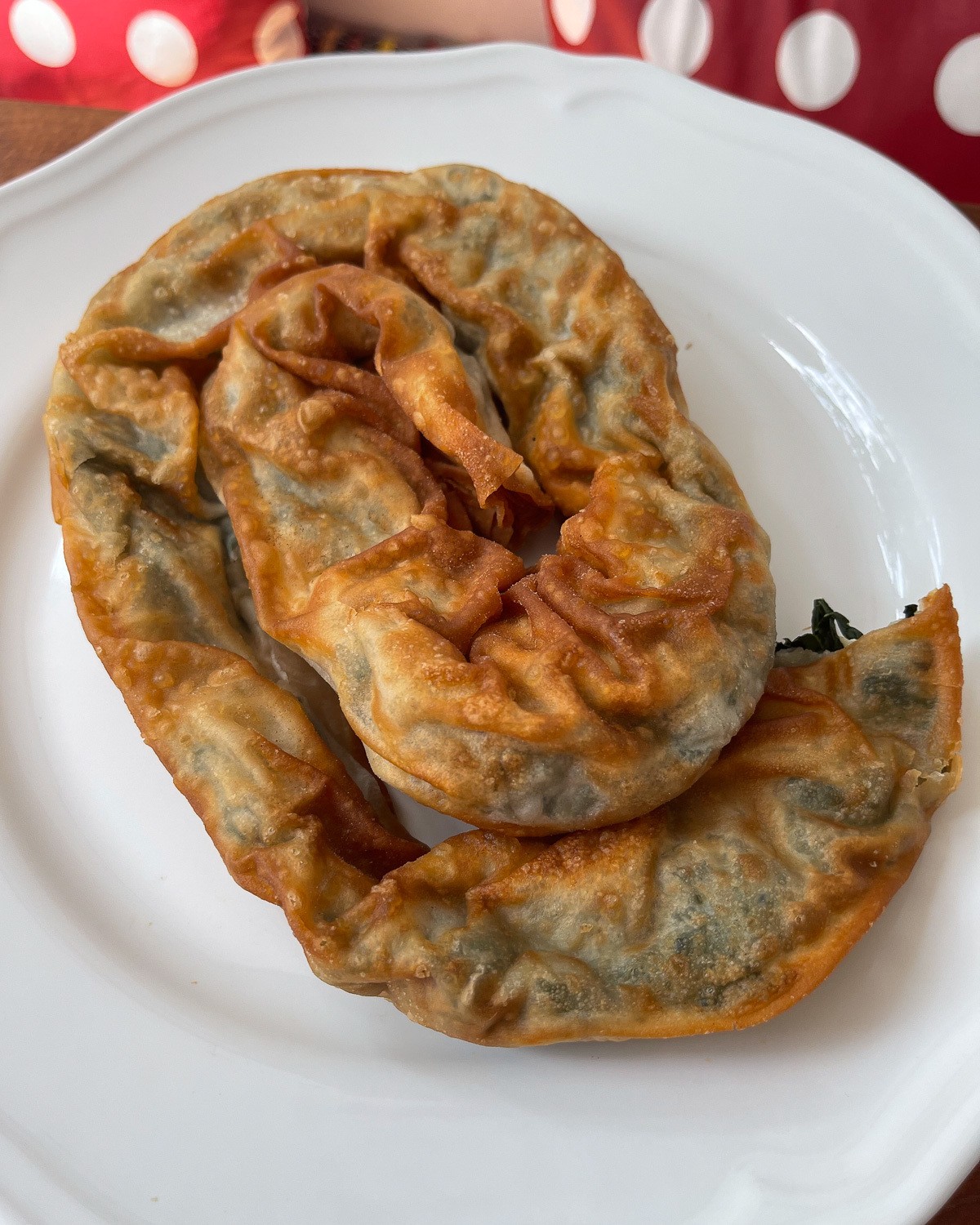 Restaurants in Skopelos
You'll find the widest range of restaurants in Skopelos town, and while the harbour front cafes are great for people watching, you may find better and more local food in the lanes and small squares behind the seafront. A few places that we enjoyed eating or can recommend around Skopelos include: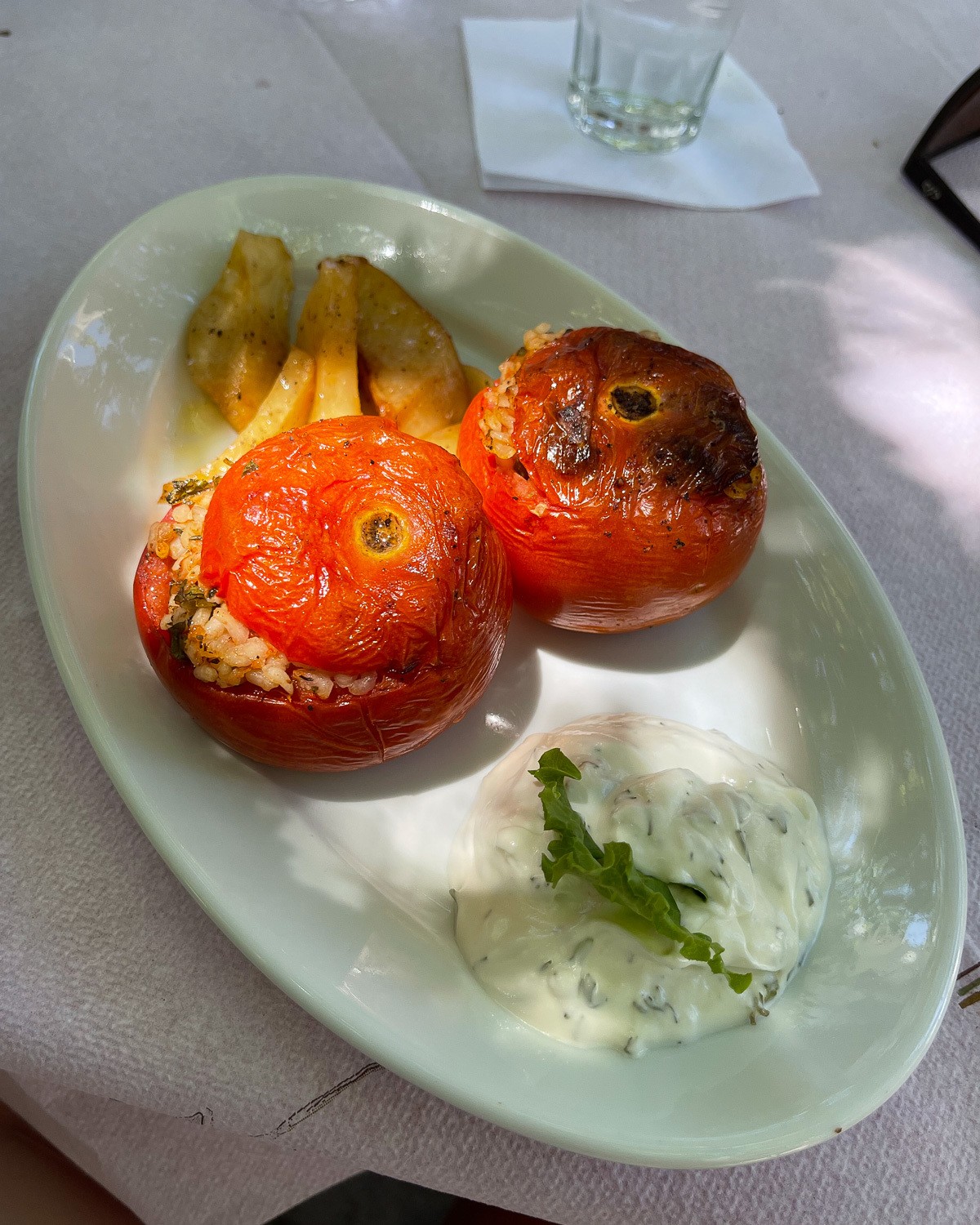 Restaurants in Skopelos Town
Skopelos town – The Platanos taverna that's in square (Plateia) set back from the port on Doulidou, with tables under the shady plane tree, serving traditional Greek dishes.
Skopelos town – Kochilis bakery right on the harbour front street corner has a wide selection of pastries, sandwiches and some nice food souvenirs if you are waiting for the ferry.
Skopelos town – Barramares is a cafe specialising in deserts on the harbour front with a kiosk selling ice creams to take away with lots of very moreish flavours.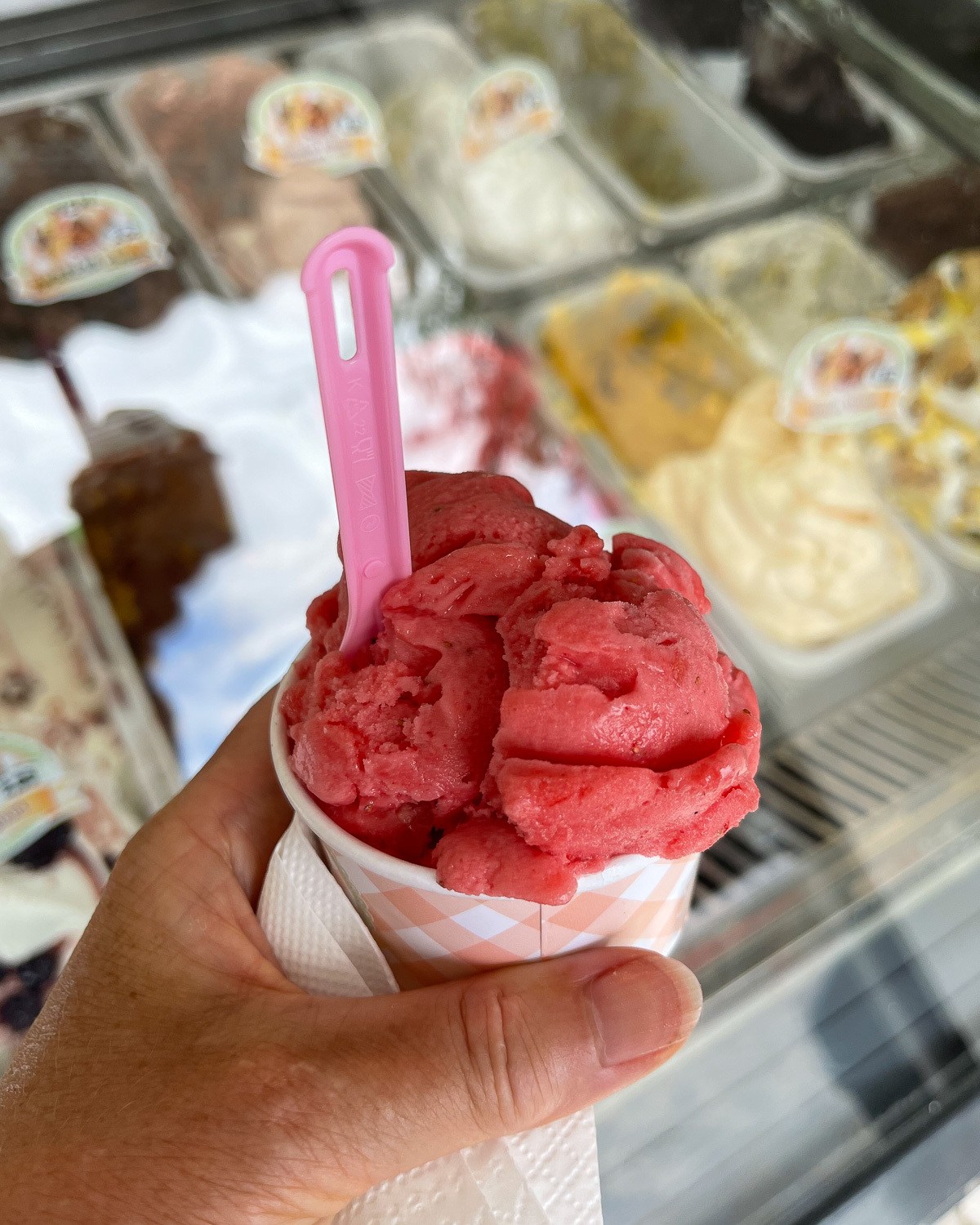 Skopelos town – Cafe Thalassa is a tiny cafe with tables set out in summer in the pretty square above the church of the Virgin Mary. They serve lovely fresh juices and smoothies which you can drink with an idyllic view of the sea.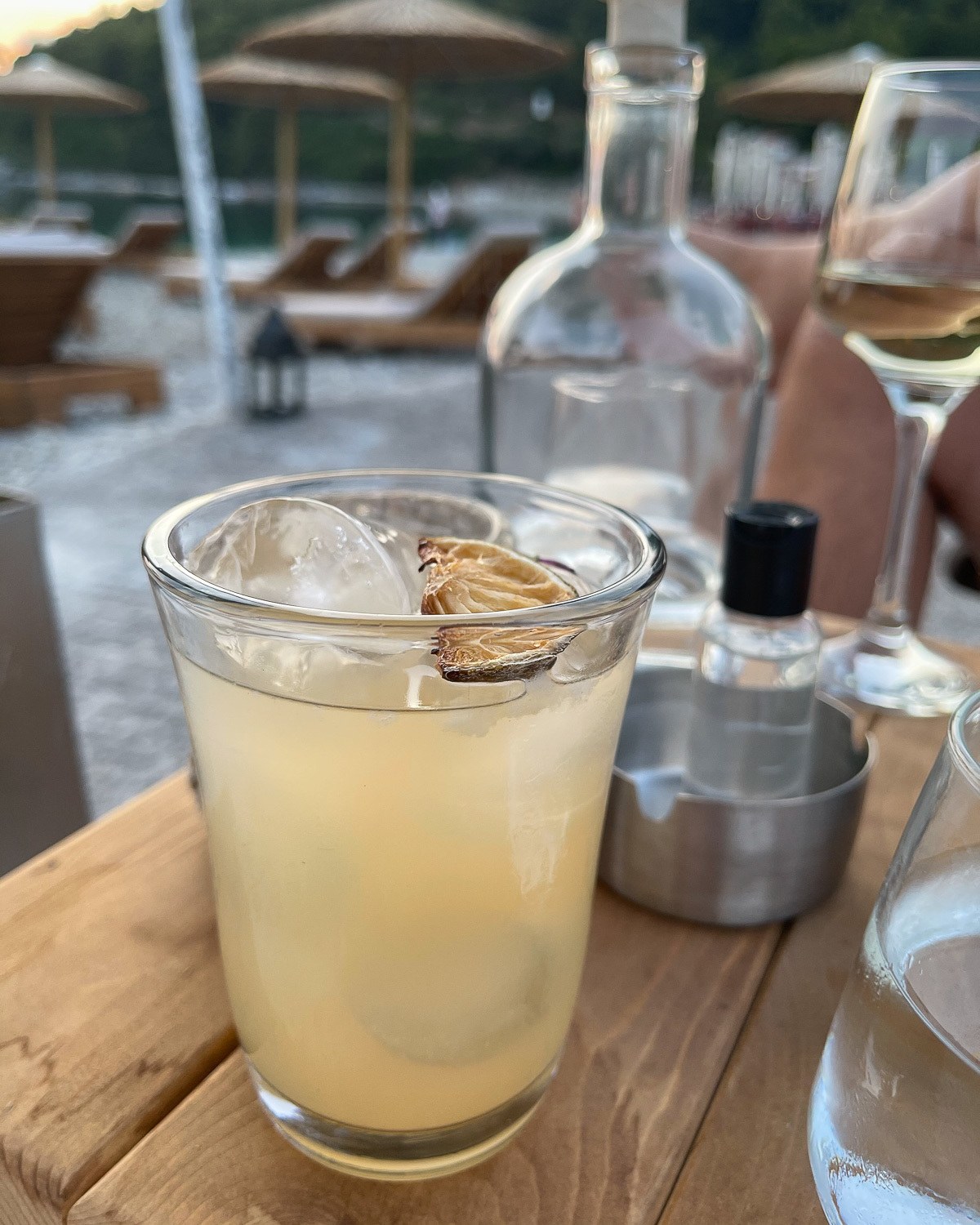 Restaurants in Panormos
Panormos – Try the sunset cocktails at Kraken, a trendy modern beach bar that's open all day serving sun beds on the beach, but is a great spot for drinks before heading to dinner at one of the beach tavernas.
Panormos – We literally ate at the water's edge in the family run Linarakia restaurant, with a great range of seafood and other traditional dishes. I celebrated my birthday there and it's ideal for a special dinner for couples, families or larger groups.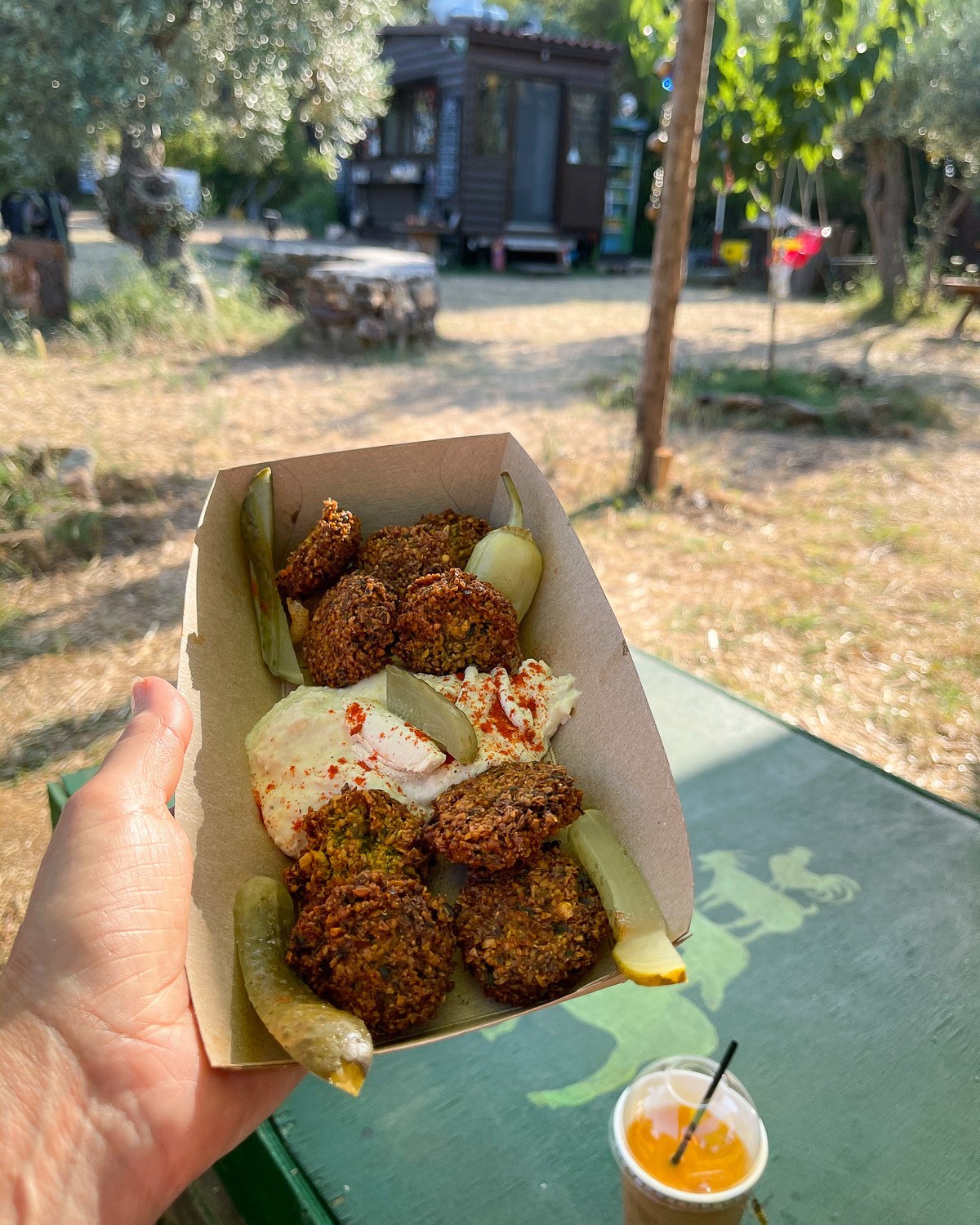 Panormos – Beside the road that leads to Panormos beach from the Skopelos Town direction, we stopped at Skopelos Experience, a food truck set in gardens and farmland that serves gourmet street food. It was a cool and shady place to relax and see their farm animals and veg garden as well as trying healthy falafels and salads with lots of veggie options.
Restaurants elsewhere in Skopelos
Glossa – We tried the friendly Plateia Taverna for lunch in the main square by the church in Glossa, with a good range of home cooked and traditional Greek dishes. Although we didn't eat there, we also heard good things about Agnanti in Glossa, with a lovely terrace and a gourmet reputation.
Agnontas – Both the seafront tavernas in this pretty port have a great reputation for seafood, Mouria looking a bit more traditional, while Korali looks a more modern and stylish. This is a favourite spot for lazy lunches at weekends and very busy in the holiday season.
Where to stay in Skopelos
Skopelos is a small island, so wherever you stay it's easy to get around, especially if you hire a car. There are several beautiful beaches with good road links, tavernas and a range of accommodation options. Alternatively you could choose to stay in Skopelos town with its lively harbour front, then use it as a base to visit different beaches and other attractions.
Stay at Panormos Beach
We chose to stay at Panormos, which has one of the best beaches in Skopelos with a wide selection of beach bars and tavernas. We were really happy with our choice, as Panormos offered wonderful swimming, a well stocked local shop, plenty of eating out options and easy proximity to Skopelos town. Check prices and book accommodation in Panormos – in particular I'd recommend;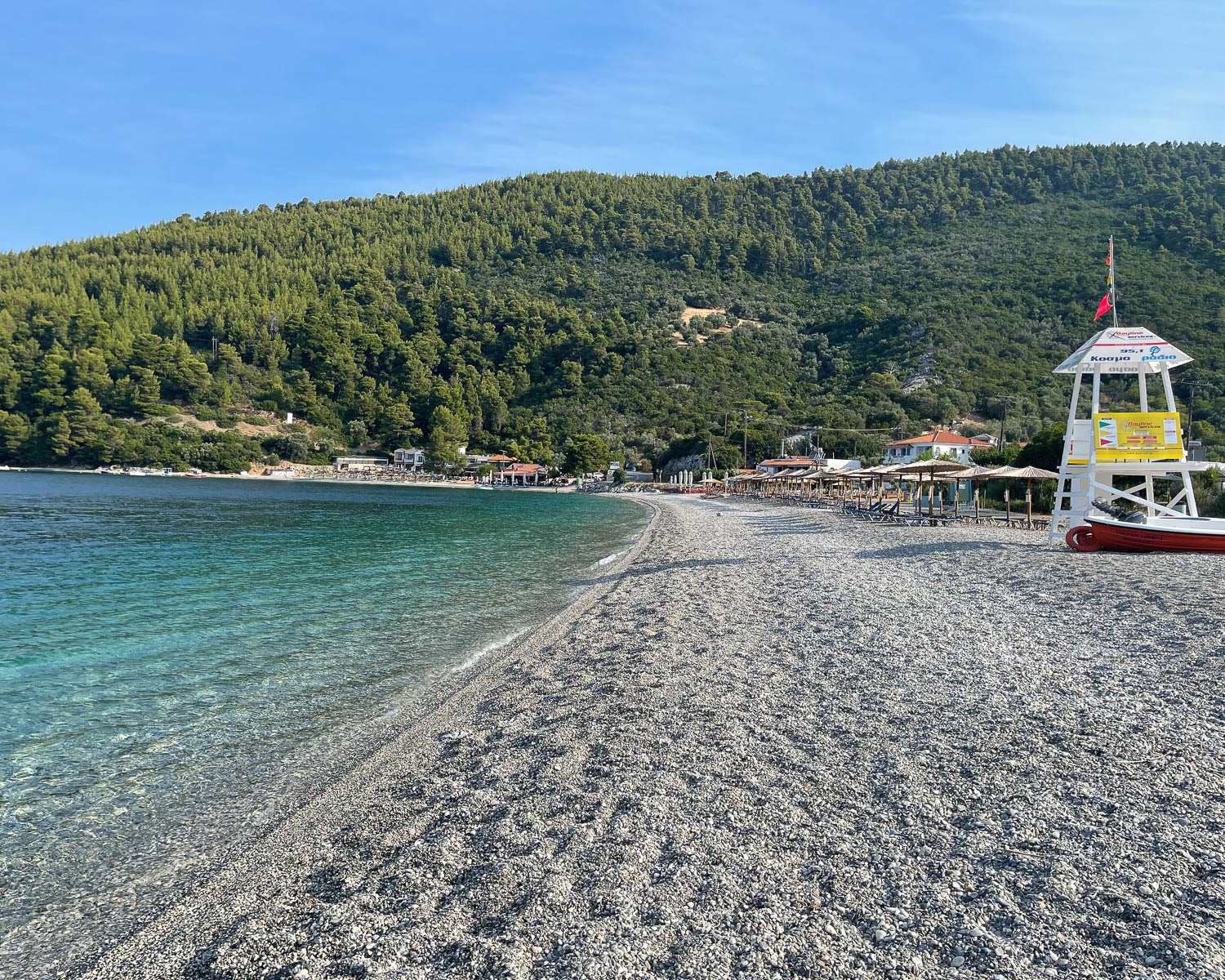 Katerina Apartments – a great budget option where we stayed, set down a lane a short walk from the beach, in a quiet location with beautiful gardens. There are several different sized studios and apartments with small kitchens and pretty balconies or terraces to sit outside. We enjoyed being among nature, while a 5 minute walk past olive groves and plum trees took us to the beach for our daily swim.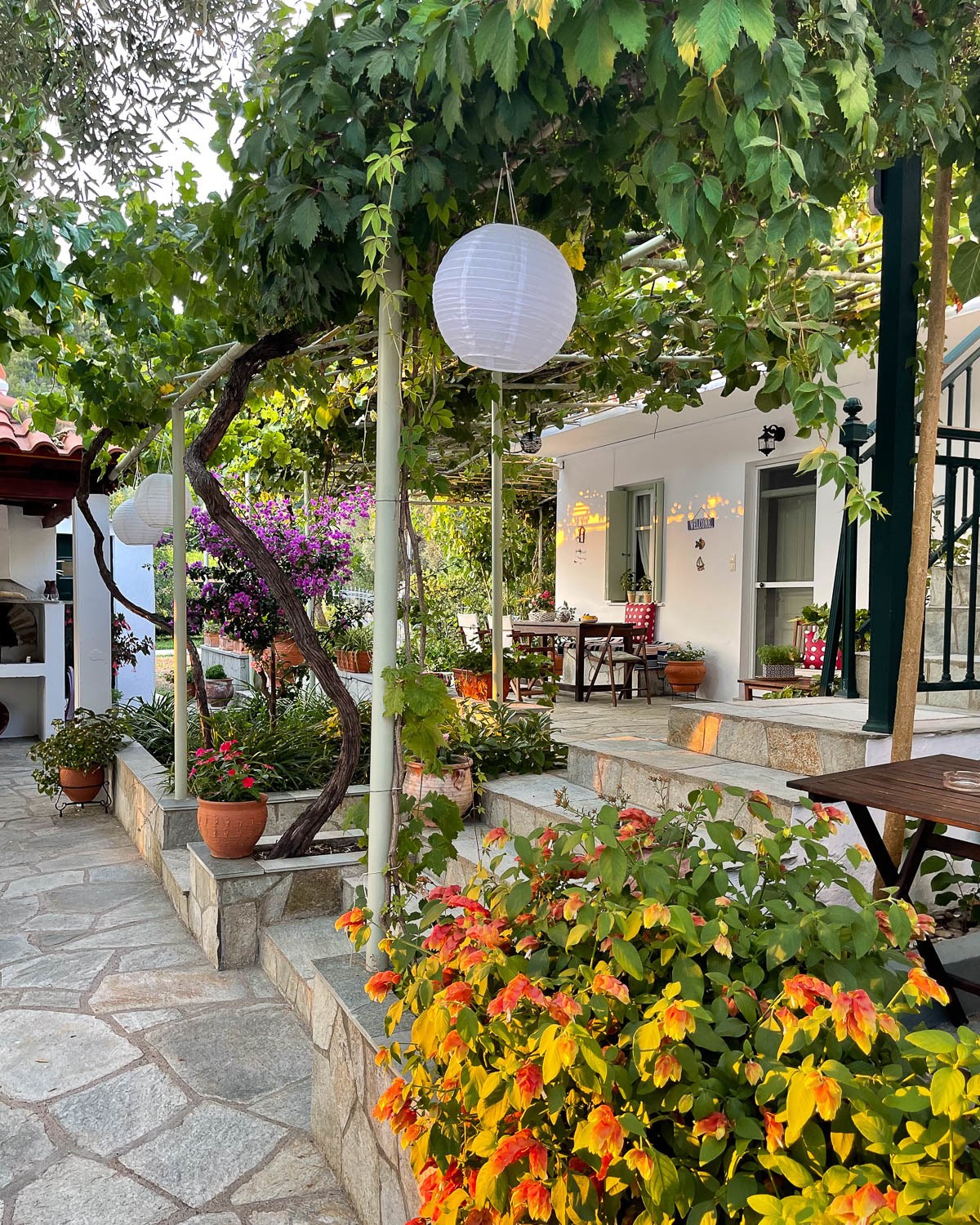 Psarianos Beachfront apartments – a stylish mid price option of studios in an old olive press with an enviable location right on the beach and a shady courtyard garden for sitting outside.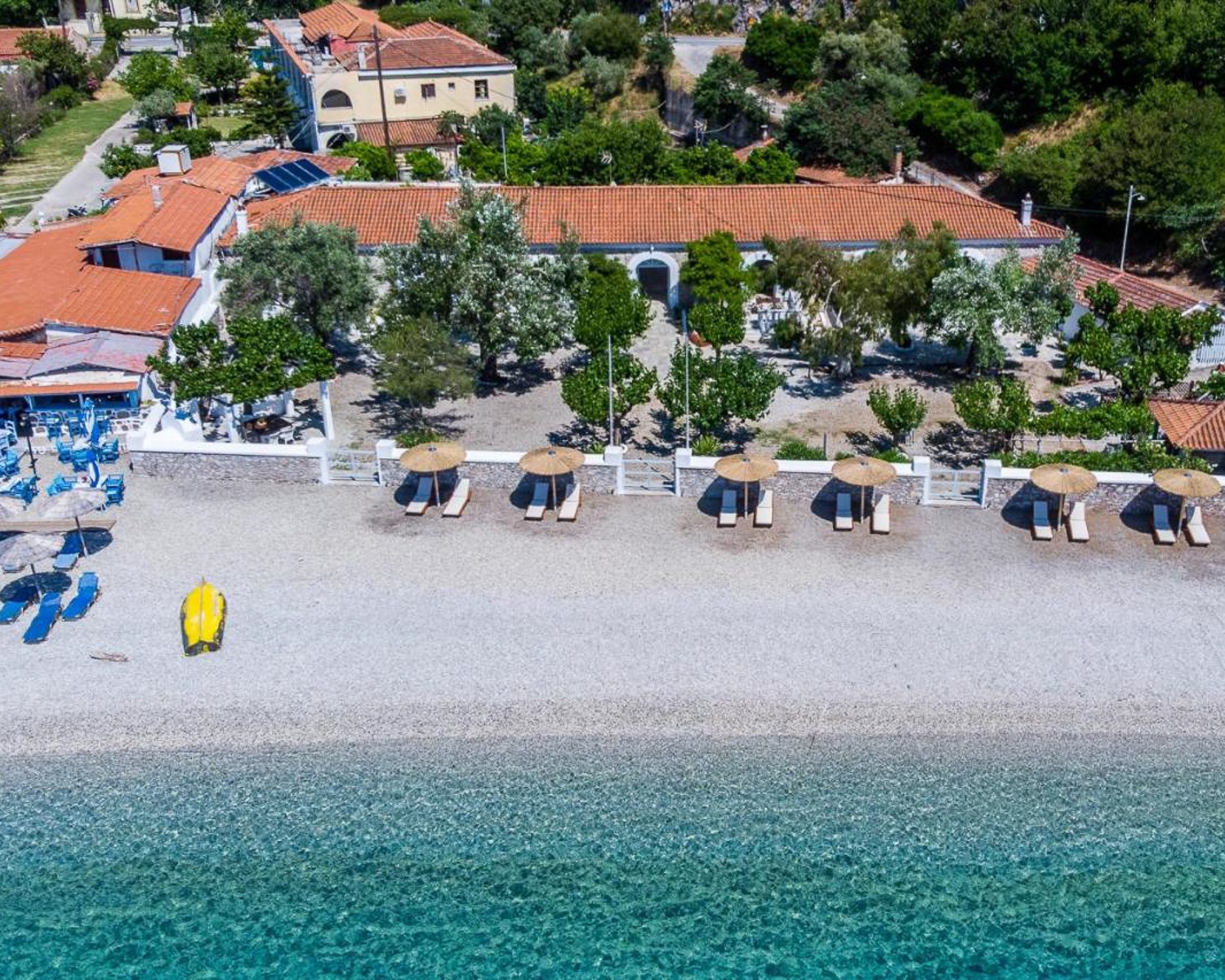 Adrina Hotel – a lovely 4 star hotel with 59 rooms, close to Panormos with its own small beach, where the Mamma Mia 2 cast stayed when they were doing interviews to promote the film. The accommodation is set on the hillside overlooking the sea with a pool, restaurant, dive centre and easy access to the other restaurants on Panormos beach. The 5 star Adrina Resort next door is owned by the same family and offers similar facilities with suites and deluxe villas.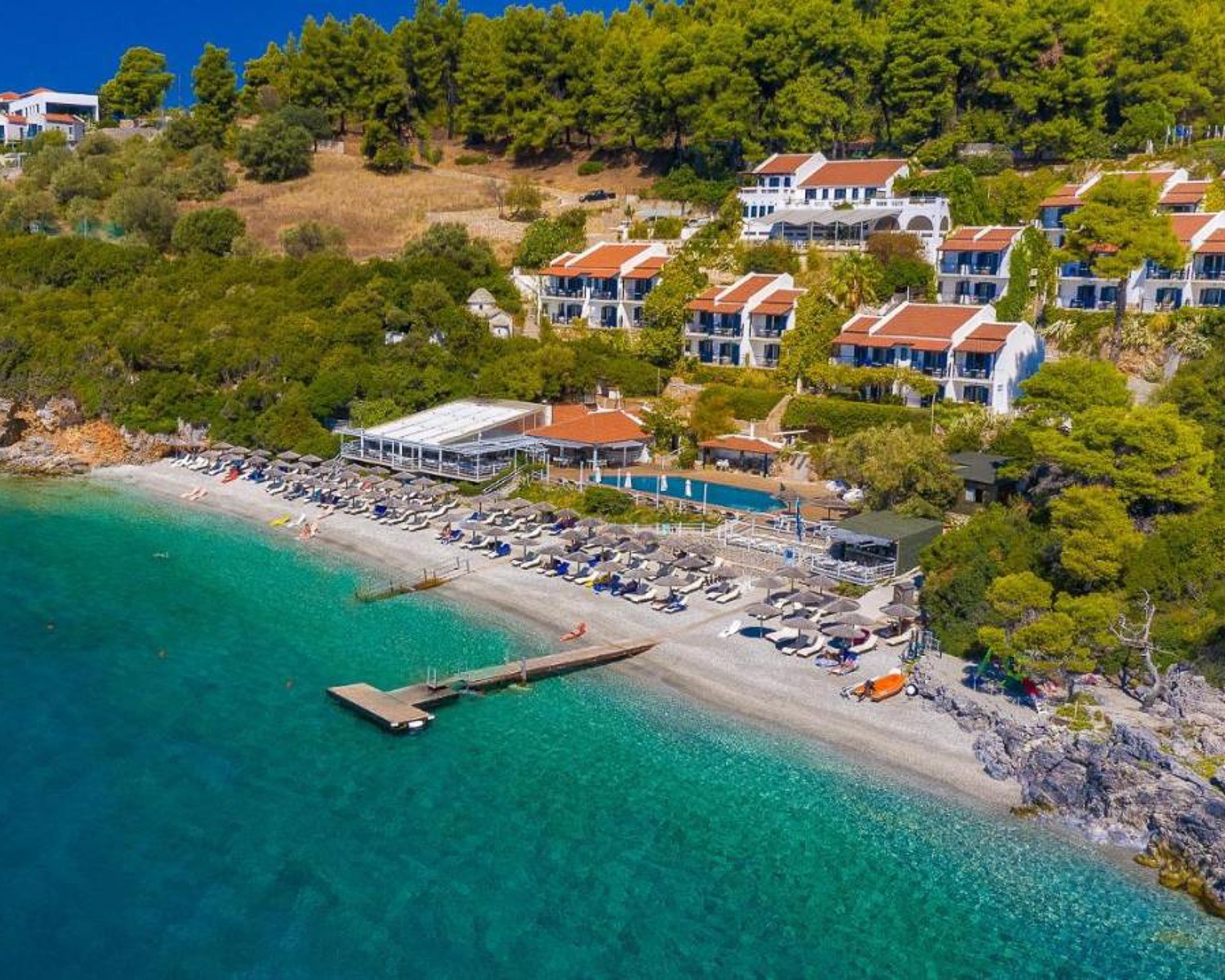 Stay in Skopelos Town
Many visitors choose to stay in the charming Skopelos town (Chora) which has a wide range of accommodation, from mainstream hotels to pretty apartments and studios in the narrow streets of the old town. There is a small town beach but it's nothing compared to the lovely beaches in other parts of the island, so you probably need to drive or take a bus to explore the island if staying in Skopelos town.
If you like to stay in a resort style hotel with pools and easy parking, there's a cluster of them on the eastern edge of town. If you want more local experience, search for an apartment in the maze of streets on the western edge of town, set under the Venetian castle and church of St Mary the Virgin. Check prices and book accommodation in Skopelos Town.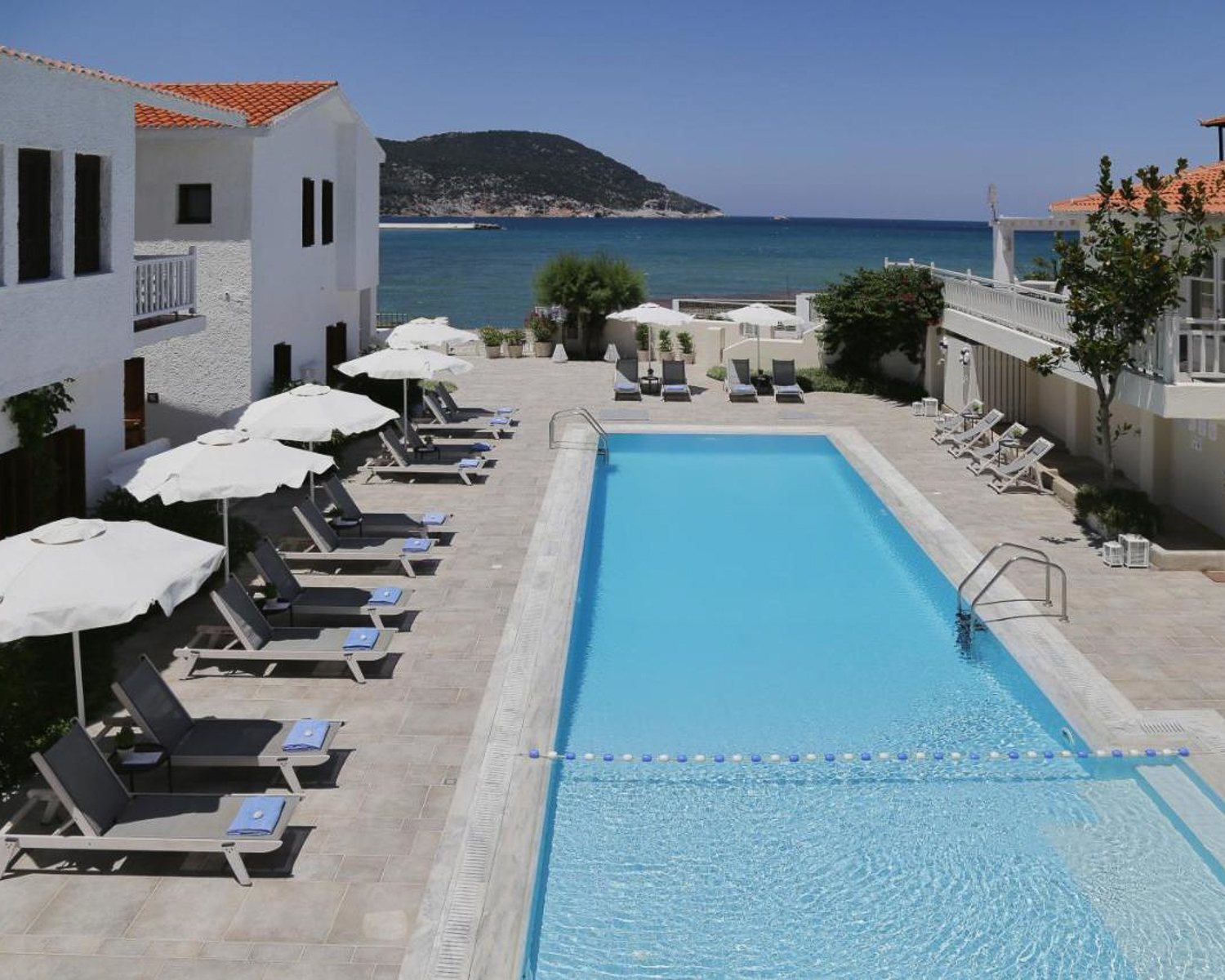 Skopelos Village Hotel – This mid range hotel is probably the best of the resort style hotels in Skopelos town, offering 48 rooms and family suites, with whitewashed accommodation buildings set around gardens and pool. It's on the seafront with nicely decorated rooms in pastel shades and its own restaurant.
Stay at Neo Klima
Neo Klima on the south coast of Skopelos is a small town and resort, with a pretty marina where you can book a boat trip, a couple of long beaches and plenty of accommodation options, mainly studios and villas. This is a good alternative on the south coast to Panormos and has easy access by car to Skopelos Town, Glossa and the other south coast beaches such as Milia and Kastani. Check prices and book accommodation in Neo Klima.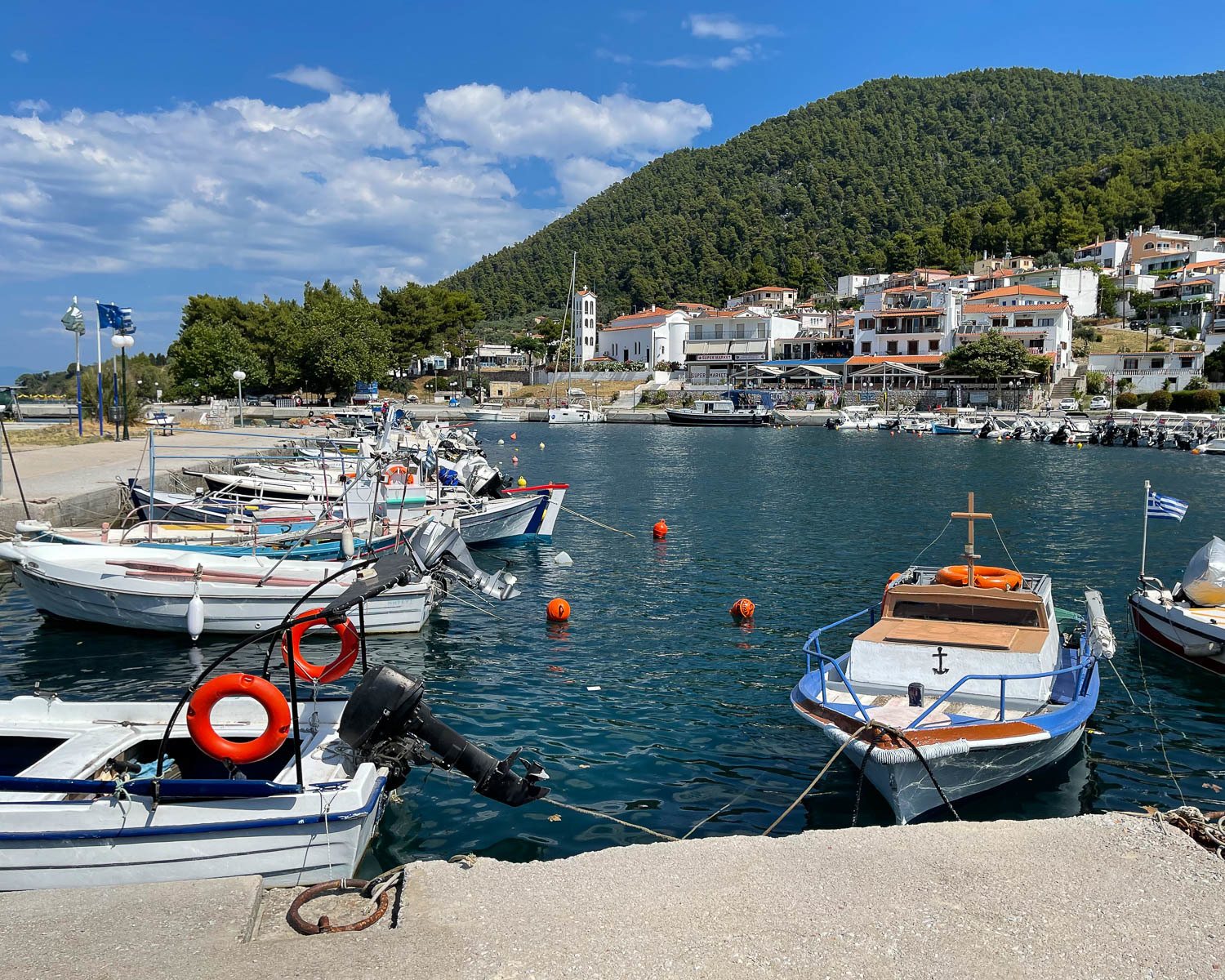 Stay in Stafylos
Stafylos beach is a good option to base yourself if you want to enjoy a lot of beach time, with a range of studios and holiday apartment as well as the Stafylos Suites and Boutique Hotel. Check prices and book accommodation in Stafylos.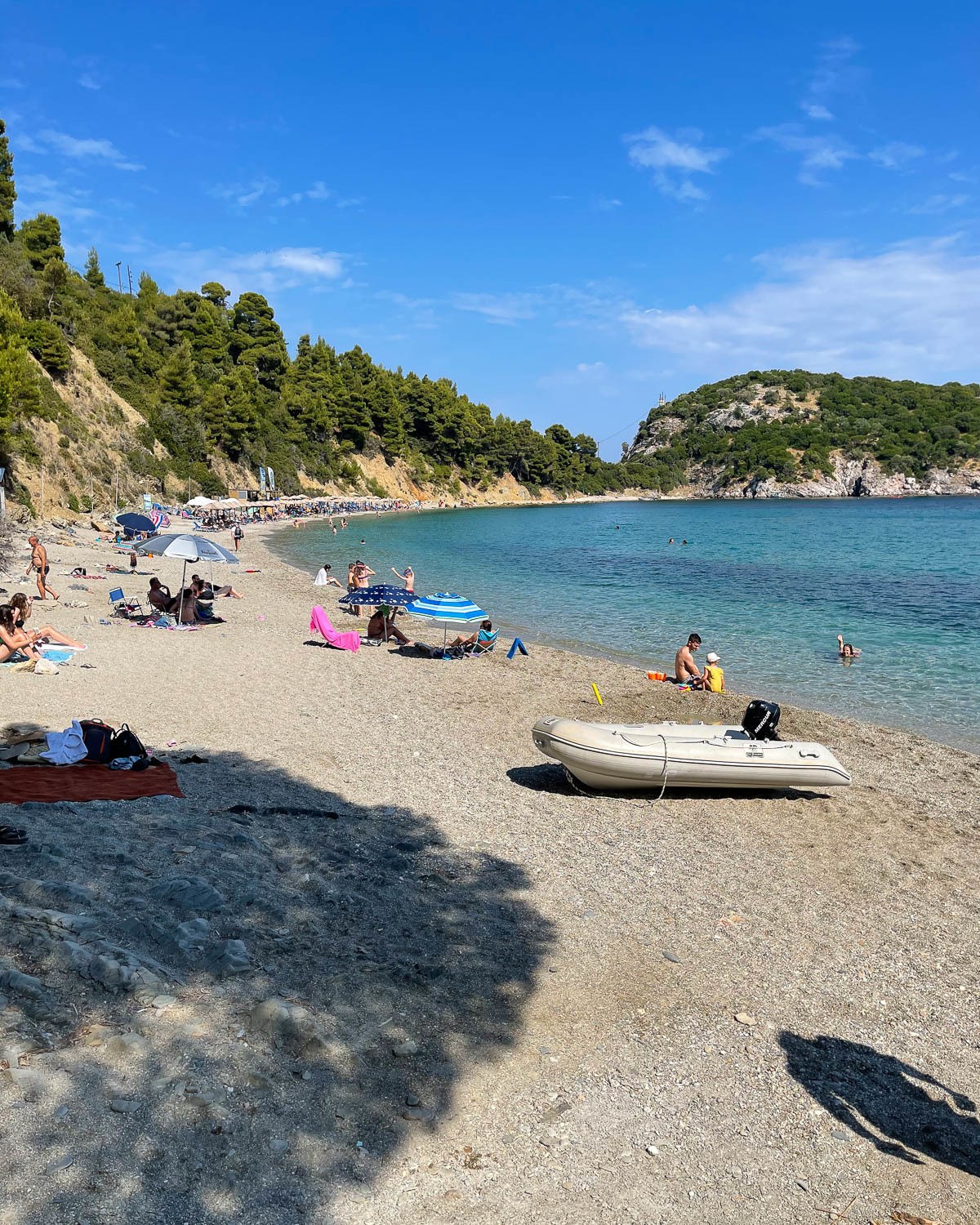 Stafylos Suites and Boutique Hotel – if you are looking for a beach holiday that's just a short drive from Skopelos Town, this hotel is a great option. Located on the high ground overlooking the beach, there are stunning sea views. You can choose to relax by the hotel pool or walk the short distance down the hill to the Stafylos beach, with water sports and a beach restaurant nearby.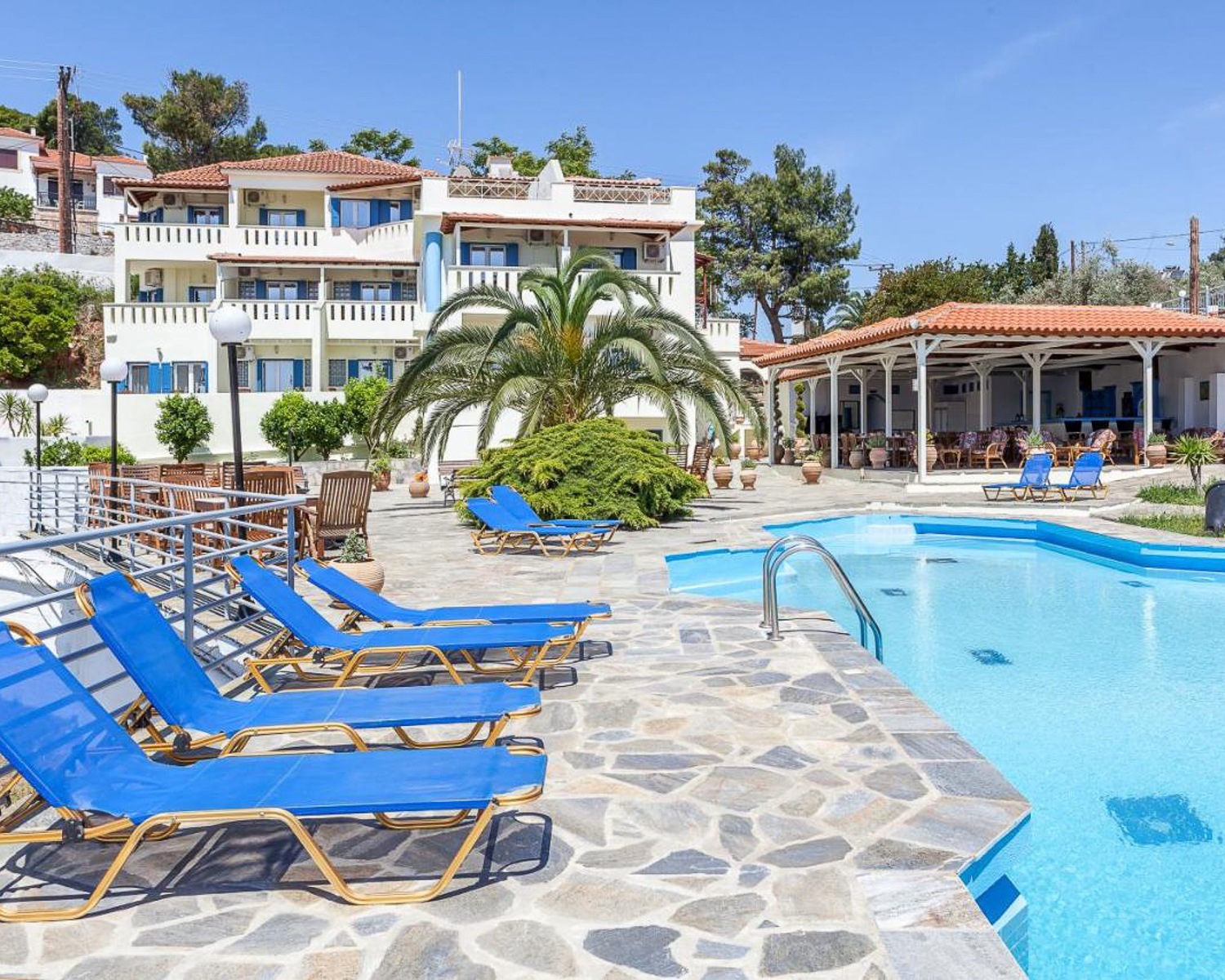 Stay in Glossa and Loutraki
I probably wouldn't stay in Glossa itself as the narrow streets have no space for parking a car and it's easier to visit it for a couple of hours. However, you could stay just below the town by the sea at Loutraki. Here there is a stylish boutique hotel and a range of holiday apartments and studios, with a few tavernas and easy access to the ferry which regularly arrives in the port. Check prices and book accommodation in Glossa and Loutraki.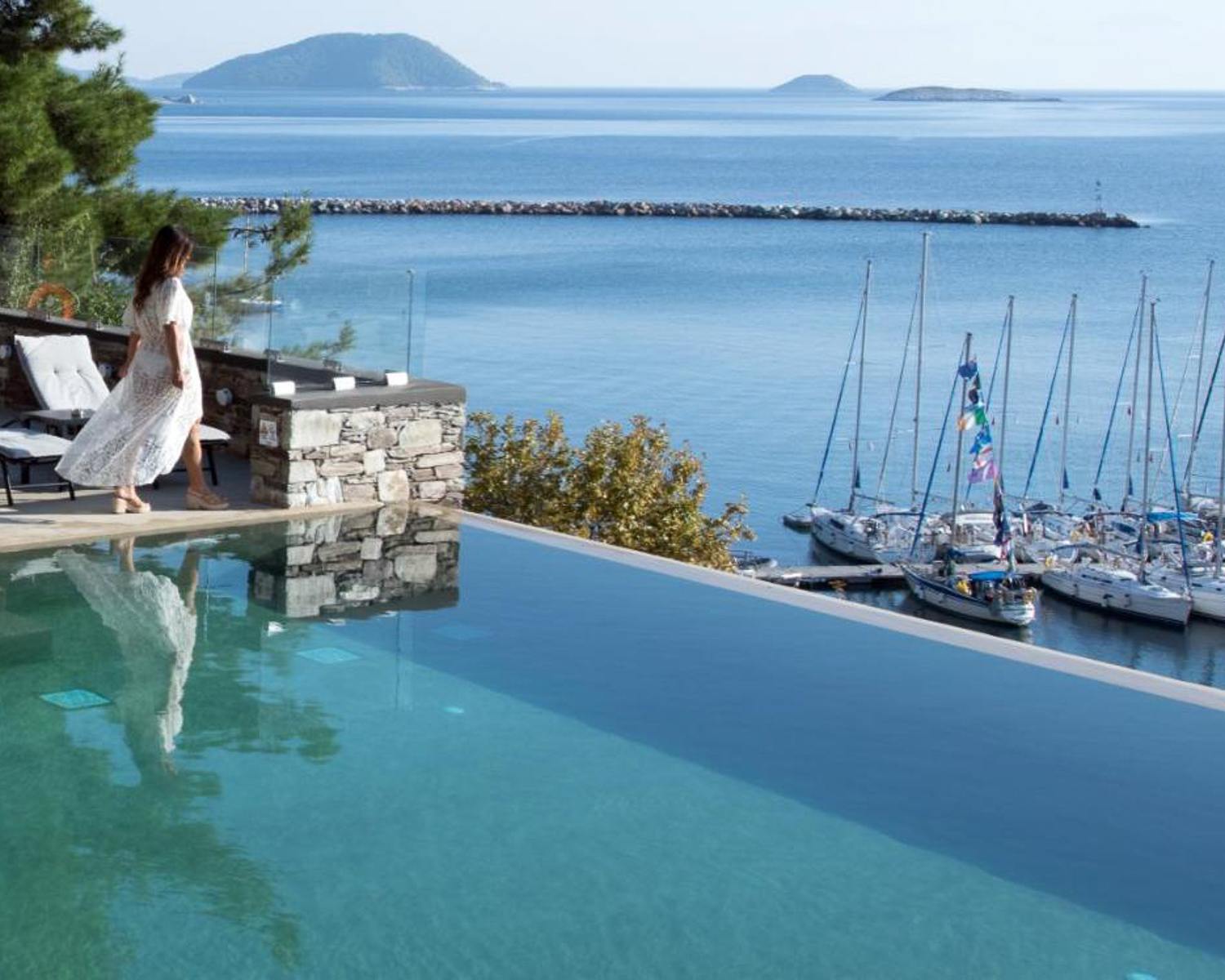 Natura Luxury Boutique Hotel – This boutique hotel with 31 rooms is ideal for stylish travellers looking for the perfect instagram photo, with a rooftop infinity pool and bar, restaurant and spa. There's only a small beach at Loutraki so you'll probably need a hire car to visit some of the other south coast beaches.
Best time to visit Skopelos
The smaller Greek islands like Skopelos tend to have a shorter season for visitors than larger islands or the mainland. Most places will be open for tourists from May to September. In May the temperatures are warming up to around 20 degrees Celsius rising to 30 degrees Celsius and above in July and August. May and September / October are good times to visit for cooler temperatures, walking and outdoor activities, while the summer months of July and August are great for beach weather.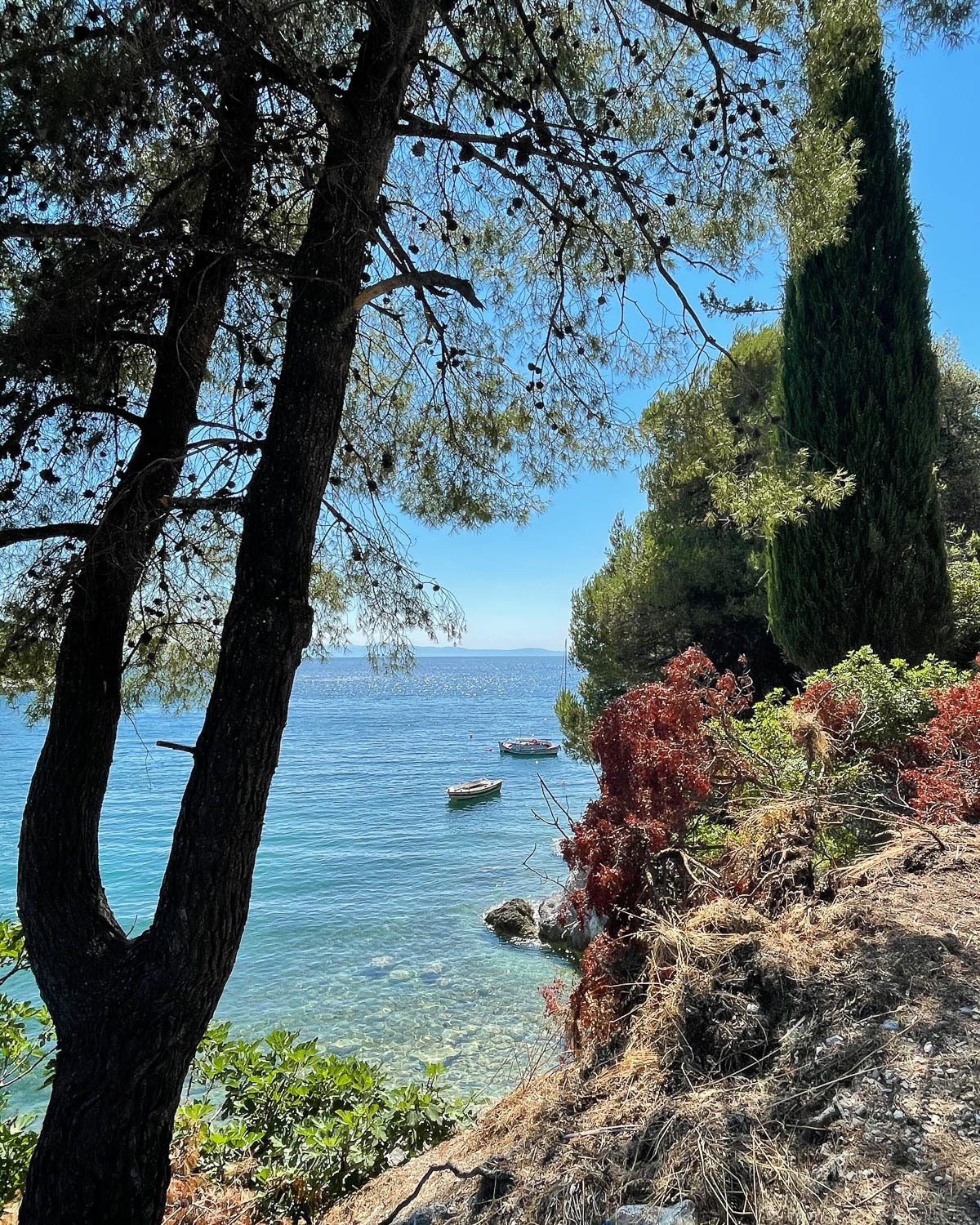 Late July and August is peak season when the Greeks head to the islands and so everything tends to be much busier and more booked up. If you visit outside the main season of May to September, you may get beautiful weather, but it's less predictable and some restaurants, accommodation and services may not be open. The choice of flights, ferries and buses is also likely to be less. We visited in June and found the perfect balance of good weather, everything open but not too many crowds.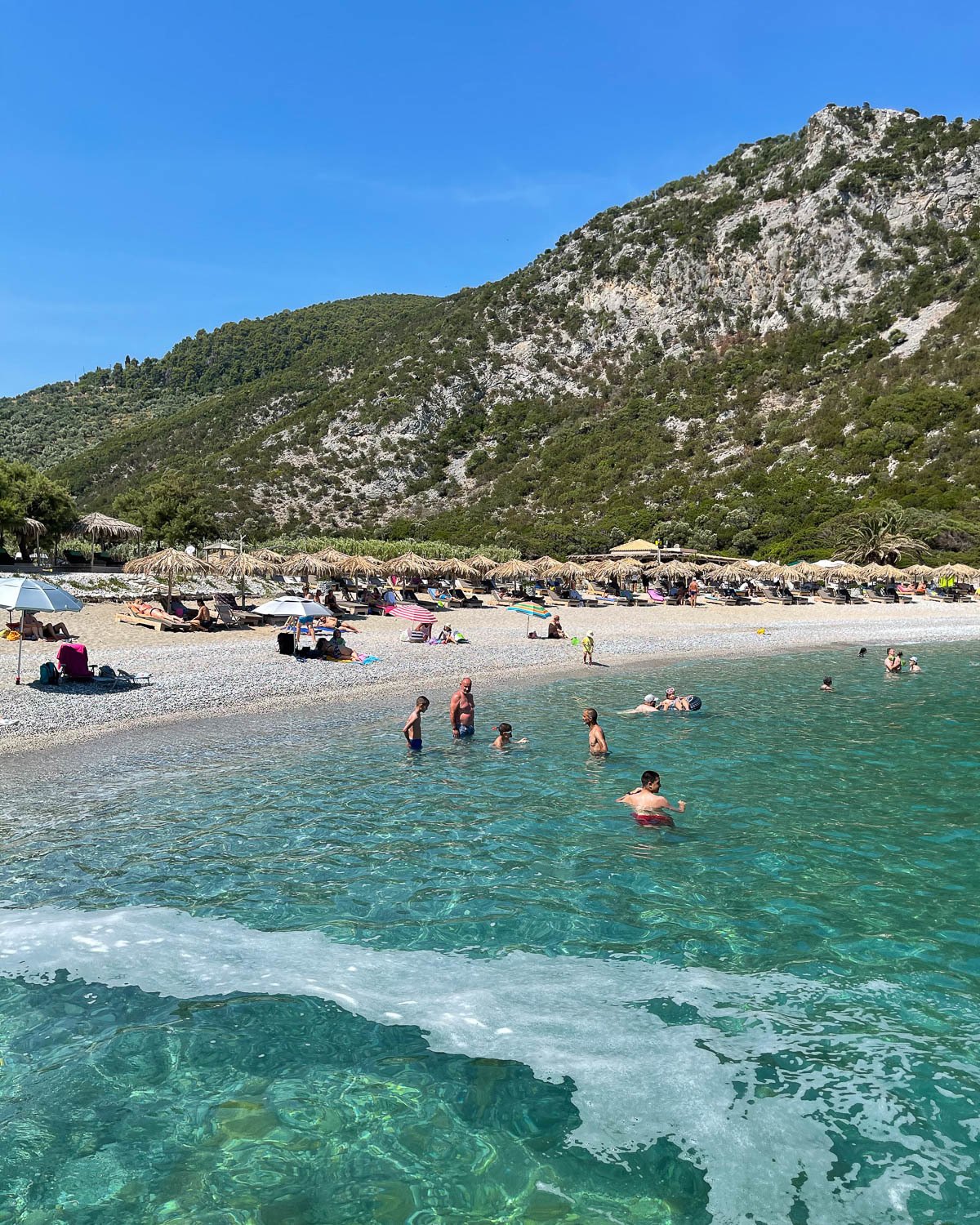 How to get to Skopelos
Airport links for Skopelos
There is no airport on the island of Skopelos itself. The closest international airport is on the neighbouring island of Skiathos, which serves the island group of the Northern Sporades. From Skiathos it's a 1 hour ferry ride across to Skopelos. An alternative airport is Volos, which is mainly used for summer charter flights. From Volos there are a regular ferries to Skopelos that take between 2 and 4 hours.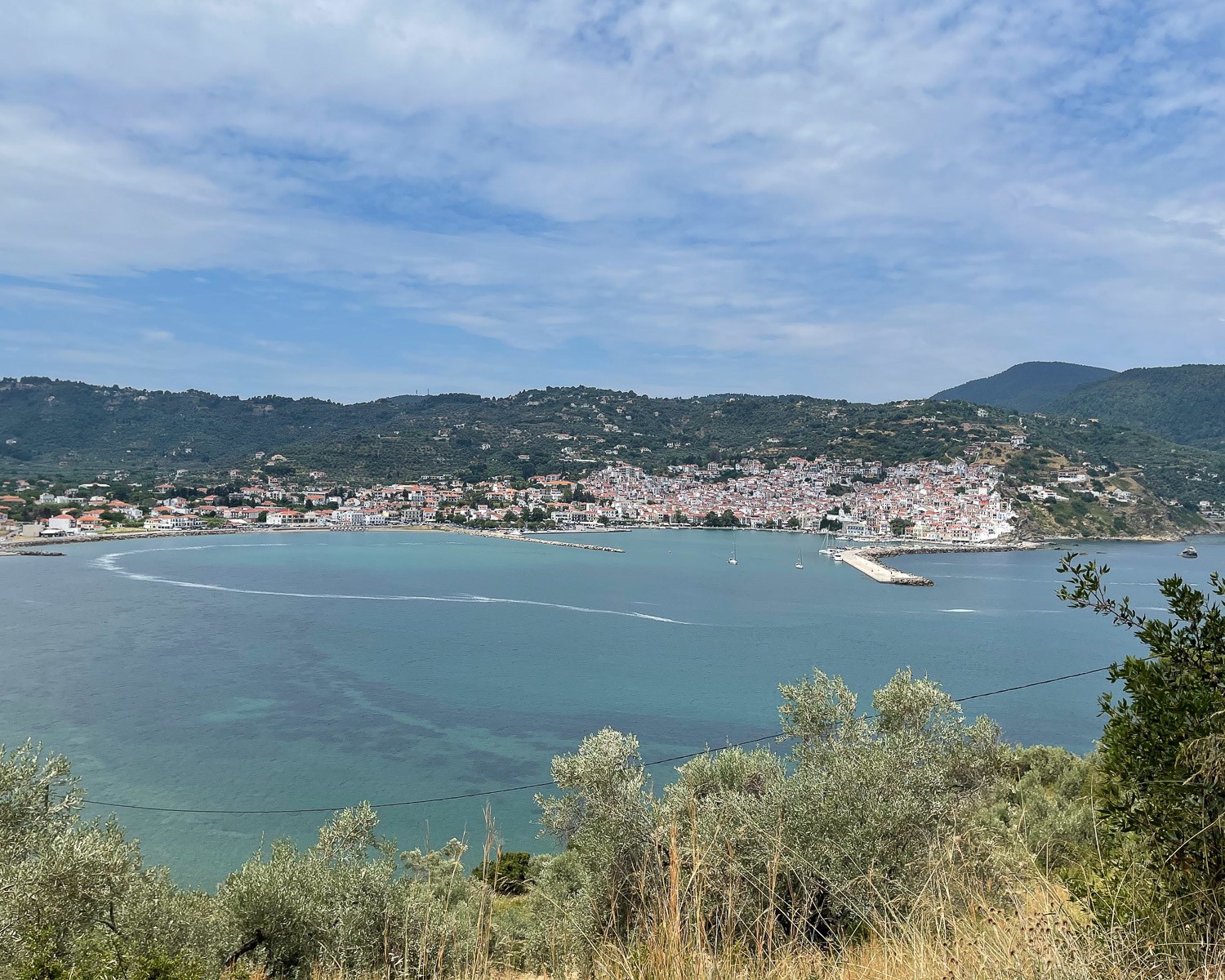 Other major international airports to use are Thessaloniki or Athens and then you would need to travel by bus or train to Volos and then take the ferry. An alternative would be to fly to Athens and then take an internal flight to Skiathos and then a ferry to Skopelos. If travelling via Volos I'd recommend you break your journey here and see a bit of the city – read my guide to all the things to do in Volos.
Ferry to Skopelos
Due to there being no airport on Skopelos, you'll need to reach Skopelos by ferry, either from Volos, Thessaloniki or from Skiathos, depending on which airport you fly into. Ferries between Volos and the Sporades islands are operated by Hellenic Seaways, Anes Ferries, Blue Star Ferries and Aegean Flying Dolphins. It's worth comparing the different operators as they vary in price and journey time. Ferries from Thessaloniki are with Sea Jets. The cost of a 1 way journey from Volos to Skopelos ranges between around €20 and €40 and from Skiathos to Skopelos between around €10 to €16. You can check prices for all the ferry companies here.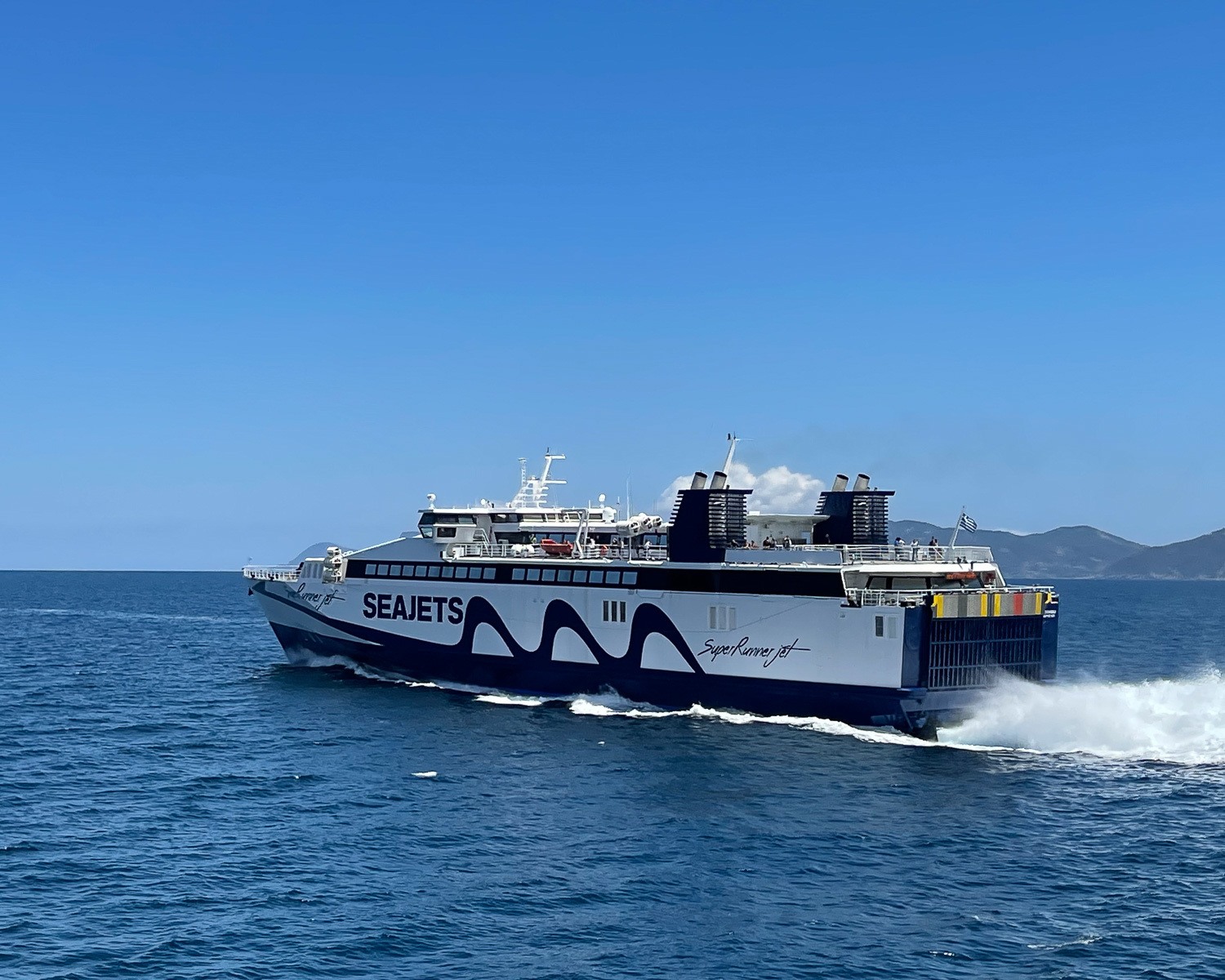 The ferry time between Volos and Skopelos ranges from 2 hours with the Flying Dolphins hydrofoil to 4.5 hours with Hellenic, Anes or Blue Star Ferries. From Skiathos to Skopelos is 30 mins – 1 hr journey time. Most of the ferries make a loop from Volos, stopping at Skiathos, Skopelos and Alonissos in turn. On Skopelos they often make 2 stops at Glossa Skopelos, the smaller port on the west side of the island and then the main port of Skopelos (Chora). Unless your accommodation is very close to Glossa, I'd recommend arriving in the main port of Skopelos, which has good bus links and where most of the car hire offices are based. You can check prices for all the ferry companies here.
Getting around Skopelos
Car hire on Skopelos
If want to see the maximum during your stay on Skopelos, I'd recommend hiring a car. We find that on the Greek islands car hire prices can be very reasonable outside high season, although in July and August it may cost more as this is the peak season with limited supply of cars to hire. Having a hire car means that you can easily visit all the best beaches, do some interesting hikes and generally get to parts of the island that the buses don't reach. As Skopelos is only 17 km long and can be driven from end to end in an hour or two, the driving is easy and pleasant here. Compare prices for car hire in Skopelos.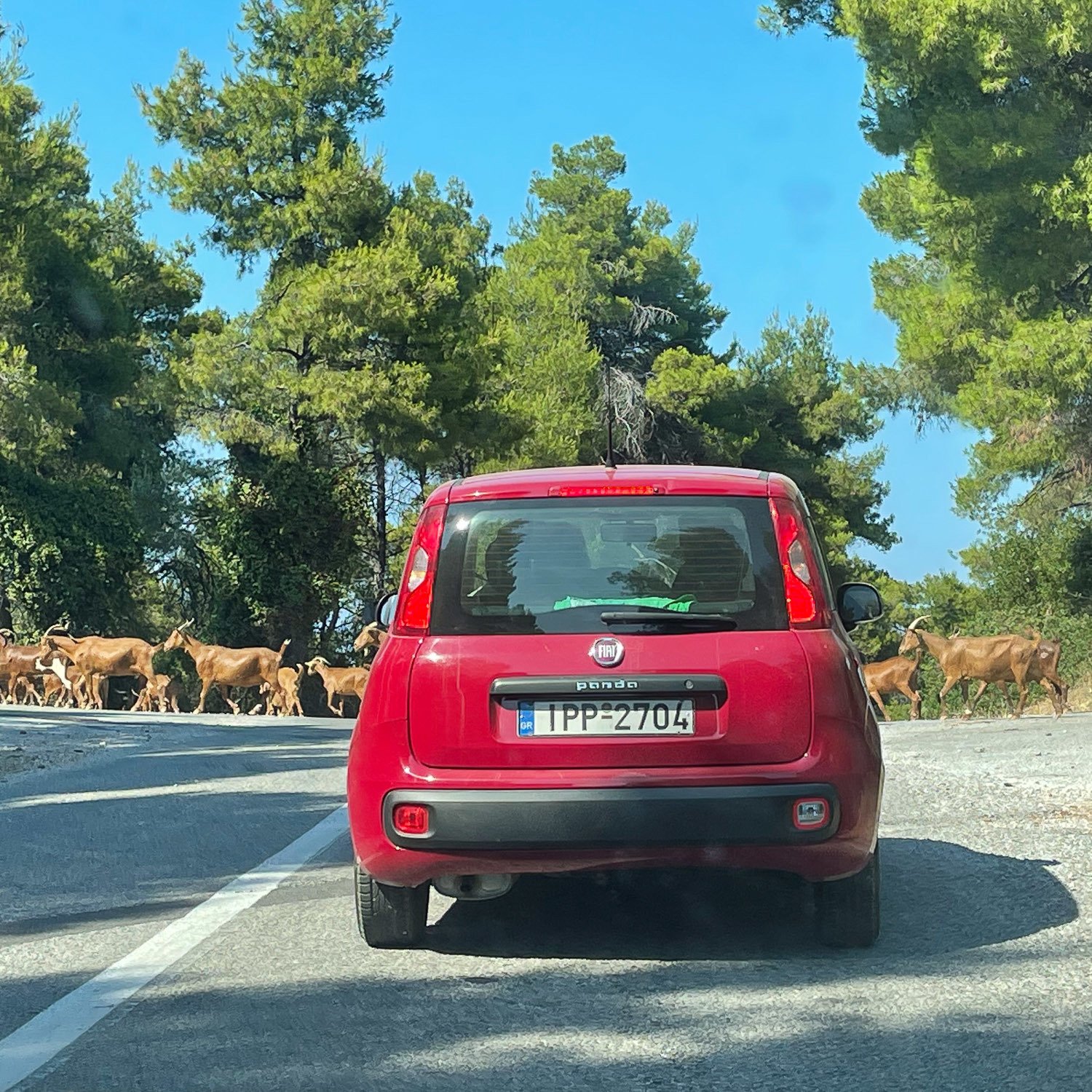 There are a number of car hire offices located within a short walk of Skopelos (Chora) port. For prebooked cars you will often be met where the ferry docks and driven the short distance to the office to complete the paperwork. You'll also get the best price if you prebook online, as you can compare all the providers. Be sure to look at customer reviews and rating scores as well as price before you make a final choice. We used Green Motion on Skopelos, who have an office in the port and were very happy with their service. Compare prices for car hire in Skopelos.
Buses on Skopelos
If you are looking for a relaxing break, with just the occasional excursions then you will find the buses on Skopelos are reliable and go to most of the popular beaches and villages. This will be a much cheaper option than hiring a car, but you need to work your timings around the bus schedule as there may only be a few buses per day, especially outside high season.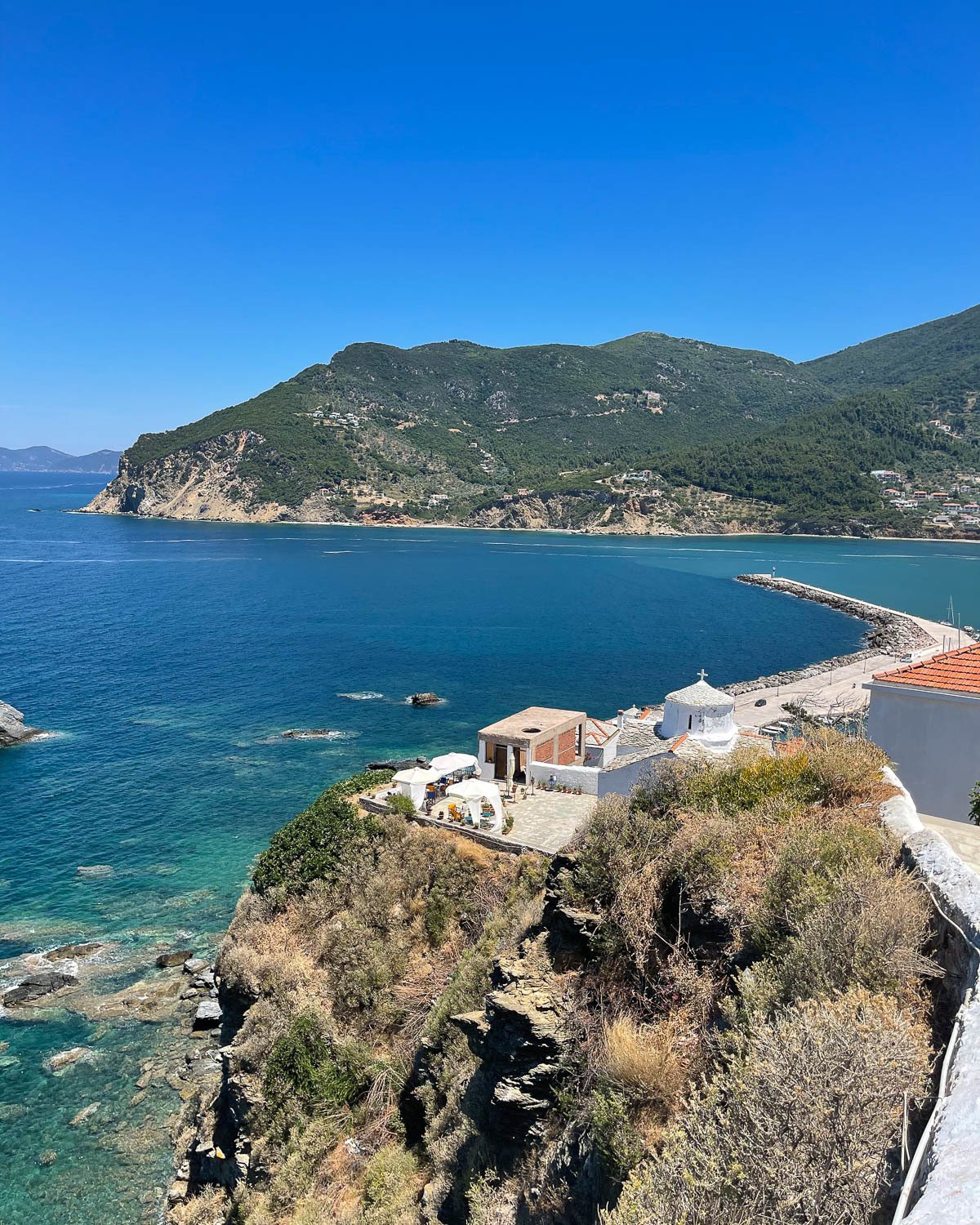 Many of the buses start and end in Skopelos, so this could be a good place to base yourself if you plan to make a lot of journeys by bus. The bus station in Skopelos town (Chora) is right by the port where the ferries arrive and timings are listed on a noticeboard. 4 different bus routes run with stops at Stafilos, Agnontas, Panormos, Milia, Kastani, Neo Klima, Glossa and Loutraki. If taking the bus to the beach, the bus may drop you a short walk from the beach, depending on the road access. A one way bus journey is typically between €2 and €4.
Taxis on Skopelos
Taxis may be useful for the occasional journey when the buses are not running, to get you home late at night or to get to more out of the way places. However the cost of taxis can add up, so if you make a lot of trips you'd probably be better hiring a car.
There are taxi ranks in Skopelos town (Chora), Loutraki port and Neo Klima. Otherwise, ask your restaurant or hotel to call you a taxi. Taxi meters are not used but instead there is a set rate for each journey, so check with the taxi driver on the cost before you start.
Bike hire on Skopelos
If you'd like to explore the island by bike, check out Skopelos Cycling in Skopelos Town (Chora) near the post office. You can hire a bike from them and they also run cycling tours of Skopelos.

Pin it
This article is originally published at Heatheronhertravels.com