On the Greek island of Zakynthos I've been enjoying plenty of beach time while on holiday, hanging out with my daughter, my Greek niece and her friends. From behind my (designer) sunglasses I've been observing Greek beach etiquette and realising how different it is from a British day out at the seaside. The stylish Greek girls laugh at the English holiday-makers who get it wrong in every way on the beach, so if you want to blend in with the cool crowd on the beach, here's where you need to know about Greek beach style;
1. Don't think that the beach is free
If you're used to a week in Cornwall you may imagine that on your Greek holiday you'll be laying your towel out on the sand and unpacking the picnic you brought with you. The beach is free, right? Wrong! In Greece you need to rent a pair of sunbeds which will cost you €4-10 for the day. No self respecting Greek would lay their towel on the sand unless they were in a completely deserted spot with no beach bar.
The sand is way too hot for a start and there's no shade, besides you need that handy table to put your drink and you'd want to relax and chat your friends without getting sand in your hair. Some beach bars don't charge for sunbeds but you'll still be expected to order a couple of drinks at the bar. For sun-beds and drinks you probably need to budget €10-15 for a day at the beach.
You may also enjoy: 20 fabulous things to do in Paxos, Greece
2. Don't try to get bronze in a week
The Greeks look on with astonishment at the English girls who lie in the sun for hours, desperate to go home after a week's holiday with a deep and lasting tan. You'll never see a pink and peeling Greek girl. The Greeks respect the sun and will either stay in the shade or sunbathe for short periods with plenty of sun-cream and then have a siesta in the hottest part of the day. Why worry about your tan when the summer stretches ahead of you with plenty of beach time to develop that gorgeous brown body.
Review my favourite sunscreen products and more on my beach trip packing list
3. Understand the importance of a stylish bikini
In the magazines you may admire those elegant one piece or tankini swimming costumes and think that they are just the thing to cover up any embarrassing bulges. But in Greece everyone from the largest to the slimmest, from your daughter to your granny wears a bikini, so leave your one-piece to wear in the pool back home. In the blistering Greek summer a one-piece would just be too hot and inconvenient.
And while we're on the topic of Greek beach etiquette, the Greeks always wear their bikini to the beach, never change when they get there. Slip on your micro-shorts and a transparent, floaty top to show off your figure and you'll be considered stylish but not slutty.
On the sun bed or in the beach bar you can pose in your tiny bikini, go for a swim, dry off and then cover up again to go home where you'll shower and change before dressing up for an evening meeting your friends in the bars and clubs.
If you're wondering whether you can go topless in Greece, topless sunbathing is legal but uncommon among the locals, so if you see someone going topless in Greece they are probably a tourist. If you want to do it, find a quiet spot at the end of the beach and you probably won't be bothered.
4. The coffee comes chilled not hot
Why would you order a hot drink when the temperature is in the 30's? The Greeks love their coffee too but it has to be chilled. To be like a Greek you need to order a "Freddo" coffee, which is the typical Italian style of coffee such as espresso or cappuccino, but on ice. When the guy comes round to take your order as you lie on the sunbed, make it a Freddo cappuccino, Freddo Espresso or a Freddoccino (iced mocha coffee with chocolate).
If you need something stronger then order an iced beer although the Greeks would never drink more than one or two since they'll be going home for a home cooked meal later on and wouldn't want to appear drunk in front of the parents.
5. Why spend the day at the pool when you can go to the beach?
The Greeks can't understand why the Brits come on holiday for a week and then lie by the pool rather than going to the beach. You can find a pool in any city or hotel, but when you are on holiday you surely want to make the most of the beautiful beaches and swim in the sea as much as possible. The Greeks believe the pool water is full of chemicals and other people's sweat, while the sea is natural and healthy.
There's a Greek saying that if you swim in the sea all summer, you'll be healthy all winter. The Greeks on holiday will also want to see as many different beaches as possible and will hire a car to go and explore the best ones rather than keep returning to the same place. On Zakynthos you could probably find a different beach or rocky cove for every day of the month and still have not seen them all.
6. Be sure to wear the latest designer sunglasses
The sun in Greece is strong, so the Greek girls understand the importance of a good pair of sunglasses that will protect your eyes. This is an investment purchase, not a bit of 5 euro fun to throw away at the end of the holiday. A Greek girl will buy a new pair of designer sunglasses each summer, depending on the latest fashion, so she has a few pairs in her wardrobe.
Last year it was all bright frames, this year it's oversized rounded frames and iridescent lenses. My Greek fashion spies tell me that in Athens everyone is wearing wooden framed sunglasses, so next summer you'll probably see them on every Greek beach.
You can find a selection of sunglasses on my beach trip packing list
Now you have all the Greek secrets for a stylish day on the beach where you can blend in with the locals and not stand out like a beetroot. Thanks to Sophia, Nicki, Fruzsi, Ezster, Tolya, Sophie-Anne and Georgie – my beach babes and Greek style advisors.
Pin It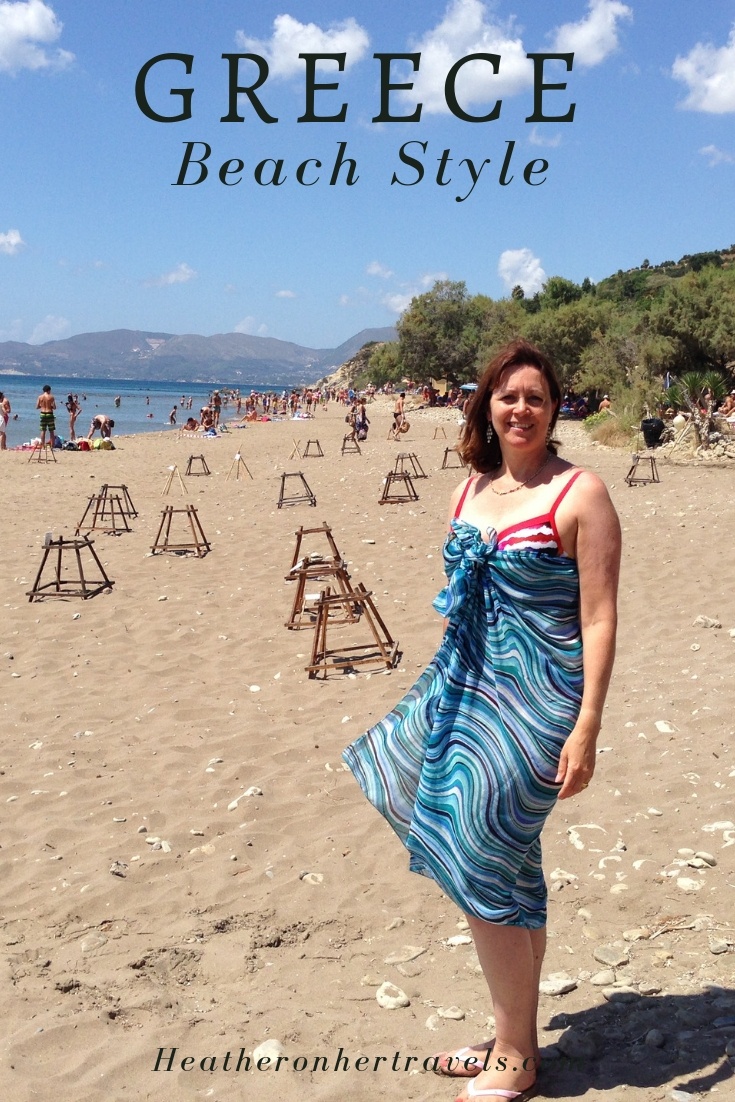 More things to see in Zakynthos
Shipwrecked on Navagio – the most photographed beach on Zante
Swimming the turquoise blue at Porto Limnionas
10 gorgeous beaches and places to swim on Zakynthos
This article is originally published at Heatheronhertravels.com – Read the original article here
This article may contain affiliate links that provide commission on purchases you make at no extra cost to you. As an Amazon Associate I earn from qualifying purchases.