Well known for its gorgeous beaches (apparently there's one for every day of the year!) Antigua certainly lives up to its reputation as an island paradise. Driving around the island I found some of the best beaches in the Caribbean, with soft white sand, swaying palm trees and crystal clear water. But there's much more to see in Antigua, with the heritage sites around Nelson's Dockyard and English Harbour, a lively sailing community, art galleries, hiking trails and adventure activities.
This article may contain affiliate links that provide commission on purchases you make at no extra cost to you. As an Amazon Associate I earn from qualifying purchases.
I spent a week on this picturesque Caribbean island, so read on to discover all the top things to do in Antigua, including the best beaches, restaurants and places to stay. I've grouped the activities together by location so that you can easily find places of interest on Antigua that are close to each other.
You may also enjoy: Discover the best Antigua beaches to enjoy on your Caribbean holiday
Location: Around English Harbour in Antigua
1. Nelson's Dockyard Antigua – a working Georgian Dockyard and Heritage site
Let's start our tour at Nelson's Dockyard on the south east coast of Antigua, which is part of the UNESCO World Heritage site of English Harbour. In the 18th century, the sheltered waters of English Harbour provided the British Royal Navy with a safe haven from hurricanes and a place to repair and re-provision their ships. It was the harbour's strategic position that enabled the English fleet to maintain its strong position in the Eastern Caribbean.
Admiral Horatio Nation was stationed here as a young sea captain from 1784 to 1787 and the dockyard was named after him when it was restored in the 1950s as a heritage attraction. Visiting Nelson's Dockyard is one of the best things to do in Antigua, combining historic buildings with a working marina and dockyard, where yachts regularly stop on their sailing voyages around the Caribbean.
While you're in the Dockyard, you can take a guided tour (this will often be included in a Antigua cruise excursion or other island tour) or walk around on your own to read information from the interpretation boards. If you download the GeoTourist app to your phone before you visit, they have a free self-guided audio tour of Nelson's Dockyard. Some of the key things to see here include;
Admiral's Inn – Located at the gates of the dockyard, this boutique hotel was formerly a storehouse with accommodation for Navy engineers above. The adjoining garden with stone pillars was the site of a boat house and sail loft, which was destroyed in a 19th century earthquake. The Pillars restaurant of the hotel extends out onto the shady terrace and is a pleasant place to stop for lunch, or you can take the short water shuttle service across the water to the Boom Pool bar and restaurant.
Dockyard Museum – Set in the Naval Clerk's House this museum is included in your ticket and gives information about the dockyard and its history, with objects in everyday use, documents and artefacts from its 18th century heyday.
Dockyard Bakery – Stop at this small bakery behind the museum to buy snacks, drinks and bakery items. The bakery still uses some of the original ovens that supplied the dockyard with fresh bread.
If you only have a short time on Antigua, why not check out this 3.5 hour Island Tour that includes Nelson's Dockyard and Shirley Heights.
Copper and Lumber Store Historic Inn – Constructed in 1789, this brick building with internal courtyard is a good place walk through and order a drink. The open reception rooms downstairs have information about the building's historic use, as a warehouse to store lumber and copper plates to repair the bottom of ships.
Now a boutique hotel, the 14 bedrooms overlooking the courtyard are named after the ships in the Battle of Trafalgar. You might like to stop for lunch to take advantage of the shade and cool sea breezes, or book for dinner on Friday evenings when they host a Seafood Friday dinner.
Looking for somewhere to stay? Check out some of the Best Antigua Hotels
Officer's Quarters – Built over large water cisterns, this building provided accommodation for Naval officers while they were waiting for their ships to be repaired and is now used to house offices and gift shops.
The Galley Bar and Restaurant – Overlooking the harbour, this was originally the galley to feed the sailors working in the dockyard, but is now a bar that's a favourite in the evening with the yachtie crowd who have their boats moored in the harbour.
You may also enjoy: 20 fabulous things to do in St Lucia
Fort Berkeley – Walk along the small peninsula that borders the dockyard to take a look at the cannons and gunpowder store of Fort Berkeley, which was built in 1704 to protect the entrance to English Harbour.
More info: Nelson's Dockyard Website | Open Mon – Sun 8am – 6pm although you can visit the hotels / bars at other times if open | Admission $8 US | Bars and restaurants include: Admiral's Inn | Copper & Lumber Store Historic Inn | The Galley Bar
2. Take a boat tour of English Harbour Antigua and see the Pillars of Hercules
On the harbour in front of the Copper and Lumber Store Historic Inn, there's a water taxi service which I can recommend as an inexpensive way to see a bit more of the harbour. A short boat tour enables you to view see some of the historic building and forts from the sea, as well as interesting geological features like the Pillars of Hercules.
This limestone cliff at the mouth of English Harbour has been eroded to create pillar like formations and offers some of the best snorkeling in Antigua, where you can see colourful fish, sea urchins and turtles. You can also use the water taxi to take you across the harbour to Galleon Beach and arrange a time to be picked up, although the water taxi runs back and forth at regular intervals.
Check out this 2 hour Turtle Beach Power snorkelling adventure that takes you to snorkel at the Pillars of Hercules.
3. Boom restaurant and pool bar – relax overlooking English Harbour Antigua
Right across the water from Admiral's Inn is their sister hotel Gunpowder Suites and the Boom restaurant and pool bar. I recommend this as a place to visit in its own right, due to the stunning location and views, and because if you book for lunch there, you can also use their infinity swimming pool.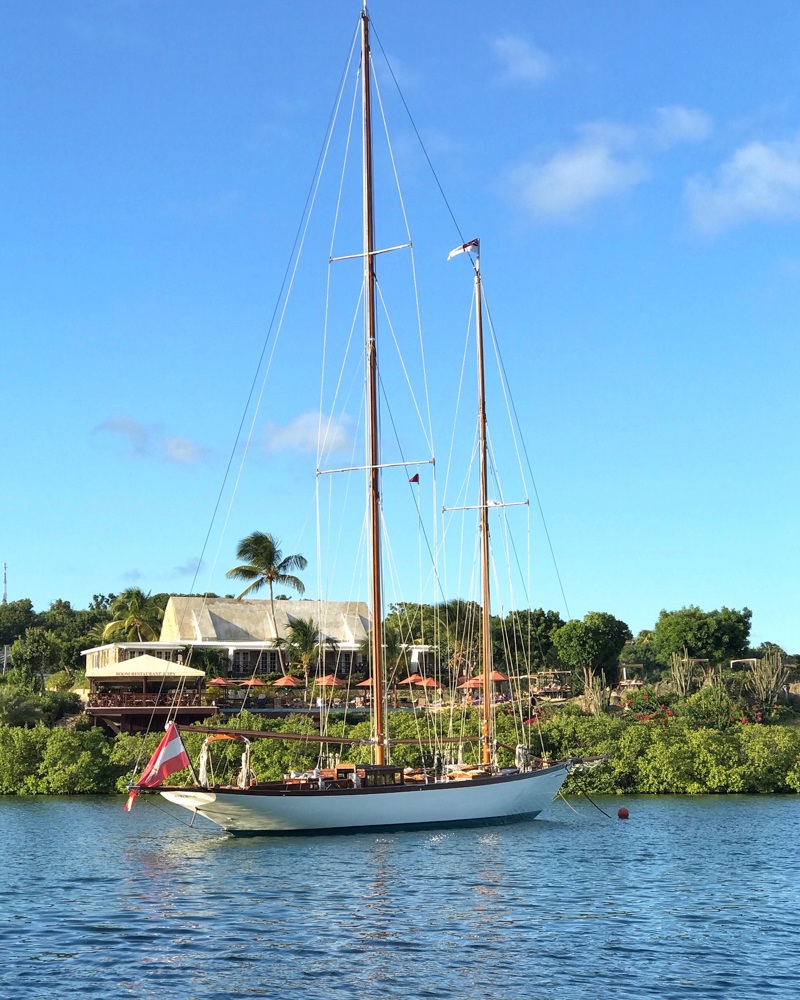 If you only have a day to visit Antigua on a cruise stop, Boom would be a fantastic place to have lunch and relax, after visiting Nelson's Dockyard. They also have a lovely spa so you could make the afternoon even more relaxing by booking a treatment, or take a look at their art gallery in the main Gunpowder Suites building which was originally an 18th century gunpowder store.
More info: Gunpowder Suites and Boom Website | Check prices and book for Gunpowder Suites | Boom restaurant is open 11am – 6pm for lunch and cocktails (lunch bookings recommended) | Free water shuttle from Admiral's Inn in Nelson's Dockyard or arrive by hire car / taxi | Check out some more Hotels in Antigua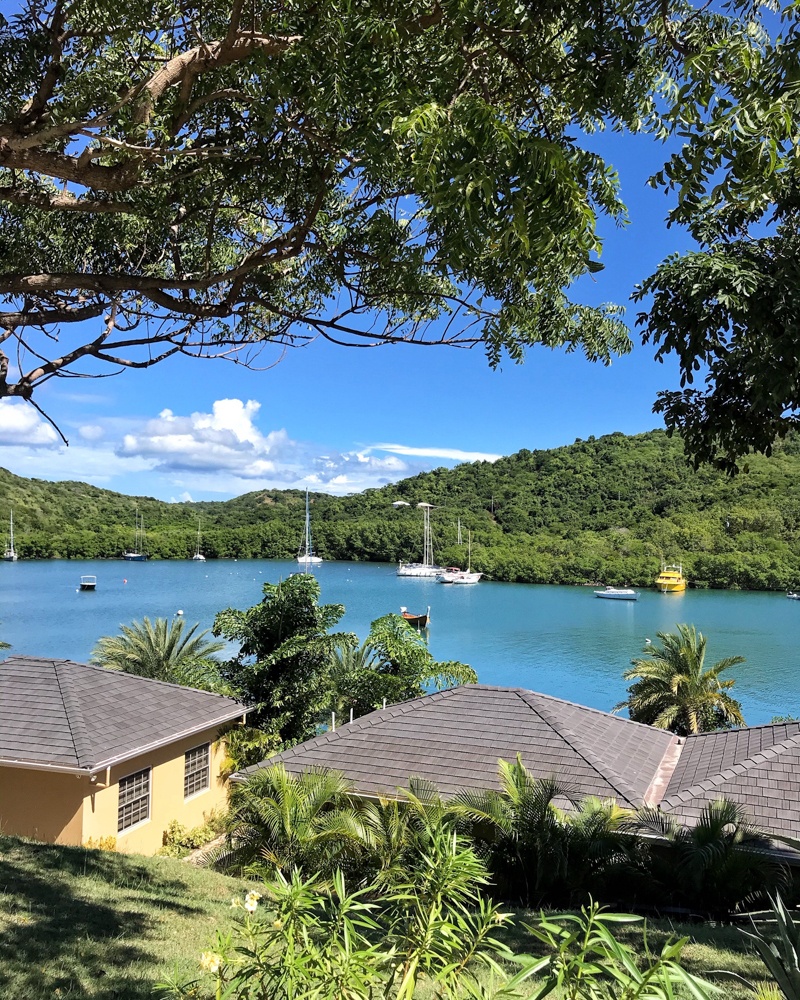 4. Antigua Yacht Club and Falmouth Harbour – hang out with the sailing community
While there are many yachts moored in English Harbour, the Antigua Yacht Club is in the larger Falmouth Harbour which is separated by a peninsula of land, making it easy to walk between the two. During my visit to Antigua I was staying on a friend's yacht in Falmouth Harbour so we often stopped for coffee or breakfast around the Antigua Yacht Club where there are a number of small bars and cafes.
Antigua is the sailing capital of the Eastern Caribbean, so if you enjoy sailing or just love looking at boats, this is a good place to come for a drink or dinner in the evening to chat with all the yacht owners who tend to hang out here.
Skullduggery, known to everyone as Skully's is a legendary bar for the yachtie crowd and they sell a unique skull-shaped rum bottle that you might like to take home as a souvenir. Next door is Seabreeze, a relaxed cafe that serves breakfast, lunches and ice creams, with Cloggy's upstairs for a pub like atmosphere and restaurant.
You may also enjoy: 20 Things to do in Grand Cayman – a week in the Cayman Islands
On the ground floor of the Antigua Yacht Club building is Bar-B's cafe which has a nice open verandah overlooking the marina for drinks and casual meals throughout the day and a useful internet corner where you can charge up your electronics and do a bit of work.
Upstairs in the Antigua Yacht Club is the Clubhouse restaurant specialising in seafood and sushi, which is open to non-members so it's worth checking on live music nights and other club events which are often open to everyone. All of the bars have internet that you can use if you need to.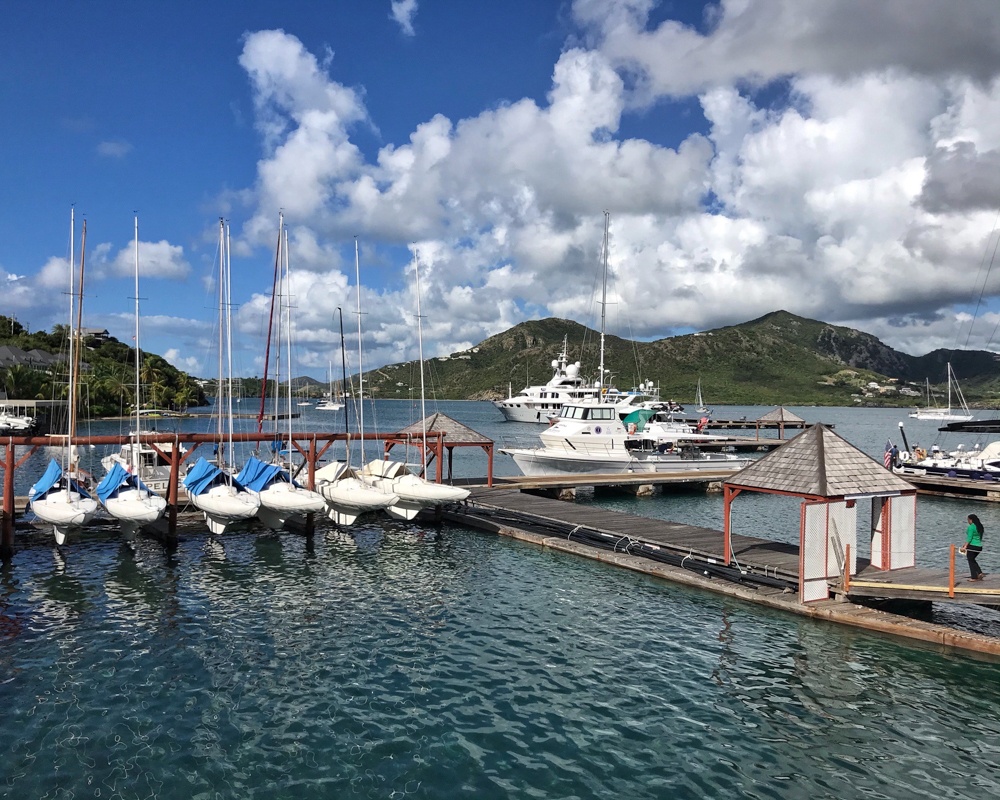 I visited in November at the start of the sailing season, so there was an expectant buzz in the air as yachts arrived daily, having made the Atlantic crossing from Europe, or sailed south from the USA. The Antigua Yacht Club hosts a number of major international sailing events through the sailing season, with Antigua Sailing Week at the end of April, when the harbour is packed with yachts from all over the world for races, regattas and social events. If you enjoy sailing this is a fantastic time to visit, but I'd be sure to secure accommodation first as the hotel prices can be at their peak at this time.
If you fancy staying in Falmouth Harbour, the Antigua Yacht Club also has its own luxurious rooms and suites set behind the club house, or take a look at the deluxe South Point Hotel next door which offers suites and apartments with full hotel facilities.
More info: Antigua Yacht Club Marina and Resort website | Compare prices and book Antigua Yacht Club Marina and Resort | Nearby Cafes and Bars include: Skullduggery also known as Scully's | Seabreeze | Cloggy's | Bar-B's (ground floor of Antigua Yacht Club) | Check out some more Antigua Hotels
5. South Point Hotel – stay in luxury suites overlooking Falmouth Harbour
Although I was staying on a friend's yacht in Antigua, I took a look around South Point Hotel in Falmouth Harbour where I was invited for lunch in their Maia restaurant. The hotel was built around five years ago with 23 luxury waterfront suites on two floors overlooking the gardens and marina, in a fantastic location if you enjoy watching the yachts come and go in the harbour.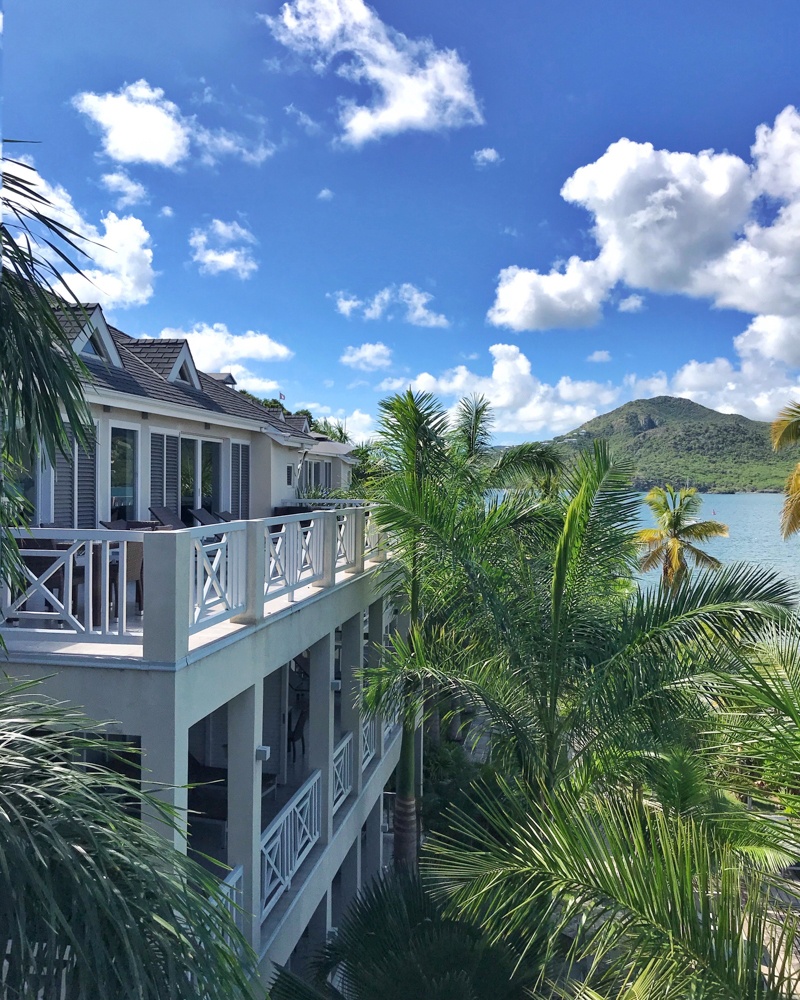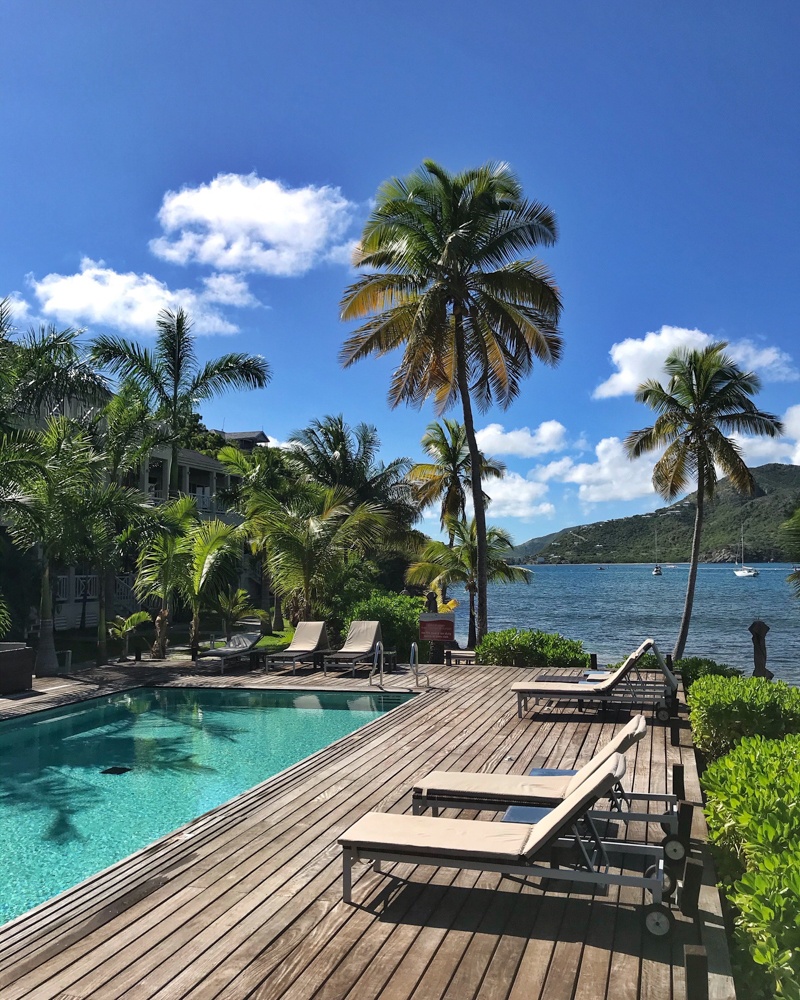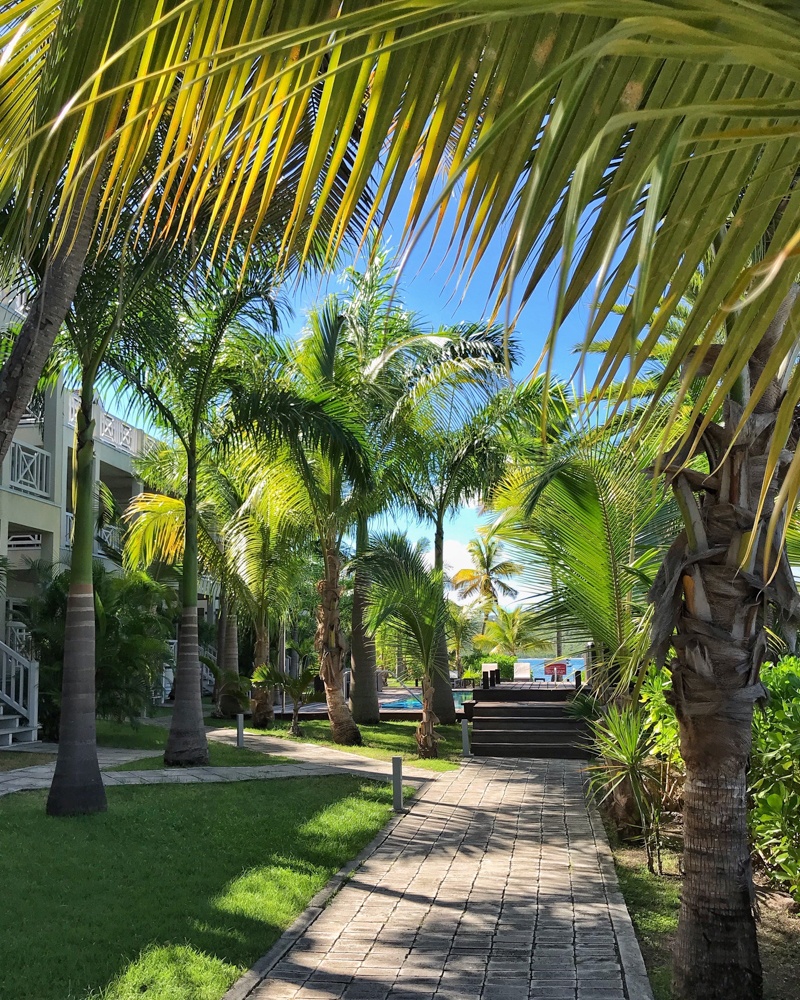 The style of this boutique hotel is refreshingly contemporary, with sleek and understated design inspired by urban chic and Italian style. The one and two bedroom suites are decorated in a subtle, monochromatic colour scheme which is cool and relaxing, with a spacious living area and modern, well equipped fitted kitchen.
Because of the self contained nature of the accommodation, the hotel is ideal for couples, families or groups of friends who want the space and flexibility to do their own thing, while having all the hotel services of pool, gardens and restaurants on their doorstep. There's plenty of space for relaxing and sunbathing by the pool which overlooks the harbour and a small beach area offering watersports such as kayaks and paddleboards for the use of hotel guests.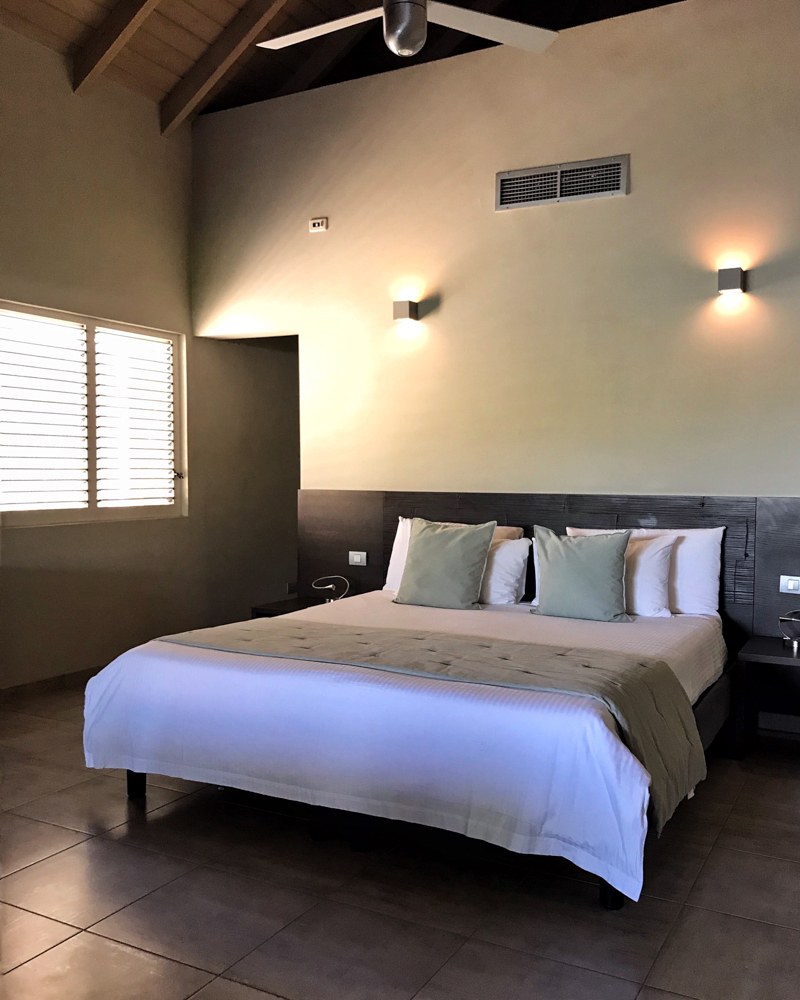 We visited the Maia restaurant at South Point Hotel for lunch in a lovely setting overlooking the harbour, with an open sided covered terrace to provide shade and sea breezes. The sleek, contemporary design of the hotel continues into the restaurant, which specialises in sushi with Asian, Mediterranean and Middle Eastern flavours on the menu.
Unlike the lively bars and cafes that cluster around the Antigua Yacht Club next door, the Maia restaurant offers a more refined, upscale experience, although the ambiance is casual and the dress code "island chic"so you can arrive for lunch barefoot by kayak if you wish!
You may also enjoy: The stylish traveller's guide to St Kitts
I tried the catch of the day with cauliflower puree and seasonal vegetable, which was beautifully presented and delicious (around £22), with a side of vegetable quinoa (around £4). We loved the experience of sitting right by the water with a prime view of the yachts coming and going in the marina. The restaurant and lounge upstairs is a popular spot for cocktails, often incorporating unusual and local flavours like sorrel, spiced rum and mango juice.
South Point Hotel offers something different from the typical all inclusive resort on Antigua and will suit the cosmopolitan, active traveller who's looking for a luxurious base to see the island, with easy access to a wide range of bars, restaurants and activities.
More Info: South Point Website | Compare prices and book for South Point Hotel | 1 bed deluxe suites from $350 to $795 per night for 2 people + tax and service charge | South Point Hotel may also be booked as a package via luxury tour operators such as Scott Dunn and British Airways Holidays | Check out some more Antigua Hotels
6. Beaches near English Harbour – Pigeon, Galleon and Windward Beach
If you're looking for the best beaches in Antigua, you'll soon realise that you never have to travel very far to find one, so it's more about deciding which are most convenient for where you are staying.
You may also enjoy: Discover the best Antigua beaches to enjoy on your Caribbean holiday
Pigeon Beach in Antigua
This is a justifiably popular beach that's at the mouth of Falmouth Harbour, just a 10 minute walk from Antigua Yacht Club, so often visited by those staying in the marina. Other facilities include a parking area, shaded children's play area and a toilet and shower facility where you pay a small charge, with a casual beach bar Bumpkins at one end and the stylish Catherine's Cafe, which has a French influenced restaurant and private relaxation area at the other.
All of these benefits also mean that this is a popular and busy beach at weekends and is often visited by groups from cruise ships or other Antigua tours. The atmosphere was lovely and quiet when we visited, but I'd choose your timings carefully as Pigeon Beach will be busy at certain times.
Be sure to check out: The ultimate beach packing list – for your sunshine holiday
Windward Beach in Antigua
Walk to the end of Pigeon Beach beside Catherine's Cafe and pass by the security barrier, which is there for the private villas accessed on this road. If you walk a bit further along the track and through a small area of scrub you'll arrive at Windward Beach which is known to the locals but less visited by tourists.
As the name suggests, this beach is on the less sheltered, windward coast of the island and it has a wilder feel, with patches of rock among the sand and a backing of mangroves bushes. As the beach is less sheltered, the waves here are often stronger and you may have to walk over rocks as you go for your swim. At the end of the beach is an area of rocks that is a favourite for snorkelers who sometimes swim around the headland back to Pigeon beach.
Take special care here, especially around the rocks as there have been accidents at this site, so don't swim alone. Windward is a great beach if you are a strong swimmer, enjoy snorkelling or want a wilder experience.
Looking for somewhere to stay? Check out these Hotels in Antigua
Galleon Beach in Antigua
Galleon Beach is at the mouth of English Harbour, with a long stretch of sand that's calm and protected within the bay backed by houses and the Inn at English Harbour. The beach has been the subject of some interesting archaeological excavation, since this was the closest beach for ships that moored in English Harbour during the 18th century when Nelson was stationed here, with graves and other artefacts found at the back of the beach. Just off the beach is an old wreck marked by buoys with some of the best snorkeling in Antigua that you can easily reach from the beach.
The excavations were featured in a BBC documentary called "Nelson's Caribbean Hell Hole" showing how fever was rife and the death rate high among sailors stationed in Antigua at that time. We didn't see any evidence of the excavations, but just found a pleasant sheltered beach, with a number of houses built on the road behind it.
There is a beach bar which hadn't yet opened when we were there in November, but we had a lovely lunch in the beachfront Reef restaurant of the Inn at English Harbour. It's open to non residents who reserve in advance or depending on space available, as they give priority to hotel guests at their elegant luxury hotel.
At the other end of the beach is a path that leads up along the cliffs with views over the sea, with another path called the Lookout Trail that starts from the road behind the beach and runs up the hill to Shirley Heights. Galleon is also a popular local's beach at weekends when you may find BBQs and loud music and you can reach the beach easily by water taxi from Nelson's Dockyard or by hire car or taxi.
Looking for somewhere to stay? Check out these Hotels in Antigua
7. Hike the Middle Ground Trail from Pigeon Beach to English Harbour
I love to incorporate hiking into my trips whenever I get the chance, and have found that the Caribbean offers more in the way of scenic walks than you might imagine from its reputation as a relaxing beach destination. Of course if you are planning to do any hiking in Antigua, be sure to wear trainers or suitable footwear, carry plenty of water, use a hat and sunscreen and avoid hiking at the hottest part of the day.
From Pigeon Beach I decided to hike the Middle Ground Trail that runs for 1 mile over the high ground, ending at Fort Berkeley in English Harbour. The trail is well maintained by the Royal Naval Tot Club and was not especially arduous, taking about 1 hour to walk, so it's a good one if you just want the views but not too much exertion.
If you prefer to explore with a guide, check out this 3.5 hour guided hiking tour to explore some of the hiking trails on Antigua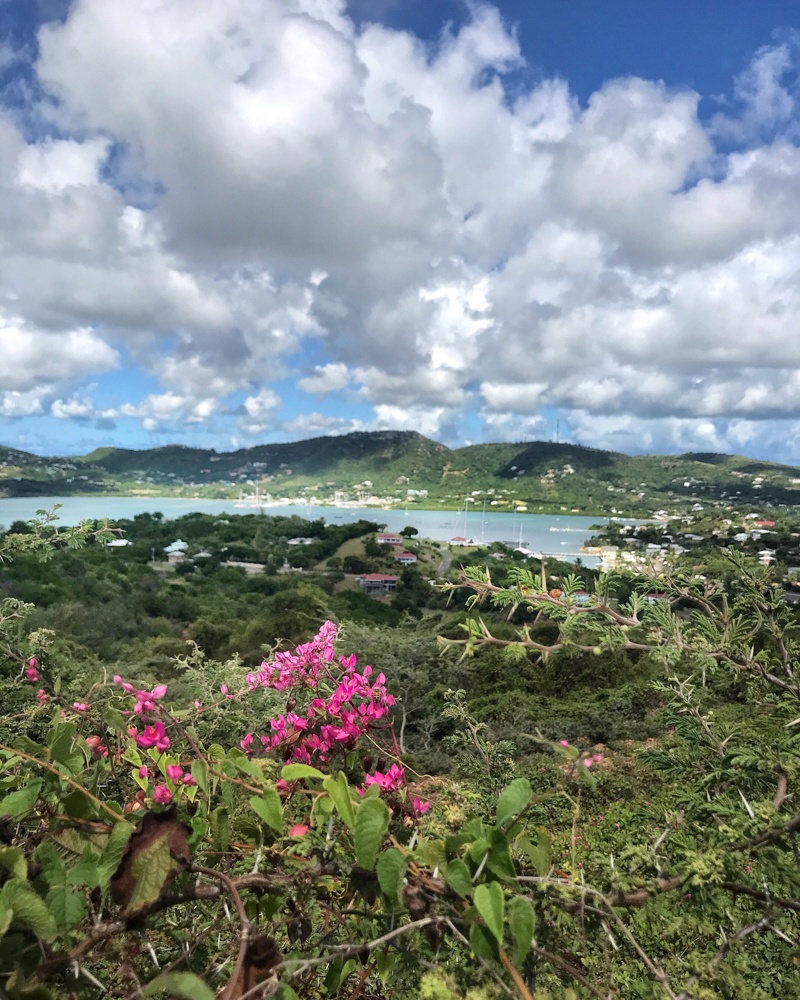 The trail ran upwards from the back of Pigeon Beach through low trees and scrub to a gun battery where I enjoyed a great view over the mouth of Falmouth harbour from the former military lookout post. As the trail continued past Fort Cuyler there were beautiful views of English Harbour with large cactus on the cliff sides, so photogenic that I couldn't resist scrambling down a bit for a closer photo.
You may also enjoy: Hiking in Grenada: Waterfalls, hot springs and plantation walks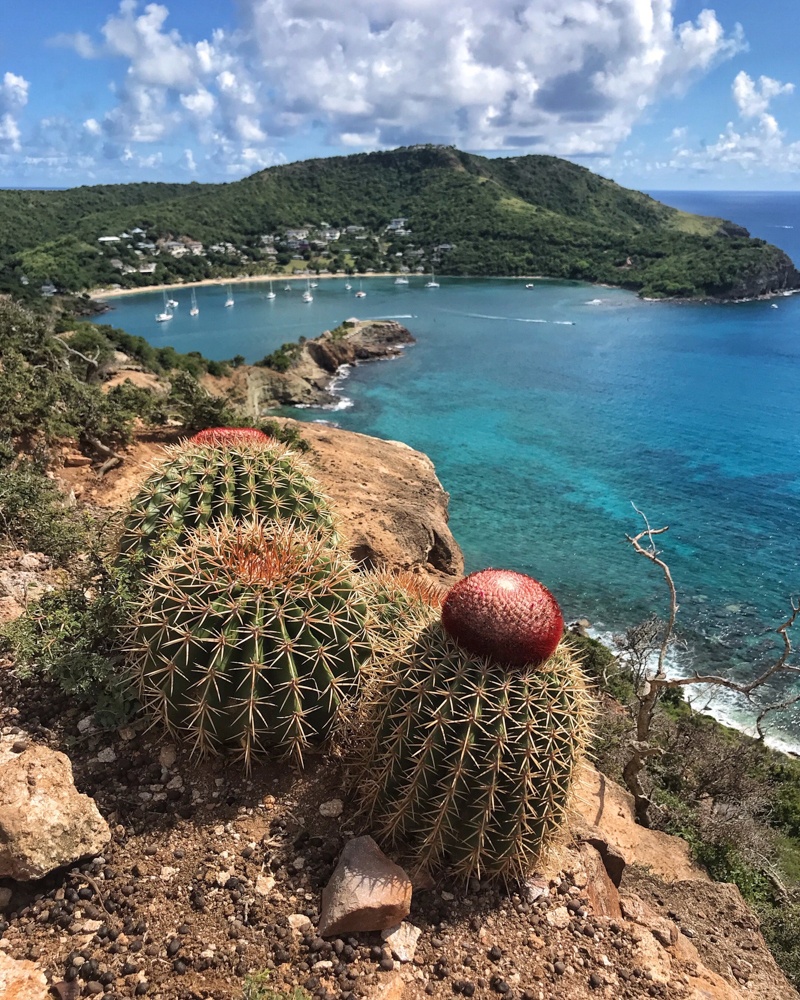 The only part of the trail that was a bit tricky was the final stretch descending to English Harbour with a steep, gravelly slope where you needed to use the ropes provided on the trail to avoid slipping. You can also walk the trail from the English Harbour side if you head towards Fort Berkeley and then turn up the hill when you see the trail sign.
8. Shirley Heights – for sunset views of English Harbour
Shirley Heights is the viewpoint that overlooks the mouth of English Harbour, the site of 18th century military complex with signal station, magazine, parade ground and officer's quarters. Only a few of the buildings remain and the signal station that was originally used to send messages by flags to St John's has been turned into the Shirley Heights Lookout cafe that's open through the day for refreshments and lunches.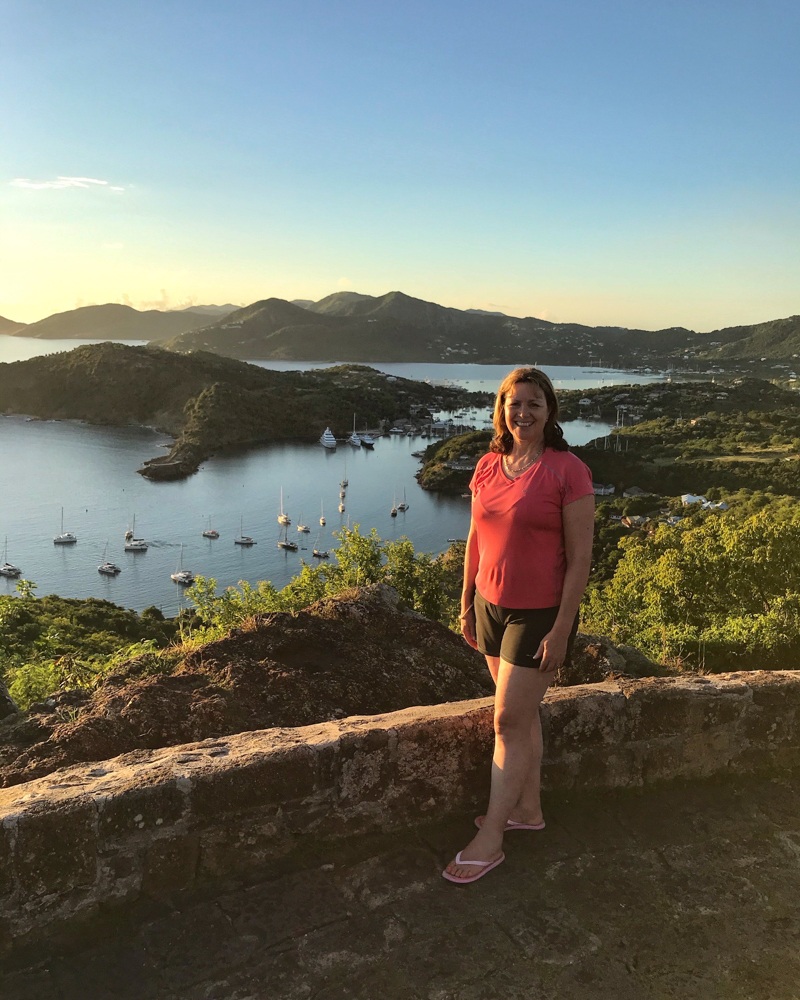 You'll read in the guidebooks that you should visit on a Sunday night, when they hold a BBQ with live music, but I'd also heard that it gets super crowded, so decided to go on another evening when there was hardly anyone there. It proved to be a good plan as although the cafe was closed, we got the beautiful sunset views towards Montserrat without the crowds and a chance to look around some of the old historic buildings.
Looking for a hotel near Shirley Heights? Check out the Inn at English Harbour on Galleon Beach
In addition to the signal station, there are the old water cisterns that supplied the barracks and views towards Willoughby Bay. A little back from the viewpoint is the officer's cemetery with an obelisk that commemorates the officers and men who died in service between 1840 and 1851 and worth a wander around.
The easiest way to get to Shirley Heights is to take a taxi or hire car, but there's also a half mile trail that you can walk up from the road behind Galleon Beach, and a water taxi in the daytime from Galleon Beach to English Harbour. The views from here are certainly one of the best things to see in Antigua and you have the choice of visiting without the crowds, or to get all the music and buzz of the Sunday night party.
You may also enjoy: Hiking, volcanoes and waterfalls in St Lucia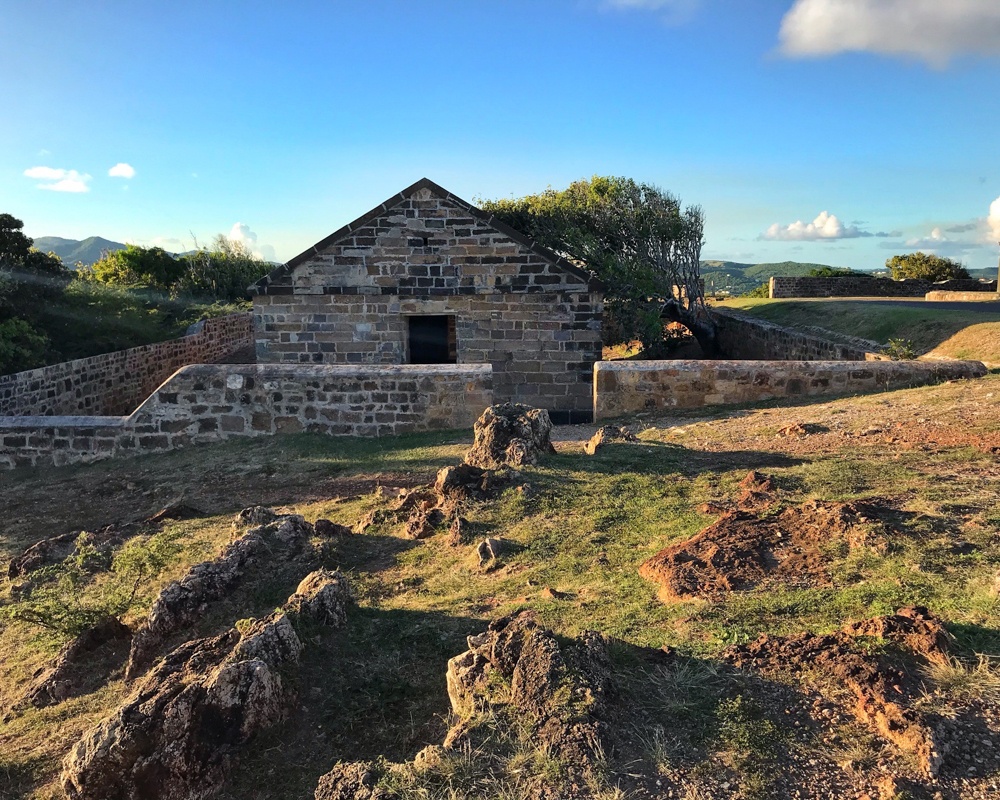 9. Eat Ital food in a Rasta shack
Around the area of Falmouth Harbour and English Harbour there are lots of great restaurants, but if you are looking for healthy food at local's prices look out for the rasta shacks that are dotted around the island, like the one on Dockyard Drive next to Woodstock Boatbuilders. I'm not sure if it had a name, but my friend knew the owner who had started this rasta cafe in his grandmother's old shop and was serving hot veggie dishes and fresh juices to a steady flow of local customers.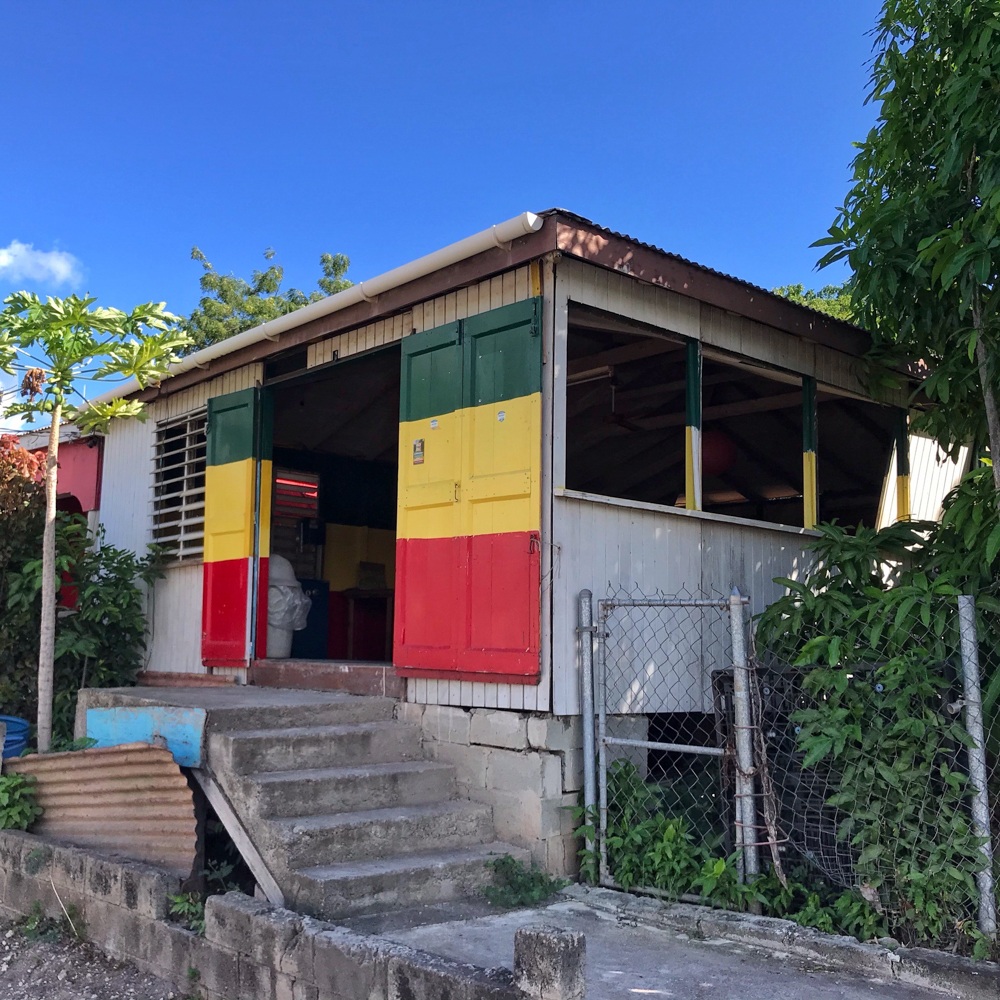 While Vegan is now a big trend, the Ital food of the Rastafarians is based on the same principles, being plant based and avoiding additives and anything artificial. So you'll be able to order tasty stews based on veggies, lentils and beans or drink fresh juices made from local fruits and plants, like soursop, tamarind, guava and papaya. If you are veggie or vegan, look out for local shacks and cafes that are painted with the Rasta colours of red, green and yellow to check out what they have on offer around lunchtime or buy a bottle of homemade juice from the fridge if you're thirsty.
You may also enjoy: Top 10 food and drink to try in St Kitts
10. Discover the art galleries of Antigua
There are many fantastic artists on Antigua with a few art galleries dotted around the island, which often seem to be run by expats who have fallen in love with Antigua. One of the best known is the Fig Tree Studio Art Gallery, worth a stop if you're heading down Fig Tree drive, where the gallery is set in the rainforest just off the road in a charming painted wooden shack. The studio is owned by English born artist Sallie Harker who arrived in Antigua and stayed here, opening the gallery in 2007 which features her own work and that of other Caribbean artists.
Another one that I liked was the Rhythm of Blue gallery that's easy to find on the main road to English Harbour and is also owned by an artist Nancy Nicholson selling her own pottery as well as vibrant oil paintings, sculptural driftwood hangings and silver jewellery by other local artists.
You may also enjoy: Shopping in St Kitts: where to shop for local crafts and souvenirs
11. Antigua Rainforest Zip Line – high above the Rainforest in Antigua
Driving along Fig Tree Drive, you'll pass the Antigua Rainforest Zip Line experience with zip lines tours that take you through the rainforest. I didn't do the Antigua zipline myself but I did stop by to take a look and it seemed a lot of fun, if you're up for a bit of adventure in the treetops. The rangers will get you kitted up with helmets and harnesses then guide you through the trails, which range from a shorter course of 8 ziplines which takes around 1 hour, to a more adventurous course of 12 ziplines plus challenge course for $89.
If you' prefer you can book the Antigua Zipline Canopy Experience in advance here.
The course will take you up to 300 ft above the ground in the rainforest canopy, zipping between treehouses with the longest 328 ft long zipline known as The Screamer. It's best to book ahead to be sure of a slot, as this is one of the most popular Antigua excursions with cruise and other tour groups, so if you are visiting independently you can be advised on the best time to go. After you've completed your Antigua zipline experience, there's a pleasant shop and small cafe where you can get refreshments and souvenirs.
More info: Antigua Rainforest Zip line tours website
Open Monday to Saturday with regular tours at 9.15, 10.15 and 11.15 | Cost from $69 US per person for 8 zip wires up to $89 US for full course of 12 Zip Wires | Lockers available & best to wear shorts / loose trousers and secure footwear such as trainers | Cameras not permitted but the rangers will take photos of you which are available afterwards
12. St Barnabas Anglican Church – The Green Stone Church in Antigua
Driving out of Falmouth Harbour on All Saints Road, I passed the unusual green stone church of St Barnabas Anglican Church which was built in 1672 as a chapel school before being consecrated in 1843 to replace a nearby mother church that was destroyed in an earthquake.
The stone appears at first sight to be painted, but in fact this is its natural green colour caused by minerals in the rock, mined from a seam that runs through the south of Antigua and the Liberta neighbourhood where the church is located.
The green stone is highly prized as a decorative building material and you may spot it used in some of the local houses in this area. If you find the church open, be sure to visit inside as the stained glass windows in green, red and yellow are also very beautiful.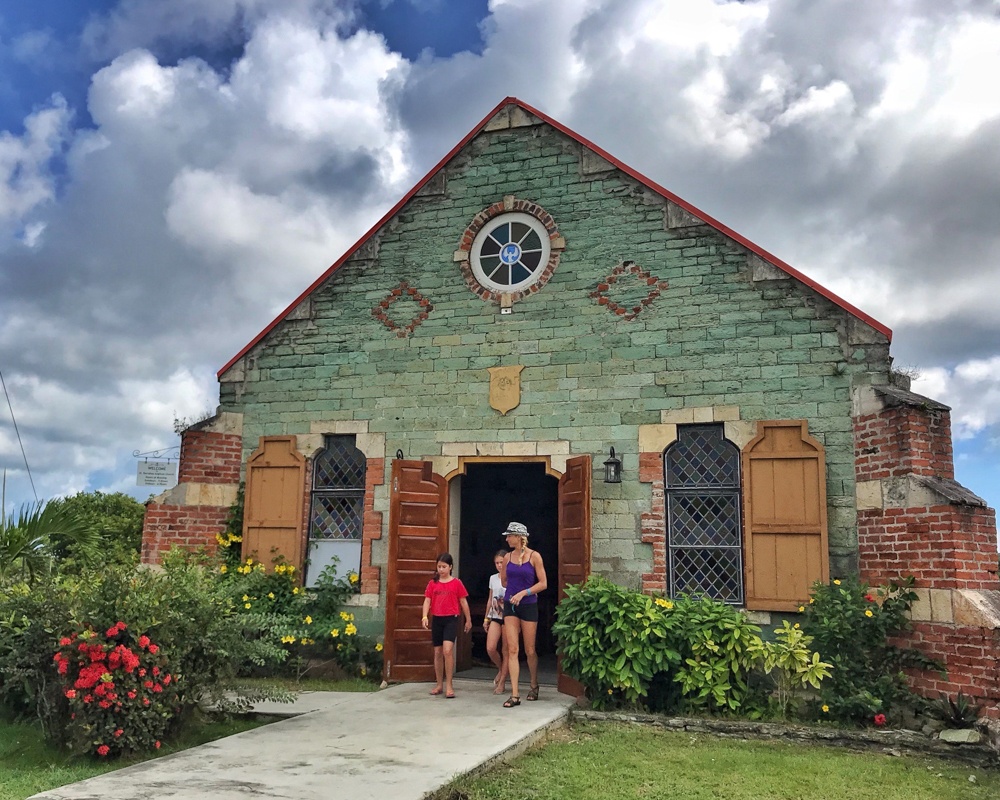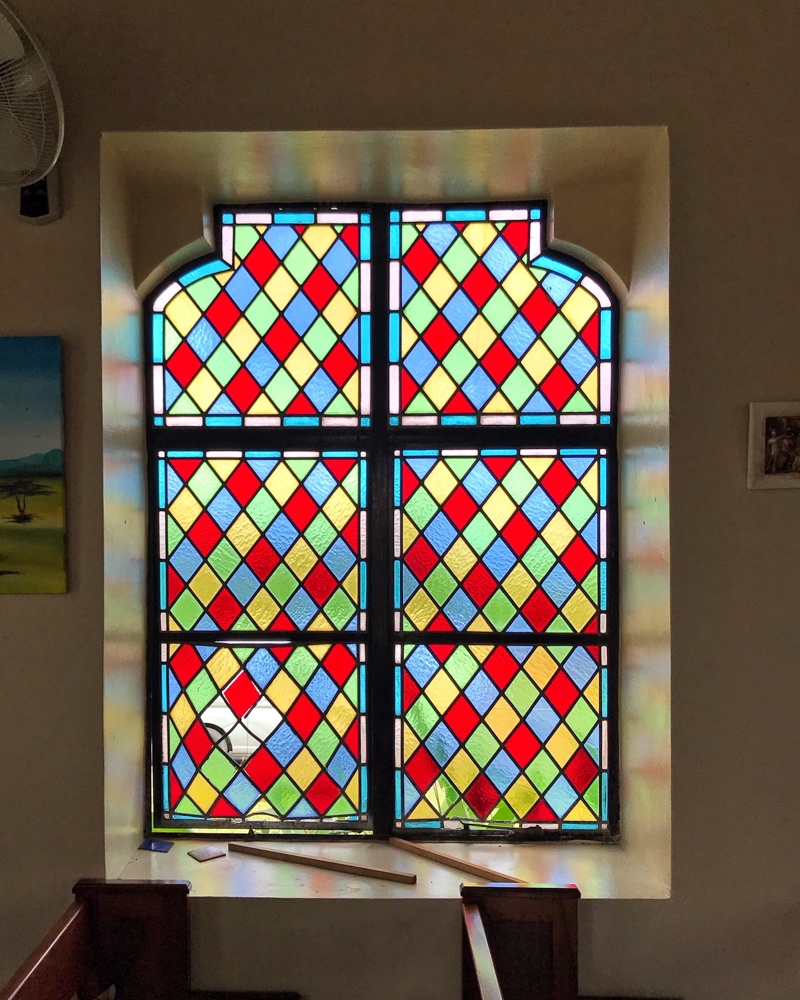 Location: South West of Antigua
13. A Beach drive along the South West Coast of Antigua
If you're staying in the south of the island, a fun road trip is to head down Fig Tree Drive and then spend half a day visiting some of the best beaches in Antigua on this part of the coast, ending in Jolly Harbour. This beach tour could be easily incorporated with a stop at Antigua Zip Wire or the Fig Tree Studio art gallery, which I've already mentioned.
Bear in mind that your experience of different beaches will be coloured by the wind and weather and also when you visit, as the same beach may be deserted and peaceful on a weekday, but busy with family groups enjoying their BBQ and loud reggae music at weekends. Be sure to check out my beach trip packing list so you'll be well prepared for any beach activities.
Carlisle Bay in Antigua
Where Fig Tree Drive meets the coast, the first beach we came to was Carlisle Bay, a long beach that's backed by high slopes covered by rainforest that we'd just driven through. We parked our hire car in the small area under the palm trees for a look around.
This is an uncommercial beach with no cafe or facilities, but a small kiosk half way along selling some drinks, snacks and souvenirs. One half of the beach is taken up by the Carlisle Bay Antigua Hotel, and while the beach in front of it is for everyone, the sunloungers, bars, watersports and other facilities are for guests only.
Looking for somewhere to stay? Check out some of these Antigua Hotels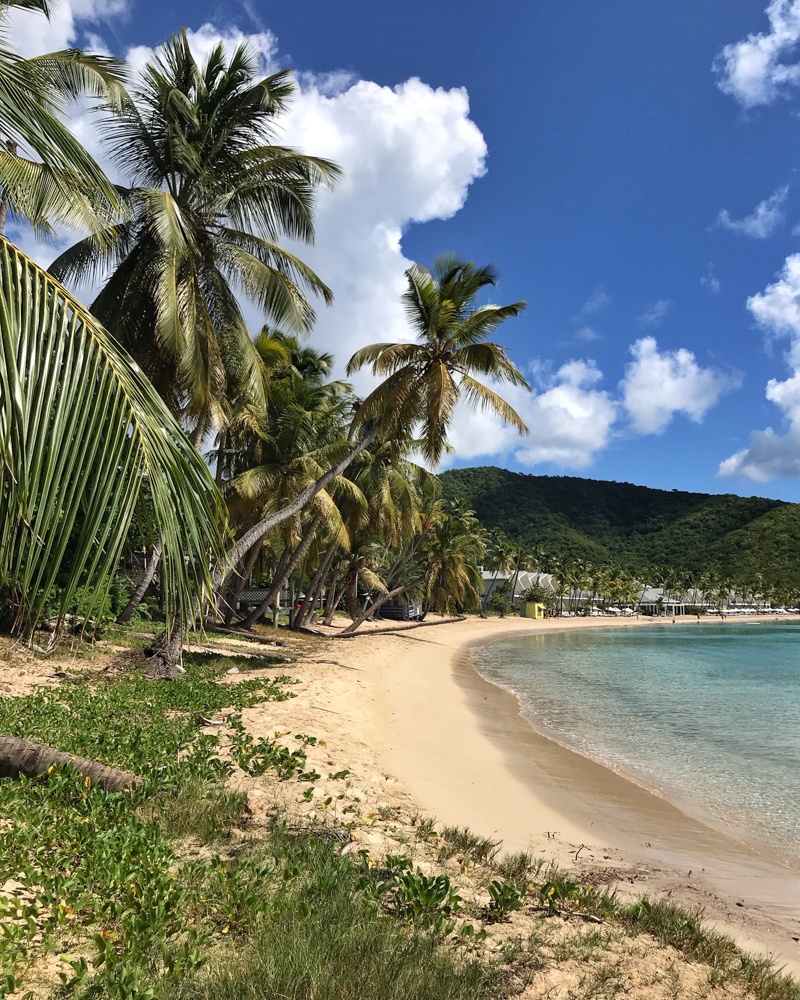 Curtain Bluff beach in Antigua
Continuing along the coast road, we looked down on another beautiful beach with a view of Curtain Bluff Hotel at one end. From the cliff above we couldn't see any obvious way to get down to it, other than possibly through the hotel itself. As all the beaches are public in Antigua, you should be able to access them through hotel grounds, or ask the staff to point out to you any other public access paths, but we just stopped for a roadside photo and continued to the next bay.
You may also enjoy: Discover the best Antigua beaches to enjoy on your Caribbean holiday
Morris Bay in Antigua
We stopped at the next beach in Morris Bay, a long sweep of sand, that has plenty of parking space and some picnic tables under the trees. The Curtain Bluff Hotel extended to one end of the beach but the rest was all open and natural, with little development. However, this is a good place to stop for lunch if you'd like to try some local dishes at Gina's Cook Shop, which is near the road, selling home cooked food, drinks and fresh fruit from a roadside stall.
Turner's Beach in Antigua
Continuing along the road, we got some lovely views as we drove along Old Road and arrived at Turner's Beach, which has a well known cafe and large parking area.
The Turner's Beach Restaurant is large and well set up, with sunbeds that you can rent in front of it. It was pretty quiet when we arrived, but I've read that it is a favourite stop for cruise visitors and tour groups, when you may find it quite busy with a longer wait for food. We stopped for a pleasant drink here but if you find it busy, I'd probably move on and eat elsewhere.
Looking for somewhere to stay? Check out these Hotels in Antigua
Near Turner's Restaurant we did some snorkelling by the rocky headland and saw some small fish over the rocks. The long stretch of fine sand leads up to Keyonna Beach Resort at the other end of the beach. Turner's is a great beach for swimming and snorkelling in shallow water, although I thought it was slightly marred by some half finished buildings at the back of the beach.
A little beyond Turner's beach, where the road runs in front of the beach, we stopped to take a look at OJ's Beach Bar. It's more of a proper restaurant specialising in seafood and festooned with fishing nets and a great place for a sundowner, with views of the sun setting over the sea.
Darkwood Beach Antigua
The road continued past Darkwood beach, which is backed by a lagoon that's preserved for fishing and wildlife. We only stopped briefly to have a look at the beach which is a long stretch of soft sand, with a beach bar and a big inflatable slide for families and fun seekers. You can rent sunbeds here, but if the water slide isn't your thing, there's a lot of beach to find a quieter spot for a swim. I did read that there's a steep drop in the water here, something to be aware of if you have young children or are not a strong swimmer.
Coco Beach and Fyffe Beach
Our final stop before we headed back from our tour of the south western beaches, was Coco Beach and Fyffe's Beach which are backed by another small lagoon. They were both pleasant beaches, with sun loungers available to rent and used by guests from the nearby Coco Bay Resort and Tamarind Hills Villas. I noticed that the sand quality here was a bit more gritty here than some of the other beaches we'd visited earlier in the day.
14. Buy a typical Antiguan dish from a roadside vendor
As I mentioned, at Morris Bay we passed Gina's cook shop, where I bought a bowl of Pepperpot, a local stew to take a way for lunch. These roadside vendors tend to specialise in BBQ or other Antiguan home cooked dishes, which are popular for the locals passing by at lunchtime or when they head to the beach at the weekend. For this reason, you'll get a better choice at the weekends, when everyone seems to be grilling something under the trees at the beach to share out among friends and family.
Antiguan food specialties to look out for include;
Pepperpot: A slow cooked stew of vegetables, greens and meat such as chicken or pork
Saltfish and Fungi: The national dish of Antigua which is sometimes served at breakfast. The Fungi, pronounced Foon-gee is a cornmeal mash that's served in a ball a bit like polenta or mashed potato, often with cured, dried fish that's flaked in a sauce.
Ducana: Grated sweet potato mixed with coconut, sugar and spices, steamed in a banana leaf.
Jerk chicken: Found all over the Caribbean it's popular at the weekends to barbecue chicken pieces that have been marinated in a spicy sauce.
To learn more about the local Caribbean food of Antigua, why not try this local cookery class? – Nicole's Table, all about Jerk
15. The Antigua black pineapple – unique to Antigua
In fruit markets and roadside stalls, look out for the Antigua black pineapple which has a reputation for being the sweetest among pineapples. We passed fields of it being grown as we drove along the south west coast road near Morris Bay, but it's grown in small farms and gardens all over Antigua.
You'll spot the Antigua black pineapple not because it's black, but because of the elongated shape with a somewhat pointed top. Any other pineapples that you see on sale that have the more typical oval shape are probably imported from nearby Guadeloupe. If you stop to buy from a vendor, check with them that you get a nice ripe pineapple that will be at peak sweetness and ready to eat straight away.
Looking for somewhere to stay? Check out these Hotels in Antigua
Location: Around St John's Antigua on the West Coast
16. Wander around St John's – island capital of Antigua
Our tour of the south west coast of Antigua brought us round to the island capital of St John's. Unlike some of the other small and sleepy Caribbean island capitals I've visited, St John's Antigua is big and bustling and to be honest not that picturesque. If you know what you are looking for there are plenty of traditional, older buildings that are brightly painted, patched up and occupied by local businesses rather than restored to look pretty for tourists. There's an energy about St John's with crowds of people especially on market days, traffic jams, loud music and a wide range of businesses that serve the whole island.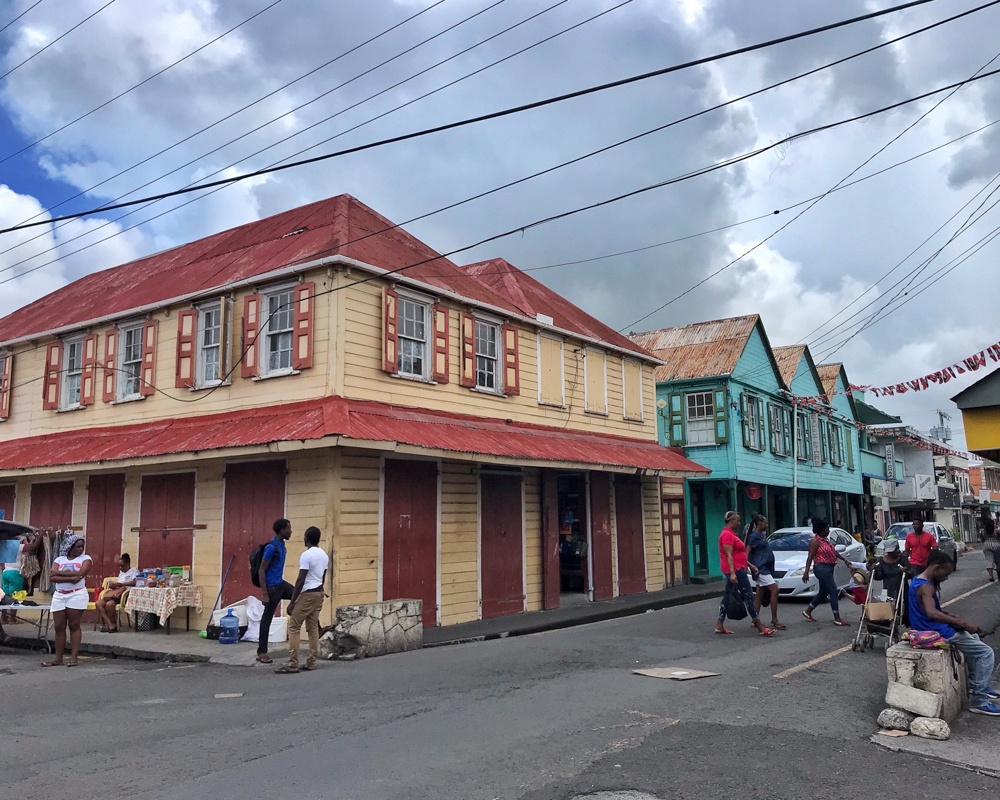 St John's is where the cruise ships dock but the harbourside isn't that pretty either, more of a terminal for ferries that go to the neighbouring islands like Montserrat or Barbuda, with a few gift shops aimed at cruise passengers. I'll cover the best things to do in St John's Antigua, but it's worth walking around to get a feel of the place. However, if your time is limited, I probably wouldn't spend too long here for sightseeing as there are more interesting things to do on Antigua.
I walked up to St John's Cathedral which is set on high ground but it was closed for renovations when I visited, although I was able to walk through the churchyard to get a closer look.
If you want to take a self guided walking tour of St John's Antigua there's one available on the GeoTourist App – look for the Our City Heritage Tour Antigua
Where to eat in St John's
A favourite place for expats and visitors to eat in St John's is Hemingways, where I had lunch when I was there. It's set on the first floor of an old style wooden house not too far from the cruise port and has an outside verandah on two sides where you can sit at your table and watch life unfold on the street.
Inside the restaurant and bar is stylishly decorated with colourful artworks on the walls and green checked tablecloths. The menu features seafood and Creole dishes, reminding me of menus I'd seen in America's Deep South combined with local Antiguan flavours.
If you love food, take this City Lime food tour of St John's with 3 hours to discover the food of Antigua
17. Shop in the Public Market in St John's Antigua
One of the best things to do in St John's Antigua to get a local flavour, is to visit the Public Market opposite the bus station, which mainly sells fruit and veg plus a few sauces and other foodstuffs too. It's great to see all the colourful produce and for some nice photos you can head up the stairs to the first floor galleries to get a good view over the market.
There's plenty of local colour here with stallholders chatting to each other and a vibrant selection of fruit and veg, from the familiar fruits that you'd recognise to some local ones that you may not. One thing to be aware of is that much of Antigua's fruit and veg is imported, so it's not all locally grown and the prices reflect this. You may find that fruit and veg costs more than back home and is not such a bargain!
At weekends, the public market is surrounded by lots more market stalls that are set up just for the day and it can get very busy around here with traffic crawling past the market and bus station.
18. Visit the fish market in St John's
Beside the bus station is another smaller open fish market with lots of beautiful coloured fish laid out on ice. The market mainly serves locals and restaurants around Antigua and as most people stay in hotels on Antigua you may not be looking to buy.
Even so I found the stallholders were happy to have a chat and didn't mind people walking around for a look at the fish. If you walk through to the quayside behind the market, you'll get an even more local flavour with the boats moored up that have brought in the local catch.
19. Historic Redcliffe Quay in St John's – restaurants and souvenir shops
For a more polished version of St John's, visit Historic Redcliffe Quay, a pedestrianised enclave that's been created mainly with tourists and cruise visitors in mind. Redcliffe Quay offers a quieter and more charming version of the nearby Heritage Quay shopping centre and is a great place to do some souvenir shopping and relax in a cafe or have lunch.
It's a short walk from the cruise port and the traditional wooden buildings have been restored and painted, mingled in with shady trees and paved walkways. The businesses here tend to cater to international tastes although of course with a Caribbean twist, so you're more likely to be mingling with expats and cruise visitors than with the locals.
You may also enjoy: My 10 favourite things to do in Aruba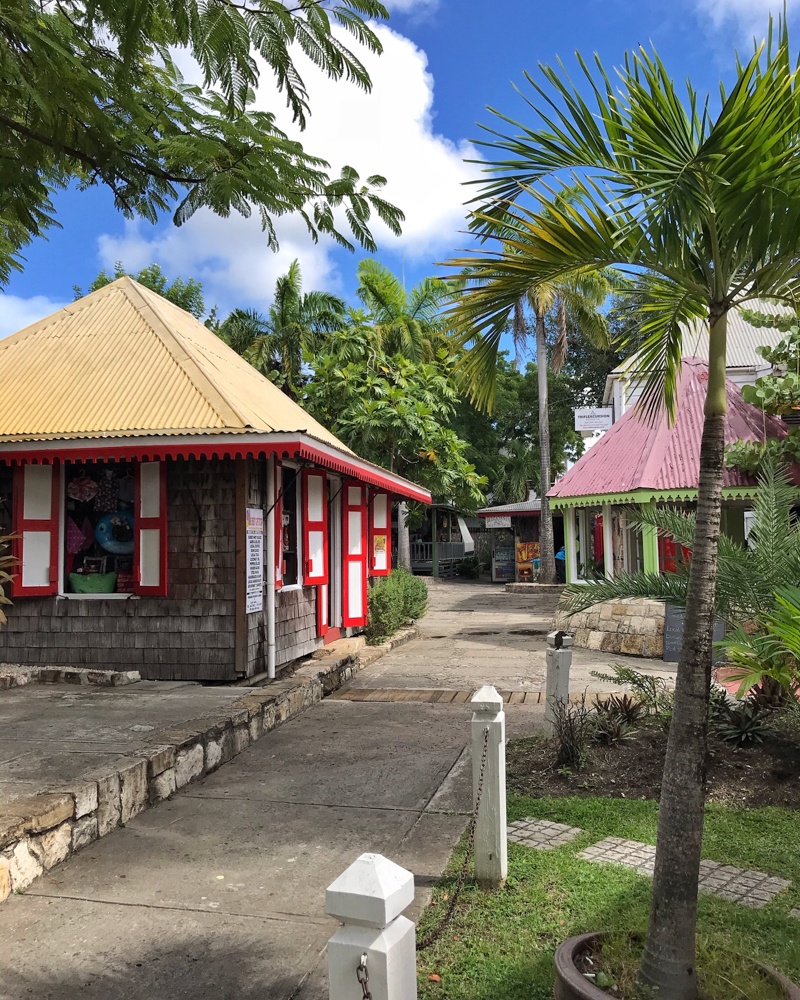 20.Visit the Museum of Antigua and Barbuda in St John's
I enjoy visiting small and local museums to get a quick flavour of a place's history and culture, so I made a point of finding the Museum of Antigua and Barbuda in St John's which is housed in the former city courtroom. The museum of Antigua was built in 1747 on the site of the city market and the old court house building is a little run down, a shadow of the grand building you can see in old photos.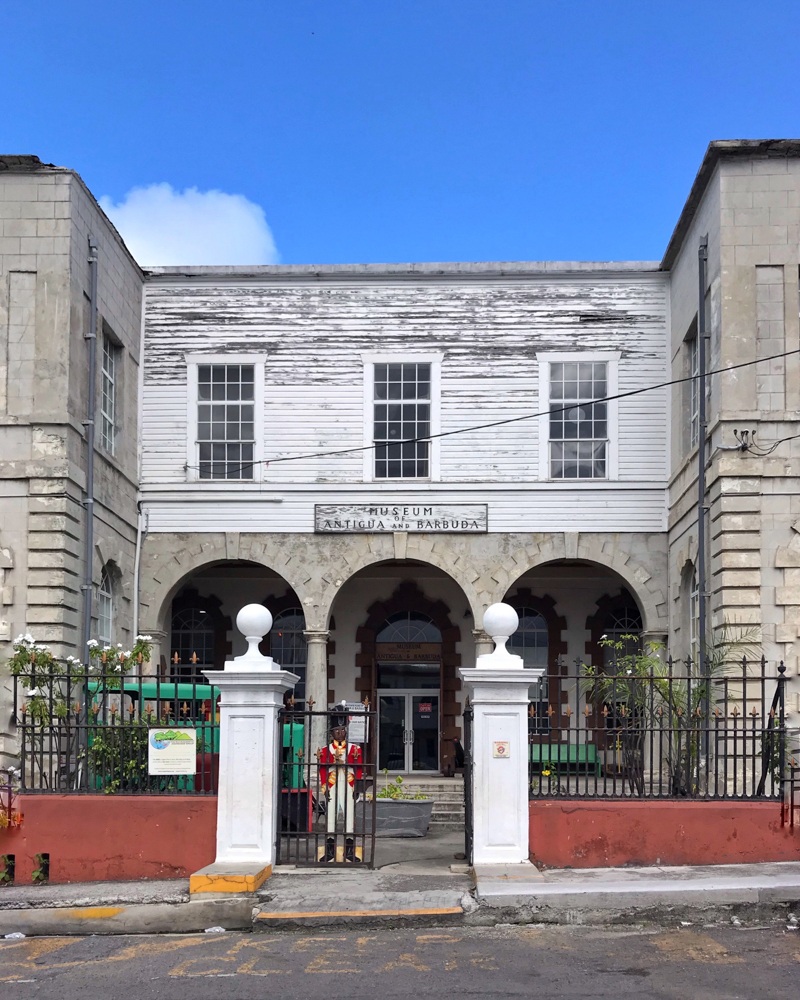 Still it's worth visiting to get a look at the spacious rooms of the interior, with displays of artefacts from prehistory to present day telling the story of Antigua's sugar trade, colonial history and more recent achievements. From the life size model of Sir Viv Richards you'll learn how proud Antiguans are of their cricket icon and see his bat on display. Around the building you can see locomotives and engines and there's a small gift shop selling local art, handicrafts and souvenirs. Cost to visit around $3 US.
Looking for somewhere to stay? Check out these Hotels in Antigua
Location: North West of Antigua
21. Visit Fort James – protecting Deepwater Harbour and St John's
If you are looking for a bit of history and one of the best Antigua beaches near the cruise port, head to Fort James which is set at the mouth of Deepwater Harbour, the bay that protects Antigua's island capital. The fort is named after King James II of England and was built in the 1740s, housing barracks and an impressive array of canons aimed across the water to ward off any incursion by the French navy in the 18th century.
These days there's not much happening here and you can freely enter through the arched gateway of the fort, see the ruined buildings and admire the canons that are still impressive, lined up along the fortress wall. There are a few information signs but not much else and it feels like there's a big opportunity to make more of this lovely location as a heritage attraction. The nearby Russell's restaurant in a beautiful old wooden building is currently closed, but if it opens again in the future would be worth a visit.
Why not take this cycle tour from St John's which brings you to Fort James with time to relax on the beach.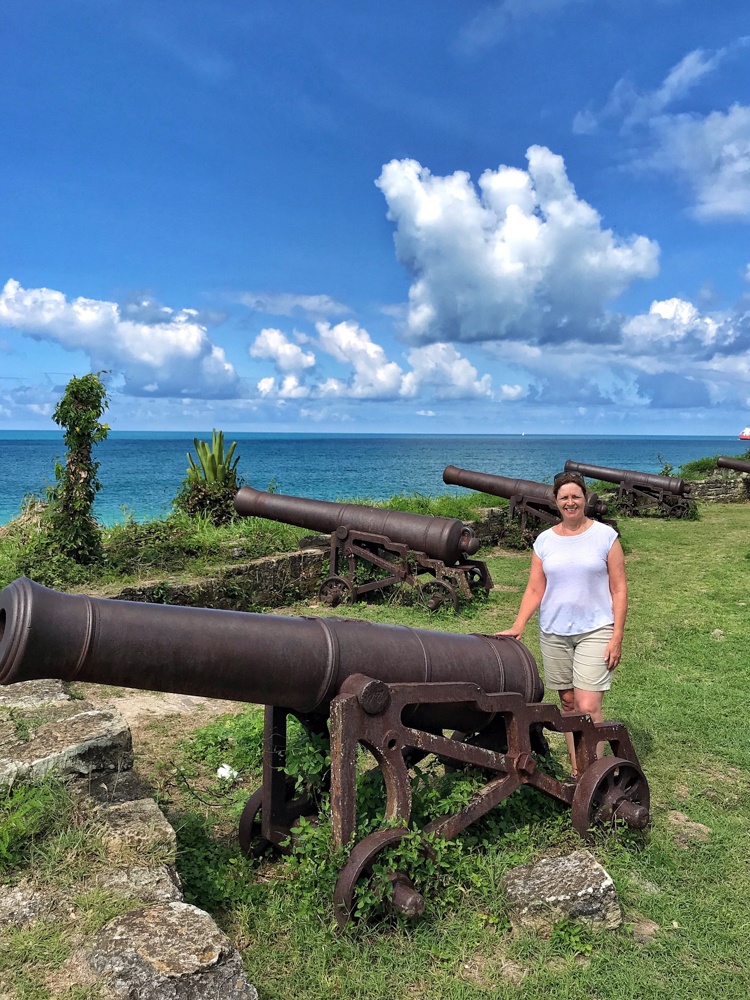 Instead we walked down the grassy path with views across the bay to St John's and ordered a juice at the Beachlimerz bar that's at one end of Fort James beach. This would be a good place to base yourself if you are visiting on a cruise and want a nice beach cafe with access to sunbeds, great food and swimming. We didn't eat here, but the menu offers plenty of seafood and Caribbean flavours and it would be a great place for a sunset cocktail.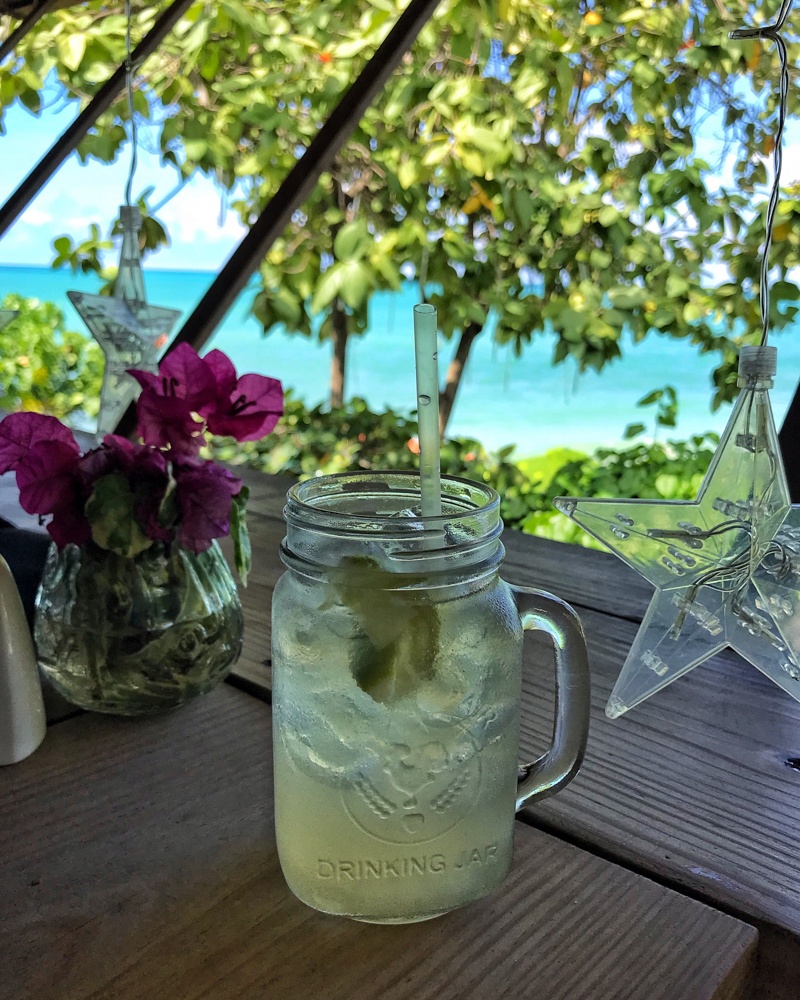 22.Horseback riding on the beach in Antigua
One of the fun things to do in Antigua is to go horseback riding on the beach and we saw a group of riders on Fort James Beach although I didn't go horse riding myself. With so many wonderful beaches on Antigua, there's plenty of space for everyone and you may get to ride through the water so that the horses can cool off in the sea spray. There are lots of horse riding tours on Runaway Beach and Fort James Beach that can be booked as an Antigua cruise excursion or tour although I could not locate a specific riding stable for direct booking on this side of the island.
If you want to go direct to a stable that has a good reputation for horseback riding in Antigua, you can also book at Springhill Riding Club on Fig Tree Drive where they offer a trail ride through old plantations taking you to the wild beach of Rendezvous Bay (from $65 US for 1 hour).
23. Fort James, Runaway and Dickenson Beaches near St John's
Fort James Beach
From Fort James, you have a string of lovely beaches to choose from as you drive along the coast road north from St John's. On Fort James Beach you can park in multiple spots close to the beach and there are a few cafes to choose from, including BeachLimerz that I've already mentioned and another more local beachfront cafe Thirty six 5 at the same end of the beach.
As you walk up the beach you'll come to the best known of the cafes on Fort James Beach, Millers by the Sea where you can also rent sunbeds and find some small kiosks selling souvenirs and beach gear. We didn't eat there, but it's quite a big place that I imagine gets busy at weekends when they have live music on Friday nights. Overall this is a great beach with different refreshment options that's easily accessible by taxi from St John's cruise port.
Looking for somewhere to stay? Check out these Hotels in Antigua
Runaway Beach in Antigua
Driving north along the coast road, the next beach is Runaway Beach, a beautiful broad sandy beach that's backed by the lagoon of McKinnon's Pond on the other side of the road. I didn't stop long here, but there's the large Mystic Beach Bar, brightly painted in the Rasta colours where I saw a few guys playing pool but not much else going on as it was early in the season.
Apart from the beach bar, this beach is wild and unspoiled so if you want to get away from all the other visitors just drive to the end of the beach away from the beach bar where there are some shady spots with mangrove vegetation backing the beach.
Dickenson Bay
The next beach is at Dickenson Bay and this has a much more developed and sophisticated feel compared to Runaway Beach, since there are a number of resort hotels, apartments and beach restaurants here. Dominating one end of the beach is the Sandals resort, but other resorts include Halcyon Cove, Siboney Beach Club and Antigua Village Resort. The large amount of holiday accommodation means that Dickerson Bay is a lively beach with plenty of bars, restaurants, watersports and other organised activities.
We stopped at the stylish Salt Plage Restaurant within Siboney Beach Club which has a European feel and enviable location overlooking the beach, where I tried their amazing lobster salad which was delicious and beautifully presented. Look out also for the floating Kon Tiki Bar and Ana's on the beach, a bar, restaurant and art gallery with a boutique feel.
Around the resort area I found the beach a bit overdeveloped, but you can easily walk in the other direction for a stretch of beach that's less developed for a swim.
Boons Bay and Hodge's Bay on Antigua's north coast
As the road turns along the northern coast of Antigua, the Boons Bay area is well developed but mainly with private residential development. As you get closer to the American University of Antigua and VC Bird International Airport, there are a couple of other good places to eat that are worth looking out for. We stopped at Garden Grill which is a casual cafe with an international feel, set back from the beach and also at the charming Cecilia's High Point Cafe which is only open on Friday through to Monday and was closed when we visited.
Looking for somewhere to stay? Check out some more Hotels in Antigua
Location: North East of Antigua
24. Stingray city Antigua – swim with the stingrays
One of the most popular things to do in Antigua is to swim with the stingrays at Stingray City, on the north west coast of Antigua. The Stingray City wildlife experience involves a short information talk at the coastal centre before you take a 5 minute boat trip out to a shallow sandbar where you can swim and interact with wild stingrays in waist deep water.
The speedboats that each take around 15 people moor up at a floating platform, from which you can enter the water and the don a mask and snorkel that's provided as part of the tour. The stingray wranglers use small pieces of squid to attract the stingrays, who knowing that the arrival of a boat means a free meal, quickly arrive to be fed.
The female stingrays are around a metre across and we were told how to safely interact with them, avoiding stepping on their barbed tails by shuffling along on the sandy sea bottom. The wranglers will also attract the stingrays and then gently guide them to be held for a photos. The photographer will take photos that are for sale on return to shore, but was also happy to take a photo with my own camera. The Stingray City tour takes around 2 hours total and costs around $50 US per person.
I found this a thrilling opportunity to be close to such large sea creatures, but you should be aware that from an ecology standpoint there are mixed views about wildlife experiences like this. The critics will point to the fact that the stingrays are being habituated to human contact, fed a diet that is not their natural one and that encouraging them to compete for food can promote disease or injuries. On the other hand, the stingrays are completely wild with no enclosure and I personally found the experience a great way to encourage interest in wildlife and in preserving the oceans, so you will have to make up your one mind.
If you want an alternative sea experience that offers you a chance to see wildlife and fish in a more natural way, you should also check out Antigua Nature Tours who offer kayak and snorkelling tours in Antigua's North Sound Marine Park.
You may also enjoy: The Cayman Islands: Watersports, Stingray City and the best beaches in the Cayman Islands
25. Devil's Bridge Antigua – see the waves crashing around the natural rock bridge
Close to the place that the Stingray City boats leave is Devil's Bridge in Antigua, a natural rock formation that's worth a quick stop and could be combined with your Stingray City boat trip. Located on the Atlantic shore of Antigua, this stretch of coast is wild and exposed to the waves, that have eroded the rocks to create a natural bridge.
You can walk onto the bridge at your own risk, taking care to stay away from the edge where the waves can sweep up unexpectedly, but the best views are from either side where you can see the sea swirling under the rock bridge and watch the water forced high into the air through blowholes in the rock. The Devil's Bridge will be a stop on many Antigua excursions, or you can reach it by hire car. We saw a few souvenir vendors near the parking area but no other facilities and you'll probably need around 30 minutes here to take a few photos.
You can visit the Devil's Bridge, Betty's Hope and Long Bay in this Island Safari 4×4 Discovery tour in a 5.5 hour trip from St John's
26. Stay in an old plantation house – The Great House Antigua
Unlike other Caribbean islands I've visited, there seem to be very few places on Antigua where you can get a glimpse into life on the sugar plantations that provided the wealth of the Caribbean in the 18th century, built of course on slave labour.
One exception where you can get a glimpse of how life was lived for the wealthy plantation owners is a beautiful boutique hotel that's recently opened at The Great House. Built at Mercer's Creek plantation in 1670, the house stood at the heart of an extensive sugar plantation that ran down to the creek at the bottom of the hill.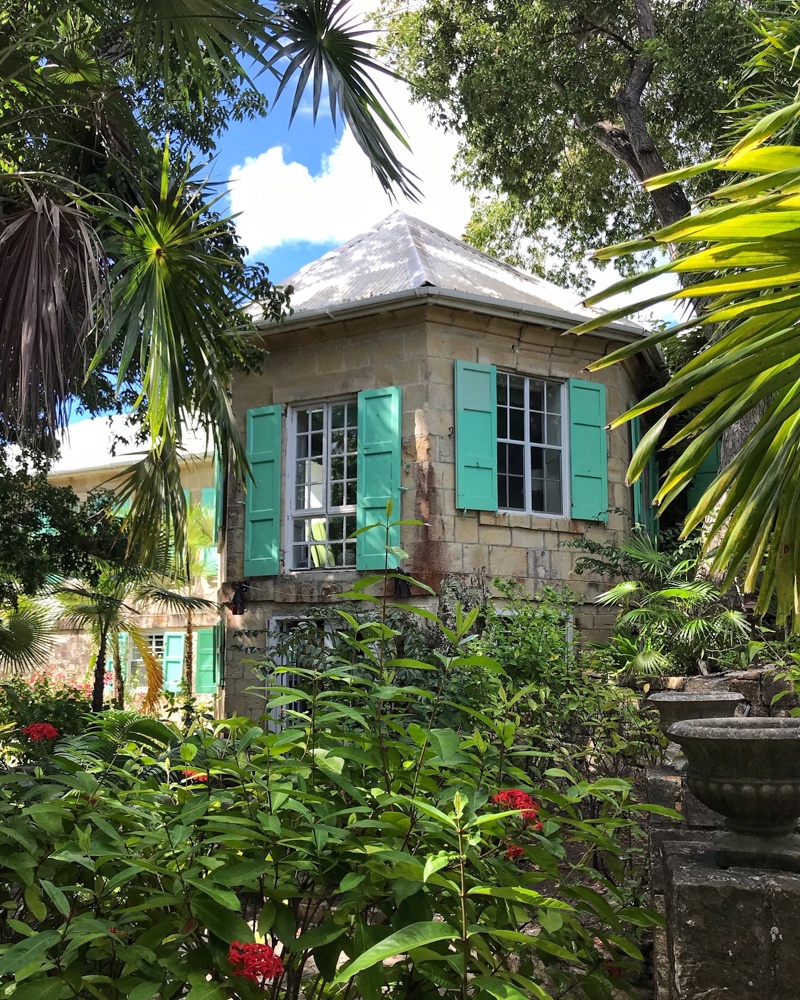 Most plantation houses had a second floor built of wood, but The Great House is unusual in having an upper floor built of stone, using the honey coloured Cotswold stone that was brought to Antigua as ballast in the ships.
While other plantation houses such as nearby Betty's Hope fell into ruin, The Great House remained as a family home and in the 1980s was bought by the Henderson family. On the death of Lady Patricia Henderson the next generation of her family have converted The Great House into a luxurious Boutique Hotel, with four bedrooms in the main house and four suites in newly built garden bungalows.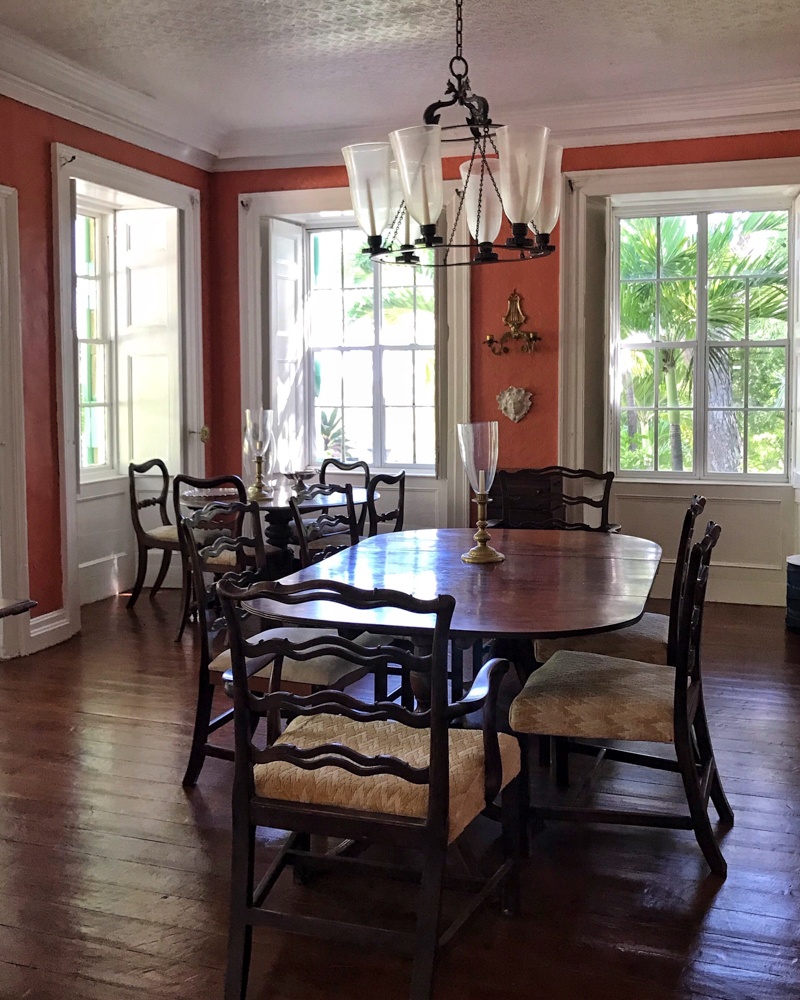 We visited The Great House as it was preparing to open for its first season and were able to admire the historic interiors, furnished with the family's original mahogany furniture, china and glassware. Antique Georgian furniture is mixed with designer collectables and vibrant painted walls, in a unique version of Caribbean Luxe that brings to life the many stories that the house can tell.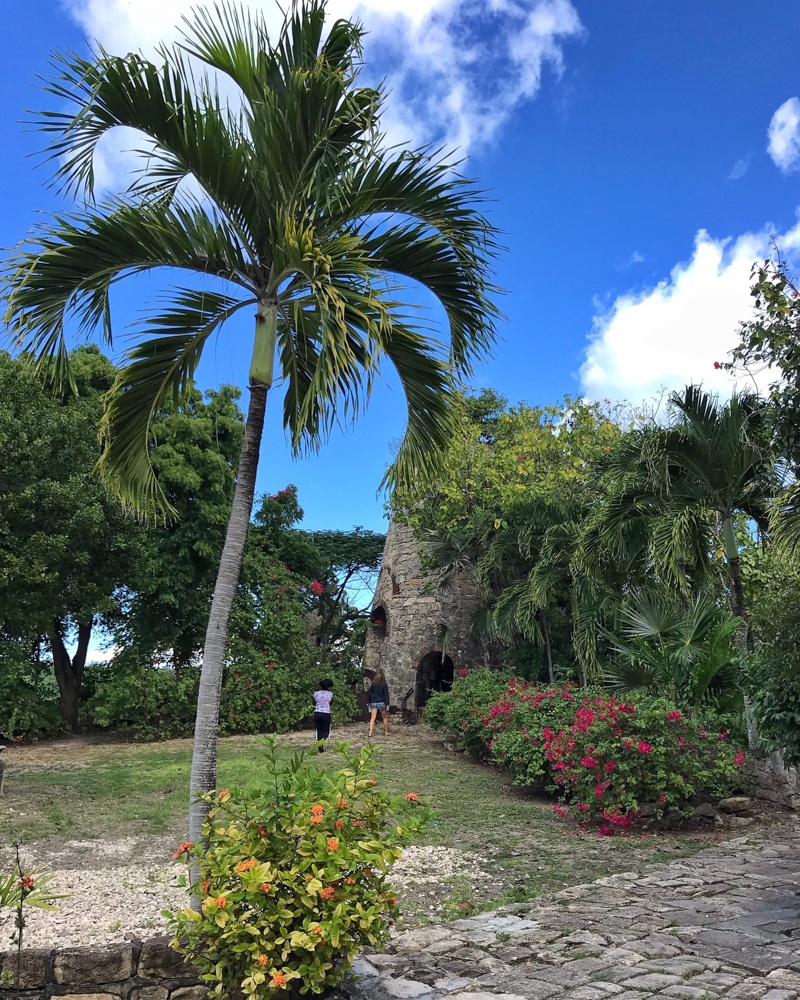 In the 1960s The Great House was set to be a honeymoon retreat for HRH Princess Margaret and her husband Anthony Armstrong-Jones until it was suspected that the press had discovered the secret location and they were forced to move elsewhere. I could just imagine the young princess relaxing in the turquoise and lime green drawing room which has something of a retro 1950s feel in the colour scheme.
The Great House also played host to other notable guests like the Kennedys, Greta Garbo and Humphrey Bogart during the period in the 1950s and 60s when its American owners enjoyed entertaining and sharing their private home with friends and celebrities.
Walking around the gardens filled with flowering shrubs that surround the house, we soaked up the sensation of a place that's been hidden from the world, but is now available for everyone to discover. The conical sugar mill that would have once been used to grind the sugar cane, remains as an attractive reminder of the house's past and a favourite spot for parties on the lawn and wedding photos.
I'd recommend staying at The Great House for a few days as part of your visit to Antigua, to soak up the history and relax in the gorgeous surroundings, as a complete contrast to the larger resort hotels that are found along the coast. Wellness experiences and spa treatments can be arranged and the hotel is a great base to explore the island and nearby beaches, although you may be tempted just to relax in the beautiful grounds and gardens.
If you are staying elsewhere, you can still get a taste of The Great House history and heritage, if you book for afternoon tea experience (from $70 US per person) and take a formal afternoon tea in the lovely gardens or on the terrace outside the drawing room.
More information: The Great House Website | Check prices and book for The Great House | Prices start from $425 + tax per room night in low season or as a package through specialist travel agents like Tropical Breeze | Check out some more Hotels in Antigua
27. Betty's Hope – remains of an old sugar plantation in Antigua
Just along the road from The Great House on the north eastern side of Antigua, is Betty's Hope, the remains of another plantation that has been developed into a heritage attraction. There's a small visitor centre with an exhibition about plantation life, and you can see the foundations of the plantation house and other estate buildings.
Established in the 1650s, this was the heart of a large sugar plantation owned by the notable Codrington family and was the largest of the many sugar mills they owned on Antigua. The restoration project in ongoing and the main buildings left standing are the two conical sugar mills that have been recreated with their original sails and machinery to demonstrate how the sugar cane would be crushed. Betty's Hope makes an interesting short stop if you are making a tour of the island by car and is included in many Antigua excursions.
Location: East of Antigua
28.Stop at the roadside fruit and veg stalls around Antigua
As you tour around Antigua by car, you may notice a few fruit and veg stalls beside the road, and it's worth stopping to see what they have to offer. You may see lots of produce that's familiar and some that's unfamiliar, as well as home made snacks or juices that are worth buying.
I also found it interesting to discover that despite its fertile soil, Antigua imports much of its produce from nearby Guadeloupe or even further afield from the USA, so worth checking with the vendor where things are from.
One farm shop that has a wide selection of Antigua grown fruit and veg is the Colesome Farmer's Market to be found on Jonas Road that runs from the Airport towards English Harbour. Much of the produce here is grown on the 3 acre organic farm that's run by owner Delri Cole and his wife and they are also developing farm tours and a small cafe here.
29. Donkey sanctuary – looking after abandoned donkeys on Antigua
While you are in the western side of Antigua, animal lovers may wish to visit the Donkey Sanctuary near Bethesda Village. Run by the Antigua and Barbuda Humane Society, the sanctuary is signposted from the main road down a track, with an electric gate you need to buzz for entry. It's free to visit the sanctuary although you'll want to make a donation to help with their work or buy something in the shop.
On arrival I was greeted in the reception and given a brush which I could use to stroke or groom some of the donkeys in the enclosure, which would be a nice activity for children. Around 150 donkeys are cared for at the sanctuary and some of these were in the visiting enclosure which I could freely look around, with the donkeys congregating in the shade of the trees.
Most of the animals that are looked after here have been abandoned, since donkeys were widely used on the island for transport and carrying goods, especially along steep or narrow tracks where cars could not easily reach.
There's also a house where stray cats are kept as part of the neuter and adoption programme that is run from the centre. The volunteers who will show you around can answer all your questions and tell you stories about the donkeys and the characters like Stevie, a donkey who was blinded after being hit by a car, but happily wanders around the compound.
30. Beaches on Antigua's east coast – Long Bay and Half Moon Bay
While driving around the north east side of Antigua be sure to stop at one of the lovely beaches that are a popular local choice to visit.
Long Bay beach in Antigua
Long Bay is in the north eastern corner of Antigua that has less resort hotels but is close to Stingray City and Devil's Bridge, so it's a good place to stop for a swim and relax in combination with these other attractions.
All of Antigua's beaches are public, but as with many of the beaches Long Bay is dominated at one end by a resort hotel – The Pineapple Beach Club, while the other end is more used by locals and day visitors. The sheltered beach has gorgeous clear, calm water for swimming and fine white sand, with some shady areas with trees and mangroves.
There's also a fair amount of commercial activity, with a whole row of colourful wooden beach shacks selling clothing and souvenirs, beach loungers for hire and some cafes and restaurants such as the popular Mama Pasta that overlooks the beach. The sailing boats and watersports are mainly for the use of hotel guests at Pineapple Beach Club, but if they are not too busy you may be able to negotiate rental of the watersports equipment.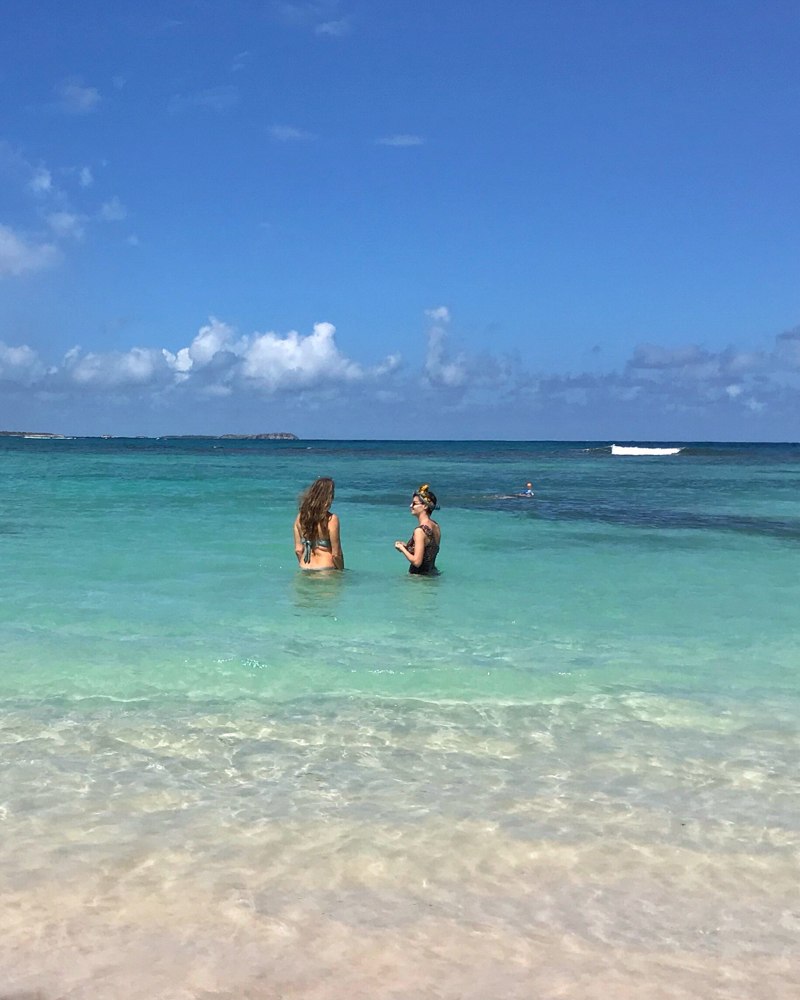 Half Moon Bay in Antigua
Also on the western coast of Antigua is Half Moon Bay, one of my favourite beaches in Antigua, since it has a natural, unspoiled feel with very little development. Although the bay is quite sheltered and protected, the beach is on the Atlantic side of the island and when I visited the waves were quite high, so perhaps this is a good choice for strong swimmers and those who want a bit more wave action than the calmer Caribbean beaches offer.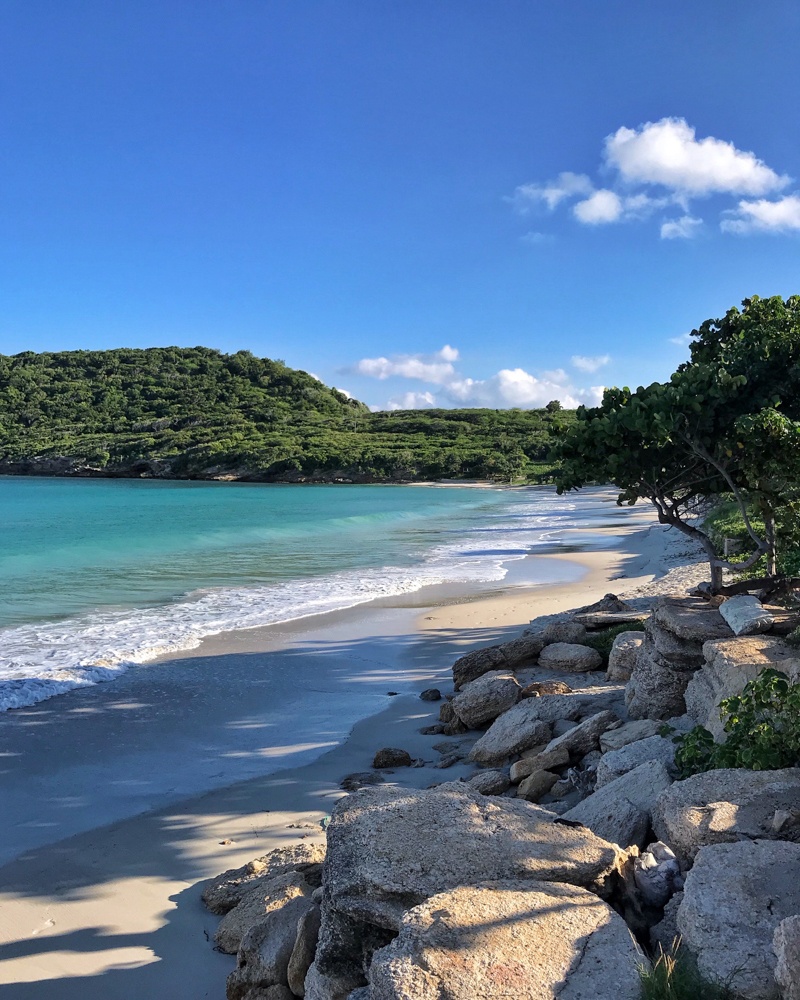 Half Moon bay has a wide sweep of sand that stretches in a crescent right around the bay, backed at each end with some shady trees and mangroves and sun loungers to rent. In the middle of the beach, near the parking area is a lovely beach bar – Beach Bum Bar and Grill, which serves drinks and food through the day and into the evening.

Visitor information for Antigua
You'll find more information to plan your trip on the Visit Antigua and Barbuda Tourism Website
How to get to Antigua
If you are flying to Antigua from the UK the best flight options are with British Airways (6-7 times per week) or Virgin Atlantic (4 times per week) who both fly direct to Antigua VC Bird Airport (ANU) located in the north of the island. The flight time is around 9 hours. You can also take indirect flights that transit via US airports and if travelling from the USA there are also many direct flights to Antigua.
Hotels in Antigua
I've mentioned lots of hotels that we noticed or visited on this trip to Antigua. Many of the resort hotels offer all inclusive packages and these will be good value if you mainly want a relaxing break spent around the hotel pool or on the beach. Compare prices and book for Hotels in Antigua
More Antigua Tours
I've mentioned quite a few fun Antigua tours and excursions throughout this article and you can search the Viator site for more Antigua tours. Taking a round the island tour can be a great option if you decide not to hire a car, enabling you to see a number of places of interest easily in one day.
Getting around Antigua
If you like to explore as we do, then it's probably best to hire a car for some or all of your stay. There are a number of car hire providers located at Antigua VC Bird Airport and you will require a local driving licence lasting for 3 months which your car hire company will issue to you for additional charge of $20 US. In general it's cheaper to rent from the airport and rates will be better if you book for a longer period.
If you are mainly planning to relax at one of Antigua's many all inclusive beach resorts, then you may find it easier and cheaper to arrange taxis locally or take tours and excursions to visit some of the places of interest around Antigua. Taxis can easily be called at hotels or restaurants, especially around St Johns, but if you are visiting a place that's away from the main towns then it's best to arrange the return taxi pickup in advance with your taxi driver.
Local minivan buses also run throughout the island, especially radiating out from the island capital of St John's to the main villages and settlements. They are privately run leaving regularly once full, and are flexible in where they drop you although there are recognised bus stops. The mini buses are inexpensive and can be a fun way to get a more local experience, but be sure to take local advice on the routes so you don't get stuck in a place with no return transport.
Pin it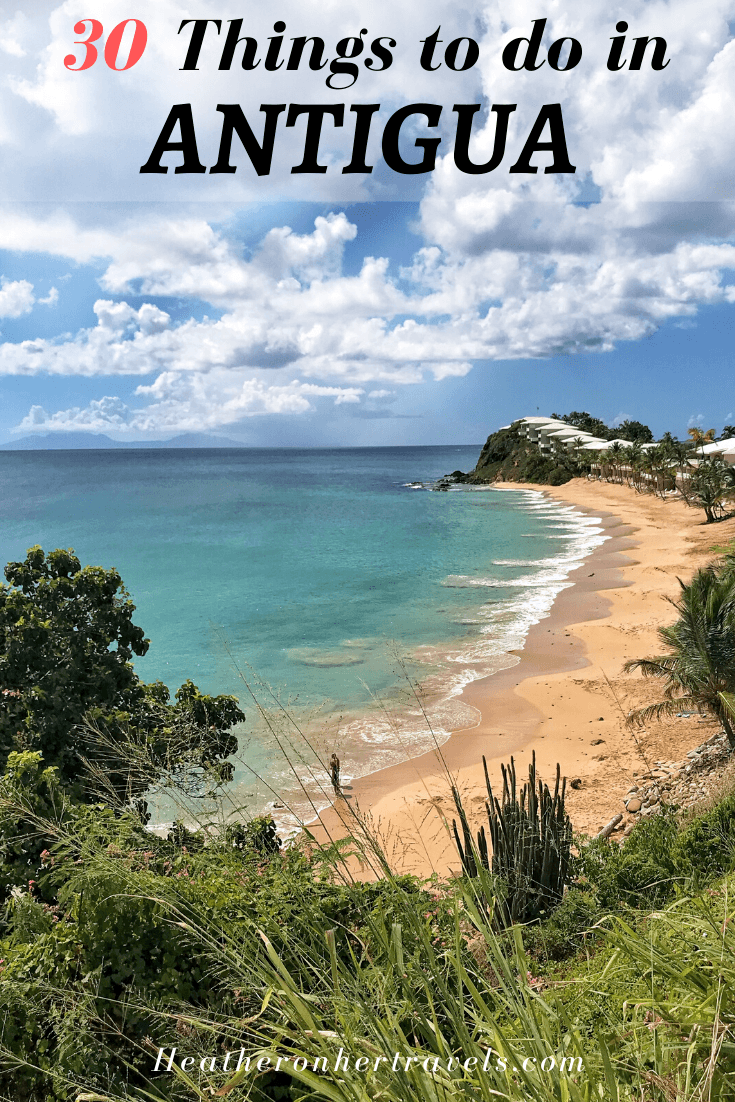 This article is originally published at Heatheronhertravels.com