The Caribbean island of St Lucia is like an emerald jewel set in the sparkling ocean, the folds of land created from long ago volcanic activity clothed with a lush carpet of rainforest and plantations. I visited for a week and loved the island which offers secluded palm fringed beaches, the iconic views of the Pitons and the natural beauty of the rainforest and waterfalls as well as plenty of history and culture. Of course I didn't have time to see everything, but here's my pick of the things to do in St Lucia that I hope you'll love.
1. Things to do in St Lucia – Castries Market, Cathedral and Derek Walcott Square
The busy island capital of Castries is a magnet for shoppers and visitors from the cruise ships that dock each day in the port. There are a wide range of shops and malls in Castries so it's a good place to shop for necessities or do your banking while you're here.
One of the top things to do in St Lucia is a visit to Castries Central Market, which is a colourful one-stop-shop to buy souvenirs, handicrafts and spices to take home, as well as enjoying all the fresh fruit and veg on display. Saturday is the busiest day for the fruit and veg market, since locals come in from all over the island to set up small stalls, but I also visited mid-week and found there was plenty to see.
It's a fantastic place to take photos although of course you should ask permission before photographing the stallholders. I loved photographing of all the unfamiliar fruit and vegetables and browsing the stands with spices and hot sauces. In the craft section there are plenty of brightly coloured shirts, sarongs, straw baskets and cute dolls with madras skirts, with the souvenir stalls continuing in a another covered market across the road. If you'd like to try some of the local St Lucian dishes, there's a row of food stalls within the market that serve hot food at lunchtime.
You may also enjoy: Hiking in Grenada – waterfalls, hot springs and plantation walks
Once you've looked around the market, it's a short walk to Derek Walcott Square which is overlooked by the main church of Castries, the Basilica of the Immaculate Conception. Although the stone exterior is quite plain, inside you'll find faded but beautiful frescoes on the ceiling and brightly painted panels along the side walls. Most St Lucians are active churchgoers and Sunday on the island is a day to go to church in the morning followed by a huge lunch with extended family after which it's time to relax or go to the beach. Although I didn't attend Sunday mass here, I'm sure it would be a great experience, to see a more local side of the island.
From the church, step across the road into Derek Walcott Square, a large public park shaded by a 400 year old Saman tree and bandstand, with a central planting of flowering shrubs. It's quite typical for the church to be next to the central square in the Caribbean, a place for a promenade in the morning after Sunday church service. The square is named after distinguished St Lucian poet and playright Derek Walcott who was awarded a Nobel prize for Literature in 1992. As St Lucian's like to remind visitors, their two Nobel Leaureates give them the second highest number per capita in the world!
You may also enjoy: Top things to do in St Kitts for cruise visitors
2. St Lucia things to do – Shopping for handicrafts
If you enjoy local handicrafts as I do, it's worth stopping at Howelton House where you'll find examples of colourful batik and other local gifts in their Caribelle Batik store. The beautiful 100 year old house sits on the hill in the Morne area above Castries and is included in many island tours, or you could just hire a taxi in Castries to take you there. I especially enjoyed the views over Castries from the terrace where there's a small cafe and adjoining chocolate workshop, where they will tell you how cacao is grown and chocolate is made.
If you are interested in wood carvings, you can visit Eudovic's wood carving studio, which is nearby in the Goodlands area above Castries. Like Howelton House it's often included in island tours, such as the shopping trip offered at East Winds Hotel where I stayed. Unfortunately I wasn't able to get to Eudovic's wood carving studio but it's normally open on weekdays and you'll see fine examples of carved wooden sculptures by the owner Vincent Joseph Ludovic, which are also for sale. Another well known wood carver on St Lucia is Lawrence Deligny whose work can be seen at Anse Chastenet in their beachside art gallery as well as in many of the public areas of the hotel.
You may also enjoy: Staying at East Winds St Lucia – a luxury boutique hotel
Also look out for colourful masks from Zaka masks, created by Simon Gajadhar which are on sale in their art-cafe in Soufriere close to the waterfront as well as at the Anse Chastanet art gallery. Zaka is the name for the god of the forest and trees on St Lucia, and the vibrant painted masks, totems, fish and turtles make a colourful souvenir from your time in St Lucia.
You may also enjoy: Wood carvings in St Lucia
3. What to do in St Lucia – Chocolate experiences in St Lucia
One of the best things to do in St Lucia is to delve into the chocolate making process in a bit more depth, since bananas and cocoa are grown all over the island. The large cocoa pods are harvested and the seeds separated from the creamy pulp, then these are dried and ground to make cacao that is used to create chocolate. Many hotels will offer chocolate related experiences and at East Winds Hotel where I stayed I could have tried their cacao scrub and wrap in their spa.
Also on offer was an excursion to the "Bean to Bar" chocolate making session which takes place in the Howelton Estate chocolate factory (it's actually a small workshop) adjoining their Caribelle Batik store at Howelton House. You'll get to grind the cocoa nibs yourself, adding sugar and cocoa butter to come away with your own hand made chcolate bar. Although I didn't attend this excursion, I heard good reports from other guests who had enjoyed it and when I visited Howelton House, the staff were only too happy to explain the process of chocolate making to me.
You may also enjoy: Top 10 things to eat and drink in St Kitts
The Howelton Estate chocolate bars are also on sale in the shop so you can buy some to take home. Many hotels also offer their in-house "Bean to Bar" chocolate making experience and at Hotel Chocolat, this is even extended to a Tree to Bar experience where you harvest your own ripe cocoa pods from the estate's cocoa groves.
One chocolate experience you can try in any hotel or restaurant is a cup of cocoa tea which is not at all the same as hot chocolate. Once the cocoa beans have been dried and ground, water is added to make a paste, which is dried in rounded cocoa sticks that you'll see on sale in the market. To make your cocoa tea, simply grate an inch or so of the cocoa stick, adding hot water and sugar to taste, with milk if you like. The cocoa tea has the taste of dark chocolate but without so much of the milky sweet taste that you expect when drinking hot chocolate back home.
4. Lunch and pottery at Pink Plantation House
I heard about Pink Plantation House from other guests at East Winds Hotel, who told me that they'd enjoyed lunch there. Pink Plantation is run by artist Michelle Elliot and is part guest house and part art gallery although most people come here for the restaurant which is set on the ground floor of a 130 year old French Caribbean house – painted pink as the name suggests!
You may also enjoy: Grenada Chocolate Festival and 10 things to do in Grenada for chocolate lovers
You can dine surrounded by antiques and vintage chic style, with the restaurant open to the breeze on all sides, overlooking the lush tropical gardens and views along the coast. Pink Plantation is open for lunch each day and the menu is based on local fish, fruit and vegetables, with a nod to flavours and dishes that originate in St Lucia and the Caribbean. I really enjoyed my Pink House Salad, with avocado, tomato and cucumber, topped with caramelised plantain and salt fish, a typical St Lucian ingredient. After lunch I wandered around the gallery next door where the colourful pottery bowls and dishes created by owner Michelle Elliot were on display, as well as printed cloth table mats and naive style paintings of St Lucia scenes.
Pink Plantation House is very close to Caribelle Batik and is set on the hillside above Castries – it's an easy taxi ride from Castries centre and is included on the shopping tour that is arranged by East Winds Hotel where I stayed. Check out the Pink Plantation Website. Next time I visit St Lucia I'd love to stay at Pink Plantation in one of their three elegant guest rooms – I think it would be wonderful place to stay for a night or two although you'd need a hire car to get around.
You may also enjoy: Top things to do in St Kitts for the stylish traveller
5. Views and heritage on Pigeon Island
On the northern tip of St Lucia lies Pigeon Island, no longer an island but a 44 acre peninsula, surrounded by sea on three sides and easily reached by road. This was definitely one of my top things to see on St Lucia if you enjoy dipping into the history of the island. The area is designated a Historic Landmark, incorporating old military buildings and fortifications that are managed by the St Lucia National Trust as well as a couple of beaches. There's a small beachfront restaurant called Jambe de Bois, named after the French pirate nicknamed Jambe de Bois (wooden leg) who used the island as a base to raid Spanish galleons. Pigeon Island later became the naval base of Admiral Rodney, who fortified the island and used it as a military base in the 18th century.
You may also enjoy: Waterfalls, Volcanoes and Hiking in St Lucia
After looking around the old buildings and ruins near the entrance that were the officer's mess and cookhouse, I walked along the beach and took the path up the hill to the high point on one of the two peaks of land. From here the 18th century British canons pointed out to sea, on the look out for any threat from the French fleet and I enjoyed the stunning views over the island. I'd have liked to climb up the second peak too but my time was running out, as I had booked for lunch at The Landings just down the road. This elegant beachside resort has a restaurant overlooking the private marina and beach where I enjoyed a relaxing lunch of ceviche and salad with a fresh fruit juice. More info: Pigeon Island Website, entrance is $8US.
You may also enjoy: 10 views of St Kitts that would make the perfect postcard
6. A Rainforest Adventure at Babboneau St Lucia
St Lucia is the emerald island, its volcanic slopes covered by banana and cocoa plantations and large areas preserved as rainforest. One way to see the rainforest is to visit Rainforest Adventures at Babboneau, where there are three ziplines, walking trails and an aerial tram which takes you high above the forest canopy.
While adreneline junkies will be happy to fly across the forest on a zipwire, I enjoyed my more relaxing view of the forest from the aerial tram, an open sided metal gondola which gave us good views on all sides of the forest. We were accompanied by a guide who explained about the different plants and trees in the forest, pointing out the tiny hummingbirds and other birds as they flitted through the treetops nearby.
You may also enjoy: Hiking in Aruba in Arikok National Park
The tram would stop periodically to allow others to get on and off and on the return journey we reached the highest point where we could survey the forest canopy and views across the island. At the end of the tram ride, we took a short nature walk along the forest trail, which ended in the gardens surrounding the tram station. For keen hikers there are options to hike on the Jacquot trail, leading up to the highest tram station with a guide to explain the flora and fauna in the forest around you. The 2.5 hour aerial tram experience that I tried is normally around $80 (prices may vary if you book as part of an excursion that includes transport) More info: Rainforest Adventures website
You may also enjoy: Waterfalls, Volcanoes and Hiking in St Lucia
7. Rum tasting in St Lucia
The St Lucia Distillery is the main producer of rum on the island and you'll often find a tasting of their local rums on offer in your hotel or as part of an island tour. I tasted my way through some of the St Lucia rums as part of a tasting offered to guests at East Winds Hotel where I stayed, a fun way to get into the local rum culture at their beach bar, followed by some evening rum cocktails.
Bounty is the best known rum from the St Lucia Distillery and most often used in cocktails, although for those who like a smoother taste there's the Chairman's Reserve and the Chairman's Reserve Spiced which is infused with cinnamon, bayleaf, vanilla, nutmeg. There are plenty of aged rums available such as the Chairman's Reserve Forgotten Casks – from a batch of old rum barrels containing spirit aged for 5-11 years.
For drinking in a cocktails or with a mixer you could try the Bounty Lime which is often served with Sprite lemonade or the Bounty Coconut, which can be mixed with pineapple and cranberry juice to give a Pina Colada style drink.
If you want to visit the St Lucia Distillery in the Roseau valley, they offer a Rhythm of Rum tour for groups that need to be pre-arranged and visits are often included in cruise excursions or island tours. If you are travelling independently, call the distillery to check whether you can join one of their existing rum tours.
You may also enjoy: 10 favourite things to do in Aruba
8. Taste the food culture of St Lucia
There was so much to enjoy in the food I tried in St Lucia, with everything from street food and barbeque to fresh juices and elegant international dishes that incorporate Caribbean spices and ingredients. The St Lucian's love a barbecue, and you'll often see grilled chicken, pork and fish that's been marinaded in lime and the local spices, such as nutmeg, cloves, or cinnamon.
Bananas and their green cousin plantains are grown all over the island and used in St Lucia's national dish of Green fig and salt fish. The green fig is the local name for plantain, which is cooked, chopped and served a bit like a potato salad topped with flakes of salt cod. As all over the Caribbean you'll find Roti, a wrap filled with a curried mix of meat or vegetables, like the Chicken Roti I tried at Hurricane Hole in Marigot Bay.
Another street-food favourite that I tasted from the food vendors in Castries Market is Bouillon, a rich stew of pork and vegetables thickened with lentils, originally using all the poorer cuts of meat that would be given to slaves. As an alternative to the local Piton beer, fruit juice drinks are popular and you'll get the chance to try some unfamiliar fruity flavours such as Golden Apple, Guava, Soursop or Tamarind in hotels and restaurants. One experience you shouldn't miss is a refreshing drink of coconut water from the green coconuts that are sold from roadside stalls as you drive around the island. Stand well back as the vendor expertly wields his machete to chop a hole in the green coconut for you to dip your straw in and drink.
You may also enjoy: The unexpected Caribbean – street art in Aruba
9. Marigot Bay and lunch at Hurricane Hole
Marigot Bay on St Lucia's west coast, is one of those idyllic sheltered bays in the Caribbean where you'd half expect to find a pirate ship hidden from sight. The bay is well known for the 1967 Dr Doolittle film with Rex Harrison, since they filmed the scene with a giant sea snail here.
Now the bay is a haven for yachts to moor along on the boardwalk below the Marigot Bay Resort and Marina, a stylish luxury resort, with pools, gardens and villas that extend up the hillside above the bay. Beside the water there are a few high-end gift and fashion shops, a small supermarket and some restaurants including the Hurricane Hole where I had lunch.
The restaurant has an airy Yacht Club feel, offering casual dining and a range of tasty international dishes as well as local favourites like Accras – a fish fritter made with salt cod, or Chicken Roti, a wrap filled with curried meat that's popular all over the Caribbean. The Hurricane Hole is part of the Marigot Bay Resort although it's open to everyone and the name refers to this bay being the best place to hole up in a hurricane, since the high wooded slopes protect Marigot Bay from strong winds.
After lunch I strolled along the boardwalk, eyeing up the superyachts and wondering which one I'd choose when I make my next million. Around the bay, the mangroves run down to the water but next to the Hurricane Hole is the jetty where a constant shuttle service of water-taxis can take you across to the beach where watersports are available and there are sun loungers for hire.
Set back from the beach is a row of beach shacks including the colourful Roots Beach Bar where I stopped for a refreshing coconut water. I got chatting with Englishwoman Susan and her St Lucian husband Peter, who serve local dishes and beach BBQ at lunchtime, as well as coconut water laced with rum if you wish – although I stuck to the non-alcoholic variety!
You may also enjoy: KAABOOCayman – A fabulous festival for music and luxury lovers in the Cayman Islands
10. A sailing trip in St Lucia
Sailing down the coast of St Lucia, from East Winds Hotel in the north, to Soufriere in the south, reminded me that travel is as much about the journey as the destination. With the flap of the sails and the (deceptively) cooling breeze, looking back towards land gave me a different perspective on St Lucia.
The folds of the island were clothed with a carpet of green and we could just make the colourful fishing boats on the beach at Anse la Raye. Our yacht gave us a viewpoint to admire the hotels built into the steep slopes and spot the hidden coves that were best reached by boat. As the Pitons came into view, a turtle was spotted, the dark shell below the surface and just a small head above until he quickly dived into the deep.
For some in our group it was about the convivial chatter, the chance to steer the wheel and be captain for 5 minutes, or to juggle a cup of rum punch as the yacht sped through the water. For others there was the chance to sit on deck at the front of the boat, soaking up the sun and gazing out to sea with the salt spray on your face, perhaps dreaming of adventures in the future.
Our sailing trip was combined with visits to see some of the things around Soufriere, such as the Sulphur springs, Drive in volcano and Toraille waterfall, before we were back on board for a barbeque lunch and a spot of afternoon snorkelling before heading north up the coast.
11. Gros Islet Street Party on Friday night
Friday night is party night on St Lucia. This is when the streets of Gros Islet throb to the sound of reggae, as music blasts from huge speakers and the locals set out their stalls with an incredible range of rums. The Jump Up or Street Party is popular with locals and tourists who come to soak up the atmosphere fuelled with copious amounts of deceptively strong rum punch or the local Piton beer. If you like to party it's a fun way to spend a couple of hours and a good place to go with a group of friends for a night out. There's plenty of BBQ meat and other street food on offer, as the restaurants and cafes set up stalls by the roadside.
The whole area gets very crowded, so best to let your taxi drop you off and then either arrange for a pickup an hour or so later, or use one of the local taxis to get back to your hotel. The atmosphere is friendly and good humoured, but as with any busy event attracting tourists, keep your wallet secure, leave credit cards and valuables behind and just take the cash you need for the evening. The Gros Islet Street Party is the one to go to if you are holidaying in the north of the island, but further down the west coast you can find a similar party atmosphere at the Friday night Anse Le Ray fish fry or on the east coast at the Dennery Fish Saturday.
12. Botanic gardens on St Lucia
Many of the local plants and trees of St Lucia have medicinal properties, and are used to treat common ailments, with this knowledge being passed down to each generation by parents and grandparents.
The gardens surrounding East Winds Hotel where I stayed were full of colourful flowering shrubs and mature specimen trees, established by the original owners who transformed the rainforest into a botanical garden with fruit trees and native St Lucian plants. There are regular garden tours for guests at East Winds or you can also use the hotel's own nature guide book with beautiful botanical illustrations to make a self-guided tour.
There are also a number of botanic gardens and plantations on St Lucia open to visit, with one of the best known being the Diamond Falls Botanic Garden at Soufriere. The gardens form part of the Soufriere Estate that was granted to the Devaux family in the 18th century and once produced limes, copra and cocoa.
The botanic gardens were established here in the 1980s and have been developed with a nature trail, restaurant in the old mill house and mineral baths as well as the waterfall that is within the gardens. Although I didn't have time to visit the gardens on my trip to St Lucia, they sounded a wonderful place to spend an afternoon. More info: Diamond Falls Botanic Garden website
13. Tet Paul Nature Park in St Lucia
If you want to see the views of Gros and Petit Pitons, the twin volcanic peaks that dominate the south of St Lucia, Tet Paul provides an easy nature trail with viewpoints along the way. A guide to explain things (and take lots of cheesy-but-fun "pointing at the pitons" shots ) is included in your entrance fee of $10 and the walk from the car park takes you gently uphill on a circular route. The whole walk can be done in 45 minutes – a little more or less depending on how many photos and stops to admire the view, but it's easy enough for all ages and abilities.
On the return loop we passed the vegetable garden that is cultivated by the local community where pineapples and papaya as well as other vegetables grow.
Back at the start was a small local dwelling that has been restored to show you how people lived in days gone by and the cassava house, where the old tools and utensils for preparing cassava were on display. It's a fun walk for all abilities and the views of the Pitons from here are outstanding.
14. The Sulphur springs on St Lucia
The sulphur springs are fed by the boiling pools of mud that can be seen in the drive in volcano just up the road. You can visit the thermal pools first and then walk or drive the short distance up the hill for a view of the volcano. Leave your clothes in the locker and then you walk in your swimsuit (a dark one's ideal if you don't want it ruined) through channels of water where you'll be offered buckets of the mineral mud to spread over your skin and perhaps make a few hand prints for the facebook photos.
The locals do set great store in the minerals properties of the mud and will joke that just one application is guaranteed to make you look 10 years younger! When I visited the baths were quite crowded so I opted to just stand by and take photos – it looked a fun experience although mainly a chance for a bit of a laugh to have your photo taken covered in muddy handprints. Further up stream were some shallow pools, the temperature of a warm bath, where you could wallow for a bit before moving back to the deeper man made pool where you'd wash off the mud. The baths cost $5.50 US or $12.10 US for a combo ticket to see the baths and volcano.
15. The Drive in Volcano on St Lucia
After trying out the sulphur springs and mud bath, just up the road you'll find the so called 'Drive in Volcano". It's the fallen-in crater of the volcano with a lava crust where the steam is rising and pools of boiling mud bubble away. Unlike geysers elsewhere in the world, there are no jets of water spouting up.
The rotten-eggs smell of sulphur hangs in the air and the nearby town of Soufriere is actually named after the French word for sulphur. The guide will take you up the walkway overlooking the volcano and explain everything you're seeing along the way. As you walk back down the wooden stairway, there's a view of a small waterfall and some old baths that are no longer in use. The volcano costs $8.80 US or $12.10 US for a combo ticket to see the baths and volcano.
16. Waterfalls on St Lucia – the Toraille waterfall
Waterfalls are everywhere on St Lucia, but one of the most accessible is the Toraille waterfall, which is often combined with a visit to the sulphur springs and the volcano. The waterfall is especially popular, being so close to the road and after paying a few dollars entrance fee, you walk up to a changing area and get a view of the waterfall. Walk down the steps made of sandbags into the pool below the waterfall and wade or swim right up to it. Sitting under the waterfall is like being under nature's strongest power shower and you really feel the force of nature crashing down on your head, and perhaps washing away any remaining traces of the sulphur mud.
The Diamond Falls in the botanic garden are also popular to visit although you can't swim there, but you can swim in the Pitons waterfall which is also nearby close to Morne Coubaril plantation. On the eastern side of the island there are more waterfalls at the Sault Falls near Dennery and La Tille waterfall but you may need a guide to take you to some of these.
17. The Pitons – to climb or just admire
The volcanic peaks of the Pitons are a distinctive sight in the south of St Lucia and have become the favourite photographic image of the island. These twin volcanic plugs are a designated UNESCO World Heritage site, their forested slopes rising from the sea to a height of 2500ft. Many of the hotels in the area of Soufriere are built to make the most of their Pitons views and I stopped at Anse Chastanet and Jade Mountain, two luxury hotels built into the side of the mountain that look out towards the Pitons.
If you're up for a challenge, then you might like to climb Gros Piton. I didn't have time to try it myself and I gather it's not for the fainthearted as it's a steep and slippery scramble. It's best to start as early as possible to beat the heat and be sure to have sturdy trainers, trail shoes or boots and a rucksack with lots of water, snacks and mozzie spray. I'd definitely be taking or renting walking poles too to help support knees and ankles.
The trail starts at the village of Fond Gens Libre where there's a visitor centre and you will be allocated a guide who you'll need to tip at the end. I heard that the fee payable at the visitors centre is $30US per person but you'll need to check this locally. The climb normally takes 2 hrs to reach to top and another 2 hours to get down. It is also possible although not as common to climb Petit Piton, which is much steeper but you'll need to ask locally for a guide.
18.Relax in the spa on St Lucia
If all this talk of hiking sounds just too exhausting, then be sure to book a relaxing spa treatment as part of your holiday in St Lucia. Your hotel or resort is likely to have a lovely spa and I certainly enjoyed my treatment at East Winds Hotel where I stayed.
The spa is partly open to the beautiful gardens, allowing the sea breezes and sounds of the garden to wash over you while you enjoy a massage or facial treatment. For a particularly St Lucian experience you might try a body wrap using the same sulphur mud that is found in St Lucia's volcanic area near Soufriere or a chocolate wrap using the locally grown cocoa as a body scrub. My chosen treatment was a full body massage as I relaxed with the sounds of the pigeons cooing in the garden and the birds chirping.
19. Enjoy the beautiful beaches of St Lucia
The west side of St Lucia on the Caribbean side, is where you'll find the most beautiful beaches with calm water, while the eastern side of the island faces the Atlantic, so it's more wild and less developed due to the sea being less calm. If you're staying in a hotel or resort on the east coast there's likely to be direct access to one of these beautiful beaches with a beach bar and sun loungers to chill out in the shade of a palm tree or sun umbrella. If you are travelling independently, be aware that although the hotels may appear to dominate the beach, all beaches are open to the public on St Lucia, although the sun loungers and beach bars may be reserved just for hotel guests.
As well as relaxing on the gorgeous beach at East Winds Hotel, I did enjoy a few others as I was out sightseeing on St Lucia.
The beach at Pigeon Island on St Lucia
There's a large public beach at Pigeon Island with parking, sun umbrellas and loungers to hire just before you get to the enclosed National Heritage area. I also liked the two small beaches that were within the Heritage site and it's worth paying the entrance fee to access them. There were some sun loungers and shady areas under the trees, with the Jambe de Bois Beach Bar nearby for lunch or refreshments.
The beach at Marigot Bay on St Lucia
The beach at Marigot Bay is reached by one of the water taxis that constantly go back and forth and you'll find a few beach bars serving food and drinks and sun loungers there, as well as watersports for hire. Although there is a hotel on this side of the bay, the beach has a more local feel and is shaded by lots of palm trees.
The Beach at Anse Chastanet and Anse Mamin
I visited the gorgeous Anse Chastanet hotel and of course if you are staying there or at sister hotel Jade Mountain, you'll have full access to all the beach facilities, such as the sun loungers, beach bar and the dive centre that are run by the hotel. There's a path that joins the beaches at Anse Chastanet and Anse Mamin and there is excellent snorkelling off both the beaches, with a plantation owned by the hotel at Anse Mamin that guests can use for jogging and walking. If you're not staying at the hotel, the best access is by a water taxi from Soufriere, although you won't be able to access all the same facilities as hotel guests.
20.Cocktails at sunset in St Lucia
There's something special about the sunsets in St Lucia – they seemed to be especially vibrant as the sky turns from pink to peach to yellow and the golden ball of the sun dips into the sea. This is the perfect end to the day when you can sit at the beach bar, sipping your favourite rum cocktail and watching the waves lapping on the beach as the sun goes down.
You'll find rum punch in all the bars, made with strong rum, orange and pineapple juice with nutmeg, grenadine and cherry juice, which slips down nicely and can catch you unaware as it's deceptively strong! My favourite tipple was the rum sour – like a Mojito without the mint, but I also enjoyed some others like the East Winds Dream made with dark rum, coconut cream, pineapple juice, banana and grenadine.
Where to Stay on St Lucia – East Winds Hotel
For my week in St Lucia I stayed at East Winds, a luxury boutique hotel by the sea that's set within a botanical garden. The hotel has just 30 rooms in pretty painted cottages, which are furnished in elegant Caribbean style, to give you an authentic but luxurious experience. I love the laid back charm of the hotel surrounded by nature with pigeons cooing and the sound of the waves in the distance.
The hotel offers an all-inclusive experience and the delicious food is international in style with a nod to the spices, flavours and produce of St Lucia that are used in the dishes. Despite being tucked away in a valley that leads down to the sea, there are a surprising amount of activity on offer such as yoga, garden tours, rum tastings and watersports, with additional excursions to places of interest organised by the hotel.
The staff here are incredibly friendly and attentive, creating a club-like atmosphere that makes guests feel part of the East Winds family, so it's no surprise that many guests return here year after year to enjoy the seductive East Winds experience.
To book for East Winds
To book for East Winds check their rates and offers page for more details. Many guests from the UK book a package that includes the flight with companies such as British Airways Holidays, Virgin Atlantic Holidays or Caribbean specialist Tropical Breeze, or check with your favourite Caribbean specialist travel agent.
While on St Lucia I also visited some other hotels which I can recommend if you're looking for other options of places to stay;
Stay at Marigot Bay Resort and Marina in St Lucia
This resort hotel is built on the hillside overlooking beautiful Marigot Bay, an idyllic location where you can watch the yachts coming and going in this sheltered cove. The mangrove trees run around the bay but below the hotel there's a boardwalk where the yachts are moored and a marina area where I had lunch in the Hurricane Hole restaurant. The  suites and rooms are set in different buildings on the hillside, with two swimming pools on different levels and access to the beach across the bay on the hotel's private ferry. This is a lovely luxurious 5 star resort that will suit all ages and tastes, in one of the most beautiful bays on the island. More info: Marigot Bay Resort and Marina website
Stay at Anse Chastanet in St Lucia
For many years my parents would holiday at Anse Chastanet to escape the English winter and as I'd heard how much they loved it, I was pleased to be able to visit on my trip to St Lucia. The rooms are set in cottages on the hillside, with views towards the Pitons and there's a colourful, artistic theme, with the paintings and wood carvings of local artists and sculptors scattered throughout the hotel. The dining rooms and terraces lead down to the beach restaurant, where there's an art gallery to see many of these artworks as well as a dive centre and great snorkelling off the beach. The hotel is popular with all ages and I saw families and couples enjoying their stay there. More info: Anse Chastanet Website
Stay at Jade Mountain in St Lucia
Built on the side of the mountain above Anse Chastanet, the sister hotel Jade Mountain is a truly stunning luxury hotel that reminded me of a castle in the air. All the suites face towards the sea and the magnificent view of the Pitons, with their own private plunge pool and a rooftop restaurant for the use of guests. This place has romance written all over it and it's a place to treat yourself to a magical luxurious experience. More info: Jade Mountain Website
Plan your visit to St Lucia
If you are planning a visit to beautiful St Lucia you'll find plenty more information on the St Lucia official UK Tourism website and their social channels; Twitter | Facebook | Instagram
Check out options for more hotels in St Lucia
If you're travelling independently check out these tours of St Lucia with plenty of different ways to see the island.
If you need a guidebook to St Lucia we recommend the Insights Guide to St Lucia
Getting around St Lucia
To get around St Lucia the best ways are by taxi or by local mini-bus. The taxis are plentiful and most convenient when you are travelling from hotel to hotel or to locations that are away from the main road. There are set rates for each journey and the taxi driver can let you know the cost of each trip. You'll find taxi ranks in Castries and other towns and your hotel can always arrange a taxi for you.
The bus is a cheaper alternative, and works well if you are travelling on routes along the main highways as they pass by very frequently. They are small minibuses that are privately run and there are set fares – expect to pay around $2-3 EC per journey. It's a fun local experience to travel on local buses and I enjoyed squeezing in with chattering schoolgirls travelling into Castries. You can ask any local where to get the bus and which one to catch – there are bus stops but the buses may also drop you off or pick you up at other places if you ask.
Money in St Lucia
The currency is St Lucia is Eastern Caribbean Dollars, referred to as $EC but US Dollars are generally accepted in shops and visitor attractions that attract a lot of tourists. If you pay in $US cash you may be given change in $EC. The rate of exchange that was in general use at the time of my visit was $1US = $2.5 EC or £1 = $3EC although you may get better rates at banks. At the major visitor attractions or for hotel excursions, rates are often quoted in $US so be sure you know which currency you are paying. It works best if you arrive in St Lucia with some $US in cash which can be easily changed in $EC locally and there are ATMs at banks in Castries and other centres around the island where you can also withdraw money as you need it. Credit cards are widely accepted in hotels, restaurants and larger shops, especially those that cater for tourists, but you will need $EC for smaller shops and in the markets.
Pin It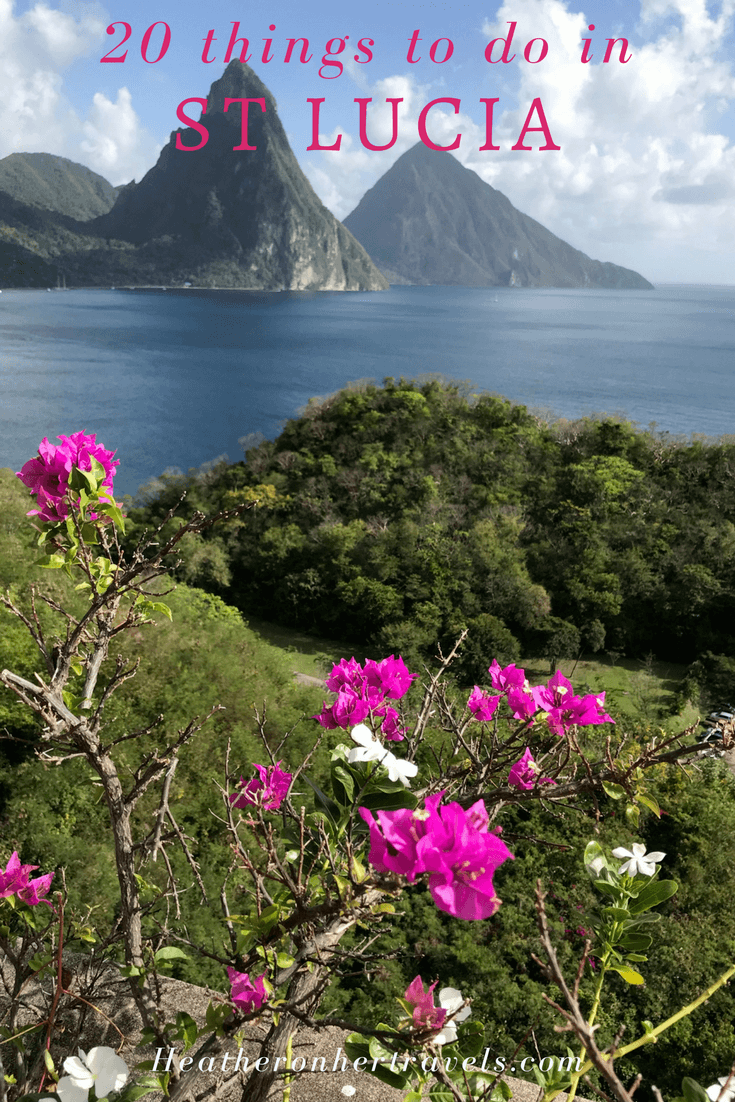 Thanks to St Lucia Tourism and East Winds St Lucia for hosting my visit to St Lucia
This article is originally published at Heatheronhertravels.com – Read the original article here