There's a saying that if you eat badly in Italy you must be in Venice. Being something of a foodie myself, on my long weekend in Venice, I was determined to search out the best of Venetian food. I'm afraid to report, however, that my food experiences ranged from the average to the mediocre. Since Venice is such a tourist hotspot, and so many of the visitors are there for such a short time, it is all too easy for many businesses not to try too hard. Still with a little research and planning I think that you can find the best that Venice has to offer, so here are my tips to ensure that you don't eat too badly in Venice.
Get well away from San Marco
The San Marco district and especially the area around St Mark's Square is the tourist hub of Venice and is always packed with visitors. Many come for the day from a cruise ship or coach tour and just have time for the tick list sights of the Doge's palace, San Marco Cathedral, climb the campenile and then a quick gondola tour or foray to the Rialto Bridge. I'm not saying it's not possible to find a good restaurant in this area, but you are just as likely to stumble into one with a multi-lingual menu designed to service tourists only.
Better to venture into the less touristy districts such as Cannaregio, Arsenale or Dorsoduro where you will find more authentic wine bars and restaurants. The area around the Rialto market is good and has a number of good bacari (wine bars) plus it's a feast for the eyes. Arrive in the morning when the fish is on sale to see the market in full flow; by lunchtime the market is winding down and stalls are packing up, although the fruit and veg stalls will be there for a little longer.
What to eat in Venice
If you're not sure what to order we found that it was difficult to go wrong with a seafood pasta or pizza. It's not terribly adventurous but tends to be the least expensive things on the menu if you're on a budget. Local specialities to look out for are linguine alle vongole, the hot antipasti of mussels and clams and a risotto with black squid ink. The meat dishes that we eat at home such as lasagne and ravioli we found were disappointing.
If you are offered fresh fish, it may be priced by weight and you should take care to establish the cost in advance or you may find yourself landed with an unexpectedly large bill. This is a bit of a scam in the San Marco tourist restaurants where a big show is made of a whole fish cooked in salt which you discover later has a hefty price tag.
Other things to check are the cover charge which may add a few euros per person and a service charge which may be added on to the bill. Of course if you'd like to have that coffee at Florian in St Mark's Square while listening to the musicians, you should do so knowing that it has a tourist price tag (the prices are clearly shown on the menu outside). Venice is a great place to try local Italian wines by the glass in a side-street wine bar and in the early evening you can join the locals in a bright orange Aperol Spritz, a Bellini or a glass of Prosecco.
Eat standing up
A custom that takes us Brits by surprise, but is quite the done thing, is to stand up or perch on a bar stool while having a drink and a snack with friends. Don't be put off in the wine bars if there are only a few small tables and you have to rest your drink on a shelf along the wall. This is where you can order cicchetti, or small bar snacks which range from miniature sandwiches to dishes of salad and cold seafood. The ideas is to order a glass of wine and point at whatever dish looks tempting, then stay for another or move on to the next bar.
The stand up principle also applies to gelateria. Look for those that are artizan, which indicates the gelato is made on the premises, where you will often find a few small tables or stool to sit inside. The same stand-up approach can also apply at the Pasticceria where you can grab a coffee at the bar with a sweet pastry or cake. Generally eating or drinking standing up means that the price is cheaper since table service is not required.
Eat Venice food app
Before I visited Venice I downloaded the Eat Venice app onto my phone in the hope that I could find some more authentic places to eat. The app is by Elizabeth Minchelli whose blog about Italian food is also a great source of information about eating in Venice. I loved reading about all the great places to eat on this app but found that once we were there we invariably couldn't find them or were too hungry to hunt around.
It's certainly worth using the app to find out good food places in your neighbourhood, but don't get too worried if you don't find them, it's better to use your eyes to judge whether a place looks authentic. If it's busy, packed, full of Italians chatting with their friends, then it's worth waiting for a table.
Self catering in Venice
While there are plenty of apartments in Venice and indeed we stayed in one of them, although it seems to be a bit sad to always be eating in when you are in the midst of a living postcard. There are a few supermarkets in Venice but not really the convenience stores that you find in other cities. The culture is to eat out in a bar or restaurant and picnics are discouraged, in fact there seems to be a rule that they are not allowed. Still an apartment does mean you have the flexibility to make yourself the breakfast or lunch that you want, while perhaps eating out in the evening.
Food Tours in Venice
Another great way to get the feel of the local food culture is to take a food tour like the Rialto Market and Cicchetti wine bar tour with Walks of Italy. This tour takes you around the Rialto fish market and into the artizan food shops with a stop at three different local bars to taste the cicchetti as well as restaurant recommendations from the local guide. I wish that we had been able to take this tour as I feel sure that our food experience in Venice would have been improved had we been armed with some insider knowledge.
Pin It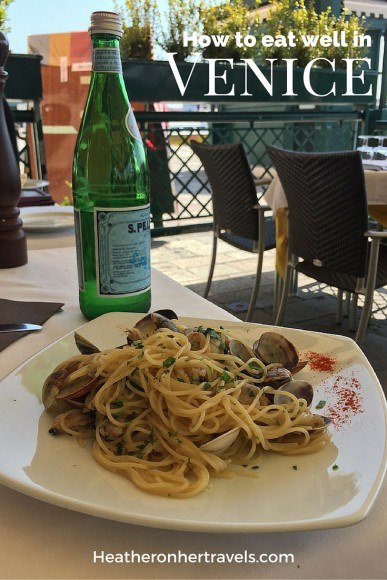 Some more Venice recommendations
The Go with Oh apartment we stayed in was one that I won through Murissa's blog at The Wanderful Traveller in the Passports with Purpose fundraiser. Murissa knows Venice well and kindly made me some recommendations of where to eat in Venice;
Hilton Molino Stucky Venice
If you don't mind your kids drinking a bit of prossecco and toasting to what an amazing city you've all traveled to then head up to the top of this hotel. There is a bar that has a picturesque pool and overlooks the entire city of Venice. Take the Zattere water bus stop over to Stucky.
Osteria Enoteca ai Artisti
You'll find this recommendation in your Eat Venice app. Delicious and not too pricey food in a quaint location not far from where we stayed. http://www.enotecaartisti.com
Al Mercà (Rialto market area)
One of my favourite cicchetti bars – cheap and amazing sandwiches (the prosciutto is my favourite!), delicious prossecco, and a view of the hustle of the market/canal. Standing room only.
All'Arco (Rialto market area)
Family run cicchetti bar where you can eat local foods for very cheap. Cicchetti are Venetian snacks for cheap and have been served for hundreds of years. I personally love the deep fried mozzarella with fresh sardines but stuffed zucchinni flowers are divine as well. Good for lunch – mostly standing room only when you visit cicchetti bars.
Do Spade (Rialto Market area)
Where Casanova frequented in the mid 1700s. Delicious cicchetti, wine and beer. Locals and tourists alike. Just go up to the counter order and find a spot. Not far from the Rialto Bridge/Market.
Book a tour of Venice
We highly recommend Walks of Italy who offer a number of different tours in  Venice and other parts of Italy, which are ideal if you are only visiting for a short time. You'll have an expert local guide to show you around and can often skip the queues at key sites. We took the 2 hour Venice Boat Tour which took us down the Grand Canal and many of the smaller canals with views of the key sites of Venice including a visit to the island of San Giorgio Maggiore where we climbed the bell tower with amazing views of Venice. Read my review of the Walks of Italy Boat Tour here.
Where to stay in Venice
For our 3 day stay in Venice I rented an apartment with Go with Oh and was able to use the €250 voucher that I won with Passports with Purpose blogger fundraiser. We chose this apartment in the San Marco district since it was so well located for all the main sites.
Thanks to Murissa from The Wonderful Traveller who hosted this prize contributed by Go with Oh and and for her tips on what to see in Venice. Passports with Purpose is a really worthwhile organisation which supports a different cause each year and you can win some really fabulous prizes so it's definitely participating.
This article is originally published at Heatheronhertravels.com – Read the original article here

You'll also find our sister blog with tips on how to build a successful travel blog at My Blogging Journey