February 17, 2016 by Heather Cowper
Filed under United Kingdom, Europe, Accommodation, Leisure, featured, Budapest, Denmark, Germany, Hotels, Hungary, Sightseeing, Sweden
I often get asked which hotel I'd recommend for a short break in Europe, which is a tough one since we all have different ideas about what makes the perfect hotel. Instead of reeling off a list of lovely hotels that I've stayed in (although you can see a few below), I thought instead I'd walk you through the process I use to find my ideal hotel. Using these tips you should be able to find the hotel that suits you best and enjoy a fabulous weekend away.
Read more about the Bristol Hotel in Bristol | Compare prices and Book for the Bristol Hotel
Why is a hotel best for a European Citybreak?
Before I share how to find the perfect hotel for your European city break, let's consider why I'd recommend choosing a hotel at all? After all you could book a friendly B&B or local apartment, as I have done myself on occasion. I've found that if you are spending a relatively short time in a destination and planning weekend breaks for couples or small groups then a hotel is usually best. Here's why.
With apartments and B&Bs there's less flexibility with the check in times. You may have to meet the owner or key holder at a certain time and there's no opportunity to arrive earlier. With a hotel there's always someone at reception, so you arrive at your convenience, drop off your bags if your room isn't ready and get out to start enjoying your weekend break. If you prefer to relax there's normally a hotel lounge where you can get a coffee, but either way you won't be hanging around the streets with your luggage. I typically book an apartment when I am staying for a week or more, or am travelling in a large family group. Then those precious hours waiting to check in are not such a big issue.
Read about our stay at Intercontinental Hotel Budapest | Compare Prices and book for Intercontinental Hotel, Budapest
Finding a hotel that matches your budget
One of the biggest considerations for weekend citybreaks is how much you can afford to spend on a hotel and what it will buy you. Sometimes there's a trade off between price and location but we'll come to that in a moment. As an example, you might be planning a trip to Stockholm and want to check roughly what your budget will buy you. This is where it's useful to do a quick check on the going rate for the price of different levels of hotels in Stockholm to see if we're talking pleasantly affordable or need to take out a second mortgage.
I typically use a hotel comparison site like Hotels Combined that shows the best prices from a range of different booking sites; you can try this out on my Heatheronhertravels hotel booking page which is powered by Hotels Combined. By putting in your chosen city and dates (or tentative dates if you're not sure) you can then filter on the 3 star, 4 star or 5 star hotels to see what you can get within your budget. For a further comparison you might change your search to another city such as Gothenburg and find that prices are lower than Stockholm which could influence your decision on where to go. Occasionally there's a big event or conference in town that inflates the hotel prices, so if you have flexibility in your schedule, check the price for a few different dates.
Read about our stay at Elite Plaza Hotel in Gothenburg, Sweden | Compare prices and book for Elite Plaza Hotel, Gothenburg
Location Location
Having established what kind of hotel you're likely to find within your price range it's time to look at different locations in a city that work best for you. There are a few things that might influence you here such as:
A hotel that's walking distance from the main sightseeing area.
A hotel that's well located for a specific place you want to visit.
A hotel that's well located for transport links, for instance close to the metro or main train line from the airport
A hotel that's in a well lit, mainstream location if you're a solo traveller.
Personally, if I'll only be there for a few days, my first priority is to find a hotel close to all the main sights so that I can see as much as possible in the time I have. At this stage you could have a quick look at the destination's official tourism website to establish where the major attractions are located, and if it's a larger city perhaps to look at the metro or public transport map since there may be multiple areas for sightseeing. Having established where the main sites are, you can filter based on distance from a key tourist spot or just click through to see the hotels on a map.
Read about our stay at Riad Star in Marrakech | Compare prices and book for Riad Star 
Find a style that suits you
As everyone's idea of a perfect hotel may be different, you'll want to consider the style of the hotel. Some of you may like clean modern lines, others classic elegance or a trendy boutique style and I've enjoyed stays at hotels that offer all of these styles. Use the filters on the booking comparison website to see what's available in different categories such as luxury, romantic, boutique/design. You may also want to do an online search for something like "boutique hotels in Stockholm" to see what hotel names keep popping up. This is the time to look at the photos on the hotel booking page or hotel's own website to give you a feel for whether the style is right for you. After all, one person's vintage charm is another's outdated and shabby.
Read my article about Qube Hotel and what we did in Heidelberg | Compare prices and book for Qube Hotel
What facilities are important to you?
If certain facilities like a gym, spa or free wifi are essential to your enjoyment, now would be the time to put these into the filters of your hotel comparison website and make sure you are selecting hotels that have what you need. You may need to prioritise your wish list, as in smaller cities the perfect hotel with everything you require may not exist, or at least not within your budget.
Read my article about Kurhotel Skodsborg in Copenhagen | Compare prices and book for Kurhotel Skodsborg
Make a shortlist
Having considered price, location, style and facilities it's time to make a shortlist of hotels. You should aim to have a list of 5-10 hotel names that would broadly match your requirements and jot them down somewhere with space to add comments beside them.
Read the reviews
Now it's time to read the reviews. While most hotel comparison websites, such as Hotels Combined, have reviews I find the best place for this is Tripadvisor. Although there's been a bit of discussion about fake reviews on TripAdvisor I've generally found that if you scroll through and scan at least 15 reviews posted over a few months, you will get a balanced overview of the hotel. Things that reviews will often cover are:
How well located the hotel is for sightseeing
The staff and service – is there one member of staff singled out for criticism or praise?
The style of hotel, decor and general upkeep.
Mention of any building work or renovation going on in the hotel or nearby. If so check the date as this may now be complete.
Mention of hidden charges, things that weren't working, rooms that were noisy.
When reading the reviews take a balanced view to consider whether any concerns raised by reviewers would affect your enjoyment of the hotel or are just unfortunate one-offs. Note how the hotel management answer the reviews, especially any negative ones.
If you scan through the reviews for your shortlist of hotels, you will probably eliminate a few of them based on the comments and ideally get to a list of around 5 hotels to investigate in more detail.
Read my article about Absalon Hotel and what we did in Copenhagen | Compare prices and book for Absalon Hotel
Shop around for the best price
With your shortlist of five hotels I'd go back to a hotel comparison site such as my Heatheronhertravels hotel booking page powered by Hotels Combined and do a price check for the dates you require. The beauty of Hotels Combined is that it scours a wide range of booking websites to come up with the best price deals. Of course you need to be sure you are comparing like with like. Check whether breakfast is included, that you're comparing the same standard and type of room and look out for extras like local taxes. If any of your shortlisted hotels don't have availability for your dates, it may be worth e-mailing the hotel directly just to check.
Read about our stay at the Moorland Garden Hotel in Devon | Compare Prices and book for the Moorland Garden Hotel 
Check the cancellation terms
Be sure to check the cancellation terms, which can be quite generous on hotel comparison and booking websites, but not always so generous when booking direct with the hotel. I was once in a situation where my plans changed before a hotel stay I'd booked and I found myself liable for the whole bill – read my article on how to avoid hotel cancellation fees. If there is a claim of 'free cancellation' check the small print to see what this actually means.
Get the maximum benefit
Perhaps you're down to a much shorter list of just two or three hotels that meet all your requirements, so now it's time to make sure you're getting the most for your money. Scrutinise the deals on sites such as Hotels Combined to check whether there are any other benefits that would save you money, such as free parking. It's also wise to check the hotel website to see if they have any special offers, for instance 3 nights for the price of 2, or packages that include extra benefits that would interest you. In the spring and autumn when hotels have to work harder to fill their rooms, they are much more likely to offer extra benefits to entice you.
Read about our stay at Hotel Weissen Rössl at St Wolfgang in Austria  | Compare prices and book for Hotel Weissen Rössl
Make your booking!
I normally find that it takes around an hour to do the research I've described above, but for me that's time well spent if I choose a hotel that's perfect for my European City break. Now it's time to make your booking, taking care to save or print off the confirmation, then relax until it's time to go. Hope you have a great time!
Do you have a favourite approach to choosing the perfect hotel? I'd love to hear your tips in the comments.
Disclosure: If you book through my Hotels Combined booking page on this site I will receive a small commission at no extra cost to you which helps support this site.
Pin It
This article is originally published at Heatheronhertravels.com – Read the original article here
March 21, 2015 by Heather Cowper
Filed under Europe, Leisure, featured, Austria, Copenhagen, Denmark, Eating and drinking, Germany, Gothenburg, Greece, Salzburg, Sweden, Zakynthos
Are you a coffee lover like me? It's the aroma of freshly ground coffee beans that hits your nose first and then you take a sip of hot, sweet coffee. Ahhh, the day starts to feel better already. But perhaps for you it's a tiny cup of strong, black expresso, ending the meal perfectly like a full stop at the end of a sentence. Or a frothy cappuccino to eat with a sweet pastry for breakfast like they do in Spain.
However you like it, a great cup of coffee is full of ritual as you watch a skilled barista operate those shiny machines that woosh and hiss, or the buzzy atmosphere of your favourite coffee shop where you meet your friends for a late morning weekend brunch or an afternoon coffee and cake.
Now I'm dreaming about all the coffees I've enjoyed on my travels, each coffee experience giving me a doorway into the culture of the place I visited. For more coffee inspiration, take a look at this Coffee infographic that will take you around the world in 31 coffees, but in the meantime let me share with you some of my favourite coffees around the world.
1. Copenhagen – the best coffee in the world?
If ever there was a place where they know how to elevate coffee to an art form it is Copenhagen and Coffee Collective sits among the best of the best.
I visited their original coffee shop in Nørrebro a few years ago, a tiny place with just a few wooden tables outside and a stool inside to perch while your coffee is being expertly made. Their coffee beans are sold all around Copenhagen and they operate on a Direct Trade model, working with farmers in Brazil, Guatamala, Kenya and Panama to pay the best prices for the best quality coffee. If you visit this place you'll probably be buying your coffee to take away (perhaps picking up a pastry from the Claus Meyer bakery across the road) but if you want to sit and enjoy your coffee in a foodie atmosphere, head for their stand in the Torvehallerne food market halls.
Torvehallerne is one of my favourite places in Copenhagen, where you can get a fabulous but reasonably priced lunch or sip your coffee with a cake just like your Danish grandmother might have baked. The third branch of Coffee Collective is in Frederiksberg, where the beans are roasted and they do monthly tours and coffee tastings where you can learn how to make a perfect coffee. Definitely a place of pilgrimage for the coffee connoisseur.
Read More: Eat the Neighbourhood in Norrebro, Copenhagen
2. Coffee time is Fika time in Sweden
If you've visited Sweden I'm sure you'll have come across the tradition of 'fika', or having a coffee break with friends. This is the occasion to settle down in a cosy cafe where the counters are laden with buns and pastries to relax over a good cup of coffee and a chat. When I visited Gothenburg I discovered that the picturesque old neighbourhood of Haga was the perfect fika spot, since its cobbled streets are lined with cafes, restaurants and artizan shops.
Cafe Husaren on the corner of the main street of Hada Nygatan is reputed to be the original source of the enormous cinamon buns which are a speciality of Gothenburg, although we squeezed into the pretty, traditional Cafe Kringlan with the gold bagel hanging outside. The local's choice for fika in Gothenburg seems to be Da Matteo and they have several shops including the largest in Magasingaten where they bake the bread and pastries on the premises, so you get the aroma of freshly baked bread thrown in with your coffee.
Read More: Favourite coffee spots in Gothenburg for your coffee fix
3. Salzburg – for coffee and cakes
Perhaps you've gathered by now that I have something of a sweet tooth, so heaven for me is a great cup of coffee served in the afternoon with a slice of the local cake. Of course Austria makes a speciality of this Kaffee und Kuchen ritual and where better than Salzburg, the glorious homeland of Mozart and the Sound of Music to enjoy it?
When it comes to cake to accompany your afternoon coffee, you'll likely be wavering between the Apfelstrudel (soft bites of apple wrapped in crisp layers of pastry) and the Sacher Torte (rich, dense chocolate cake laced with apricot jam). The traditional choice would probably be to head for Hotel Sacher which overlooks the river but we enjoyed our kaffee und kuchen on the rooftop terrace of the Hotel Stein with a fabulous view of the fortress, which is highly recommended in good weather. 
Read more: Bratwurst and Sacher Torte – or what we ate in Salzburg
4. A chilled frappe on the beach in Greece
Coffee can be a cool drink in more ways than one, as I discovered on my annual trips to Greece to visit my sister who lives on the Greek Island of Zakynthos. Traditionally the Greeks drink their coffee like the Turks, strong and sweet in a tiny cup together with those ultra-sweet pastries that drip with syrup. This is what you'd serve to friends who come visiting in the afternoon.
But the trendy thing to drink in summer is a chilled Frappé – where an expresso is poured over ice with creamy milk to make a coffee that's sipped through a straw from a long glass. When you're lying on your sunbed or sitting in a trendy Greek beach bar, be sure to order a "Freddo" coffee, which comes in different Italian styles such as a Freddo cappuccino, Freddo Expresso or a Freddoccino (iced mocha coffee with chocolate). 
Read More: Sunday morning Greek coffee and Glika in Zakynthos
5. Ruddesheimer coffee in Germany – coffee with a creamy kick
If you fancy your coffee with something a little stronger, we found the perfect alternative coffee on our Rhine River Cruise stop at the pretty town of Rudesheim. Wandering down the cobbled street of the Drosselgasse with its wine shops and taverns we stopped at Rudesheimer Schloss to try the local speciality of Rudesheimer coffee.
This coffee spiked with brandy is the German equivalent of Irish Coffee and started in the 1920s when the Alspach brandy company invented a brandy chocolate so that ladies could enjoy a secret tipple, at a time when it was considered unseemly for women to drink in public. One good thing lead to another and in the 1950s the Rudesheimer coffee was born, a warming mixture of sweet coffee with a good helping of Asbach brandy, topped with sweet, whipped vanilla cream and sprinkled with grated chocolate. These days the Rudesheimer coffee is served in all the local coffee shops and you can bring back small bottles of the Alspach brandy if you want to try it at home.
Read More: How to make a Rudesheimer coffee – video
6. A hot chocolate alternative to coffee in Gothenburg
If you're not a coffee drinker, you'll be pleased to know that in Gothenburg we found an excellent alternative at Cafe Kanold that specialises in velvety hot chocolate. Staying cosy from the chilly wind and weather, we sat on the cushioned banquette with pretty floral cushions and enjoyed a warming hot chocolate – served with chili flakes on top for an extra kick.
While there is also a counter of hand-made Kanold chocolates in the cafe, you'll want to visit the main Kanold chocolate shop close by on Södra Larmgatan at the end of Viktoriapassagen. It's a cross between an old fashioned candy store and a boutique chocolatier where you can buy the Kanold speciality, a soft chocolate truffle centre topped with sea salt, which has now become known as the "Gothenburg Truffle". Of course if you insist of coffee at Cafe Kanold, I'm sure they serve that too!
Read More: Chocolate with sea salt – a taste of West Sweden
Check out this Coffee Infographic
If you want to fuel your coffee fascination even more, take a look at this Coffee infographic from  Cheapflights that will take you around the world in 31 coffees. Here are a few cool coffee facts that I discovered;
In Italy you only drink milky coffee in the morning and NEVER after a meal – the cappuccino in the afternoon is only for tourists!
Breakfast in Spain normally consists of a cup of coffee with a sweet pastry or churros
In Senegal coffee is served with cloves and guinea pepper
In 2001 Brazil issued a coffee scented postage stamp
Seatle has 10 times more coffee store per head than the rest of the USA
Now, please excuse me as I'm off to find the perfect coffee to have with my weekend brunch in Bristol
Pin It
This article is originally published at Heatheronhertravels.com – Read the original article here
This article is written in association with Cheapflights
You'll also find our sister blog with tips on how to build a successful travel blog at My Blogging Journey
December 29, 2012 by Heather Cowper
Filed under United Kingdom, Europe, World, featured, Devon and Cornwall, Gothenburg, Greece, Guernsey, Namibia, Spain, Sweden, Switzerland, Texas, Tour de Mont Blanc, Tour de Mont Blanc, USA, Wales, Zakynthos
At this time of year it's nice to reminisce a little and let the pleasant memories of the year wash over us to create that rosy seasonal glow. Then we can all brace ourselves mentally to look forward to new plans, new places, things we want to do more of, things we want to do differently. I'll be sharing my plans for Spring 2013 very soon, but in the meantime, here are some of my travel memories from the last year, which perhaps will provide some travel inspiration for your plans in 2013.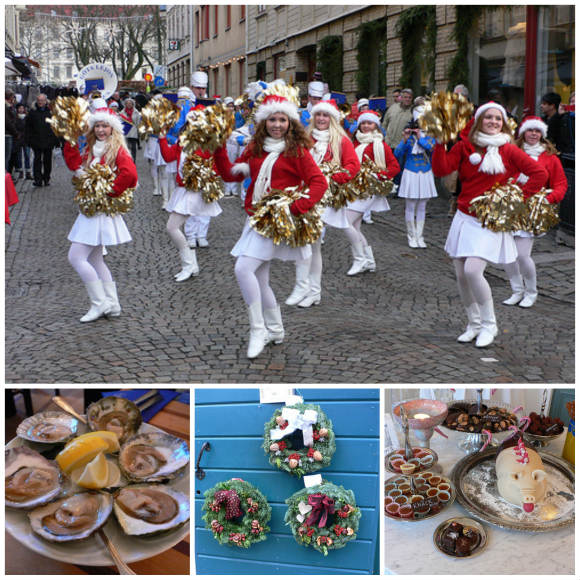 December 2011 – Gothenburg, West Sweden for a pre-Christmas break with my husband
I'm cheating a bit here when I include our trip to Gothenburg from the end of 2011, but then it's my blog, so I'm allowed a little cheating and we did have a great time despite the snowy and windy weather.
Why Gothenburg? I've always liked Scandinavia; so clean, so together and everyone speaks perfect English, and I wanted a pre-Christmas gettaway with my husband when we could eat great food and get into a Christmas mood, with just the two of us.
Happy memories? Fantastic seafood and a chat with the oyster-opening champion Johan Malm at Restaurant Gabriel, our memorable Michelin star tasting menu at Basement with head chef Camilla Parkner, sheltering in Cafe Kanold from the wind over a cup of hot chocolate with chilli, the Christmas market on the cobbled streets of Haga with the music of the marching band, the workman's graffiti in the back of the statue of Mother Svea just outside our window at Hotel Elite Plaza, the millions of sparkling Christmas lights at Liseberg.
Where did we stay? The beautiful, 5 star Hotel Elite Plaza, once the headquarters of the Swedish Fire and Life Insurance company and full of grand marble staircases and chandeliers.
Want to read more?
Our Winter Break in Gothenburg, Sweden – Podcast
8 Swedish Foods to try in Gothenburg, Sweden – Video
Exploring the Christmas Markets of Gothenburg

February – a winter weekend on the Gower in South Wales
Why the Gower? My son is at university at Swansea nearby and I wanted to get the whole family together, including my parents, to spend some time together near the sea.
Happy Memories? Long, blustery walks along the cliffs, the wide open beaches of Langland and Caswell, sitting with the papers and a cappuccino at Langland Bay Brasserie watching the rain beat on the windows, pretty painted beach huts and exotic spiky palms on Langland beach, watching the surfers bobbing in the water from the clifftop.
Where did we stay? Maryland, a spacious 4 bedroom holiday home which we booked through Gower Cottages, perfect for extended family gatherings and only a few minutes walk from the cliff path.
Want to read more?
Our winter weekend on the Gower in Wales – Langland and Caswell – Video

April – Texas, USA for a family road trip
Why Texas? My husband had visited Texas on a military exchange a few years before and kept raving about it, plus we wanted to find somewhere we could enjoy as a family with good weather at Easter and flights that were not too expensive.
Happy Memories? Experiencing a Blast-off at Space Center Houston, the finger-licking BBQ at Black's in Lockhart, cycling along Mission Reach to the Spanish Missions in San Antonio, an afternoon wobble shooting at Picosa Ranch (I actually shot something!), tubing down the river at Gruene followed by Bluebell ice cream at the old fashioned drug store, tequila tasting at the Cibolo Moon at the JW Marriott San Antonio Hill Country, eating trailer food, trying on cowboy boots and shopping for vintage in SoCo, Austin.
Where did we stay? The comfortable Park Inn Houston North, conveniently close to the airport, The Mediterranean style Hotel Valencia Riverwalk in San Antonio with views over the Riverwalk, The luxurious JW Marriott San Antonio Hill Country Resort complete with its own waterpark, our Holiday Rental in the Barton Hills area of Austin booked through HomeAway and the gorgeous boutique style Hotel Sorella in the vibrant City Centre neighbourhood of West Houston
Want to read more?
Our Texas Road Trip Part 1 – Podcast – Houston, San Antonio, Picosa Ranch
The best of Texas – finger-licking BBQ and a slice of pie
Picosa Ranch – a luxury Ranch with a slice of Texas history – video

May – a girl's weekend in Winchester
Why Winchester? I wanted a weekend gettaway with my sister and Winchester was easy for both of us to get to, as well as having loads of things to see and do in the city and the beautiful Hampshire countryside nearby for some walking on the South Downs Way.
Happy Memories? The Anthony Gormley statue standing ankle-deep in water in the crypt of the Cathedral, seeing the small wooden table in the house at Chawton where Jane Austen wrote her greatest novels, eating lardy cakes bought from the farmer's market with a view of the sulphur yellow fields on the South Downs Way, watching the mesmerising water wheel grinding the grain into flour at the Winchester City Mill, spotting the artistic bollards outside The Old Vine where we had a delicious supper.
Where did we stay? The Winchester Hotel, a stylish, modern hotel that is an easy walk from all the historic sights.
Want to read more?
10 ways to spend a wonderful weekend in Winchester – video
Yellow fields with lacy edges – walking the South Downs Way near Winchester
On the trail of Jane Austen in Winchester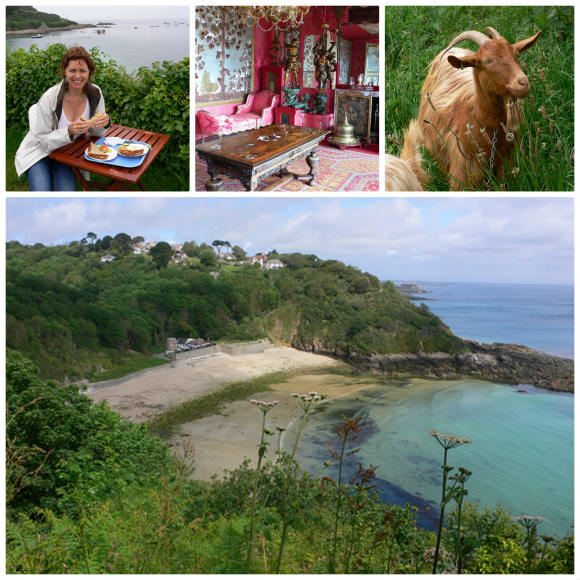 June – Guernsey and Sark in the Channel Islands
Why Guernsey? It's just a short flight from Bristol and has a fascinating history as well as a beautiful coastline, plus we were all intrigued at the thought of visiting Isle of Sark where there are no cars
Happy Memories? Walking along the coast from Fermain Bay to Jerbourg point through the pine trees, the exotic treasure trove of Hauteville House, home of Victor Hugo, eating crab sandwiches from a beach kiosk with a view of the sea, cycling around the island of Sark and eating fresh lobster in the garden of the Sablonnerie Hotel, hearing the stories of the German Occupation from Guernsey tour guide, Gill Girard.
Where did we stay? Self catering Albany apartments in St Peter Port that are perfect for a family holiday and the St Pierre Park Hotel with lovely gardens and golf course
Want to read more?
Guernsey, the German Occupation and Potato Peel Pie
Our spring break on Guernsey and Sark – Podcast
10 delicious foods to try on Guerney – video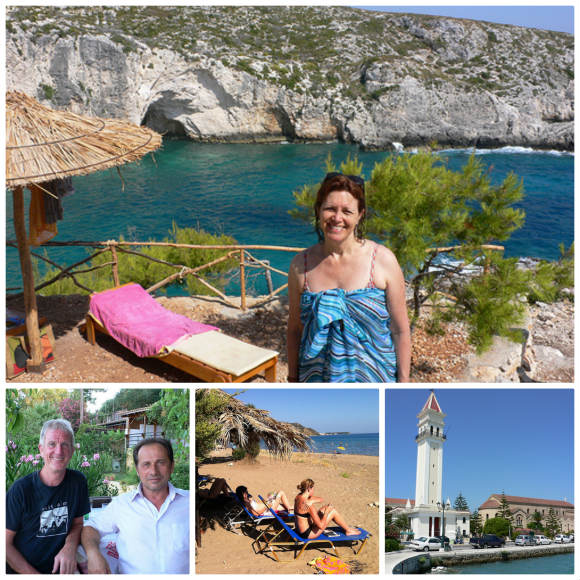 July – Zakynthos, Greece for a family holiday
Why Zakynthos? My sister lives on the island where she runs two hotels with her Greek husband, Denis so we like to visit her every year and explore some new corners of the island.
Happy Memories? Discovering Porto Limnionas, a rocky cove in the north of the island with turquoise water and a great taverna, sitting with a drink on the terrace of Harbour House restaurant at Agios Sostis with new friend Derek Linley hearing stories from his years coming to the island, our boat trip from Agios Sostis to spot the Caretta Caretta turtles in Laganas bay and swim in the sea caves at Keri, the Greek dancing night at Windmill Hotel which never fails to entertain us.
Where did we stay? My sister's hotel, the Windmill Studios in Argassi with a view over the sea from the geranium filled terrace. She also runs the Windmill Bay Hotel just down the road.
Want to read more?
10 gorgeous beaches and places to swim on Zakynthos
Get in your car and drive! the bits of Zakynthos that you won't see from your sunbed
Swimming the turquiose Blue at Porto Limnionas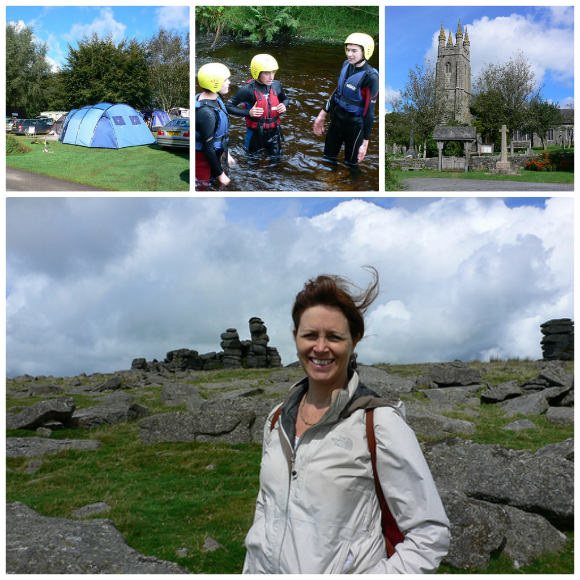 August – an adventurous weekend on Dartmoor with the teenagers
Why Dartmoor? My husband knows the moor well from his army days and we all love the wild scenery and endless opportunities for outdoor adventure that kept my teenage son and his friends busy
Happy Memories? Having lunch at the Okehampton station buffet imagining that I was Celia Johnson in the film Brief Encounter, watching my son and his friends splash around in the river on their gorge scrambling adventure, our walk on the moor with friends above Peter Tavy followed by a hearty lunch at the Peter Tavy Inn, climbing up to the Great Staple Tor and finding a letterbox to stamp our hands, the blissfully warmth of the heat cabin at Woodovis Park and a swim with the family in the pool.
Where did we stay? Woodovis Park in a comfortable mobile home. It's an immaculate, 5 star, family run camping and caravan site which is a great base to enjoy all that Dartmoor has to offer.
Want to read more?
Wild and Wet adventures on Dartmoor – staying at Woodovis Park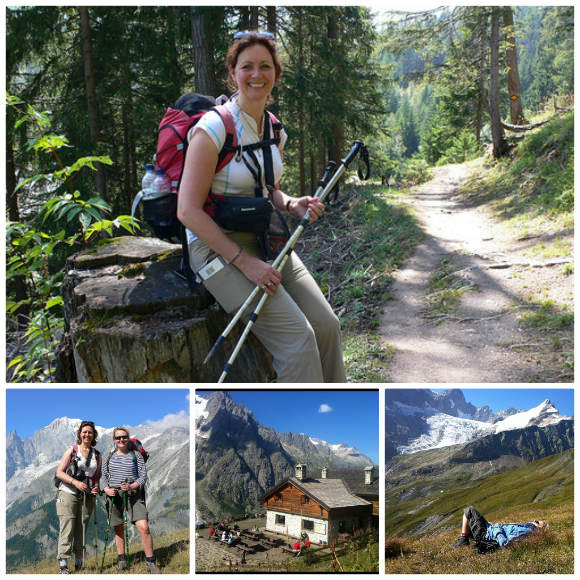 September – walking on the Tour de Mont Blanc in Switzerland and Italy
Why the Tour de Mont Blanc? I've been walking the TMB which is a long-distance mountain trail, in stages with my friend Julia and this was our third year on the trail. We both love the wild mountain scenery, the feeling of escaping our busy lives and the physical challenge of the walk.
Happy Memories? Watching the scenery change on the train journey from Geneva alongside Lake Lausanne and on the St Bernard Express, feeling on top of the world on the Grand Col Ferret at the border between Switzerland and Italy, staying at the fantastic Rifugio Walter Bonnati, undoubtedly the nicest refuge we've stayed in so far, having a picnic on the mountain overlooking Courmayeur and surveying the route we had just walked, the excitement at the start of the Tour des Geants in Courmayeur.
Where did we stay? A number of small hotels and mountain refuges; Gite Bon Abri in Champex Lac, Hotel Col de Fenetre  in Ferret, Rifugio Elena, Rifugio Walter Bonatti , Hotel Bouton d'Or in Courmayeur
If you plan to go
Click here to get my FREE Tour de Mont Blanc Packing guide
Want to read more?
The Tour de Mont Blanc Diaries Day 1 – Champex Lac to Ferret and a walk in the woods
The Tour de Mont Blanc Diaries Day 2 – Ferret to Rifugio Elena and over the pass into Italy

September – Girona, Spain for TBEX
Why Girona? I attended the TBEX Travel Bloggers' Conference being held in Girona where it was great to meet some of my  blogging friends in person and hear the speakers on different aspects of blogging.
Happy Memories? Staying in an apartment with Barbara Weibel, Isabel Romano and Laurel Robbins and just a floor down from Janice Waugh, Simon Falvo and Sarah and Terry Lee made for some great late night chats and bonding, eating pretty Pinxchos in a side street cafe with new blogging friends, wandering along the river with the tall pastel houses and criss-crossing bridges, the historic food by El Celler de Can Roca at the TBEX opening night party, the day out at Vall de Nuria in the Pyrenees after the conference
Where did we stay? A comfortable apartment in the old town of Girona booked through Wimdu
Want to read more?
Staying in the heart of Old Town Girona with Wimdu – video
A Sunday Stroll in the Pyrenees – Vall de Nuria
Case study – Costa Brava Marketing campaign – podcast interview with Jaume Marin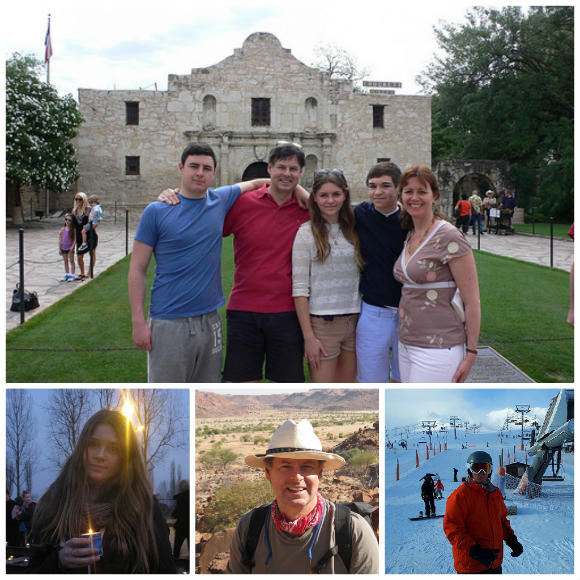 And what about the family?
Of course for many of these trips I was with various members of my family, but they also did some travelling on their own that they wrote about for me on the blog;
My husband Guy spent much of August on a school trip in Namibia looking after a large group of teenage girls, where they did some community work in a local school, went trekking and had close encounters with the desert elephants and other African wildlife.
Read more about Guy's Namibia Trip
Not that old zebra crossing joke again!
An encounter with the desert elephants of Namibia
My oldest son, William had a fun snowboarding trip in Andorra with a group of friends from university, which was spent mostly snowboarding, drinking and doing what students do on holiday. Read William's article on Snowboarding in Pas de la Casa – a student's guide
My daughter, Sophie-Anne wrote about her moving visit to Auschwitz with the Lessons from Auschwitz educational programme, designed to ensure that young people understand what happened and don't let history repeat itself in the future. Read Sophie-Anne's article on What every schoolgirl should know about Auschwitz – video
I hope you enjoyed my travels in 2012 and that you may feel inspired to visit some of these places yourself. I'll be sharing my exciting travel plans for the spring of 2013 with you very soon.
This article by Heather Cowper is originally published at Heatheronhertravels.com – Read more travel articles at Travel Blog Home
You'll also find our sister blog with tips on how to build a successful travel blog at My Blogging Journey
 Don't miss out – subscribe to Heather on her travels