Our road trip this summer took us through Canada from Toronto to Montreal, eating the freshest of Canadian produce and trying the many craft beers (once the RV was safely parked of course!). We tasted our way through gourmet burgers and poutine, cooked up a storm over the camp fire and enjoyed an occasional sophisticated dinner at in some of Quebec's finest restaurants, all washed down by the wonderfully varied, locally brewed craft beer.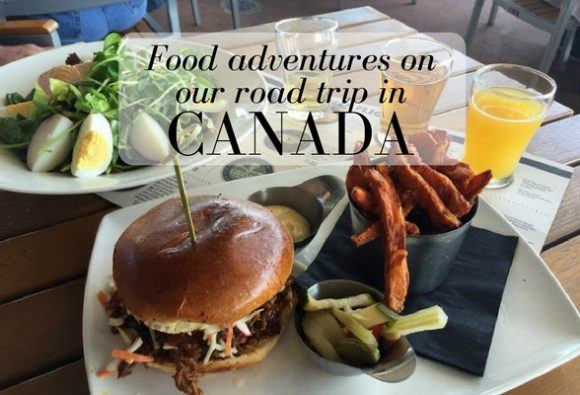 Our first taste of Canada was in Toronto where we spent a day exploring the harbour front before picking up our RV from Cruise Canada. Right on the waterfront, the Amsterdam Brewhouse caught our eye, with a double height restaurant space and seating on the deck outside. We bagged a table by the lake-front and ordered a pulled pork bun with sweet potato fries and a flight of their craft beers – with names like Bigwheel Amber Ale and Downtown Brown.
The only one that was a bit odd was the 'Adventure' brew – small batches of something a experimental and ours was an orange flavour beer, which tasted… well… like orange juice. The menus here change seasonally but are based around casual burgers, smoked meats and a good selection of hearty salads too – plus the beer is all brewed by the company with natural ingredients and no preservatives. In cosmopolitan Tornoto this felt as close as you'll get to typical Canadian cuisine and it was a tasty start to our trip. Amsterdam Brewhouse, 245 Queens Quay West, Toronto
A Road-side stop in Ontario at Weber's
Picking up our RV from Cruise Canada in Toronto, we drove north towards Algonquin Provincial Park where we would be spending a couple of nights, stopping for a late lunch at Weber's on Highway 11 near Orillia. It's a fabulous roadside diner which is the top place to stop if you're heading north for a camping trip. After parking the RV we joined the fast moving line in the small takeaway area – where burgers and hot-dogs were sizzling over charcoal and the orders with fries, extra cheese, milk shakes or iced tea were being efficiently assembled.
Taking our paper wrapped burgers and cartons of fries we found a shady spot at a picnic table on the grass to enjoy our lunch – there's also a vintage railway carriage that has been converted into a restaurant car for those who like their air conditioning. If you need something sweet for desert, pop next door to buy an ice cream or frozen yoghurt – we had a tub of berry flavour.
Farm shop flavours
Although we'd stocked up at the supermarket at the beginning of our road trip, we quickly realised that the more interesting foodie discoveries were to be found at local farm shops and markets. One such was the Coutts Country Flavor Shop which we stopped at on our way to Murphy Point Camp Ground, close to Perth.
Pulling up in front of the wooden building surrounded by fields, we looked around the store which is part of a 5th generation family farm and sells organic meat, fresh farm veg, local cheeses, their own maple syrup and the famous Ontario butter tarts ( a bit like a treacle tart but not quite as sickly sweet).
Craft beer with a hint of Maple
In nearby Perth we also found the wonderful Perth Brewery to stock up on craft beer to take back to our campground. Surrounded by copper vats and packing benches, the friendly staff at the front counter were more than happy to let us have a taste of the different beers on tap. After trying just a few (we still had to drive the RV) we stocked up on the tins of our choice, to drink later by the campfire. Our favourite was the Canada Maple Ale which had a subtle flavour of maple syrup without too much sweetness – a really enjoyable taste of Canada.
A taste of Poutine
Another Canadian speciality that we came to know (but not necessarily love) was Poutine, a dish that's especially favourite in Quebec. It's basically french fries, scattered with squeaky curd cheese and drenched in gravy – with variations sold everywhere from roadside food stops to fine dining restaurants. Our first encounter at a roadside food truck was not that promising. Frankly we couldn't see what the fuss was about, with crispy fries turned into a soggy mess by the gravy (in fact poutine is Québecois slang for mess!).
We did give the Poutine another try at Les Brasseurs du Temps in Gatineau and although a slightly more elegant version, we concluded that as a dish it was best saved for those outdoor events in the freezing Canadian winter when you need to carbo-load. In Montreal the ultimate poutine is said to be found at Au Pied de Cochon, where they do a variation with Fois Gras. I could have tasted it at the food truck event in Montreal where the restaurant had a stand but was worried I'd be disappointed again, so I declined – a decision I somewhat regret.
Pancakes and Maple Syrup
Another unmissable feature of the Canadian food scene were the pancakes – which were normally served for breakfast with lashings of maple syrup. A meal in themselves, they would keep you going until well after lunchtime – we enjoyed these ones with fresh fruit at a modest roadside diner close to our campground at Parc de Plaissance north of Ottawa.
A foodie hotspot at Kingston
One of our favourite foodie stops on the road trip through Ontario, was Kingston set beside Lake Ontario. This university town close to historic Fort Henry, punches above its weight when it comes to great artizan food producers, bars and restaurants. As we arrived, a farmer's market was in full swing, with stall after stall selling perfectly polished peaches and plums, soft fruit, green beans and other fresh produce. We took the opportunity to buy a basket of luscious mixed berries to eat on the go and some butter tarts from the bakery stall as a lunchtime snack.
Kingston had a much more European feel than many of the places we drove through, since the town was established in 1673 at the confluence of the St Lawrence River, at a time before cars (let alone RVs) dominated the town planning. We enjoyed walking around the streets, dipping into coffee shops and meandering through courtyards with secluded restaurant patios like Chez Piggy who also run the Pan Chancho bakery where we stopped for some excellent fresh bread.
Beaver Tails in Ottawa
Our road trip next took us north to Canada's capital Ottawa where we left our RV at the Wesley Clover Campground and took their convenient bus service into the city. After watching the changing of the guards on Parliament hill, our stomachs lead us to Byward Market, the neighbourhood surrounding the covered market building which has numerous food stalls as well as bars and restaurants.
On the recommendation of local blogger Cindy Baker we joined her for lunch at Murray Street, for a delicious plate of local charcuterie and cheeses on their shady patio, before paying the obligatory visit to the BeaverTails stand for desert. The flat pastries (shaped like a Beaver's Tail) are a cross between a pancake and a doughnut and come with lots of sweet toppings – I was relatively restrained with my choice of buttery maple sauce!
Craft Beer at Brasseurs de Temps in Gatineau
After our day sightseeing in Ottawa we drove across the river to explore the city from the Quebec side, with an excellent dinner at Brasseurs de Temps in Gatineau. There was definitely a theme developing in the popular restaurants that we visited, being based around breweries offering an ever changing selection of craft beers. Below the restaurant is a quirky little museum about the history of beer in the Outaouais region and you get a look down into area where the beer is being brewed. It was pleasant to sit outside on the patio overlooking the canal and select our beer from from the detailed descriptions on the menu cards – according to which my fruity white beer had aromas of banana and ginger. This is where Guy decided to try the Poutine again but I had a duck salad which was certainly the better choice.
Fine dining at Wakefield Inn
A highlight of our foodie quest around the Outaouais region north of Ottawa was the day we spent in Wakefield, a pretty little historic town, full of old houses, craft shops and artizan bakeries and restaurants. After parking the RV in the centre of town, we walked up from the main road to Wakefield Inn, a charming boutique hotel and restaurant which would have made a wonderful spot for a weekend break. The hotel's restaurant offered a sophisticated alternative to the more casual dining of the brewery restaurants we'd tried.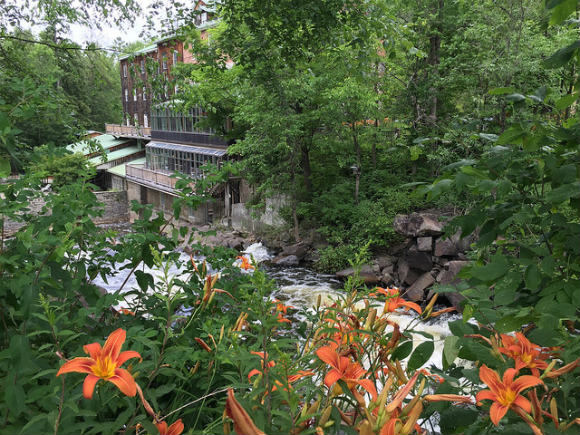 From our table beside the window, we overlooked the mill stream rushing below and I enjoyed my Arctic Char with a pretty arrangement of mushrooms, green beans and other vegetables. The thick stone walls and open fires of the old mill house make for a cosy atmosphere and I can imagine snuggling up here after a winter snowshoe walk on the paths around the hotel.
We found that the Outaouais region north of Ottawa especially full of fabulous food stops, like the area of Chelsea just outside Gatineau Park, the outdoor playground for the citizens of Ottawa. At the Chelsea Pub we enjoyed the relaxed atmosphere, sitting outside on the patio with live music while drinking our beer and ordering a club sandwich with fries and salad. The same establishment runs Biscotti, a cute little cafe around the corner which is the place to go for coffee, cakes and delicious deserts.
While staying at Parc de Plaissance we enjoyed a contrast of luxurious al fresco dining at the Fairmont Le Chateau Montebello and gourmet burgers at Au Délice Champêtre, although both were marked by a typically Canadian relaxed atmosphere and lack of pretension. Le Chateau Montebello is best known as the world's largest log cabin, although of course it is no garden shed, but a grand hotel that's stuffed full of hunting-shooting-fishing memorabilia from the time when it was a private club for the great and the good. We dined in the outdoor restaurant overlooking the potager garden and lawns rolling down to the river, with a delicious buffet that had something for all tastes with a choice of steaks and fish cooked to order over the barbecue.
More down to earth but equally good was Délice Champêtre right opposite the tourist office in Montebello where we were welcomed by the owner Daniel who cooks up gourmet burgers and Belgian fries, using the best ingredients from local suppliers. Next door was a popular ice cream bar with gelato, frozen yoghurts and other classic deserts made on the premises. They even make all their own sauces and relishes to a secret recipe which unfortunately Daniel wouldn't reveal even though I promised I'd share it with only a few close friends and readers.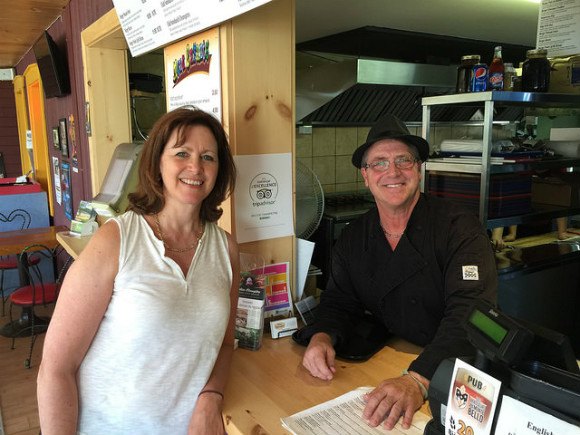 Our foodie adventures in Canada wouldn't be complete if we hadn't tried a bit of campfire cooking. Since we had an extremely well equiped RV from Cruise Canada with gas hob, fridge and freezer it wasn't exactly a necessity to cook over the open fire. But since every camping space came with a fire pit and a built in grill it seemed a shame not to give it a go, and on our last night in Mont Tremblant National Park we grilled some juicy steak kebabs over the fire for that smoky BBQ flavour.
The true Canadian tradition of course is to sit around the camp fire toasting marshmallows or s'mores as they are strangely called over there – the name's an abreviation of 'I want some more'. After a few attempts we managed to get the right balance of lightly toasted and deliciously melting as opposed to charred black and set on fire.
And so we reached our final stop at Montreal and dropped off the RV, leaving us a couple of days to explore the city. If I had tell you about the food in Montreal it would be a whole extra article, since there's such a thriving and vibrant food scene here – among the best food in Canada (or anywhere). If you'd like to find out more about bagels, tacos and maple syrup you'll have to read my article – How to have a perfect day in Montreal. And while you're reading it I'll be mentally settling down in front of the camp fire with a can of that Canada Maple Ale.
Pin It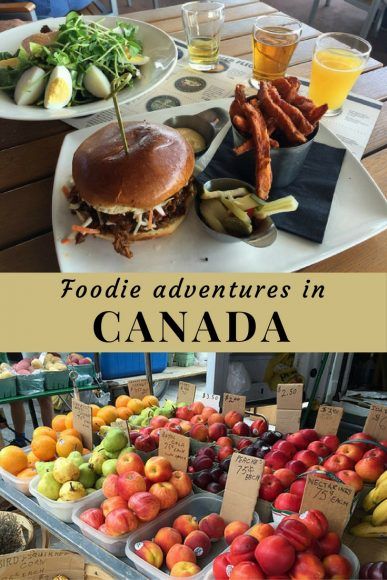 Where we stayed on our RV Road Trip
Night 1 –  Sheraton Gateway Hotel, Toronto
Night 2 & 3 Algonquin Provincial Park near Whitney, Ontario
Night 4 Murphy's Point Provincial Park near Kingston, Ontario
Night 5 & 6 Wesley Clover Camp Ground – south of Ottawa
Night 7 &8 Camping Cantley – north of Ottawa
Night 9 Parc de Plaisance  National Park in Quebec
Night 10,11,12 Mont Tremblant National Park in Quebec
Night 13 Le Centre Sheraton Hotel Montreal
More inspiration for your road trip across Canada
Travel with Kat – The Wildlife of Canada's Clayoquot Sound
The Quirky Traveller – A dash of History and Culture in the Rocky Mountains
On the Luce – Land of the Lakes: Exploring Ontario's National Parks
Information for planning your trip to Canada
You can find more information to plan your visit to Montreal on the Ontario Tourism Website, the Quebec Original Website, the Tourism Outaouais Website and also on the Explore Canada Website covering all the things to see and do in Canada.
Our RV (Recreational Vehicle) for the two week Explore Canada Road Trip was provided by Cruise Canada.
To compare prices and book for hotels in Canada, visit the HotelsCombined website where you can find the best prices from a range of different booking sites.
My visit to Canada was part of the Explore Canada Road Trip, a project with Travelator Media and Explore Canada
This article is originally published at Heatheronhertravels.com – Read the original article here
As a child our family were great campers, touring Europe with all our gear packed into the Morris Minor. While my parent's spirit of adventure must have rubbed off on me, I have to admit that my memories are of early morning starts, endless unpacking and the smell of damp grass. Since then I've always preferred to have a solid roof over my head. Husband Guy, however, is a natural born camper, relishing the chance to sleep under the stars and brew up over the camp fire. When we were offered the chance to drive an RV across Canada (better known as a motorhome or camper van in the UK) it seemed the perfect compromise that would suit both a comfort lover and a camping addict.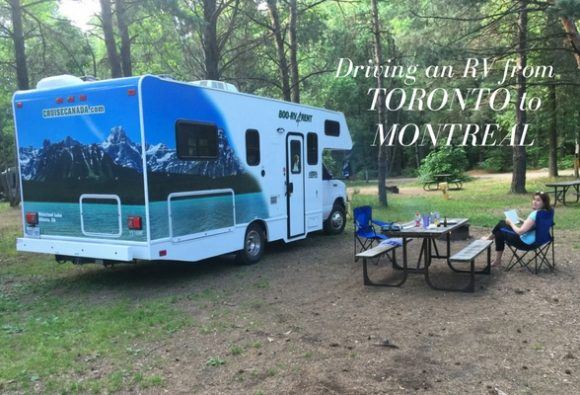 Exploring Toronto – our gateway city
Toronto was our gateway city to Canada and after a long flight from the UK it was great to have a bit of time to explore rather than dashing straight off to pick up our RV. From the Sheraton Gateway Hotel by the airport, it was an easy trip downtown on the UP Express train, to spend the afternoon wandering around the harbourside area.
We took the harbour cruise tour, admiring the CN Tower and distinctive Toronto skyline on our boat trip to the islands, ending the evening with a tasty pulled pork burger and flight of craft beers at Amsterdam Brewhouse with a view over the water. It was a great way to start our holiday and relax a little, before picking up our RV the next day from the Cruise Canada rental centre on the ourskirts of Toronto. You can read more about Toronto from On the Luce – Waterfront Toronto
Our Tip: Plan to spend some time exploring your gateway city before you pick up the RV – it's a chance to settle in and spend time in the city without any parking headaches.
Picking up the RV from Cruise Canada
Checking out of the Sheraton Gateway, we took a taxi to the Cruise Canada rental location where our RV awaited us. Before driving away we watched the Cruise Canada video so we could get familiar with all the features – and then were shown around our RV. It was nice and roomy for two people but would also be fine for a family of up to 6 if you don't mind cosy sleeping arrangements. While husband Guy was taking note of the instructions for power and water, I was more interested in the large fridge/ freezer, built in shower and loo and a small kitchenette – in fact all the comforts of home!
As our leg from Toronto to Montreal was part of a longer road trip, and blogging friends Kathryn, Zoe and Lucy had all given their RVs names, we decided to christen ours 'Monty' since our journey would end in Montreal. It took us an hour to get familiar with everything and then we were off, with Guy at the wheel, and me navigating – pretty much the pattern for the whole trip. Only five minutes down the road and we stopped at an enormous Wal-Mart and did a major grocery shop – enough food for a few days since we were heading towards Algonquin Provincial Park where there would be limited shopping opportunities.
Another essential purchase was the most detailed road map we could find, as although we were able to use Google Maps with our mobile wifi, we needed a back-up for the times when we had no phone signal. Leaving the retail park, we hit the road in earnest to drive north along the highway, with only one stop at Weber's on Highway 11, a fine roadside diner with plenty of picnic tables on the grassy lawns at the back, to eat our charcoal grilled burger and fries washed down with iced tea. It was great that even with the late start and stops on the way we were able to reach our first campground in the afternoon, with no stress of driving in the dark.
Our Tip: Don't plan to drive too far on your first day, especially if you're an RV newbie. You'll need to allow a couple of hours to familiarise yourself with everything and stock up on provisions.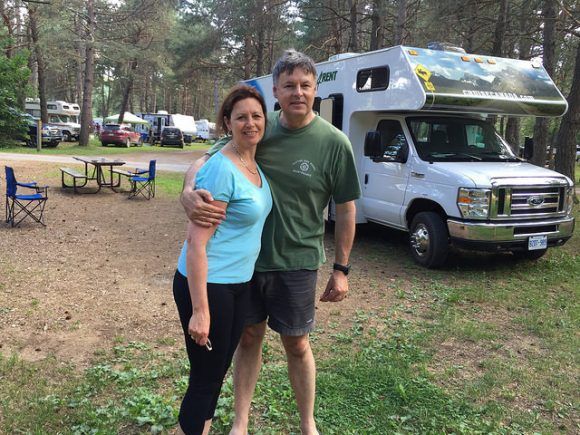 Settling in at Algonquin Provincial Park
Algonquin Provincial Park was our first proper taste of campground life and we arrived in the mid afternoon at Rock Lake, one of the many campgrounds in the park. We checked in with the ranger at the administration building, bought a big bag of wood for our campfire and found our numbered spot among the trees. Parking the RV was definitely a job for two people and I always had to hop out of the RV to direct Guy into our parking spot, ensuring no trees were hit and that we were on level ground.
Our spacious camping spot followed a pattern that we found at all the campgrounds we stayed at, which were always set in woodland and beside a lake. Each camping place was equiped with a picnic table and benches, with a metal ring to enclose the fire pit. Although we were self contained with our own shower and loo, there was a shower block and toilets nearby. We had brought our own camping chairs and really all we had to do on arrival was attach the power line and open the beer. It was a far cry from the camping I remembered as a child where we spent hours putting up and taking down the tent.
Being a true boy scout, Guy's favourite task on arrival was to lay the campfire, while I would start getting supper ready. Our kitchen area was well equipped, since we had ordered a kitchen pack from Cruise Canada, with dishes, cutlery, pots and pans. I generally cooked on the 4 gas burners in the RV, although the fire pit had a grill, giving us the option for cooking BBQ style.
Before or after dinner there might be swim in the lake, or at least sitting with a beer beside it, often chatting with our neighbours and getting advice about the RV. We stayed a couple of days at Algonquin, giving us the chance to do some canoeing and cycling – keeping our eyes peeled for wildlife. On our guided canoe trip we saw a beaver dive right in front of us but nothing larger, but on our cycle ride we stopped to watch a black bear and its cub up a tree from a safe distance.
Our Tip: Find the balance between the relaxed pace of campground life and trying some of the outdoor activities on offer in Canada's Parks
Driving through the smaller towns of Ontario
After a few days in Algonquin we drove south towards towards Lake Ontario again, stopping at the small town of Perth, where the Stewart Park music festival was in full swing. After the wide roads with hardly any traffic in northern Ontario, this was our first taste of some of the smaller towns and historic places of this region. Perth, with its single main high street lined with shops and restaurants, had a much more European feel and it was one of the few places where we struggled to find a parking spot for the RV. Reaching Kingston, we learned the lesson that in the older historic towns, built before the invention of the car, it was better to research a suitable parking spot on the edge of town and then take the bus into the centre for a more relaxing experience.
At Fort Henry, the 19th century garrison built above the town of Kingston, we found a huge car park and spent an hour or two in the fort having a guided tour to learn all about the history of the fortress, which was built by the English to defend against French attack from the St Lawrence river. From Fort Henry we walked down the hill to the main road and easily caught the bus – there was also a sightseeing trolley that ran from Fort Henry into town.
Our Tip: When visiting smaller towns, try to research in advance where you can park the RV as it may be better to park on the outskirts and walk or take the bus in.
In Kingston, the farmer's market was a pleasure to wander around, looking at the luscious fruit and vegetables from the nearby Niagara region. A motorbike rally was underway, with stunt motorcyclists driving up the ramp to twist and turn in the air. We really enjoyed the atmosphere of this university town, which had a big foodie reputation, and soaked up the atmosphere in a local coffee shop, then bought a few snacks from the Pan Chancho bakery to have for supper.
Our Tip: Farmers markets and roadside stalls are a great place to stock up on fresh fruit and veg and discover some of the regional produce and specialities.
Ottawa – is it possible to visit a city with an RV?
We really wanted to visit Ottawa, Canada's historic capital, but wondered how much of a challenge it would be while driving an RV. Trying to park in city streets was likely to be a stressful experience, but luckily we resolved this by staying just outside the city at Wesley Clover Camp Ground. We had a spacious camping spot and all the normal amenities, but the campground also ran a shuttle service each day into the city, dropping us off just in time for the changing of the guards and picking us up after a day's sightseeing around 4pm. We managed to pack in plenty of sightseeing, with a taste of the famous Beavertail pastries, lunch in Byward Market at Murray Street, as well as a look around the glass sided galleries of the National Gallery of Canada.
The next day we were heading across the Ottawa River into Quebec province, but we found a suitably large car park by the Robert Guertin Arena which was a 15 minute walk to the Canadian History Museum, where we admired all the First Nation artwork and totem poles. The afternoon was spent cycling along the Ottawa river, crossing the Portage bridge and continuing under the Parliament Building, where we took the cute solar powered ferry back across the river.
Our Tip: It's perfectly possible to visit Canada's cities with an RV provided you plan ahead to ensure stress-free parking.
Having fun in Outaouais – north of Ottawa
By the time we got into our second week in the Outaouais region, north of Ottawa, we felt like old hands with the RV. Despite its narrow streets, visiting the historic town Wakefield, and its covered bridge was no problem. We parked in the centre of town and then walked around to admire the colourful craft shops and up the hill to historic Wakefield Mill for lunch by the mill stream.
Driving around Gatineau Park, Ottawa's outdoor playground, was no problem as the roads were wide and the parking spaces enormous. We stopped within the park to see the Pink Lake, which was actually dark and mysterious like a mirror, and the estate of former Canadian Prime Minister, Mackenzie King.
At Parc Omega, where it might have been a problem to feed carrots to the deer from an RV, we took one of the golf buggies instead – well protected by the metal mesh but still able to see the deer, buffalo and bears. Wherever we stopped with the RV, it was like having our house with us. We always had the option to make a picnic lunch and brew a cup of tea, with no need to worry about finding the rest room.
On the campgrounds we were also feeling like a pro when it came to getting settled in to our camping spot. There was only one occasion when the powerline didn't quite stretch to the electricity supply and we had to borrow an extension lead from one of our friendly neighbours (we late discovered our own in the storage compartment). We would happily get out the rubber gloves and empty the grey water (from the shower and sink) and the black water (from the loo) without any fuss. And we'd learned the importance of a liberal spray of OFF insect repellant, before settling down beside the camp fire, to keep the ever present mozzies at bay.
Our Tip: Relax and enjoy – after a few days you'll feel like an old hand!
Mont Tremblant National Park – time to unplug
By the time we reached our final stop at Mont Tremblant National Park we appreciated the freedom that the RV gave us to dip our toe into Canada's Wilderness. Our campground was close to Lac Monroe and a short drive up the road was a beautiful wooden visitor's centre of wood and glass with a deck to unwind by the lake.
In the park we made the most of all the outdoor activities, hiking the trails to get stunning views over the whole park from the look-out points and canoeing down the Meandre de Diable, stopping for picnics on the sandy river shore, a nesting spot for the river turtle. We also tried the Via Ferrata, climbing across the swaying rope bridges and inching across sheer rock faces until the threatening thunderstorm forced us down again. Caught in the rain, we appreciated being able to dive into our RV at the car park to dry off and change our clothes.
The downside of all this wilderness was that once we passed the visitor centre at the entrance to the park, the phone signal become practically non-existant. There was wifi in the discovery centre but I couldn't always access it, so I had to accept that this was an opportunity to unplug, unwind and enjoy the natural beauty of Canada's National Parks.
Our Tip: Use your visit to the National Parks as a chance to unplug and enjoy the great outdoors – you'll be back in the towns and cities soon enough.
Back to Montreal
As we arrived at the Cruise Canada depot on the outskirts of Montreal I felt mixed feelings about handing back Monty the RV. Monty had given us the freedom to discover Canada's areas of wilderness and enjoy outdoor activities that were both testing and relaxing. We'd been able to see some historic towns, eat great local food and meet the friendliest of people. Although we were looking forward to city life in Montreal, a spacious hotel room and marble bathroom, a little piece of our hearts remained with Monty the RV.
Read more – How to have a perfect day in Montreal
Where we stayed on our RV Road Trip
Night 1 –  Sheraton Gateway Hotel, Toronto
Night 2 & 3 Algonquin Provincial Park near Whitney, Ontario
Night 4 Murphy's Point Provincial Park near Kingston, Ontario
Night 5 & 6 Wesley Clover Camp Ground – south of Ottawa
Night 7 &8 Camping Cantley – north of Ottawa
Night 9 Parc de Plaisance  National Park in Quebec
Night 10,11,12 Mont Tremblant National Park in Quebec
Night 13 Le Centre Sheraton Hotel Montreal
Read more tips for driving your RV across Canada
Travel with Kat – Sunshine Coast of Canada Road Trip
Travel with Kat – Vancouver Island – Canada Road Trip
The Quirky Traveller – Top Tips for your RV Road Trip in Canada
On the Luce – Clueless about RV-ing? A first timer's guide to Canada by Motorhome
Information for planning your trip to Canada
You can find more information to plan your visit to Montreal on the Ontario Tourism Website, the Quebec Original Website and also on the Explore Canada Website covering all the things to see and do in Canada.
Our RV (Recreational Vehicle) for the two week Explore Canada Road Trip was provided by Cruise Canada.
To compare prices and book for hotels in Canada, visit the HotelsCombined website where you can find the best prices from a range of different booking sites.
My visit to Canada was part of the Explore Canada Road Trip, a project with Travelator Media and Explore Canada
Pin It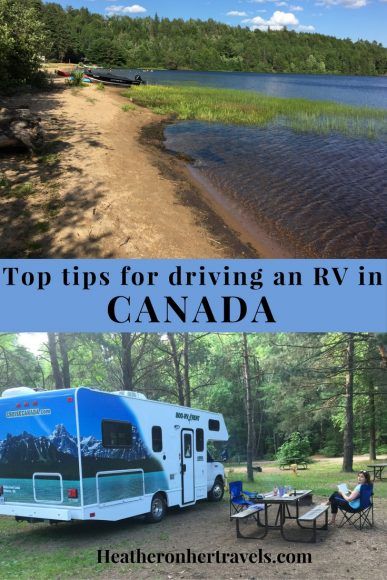 This article is originally published at Heatheronhertravels.com – Read the original article here
Our Explore Canada Road trip had taken us from Toronto to Montreal, but now we were at journey's end. Dropping Monty the RV (our recreational vehicle, named after our final destination) back at the Cruise Canada depot, we headed into the city, to enjoy our final day exploring Montreal. In one short day, we fell in love with the charming bilingual Montrealers, discovered something of the city's history and ate our way through Montreal's lively food scene. Of course we didn't see everything, but all the more excuse to return – so here's our version of a perfect day in Montreal.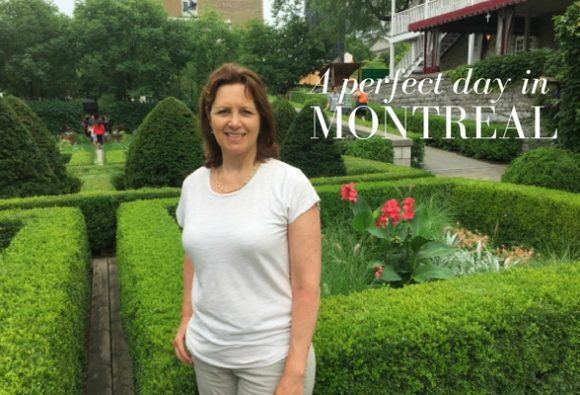 Like most visitors to Montreal, we started our day in the old quarter of Vieux Montreal, wandering along Rue Saint-Paul, where funky clothing boutiques mixed with stylish cafés. Meandering through cobbled pedestrian streets, we reached the tourist hub of Place Jaques Cartier, an open square that looks towards the port on one side and the Town Hall on the other.
Spotting an open gateway at the side of the square, we ducked through explore and found a haven of calm in the Governor's garden behind Chateau Ramezay. The walled garden was laid out as an 18th century style potager, with flowers, vegetables and medicinal herbs, in formal beds enclosed by box hedges. The garden here today is only a small part of the garden that once surrounded this grand house and would have been used as a source of food and healing, as well as genteel relaxation by the first colonists of 'New France'.
After soaking up the peaceful atmosphere, we visited the house of Chateau Ramezay, which was built in 1705 by the Governor of Montreal. Despite being one of the oldest and most historic buildings in the city, the the house fell into disrepair at the end of the 19th century and was only rescued from demolition by the efforts of an antiquarian society. We very much enjoyed our visit to the house with its beautiful panelled rooms and interesting displays that told the story of Montreal's colonial past.
If you go: Chateau Ramezay: 280 Rue Notre-Dame Est, Montréal. Entrance Adults $11, Garden Free.
Bagels and brunch in the Jewish neighbourhood
From Vieux Montreal, the Boulevard Saint Laurent took us north through some of Montreal's most interesting neighbourhoods, such as Plateau and Mile End which were home to the Jewish, Portuguese and Greek communities. While many of the old residents have moved out, you'll still find the ethnic flavour in some of the city's best loved food institutions. Now there's a hip and trendy feel as the neighbourhoods have become gentrified, with cool bars and cafés catering for creative types working for the software and video game companies that have replaced the garment industry.
Bagels are big in the Jewish neighbourhood with the specialist bakeries of Fairmount and St-Viateur found within a few blocks of each other.  There's a friendly rivalry with New York over whose bagels are best, although they are quite different to the Montreal bagels, which are baked in a wood fired oven with a sweet maple glaze and more compact texture than their puffy cousins from NYC. We stopped by both bakeries where I can confirm that the warm-from-the-oven bagels are equally delicious, although for visitors I'd favour St-Viator which has a larger shop where you can easily see the bakers at work and the bagels piled high, making it easier to take photos.
We stopped for brunch at Beauty's (93 Mont-Royal West), a classic Jewish diner with blue banquettes and an open kitchen, where they serve smoked salmon and cream cheese bagels, as well as sandwiches, pancakes and salads. The restaurant opened in 1942 and is now run by the third generation of the Sckolnick family, with grandfather Hymie who is in his 90s still coming in each day to keep an eye on things.
In the same neighbourhood is Schwartz's Deli (3895 Boulevard St-Laurent), another Montreal food institution known for their smoked meat sandwiches. At lunchtime the queues stretch down the street, but there are no frills here – you'll get a mountain of tender smoked salt beef that's barely contained by the soft fresh white bread and garnished only by a squirt of mustard.
Discovering Montreal's street-art scene
Coming from Bristol where we have murals by some incredibly talented street artists, I had to stop for a look at some of the street art in Montreal. Every year in June they hold the Mural festival when a parking lot off Boulevard Saint-Laurent is taken over by music and artists creating new works from high up on their cherry-pickers.
The festival is now in its fourth year and started as a way to encourage regeneration in the area and provide a showcase for some of Montreal's talented urban artists. Founder André Bathalon told me "our goal is to bring people to the area and they take from it what they want. They might enjoy the mural on the wall but if they want to learn more about the artists, the techniques or particular styles, they can also do that – it's accessible 24-7 and its free."
In the area we saw work by local artist Roadsworth whose large scale pieces cover roads and pavements, and Italian Pixel Pancho whose mural was one of the key pieces from this year's festival. It reminded me so much of the building size pieces that are created in South Bristol for our Upfest festival. Check in at the MURAL offices (3527a Boulevard Saint-Laurent) to pick up a map of the street art locations, book a 2 hour street art tour with Spade & Palacio or  find some of the best urban artists on show at Station 16 Gallery. There's also the Under Pressure festival in August which has been going for 20 years and focusses on graffiti artists.
Colourful fruit and veg at the Jean-Talon Market
Heading a little further north on Boulevard St Laurent, we reached the Little Italy neighbourhood and the Jean-Talon Market, the largest fruit and veg market in the city. The market is a riot of colour, especially in summer when the freshest local produce is on display. This is a shopping paradise for foodies and chefs and it's all beautifully presented with each heirloom tomato, rosy radish and even humble potato polished to perfection.
The punnets of strawberries and soft fruit looked so sweet and tempting and I enjoyed chatting to producers of  specialist products like the ice cider that's made in Quebec. Since the climate here is too cold for vines, the first French settlers planted apple orchards instead, pressing apple juice and making cider. Like ice wine, the fruit is picked after a frost to intensify the flavours and made into a sweet cider with a concentrated flavour that's perfect served with blue cheese or fois gras. Of course, thinking of my Christmas menus, I had to buy a bottle to bring home!
If you go: Jean-Talon Market: 7070 Avenue Henri-Julien, Montréal – there is parking but it's oversubscribed to best to take the metro to Jean-Talon stop.
Discovering Montreal's food truck scene
The late afternoon found us returning to the Entertainment District of Montreal where the Just for Laughs comedy festival was joining forces with the BouffonsMTL food truck festival. Food trailers were arranged around an open courtyard and featured many of Montreal's top restaurants, who offer street-food versions of their signature dishes at affordable prices. Montreal restaurateur Jorge da Silva works with Michelin star chef Carles Abellan at Tapas24 and told me how he liked to bring his most popular dishes, such as the Cartalan-style paella to the festival, as a way of meeting food lovers and reaching out to a new clientele.
"Montrealers are so proud of their cuisine, when I travel everyone knows Montreal for the food. You have your food institutions but you also have your star chefs. They are competing  but all offering something different and in a nice environment, so that's where the friendship comes in with all of us."
We enjoyed a dish of the paella, yellow with saffron and packed with juicy prawns and mussels, finishing with an ice cream from Monsieur Cremeaux, owned by TV chef Martin Juneau. Although I'd have loved to have tried the signature dish of fois gras poutine from the Au Pied de Cochon van, by that time I just had no more space to eat another mouthful.
The BouffonsMTL takes place in July but there are many food festivals in Montreal, so look out for the Montreal a la table restaurant week in November and First Fridays at the Olympic Village where food trucks gather on the first Friday of each month from May. You'll also find lots of different food trucks at individual locations around the city during the summer months.
Maple Syrup: the sweet taste of Montreal
Québec province produces over 90% of the maple in Canada, so this was top of my list to bring home from Montreal as a souvenir of the trip and pour over my pancakes for that authentic Canadian breakfast. We found a great range of maple syrup and other maple products at Delices Erable & Cie 84, rue St-Paul Est in Vieux Montreal. I loved that they allow you to taste everything on sale, with maple fudge, ice cream and cakes at the take out counter or to eat in their cafe. There are also excellent maple products at Marché Bonsecours, a domed heritage building full of stores selling unique gifts and crafts from Québec, an essential destination for the stylish shopper in Montreal.
A culinary adventure in the Little Burgundy neighbourhood of Montreal
As evening approached we followed a whim and a recommendation, jumping in a cab for a 10 minute ride to the Little Burgundy District, one of the trendy up and coming neighbourhoods we'd read about. The place we'd been recommended, Joe Beef, was shut but we spotted a taco bar across the road called El Gordo and loved the casual but buzzy atmosphere with a pared back industrial decor, perked up with colourful glasses and Mexican murals. They have an Italian restaurant and pizzeria next door called Gepetto's which also looked super-popular.  Here's what we ate: A flavoursome gaspacho with tomato and watermelon $8, a tasy and colourful advocado and tomato salad $12 and a plate of Tacos each 3 for $8-12 washed down with a mojito $10 and beer $6.
If you go: El Gordo 2518 Rue Notre-Dame Ouest. Montreal
The night is still young in Montreal
Using the metro to return to Vieux Montreal, we took one last wander around the old city where many of the buildings were lit up at night. At Place d'Armes, the Notre-Dame Basilica was beautifully illuminated with details picked out in turquoise and midnight blue and a street musician strumming a guitar in the warm night air.
The City Hall that we had seen earlier opposite Chateau Ramezay was bathed in pink and nearby we noticed a film of rebellious beavers being projected onto the old stone walls of a building in Place Jacques Cartier. It seems that the ghosts of the past come back to haunt corners of Old Montreal as part of the Cité Mémoire project where dream-like tableaux are projected onto the buildings near where the stories happened. Download the Montreal en Histories app for a guided walking tour of all the different sites around Vieux Montreal – there's free wifi provided too at information points along the route.
Where to stay in Montreal
For our last night in Montreal at the end of our Canada RV trip we stayed at the Le Centre Sheraton Montreal Hotel in the heart of downtown Montreal. The hotel is located on a busy avenue in the business district and our room gave us a morning view over the Montreal skyline towards Mont Royal, the park that offers panoramic views over the city.
The hotel is large (825 rooms) with comfortable, modern bedrooms and ideal for business or leisure travellers who like staying at an international hotel with a wide range of services and amenities. The hotel was a 30 minute walk or 10 minute cab ride from the waterfront and heart of Vieux Montreal. As is the norm in Canadian Hotel there is an additional charge for breakfast unless you book a Club bedroom in which case you have access to the Club Lounge where complimentary buffet breakfast is served as well as snacks and drinks throughout the day.
If you go: Le Centre Sheraton Montreal Hotel, 1201 Boulevard Rene-Levesque West, Montreal
I hope that I've tempted you to visit Montreal, which was certainly one of the highlights of our RV trip. There's so much to see here that I'm sure you will find whatever makes your perfect day in Montreal.
Read More about Canada's cities
Vancouver – Three wonderful reasons to visit Vancouver
Calgary – Enjoy 24 hours in Calgary Alberta
Toronto – Waterfront Toronto
Information for Visiting Monteal
You can find more information to plan your visit to Montreal on the Tourism Montreal Website, the Quebec Original Website and also on the Explore Canada Website covering all the things to see and do in Canada.
Our RV (Recreational Vehicle) for the two week Explore Canada Road Trip was provided by Cruise Canada.
To compare prices and book for hotels in Montreal, visit the HotelsCombined website where you can find the best prices from a range of different booking sites.
My visit to Montreal was part of the Explore Canada Road Trip, a project with Travelator Media and Explore Canada
Pin It
This article is originally published at Heatheronhertravels.com – Read the original article here