Our Explore Canada Road trip had taken us from Toronto to Montreal, but now we were at journey's end. Dropping Monty the RV (our recreational vehicle, named after our final destination) back at the Cruise Canada depot, we headed into the city, to enjoy our final day exploring Montreal. In one short day, we fell in love with the charming bilingual Montrealers, discovered something of the city's history and ate our way through Montreal's lively food scene. Of course we didn't see everything, but all the more excuse to return – so here's our version of a perfect day in Montreal.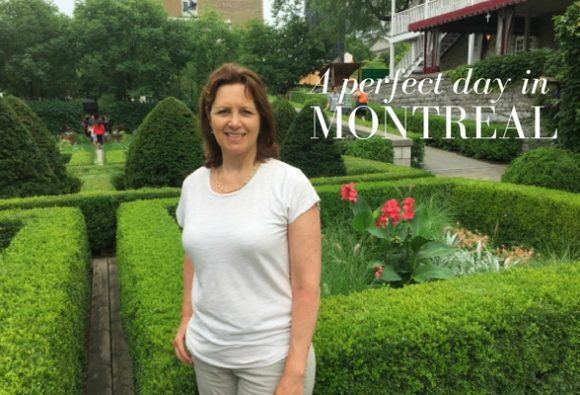 Like most visitors to Montreal, we started our day in the old quarter of Vieux Montreal, wandering along Rue Saint-Paul, where funky clothing boutiques mixed with stylish cafés. Meandering through cobbled pedestrian streets, we reached the tourist hub of Place Jaques Cartier, an open square that looks towards the port on one side and the Town Hall on the other.
Spotting an open gateway at the side of the square, we ducked through explore and found a haven of calm in the Governor's garden behind Chateau Ramezay. The walled garden was laid out as an 18th century style potager, with flowers, vegetables and medicinal herbs, in formal beds enclosed by box hedges. The garden here today is only a small part of the garden that once surrounded this grand house and would have been used as a source of food and healing, as well as genteel relaxation by the first colonists of 'New France'.
After soaking up the peaceful atmosphere, we visited the house of Chateau Ramezay, which was built in 1705 by the Governor of Montreal. Despite being one of the oldest and most historic buildings in the city, the the house fell into disrepair at the end of the 19th century and was only rescued from demolition by the efforts of an antiquarian society. We very much enjoyed our visit to the house with its beautiful panelled rooms and interesting displays that told the story of Montreal's colonial past.
If you go: Chateau Ramezay: 280 Rue Notre-Dame Est, Montréal. Entrance Adults $11, Garden Free.
Bagels and brunch in the Jewish neighbourhood
From Vieux Montreal, the Boulevard Saint Laurent took us north through some of Montreal's most interesting neighbourhoods, such as Plateau and Mile End which were home to the Jewish, Portuguese and Greek communities. While many of the old residents have moved out, you'll still find the ethnic flavour in some of the city's best loved food institutions. Now there's a hip and trendy feel as the neighbourhoods have become gentrified, with cool bars and cafés catering for creative types working for the software and video game companies that have replaced the garment industry.
Bagels are big in the Jewish neighbourhood with the specialist bakeries of Fairmount and St-Viateur found within a few blocks of each other.  There's a friendly rivalry with New York over whose bagels are best, although they are quite different to the Montreal bagels, which are baked in a wood fired oven with a sweet maple glaze and more compact texture than their puffy cousins from NYC. We stopped by both bakeries where I can confirm that the warm-from-the-oven bagels are equally delicious, although for visitors I'd favour St-Viator which has a larger shop where you can easily see the bakers at work and the bagels piled high, making it easier to take photos.
We stopped for brunch at Beauty's (93 Mont-Royal West), a classic Jewish diner with blue banquettes and an open kitchen, where they serve smoked salmon and cream cheese bagels, as well as sandwiches, pancakes and salads. The restaurant opened in 1942 and is now run by the third generation of the Sckolnick family, with grandfather Hymie who is in his 90s still coming in each day to keep an eye on things.
In the same neighbourhood is Schwartz's Deli (3895 Boulevard St-Laurent), another Montreal food institution known for their smoked meat sandwiches. At lunchtime the queues stretch down the street, but there are no frills here – you'll get a mountain of tender smoked salt beef that's barely contained by the soft fresh white bread and garnished only by a squirt of mustard.
Discovering Montreal's street-art scene
Coming from Bristol where we have murals by some incredibly talented street artists, I had to stop for a look at some of the street art in Montreal. Every year in June they hold the Mural festival when a parking lot off Boulevard Saint-Laurent is taken over by music and artists creating new works from high up on their cherry-pickers.
The festival is now in its fourth year and started as a way to encourage regeneration in the area and provide a showcase for some of Montreal's talented urban artists. Founder André Bathalon told me "our goal is to bring people to the area and they take from it what they want. They might enjoy the mural on the wall but if they want to learn more about the artists, the techniques or particular styles, they can also do that – it's accessible 24-7 and its free."
In the area we saw work by local artist Roadsworth whose large scale pieces cover roads and pavements, and Italian Pixel Pancho whose mural was one of the key pieces from this year's festival. It reminded me so much of the building size pieces that are created in South Bristol for our Upfest festival. Check in at the MURAL offices (3527a Boulevard Saint-Laurent) to pick up a map of the street art locations, book a 2 hour street art tour with Spade & Palacio or  find some of the best urban artists on show at Station 16 Gallery. There's also the Under Pressure festival in August which has been going for 20 years and focusses on graffiti artists.
Colourful fruit and veg at the Jean-Talon Market
Heading a little further north on Boulevard St Laurent, we reached the Little Italy neighbourhood and the Jean-Talon Market, the largest fruit and veg market in the city. The market is a riot of colour, especially in summer when the freshest local produce is on display. This is a shopping paradise for foodies and chefs and it's all beautifully presented with each heirloom tomato, rosy radish and even humble potato polished to perfection.
The punnets of strawberries and soft fruit looked so sweet and tempting and I enjoyed chatting to producers of  specialist products like the ice cider that's made in Quebec. Since the climate here is too cold for vines, the first French settlers planted apple orchards instead, pressing apple juice and making cider. Like ice wine, the fruit is picked after a frost to intensify the flavours and made into a sweet cider with a concentrated flavour that's perfect served with blue cheese or fois gras. Of course, thinking of my Christmas menus, I had to buy a bottle to bring home!
If you go: Jean-Talon Market: 7070 Avenue Henri-Julien, Montréal – there is parking but it's oversubscribed to best to take the metro to Jean-Talon stop.
Discovering Montreal's food truck scene
The late afternoon found us returning to the Entertainment District of Montreal where the Just for Laughs comedy festival was joining forces with the BouffonsMTL food truck festival. Food trailers were arranged around an open courtyard and featured many of Montreal's top restaurants, who offer street-food versions of their signature dishes at affordable prices. Montreal restaurateur Jorge da Silva works with Michelin star chef Carles Abellan at Tapas24 and told me how he liked to bring his most popular dishes, such as the Cartalan-style paella to the festival, as a way of meeting food lovers and reaching out to a new clientele.
"Montrealers are so proud of their cuisine, when I travel everyone knows Montreal for the food. You have your food institutions but you also have your star chefs. They are competing  but all offering something different and in a nice environment, so that's where the friendship comes in with all of us."
We enjoyed a dish of the paella, yellow with saffron and packed with juicy prawns and mussels, finishing with an ice cream from Monsieur Cremeaux, owned by TV chef Martin Juneau. Although I'd have loved to have tried the signature dish of fois gras poutine from the Au Pied de Cochon van, by that time I just had no more space to eat another mouthful.
The BouffonsMTL takes place in July but there are many food festivals in Montreal, so look out for the Montreal a la table restaurant week in November and First Fridays at the Olympic Village where food trucks gather on the first Friday of each month from May. You'll also find lots of different food trucks at individual locations around the city during the summer months.
Maple Syrup: the sweet taste of Montreal
Québec province produces over 90% of the maple in Canada, so this was top of my list to bring home from Montreal as a souvenir of the trip and pour over my pancakes for that authentic Canadian breakfast. We found a great range of maple syrup and other maple products at Delices Erable & Cie 84, rue St-Paul Est in Vieux Montreal. I loved that they allow you to taste everything on sale, with maple fudge, ice cream and cakes at the take out counter or to eat in their cafe. There are also excellent maple products at Marché Bonsecours, a domed heritage building full of stores selling unique gifts and crafts from Québec, an essential destination for the stylish shopper in Montreal.
A culinary adventure in the Little Burgundy neighbourhood of Montreal
As evening approached we followed a whim and a recommendation, jumping in a cab for a 10 minute ride to the Little Burgundy District, one of the trendy up and coming neighbourhoods we'd read about. The place we'd been recommended, Joe Beef, was shut but we spotted a taco bar across the road called El Gordo and loved the casual but buzzy atmosphere with a pared back industrial decor, perked up with colourful glasses and Mexican murals. They have an Italian restaurant and pizzeria next door called Gepetto's which also looked super-popular.  Here's what we ate: A flavoursome gaspacho with tomato and watermelon $8, a tasy and colourful advocado and tomato salad $12 and a plate of Tacos each 3 for $8-12 washed down with a mojito $10 and beer $6.
If you go: El Gordo 2518 Rue Notre-Dame Ouest. Montreal
The night is still young in Montreal
Using the metro to return to Vieux Montreal, we took one last wander around the old city where many of the buildings were lit up at night. At Place d'Armes, the Notre-Dame Basilica was beautifully illuminated with details picked out in turquoise and midnight blue and a street musician strumming a guitar in the warm night air.
The City Hall that we had seen earlier opposite Chateau Ramezay was bathed in pink and nearby we noticed a film of rebellious beavers being projected onto the old stone walls of a building in Place Jacques Cartier. It seems that the ghosts of the past come back to haunt corners of Old Montreal as part of the Cité Mémoire project where dream-like tableaux are projected onto the buildings near where the stories happened. Download the Montreal en Histories app for a guided walking tour of all the different sites around Vieux Montreal – there's free wifi provided too at information points along the route.
Where to stay in Montreal
For our last night in Montreal at the end of our Canada RV trip we stayed at the Le Centre Sheraton Montreal Hotel in the heart of downtown Montreal. The hotel is located on a busy avenue in the business district and our room gave us a morning view over the Montreal skyline towards Mont Royal, the park that offers panoramic views over the city.
The hotel is large (825 rooms) with comfortable, modern bedrooms and ideal for business or leisure travellers who like staying at an international hotel with a wide range of services and amenities. The hotel was a 30 minute walk or 10 minute cab ride from the waterfront and heart of Vieux Montreal. As is the norm in Canadian Hotel there is an additional charge for breakfast unless you book a Club bedroom in which case you have access to the Club Lounge where complimentary buffet breakfast is served as well as snacks and drinks throughout the day.
If you go: Le Centre Sheraton Montreal Hotel, 1201 Boulevard Rene-Levesque West, Montreal
I hope that I've tempted you to visit Montreal, which was certainly one of the highlights of our RV trip. There's so much to see here that I'm sure you will find whatever makes your perfect day in Montreal.
Read More about Canada's cities
Vancouver – Three wonderful reasons to visit Vancouver
Calgary – Enjoy 24 hours in Calgary Alberta
Toronto – Waterfront Toronto
Information for Visiting Monteal
You can find more information to plan your visit to Montreal on the Tourism Montreal Website, the Quebec Original Website and also on the Explore Canada Website covering all the things to see and do in Canada.
Our RV (Recreational Vehicle) for the two week Explore Canada Road Trip was provided by Cruise Canada.
To compare prices and book for hotels in Montreal, visit the HotelsCombined website where you can find the best prices from a range of different booking sites.
My visit to Montreal was part of the Explore Canada Road Trip, a project with Travelator Media and Explore Canada
Pin It
This article is originally published at Heatheronhertravels.com – Read the original article here
If you're planning a holiday in Canada that involves camping or staying in an RV, in one of Canada's scenic national parks, you might want some tips on what clothing will work best for your holiday. I don't know about you, but when I'm dressing for outdoor activities such as cycling, hiking and canoeing, I like to choose clothes that are comfortable and functional while keeping a sense of style.
I recently spent two weeks with my husband Guy touring the provinces of Ontario and Quebec in Canada, staying mainly on campgrounds and in nationals parks with our cosy RV from Cruise Canada – our home from home on the road. For the trip I teamed up with Columbia Sportswear who specialise in outdoor clothing, to try out some items from their range. Based on my experience of this trip, here's what you need to pack for a camping trip to Canada.
(For the Brits an RV is a Recreational Vehicle or large camper-van)
Quick drying trousers for evenings around the campfire
For hiking or evenings around the camp fire I recommend quick drying walking trousers like these Columbia Women's Silver Ridge Convertible Trousers. They feel like a lightweight cotton but are in fact made from a 100% nylon technical fabric that wicks away sweat, protects against UV rays and is quick drying when you get caught in a downpour. For outdoor activities like hiking or cycling it's better to avoid jeans or heavier cotton trousers that weigh you down and soak up moisture at the first sign of rain. Look for trousers that have a neat leg pocket to tuck in your guidebook, map or phone. I also like styles like this that have zip off legs, to make shorts, for maximum versatility. I know I'll get a lot of use from these walking trousers on future hiking trips.
Check out the Columbia range of walking trousers here
Sporty quick drying t-shirts
For outdoor activities I tried out this t-shirt from the Columbia range made of 100% Polyester fabric, designed to wick away sweat and keep me cool. Check out the Women's Zero Rules Short Sleeve shirt here. I found that this fabric was silky, comfortable and not at all sweaty – ideal for hiking and other activities around the Canadian national parks. As an added bonus this t-shirt was easy to wash by hand or machine, quick to dry and hardly creased at all. Just as well, since irons didn't seem to exist on the Canadian campgrounds!
I also packed a range of other short sleeve and sleeveless tops in fabrics that were less likely to crease. Although it's great in sunny weather to wear sleeveless vest tops to stay cool and get a nice tan, being Mrs Sensible I like to alternate them with tops that cover my shoulders to avoid sunburn. I'm looking forward to using this t-shirt on future hiking trips and for jogging at home.
Check out the Columbia range of short sleeve tops here
Sports shorts – go as short as you dare!
In the warm Canadian summer shorts are worn by all and from what I saw the Canadians like their shorts to be on the short side. In the bars and restaurants the waitress uniform seemed to be the skimpiest of shorts and even ladies of, ahem, a certain age and size seemed to favour very short shorts. No need here for modesty then and you can save your longer bermuda shorts for city sightseeing.
I was able to double up with my quick dry walking trousers from Columbia which had a zip off leg, allowing me to convert long trousers into shorts depending on the weather. The quick dry fabric made them cool and easily washable so ideal for activities like cycling or hiking. If you are a lover of short shorts don't forget your sun screen even if you want to get a golden tan on your holiday in Canada.
Check out the range of Columbia trousers and shorts here
Trail shoes for hiking in the Canadian parks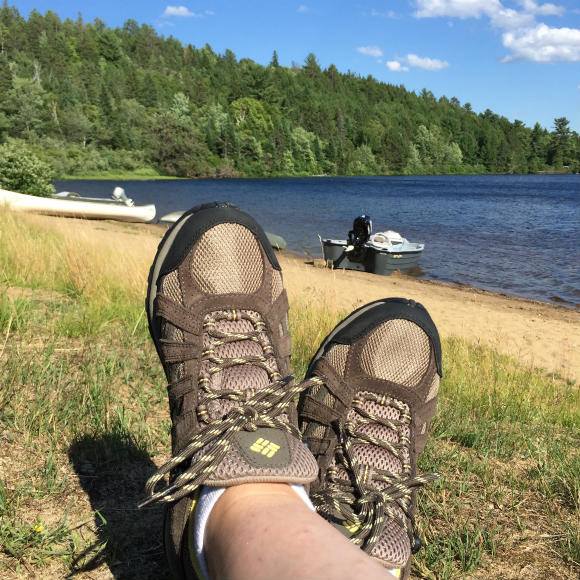 Although I have some excellent hiking boots (read my article here), for this trip I was looking for a hybrid trail shoe which is a cross between a trainer and a boot. My reasoning was that I wanted to have a supportive shoe for hiking in Canada's national parks but that I wasn't planning to do any hardcore hiking for hours and days on end. I needed shoes that were suitable for general outdoor activities, to wear around the campground, that wouldn't be too hot to wear on warm summer days.
These Women's Grand Canyon Outdry Hiking Shoes were just what I was looking for, with a low ankle so that they weren't too hot and a waterproof but breathable construction so they would keep my feet dry when walking in the wet. Although these trail shoes didn't have the support of a high ankle, the construction is very solid, so they would be ideal for summer hiking on rough and rocky trails. For serious long distance hiking I'll probably stick to boots with ankle support, but these trail shoes are ideal for a situation like our camping trip where you want a hardwearing shoe that is suitable for a range of outdoor activities.
Check out the Columbia range of walking boots and shoes here
Waterproof Jacket – yes it does rain in the Canadian summer
Although the weather on our July trip to Canada was warm and sunny, we did experience a few showers so my lightweight waterproof jacket came in handy (Read my article on what to look for in when buying a waterproof jacket). For summer wear in Canada I'd recommend a lightweight jacket that can roll up small to keep in your day sack but if you're visiting in spring, early summer or autumn you might prefer a jacket that's more substantial or has a removeable fleece lining, as we found that mornings and evenings could be cool.
I wore my waterproof jacket when we were canoeing in Algonquin park as the day was overcast and rain was forecast. Luckily the showers held off until we had finished our canoe trip but the jacket was also ideal for keeping off the midges and flies that you tend to get hovering over the water. Cloudy days can be a bonus in Canada as our guide told us that we were more likely to see wildlife such as moose when the day was overcast, since they come down to the water's edge to feed, while on hot sunny days they prefer to stay in the shade under the trees.
Check out the range of Columbia waterproof jackets here
Three-quarter length leggings – versatile for outdoor activities
I found it was useful to have some sporty three-quarter length trousers for activities such as cycling and climbing where I wanted a bit more protection. My sports leggings made from quick dry fabric got a lot of use on our Canada trip and I also wore them for canoeing where they would dry quickly if I got wet wading into the water or splashed from the paddles. The three-quarter length and close fit were also ideal for cycling if you don't want sunburned thighs or trousers that flap around the ankle.
Check out the Columbia range of casual trousers here
Flip flops for hanging out by the lake
If you are a happy camper you'll know to pack a pair of flip-flops or waterproof sandals that are easy to slip on and off. They are always handy for those early morning trips to the shower block (although luckily we had our own shower and loo in the RV) and for hanging out by the lakes that seem to be a feature of most Canadian camp grounds.
You'll want something made of plastic so you can easily rinse off the sand or pine needles and they won't look grubby. No harm in having a pedicure and pretty nail polish before your holiday – we like to keep up standards even when camping!
Check out the range of Columbia sandals and flip flops here
A  cosy fleece for cool mornings
I was pleased that I'd packed a fleece for our Canada trip as despite the warm sunny days, we found the mornings were often quite cool. For the first hour or so each day we often needed an extra layer and then the temperature would warm up and it would be short sleeves all day and into the evening. It was never really too cold on our July trip so I'd suggest a mid-weight fleece if you are visiting in the summer but perhaps something more substantial for the spring and autumn. Due to the limited laundry facilities on the Canadian campgrounds I'd avoid smarter woollen knitwear in favour of anything that is quick drying and doesn't crease, unless you have an element of your holiday that requires you to dress more smartly.
Check out the Columbia range of fleeces here
Other things to consider
Those pesky flies and mosquitos can be pretty persistent when you get into a camp ground or one of Canada's national parks. If you are trying any activities such as hiking, cycling or canoeing, a liberal spray of deet based insect repellant is recommended and in the evening it's best to change into a long sleeved top and long trousers with socks and shoes to cover your feet. I neglected my own advice on a few occasions and regretted it as I was scratching nasty bites for days afterwards.
Most but not all of the camp grounds we visited had washing machines and dryers but none seemed to have any ironing facilities. I'd recommend packing clothes made of quick drying technical fabric that are less likely to crumple in order to look your best, leaving your linen suit at home.
A sunhat is advisable if you're out on long hikes or canoe trips in the full sun and to fit in with the locals I'd choose a cotton cap – you can buy them everywhere in Canada.
My Canada Camping clothing check list
A lightweight waterproof jacket for the occasional shower or cool evenings
Long quick dry trousers for hiking and to keep off the insects in the evening
Quick dry shorts for sunny days and sporty outdoor activities
Three-quarter leggings or joggers for sporty outdoor activities and cool mornings
Quick dry sports t-shirts
Trail shoes for hiking and climbing
Flip flops or waterproof sandals for wearing around the campground and the lakes
A mid-weight fleece for cool mornings and evenings
A light, long sleeve t-shirt to wear in the evening when the mozzies come out to bite
A cotton cap or sunhat to protect you from sunburn or sunstroke on sunny days.
Plus of course pack some other casual clothes and footwear for when you are out sightseeing
Thanks to Columbia Clothing who provided me with some of the items mentioned in the article to try out on my Canada trip.
Some of the links in this article allow me to earn a small commission when you purchase at no extra cost to you – thanks for your support!
Visitor information for Canada
To plan your trip to Canada check out the Explore Canada tourism website as well as the websites of the states and national parks you plan to visit, in our case Ontario Tourism and Quebec Tourism. Our RV was provided by Cruise Canada.
More Canada articles
Where to watch wildlife in British Columbia, Canada
How to enjoy a great day in Victoria BC
Vancouver Island – a nature lover's paradise
Pin It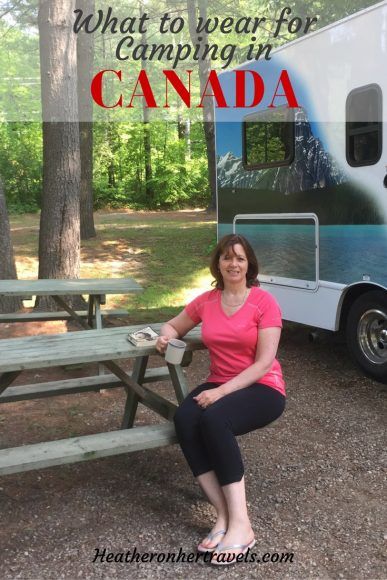 This article is originally published at Heatheronhertravels.com – Read the original article here

You'll also be subscribed to our free monthly newsletter for great travel resources, news and offers, but you can unsubscribe at any time and we'll never share your e-mail.
You'll also find our sister blog with tips on how to build a successful travel blog at My Blogging Journey
Comments Off on A dangerously beautiful hike in British Columbia
Our guest author, Dana Sibilsky takes a hike in the beautiful woods of British Columbia that proves more dangerous than she anticipated when she finds signs of bear activity along the trail.
In 2013, my husband and I made the mutual decision to spice up our lives together and really venture out to see what the world has to offer. With this decision, we agreed to travel at least twice a year; one place within the first half of the year (January-June) and another place within the second half of the year (June-December).
In our journey to explore the world together, we have visited nearly all of the United States and only half of Canada. The world is big and we aren't even halfway through yet! If you were to ask what is the most beautiful place we've been to, it would without a doubt be British Columbia, Canada. If you have ever seen pictures, no photo nor video does this incredible place justice because you simply must be there to FEEL the atmosphere.
Beautiful British Columbia
The air seems cleaner, fresher and easier to breathe with a certain natural "crispness" to it that my husband and I have not found anywhere else in our travels. The water seems to be more pure, more fresh with the same crispness that makes you say to yourself, "This is the way it's meant to be. What have we done to our world in other places?"
Through our travel in British Columbia, we hiked until we came to our destination at the well-known and popular Three Valley Gap Hotel. Oh my, if you could just see the scenery of nature that surrounds this place. There's a saying that we kept hearing while visiting that went something like, "Out here, you are normally no further than 20 feet from a bear at all times." I'm not sure how true it is or if they were just trying to scare us knowing we weren't locals from around the area.
The wildlife is just as spectacular as the surrounding scenery. My husband and I (but honestly mostly my husband) wanted a closer look at the the wildlife. "What is the point of coming 2000 miles out here if we are just going to sit in a hotel?" he questioned. "Let's venture out to see what we can never see at home." With that said, we got a nature tour guide and began to explore the surrounding wooded area at least 3 miles away from the comfort of our hotel. At first, walking through the thickness of the brush and woods was intimidating. What if we saw a bear? What if we ran into a pack of wolves or coyotes? I remembered hearing stories from our friends in Toronto and Mississauga about coyotes running freely through the city in 2010. The more we tracked through the woods, the more comfortable I became until the tour guide stopped us in our tracks.
The look on our guide's face was the look of fear and nervousness he was trying his best to hide for our sake. "Is everything ok?" I asked him, touching his arm gently in concern. "You look like there is a problem." With a shaky hand he was trying to control, he pointed to the tree in front of us roughly 10 feet away and said, "Bear."
Bear sighting
My eyes widened as my head quickly snapped to the general direction he was pointing. The tree had claw and teeth marks on it and was missing chunks of bark. Bears do this to mark territory and possession of their favorite trees. These marks usually are present on other trees given by the same bear in a trail. This helps the bear find its way back to wherever it came from.
I was stone cold in fear and to tell you anything different would be a complete lie! I couldn't move. The thought that I could possibly be standing in or near a bear's nest shut down all of my motor mechanics such as my ability to walk and open my fear-clenched fists into open palms.
In the distance, I could hear my husband calling me. "Dana!" I heard him say. I wanted to look at him, but the fear was overpowering me. I heard him shout in a louder, projecting voice. This time, my head jerked toward him as the guide and I let out a harsh "SHHHH!" toward him simultaneously. "Are you out of your mind?!" said the guide, "We are in the danger zone of a bear's or group of bears' territory! Keep quiet!" he instructed my husband. "We need to go. Now!" the guide said. We didn't hesitate! The tour guide, my husband and myself double-timed it to the hotel as quickly, quietly and safely as we could.
Make lasting memories
Fast forward 2 years later. Isn't it interesting that the worst moments in our lives at that particular time turn out to be the most memorable? The moments we believe are the downfall of our day, the ones we say we could do without at the moment they are happening are the very same moments that become the memories we wouldn't change for anything. The moments we look back on months or years later and can't help but to laugh and smile to ourselves. Being in a dangerous position having trespassed through bear territory was one of those moments.
If you haven't visited the British Columbia side of Canada, what are you waiting for? It is, without a shadow of a doubt the most beautiful, refreshing and enlightening adventure you could ever take no matter if you're alone or with those you love. Just a word of advice: Don't go exploring without an experienced nature tour guide!
Author bio: Many thanks for this article to Dana Sibilsky, a stay-at-home mother of three prides and joys. When she isn't giving her family their needed attention, she enjoys traveling and blogging her art on her sites.
Visit the #explorecanada official Canada Tourism Website for more information on things to do in British Columbia and Vancouver Island as well as their social media channels on Instagram | Facebook | Twitter
Pin it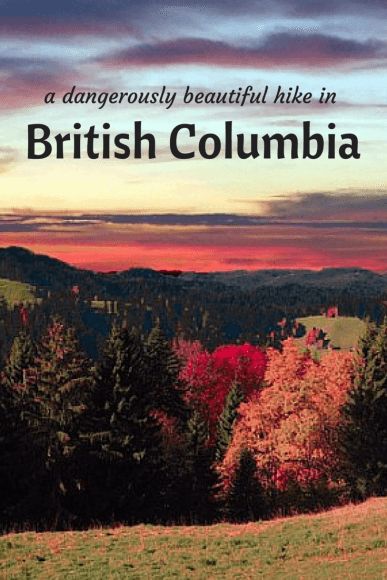 For more Canadian adventures:
Where to Watch Wildlife in British Columbia, Canada
Vancouver Island – A Nature Lover's Paradise
How to Enjoy a Great Day in Victoria, BC
Photo credit: Dana Sibilsky
This article is originally published at Heatheronhertravels.com – Read the original article here
You'll also find our sister blog with tips on how to build a successful travel blog at My Blogging Journey