This summer we adopted an motorhome, or RV as they are known in Canada, and spent two weeks driving from Toronto to Montreal. 'Monty' as we fondly named the RV, took us on many an adventure, from bear spotting in Algonquin to farmer's markets in Kingston, from feeding carrots to Bambi in Parc Omega to climbing a Via Ferrata in Mont Tremblant park. We dipped our toe in Canada's wilderness, toasted s'mores over the campfire and tasted everything from thousand island dressing to poutine. While there were many highlights from our 2 week road trip, here are ten of my favourite Canada moments.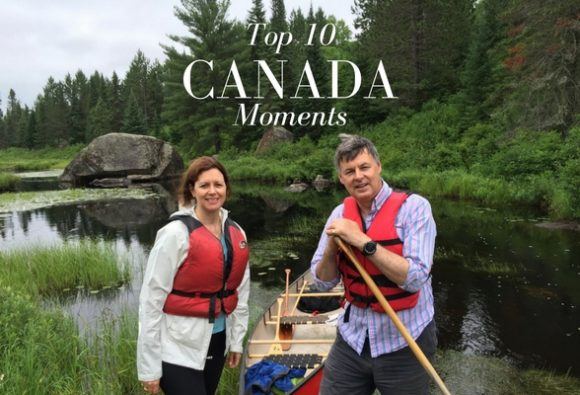 1. Wildlife encounters in Algonquin
After picking up 'Monty' the RV from Cruise Canada in Toronto, our first taste of the Canadian wilderness was at Algonquin Provincial Park, where we discovered that even the locals get excited at a wildlife encounter. 'Did you see anything?' we'd be asked if we so much as stopped for a moment at the roadside to look into the trees. While out cycling near the Two Rivers Store, we heard there was a black bear and cub up ahead and proceeded cautiously to join the small crowd in the parking area. We inadvertently broke the golden rule and cycled between the bear and its cub, then watched from a safe distance as mama bear checked the cub up the tree was doing fine, before ambling off into the woods in search of more food.
While out canoeing at Lake Opeongo,we also spotted several beavers lodges, a dense mass of sticks half submerged in the water. Our guide from Algonquin Outfitters where we hired the canoe told us how moose may hold their breath under water while munching on lily roots, and emerge sudddenly from the water to startle the unwary canoeist. Although no moose appeared, a beaver surfaced briefly in front of us, then with a splash of his flat tail he was gone. While our wildlife encounters were fleeting we learned that the fun is in the looking and in the chance to unwind in Canada's unspoilt wilderness.
2. Soaking up the history and food culture of Kingston
Perhaps it was the sense of history that made us feel so at home in Kingston, Ontario. Everything seemed to be built on a very European scale, since the town was established in the 17th century before cars were a feature of town planning. This university town has a great foodie reputation, and after visiting Fort Henry up on the hill, we took the bus into town to find the farmer's market in full swing. A motorcycle rally had turned the town into a sea of black leather, with riders whizzing up ramps to perform airbourne stunts for an appreciative crowd.
We took the opportunity to stock up on some of the luscious ripe fruit from the stalls, tasted a bit of local wine from the Three Dog Winery and called in at the Pan Chancho bakery to buy some of their artizan bread. With food tours and a town packed with good restaurants, I left feeling we'd only scratched the surface of the foodie scene of Kingston and would love to go back and discover more. Read more about Foodie adventures on our Canada Road Trip.
3. Ottawa: Canada's vibrant capital
Travelling by RV didn't stop us visiting some of Canada's vibrant cities like Ottawa. Luckily the Wesley Clover Campground on the edge of the city offered a shuttle bus that dropped us right outside the Parliament building, just in time for the changing of the guards. Canada's capital was in a high state of preparation for the 150th birthday celebrations in 2017, with the parliament building being cleaned and lots of building work going on around the city.
We headed for Byward Market to look at all the farmer's market stalls and had a lovely lunch on the patio (the Canadian term for an outdoor restaurant terrace) at Murray Street, which specialises in Canadian cheese and charcuterie. In the afternoon we visited the glass palace of the National Gallery of Canada where the windows of the Great Hall frame the view of the Parliament Building across the river. On the Gatineau side of the river, we admired the soaring totem poles at the Canadian Museum of History and rented bikes to cycle along the river path. Where else but Canada would you see a heron poised to catch a fish within sight of the capital's parliament building?
4. The old time charm of Wakefield
Wakefield is one of those charming small towns set by the Gatineau river, where you could easily spend a day wandering from cute craft shop to artizan bakery to bohemian café. It's a little bit ditsy but we enjoyed our walk across the red painted covered bridge, originally built to allow farmers to drive their buggies to church and reconstructed in a community effort after it was destroyed in a fire in 1980s. On the far side there are some rocks where you can take a picnic and go swimming in the river.
Lunch was at the Wakefield Mill Hotel and Spa, an old mill house now turned into a boutique hotel. In the glass sided Muse restaurant, we dined in style (mine was Arctic char with a pretty arrangement of vegetables) overlooking the stream racing below the mill. After lunch we walked along the main street of Wakefield, checking out the colourful cafés and boutiques like Khewa selling native art and jewellery. I had the feeling that this is well-heeled Ottawa's weekend escape, where the money comes to relax, shop and perhaps get a bit sporty in nearby Gatineau park.
5. A day in Gatineau park – Ottawa's playground
Gatineau park is the outdoor playground of Ottawa, an easy day's visit from the city with walking trails and lakes. There's nothing pink about our first stop at Pink Lake  (it was named after a family of the same name) but it's very deep and still, creating a glassy surface to reflect the clouds as they drift by.
Another must-see in Gatineau Park is the Mackenzie King estate, former home of Canada's prime minister, William Lyon Mackenzie King who came here to relax and escape from the pressures of government. In front of the house is an English style flower garden with stone arches framing the forest and paths down to the lake where Mackenzie King would bring friends and family to swim. Our day ended at the Champlain Lookout with a view over the escarpment towards Ottawa, where 'Monty' the RV attracted a crowd of admirers as we stopped for a cup of tea with a view.
6. Cycling at Parc national de Plaisance
Once we were north of the Ottawa river in the Outaouais region one of our favourite camp grounds was Parc National de Plaisance, set beside the Ottawa river. The setting was charming with plenty of activities and we decided to hire bikes to cycle around the traffic free trails by the lakes and river. With the sun shining and the wild flowers in bloom, the park really lived up to its name and we hardly saw anyone on our bike ride apart from a couple of people fishing.
As in all Canada's National and Provincial parks, there were a wide range of activities and we could easily have hired canoes or observed wildlife from the floating walkways on the Zizanie-des-Marais trail. We spent the evening at 'the world's largest log cabin' a.k.a the luxurious Fairmont Le Chateau Montebello, where we dined on the patio overlooking the river from a buffet that was full of delicious dishes, with steaks and fish perfectly cooked to order on the barbecue.
7. Feeding the animals at Parc Omega
While we had caught to odd glimpse of wildlife in Algonquin, Parc Omega gave us a chance to get up close and personal with more of Canada's wildlife. It's a wildlife park that you drive through, with a chance to feed the deer from your car window, so don't forget to buy a few bags of carrots at the park shop. As the RV was too big to drive around, we were taken in a golf buggy enclosed by a metal cage, through which we could feed the different species of deer from the imposing Red Deer to the cute Bambi Fallow deer.
In different parts of the park we saw black bear and bison in their large enclosures and watched the daily show of eagles and other birds of prey swooping back and forth to retrieve their food. From a raised observation platform we learned all about the wolf pack as they were fed, about the hierarchy of the pack and the howling calls that are used to communicate between the packs.
8. Evenings by the Campfire
My favourite time on the campgrounds was once we had parked the RV under the trees, unpacked the chairs and Guy got the fire going in the fire pit. Then it was time to crack open the beer and relax for a while, getting to know the friendly neighbours. Since all the Canadian campgrounds seem to be set beside a lake, Guy would often have an early evening swim while I was happy to watch him – I love to be beside the water but it has to be boiling hot for me to actually get in it!
Then we'd make dinner in our well equipped kitchen area in the RV and eat it on the picnic table outside, remembering to spray ourselves liberally with mozzie repellant and put on long trousers as it got dark. Sometimes we would cook a steak over the grill of the fire or toast marshmallows – s'mores as they are known in Canada. It's quite an art to achieve that combination of melted softness and crispy toasted exterior without the whole thing going up in flames. Read more about driving an RV from Toronto to Montreal.
9. Climbing the Via Ferrata in Parc National de Mont Tremblant
Even though I'd climbed a Via Ferrata in Italy, I found the one in Parc National de Mont Tremblant quite challenging and perhaps that's why it sticks so clearly in my memory. I suspect it's that combination of fear and adrenalin that makes the experience so memorable. With our guide, we put on our harnesses and helmets and tried a practice wall before starting the climb up the rockface on metal footholds.
On a Via Ferrata you get the experience of rock climbing, but in a controlled way, since you are on a fixed route that is marked with metal cables to which you clip your karabiner. It requires concentration and agility but your climb is rewarded with fantastic views over the valley and an amazing sense of achievement. The Mont Tremblant park was a fabulous outdoor playground where we also enjoyed hiking on the waterfall trails, as well as a day canoeing the Meandre de Diable, a winding stretch of river with sandbanks and beaches to stop for a picnic.
10. More delicious food in Montreal
Everyone we met told us that Montreal serves the best food in Canada, so when we arrived at the end of the trip, eating was high on our agenda. The city has Jewish, Portuguese, Greek and Italian neighbourhoods, homes to restaurants and food shops with an ethnic flavour. In the Jewish neighbourhood of Plateau we stopped at Beauty's for a 'Special' bagel with lox (smoked salmon) , cream cheese and sliced onion. Nearby are the bagel bakeries of Fairmount and St-Viator where we stopped to try the chewy fresh bagels, still warm from the wood fired oven.
Schwartz's deli is another Montreal food institution with long queues for their smoked meat sandwich, carved in thick slices of warm salt beef, barely contained between soft white bread with a squirt of mustard. There's a strong food trailer scene in Montreal and we happened to be there during the Bouffons MTL food truck festival, giving us an opportunity to sample dishes from some of the top chefs and restaurants in the city, such as paella from Tapas 24, ice cream from Monsieur Cremeaux and poutine from Au Pied de Cochon. Our final stop was the Jean-Talon food market where we stocked up on ice cider and other treats to take home – a delicious way to end our road trip from Toronto to Montreal. Read more about how to spend a perfect day in Montreal.
If you've enjoyed my Top 10 Canada moments from our RV road trip from Toronto to Montreal do also check out the articles below. My trip was part of an eight week road trip during which four bloggers drove an RV (which we all gave different names) from Vancouver to Montreal, each of us taking two weeks to discover the best experiences that Canada has to offer. You can read about our best Canada moments below.
More Top 10 Canada moments
Travel with Kat – Top 10 things to see and do in British Columbia
The Quirky Traveller – Top 10 memorable moments from a Canada Road Trip
On the Luce – Calgary to Toronto: 10 Unforgettable Road Trip Moments
Information for planning your trip to Canada
You can find more information to plan your visit to Montreal on the Ontario Tourism Website, the Quebec Original Website, the Tourism Outaouais Website and also on the Explore Canada Website covering all the things to see and do in Canada.
Our RV (Recreational Vehicle) for the two week Explore Canada Road Trip was provided by Cruise Canada.
To compare prices and book for hotels in Canada, visit the HotelsCombined website where you can find the best prices from a range of different booking sites.
Where we stayed on our RV Road Trip
Night 1 –  Sheraton Gateway Hotel, Toronto
Night 2 & 3 Algonquin Provincial Park near Whitney, Ontario
Night 4 Murphy's Point Provincial Park near Kingston, Ontario
Night 5 & 6 Wesley Clover Camp Ground – south of Ottawa
Night 7 &8 Camping Cantley – north of Ottawa
Night 9 Parc de Plaisance  National Park in Quebec
Night 10,11,12 Mont Tremblant National Park in Quebec
Night 13 Le Centre Sheraton Hotel Montreal
Pin It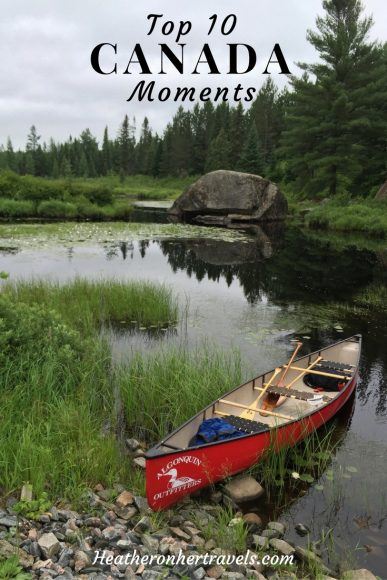 My visit to Canada was part of the Explore Canada Road Trip, a project with Travelator Media and Explore Canada
This article is originally published at Heatheronhertravels.com – Read the original article here
Our road trip this summer took us through Canada from Toronto to Montreal, eating the freshest of Canadian produce and trying the many craft beers (once the RV was safely parked of course!). We tasted our way through gourmet burgers and poutine, cooked up a storm over the camp fire and enjoyed an occasional sophisticated dinner at in some of Quebec's finest restaurants, all washed down by the wonderfully varied, locally brewed craft beer.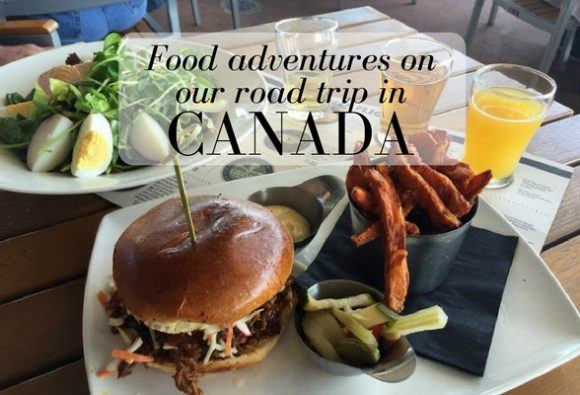 Our first taste of Canada was in Toronto where we spent a day exploring the harbour front before picking up our RV from Cruise Canada. Right on the waterfront, the Amsterdam Brewhouse caught our eye, with a double height restaurant space and seating on the deck outside. We bagged a table by the lake-front and ordered a pulled pork bun with sweet potato fries and a flight of their craft beers – with names like Bigwheel Amber Ale and Downtown Brown.
The only one that was a bit odd was the 'Adventure' brew – small batches of something a experimental and ours was an orange flavour beer, which tasted… well… like orange juice. The menus here change seasonally but are based around casual burgers, smoked meats and a good selection of hearty salads too – plus the beer is all brewed by the company with natural ingredients and no preservatives. In cosmopolitan Tornoto this felt as close as you'll get to typical Canadian cuisine and it was a tasty start to our trip. Amsterdam Brewhouse, 245 Queens Quay West, Toronto
A Road-side stop in Ontario at Weber's
Picking up our RV from Cruise Canada in Toronto, we drove north towards Algonquin Provincial Park where we would be spending a couple of nights, stopping for a late lunch at Weber's on Highway 11 near Orillia. It's a fabulous roadside diner which is the top place to stop if you're heading north for a camping trip. After parking the RV we joined the fast moving line in the small takeaway area – where burgers and hot-dogs were sizzling over charcoal and the orders with fries, extra cheese, milk shakes or iced tea were being efficiently assembled.
Taking our paper wrapped burgers and cartons of fries we found a shady spot at a picnic table on the grass to enjoy our lunch – there's also a vintage railway carriage that has been converted into a restaurant car for those who like their air conditioning. If you need something sweet for desert, pop next door to buy an ice cream or frozen yoghurt – we had a tub of berry flavour.
Farm shop flavours
Although we'd stocked up at the supermarket at the beginning of our road trip, we quickly realised that the more interesting foodie discoveries were to be found at local farm shops and markets. One such was the Coutts Country Flavor Shop which we stopped at on our way to Murphy Point Camp Ground, close to Perth.
Pulling up in front of the wooden building surrounded by fields, we looked around the store which is part of a 5th generation family farm and sells organic meat, fresh farm veg, local cheeses, their own maple syrup and the famous Ontario butter tarts ( a bit like a treacle tart but not quite as sickly sweet).
Craft beer with a hint of Maple
In nearby Perth we also found the wonderful Perth Brewery to stock up on craft beer to take back to our campground. Surrounded by copper vats and packing benches, the friendly staff at the front counter were more than happy to let us have a taste of the different beers on tap. After trying just a few (we still had to drive the RV) we stocked up on the tins of our choice, to drink later by the campfire. Our favourite was the Canada Maple Ale which had a subtle flavour of maple syrup without too much sweetness – a really enjoyable taste of Canada.
A taste of Poutine
Another Canadian speciality that we came to know (but not necessarily love) was Poutine, a dish that's especially favourite in Quebec. It's basically french fries, scattered with squeaky curd cheese and drenched in gravy – with variations sold everywhere from roadside food stops to fine dining restaurants. Our first encounter at a roadside food truck was not that promising. Frankly we couldn't see what the fuss was about, with crispy fries turned into a soggy mess by the gravy (in fact poutine is Québecois slang for mess!).
We did give the Poutine another try at Les Brasseurs du Temps in Gatineau and although a slightly more elegant version, we concluded that as a dish it was best saved for those outdoor events in the freezing Canadian winter when you need to carbo-load. In Montreal the ultimate poutine is said to be found at Au Pied de Cochon, where they do a variation with Fois Gras. I could have tasted it at the food truck event in Montreal where the restaurant had a stand but was worried I'd be disappointed again, so I declined – a decision I somewhat regret.
Pancakes and Maple Syrup
Another unmissable feature of the Canadian food scene were the pancakes – which were normally served for breakfast with lashings of maple syrup. A meal in themselves, they would keep you going until well after lunchtime – we enjoyed these ones with fresh fruit at a modest roadside diner close to our campground at Parc de Plaissance north of Ottawa.
A foodie hotspot at Kingston
One of our favourite foodie stops on the road trip through Ontario, was Kingston set beside Lake Ontario. This university town close to historic Fort Henry, punches above its weight when it comes to great artizan food producers, bars and restaurants. As we arrived, a farmer's market was in full swing, with stall after stall selling perfectly polished peaches and plums, soft fruit, green beans and other fresh produce. We took the opportunity to buy a basket of luscious mixed berries to eat on the go and some butter tarts from the bakery stall as a lunchtime snack.
Kingston had a much more European feel than many of the places we drove through, since the town was established in 1673 at the confluence of the St Lawrence River, at a time before cars (let alone RVs) dominated the town planning. We enjoyed walking around the streets, dipping into coffee shops and meandering through courtyards with secluded restaurant patios like Chez Piggy who also run the Pan Chancho bakery where we stopped for some excellent fresh bread.
Beaver Tails in Ottawa
Our road trip next took us north to Canada's capital Ottawa where we left our RV at the Wesley Clover Campground and took their convenient bus service into the city. After watching the changing of the guards on Parliament hill, our stomachs lead us to Byward Market, the neighbourhood surrounding the covered market building which has numerous food stalls as well as bars and restaurants.
On the recommendation of local blogger Cindy Baker we joined her for lunch at Murray Street, for a delicious plate of local charcuterie and cheeses on their shady patio, before paying the obligatory visit to the BeaverTails stand for desert. The flat pastries (shaped like a Beaver's Tail) are a cross between a pancake and a doughnut and come with lots of sweet toppings – I was relatively restrained with my choice of buttery maple sauce!
Craft Beer at Brasseurs de Temps in Gatineau
After our day sightseeing in Ottawa we drove across the river to explore the city from the Quebec side, with an excellent dinner at Brasseurs de Temps in Gatineau. There was definitely a theme developing in the popular restaurants that we visited, being based around breweries offering an ever changing selection of craft beers. Below the restaurant is a quirky little museum about the history of beer in the Outaouais region and you get a look down into area where the beer is being brewed. It was pleasant to sit outside on the patio overlooking the canal and select our beer from from the detailed descriptions on the menu cards – according to which my fruity white beer had aromas of banana and ginger. This is where Guy decided to try the Poutine again but I had a duck salad which was certainly the better choice.
Fine dining at Wakefield Inn
A highlight of our foodie quest around the Outaouais region north of Ottawa was the day we spent in Wakefield, a pretty little historic town, full of old houses, craft shops and artizan bakeries and restaurants. After parking the RV in the centre of town, we walked up from the main road to Wakefield Inn, a charming boutique hotel and restaurant which would have made a wonderful spot for a weekend break. The hotel's restaurant offered a sophisticated alternative to the more casual dining of the brewery restaurants we'd tried, and we deemed it one of our Top 10 Canada moments.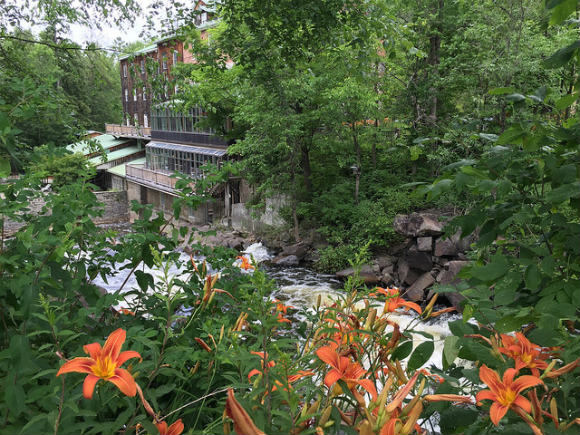 From our table beside the window, we overlooked the mill stream rushing below and I enjoyed my Arctic Char with a pretty arrangement of mushrooms, green beans and other vegetables. The thick stone walls and open fires of the old mill house make for a cosy atmosphere and I can imagine snuggling up here after a winter snowshoe walk on the paths around the hotel.
We found that the Outaouais region north of Ottawa especially full of fabulous food stops, like the area of Chelsea just outside Gatineau Park, the outdoor playground for the citizens of Ottawa. At the Chelsea Pub we enjoyed the relaxed atmosphere, sitting outside on the patio with live music while drinking our beer and ordering a club sandwich with fries and salad. The same establishment runs Biscotti, a cute little cafe around the corner which is the place to go for coffee, cakes and delicious deserts.
While staying at Parc de Plaissance we enjoyed a contrast of luxurious al fresco dining at the Fairmont Le Chateau Montebello and gourmet burgers at Au Délice Champêtre, although both were marked by a typically Canadian relaxed atmosphere and lack of pretension. Le Chateau Montebello is best known as the world's largest log cabin, although of course it is no garden shed, but a grand hotel that's stuffed full of hunting-shooting-fishing memorabilia from the time when it was a private club for the great and the good. We dined in the outdoor restaurant overlooking the potager garden and lawns rolling down to the river, with a delicious buffet that had something for all tastes with a choice of steaks and fish cooked to order over the barbecue.
More down to earth but equally good was Délice Champêtre right opposite the tourist office in Montebello where we were welcomed by the owner Daniel who cooks up gourmet burgers and Belgian fries, using the best ingredients from local suppliers. Next door was a popular ice cream bar with gelato, frozen yoghurts and other classic deserts made on the premises. They even make all their own sauces and relishes to a secret recipe which unfortunately Daniel wouldn't reveal even though I promised I'd share it with only a few close friends and readers.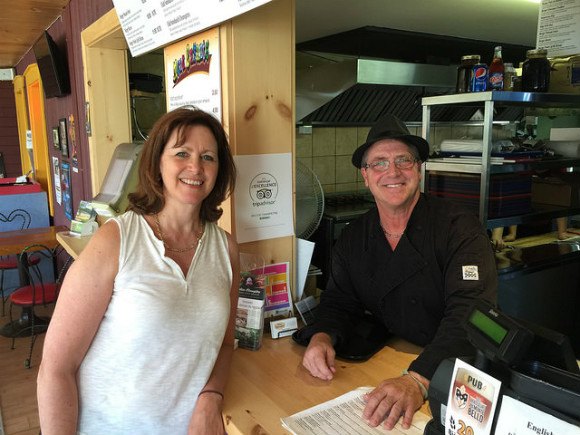 Our foodie adventures in Canada wouldn't be complete if we hadn't tried a bit of campfire cooking. In my article Tips for driving an RV I note that our vehicle from Cruise Canada was equipped with gas hob, fridge and freezer, so it wasn't exactly a necessity to cook over the open fire. But since every camping space came with a fire pit and a built in grill it seemed a shame not to give it a go, and on our last night in Mont Tremblant National Park we grilled some juicy steak kebabs over the fire for that smoky BBQ flavour.
The true Canadian tradition of course is to sit around the camp fire toasting marshmallows or s'mores as they are strangely called over there – the name's an abreviation of 'I want some more'. After a few attempts we managed to get the right balance of lightly toasted and deliciously melting as opposed to charred black and set on fire.
And so we reached our final stop at Montreal and dropped off the RV, leaving us a couple of days to explore the city. If I had tell you about the food in Montreal it would be a whole extra article, since there's such a thriving and vibrant food scene here – among the best food in Canada (or anywhere). If you'd like to find out more about bagels, tacos and maple syrup you'll have to read my article – How to have a perfect day in Montreal. And while you're reading it I'll be mentally settling down in front of the camp fire with a can of that Canada Maple Ale.
Pin It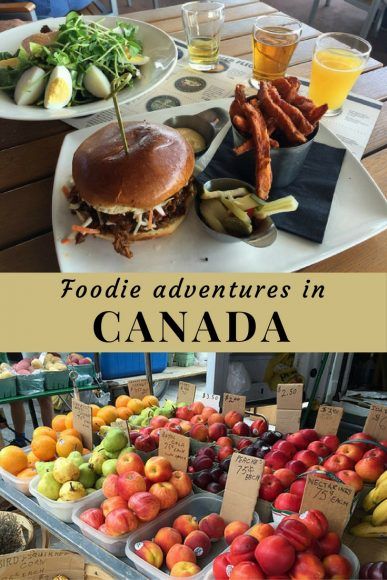 Where we stayed on our RV Road Trip
Night 1 –  Sheraton Gateway Hotel, Toronto
Night 2 & 3 Algonquin Provincial Park near Whitney, Ontario
Night 4 Murphy's Point Provincial Park near Kingston, Ontario
Night 5 & 6 Wesley Clover Camp Ground – south of Ottawa
Night 7 &8 Camping Cantley – north of Ottawa
Night 9 Parc de Plaisance  National Park in Quebec
Night 10,11,12 Mont Tremblant National Park in Quebec
Night 13 Le Centre Sheraton Hotel Montreal
More inspiration for your road trip across Canada
Travel with Kat – The Wildlife of Canada's Clayoquot Sound
The Quirky Traveller – A dash of History and Culture in the Rocky Mountains
On the Luce – Land of the Lakes: Exploring Ontario's National Parks
Information for planning your trip to Canada
You can find more information to plan your visit to Montreal on the Ontario Tourism Website, the Quebec Original Website, the Tourism Outaouais Website and also on the Explore Canada Website covering all the things to see and do in Canada.
Our RV (Recreational Vehicle) for the two week Explore Canada Road Trip was provided by Cruise Canada.
To compare prices and book for hotels in Canada, visit the HotelsCombined website where you can find the best prices from a range of different booking sites.
My visit to Canada was part of the Explore Canada Road Trip, a project with Travelator Media and Explore Canada
This article is originally published at Heatheronhertravels.com – Read the original article here
As a child our family were great campers, touring Europe with all our gear packed into the Morris Minor. While my parent's spirit of adventure must have rubbed off on me, I have to admit that my memories are of early morning starts, endless unpacking and the smell of damp grass. Since then I've always preferred to have a solid roof over my head. Husband Guy, however, is a natural born camper, relishing the chance to sleep under the stars and brew up over the camp fire. When we were offered the chance to drive an RV across Canada (better known as a motorhome or camper van in the UK) it seemed the perfect compromise that would suit both a comfort lover and a camping addict.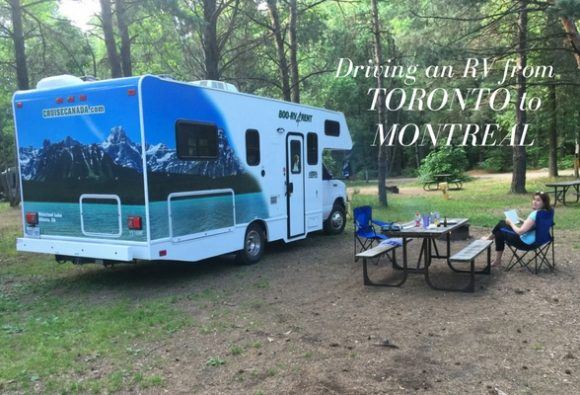 Exploring Toronto – our gateway city
Toronto was our gateway city to Canada and after a long flight from the UK it was great to have a bit of time to explore rather than dashing straight off to pick up our RV. From the Sheraton Gateway Hotel by the airport, it was an easy trip downtown on the UP Express train, to spend the afternoon wandering around the harbourside area.
We took the harbour cruise tour, admiring the CN Tower and distinctive Toronto skyline on our boat trip to the islands, ending the evening with a tasty pulled pork burger and flight of craft beers at Amsterdam Brewhouse with a view over the water. It was a great way to start our holiday and relax a little, before picking up our RV the next day from the Cruise Canada rental centre on the ourskirts of Toronto. You can read more about Toronto from On the Luce – Waterfront Toronto
Our Tip: Plan to spend some time exploring your gateway city before you pick up the RV – it's a chance to settle in and spend time in the city without any parking headaches.
Picking up the RV from Cruise Canada
Checking out of the Sheraton Gateway, we took a taxi to the Cruise Canada rental location where our RV awaited us. Before driving away we watched the Cruise Canada video so we could get familiar with all the features – and then were shown around our RV. It was nice and roomy for two people but would also be fine for a family of up to 6 if you don't mind cosy sleeping arrangements. While husband Guy was taking note of the instructions for power and water, I was more interested in the large fridge/ freezer, built in shower and loo and a small kitchenette – in fact all the comforts of home!
As our leg from Toronto to Montreal was part of a longer road trip, and blogging friends Kathryn, Zoe and Lucy had all given their RVs names, we decided to christen ours 'Monty' since our journey would end in Montreal. It took us an hour to get familiar with everything and then we were off, with Guy at the wheel, and me navigating – pretty much the pattern for the whole trip. Only five minutes down the road and we stopped at an enormous Wal-Mart and did a major grocery shop – enough food for a few days since we were heading towards Algonquin Provincial Park where there would be limited shopping opportunities.
Another essential purchase was the most detailed road map we could find, as although we were able to use Google Maps with our mobile wifi, we needed a back-up for the times when we had no phone signal. Leaving the retail park, we hit the road in earnest to drive north along the highway, with only one stop at Weber's on Highway 11, a fine roadside diner with plenty of picnic tables on the grassy lawns at the back, and the first of many foodie adventures on our road trip. We enjoyed our charcoal grilled burger and fries washed down with iced tea. It was great that even with the late start and stops on the way we were able to reach our first campground in the afternoon, with no stress of driving in the dark.
Our Tip: Don't plan to drive too far on your first day, especially if you're an RV newbie. You'll need to allow a couple of hours to familiarise yourself with everything and stock up on provisions.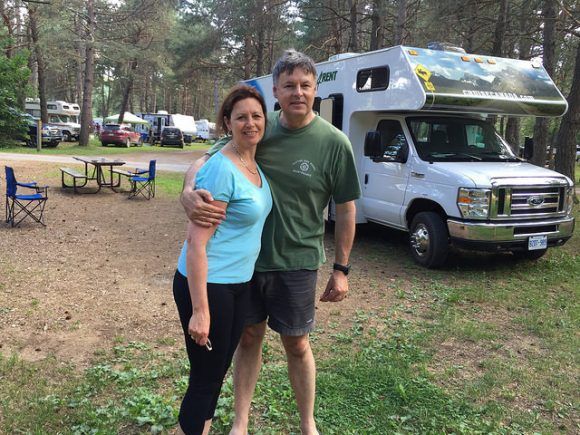 Settling in at Algonquin Provincial Park
Algonquin Provincial Park was our first proper taste of campground life and we arrived in the mid afternoon at Rock Lake, one of the many campgrounds in the park. We checked in with the ranger at the administration building, bought a big bag of wood for our campfire and found our numbered spot among the trees. Parking the RV was definitely a job for two people and I always had to hop out of the RV to direct Guy into our parking spot, ensuring no trees were hit and that we were on level ground.
Our spacious camping spot followed a pattern that we found at all the campgrounds we stayed at, which were always set in woodland and beside a lake. Each camping place was equiped with a picnic table and benches, with a metal ring to enclose the fire pit. Although we were self contained with our own shower and loo, there was a shower block and toilets nearby. We had brought our own camping chairs and really all we had to do on arrival was attach the power line and open the beer. It was a far cry from the camping I remembered as a child where we spent hours putting up and taking down the tent.
Being a true boy scout, Guy's favourite task on arrival was to lay the campfire, while I would start getting supper ready. Our kitchen area was well equipped, since we had ordered a kitchen pack from Cruise Canada, with dishes, cutlery, pots and pans. I generally cooked on the 4 gas burners in the RV, although the fire pit had a grill, giving us the option for cooking BBQ style.
Before or after dinner there might be swim in the lake, or at least sitting with a beer beside it, often chatting with our neighbours and getting advice about the RV. We stayed a couple of days at Algonquin, giving us the chance to do some canoeing and cycling – keeping our eyes peeled for wildlife. On our guided canoe trip we saw a beaver dive right in front of us but nothing larger, but on our cycle ride we stopped to watch a black bear and its cub up a tree from a safe distance. Algonquin turned out to be one of our Top 10 Canada moments.
Our Tip: Find the balance between the relaxed pace of campground life and trying some of the outdoor activities on offer in Canada's Parks
Driving through the smaller towns of Ontario
After a few days in Algonquin we drove south towards towards Lake Ontario again, stopping at the small town of Perth, where the Stewart Park music festival was in full swing. After the wide roads with hardly any traffic in northern Ontario, this was our first taste of some of the smaller towns and historic places of this region. Perth, with its single main high street lined with shops and restaurants, had a much more European feel and it was one of the few places where we struggled to find a parking spot for the RV. Reaching Kingston, we learned the lesson that in the older historic towns, built before the invention of the car, it was better to research a suitable parking spot on the edge of town and then take the bus into the centre for a more relaxing experience.
At Fort Henry, the 19th century garrison built above the town of Kingston, we found a huge car park and spent an hour or two in the fort having a guided tour to learn all about the history of the fortress, which was built by the English to defend against French attack from the St Lawrence river. From Fort Henry we walked down the hill to the main road and easily caught the bus – there was also a sightseeing trolley that ran from Fort Henry into town.
Our Tip: When visiting smaller towns, try to research in advance where you can park the RV as it may be better to park on the outskirts and walk or take the bus in.
In Kingston, the farmer's market was a pleasure to wander around, looking at the luscious fruit and vegetables from the nearby Niagara region. A motorbike rally was underway, with stunt motorcyclists driving up the ramp to twist and turn in the air. We really enjoyed the atmosphere of this university town, which had a big foodie reputation, and soaked up the atmosphere in a local coffee shop, then bought a few snacks from the Pan Chancho bakery to have for supper.
Our Tip: Farmers markets and roadside stalls are a great place to stock up on fresh fruit and veg and discover some of the regional produce and specialities.
Ottawa – is it possible to visit a city with an RV?
We really wanted to visit Ottawa, Canada's historic capital, but wondered how much of a challenge it would be while driving an RV. Trying to park in city streets was likely to be a stressful experience, but luckily we resolved this by staying just outside the city at Wesley Clover Camp Ground. We had a spacious camping spot and all the normal amenities, but the campground also ran a shuttle service each day into the city, dropping us off just in time for the changing of the guards and picking us up after a day's sightseeing around 4pm. We managed to pack in plenty of sightseeing, with a taste of the famous Beavertail pastries, lunch in Byward Market at Murray Street, as well as a look around the glass sided galleries of the National Gallery of Canada.
The next day we were heading across the Ottawa River into Quebec province, but we found a suitably large car park by the Robert Guertin Arena which was a 15 minute walk to the Canadian History Museum, where we admired all the First Nation artwork and totem poles. The afternoon was spent cycling along the Ottawa river, crossing the Portage bridge and continuing under the Parliament Building, where we took the cute solar powered ferry back across the river.
Our Tip: It's perfectly possible to visit Canada's cities with an RV provided you plan ahead to ensure stress-free parking.
Having fun in Outaouais – north of Ottawa
By the time we got into our second week in the Outaouais region, north of Ottawa, we felt like old hands with the RV. Despite its narrow streets, visiting the historic town Wakefield, and its covered bridge was no problem. We parked in the centre of town and then walked around to admire the colourful craft shops and up the hill to historic Wakefield Mill for lunch by the mill stream.
Driving around Gatineau Park, Ottawa's outdoor playground, was no problem as the roads were wide and the parking spaces enormous. We stopped within the park to see the Pink Lake, which was actually dark and mysterious like a mirror, and the estate of former Canadian Prime Minister, Mackenzie King.
At Parc Omega, where it might have been a problem to feed carrots to the deer from an RV, we took one of the golf buggies instead – well protected by the metal mesh but still able to see the deer, buffalo and bears. Wherever we stopped with the RV, it was like having our house with us. We always had the option to make a picnic lunch and brew a cup of tea, with no need to worry about finding the rest room.
On the campgrounds we were also feeling like a pro when it came to getting settled in to our camping spot. There was only one occasion when the powerline didn't quite stretch to the electricity supply and we had to borrow an extension lead from one of our friendly neighbours (we late discovered our own in the storage compartment). We would happily get out the rubber gloves and empty the grey water (from the shower and sink) and the black water (from the loo) without any fuss. And we'd learned the importance of a liberal spray of OFF insect repellant, before settling down beside the camp fire, to keep the ever present mozzies at bay.
Our Tip: Relax and enjoy – after a few days you'll feel like an old hand!
Mont Tremblant National Park – time to unplug
By the time we reached our final stop at Mont Tremblant National Park we appreciated the freedom that the RV gave us to dip our toe into Canada's Wilderness. Our campground was close to Lac Monroe and a short drive up the road was a beautiful wooden visitor's centre of wood and glass with a deck to unwind by the lake.
In the park we made the most of all the outdoor activities, hiking the trails to get stunning views over the whole park from the look-out points and canoeing down the Meandre de Diable, stopping for picnics on the sandy river shore, a nesting spot for the river turtle. We also tried the Via Ferrata, climbing across the swaying rope bridges and inching across sheer rock faces until the threatening thunderstorm forced us down again. Caught in the rain, we appreciated being able to dive into our RV at the car park to dry off and change our clothes.
The downside of all this wilderness was that once we passed the visitor centre at the entrance to the park, the phone signal become practically non-existant. There was wifi in the discovery centre but I couldn't always access it, so I had to accept that this was an opportunity to unplug, unwind and enjoy the natural beauty of Canada's National Parks.
Our Tip: Use your visit to the National Parks as a chance to unplug and enjoy the great outdoors – you'll be back in the towns and cities soon enough.
Back to Montreal
As we arrived at the Cruise Canada depot on the outskirts of Montreal I felt mixed feelings about handing back Monty the RV. Monty had given us the freedom to discover Canada's areas of wilderness and enjoy outdoor activities that were both testing and relaxing. We'd been able to see some historic towns, eat great local food and meet the friendliest of people. Although we were looking forward to city life in Montreal, a spacious hotel room and marble bathroom, a little piece of our hearts remained with Monty the RV.
Read more – How to have a perfect day in Montreal
Where we stayed on our RV Road Trip
Night 1 –  Sheraton Gateway Hotel, Toronto
Night 2 & 3 Algonquin Provincial Park near Whitney, Ontario
Night 4 Murphy's Point Provincial Park near Kingston, Ontario
Night 5 & 6 Wesley Clover Camp Ground – south of Ottawa
Night 7 &8 Camping Cantley – north of Ottawa
Night 9 Parc de Plaisance  National Park in Quebec
Night 10,11,12 Mont Tremblant National Park in Quebec
Night 13 Le Centre Sheraton Hotel Montreal
Read more tips for driving your RV across Canada
Travel with Kat – Sunshine Coast of Canada Road Trip
Travel with Kat – Vancouver Island – Canada Road Trip
The Quirky Traveller – Top Tips for your RV Road Trip in Canada
On the Luce – Clueless about RV-ing? A first timer's guide to Canada by Motorhome
Information for planning your trip to Canada
You can find more information to plan your visit to Montreal on the Ontario Tourism Website, the Quebec Original Website and also on the Explore Canada Website covering all the things to see and do in Canada.
Our RV (Recreational Vehicle) for the two week Explore Canada Road Trip was provided by Cruise Canada.
To compare prices and book for hotels in Canada, visit the HotelsCombined website where you can find the best prices from a range of different booking sites.
My visit to Canada was part of the Explore Canada Road Trip, a project with Travelator Media and Explore Canada
Pin It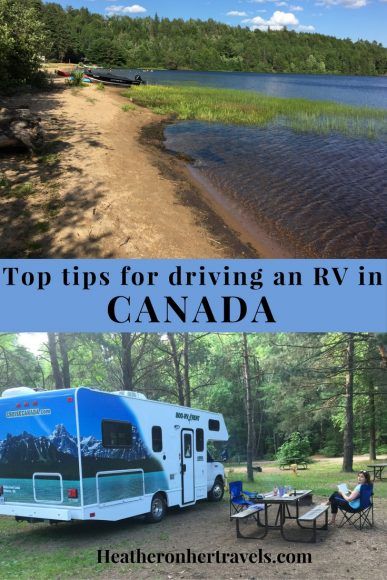 This article is originally published at Heatheronhertravels.com – Read the original article here