If you're planning a holiday in Canada that involves camping or staying in an RV, in one of Canada's scenic national parks, you might want some tips on what clothing will work best for your holiday. I don't know about you, but when I'm dressing for outdoor activities such as cycling, hiking and canoeing, I like to choose clothes that are comfortable and functional while keeping a sense of style.
I recently spent two weeks with my husband Guy touring the provinces of Ontario and Quebec in Canada, staying mainly on campgrounds and in nationals parks with our cosy RV from Cruise Canada – our home from home on the road. For the trip I teamed up with Columbia Sportswear who specialise in outdoor clothing, to try out some items from their range. Based on my experience of this trip, here's what you need to pack for a camping trip to Canada.
(For the Brits an RV is a Recreational Vehicle or large camper-van)
Quick drying trousers for evenings around the campfire
For hiking or evenings around the camp fire I recommend quick drying walking trousers like these Columbia Women's Silver Ridge Convertible Trousers. They feel like a lightweight cotton but are in fact made from a 100% nylon technical fabric that wicks away sweat, protects against UV rays and is quick drying when you get caught in a downpour. For outdoor activities like hiking or cycling it's better to avoid jeans or heavier cotton trousers that weigh you down and soak up moisture at the first sign of rain. Look for trousers that have a neat leg pocket to tuck in your guidebook, map or phone. I also like styles like this that have zip off legs, to make shorts, for maximum versatility. I know I'll get a lot of use from these walking trousers on future hiking trips.
Check out the Columbia range of walking trousers here
Sporty quick drying t-shirts
For outdoor activities I tried out this t-shirt from the Columbia range made of 100% Polyester fabric, designed to wick away sweat and keep me cool. Check out the Women's Zero Rules Short Sleeve shirt here. I found that this fabric was silky, comfortable and not at all sweaty – ideal for hiking and other activities around the Canadian national parks. As an added bonus this t-shirt was easy to wash by hand or machine, quick to dry and hardly creased at all. Just as well, since irons didn't seem to exist on the Canadian campgrounds!
I also packed a range of other short sleeve and sleeveless tops in fabrics that were less likely to crease. Although it's great in sunny weather to wear sleeveless vest tops to stay cool and get a nice tan, being Mrs Sensible I like to alternate them with tops that cover my shoulders to avoid sunburn. I'm looking forward to using this t-shirt on future hiking trips and for jogging at home.
Check out the Columbia range of short sleeve tops here
Sports shorts – go as short as you dare!
In the warm Canadian summer shorts are worn by all and from what I saw the Canadians like their shorts to be on the short side. In the bars and restaurants the waitress uniform seemed to be the skimpiest of shorts and even ladies of, ahem, a certain age and size seemed to favour very short shorts. No need here for modesty then and you can save your longer bermuda shorts for city sightseeing.
I was able to double up with my quick dry walking trousers from Columbia which had a zip off leg, allowing me to convert long trousers into shorts depending on the weather. The quick dry fabric made them cool and easily washable so ideal for activities like cycling or hiking. If you are a lover of short shorts don't forget your sun screen even if you want to get a golden tan on your holiday in Canada.
Check out the range of Columbia trousers and shorts here
Trail shoes for hiking in the Canadian parks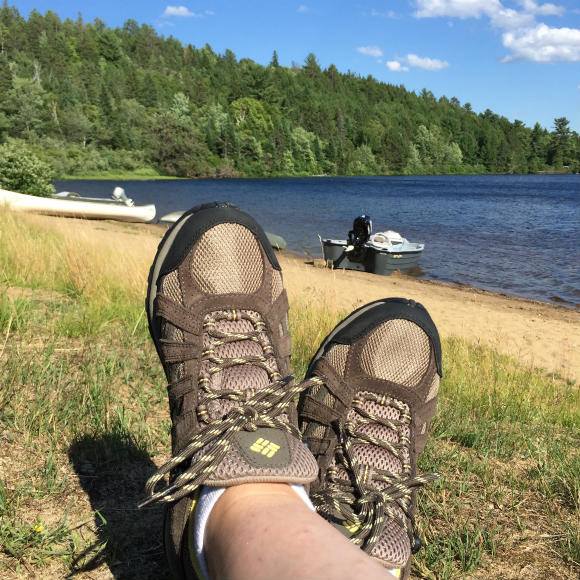 Although I have some excellent hiking boots (read my article here), for this trip I was looking for a hybrid trail shoe which is a cross between a trainer and a boot. My reasoning was that I wanted to have a supportive shoe for hiking in Canada's national parks but that I wasn't planning to do any hardcore hiking for hours and days on end. I needed shoes that were suitable for general outdoor activities, to wear around the campground, that wouldn't be too hot to wear on warm summer days.
These Women's Grand Canyon Outdry Hiking Shoes were just what I was looking for, with a low ankle so that they weren't too hot and a waterproof but breathable construction so they would keep my feet dry when walking in the wet. Although these trail shoes didn't have the support of a high ankle, the construction is very solid, so they would be ideal for summer hiking on rough and rocky trails. For serious long distance hiking I'll probably stick to boots with ankle support, but these trail shoes are ideal for a situation like our camping trip where you want a hardwearing shoe that is suitable for a range of outdoor activities.
Check out the Columbia range of walking boots and shoes here
Waterproof Jacket – yes it does rain in the Canadian summer
Although the weather on our July trip to Canada was warm and sunny, we did experience a few showers so my lightweight waterproof jacket came in handy (Read my article on what to look for in when buying a waterproof jacket). For summer wear in Canada I'd recommend a lightweight jacket that can roll up small to keep in your day sack but if you're visiting in spring, early summer or autumn you might prefer a jacket that's more substantial or has a removeable fleece lining, as we found that mornings and evenings could be cool.
I wore my waterproof jacket when we were canoeing in Algonquin park as the day was overcast and rain was forecast. Luckily the showers held off until we had finished our canoe trip but the jacket was also ideal for keeping off the midges and flies that you tend to get hovering over the water. Cloudy days can be a bonus in Canada as our guide told us that we were more likely to see wildlife such as moose when the day was overcast, since they come down to the water's edge to feed, while on hot sunny days they prefer to stay in the shade under the trees.
Check out the range of Columbia waterproof jackets here
Three-quarter length leggings – versatile for outdoor activities
I found it was useful to have some sporty three-quarter length trousers for activities such as cycling and climbing where I wanted a bit more protection. My sports leggings made from quick dry fabric got a lot of use on our Canada trip and I also wore them for canoeing where they would dry quickly if I got wet wading into the water or splashed from the paddles. The three-quarter length and close fit were also ideal for cycling if you don't want sunburned thighs or trousers that flap around the ankle.
Check out the Columbia range of casual trousers here
Flip flops for hanging out by the lake
If you are a happy camper you'll know to pack a pair of flip-flops or waterproof sandals that are easy to slip on and off. They are always handy for those early morning trips to the shower block (although luckily we had our own shower and loo in the RV) and for hanging out by the lakes that seem to be a feature of most Canadian camp grounds.
You'll want something made of plastic so you can easily rinse off the sand or pine needles and they won't look grubby. No harm in having a pedicure and pretty nail polish before your holiday – we like to keep up standards even when camping!
Check out the range of Columbia sandals and flip flops here
A  cosy fleece for cool mornings
I was pleased that I'd packed a fleece for our Canada trip as despite the warm sunny days, we found the mornings were often quite cool. For the first hour or so each day we often needed an extra layer and then the temperature would warm up and it would be short sleeves all day and into the evening. It was never really too cold on our July trip so I'd suggest a mid-weight fleece if you are visiting in the summer but perhaps something more substantial for the spring and autumn. Due to the limited laundry facilities on the Canadian campgrounds I'd avoid smarter woollen knitwear in favour of anything that is quick drying and doesn't crease, unless you have an element of your holiday that requires you to dress more smartly.
Check out the Columbia range of fleeces here
Other things to consider
Those pesky flies and mosquitos can be pretty persistent when you get into a camp ground or one of Canada's national parks. If you are trying any activities such as hiking, cycling or canoeing, a liberal spray of deet based insect repellant is recommended and in the evening it's best to change into a long sleeved top and long trousers with socks and shoes to cover your feet. I neglected my own advice on a few occasions and regretted it as I was scratching nasty bites for days afterwards.
Most but not all of the camp grounds we visited had washing machines and dryers but none seemed to have any ironing facilities. I'd recommend packing clothes made of quick drying technical fabric that are less likely to crumple in order to look your best, leaving your linen suit at home.
A sunhat is advisable if you're out on long hikes or canoe trips in the full sun and to fit in with the locals I'd choose a cotton cap – you can buy them everywhere in Canada.
My Canada Camping clothing check list
A lightweight waterproof jacket for the occasional shower or cool evenings
Long quick dry trousers for hiking and to keep off the insects in the evening
Quick dry shorts for sunny days and sporty outdoor activities
Three-quarter leggings or joggers for sporty outdoor activities and cool mornings
Quick dry sports t-shirts
Trail shoes for hiking and climbing
Flip flops or waterproof sandals for wearing around the campground and the lakes
A mid-weight fleece for cool mornings and evenings
A light, long sleeve t-shirt to wear in the evening when the mozzies come out to bite
A cotton cap or sunhat to protect you from sunburn or sunstroke on sunny days.
Plus of course pack some other casual clothes and footwear for when you are out sightseeing
Thanks to Columbia Clothing who provided me with some of the items mentioned in the article to try out on my Canada trip.
Some of the links in this article allow me to earn a small commission when you purchase at no extra cost to you – thanks for your support!
Visitor information for Canada
To plan your trip to Canada check out the Explore Canada tourism website as well as the websites of the states and national parks you plan to visit, in our case Ontario Tourism and Quebec Tourism. Our RV was provided by Cruise Canada.
More Canada articles
Where to watch wildlife in British Columbia, Canada
How to enjoy a great day in Victoria BC
Vancouver Island – a nature lover's paradise
Pin It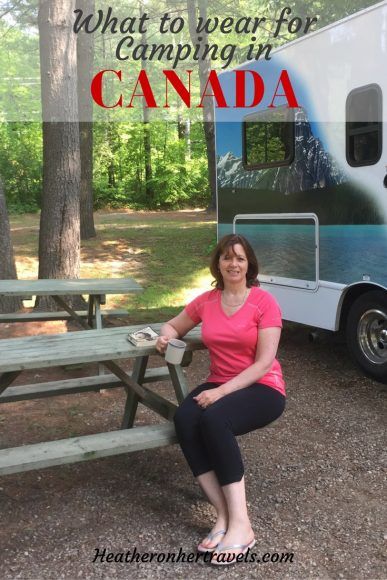 This article is originally published at Heatheronhertravels.com – Read the original article here

You'll also be subscribed to our free monthly newsletter for great travel resources, news and offers, but you can unsubscribe at any time and we'll never share your e-mail.
You'll also find our sister blog with tips on how to build a successful travel blog at My Blogging Journey
Comments Off on A dangerously beautiful hike in British Columbia
Our guest author, Dana Sibilsky takes a hike in the beautiful woods of British Columbia that proves more dangerous than she anticipated when she finds signs of bear activity along the trail.
In 2013, my husband and I made the mutual decision to spice up our lives together and really venture out to see what the world has to offer. With this decision, we agreed to travel at least twice a year; one place within the first half of the year (January-June) and another place within the second half of the year (June-December).
In our journey to explore the world together, we have visited nearly all of the United States and only half of Canada. The world is big and we aren't even halfway through yet! If you were to ask what is the most beautiful place we've been to, it would without a doubt be British Columbia, Canada. If you have ever seen pictures, no photo nor video does this incredible place justice because you simply must be there to FEEL the atmosphere.
Beautiful British Columbia
The air seems cleaner, fresher and easier to breathe with a certain natural "crispness" to it that my husband and I have not found anywhere else in our travels. The water seems to be more pure, more fresh with the same crispness that makes you say to yourself, "This is the way it's meant to be. What have we done to our world in other places?"
Through our travel in British Columbia, we hiked until we came to our destination at the well-known and popular Three Valley Gap Hotel. Oh my, if you could just see the scenery of nature that surrounds this place. There's a saying that we kept hearing while visiting that went something like, "Out here, you are normally no further than 20 feet from a bear at all times." I'm not sure how true it is or if they were just trying to scare us knowing we weren't locals from around the area.
The wildlife is just as spectacular as the surrounding scenery. My husband and I (but honestly mostly my husband) wanted a closer look at the the wildlife. "What is the point of coming 2000 miles out here if we are just going to sit in a hotel?" he questioned. "Let's venture out to see what we can never see at home." With that said, we got a nature tour guide and began to explore the surrounding wooded area at least 3 miles away from the comfort of our hotel. At first, walking through the thickness of the brush and woods was intimidating. What if we saw a bear? What if we ran into a pack of wolves or coyotes? I remembered hearing stories from our friends in Toronto and Mississauga about coyotes running freely through the city in 2010. The more we tracked through the woods, the more comfortable I became until the tour guide stopped us in our tracks.
The look on our guide's face was the look of fear and nervousness he was trying his best to hide for our sake. "Is everything ok?" I asked him, touching his arm gently in concern. "You look like there is a problem." With a shaky hand he was trying to control, he pointed to the tree in front of us roughly 10 feet away and said, "Bear."
Bear sighting
My eyes widened as my head quickly snapped to the general direction he was pointing. The tree had claw and teeth marks on it and was missing chunks of bark. Bears do this to mark territory and possession of their favorite trees. These marks usually are present on other trees given by the same bear in a trail. This helps the bear find its way back to wherever it came from.
I was stone cold in fear and to tell you anything different would be a complete lie! I couldn't move. The thought that I could possibly be standing in or near a bear's nest shut down all of my motor mechanics such as my ability to walk and open my fear-clenched fists into open palms.
In the distance, I could hear my husband calling me. "Dana!" I heard him say. I wanted to look at him, but the fear was overpowering me. I heard him shout in a louder, projecting voice. This time, my head jerked toward him as the guide and I let out a harsh "SHHHH!" toward him simultaneously. "Are you out of your mind?!" said the guide, "We are in the danger zone of a bear's or group of bears' territory! Keep quiet!" he instructed my husband. "We need to go. Now!" the guide said. We didn't hesitate! The tour guide, my husband and myself double-timed it to the hotel as quickly, quietly and safely as we could.
Make lasting memories
Fast forward 2 years later. Isn't it interesting that the worst moments in our lives at that particular time turn out to be the most memorable? The moments we believe are the downfall of our day, the ones we say we could do without at the moment they are happening are the very same moments that become the memories we wouldn't change for anything. The moments we look back on months or years later and can't help but to laugh and smile to ourselves. Being in a dangerous position having trespassed through bear territory was one of those moments.
If you haven't visited the British Columbia side of Canada, what are you waiting for? It is, without a shadow of a doubt the most beautiful, refreshing and enlightening adventure you could ever take no matter if you're alone or with those you love. Just a word of advice: Don't go exploring without an experienced nature tour guide!
Author bio: Many thanks for this article to Dana Sibilsky, a stay-at-home mother of three prides and joys. When she isn't giving her family their needed attention, she enjoys traveling and blogging her art on her sites.
Visit the #explorecanada official Canada Tourism Website for more information on things to do in British Columbia and Vancouver Island as well as their social media channels on Instagram | Facebook | Twitter
Pin it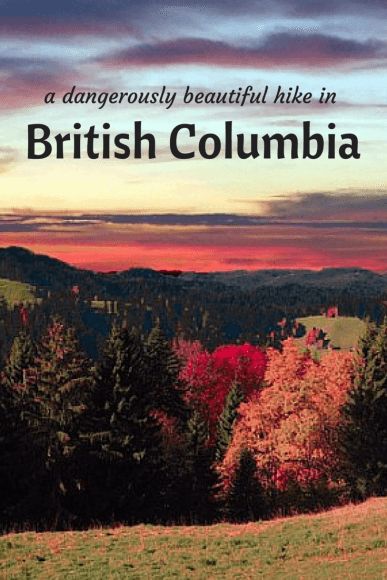 For more Canadian adventures:
Where to Watch Wildlife in British Columbia, Canada
Vancouver Island – A Nature Lover's Paradise
How to Enjoy a Great Day in Victoria, BC
Photo credit: Dana Sibilsky
This article is originally published at Heatheronhertravels.com – Read the original article here
You'll also find our sister blog with tips on how to build a successful travel blog at My Blogging Journey
In this article our guest author, A J Walton shares his love of British Columbia in Canada and the best places to watch wildlife such as seals, whales, eagles and grizzly bears.
British Columbia has some of the most exciting and diverse wildlife habitats in all of North America. As a child of the Canadian prairies, I fondly remember yearly summer trips to BC, where hiking & camping became familiar friends. Nothing has changed as an adult adventure seeker. In fact, I still consider British Columbia my top outdoor travel destination in the world.
In BC, with its sprawling forests, expansive coastline and mountainous peaks, you can expect to see all kinds of animals even just driving along in your car. For adventurous travelers who are ready to get a bit more up close and personal, these 7 wildlife watch tours will open your eyes to a world of natural beauty and the wonders of the animal kingdom.
Whale watching from Stevenson
This unique whale watching tour gives you a stunning view of the BC coastline. It's the perfect way to watch the world's largest creatures at home in their natural habitat. The tour meets in the historic fishing town of Stevenson, just South of Vancouver. From there, expert guides take you on a day trip in their 40-foot cruising vessel through the Gulf Islands in search of orca whales, sea lions, aquatic birds and much, much more. Tours from Stevenson Seabreeze Adventures are available from April 1st through October 31st.
Nature Discovery Tours from Whistler
Offering a range of private and semi-private land rover excursions, Whistler Discovery Tours lets you experience the beauty of the Coastal Mountain Range like never before. With so many natural wonders to choose from, it'll be difficult to pick just one. They offer morning and evening bear watch tours that let you get up close and personal to these gentle creatures. You can also take a ride through a 450-acre ancient rainforest, where you'll see massive century-old trees and a host of indigenous wildlife. Any tour you choose, you're bound to see stunning wildlife and rarely seen views in some of the most remote places on Earth. Tours from Whistler Discovery Tours start on May 1st and run until November 15th.
Wildlife spotting along the Fraser River
Perfect for a summertime adventure, Fraser River Safari is the ultimate tour of wildlife on the river. Starting in the town of Mission and ending in Harrison Mills, they take you on a wild ride up the Fraser River to see diverse animal life, scenic riverbeds and breathtaking views. You'll board a cozy "Safari Craft" that's perfect for those shallow waters, delicate natural habitats and close range glimpses at bears, bald eagles, seals, and the great white sturgeon. It's ideal for couples, a small group of friends or adventurous families. You're free to book a personal tour with Fraser River Safari any time during the year, but the busy season starts in July and runs until November.
See bears in their natural habitat
Based in Fraser Valley, you're free to rent ATVs or hop on a guided tour as you explore the vast Coastal Mountain Range of BC. With its remote location and rugged terrain, Bear Country Tours gives you unprecedented access to the deep reaches of this wildlife reserve. You can take a two-hour tour or gear up for a multi-day excursion. They specialize in tracking down black bears, grizzlies, and bear cubs in their natural habitat. Don't worry; these guides are safety experts. Plus, every tour comes with their famous BBQ lunch. Bear Country Tours are available year round. This is an experience that lasts a lifetime.
Explore the sea life around Nanaimo
If you love to scuba dive, then you're in for a real treat. Sea Dragon Charters lets you explore the magnificent sea life in either Howe Sound or Nanaimo, just outside of Vancouver. You can kayak with the seals, go snorkeling with the fish, or sightsee from the boat. Experts take guests to stunning views of the coastline where you're bound to see octopus, king crabs, wolf eels, and dozens of species of fish. If you choose to go kayaking, the seals love to introduce themselves by playing with the guests. Get off the boat and discover a world of wildlife up close and personal.
Whale Watching from Victoria
Departing from Victoria or Vancouver, this whale watching tour puts an educational twist on your big sea adventure. Guests get to board a mighty passenger vessel as it sets sail through the Gulf Islands, usually pointing out numerous orcas, humpbacks, and sea lions along the way. They refer to their cruises as floating classrooms with some of the finest wildlife tour guides on board. Every trip with Prince of Whales Whale Watching comes with valuable information that will only enhance your experience and knowledge of these spectacular creatures.
See Grizzly Bears in Knight Inlet
Cruising through the Knight Inlet in Northern BC, Tide Rip Grizzly Tours gives you an intimate look at the local wildlife throughout the many uninhabited islands, inlets, reefs, and rocky shorelines. You'll see plenty of grizzly bears as they feast on salmon jumping upstream, plus dolphins, seals, and bald eagles. As one of the few sightseeing tours in the region, this is a rare experience that's not to be missed. The action heats up in June, but Tide Rip Grizzly Tours are available from April to October.
Visit the #explorecanada official Canada Tourism Website for more information on things to do in British Columbia and Vancouver Island as well as their social media channels on Instagram | Facebook | Twitter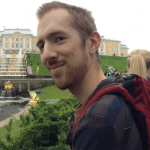 Author Bio: Thanks for this article to AJ Walton – a world traveller focused on traveling, learning languages and entrepreneurship.
More Canadian adventures:
Vancouver Island – Nature Lover's Paradise
How to Enjoy a Great Day in Victoria, BC
5 Reasons to Put Canada on Your Bucket List
Pin It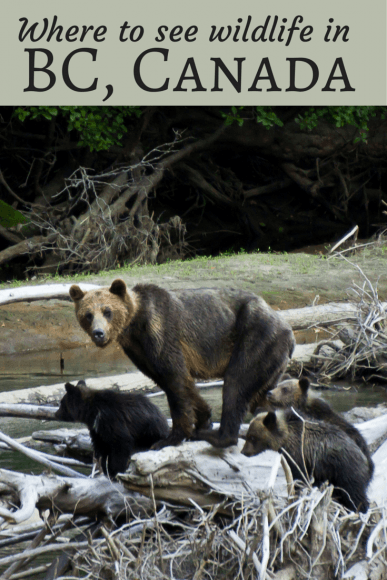 Photo Credits: Sea Lions by Richard Gould , Rainbow Lake Hiking Trail by Iwona_Kellie , Fraser River by John Bromley , Grizzly bears by Stephen Mattucci, Whale Watching by Natalie Tsang , Grizzly bear and cubs by Stephen Mattucci
This article is originally published at Heatheronhertravels.com – Read the original article here
You'll also find our sister blog with tips on how to build a successful travel blog at My Blogging Journey