In this article our guest author, A J Walton shares his love of British Columbia in Canada and the best places to watch wildlife such as seals, whales, eagles and grizzly bears.
British Columbia has some of the most exciting and diverse wildlife habitats in all of North America. As a child of the Canadian prairies, I fondly remember yearly summer trips to BC, where hiking & camping became familiar friends. Nothing has changed as an adult adventure seeker. In fact, I still consider British Columbia my top outdoor travel destination in the world.
In BC, with its sprawling forests, expansive coastline and mountainous peaks, you can expect to see all kinds of animals even just driving along in your car. For adventurous travelers who are ready to get a bit more up close and personal, these 7 wildlife watch tours will open your eyes to a world of natural beauty and the wonders of the animal kingdom.
Whale watching from Stevenson
This unique whale watching tour gives you a stunning view of the BC coastline. It's the perfect way to watch the world's largest creatures at home in their natural habitat. The tour meets in the historic fishing town of Stevenson, just South of Vancouver. From there, expert guides take you on a day trip in their 40-foot cruising vessel through the Gulf Islands in search of orca whales, sea lions, aquatic birds and much, much more. Tours from Stevenson Seabreeze Adventures are available from April 1st through October 31st.
Nature Discovery Tours from Whistler
Offering a range of private and semi-private land rover excursions, Whistler Discovery Tours lets you experience the beauty of the Coastal Mountain Range like never before. With so many natural wonders to choose from, it'll be difficult to pick just one. They offer morning and evening bear watch tours that let you get up close and personal to these gentle creatures. You can also take a ride through a 450-acre ancient rainforest, where you'll see massive century-old trees and a host of indigenous wildlife. Any tour you choose, you're bound to see stunning wildlife and rarely seen views in some of the most remote places on Earth. Tours from Whistler Discovery Tours start on May 1st and run until November 15th.
Wildlife spotting along the Fraser River
Perfect for a summertime adventure, Fraser River Safari is the ultimate tour of wildlife on the river. Starting in the town of Mission and ending in Harrison Mills, they take you on a wild ride up the Fraser River to see diverse animal life, scenic riverbeds and breathtaking views. You'll board a cozy "Safari Craft" that's perfect for those shallow waters, delicate natural habitats and close range glimpses at bears, bald eagles, seals, and the great white sturgeon. It's ideal for couples, a small group of friends or adventurous families. You're free to book a personal tour with Fraser River Safari any time during the year, but the busy season starts in July and runs until November.
See bears in their natural habitat
Based in Fraser Valley, you're free to rent ATVs or hop on a guided tour as you explore the vast Coastal Mountain Range of BC. With its remote location and rugged terrain, Bear Country Tours gives you unprecedented access to the deep reaches of this wildlife reserve. You can take a two-hour tour or gear up for a multi-day excursion. They specialize in tracking down black bears, grizzlies, and bear cubs in their natural habitat. Don't worry; these guides are safety experts. Plus, every tour comes with their famous BBQ lunch. Bear Country Tours are available year round. This is an experience that lasts a lifetime.
Explore the sea life around Nanaimo
If you love to scuba dive, then you're in for a real treat. Sea Dragon Charters lets you explore the magnificent sea life in either Howe Sound or Nanaimo, just outside of Vancouver. You can kayak with the seals, go snorkeling with the fish, or sightsee from the boat. Experts take guests to stunning views of the coastline where you're bound to see octopus, king crabs, wolf eels, and dozens of species of fish. If you choose to go kayaking, the seals love to introduce themselves by playing with the guests. Get off the boat and discover a world of wildlife up close and personal.
Whale Watching from Victoria
Departing from Victoria or Vancouver, this whale watching tour puts an educational twist on your big sea adventure. Guests get to board a mighty passenger vessel as it sets sail through the Gulf Islands, usually pointing out numerous orcas, humpbacks, and sea lions along the way. They refer to their cruises as floating classrooms with some of the finest wildlife tour guides on board. Every trip with Prince of Whales Whale Watching comes with valuable information that will only enhance your experience and knowledge of these spectacular creatures.
See Grizzly Bears in Knight Inlet
Cruising through the Knight Inlet in Northern BC, Tide Rip Grizzly Tours gives you an intimate look at the local wildlife throughout the many uninhabited islands, inlets, reefs, and rocky shorelines. You'll see plenty of grizzly bears as they feast on salmon jumping upstream, plus dolphins, seals, and bald eagles. As one of the few sightseeing tours in the region, this is a rare experience that's not to be missed. The action heats up in June, but Tide Rip Grizzly Tours are available from April to October.
Visit the #explorecanada official Canada Tourism Website for more information on things to do in British Columbia and Vancouver Island as well as their social media channels on Instagram | Facebook | Twitter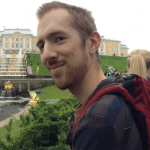 Author Bio: Thanks for this article to AJ Walton – a world traveller focused on traveling, learning languages and entrepreneurship.
More Canadian adventures:
Vancouver Island – Nature Lover's Paradise
How to Enjoy a Great Day in Victoria, BC
5 Reasons to Put Canada on Your Bucket List
Pin It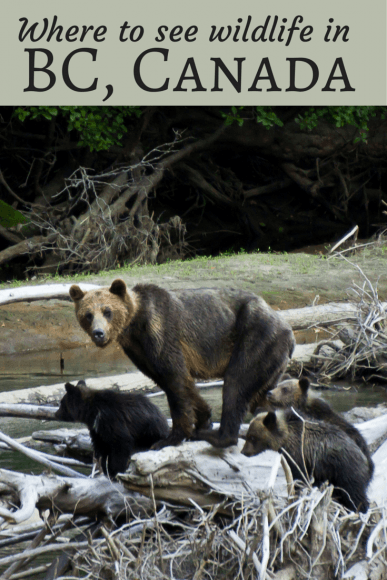 Photo Credits: Sea Lions by Richard Gould , Rainbow Lake Hiking Trail by Iwona_Kellie , Fraser River by John Bromley , Grizzly bears by Stephen Mattucci, Whale Watching by Natalie Tsang , Grizzly bear and cubs by Stephen Mattucci
This article is originally published at Heatheronhertravels.com – Read the original article here
You'll also find our sister blog with tips on how to build a successful travel blog at My Blogging Journey
Our guest author, Leigh McAdam shares her love of Vancouver island, British Columbia, where you can explore the temperate rainforests, go kayaking along the rugged coastline and hope to see bears, orca whales and bald eagles.
Vancouver Island dependably ranks as one of my favourite places to visit. I love it for its wild spaces and easy access to nature. Many visitors don't make it past Victoria, and though it's a delightful city, it's the places where Mother Nature reigns that strike a chord with me. Vancouver Island is home to one of the world's temperate rainforests; it also boasts over 3,400 kilometres of coastline, a coastal mountain range often shrouded in fog and countless islands. For a memorable trip to Vancouver Island include as many of these experiences as possible.
Coastal flora & fauna
Visit wild west coast beaches especially the ones along the Juan de Fuca Trail, northwest of Victoria as well as those in the Tofino area. Botanical Beach, near Port Renfrew is a standout and easily visited as a day trip from Victoria. (Or stay in Point No Point Lodge and head north from there.) Although it's on the Juan de Fuca Trail, it's accessible to day trippers. Check out the tide charts before you go so your visit coincides with a falling tide. Bring your rain gear and a pair of shoes with some traction. Then plan on a few hours peering into nature's potholes – filled with all manner of animal life – sea urchins, starfish, mussels, sea cucumbers, shore crabs and hermit crabs, octopus, chitons, limpets, sculpins, barnacles, periwinkles and sea anemones. When the tide starts to rise, pull out a picnic lunch and relax on a nearby sandy beach.
And on the way to Port Renfrew – or anywhere else on Vancouver Island for that matter, keep your eyes peeled for black bears at the side of the road. But use common sense and take your photographs from the safety of your car.
Hike & kayak to spectacular views
For one of Canada's best day hikes, head to East Sooke Regional Park and plan to hike the Coastal Trail. You get the full west coast experience, yet it's only 45 minutes from downtown Victoria. Like many trails along the coast, its 10 km length belies its difficulty. Expect to be challenged by non-stop ups and downs but there is a reward – spectacular, rugged coastline broken by a cedar and fir filled rainforest, with swaths of wildflowers in season. From your resting spot, be it a bench or a beach, enjoy the views of the Olympic Mountains over in Washington State.
Clayoquot Sound accessible from Tofino deserves a visit. It's popular as a kayaking destination – for one day to multi-day trips. If you only have a day, you can join a guided tour and head for Meares Island where you'll see some of the oldest and biggest trees in British Columbia. The most famous tree – the Hanging Garden Tree – is a western red cedar with a massive 18.3 metre circumference. Otherwise join a tour and head out for one of the islands, some of which boast beautiful, white sand beaches. Expect to see seals, whales, otters and lots of sea birds.
If you've dreamed of seeing Orcas (killer whales), head for Telegraph Cove at the northeastern end of Vancouver Island. Not only is it one of the best places in the world to see these whales, you're also likely to see bears and bald eagles. Adventurous travelers should consider joining a multi-day kayak tour in the area but note that the waters can be challenging because of the currents.
Adventure for everyone
If you're already in Telegraph Cove, then try to include a boat ride to Knight Inlet to see the grizzly bears. June is the best month to visit but in the fall you're treated to the sight of the bears catching and eating salmon. For the truly adventurous there are several excellent backpacking trips including the famous West Coast Trail that takes most people four to seven days to hike its 75 km length. Although tough, it rewards with incredible beach camping every night. Other choices include the Nootka Island Trail and the North Coast Trail.
There are loads of other kayaking options. Near to Victoria you can kayak in the waters around the southern Gulf Islands. The Discovery Islands near Campbell River are beautiful, but challenging with currents and the lack of campsites. The Broken Group of Islands in Pacific Rim National Park near Tofino offers amazing kayaking – and it's perfect for novices.
No matter what adventure you choose, Vancouver Island will charm you. And despite its reputation as a rainy place, it can be sunny and dry for weeks on end come summer.
Visit the #explorecanada official Canada Tourism Website for more information on things to do in British Columbia and Vancouver Island as well as their social media channels on Instagram | Facebook | Twitter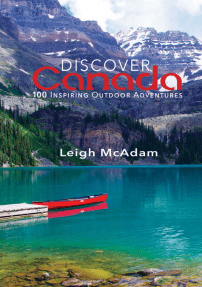 Author Bio: Many thanks for this article to Leigh McAdam, a Calgary based blogger writing about outdoor and adventure travel at HikeBikeTravel.com. Recently she completed 100 adventures across Canada and wrote the ebook – Discover Canada: 100 Inspiring Outdoor Adventures.
Pin It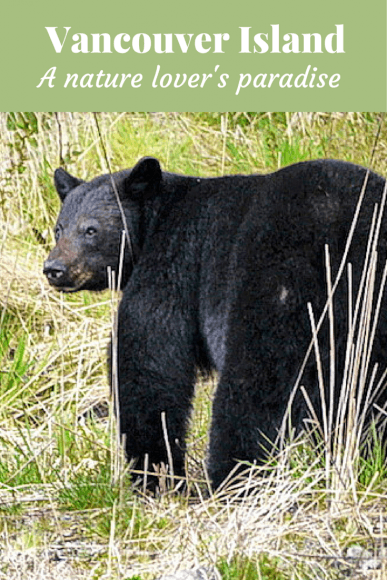 For more Canadian experiences:
How to enjoy a great day in Victoria, BC
5 Reasons to Put Canada on Your Bucket List
Adventurous Canada With a Twist
This article by Leigh McAdam is originally published at Heatheronhertravels.com – Read the original article here
You'll also find our sister blog with tips on how to build a successful travel blog at My Blogging Journey
May 25, 2015 by Guest Author
Filed under Canada, Eating and drinking, featured, Guest post, Leisure, Nature, Shopping, Sightseeing, Walking, World
In this article, our guest author Robert Tellier shares his favourite things to see in his hometown of Victoria in British Columbia, from a seafood snack by the harbour at Fisherman's Wharf to a stroll in the rose gardens and the best ice cream in town!
Are your travel plans bringing you to Victoria, British Columbia this season? If so, there are plenty of things for you to see in BC's capital city located on the south shores of Vancouver Island on the west coast of Canada.
Having been raised in Victoria, here are my suggestions for those wanting to take in some of the popular sites and attractions that are conveniently located within minutes of downtown.
Arriving in Victoria
For those lucky visitors to Victoria as a stopover on one of the many cruises that come and go from Alaska, you are just minutes from some of the most popular attractions in the city.
For those arriving by passenger ferry or air, public transportation is readily available to the downtown core. Choose to arrive using Victoria's affordable transit system, taking a ride in their unique double decker buses, or by taxi.
Ogden Point Walkway
One of my favorite things to do when visiting the city is taking a walk along the waterfront and the breakwater causeway. This is one of the most scenic and beautiful spots in the city where you can watch ships coming in and out of the inner harbour. You'll see the scuba divers making their way along the huge breakwater blocks and can gaze across the water to Washington State and the beautiful Olympic Mountains in the distance.
Victoria's Beautiful Inner Harbour
For those who enjoy walking, there are two other options worth considering and each direction will not take you more than half an hour to walk, even at a gentle pace. From the port, you have the option of taking a leisurely walk to Victoria's scenic inner harbor, passing by a popular attraction known as Fisherman's Wharf. This is a favorite spot for those wanting to grab a snack or meal at one of the fresh seafood sit down or take out outlets on the wharf. We always enjoy a picnic at the park just down the street from the wharf. From fish & chips to oyster and fish burgers, Fisherman's Wharf is always a favorite among locals and tourists.
A few minutes further down the road you will come to Victoria's major tourist hub the Inner Harbour. There's so much activity taking place down here, you could spend the entire day just wandering. Here you will find;
• The beautiful Government Parliament Buildings and Lawn
• The Historic Empress Hotel (take a walk inside & visit the gardens and shops)
• The Amazing Provincial Museum complete with dinosaur artifacts
• Inner Harbour Causeway with live entertainment, food carts, local crafts and souvenirs
• Government Street Plaza ( a variety of local speciality stores including native art, as well as an abundance of dining options)
• Trounce Alley ( more unique gift shops and dining in an historic setting )
• Historic Bastion Square ( Victoria's oldest area and filled with history, now a great place to relax, also with a variety of shops and restaurants)
All of these great attractions listed above are in the immediate area of the inner harbor downtown. A great place to spend the day!
Beacon Hill Park
For those just wanting to relax, and enjoy an afternoon at the park, then Beacon Hill Park is just down road from the cruise ship terminal. It's a beautiful walk along the ocean, taking you past Mile '0' of the Trans – Canada Highway (a popular photo spot) where across the street is the entrance to the park. If you have children, it's a great place to spend an afternoon, complete with playground and a unique petting zoo, fun for the whole family. You can sit and relax among the beautiful rose gardens and then head across the street to a local drive-in for ice cream.
Beacon Drive-In – Voted Victoria's Best Ice Cream for the Last 20 Years!
Should you happen to feel like a snack or meal, either to eat on the patio or for take-out to enjoy in the park, then the Beacon Drive-In is your place. Located directly across the street from the park, it is one of Victoria's true landmark eateries! I have been enjoying this drive-in since I was a little boy growing up here. There's a variety of dining options from burgers, seafood, sandwiches and much more. They have the best ice cream and shakes in the city!
I really could go on for hours about the many things to do in Victoria, but this article is for those just wanting to take in the beautiful popular sites in the downtown area. Of course there are so many other attractions in the area that can be arranged either at the cruise ship port or directly downtown in the inner harbour, for example:
• Whale watching tours
• Horse drawn carriage tours
• Pirate Ship Tour
• World re-knowned Butchart Gardens
Whatever you decide, spending a day in Victoria will certainly leave lasting memories and having you want to return again and again!
Visit the #explorecanada official Canada Tourism Website for more information on things to do in British Columbia and Victoria as well as their social media channels on Instagram | Facebook | Twitter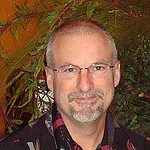 Author Bio: Many thanks for this article to Robert Tellier, who shares his special moments on his blog  at Gr8 Travel Tips, offering tips on travel, health & fitness, camping and much more. You can also connect with him on Facebook, Google+ or Twitter.
Pinit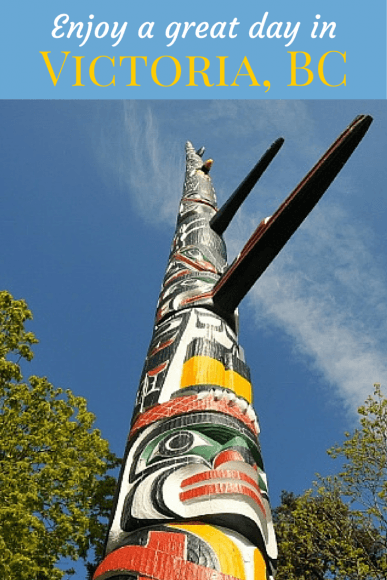 For more Canadian adventures:
Adventurous Canada with a Twist
Skyscrapers and snow-capped mountains – a winter break in Vancouver
Calgary's family spirit for fun with the kids
This article is originally published at Heatheronhertravels.com – Read the original article here
You'll also find our sister blog with tips on how to build a successful travel blog at My Blogging Journey