In this second article about making travel podcasts I'll explain the equipment you may need for recording your audio podcast and the free software you'll need to edit it. You can read Article 1 in this series – Why you need podcasts on your blog here. There are a few different ways that you can record audio, although I'm using some more than others.
1. Recording into a portable audio recorder – ideal if you're recording while you travel.
2. Recording direct onto your laptop – ideal when you're at home or in a hotel.
3. Recording an interview using Skype – for recording telephone calls.
I mostly use a portable audio recorder and sometimes record onto my laptop, so I'll be able to give you most advice about these.
1. Recording with a Portable Audio Recorder
I record using a portable H2 Zoom handy recorder – it costs around £155. I can't pretend I did any research on this, instead I asked Chris Christensen from the Amateur Traveler podcast what he recommended and this was it.  I've used it a lot and been really pleased with it.
Things I like about the H2 Zoom handy recorder;
It's relatively small an easy to fit in a pocket
It records onto a normal memory card like the one I use in my camera, so I can switch them around
It runs off normal AA batteries that you can buy anywhere, or alternatively you can plug it into the mains.
It gives a pretty good sound quality
Things I don't like so much about the  H2 Zoom handy recorder;
Sometimes, when I'm trying to decord discreetly, for instance in a restaurant, I wish it was even smaller.
The batteries seem to run out pretty quickly, especially when I forget to turn it off in between recording. Those days, I wish it had a rechargeable battery pack.
Tips for using the H2 Zoom handy recorder or a similar device;
Always use the sponge wind sleeve when recording for better sound quality and to avoid 'popping' noises.
Always record on high gain (you'll find the switch on the side) – it's easier to edit down the volume later than throw away a recording because you can't hear it properly.
Always do a short test recording before you start and play it back to check it worked. For instance, when the memory card is full you may think you're recording but end up with nothing.
Carry some small earphones to play back recordings (I haven't discovered a way to do play back without earphones).
When recording in settings with high background noise e.g. restaurants, don't be shy, hold the recorder close to your mouth, or you'll be drowned out.
To record in settings with high background noise e.g. restaurants more discreetly, you could experiment with a small plug-in microphone that you can hold to your mouth while leaving the recorder on your lap.
Once you've completed your recording, you can easily transfer the audio files to your computer from the memory card in the same way as you would with photos. I tend to do a quick edit at this stage and delete any useless clips as the audio files can start to eat into your computer memory.
2. Recording onto your computer through a microphone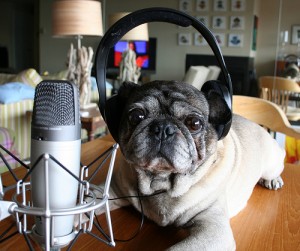 This is fine if you're at home or in a hotel room but there are some things to consider;
Think about the background noise when you record and choose a room that isn't too echoey.
You'll need a computer that's not too old, or it probably won't have a high enough specification to record good quality audio or store it easily.
If you don't have much memory on your computer, you may want to buy a portable hard drive for extra storage space.
Next you'll need to consider what microphone to use, if you want your recording to sound professional. Personally, I'd start with something moderately priced and invest in something better once you've done a few podcasts and think you're going to continue. You can consider the following options;
No additional microphone – just use the built in microphone on your laptop. I've used this option in the past and it will get you by, but the audio can sound hollow and echoey.
Small clip-on microphone – this is a cheap option (mine cost around £10 or £15) and it will produce slightly better quality audio than just your built in laptop microphone, but it may also pick up the sound of your computer motor or fan.
Headset microphone – you may have one of these already is you use Skype for internet phone calls, and the advantage of this kind of microphone is that it will be positioned close to your mouth, even if you move around.
Inexpensive desktop USB microphone – the advantage of a USB microphone is that it won't pick up the noise from your computer fan price aprox £10-20
Mid-price USB microphone – a mid price microphone that I've heard recommended by Gideon Shalwick is the Blue Microphones Snowball microphone price aprox £80
High End microphone – for a higher price broadcast quality microphone you could try the Rode Podcast microphone, price aprox £135
Once you have your computer and microphone ready, you'll need to make your recording using a programme called Audacity – I'll give you more details in a moment.
3. Recording onto your computer using Skype
I have to admit that I haven't tried this method of recording myself, but I expect to very soon. This will enable you to record interviews with people on the other side of the world., as long as you both have a reasonable internet connection.
If you don't already have Skype on your computer then go to the Skype website and download it to your computer. The person you're interviewing will also need to have Skype downloaded on their computer. Once you've both got Skype installed, you can make contact with your interviewee by searching for them as a contact or just ask them for their Skpe user name. You'll also need;
A headset microphone to plug into your computer
A good internet connection
A quiet place where you can record your interview uninterupted
In order to record your Skype conversation you'll need some additional Pamela Software. You can download this directly via Skype by going to Tools/ Extras/ Get Extras/Get Pamela MP3 Recording software. Click on the Pamela icon and the software should start downloading automatically.
When you're ready to record, you call the other person, then click on the Pamela icon at the bottom right of your screen which will bring up the recording task bar. Once you've started and stopped the recording, an MP3 file will be created that you can save to your computer. Don't forget to make sure you have the other person's permission to record the call. As I say, I haven't tried this yet myself, so if I don't get the instructions quite right, please forgive me.
Chris Christensen has recorded a couple of videos on Youtube on how he creates the Amateur Traveler podcast shows, recorded using Skype, although he uses CallRecorder software to record his podcasts. I'll be writing further articles on the practicalities of recording, constructing and editing your podcast, but if you want to jump right in, these videos will give you a headstart.
Part 1 – Making of the Amateur Traveler
Part 2 – Making of the Amateur Traveler
4. Audacity Free Audio Editing software
To record direct onto your computer or to edit MP3 files you've already recorded, you'll need to download some recording software onto your computer. The most widely used programme for this is Audacity, which is both FREE and has an excellent reputation. Audacity is the software you'll use for editing your audio files, and there are versions available for both Windows, MAC and Linux. Click on the download link on the home page and you will normally be taken to a second page with the appropriate links for your type of computer e.g. PC or MAC. There are two things you need to download here;
The Audacity software itself
I'm on windows and the steps I took to download are as follows, although these might be slightly different for MAC or if the Audacity web page changes over time
Click the installer link for the version you would like to download (currently the recommended version currently Audacity 1.2.6 installer) and the download should start automatically.
Once this download is complete, then also click on the link for the LAME MP3 encoder which will allow Audacity to export MP3 audio files. Follow the instructions and click on the subsequent links that are appropriate for your type of computer finaly download the version that is for windows.
When you've completed both downloads, go to where you saved the Audacity Software on your computer, click to open and complete the installation.
In another post I'll take you through the basics of editing in Audacity, but if you're feeling brave just open Audacity and start experimenting using the instructions in the Help to get you going.
Photo credit: Zoomar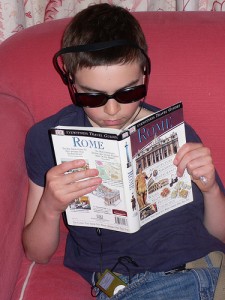 I've recently been adding some audio podcasts to my blog and I thought it was time to share with you why you should consider adding audio to your blog too – it's not as difficult as you think!
I love listening to travel podcasts myself and I often listen to them through my MP3 player, as I walk to work every day or when I'm driving around town. I also love photos and videos, but there are times when you may be doing something where you can't view things visually (you might need to keep you eyes on the road for example!) but when you could be listening to a podcast. People take in information in different ways, and some may prefer to do so through audio than video too.
There are also times when travelling where it's possible to record audio, but more difficult to record video. There may be times when you want to create some atmosphere through the sounds of a bustling souk, you may be in low light conditions where your video would be poor quality, or you may simply want to be a little more discreet, for instance in a church.
By adding your podcasts to I-tunes and other specialist podcast directories, you'll also be creating many additional routes for listeners to be directed to your blog, and consequently your traffic should increase over time. By adding audio, as well as great articles, photos and videos to your blog, you will stand out in a crowded blgsphere, as someone who is consistantly delivering great content to your blog readers and subscribers. You may also reach a new audience of subscribers, who particularly enjoy podcasts and poscasting – I know from experience that once you get into podcasts you start to consume them in great quantity and become a loyal listener when you find good ones.
I hope that by now you're convinced that it's a great idea to incorporate podcast and audio into your travel or other blog, but perhaps you're now thinking – how do I get started? Don't worry, not long ago I was feeling technically challenged in this area, but now I've got a few podcasts under my belt, I'm planning to write a few articles over the coming weeks which explain the practical steps you can take to get audio on your blog.
Do let me know if this is something you'd find useful and if there are any particular areas you'd like to get to grips with. In the mean time, here are some Travel podcasts that I enjoy and listen to regularly as well as my own – please let me know if there are some others out there I should be listening to.
Latest podcasts at Heather on her travels
05 An autumn weekend in Lisbon
04 Visiting the Munich Christmas Markets
03 Ecuador and the Amazon Rainforest
02 My Istria Travel Diary
01 Family Travel with Hospitality Club
Other Travel podcasts I enjoy
The Amateur Traveler
The Indie Travel Podcast
Betty in the sky with a suitcase
Travel with Rick Steves
This Week in Travel
Independent travel podcasts to Barcelona, Athens, Dublin and Nice
Rough Guide podcasts
Podcasts about the business of blogging
Read more travel articles at Travel Blog Home
Don't miss out – subscribe to Heather on her travels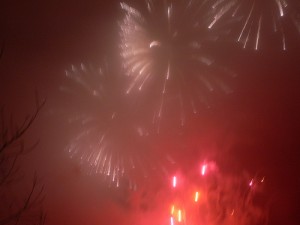 I'm not a great believer in New Year Resolutions. When you want to make a change in any area of your life, why wait until New Year to do it? In life as in blogging, it's a constant process of trial and error, evaluation and adjustment. However, I do find that holiday season is a good time for reflection and recharging the batteries, giving me renewed enthusism to tackle the next set of goals and challenges.
So in that spirit, I've been reviewing achievements and setting goals, both long term and short term for my blogging activities at Heatheronhertravels.com.
Where was Heather on her travels a year ago?
This time last year, I wrote a similar post in which I reflected on the previous year of blogging. I'd just entered my second year of blogging and was finding the blog both a pleasure and a pain, as I found a creative outlet that I was passionate about, but at the expense of time spent with friends and family. I had decided to move the blog from it's previous home at Blogger to a self-hosted WordPress platform at Heatheronhertravels.com and had started a new blog section called 'My Blogging Journey' to document the things I learned. I was setting the foundations of making my blog a more professional and commercial enterprise. I'd also had a fantastic year travelling to interesting places in the UK, Valencia, Rome, Sardinia and Greece- you can read my post about my travelling year in 2008 here.
What has Heather on her travels achieved in 2009?
Before you set goals for the future, it's always good to take stock and remind yourself of all you've already achieved and give yourself a pat on the back for all your hard work. So here's my pat on the back to myself.
Regular posting throughout the year – When you understand that since January 2009 I have been working full-time in a demanding Project Management role, and have a husband and three teenage children to keep happy, I think it's pretty respectable that in 2009 I wrote no less than 178 posts, that's 15 a month or 3-4 a week. Of course it's not just about quantity but quality – but I'll have to let you be the judge of that. In addition, throughout 2009, I wrote a regular weekly post at Europe a la Carte and also a number of Guest posts for other travel blogs.
Multi-media blogging – 2009 was the year when I really got to grips with Video and Podcasting. I believe that the Bloggers who stand out in an ever-crowded blogsphere will be those that add use multi-media to add extra value to their posts. I now integrate videos into my destination blog posts and you can see the 12 videos I produced this year on my Youtube channel or by viewing posts in my Video category. I've also started recording Podcasts and now have 5 in my podcast series, which you can subscribe to on I-tunes or listen to on my blog through my Podcast Category, where you can also find slideshows and show-notes to accompany the podcasts. There'll be more video and podcasting to come in 2010, so if you enjoy these mediums, be sure to subscribe to on I-tunes or Youtube channel .
Training and ongoing improvement – In July I started an online training course at Become a Blogger – you can read about my reasons for this in my post on Why I have decided to become a Blogger.  In the course, I've filled in a lot of gaps in my technical know-how, learned how to create videos and podcasts and become a lot more savvy about SEO and traffic generation techniques. I can't say that all this has yet resulted in any marked increase in traffic, but I feel confident that I'm laying solid foundations for future growth. Many of the articles I'm writing in the 'My Blogging Journey' Category, reflect the knowledge I've gained on this course and want to share with you.
Traffic Growth – When I moved to my new WordPress self-hosted blog in December 2009 I had to build up the traffic again from scratch, at least in terms of Search Engine traffic, and in the past year I've built my traffic from 0 to nearly 6000 unique visitors a month (I'm using Sitemeter to measure, your own blog's stats may show inflated traffic). Some of you may have much higher traffic than this, but I've found that there's no magic bullet for growing traffic, it's a hard slog all the way. As things have levelled out in the last few months, the challenge is now to build a bigger readership in 2010 and hope that some of the good SEO practices I've started in the last few months will also start to bear fruit.
Press trips – I was really pleased that on two occasions in 2009 I was invited on sponsored trips, which enabled me to travel at someone elses's expense while having fun and producing some great material for the blog. In August my family and I were invited by the Istrian Tourism Board on a 4 day break to Istria, as part of their social and on-line media awareness campaign – you can read all my travel articles about Istria here. In November I was invited to review a hotel in Lisbon for Mr & Mrs Smith over a 2 day break – you can read my review of Hotel Heritage Av Liberdade here, and all my travel articles about Lisbon here. I'm hoping that more sponsored trips will come my way in 2010 to offset the costs of travel and enable me to visit some more special places around the world – of course, I'll always disclose to you when a trip or anything else has been given to me free.
Social Media Promotion – Towards the end of this year, I've started to use Twitter and Stumble Upon more actively for building relationships with my audience and promoting the blog. I must admit that I just don't have the time to exploit these fully, but I've made a start that I hope to build on in 2010.
Disappointments at Heather on her travels in 2009
Looking back on these achievements makes me feel I can't be too self-critical, but nevertheless there were some mental targets I set in 2009 that I haven't yet achieved. As I work on a contract basis, there's always the possibility that a contract will end and I may have a few months free in which to develop the blog. The reality has been that I have been in full time work since January 2009, which has been great for the bank balance, but means that it may take longer to reach my blogging goals.
Making some money – despite a year of hard work and growth, my outgoings still well exceed any small income I may receive from the blog. Although I did get a couple of sponsored trips as some reward for the many hours I put in, there were many other trips I did at my own expense. OK, I love to travel and would be doing so regardless of my blog, but it's starting to be an expensive hobby if you're spending your holidays photographing, taking notes, shooting video, recording podcasts and talking to locals rather than just relaxing.
Time with my family – although blogging and travelling is currently my major hobby outside my working and family life, it has sometimes become too all-consuming and absorbing, at the expense of time with my family. Complaints are being voiced in my household and this year I will need to find a better balance between blogging and family life! Or else!
Blogging Goals for 2010 at Heather on her travels
I'm wary of setting too many unrealistic goals, which depend on how long I continue in full-time work, but obviously there are some practical steps I need to continue the development and success at Heather on her travels in 2010.
Get some help on my blog – If I continue to work full time, then it's unrealistic to keep up the pace without some help. The areas I feel particularly challenged are in the technical development and troubleshooting problems that involve coding and the inner workings of the blog. I could  also do with someone to take some weight off me on more routine tasks such as uploading photos, general SEO activities, leaving me free to create great content, articles, videos and podcasts. I'm currently looking at how I can outsource some of these activities in a cost effective way, perhaps to parts of the world where salaries are more affordable – If any of you have experience in this area, I'd love to fear about it.
Make some money – Hand in hand with getting some help, is creating more revenue to pay for this support, as well as to develop the earning potential of the blog long-term. I have recently created several new pages including an advertising page to support this goal and I'll also be looking at other possible revenue streams such as selling information products. At the least, I'd like the blog to be self-supporting financially while I'm working full-time on my other job, and in the long term, I'd like to develop an income which may eventually enable the blog to become my full-time job.
Grow my traffic and readership – Although I've done well to grow my traffic from zero over the last year, recent months have seen traffic fairly stable, so in 2010 I need to really work at building both my subscribers, regular readers and my search engine traffic. I know I'm generally doing all the right things, but I may just need to do them in a more targeted or strategic way, to see the traffic trends moving steadily upwards in 2010.
So there I've set out my stall and aims for 2010 – I'd love to hear what your experience has been in 2009 and what your plans and goals are for 2010. If you have any great resources or links to share which will help me on my Blogging Journey, do leave them in the comments. Here's to all our blogging success in 2010.
Other blogging articles you may enjoy
Reflections on a year of blogging
My travelling year in 2008
Why I've decided to become a Blogger
Read more travel articles at Travel Blog Home
Don't miss out – subscribe to Heather on her travels
One of my New Year's blogging resolutions for 2009 was to set up my advertising page and sort out my offering for sponsors. As it's nearly time to make some 2010 resolutions, I guess we should say better late than never. Anyway I finally got it sorted and for those of you wanting to do the same, here are a few pointers.
Different types of advertising
There are a number of different types of advertising that you can offer on your blog, and of course these are only one approach to earning money from your blog. Typical advertising mechanisms include;
Paid Text Links
Sponsored posts (which are a variation of text links)
Banner advertising
Text links
Many people do not sell text links, the main reason being that they are concerned that they might be penalised for doing so by Google who will downgrade their Page Rank. The Page Rank from 0-10 is the value Google gives to a web-page and is one of the factors in how much traffic Google will send you.  Lower page rank means less traffic, higher means more traffic. If you want to know what the Page Rank is of any web-page, download the Google Toolbar and look for the little green bar (you may have to enable the PageRank icon through Tools/Options/Tools) or alternatively use a checking website such as PRchecker.
Because Google uses the number of links as a measure of importance, they want them to be generated organically rather than being bought and sold. You can still offer paid text links, but if you want to comply with the Google guidelines, the links need to incorporate a No Follow Tag, which indicates that it is a paid link and will then not be used for page ranking purposes, although when clicked it will still lead to the relevant website. Read Google's advice on Paid Links here.
What this means is that many advertisers may not want to pay for a link if it does not enhance their own Page Rank. The choice is yours, but if you sell a text link without a No Follow tag, you risk your own Page Rank being taken down a notch as a penalty, which means less traffic for your blog in the long run.
Sponsored Posts
If you choose to offer text links, you can add them to your blog in a number of ways. You may wish to have a list in your sidebar, or to add them unobtrusively to existing articles, or the sponsor may provide you with an article to post which contains their links. To comply with Google guidelines, the links in a sponsored/paid for post should have the No Follow Tag. You can read my Guest Posts Page which contains information on Sponsored Posts.
Banner Advertising
These are the small advertisments you commonly see in the sidebar of blogs. The best sizes for you will depend both on the layout of your blog and the popularity of a size with your advertisers. Popular size banner ads are;
125×125 pixel squares in blocks in the sidebar
300×250 pixel rectangles the width of the sidebar
120×600 pixel column in the sidebar
468×60 pixel rectangle in the header or at the bottom of a blog post
The most popular positions are those that can be seen immediately when the web page is first launched, such as in the header and on the top half of the page, known as "above the fold" that can be viewed without scrolling down. If you have a lot of demand for advertising (what a nice position to be in) you can also rotate different advertisers in each position, although this should be stated and priced accordingly.
Pricing
The main determinants of what you can charge for banner ads are;
Traffic (Unique visitors & Page Views)
Position of the banner ad
Size of the banner ad
Reputation and style of the blog
Any other incentives you can offer
Pricing is always a difficult one when you're starting out – obviously there's an element of trial and error but you want to do your best to pitch a fair price at the outset. The rule of thumb I've seen used is that for every 500 unique visitors a day to your blog, you can charge $50 per ad, but I'm not sure how big an ad that would be.
The other approach is to look at what other blogs in a similar niche are charging for banner ads relative to their traffic. I spent some time looking at the Advertise pages of other travel blogs to see what they offered at what price. Most will state their Unique Visitors and Page Views, but some will not disclose their charges. However, if it's someone you have communicated with before, they'll probably be happy to let you know their rates if you e-mail them. The key ratio is to compare price versus blog readers for a similar size and position of ad.
If your blog doesn't have a huge readership, you shouldn't overlook the fact that some advertisers are looking for brand awareness rather than a huge number of click-throughs, and if your blog has the right content and feel for their market, they may still want to advertise with you.
You may also be able to give some incentives, such as discounts for booking 6 months or over, or offer additional advertising space on a secondary website if you have one, or support their product in other ways through reviews or information in blog posts.
How to make a simple banner ad
Obviously most sponsors will provide you with either an HTML link or an image and link. When you are just starting you may want to make some substitutes as an interim measure, which is easy to do. You could also make your own banners to advertise products that you offer or ones that you are selling on an affiliate basis. If you want something special, imaginitive or complex, then you can get a graphics designer to do this for you, but otherwise you can do something simple using photo editing software. I don't have any all singing-all dancing packages like Photoshop but use Picnik, which is easy and intuitive and free if you just want to do one or two basic things.

Above you'll see some images I out together using the Free Picnik software. Here's what I did;
Uploaded one of my own images or a logo I found on the web
Cropped and resized it it the exact size of the banner ad required
Enhanced the colours if necessary
Using the Create function, added a Frame and some Text (you can go mad and add all sorts of other graphics)
Note that some of the functions are only available for Picnik Premium membership
How to get the ads on your website
There are two bits of free software that I've had recommended to me for adding and controlling the ads on your website. The first is Open X, but I've been told it is quite technical to set up and you will probably need some support from a techie to ensure everything is working properly. This is for those who are serious about monetisation or have outgrown the simpler options such as the one below.
The second option which is more suitable if you're starting out and need to do it yourself, is a WordPress Plug-in called Max Banner Ads, which is what I've just started using. You can set up each size of ad and the zone and then you'll be able to also monitor how many clicks v page impressions each ad receives. There's lots of help on the site, but here are the basic steps once you've uploaded the plug-in and activated it;
Make sure you have ready the image and link or the HTML of the banner you are going to use
Choose which zone you are going to ad the banner e.g. Sidebar Widget, Within the post and click on the add banner link or the + symbol
Choose from the different options on where to upload the image from, browse or add the image HTML, choose the zone from the dropdown etc
From Advanced Options choose the No Follow Option (assuming you are following Google's advice on Paid Links)
Save
Next click on the edit zone icon (paintbrush) to fine tune the placement of your banner ad
If using the sidebar widget, click More Options to decide which pages the ads will appear on and to create a block of 2, 4 or 6 banners together
In other zones, such as Within the Post, you can choose whether the ad appears in only some or all of the blog posts and pages and the alignment of the ad.
Save
If placing the Banner ads in your sidebar, you'll need to go to Design/Widgets in the WordPress dashboard and add the MBAN-Sidebar Widget to your sidebar, then Save Changes
These are just a few basics – for more information, look at the help on the Max Banner website
My approach was to set up a few of the ad zones, to make sure they were working properly and familiarise myself with the software, before I published my advertising page. I made a couple of banners with "Your ad here" and filled the rest with my links to Youtube, Flickr etc, so it wouldn't be too obvious if I had no advertisers. Until you get some advertisiers on board, you could also create reciprocal ads with fellow bloggers in a similar position.
Write your Advertise Page
Obviously, when advertisers come to call, it's much more professional if you can refer them to your Advertising page, rather than continually send information by e-mail. Some bloggers prefer to keep their advertising rates private & e-mail them on request, which may also give you the option to vary the rate according to how much (or how little) you want the advertiser on board. I've chosen to be transparent, thinking that most people will find this stuff too boring to plough through unless they are seriously considering advertising. The things you need to have on your Advertising Page are;
Some welcoming remarks
Some text or bullet points that convince advertisers of the benefits of advertising with you, such as your reputation, traffic, target audience, what your blog covers
Your blog statistics stating your source, such as Unique Users, Page Views, Number of articles, Google Page Ranking, Alexa, Technorati, Subscriber numbers (You could add graphs, tables etc)
The Banner Ads on offer in terms of size, position, rotations, price
Payment terms (e.g. min 3 months, payment up front) and how they can pay (e.g. Paypal)
So those are the basics of setting up your advertising page – you can take a look at my Advertise Page now and tell me what you think.
Read some related articles
Why should anyone follow you on Twitter?
12 ways that Flickr can enhance your blog
How to optimise your Youtube channel and videos
Read more travel articles at Travel Blog Home
Don't miss out – subscribe to Heather on her travels
Hey there, calling all travel bloggers to the event of the travel year – no not the World Travel Market, but the Travel Blog Camp held in London last night.
The Travel Blog Camp was organised for the second year by Darren Cronian of Travel Rants, the leading UK blogger championing travel consumer issues. The camp was ably moderated by Kevin May from some website beginning with T for travel or talk or tech? (only joking Kevin, you reminded us enough times it was Tnooz!) After a bit of attacking sandwiches and chit chat over a pint (or orange juice in my case), the evening got underway with a series of talks and banter on hot travel blogging topics.
But first the sponsors of the event were invited up to the front and just to prove that we bloggers are an independent minded lot, rather than being allowed to give a naked plug for their services, they were submitted to a cross between Traveller's Question Time and The Weakest Link by Kevin May. I bet those sponsors were rather wishing that they hadn't let themselves in for this, but they dealt with it gamely – they were;
Chris from Sunshine.co.uk
Zoe from Essential Travel
Hugo from Cheap Flights
Alberto from I Wanna Go there
Accor were also a sponsor
(hope I got all the names right, let me know if not)
Kevin grilled the sponsors on the way they use social media, and this is what we learned;
Iwannagothere are at the frontline of social media use – you can log into their website from your preferred medium, be it Twitter or Facebook.
Hugo from Cheap Flights  used his personal Twitter account to keep in touch with what people were talking about, but doesn't yet have a blog although he feels he probably should have, but hasn't found the time.
Top quote;
"I've just published my article on Twitter but it felt like bringing a dead mouse into the kitchen and hoping you'd be impressed" (which Hugo attributed to Giles Coren)
Zoe from Essential Travel used social media to give a more rounded aspect to their website, since they cover the less glamorous aspects of travel such as airport parking, it added a bit more excitement and buzz to their website when they blog about cool travel places they've been. Top quote (when asked how many Twitter followers she had);
"I haven't checked for the last 6 hours, not that I'm addicted or anything"
and
"I feel like I'm at a meeting of Tweeter's anonymous"
 Chris from Sunshine.co.uk admitted they were taking baby steps into the Social Media arena and have only recently started – he joked that they had 146 Twitter followers of whom 146 were probably in the room. Top quote;
"We only launched our blog last week, as I couldn't face coming here without one"

"If someone gave us bad PR on Twitter, I'd probably be pleased they mentioned Sunshine at all"
Meanwhile, I was about to give Alex Bainbridge of TourCMS and Tnooz a slap on the wrist for not paying attention in class as he was typing away on his laptop throughout, until I realised he was running a live blogging session – check it out here. Plenty of people were also busy Tweeting away – check out the #tbcamp tag. Next we had some speakers who were;
Murray Harrold from Advantage Travel
Quote of the evening;
"We small travel agents are happy to accept the crumbs left by Lastminute.com and Expedia – don't knock the crumbs because there was once a guy who fed 5000 people with a few crumbs and some fishes."

"I think of the internet as a plunger which is useful for ramming people into my sales funnel with my till at the bottom"
Joel Brandon-Bravo from Frommer's  Quote of the evening;
"Most Travel companies wanting to get into Social Media are like Teenagers wanting to have sex; everyone wants to do it, no-one knows how to do it and those doing it don't know how to do it properly."
Eva Keogan from Lastminute.com Quote of the evening;
"When I joined Lastminute.com in April run their social Media, I looked under the bonnet and realised there wasn't much there"
 Guillaume Thevenot from Hotel Blogs
These were the hot topics that got most discussion (hint – you might get some traffic and tweets if you blog about these!)
Cool ways to use Social Media
To add personality to a 2-dimensional website and make people feel good about buying your product (Essential Travel)
Giving a different angle or directing readers to existing content (I wanna go there & Lastminute.com)
Sourcing paid writers from people who have commented or written guest blogs (Frommers)
Using videos to respond to comments and e-mails to save time (Guillaume)
Integrated social media as part of an overall marketing strategy (Lastminute.com)
Social Media campaigns to promote the brand such as Lastminute.com's 'One Heck of a summer' campaign to send a blogger on a 3 month round the world trip.
Using Google earth to give customers personalised directions to their hotel (Murray )
How to deal with Negative PR on Social Media
You should use the same social media to set the record straight (It makes you feel better if nothing else)
Lastminute.com have a strategy in place to deal with negative comments on Twitter, passing them on to the Customer Service Team to be addressed as a priority.
US Company Best Buy have a 'Tweet Force' to deal with customer service via Twitter
One Thompson customer had no luck getting their complaint addressed through the normal customer channels, so they wrote a blog post about it which made the National Press – a warning that companies ignore social media at their peril.
Companies should be careful in the way they use individuals to 'front ' their customer service as one corporate blogger was 'stalked' by an angry customer.
It's not good practice to respond to a specific complaint in an open forum.
If you're using Twitter for Customer service, you need to make sure that all customer issues are dealt with equally and fairly, whatever the channel, otherwise the customer might use an 'If Daddy says no, ask Mummy' approach.
A way of dealing with a negative comment on your site about another company is to invite that company to answer back
Times Online pre-moderate rather than post-moderate all their comments and their moderators are trained to weed out libellous and abusive comments.
If moderators are used, they should be available 24 hrs, people don't want to wait for 12 hours for their comment to be published by which time the conversation has moved on.
If you approve a comment on your website, you become responsible for it, which could be tricky for small bloggers with limited resources.
In the Offline print world, you can only be sued in the country in which you are published, in the on-line world you can be sued anywhere in the world.
Free Content v Paid Content
Good luck to Rupert Murdoch for trying to introduce a model of payment for specialist content and comment
Meanwhile, all his competitors would be hoping to cash in on his customers migrating to providers of free content.
Many were sceptical that the paid model would work except for very specialist niches such as financial information.
Some attendees would be prepared to pay a bit for high quality content, but equally many would rather not pay if they didn't have to.
The paid model might work well as a paid package of information and content, in the same way as Sky Sport.
Simon Seeks is trying a model of sharing revenue with writers of their guides, although one blogger said he had received £2.11 in the 5 months the site had been up.
Getting the most from Twitter
Some felt that it was better to put an auto-follow on Twitter, to make sure no-one is missed out of the following (Wendy Perrin was quoted as using this approach)
Others, such as Lastminute.com had stopped following those who were not relevant to their niche
The return from Twitter and other social media is difficult to measure.
Darren Cronian said he had found many advertisers on Twitter, through them reading his Tweets.
Omniture now have a plug-in for measuring how well Twitter is performing (can anyone tell me what that is?)
Finally, Darren shared his close encounter with the libel courts back in June after he overlooked a nasty comment on his site. Boo, Hiss to the company that must not be named who took an out-of-court-settlement off a small guy when an apology & taking down the comment should have been enough-I won't be booking any flights through them! Top quote from Darren , on why the company who sued him for libel were so upset;
"My post was rated number 3 on Google for their brand"
Well folks, if you were there, you heard it all before and if you weren't no doubt you wish you did. Next year be sure to get your name on the list early and a big blogger's thankyou to Darren for organising it all. See you there next year.
If you were there and want to add your take on the evening or link to your account, I'd love to hear from you in the comments. And check out all my photos from the Travel Blog Camp on Flickr
Read More articles from Travel Blog Camp
Travel Rants – Travel Blog Camp at the World Travel Market
Joobili – Travel Blog Camp 2009
Travelling Online – Social Media Tips at Travel Blog Camp
 Journeys through Travel – Notebooks not needed: Travel Blog Camp Review
Iwannagothere – Travel Blog Camp
Berkeley PR – Travel Blog Camp
Nomadic Notes – Travel Blog Camp 2009 and the future of TBC
 Sam-i-am – London Travel Blog Camp recap
Read more travel articles at Travel Blog Home
Don't miss out – subscribe to Heather on her travels