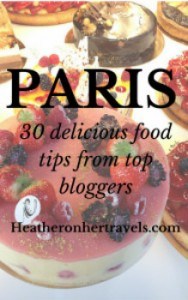 In this free guide you'll;
– Discover the most affordable places to eat in Paris, from oysters to couscous
– Know where to eat in grand surroundings
– Find out where to find the best macarons in Paris – it's not Ladurée according to the locals!
– Wander through our favourite food markets
– Join us in un verre de vin
– Find out how to eat with a friendly Parisian host.
This is a FREE travel resource from Heather on her travels.
You'll also be subscribed to our free monthly newsletter for great travel resources, news and reader offers, but you can unsubscribe at any time and we'll never share your e-mail.
For more about Paris take a look at the many articles on this site in the Europe – Paris category.