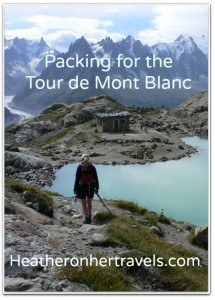 Heather shares her packing tips for the Tour de Mont Blanc, a 170km high Alpine circuit through France, Switzerland and Italy, around the Mont Blanc Massif. You'll find out what clothing and equipment you need for the walk and overnight stays in mountain refuges, what to leave behind and what will earn its keep in your rucksack. At the end of this guide there's a handy packing list. This is a free travel resource from Heather on her travels.
You'll also be subscribed to our free monthly newsletter for great travel resources, news and reader offers, but you can unsubscribe at any time and we'll never share your e-mail.
For more information on walking the Tour de Mont Blanc take a look at the many articles on this site in the Europe – Tour de Mont Blanc Category.