As you wander the streets of Oxford, dodging students on bicycles, you can almost feel the centuries of learning vibrating in the honey coloured stone, the domes and dreaming spires. If you're planning a weekend in Oxford, you'll find no shortage of fun things to do and places to visit in this ancient university town. From an Oxford walking tour to discover the locations that inspired Morse and Harry Potter, to punting with a Pimms on the river, here are our suggestions for a 48 hour Oxford itinerary.
Saturday morning – Things to do in Oxford
When I visit somewhere new, I like to wander around, soaking up the atmosphere and generally getting my bearings – so if you arrive in Oxford on Friday afternoon you may like to walk around and explore the neighbourhood of your hotel. If you only have 48 hours in Oxford as I did, another great option is to take a walking tour, especially those that have expert local guides. They can show you the interesting places you might not find on your own, as well as making recommendations on where to eat or have a drink later during your Oxford weekend break.
Get your bearings with an Oxford Walking Tour
There are plenty of options for a walking tour of Oxford, some of which give you an overview of the history and places of interest, others that have a specialist theme such as the detective TV series Morse, Lewis and Endeavour that were filmed in Oxford, or the Harry Potter films where some locations were inspired by Oxford Colleges.
You may also enjoy: 10 things to do in Cheltenham in just one day
I took the 90 minute walking tour with Oxford Walking Tours whose guides have all attended Oxford University and they run a number of tours throughout the day, which start at the front gate of Trinity College. The tour was excellent and for £12.95 we walked around the major landmarks of Oxford, wound our way through the alleyways where numerous films and TV series such as Morse have been filmed and explored beautiful New College chapel, Great Hall and gardens. The great things about these tours is that you will probably get to explore one or more of the Oxford Colleges, which you would normally need to otherwise pay to visit, so you're saving a bit of money there too.
If you prefer to explore on your own, you can also visit some of the Oxford Colleges individually and at your own pace. Among the most popular are Magdalen or Christ Church, with its impressive quad and chapel, which is the most expensive to visit at £7-9 so you may want to visit later for Choral Evensong which will give you free entrance. Most of the other colleges such as Balliol, New College, Brasnose, Trinity, Merton or Oriel only cost around £2 and this may include a leaflet or plan of the college, while others are free to visit, so it's worth venturing inside and enquiring at the porter's lodge.
Saturday lunchtime – lunch in the covered market
During your Oxford weekend, you may have spotted and interesting café or pub you'd like to stop for lunch, but if not I'd pop along to The Covered Market which runs from High Street to Market Street and is open daily but closed in the evening. It's an interesting old covered market with a glazed roof that is home to an eclectic mix of independent shops and good value eateries.
I stopped at Sasi's Thai which was busy serving a wide range of lunchtime specials served with rice for around £6 and the food was excellent. You might also try Pieminster for a hearty lunch of pie, mash and gravy, grab a healthy juice or smoothie at Natural Buzz, buy a Korean lunch box at Jeong's Dosirak or stop by at Alpha Bar for a sandwich or salad with lots of veggie and vegan options.
If you're planning to spend the afternoon at the museums, and want a more leisurely and elegant lunch, you might try the Ashmolean Museum's rooftop restaurant, which is light and airy and also has an outdoor terrace. As the museum is free you don't have to be visiting the museum to eat there and on Thursday, Friday and Saturday it opens until 10pm so you could also have an early evening dinner there.
Saturday afternoon – the Museums in Oxford
The excellent museums provide some of the best free things to do in Oxford, so I'd recommend spending some of your 48 hours in Oxford exploring one or two of them, depending on what interests you most.
I especially love the Ashmolean Museum which houses countless collections of antiquity, with everything beautifully displayed in a light and modern setting. There's a section on the Lower Ground Floor that's devoted the curiosities that were donated to Oxford University by the museum's founder Elias Ashmore in the 17th century, with galleries of art from the ancient civilisations of Greece, Rome and Babylon, collections from Japan and China, and paintings from pre-raphelite to impressionist on the upper floors.
The Museum of Natural History is a tall, open space, with displays of animal skeletons and dinosaur bones, and it's where you can find out about the dodo that featured in Lewis Carroll's Alice in Wonderland. The original stuffed Dodo, a bird that's now extinct, is no longer on display, but there's a model and some information near the entrance telling you all about it.
From the Museum of Natural History in Oxford, you can walk through to the adjoining Pitts River Museum packed with cases of anthropological artefacts from tribes around the world. It's best known for the displays of shrunken and mummified heads, but is a fascinating place to visit if you love rich textiles and objects from daily life that give an insight into other world cultures.
Choral Evensong in an Oxford College
Most of the college chapels have Choral evensong services which are free to attend and the best known is at Christ Church chapel, although you could also attend the services at New College or Magdalen College. I attended the Christ Church evensong at 6pm and the stained glass windows glowing in the candlelight and the choral music made a magical setting to feel the centuries of history in Oxford and a relaxing end to a day of sightseeing.
Saurday night – Where to eat in Oxford
There are numerous bars, restaurants and pubs around the centre of Oxford, so where you stop for lunch or dinner may depend on where you happen to be at the time.
To get more of a neighbourhood feel, I'd recommend Gees where I had dinner when I visited. It's a Mediterranean style restaurant that's in an old Victorian greenhouse, with excellent cocktails and food, although it's a 20 minute walk from the heart of Oxford, so you may prefer to get a taxi.
Sunday morning – our Oxford itinerary
Punting in Oxford
A fun Oxford activity on a fine day is to hire a punt, especially if there is a group of you to take turns in punting down the shallow river, with a long wooden pole to push you along. Head to Magdalen bridge where you can hire a punt for £22 per hour (max 5 people) and be entertained by the squeals and laughter, as people get accustomed to wielding their pole while trying not to fall in the river. If you're more cautious, you could join a chauffeured punt at £30 for half an hour (max 4 people) or rent a pedalo or rowing boat which is a little more secure and less likely to end in a dunking.
An alternative spot to go punting in Oxford from March to October is at Cherwell Boathouse, where there's also a Teahut bar to buy a jug of Pimms, that favourite English summer tipple, which you can drink on the riverbank or take with you in the boat.
Sunday afternoon – Oxford Botanic Gardens
Just beside Magdalen Bridge is the Oxford Botanic Garden which is a beautiful place to visit, especially in fine weather. As you enter the gardens there are ornamental trees and planted beds, while the glass houses overlooking the river are full of water lilies, cacti and tropical plants, demonstrating the different plant habitats around the world.
At the furthest end of the gardens from the entrance is an area backed by high walls with kitchen garden plants and beautiful herbaceous borders, which is an ideal place to sit on the grass with a picnic for families. Tickets are £5 with children under 16 free.
Sunday afternoon – Walk through Christ Church meadows
It's a pleasant Sunday afternoon stroll to follow the lane beside the botanic garden and walk along the footpath towards the river and Christ Church Meadow. On the way back to town, you can observe different punting techniques as boats pass by on the river and you get a great view of the backs of the Oxford Colleges.
Where to stay – boutique hotels in Oxford
Vanbrugh House Hotel
I stayed at Vanbrugh House Hotel, an elegant Oxford townhouse that was designed by Sir John Vanbrugh, the 18th century architect who also created the very grand Blenheim Palace just north of Oxford. The luxurious boutique hotel extends into an adjoining building of the same period, which was once the vicarage for the nearby church of St Michael's at the North Gate.
The hotel is stylish and contemporary in decor, with period features such as original fireplaces, wooden beams and a decorative painted alcove in the reception area. All the rooms are named after Oxford connections, like the Lewis Carroll room after the writer of Alice in Wonderland who studied and worked here, and the Oxford Union Suite named after the student debating society across the road.
My room was the Vicarage Suite on the ground floor, with wooden panelling painted in a soft green-grey and an enormous white painted four-poster bed with adjoining large bathroom that included a walk in shower and two roll top baths.
The lower ground floor restaurant in the Vanbrugh House Hotel is a hidden gem that's open to everyone at lunchtime, serving delicious and beautifully presented dishes on the set menu, which changes each season. At £10.95 for 2 courses or £13.95 for 3 courses, this menu offers exceptional value and there's a pretty courtyard garden leading off the restaurant that would be a sheltered spot to dine al fresco in good weather.
Read my review of the Vanbrugh House Hotel | check prices and book
Other boutique hotels in Oxford that you may enjoy include;

The Old Bank (91-94 High Street) – A luxurious hotel in the heart of historic Oxford

Old Parsonage Hotel (1 Banbury Road) – A boutique hotel in a historic parsonage building that's a short walk to the centre of Oxford.

Malmaison Oxford (3 Oxford Castle) – A converted Victorian prison which is now a boutique hotel, close to Oxford Castle.
How to get into Oxford
If you're flying into the UK, the nearest airport to Oxford is London Heathrow (1 hour drive). The train to Oxford from London takes around an hour from either London Marylebone or London Paddinton stations. There's also a frequent and efficient bus to Oxford from London called the Oxford Tube which runs around every 15-30 minutes, 24 hours a day, from close to Victoria coach station.
If you are driving to Oxford, there are city centre car parks, but they are generally expensive, so if you're in Oxford for a day or more, I'd recommend leaving your car in one of the five park and ride car parks on the outskirts of Oxford, with a shuttle bus to take you into town. I left my car in the Seacourt park and ride which cost a modest £2 per day, with a shuttle bus that ran every 10 minutes for £3 return and dropped me right in the centre of town. The only issue I had when I arrived late morning, was that nearly all the parking spaces were taken and I had to drive around for a while to find a space.
Pin It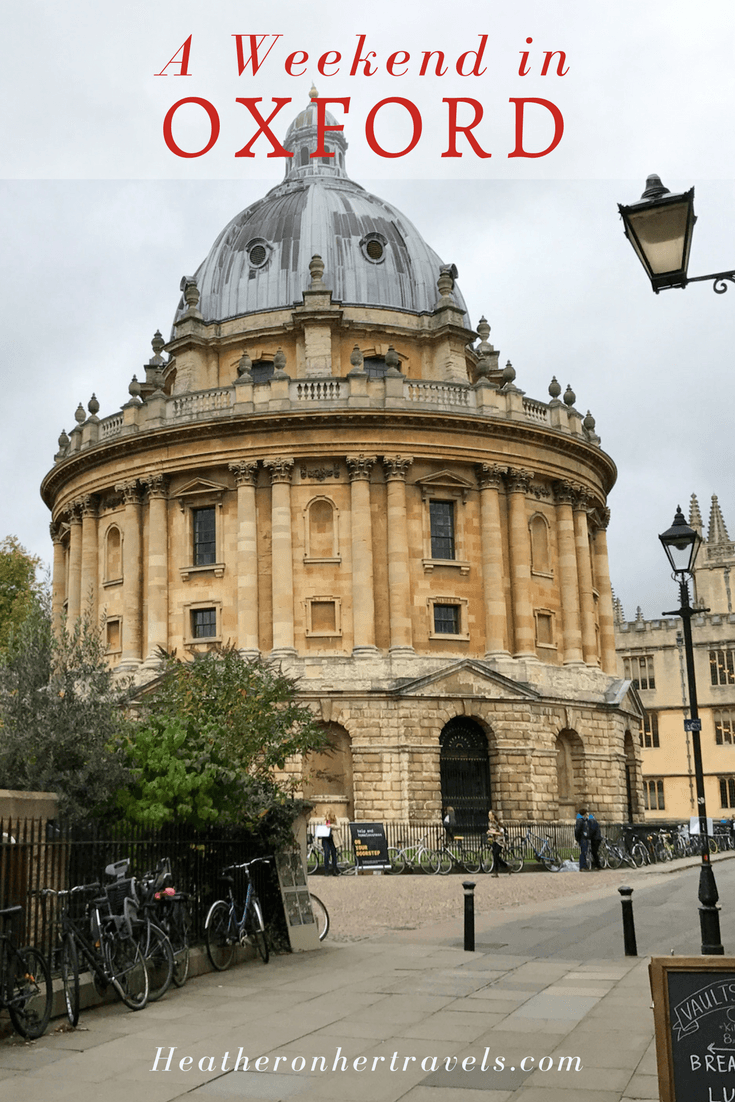 This article is originally published at Heatheronhertravels.com – Read the original article here