When Vanbrugh House Hotel was built in the early 18th century, it must have stood grandly alone, its back to the old city walls that still encircled Oxford. Now this stylish boutique hotel in Oxford sits among restaurants and cafes, and the carriages of past centuries have been replaced by the bicycles of students whizzing by to catch out the unwary.
The history of Vanbrugh House Hotel
As the name suggests, this elegant Oxford townhouse was designed by Sir John Vanbrugh, the 18th century architect who also created the even grander Blenheim Palace just north of Oxford. It was built for the Peisley family who were leading stonemasons in the city at the time, working for Vanbrugh on the ornamental stone bridge at Blenheim and the Trinity College chapel. The luxurious boutique hotel extends into an adjoining building of the same period, which was once the vicarage for the nearby church of St Michael's at the North Gate. Being a Grade II listed building you'll find all the period features you could wish for, with original fireplaces, wooden beams and a decorative painted alcove in the reception room.
I hope you enjoy this video with tour of my room at Vanbrugh House Hotel
If you can't see the video review of Vanbrugh House Hotel, you can see it on my blog here or Youtube here and please do subscribe using the button above
Subscribe to all my videos in I-tunes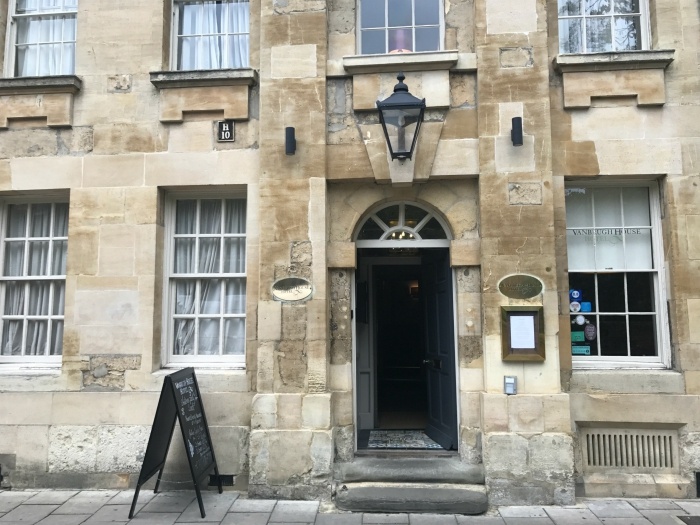 What's in a name?
When I visited the Vanbrugh House Hotel, I was charmed to find that all the rooms are named for different people or places that were connected with the hotel. In each room, you'll be able to read the stories behind the place you're staying from the information beside the door. One of the suites is named for Sir Nicholas Hawkesmoor, an 18th century architect who worked with Vanbrugh and there's the Oxford Union suite which overlooks the debating society across the road. Over the years it has hosted notable figures such as the Dalai Lama and Mother Theresa and heard the debates of many a budding politician.
There's a room named after Lewis Carroll, who studied mathematics at Christ Church, where he met the Dean whose daughter Alice became the heroine of his famous story of Alice in Wonderland. It was fascinating to read the history of the church of Saint Michaels at the Northgate, which was where the Oxford Martyrs were imprisoned in 1555 before they were burned at the stake in Broad Street, just outside the city walls.
Staying in the Vicarage Suite at Vanbrugh House Hotel
My room was the Vicarage Suite on the ground floor, named after the building that had originally been a vicarage for the nearby church of St Michael's at the end of the road. The wooden panelling was painted in a soft green-grey with furnishings in restful shades of coffee and taupe, with some colourful accents in the embroidered cushions. I had an enormous white painted four-poster bed, with matching desk, bedside tables and sideboard in the room and a large Chesterfield sofa where I could curl up to watch TV.
With a couple more easy chairs and a side table, this was definitely a space to relax after a day's sightseeing; to make yourself a cup of tea with fresh milk in the fridge and the Teapigs selection by the kettle. A nice feature was the fridge with complimentary water and snacks of crisps and chocolate, a change from the usual overpriced mini bar. I slept very well in the huge bed, under my crisp white Egyptian cotton bedlinen and faux fur throw.
An extra benefit of this suite and the one next to it was my private courtyard garden with rattan furniture and colourful hanging baskets with wisteria growing over the fence, which would be a lovely place to sit on a summer's day.
A bathroom that's a destination in itself!
My enormous bathroom definitely had a Wow! factor. In the centre was a large walk-in shower with two slipper baths side by side and even a flat screen TV to watch from the bath. There were plentiful toiletries scented in Neroli Jasmine Rose by The White Company, pretty mirrors and contemporary bath fittings. This was the stuff that instagram dreams are made of; the perfect place for a romantic escape with the lights of the overhead chandelier dimmed, looking into the eyes of your loved one across a cloud of bubble bath.
Other rooms in the Vanbrugh House Hotel
Since the hotel has been carved out of a large Georgian House, all of the 22 rooms in this hotel are slightly different sizes and the layout has been carefully thought through to maximise space in both bedrooms and bathrooms. Some of the rooms have the original wooden panelling and fireplaces, with furnishings that are a mix of traditional and contemporary, where you can soak up the history of this Georgian building and imagine the stories it must have to tell. The colour scheme in restful shades of cream and brown with colourful highlights run throughout the hotel, although there are small differences in the fabrics, wallpaper and furniture that make each room unique.
Lunch at Vanbrugh House Hotel
The lower ground floor restaurant in the Vanbrugh House Hotel is a hidden gem that's open to everyone at lunchtime, although I suspect that it's only the locals that know about it. The small courtyard garden leading off the restaurant would be a sheltered spot to dine al fresco in good weather. I was so impressed with the delicious and beautifully presented dishes on the set menu, which changes each season. At £10.95 for 2 courses or £13.95 for 3 courses, this menu offers exceptional value and I enjoyed every mouthful.
I decided against a starter and went straight to the main course of perfectly cooked flaky pollock with a pool of creamy spinach puree, a taste of the sea in the samphire with a sweet and sour pickled courgette as garnish – served with a bowl of crisp skinned new potatoes and crunchy fried sage. Other options on the set menu were pork belly with apricot, coriander and black pudding, or a veggie option of cauliflower, bulgar and cauliflower-coconut puree.
Being tempted by anything sweet, I certainly wasn't going without a desert and went for the soft and delicate lemon posset with a compote of berries and a crumble of walnuts, shortbread and chocolate powder. It was so delicious I was practically licking the bowl. The food here is simple at heart, but elevated with the delicious flavour combinations and attention to detail – a great value set lunch menu that I highly recommend. The restaurant is open for lunch 12-2pm daily (closed evenings).
Location Location
The Vanbrugh House Hotel is located right in the centre of Oxford, down a quiet side street that is blocked off at one end. It's a perfect location if you are here for the sightseeing, being just a short walk from most of the colleges and major sites of Oxford. There are city centre car parks, but as they are generally expensive, I left my car in the Seacourt park and ride on the outskirts of Oxford. The cost was a modest £2 per day, with a shuttle bus that ran every 10 minutes for only £3 return and dropped me right in the centre of town. The hotel is a 12 minute walk from the rail station and a 5 minute walk from the bus station, so ideal if you're arriving by public transport. Although I found St Michael's Street to be pretty quiet, the hotel is next to a restaurant and opposite the Oxford Union which is known for its student debates, so at weekends or on certain days I imagine that it could be much busier in the evenings.
Am I being served?
On arrival I was greeted at the informal reception desk in the guest's sitting area, just inside the front door. I received a warm welcome and as shown to my room in the adjoining Vicarage building, which also has it's own front door. The reception staff were only too happy to provide a printed map of Oxford and point out all the best places to visit nearby, and I was also able to leave my luggage after check out so that I could spend more time sightseeing.
Breakfast at Vanbrugh House Hotel
I really enjoyed my breakfast in the small lower ground floor restaurant and was seated tucked away in an alcove. There's also an small courtyard garden leading off the restaurant which would be lovely to sit with a coffee on a sunny morning. The continental style breakfast is laid out to serve yourself, with a tempting array of fresh fruit, cheese, ham, miniature breakfast pastries, yoghurts, muesli, fruit compotes and nuts.
In addition there's a menu of cooked breakfast dishes to choose from; there was the full Oxford breakfast of bacon, eggs and all the trimmings, but I ordered my breakfast favourite of Eggs Benedict. It came with the eggs perfectly poached and runny, with a glossy hollandaise sauce to make it extra yummy. I was also pleased that I could order a proper cappuccino which was made barista style from the coffee machine in the small bar area. Together with some fresh fruit and orange juice I was well set up for my day's sightseeing.
Who will enjoy staying at Vanbrugh House Hotel?
Vanbrugh House Hotel makes a charming base for couples, small groups of friends and solo travellers who want to be in the heart of Oxford's historic centre. If you enjoy staying in a friendly, intimate hotel with a sense of history and individual style, this hotel is for you. Some rooms can be set up with twin beds for friends travelling together and those travelling with older children would be fine, although I wouldn't say that it's really a family hotel. Elderly travellers may wish to book ground or first floor rooms, as there is no lift due to the nature of the building, although help to carry bags is always available. If you're hungry in the evening there is a room service menu but the guest sitting area is small, so this hotel is best suited for those who want to spend their time sightseeing and enjoy eating out in the many pubs and restaurants nearby.
Good to know
The Vanbrugh House Hotel is in a Georgian Grade II listed building so you need to be aware that there are some limitations that go with an older property. All the rooms sizes are slightly different, floors sometimes slope, there's no lift and you may hear creaking boards as other guests move around in the corridors and floors above you. Due to the listed status there is no air conditioning, although fans are provided for the hotter summer months. Being in the heart of Oxford in a student city sometimes comes with street noise, so if this is a concern for you, it's best to request a room at the back of the building.
More information on staying at Vanbrugh House Hotel
For more information and to book, visit the Vanbrugh House Hotel website. The hotel is at 20-24 St Micheal's Street, Oxford, OX1 2EB, United Kingdom | Tel: +44 (0)1865 244 622 | Email: info@vanbrughhousehotel.co.uk | Twitter | Facebook | Instagram
What to see in Oxford
I had a great time looking around Oxford during my stay at Vanbrugh House Hotel and here are a few things that I'd recommend you see while you're there;
There are lots of options for walking tours in Oxford and it's an excellent way to get your bearings when you first arrive. I did the 90 minute walking tour with Oxford Walking Tours whose guides have all attended Oxford University and they run a number of tours throughout the day, which start at the front gate of Trinity College. The tour was excellent and for £12.95 we walked around the major landmarks of Oxford, wound our way through the alleyways where numerous films and TV series such as Morse have been filmed and explored beautiful New College chapel, Great Hall and gardens.
Many of the college chapels have evensong services which are free to attend and the best known is at Christ Church chapel. After my walking tour I attended the Christ Church evensong at 6pm and the stained glass windows glowing in the candlelight and the choral music made a magical setting to feel the centuries of history in Oxford.
There are excellent free museums in Oxford, including the Ashmolean Museum with countless treasures of antiquity, the Museum of Natural History where you can find out about the dodo that featured in Lewis Carroll's Alice in Wonderland, then walk through to the adjoining Pitts River Museum packed with cases of anthropological artefacts from tribes around the world.
If you'd like to try your hand at punting, head for Magdalen Bridge where you can hire a punt for £22 per hour (max 5 people) or be chauffered in one for £30 for half an hour (max 4 people). Next time I'm visiting Oxford with friends I'll definitely give it a try, although I think I'd rather be chauffered than risk being left hanging to the pole as the punt drifts on. Instead I visited the Oxford Botanic Garden across the road with herbaceous borders and glass houses full of water lilies, cacti and tropical plants, demonstrating the different plant habitats around the world.
It's a pleasant walk back into town along the river across Christ Church Meadow, which gives you a great view of the backs of the colleges.
Did I miss anything that you enjoyed in Oxford? Do let me know in the comments
Where to eat in Oxford
There are numerous bars and restaurants around the centre of Oxford, so where you stop for lunch or dinner may depend on where you happen to be at the time.
To get more of a neighbourhood feel, I ate at Gees in the evening, a Mediterranean style restaurant that's in an old Victorian greenhouse. The cocktails and food were really good, although it's about a 20 minute walk from the hotel so you may prefer to get a taxi.
At lunchtime, there are a number of good value eateries in The Covered Market and I stopped at Sasi's Thai which was busy serving a wide range of lunchtime specials served with rice for around £6 and clearly a popular choice.
For an elegant but informal lunch I'd love to try the Ashmolean Museum's rooftop restaurant, which is light and airy and also has an outdoor terrace. As the museum is free you don't have to be visiting the museum to eat there.
If you have a favourite place to eat in Oxford, do leave me your recommendations in the comments.
Thanks to Vanbrugh House Hotel who hosted my stay at the hotel.
Pin It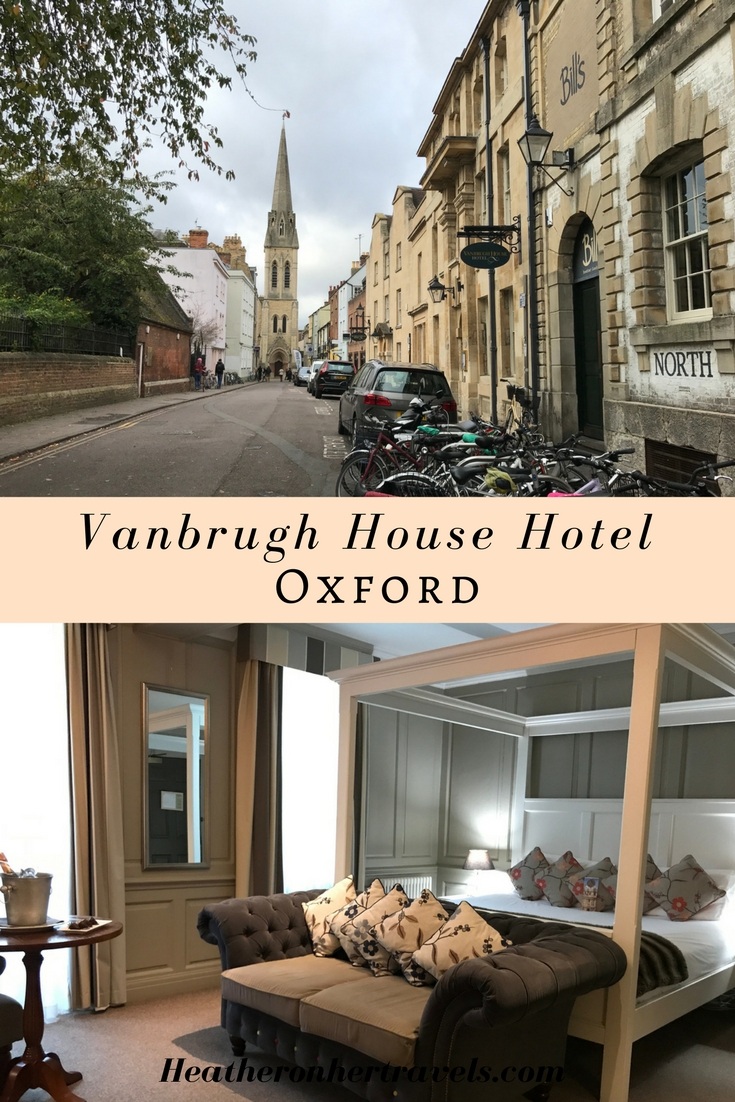 This article is originally published at Heatheronhertravels.com – Read the original article here