In an elegant Georgian terrace in Bristol I'm sitting on my pink velvet sofa, sipping my freshly brewed coffee and nibbling (OK scoffing) a fresh croissant with raspberry jam. I could be at home preparing for a day in the office but in fact I'm enjoying a staycation at Berkeley Suites in Clifton.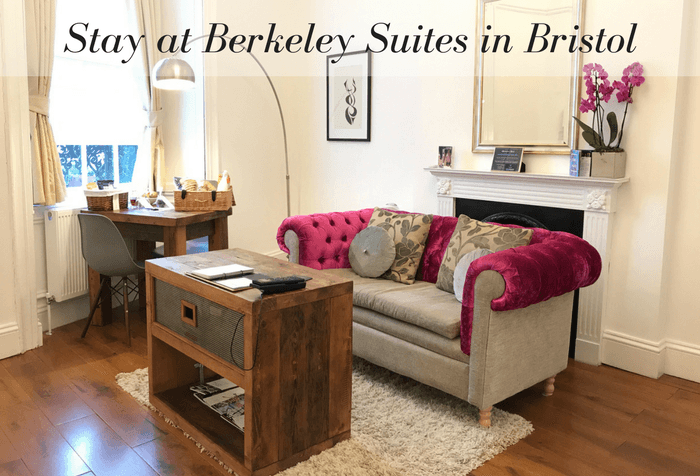 Checking out the bedroom
The Berkeley Suites are located in a Georgian townhouse, just a stone's throw from the shops, cafes and museums of Park Street – an easy walk from Clifton Village in one direction and the Harbourside in the other. The rooms that once formed a family home have been converted into suites with traditional plasterwork and fireplaces. My bedroom has a queen size bed, cream walls and polished oak flooring, the cream quilted bedspread piled high with cushions.
I'm surprised to find that the bed is made up with white cotton sheets and blanket, unusual in these days when the duvet prevails. I sleep soundly, under the fleecy blanket and bed cover, firmly tucked in on both sides – nanny would have approved. The furnishings are stylish and eclectic – an oversized herringbone check on the chair, a sparkling glass chandelier overhead and some reclaimed wood bedside tables that remind me of the roughly hewn beams of an old country barn.
There's a small modern wardrobe with a full length mirror, plenty of coat hangers, a miniature iron and ironing board. The safe is only big enough for a passport and wallet, so not really much use for the average business traveller or blogger. Beside my bed is a fashionably retro Roberts radio in a matching blue to the room and leather handle, in case you enjoy a bit of cheery chatter and easy listening tunes as you get ready in the morning. As I awake in the morning, the sounds of cooing pigeons reach me and a bell chimes from the Wills Tower – the Great George bell even has its own Twitter account.
My bathroom at Berkeley Suites
My bathroom has been ingeniously carved out of a room, that when first built, would not have conceived the necessity of an en-suite. It's created with glass panels from one side of the room, with just enough privacy for a couple sharing although possibly not for two friends. The sink and loo are tucked behind a screen to one side and on the other side a large walk in shower. Everything is white – white tiles in the shower and black slate tiled floor with shiny chrome modern fittings. In the morning I try the shower which is powerful enough, although the temperature seems to waver a little cooler or hotter at times.
You may also enjoy: Bristol Harbour Hotel and Spa – a stylish boutique hotel in Bristol Old City
On the wall is a silvered frame mirror, perfectly positioned for doing your makeup, with a backlit mirror over the sink too. The white towels are extra large – big enough to wrap yourself in after a shower and there are two lovely waffle cotton robes. If you're tempted to take them home apparently they are for sale. Finally there's a selection of fragrant orange Elemis toiletries; shower gel, shampoo, conditioner, body lotion as well as some treats like eyes-awake recovery gel and temple balm – you may need them if you've spent too long enjoying the cocktails in the Square Club nearby!
The living room
In the living room of Berkeley Suites there's everything you'd need for a short stay in Bristol. Sociable couples who want to eat out most of the time, but still make a snack or decent cup of coffee, will love it here. You can take your pick of the many restaurants nearby or stock up from the deli counter of Waitrose around the corner. The miniature kitchen is ingeniously hidden away in a cupboard – there's a microwave, toaster, Delongi coffee machine and kettle. In the base of the unit is a dishwasher and fridge which doubles as the mini-bar and with a selection of cold drinks, beer and wine. Although there's a hob, I don't see any pots and pans, so possibly this is not for anyone who fancies some real cooking – plenty of glasses for your champagne though!
The decor of the sitting room is similarly stylish – a chesterfield sofa just big enough for two with a natural linen base and fuschia velvet back. There's a cleverly hidden projector which can double as a TV, or you can turn on the video paintings – a form of art that consists of a projection of slowly changing video images. It's quite soothing to sit looking out on a white sand beach with palm fronds swaying in the breeze, or the waves gently washing on some tropical shore.
Breakfast at the Berkeley Suites
As this is essentially a self-catering arrangement there's no hotel breakfast laid on but instead a hamper of breakfast goodies left for you. There's also a small carafe of Bristol sherry with an Alice-in-wonderland "Sip Me" label and another hamper of crips and chocolate bars as an extension of the mini-bar.
Back to the real world, and if you want to do any work, no problem. There's a small table of the reclaimed wood with two modern chairs where I could easily settle in with my laptop by the window, with a soothing view of the small lawned garden and hedges to distract me. There's good wifi here and guests at the Berkeley Suites can also use The Square Club and lounge area of the Berkeley Square Hotel to work or for informal meetings.
Stay at the Berkeley Suites: located at 6 Berkeley Crescent, Clifton, Bristol but check in at The Berkeley Square Hotel at 15 Berkeley Square, BS8 1HB
Read on for my tips on where to eat and what to see when staying in Bristol at Berkeley Suites. You can dip into my articles about Bristol;
25 fun things to see in Bristol with your friends
10 cool things to do on Bristol's harbourside
Bristol Street-art – so much more than Banksy
Berkeley Suites not what you're after? – check out some more hotels in Bristol
Where to eat of an evening?
Just around the corner in leafy Berkeley Square, is the Berkeley Square Hotel. This is where you check in for the Berkeley Suites and where The Square Club is located, a lounge area with bar downstairs that's just for hotel guests and club members. The Square Club has an attractive terrace garden and is a quiet place to relax or do some work, although often used for events in the evening.
You may also enjoy: Cadbury House near Bristol – A countryside getaway close to the city
We dined in The Square Kitchen, the hotel's restaurant that is also open to non-residents, although you ideally need to book. I'd never dined at The Square Kitchen and I must admit that I was impressed – in a city that has no shortage of fantastic bars and restaurants, the Square Kitchen certainly pulls its weight. The decor is stylish but casual like the rest of the hotel, with oak floors and tables, exposed brickwork and touches of colour in the fuschia paintwork and floor-to-ceiling gilt mirror.
The Berkeley Square Hotel professes to be Bristol's first Art Hotel and when I was there, an exhibition of Copyright, one of Bristol's best known graphic artists was covering the walls – colourful stylised female portraits in rich colours.
The new spring menu had just been launched and I had the pleasure of trying it out with a group of other Bristol based bloggers. At first glance it's obvious that head chef Kyle Jordaan runs an ambitious kitchen with modern English cooking at its best – packed full of seasonal flavours with respect for the finest local produce and suppliers. The menu features West Country produce wherever possible, such as Devon Red beef, lamb from Wraxall in Somerset and fresh fish from the dayboats of Devon and Cornwall. We started with a well made cocktail in the bar of the Square Club – mine was a delicious whisky sour, a relaxed beginning to the evening as we lounged around and chatted on the colourful velvet sofas in the club.
First we were offered a pre-starter – a tiny terrine of ham hock speckled with green herbs, garnished by tiny pickled vegetables and a sweep of mustard sauce to wake up the taste buds. It was delicious and made me wonder if I'd still have room for that starter I'd ordered!
As a starter I chose the seared scallops with clams, serrano ham chips and chilli, lime and coriander salad with lemon spherification. The scallops were deliciously plump and enhanced by the crisp saltyness of the ham. I loved the play of flavours in the salsa, which was fresh and citrusy with the tiny lemon pearls, all prettily presented in a couple of razor clam shells. My Scallops starter was £9, starters £6.50-£9.
For the main course my pan fried cod with quinoa, bacon dashi and courgette spaghetti came beautifully presented. The cod fillet resting on top of the sauces and vegetables was nicely cooked, with large flakes of fish, the courgettes making a pretty green contrast, some yellow pansies for a bit of colour and a mysterious black wafer to top it all. The bacon dashi sauce was dark and salty stock, giving the whole quite an oriental flavour that I found quite strong, although it was probably what I should have expected being made with bacon. The other dishes on the menu included slow roast pork belly, Devon red steak and pan roasted duck breast with a vegetarian option of herb and parmesan gnocchi with butternut fondant. Although we didn't really need a side dish, I couldn't resist the leeks in a deliciously creamy sauce. Pan fried cod £18.50, main courses £15.50-£18.50. Side dishes £3.50
As a desert I chose the white chocolate and strawberry mille-feuille with nougatine and pink champagne sorbet. The flavours of summer came through, although the crisp sugared pastry layers meant that you have to deconstruct the desert before eating it, to avoid pieces of pastry flying around the room. The pink champagne sorbet sat on the top and seemed to also have a strawberry flavour, with layers of fresh raspberries, crème patissiere and coin sized pieces of nougatine, giving a nutty sweetness. The other desert choices are poached rhubarb, panna cotta and rhubarb consommé or chocolate bomb with peanut parfait and mousse, which dissolved beautifully as the warm salt caramel sauce was poured over, much to the joy of the instagrammers among us. The deserts were exceptionally creative, with layers of flavour and complexity, going a step beyond the simple versions that I'd tasted in other restaurants.
Overall I thought this is a very creative kitchen, with a balanced menu, beautifully cooked and presented dishes with complex flavours. We were there on a Monday night when you'd expect the restaurant to be quiet and the other guests appeared to be mainly hotel residents. The Square Kitchen is a great restaurant to dine with a small group of friends who are food lovers and enjoy a stylish but casual atmosphere. It would also be an excellent option to entertain business contacts as the club-like atmosphere lends and air of exclusivity and privacy, or for a celebration family dinner such as a graduation or birthday. The restaurant is also open for lunch with a well priced Express lunch menu with mains under £10 as well as a Sunday Roast with mains at £12.50 and deserts at £6.
The Square Club
It's worth knowing the The Square Club membership is a great option for those who need a place to entertain or have informal business meetings in Bristol. The club is often used for private functions and events and is there is no charge for members to hold events there – keep an eye on the website for information about what's on. The club is particularly suited for those working in the media scene, with a stylish and creative ambiance and you can use it as a place to work or have meetings, with free tea and coffee available.
What is there to do in the area?
Of course there are no shortage of things to do in Bristol – you can read my article about 25 fun things to see in Bristol with friends. Just to give you a flavour, here are some of the things you're find within a short walk of the Berkeley Suites – you can also check out some more hotels in Bristol.
If you're looking for a local's view of some of Bristol's coolest neighbourhoods, check out the Naked Guide to Bristol or for an overview of the area try the Rough Guide to Bath, Bristol and Somerset
Shopping on Park Street
The Berkeley Suites sits at the top of Park Street, one of my favourite shopping streets in Bristol. You'll find plenty of quality fashion retailers, mixed in with independents like Diana Porter who is an award winning contemporary jewellery designer.
Bristol City Museum & Art Gallery
The museum is free to visit and has everything from Egyptian mummies, to geological exhibits and paintings in a beautiful Victoria building. There's normally a special exhibition and these are often excellent, so worth checking what's on. Next door is the Wills building which is part of Bristol University, but at weekends there are tours which include a chance to go up to the top of the tower for views across the city. Bristol City Museum & Art Gallery Website | Wills building tours
The Royal Academy of the West of England
This is one of the lesser known artistic treasures of Bristol, with major art exhibitions throughout the year. The Grade II listed building has an impressive dome and a well lit Victorian gallery space on the first floor. Royal Academy Website
The Georgian House
This was built by John Pinney, an 18th century Bristol merchant and slave owner who had plantations in the West Indies, and it's now a museum which is furnished in Georgian style as it was when first built around 1790. The Georgian House website
Red Lodge Museum
This unassuming house on Park Row hides 400 years of history. It was built in the 16th century and houses some of the oldest rooms in Bristol, complete with Elizabethan oak panelling. Red Lodge Museum Website.
Bristol Cathedral
Walk to the bottom of Park Street and across College Green to the cathedral, which is free to enter and a beautiful and peaceful place to look around. Be sure to go down the steps and along the cloisters, passing the medieval stone chapter house, to discover the secret garden beside the Cathedral cafe where you can buy refreshments. Bristol Cathedral website
Brandon Hill Park and Cabot Tower
Walk through Berkeley Square to reach the path into Brandon Hill Park and from the top of the hill you can sit with a view over Bristol's harbourside. Climb the 105 ft Cabot Tower for an even better view – it was built in 1897 to celebrate the explorer John Cabot's voyage from Bristol 400 year before.
Pin it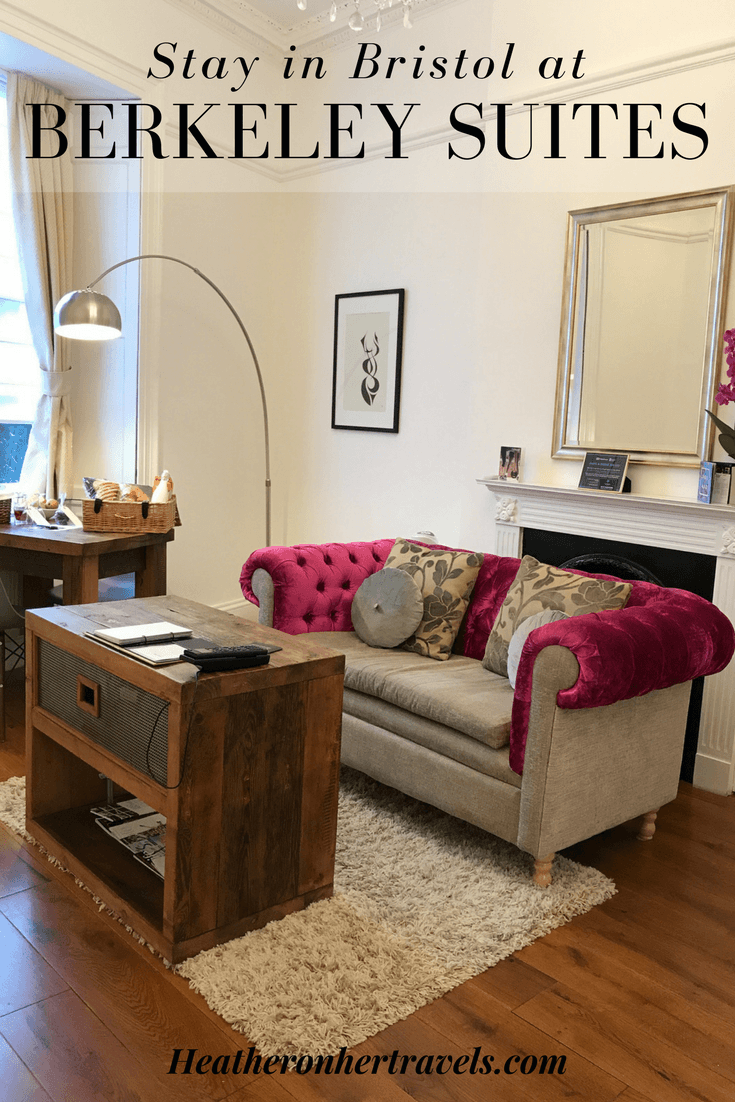 Thanks to Berkeley Suites who hosted my 1 night stay and Square Kitchen who provided a complimentary dinner for the purposes of this review.
Some of the links in this article are affiliate links which enable me to make a small commission to support this blog
This article is originally published at Heatheronhertravels.com
This article may contain affiliate links that provide commission on purchases you make at no extra cost to you. As an Amazon Associate I earn from qualifying purchases.