Set on the slopes of Cadbury Hill, backed by woodland with views over the fields of North Somerset, Cadbury House Hotel at Congresbury feels in the heart of the country and yet we were only a 30 minute from Bristol. We loved our overnight stay in the glamourous Loft Suite with cocktails and dinner at the Marco Pierre White restaurant, and found a hotel that makes an ideal leisure break for couples, friends and multi-generational family groups to enjoy.
First impressions of Doubletree by Hilton Cadbury House Hotel
As we drove up the short drive of Cadbury House Hotel, I was impressed by the beautifully landscaped gardens in front of the house, giving the impression of a country house with rolling acres, while cleverly hiding plenty of car parking. The modern extension had been tastefully added to the older house and while overshadowing it in size, the style of the roof and gables echoed the older building.
The hotel's main entrance is through a striking modern box with huge windows letting in the light, softened on one side by a living wall of different coloured foliage. Entering the reception we were offered the famous Double tree cookies which we quickly ate leaving only a light scattering of crumbs!
You may also enjoy: Trying an alternative carhire at Bristol Airport with Car and Away
Cadbury House, the old property that sits at the centre of the hotel, was built as a private house in 1790 set in an estate of 800 acres of woodland. From 1939 – 1955 the house became St David's boarding school and in the 1970's was converted into a Country Club, used for dances, weddings and functions.
In 2003 Cadbury House was converted into the present 4 star hotel under the Doubletree by Hilton brand. A £26 million project saw the renovation of the original house, which is now used for conferences, weddings and functions, as well as the extension of a modern hotel building to house the 132 hotel bedrooms.
It's also worth noting that Cadbury House Hotel is one of the hotels with parking near Bristol Airport, so is convenient for travellers departing on holiday from Bristol if you have an early start.
You may also enjoy: A weekend stay in luxury Cotswold cottages – at Bruern Cottages
On the other side of old Cadbury House sits The Club, a leisure centre with pool, gym and spa that is open as a member's health club to non-residents, as well as for hotel guests. There is a large car park in front of the leisure centre and a second car park in front of the modern hotel wing, for guests to use.
You may also enjoy: Mercure Bristol Grand Hotel – where heritage meets street art
A walk around the gardens at Cadbury House Hotel
As we'd arrived a bit early for check in, I left Guy reading the papers while I took a walk around the beautiful gardens in front of the hotel. The hotel is set halfway up Cadbury Hill and the garden slopes gently downwards, with terraced lawns and a pretty ornamental lake where a fountain was spouting into the air. There were lots of benches to sit around the lake, a terrace with a giant outdoor chess set and plenty of space for ball games.
I imagine that this grassy open space by the lake would come into its own when weddings are held here, as it was the ideal spot for a marquee. Further down the slope I stopped to say hello to a life size metal cow, standing near a dovecote and tin shepherd's hut which had been made into a children's playroom. The gardens were beautifully kept, with doves and pheasants wandering around the lawns or kept in their enclosures under the trees.
Checking into our Loft Suite at Cadbury House Hotel
Once our room was ready we headed up to the 5th floor to find our room overlooking the gardens. Walking into our Loft Suite (Room 505) was one of those jaw dropping hotel moments when you think – is this all for me? But then of course, if someone has to play at being a Hollywood movie star, it may as well be you! The Loft Suite is the epitome of modern glamour and the mirrors and black, white and grey theme made me think it might have some 1930's art decor inspiration.
This is very much a romantic couple's room, with the king size mirrored four poster placed centre stage and the open style of bathroom with freestanding bath tub, walk in shower and 'his & hers' sinks. The loo was behind a closed door but this open style of bathroom would be perfect for a couple, although a bit too intimate for anyone else! The room had 'celebration' written all over of it, and I imagine it's often booked for a wedding night, special birthday or landmark anniversary.
You may also enjoy: How to spend a Romantic weekend in Bristol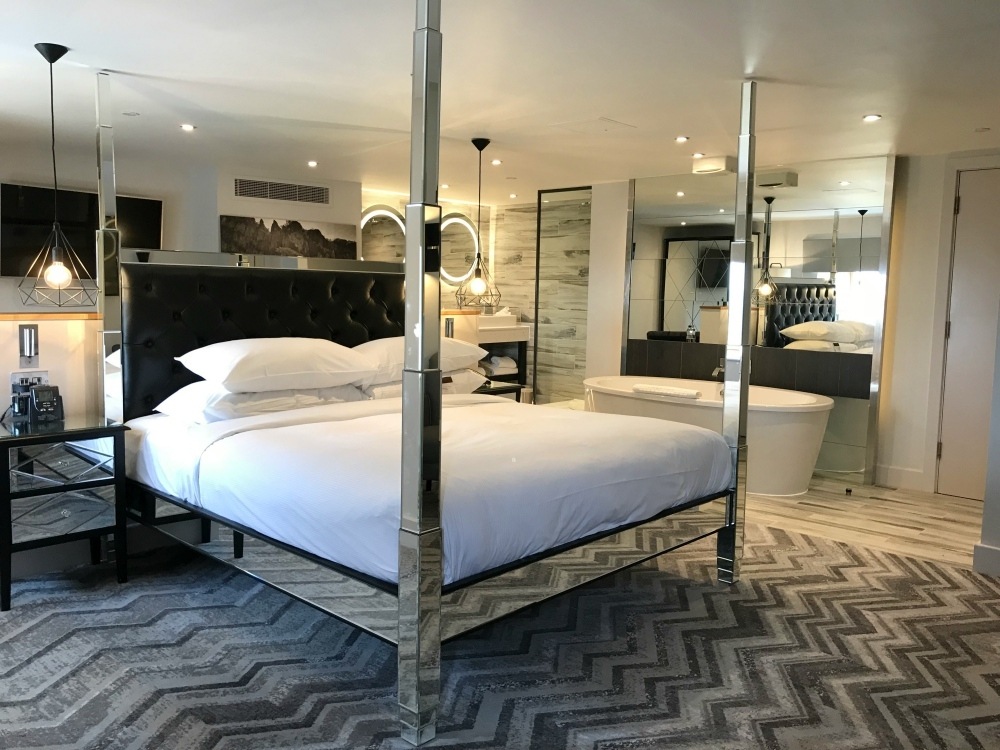 Opposite the bed was a seating area and a desk/ dressing table, with flat screen TV above, so we were able to lie in bed and watch TV after dinner (another of those little luxuries in life). An alternative relaxation area behind the bed had a large velvet sofa and another flat screen TV as well as a fridge, mini bar and tea/ coffee making.
The bathroom was truly luxurious, with lots of lovely Crabtree and Evelyn Lavender and Verbena toiletries, and two enormous sinks so no squabbling over the basin. The walk in shower had a rainforest shower head and we both enjoyed wallowing in the large bathtub after our walk. We were on the 5th floor and from our window we had a great view over the gardens – I've put a photo to show you at the end of this article.
Book here for Cadbury House Hotel
Other Bedrooms at Cadbury House Hotel
Of course we were lucky enough to be staying in one of the two Loft Suites – a rather special room and ours was Room 505 in case you'd like to book. There are a few other suites which are often used for special occasion or wedding bookings but I was curious to know what the other bedrooms are like at Cadbury House Hotel, so I checked with the reception before we left.
You may also enjoy: Backwell House – a relaxed boutique hotel near Bristol
I was told that all the bedrooms are in the modern part of the hotel, as the older Cadbury House is now used for the function and meeting rooms. There are standard and deluxe guest rooms which are of similar size but the deluxe rooms overlook the gardens, while the standard rooms face the woodland at the back. Deluxe rooms also offer complimentary mineral water and dressing gowns.
Both types of room come in the option of twin or king size beds, there are also some family rooms or option of a sofa bed. The photos you see below are from Cadbury House Hotel as I did not see the rooms myself but there may also be various styles of decor in different rooms, so it's best to check when you book.
Book here for Cadbury House Hotel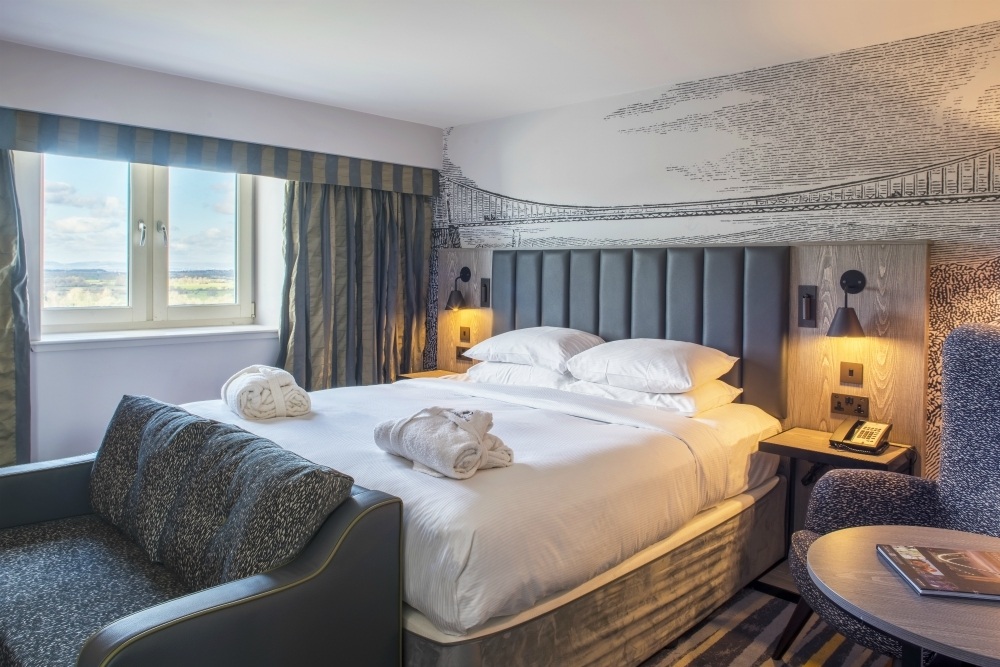 A walk to the Iron Age fort on Cadbury Hill
After settling into our gorgeous room, we decided to explore around the hotel and with the sun shining, the Somerset countryside seemed to be calling to us. We didn't need to go far, as just behind the hotel is Cadbury Hill, one of the highest spots for miles around and the site of an Iron Age hill fort.
The path lead directly from the hotel grounds up the hillside, although when we reached the top we had to climb over the wire fence. On the way down we followed the public footpath which comes out on the lane leading down to the main road, close to the hotel's entrance drive.
You may also enjoy: How to find a fabulous spa break in Bath – the Macdonald Bath Hotel and Spa
Cadbury Hill is a rough oval in shape with a flattish top and wooded slopes. In the tall summer grass it was difficult to discern any signs of the Iron Age fort that would have stood here, a collection of round, thatched houses with ditches and banks protecting the approach to the fort.
Instead we found wild grassland with paths around the edge and all was peaceful with birds singing and not a soul to be seen. It was easy to see how the flat land at the top of the hill would have made a good lookout point and we stopped at a couple of view points over the surrounding countryside. Information signs told us that Cadbury Hill is now protected as a nature reserve, with grazing in spring and autumn and the grass cut annually to encourage the growth of wildflowers.
You may also enjoy: 25 things to do with your friends in Bristol
The Cadbury House Hotel Spa and Leisure Centre
After our walk we decided to spend the hour or so before dinner in the Cadbury House Hotel spa – The Club which operates as a member's leisure club with an indoor swimming pool, spa and well equipped gym as well as lots of fitness classes. It's one of the leading spa hotels in Somerset and as hotel guests we had a swim in the pool and relaxed in the bubbling indoor Jacuzzi.
I also took a quick look at the adults only relaxation area with a terrace which was a real suntrap in the evening, just the place to snooze on a sun lounger catching the last few rays of sunshine.
Downstairs just off the lobby there is the Marconi cafe serving coffee, healthy smoothies and ice creams while upstairs is the casual Bardolino pizzeria, Bellini and espresso bar, both of which are run under the Marco Pierre White restaurant group. They looked very nice, but we didn't stop to eat as we had a date at the rather smart Marco Pierre White steakhouse, bar and grill within the hotel.
Bar at Cadbury House Hotel
Having smartened ourselves up for dinner in our rather gorgeous Loft Suite, we headed down to the bar and restaurant that are decorated in a style that's a cross between gentlemen's club and glamorous nightclub. The walls are dark, the lighting kept low and there are classic JAK political cartoons from the Evening Standard framed on the walls, with metallic finishes and opulent fabrics in the chairs and furnishings.
Dinner at Marco Pierre White Steakhouse, Bar and Grill
We were seated at a curved leather booth in the dining room, which felt rather like a 1920's nightclub, with the table lamps and the lights turned down low. The restaurant aims to offer 'affordable glamour' and we found a menu with plenty of classic French brasserie dishes, like Rillettes of pork with Armagnac soaked prunes, Mediterranean fish soup with croutons, rouille and Gruyere and Salad Lyonnaise.
There were some Wheeler's fish dishes from the fish restaurant that is also part of the Marco Pierre White group and of course as a steakhouse, we had a choice of 35 day aged steaks. It seemed to me that the menu is largely based on classic dishes, both French and English that would please almost everyone and at prices that were reasonable considering the sophisticated feel of the restaurant.
To start I ordered a strawberry daiquiri from the cocktail menu and I really enjoyed the fruity kick, just right for a summer evening. As a starter we ordered the Mediterranean fish soup which was silky and smooth with creamy fish flavour, topped with the toasted croutons and Gruyere, a dish you'd find probably find in a Parisian brasserie.
For our main course we decided that it had to be steak and so we ordered the roast Chateaubriand for two people which arrived in pink slices on a wooden board garnished with lightly roasted vine tomatoes. The beef was very flavoursome and melting soft and we ordered two different sauces which were served on the side, a Bearnaise sauce with tarragon and a peppercorn and brandy sauce. Our green salad had a sweet truffle oil dressing and the triple cooked chips were so delicious I could have eaten them twice over – they were crisp and crunchy on the outside but soft and fluffy on the inside, just as you'd hope for.
For desert I ordered the Box Tree Mess, a mixture of meringue, cream and summer fruit, named after the Yorkshire restaurant where Marco Pierre White worked as a young chef. We really enjoyed our dinner at the Marco Pierre White Steakhouse, Bar and Grill and thought that these classic dishes were deceptively simple yet well executed for a most enjoyable dinner. The service was really good too – professional, assured and attentive as you'd hope for in an excellent restaurant.
What we ordered: Strawberry Daiquiri £8.95 Mediterranean Fish Soup £8.95 Roast Chateaubriand steak for two people 16oz £59 served with salad and triple cooked chips and sauces £3.50 The Box Tree Mess desert £6.95
Breakfast at Cadbury House Hotel
We slept very well in our king size, mirrored four poster and descended to breakfast ready to start the day, which was served in the Marco Pierre White restaurant. There was a good selection of pastries, cereals, fruit, cheese and hot dishes from the buffet with tea, coffee and toast served to the table and speciality coffees from a self-service machine. Perhaps not up to the level of the dinner the night before but something for every taste and we were well set up for the day.
Location of Cadbury House Hotel in Congresbury
The Cadbury House Hotel is in the village of Congresbury, around 30 minutes drive south of the centre of Bristol and the hotel is close to Bristol Airport. This could be a real benefit if you are heading to or from the airport although it did also mean that there were planes regularly flying overhead, although not often enough to really bother us.
The hotel is a short drive from Yatton station which is on the London train line, with a bus service to and from Bristol, as well as being close to the M5 motorway. Despite having such excellent access, the hotel feels quite rural, set with its back to the woodland on the slopes of Cadbury Hill and surrounded by fields as you can see from the picture below that was taken from our bedroom window.
Who will enjoy staying at Cadbury House Hotel?
The size and convenient location of Cadbury House Hotel makes it one of the best hotels in North Somerset for groups of friends and family parties, as the hotel effortlessly caters for all generations, interests and tastes. During the week, I imagine that a lot of guests come for business meetings and conferences, but at weekends the hotel makes a really pleasant getaway for couples like us who want to relax and enjoy the unspoiled surroundings and area of North Somerset.
Although I didn't see a lot of families staying at the hotel, I think it would be a great choice for those travelling with older children, as there are family rooms, plenty of space in the gardens and the leisure centre with informal dining at Bardolino pizzeria that children would enjoy. In particular the hotel works well for multi-generational family groups where children, parents and grandparents can gather and spend time together.
Booking information for Cadbury House Hotel
Book for Doubletree by Hilton Cadbury House Hotel at Congresbury, near Bristol.
Address: Frost Hill, Congresbury, Bristol BS49 5AD | Email:info@cadburyhouse.com | Phone: 01934 834343
Follow on: Twitter | Facebook | Instagram
Things to do in North Somerset near Cadbury House Hotel
There are plenty of things to do in North Somerset while staying at Cadbury House Hotel – here are a few suggestions.
Bristol – as we live in Bristol we were happy to escape the city, but there are loads of exciting things to see and do and it's an easy 30 minute drive or bus ride into the centre. Check out Visit Bristol for more ideas.
Shopping at Cadbury Garden Centre – a few minutes drive or an easy walk from the hotel is Cadbury Garden Centre. Of course there's plenty for garden lovers but also home furnishings, gifts and plants as well as concessions of other high street brands such as Clarks, Fat Face, Cotton Traders and Mountain Warehouse.
You can walk from the hotel up Cadbury Hill which I've already mentioned and there are plenty of other walks on the Mendips – why not explore the limestone gorge at Burrington Combe which is popular with climbers and walkers?
Cycling – the hotel has bikes to hire and you can cycle along the Avon cycle way, a network of paths that surrounds Bristol and the Strawberry Line that runs along the route of an old railway line that was used to take the strawberries grown in Cheddar to London.
Cheddar Gorge is a 30 minute drive away, on the southern side of the Mendip Hills where you can walk in the gorge and visit the caves, then stop at the Cheddar Gorge cheese company to watch the famous cheese being made.
If you'd like to try some local West Country cider, the Thatcher's Cider Myrtle Farm is a 15 minutes drive away (take a taxi or have a designated driver), where you can book a guided tour of the cider orchards and factory, buy the local cider in their shop and have a pub meal at The Railway Inn pub.

Visitor Information to plan your trip
You can find more information to plan your visit to Cadbury House Hotel and the surrounding area at;
Visit Somerset | Visit North Somerset | Visit Bristol
Check out more Hotels in North Somerset
Disclosure: This is a collaboration with Cadbury House Hotel who hosted my 1 night stay and dinner at the Marco Pierre White restaurant.
Pin It
This article is originally published at Heatheronhertravels.com – Read the original article here