Bristol is a city that's buzzing with creativity, the home of Banksy, Brunel, the Balloon Fiesta and Wallace and Gromit. It's also a city with a big heart, that likes to support indie makers and businesses, an inclusive city that buys local and even has its own currency, the Bristol Pound that can be spent in the city. If you are looking for Bristol gifts that support Bristol's local makers or give you a flavour of Bristol, read on for my list of 50 gifts that say you love Bristol!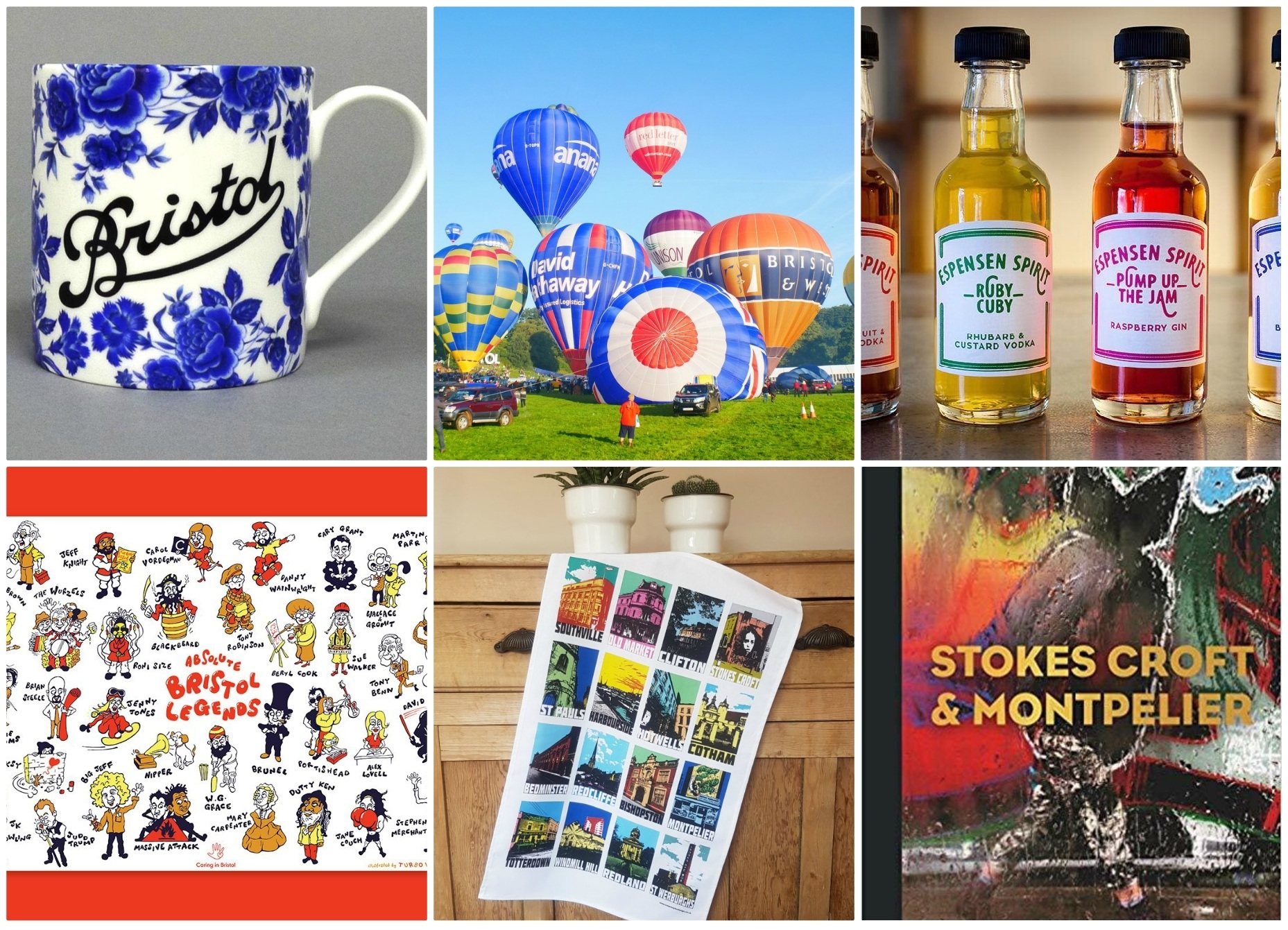 I'm planning to add more Bristol gifts to this guide as I find them, so do let me know if there's anything else that should be included. I've grouped my Bristol Gift Guide by price, but at the end of the article you can find everything also grouped by interest and a list of local shops and galleries to buy Bristol gifts.
Bristol Gifts Under £10
From £1 – Bristol Pounds to spend around Bristol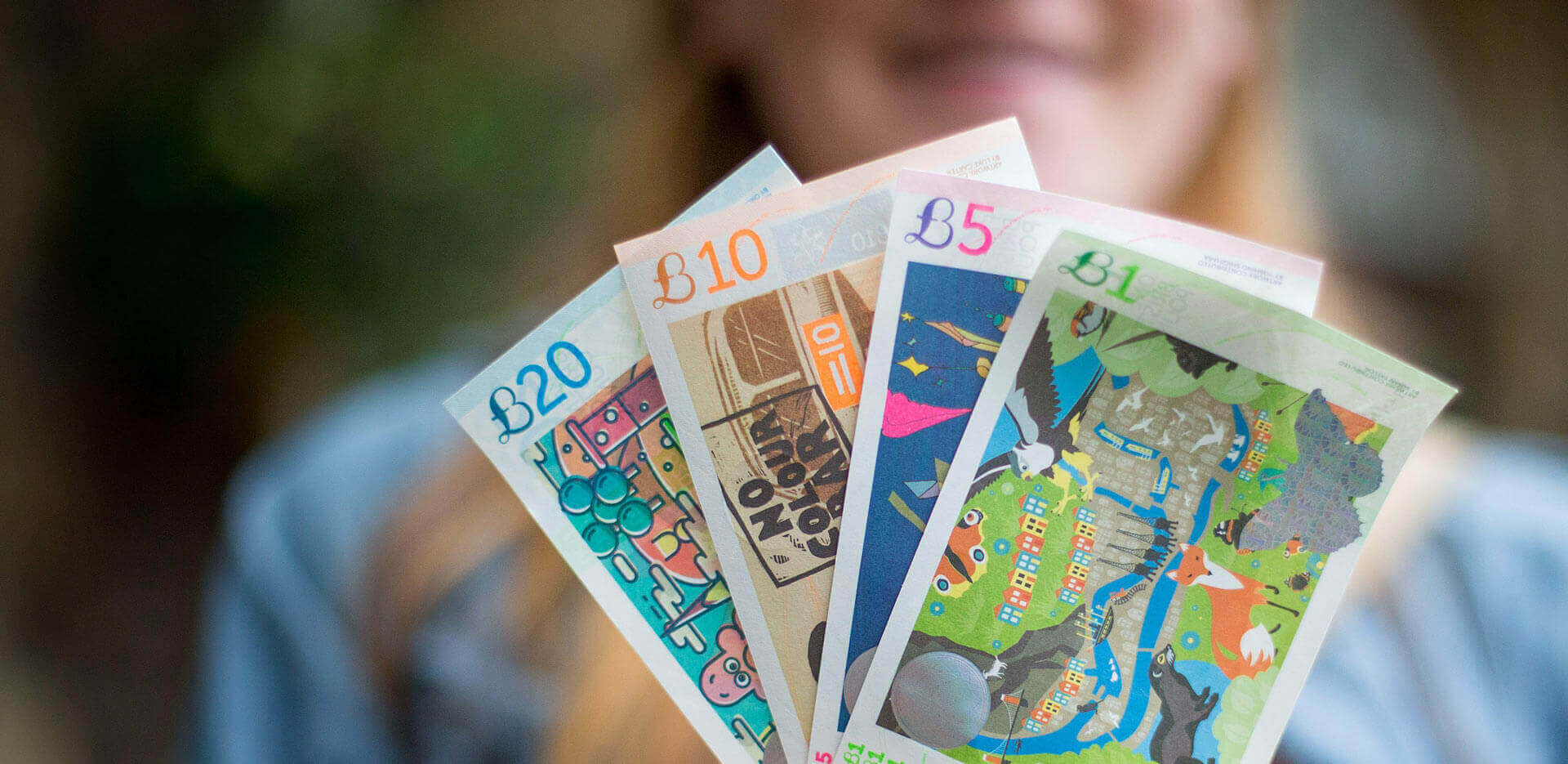 Bristol Pounds are the city's own currency that can be spent locally to support all the creative businesses we have in the city. They would make a great gift for children to create a family activity of exploring different parts of Bristol to see where you'd like to spend your Bristol Pounds. You can convert money into Bristol Pounds at places such as the Harbourside Tourist Information Centre, Peoples Republic of Stokes Croft, Folk House on Park St and other places around town or convert them online. Then use the Directory to spend at lots of independent businesses, cafes and visitor attractions in Bristol. The Bristol pounds are available in £1, £5, £10 or £20 notes – find out more on the Bristol Pound website.
For coffee lovers – From £3.99 – Coffee bags from New Kings Coffee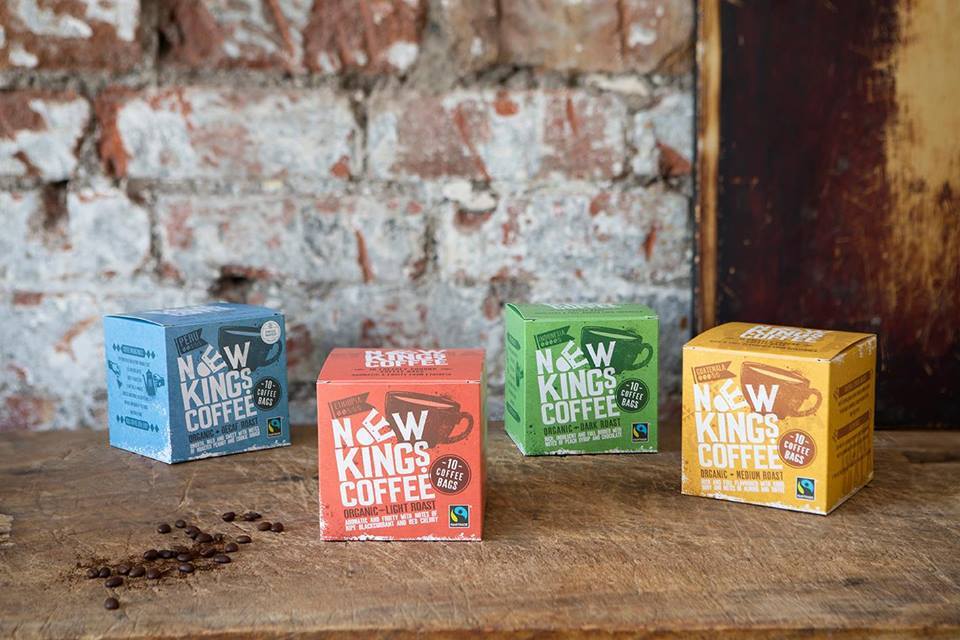 New Kings Coffee is a Bristol based business offering high quality coffees from around the world that come in a bag, just like tea. All the coffees are single origin, fairtrade and organic and each individually wrapped coffee bag provides a single serving of coffee, without the mess of percolators and grounds. The sample pack with a selection of all the coffees £3.99 would make a great small gift for the coffee loving traveller or camper in your life, while the subscription service would send a continuous supply of coffee for whatever time you specify from £19.99 per month.
For coffee lovers – From £3 – Send someone a Huggg
Cost From £3 for a coffee – via the Huggg mobile app
Show someone you are thinking of them by sending them a Huggg in seconds from your phone. Huggg is a mobile app that allows you to send a voucher for coffee, hot drink or edible treat that can be redeemed from lots of participating coffee shops and cafes in Bristol.  It's an inexpensive way of letting someone know you are thinking of them with a gift of coffee, cake, gelato or even a cocktail. The app has also launched Huggg in Bath and London. Find out how to download the App on the Huggg website or search on Google Play (Android) or App Store (iOS)
A postcard from Bristol – £3.99 – Wooden Postcards by Emy Lou Holmes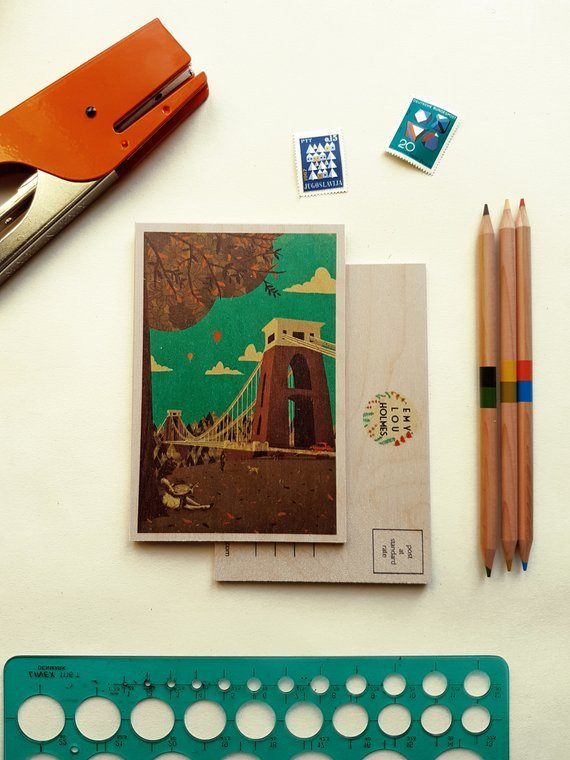 Illustrations by Emy Lou Holmes have a retro touch and include scenes from Bristol, Portishead and Clevedon, which can be purchased from her Etsy Shop. For a fun small gift, I like the wooden postcards of Bristol scenes which can be sent by post but are something a bit more permanent for the mantlepiece £3.99 . Also available is the Bristol Slimline calendar 2019 £12 with 12 different illustrations, or the framed prints of  the zoo, Totterdown and St Nicks market £30 which would make a nice housewarming gift.
For kids – £6.95 Goram and Ghyston: The Bristol Giants by Oliver Rigby
Price £6.95 on Amazon or in local bookshops
This charming children's picture book tells the story of the first Bristol Giants and how the landscape of Bristol came to be formed. Once upon a time there were two brothers called Goram and Ghyston. They were no ordinary brothers – they were GIANTS. One day, the brothers met and fell in love with a beautiful Princess called Avona who set them a task to decide who would win her hand in marriage. You may also enjoy The Bristol Giants save Christmas, by the same author.
For babies – £7.50 – Black and white baby books from The Little Black and White book project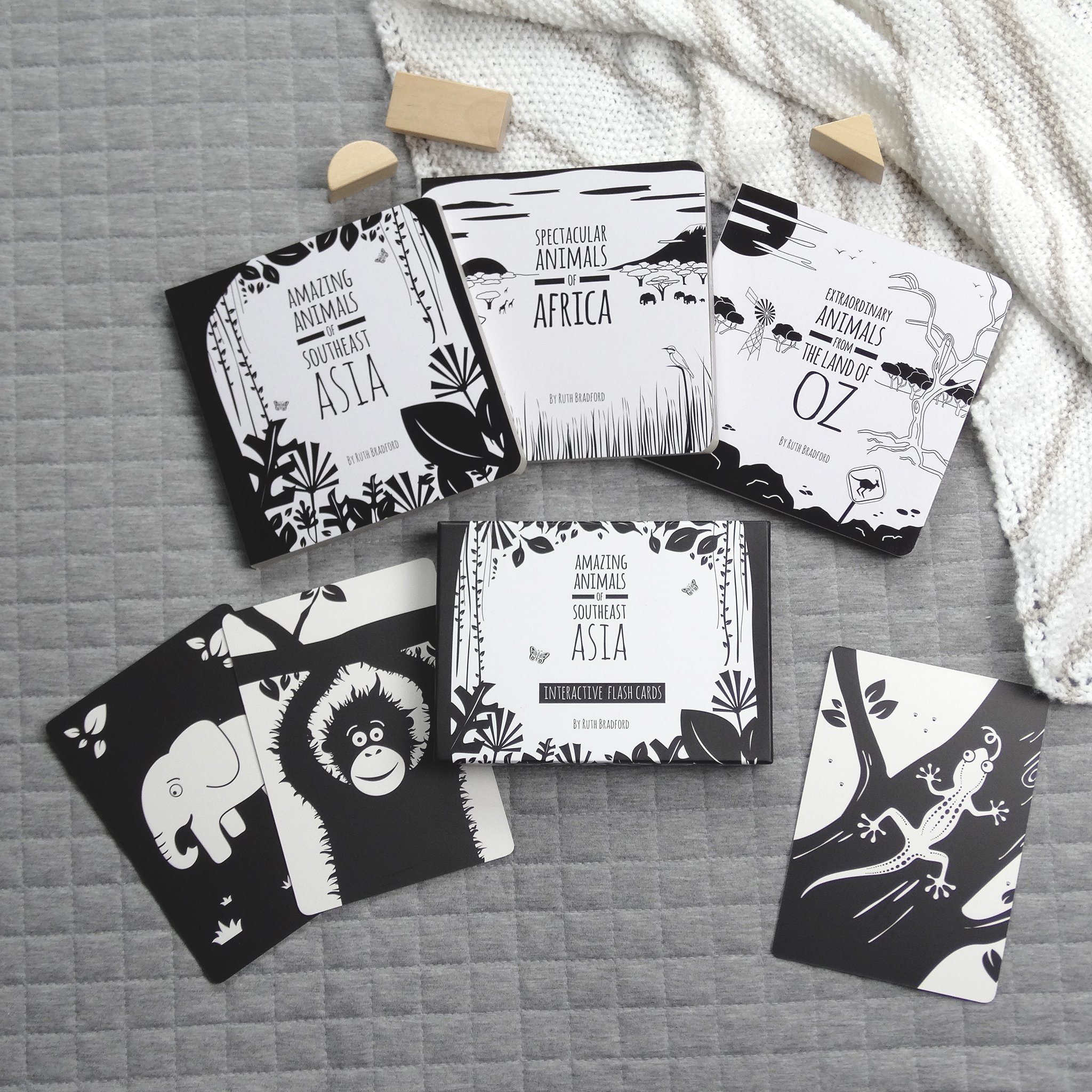 The Little Black and White Book project is a Bristol company run by graphic designer and mum Ruth Bradford, creating charming books and flashcards for babies and young children. The black and white format is designed for the limited vision of young babies, to stimulate the brain and raise interest in the natural world. There are several different books £7.50 about the animals around the world like the Brilliant animals of Great Britain with sets of 3 books £20, alphabet postcards and print £10. These would make a thoughtful birthday or Christmas gift for young children or babies or as a christening present. Buy online or the Little Black and White Book website.
For Bristol art lovers – £8-15 – Emmeline Simpson Homewares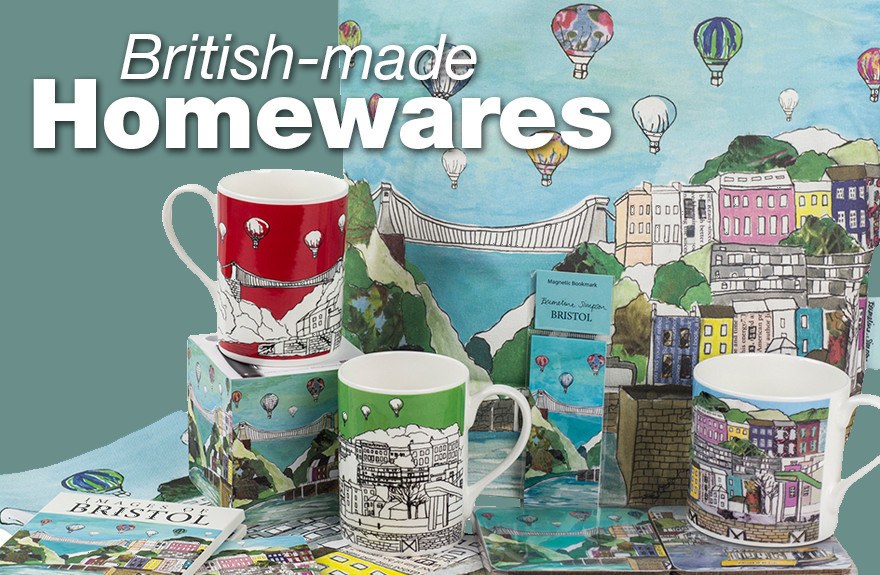 Price of items mentioned  £8-15 online or from local Bristol gift and museum shops
Local artist Emmeline Simpson has lots of small items with colourful Bristol scenes including all the pretty views of boats, bridges and balloons. Based in Bristol she started drawing her Bristol images when she needed a local wedding gift for a friend and her range has expanded to other British cities such as Oxford, Cheltenham and Cardiff. For small gifts under a tenner take a look at the Clifton Balloons padblock, Images of Bristol notecards or Clifton Balloons travel cup. There are also mugs, teatowels, prints and calendars in the £10-£15 price range. The range is widely available in local stockists and can also be bought through Emmeline Simpson's website.
For Chocoholics – From £3 – chocolates from Zara's Chocolates
Zara's chocolates is a small chocolatier based in North Street, Southville and you'll often see their stand at festivals and events around Bristol. Everything is made by hand in their own kitchen on the premises with plenty of seasonal specialties at Christmas and Easter. They have recently moved to a new and larger premises at 200 North Street, where they also run chocolate making workshops. Visit the store or order online, from Christmas chocolate lolly £2.50 or hot chocolate stirrers £2.80 as small gifts to praline baubles £14 and bite boxes of individual flavour chocolates £6.50. You can get vouchers for their spring workshops from £50. More information on Zara's Chocolates website.
For Bristol Art lovers – £10 – Bristol Districts Tea towels by Susan Taylor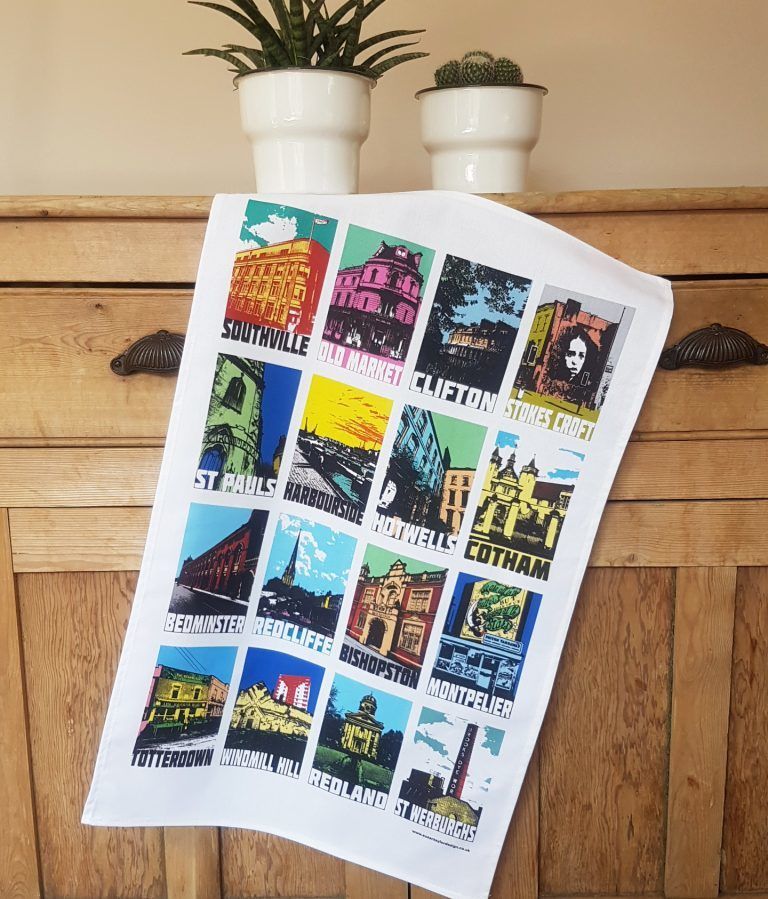 Susan is a Bristol based artist and illustrator who uses screenprinting and bold colour in her retro inspired designs. Her range includes prints and cards, textiles, tableware and mugs – we thing her Bristol Districts tea towel £10 would make a small gift or housewarming present. Buy on the Susan Taylor website or at local stockists and makers markets.
For G&T lovers – £9 – £25 – Gin gifts from 6 O'Clock Gin
In Bristol you can't say gin without saying 6 O'Clock Gin – it's a family business based near Thornbury creating artizan gins with the distinctive "Bristol Blue" bottles and Bramley and Gage fruit liquers. You'll find 6 O'Clock Gin easily enough in local off licences and supermarkets and they have a few fun gift as well for the G&T lover in your life. We like the Gin & Tonic Gift Box £9 which would make a great gift together with the 6 O'Clock Coppa glass, and there's also a 6 O'Clock Gin Miniature selection £17. You can also buy vouchers for Distillery Tours £25 which take place on selected Saturday and Sunday weekends or just a bottle of the London Dry Gin £25 to add to your gin collection. Find our more and buy on the 6 O'Clock Gin Website.
For Foodies – From £5 – A jar of local Bristol Honey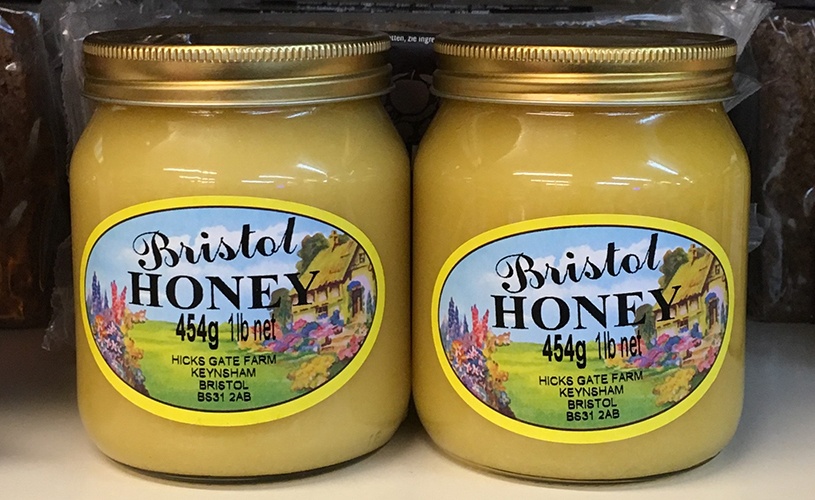 Bees play a crucial role in the food chain by pollinating crops that we rely on for food, but their numbers are on the decline due to the use of pesticides and mass production farming methods. Small-scale urban beekeepers play a positive role in increasing bee numbers and cities like Bristol are a surprisingly good place to keep bees, due to the diversity of plants and pollen sources they can feed on.
By buying honey that's local and produced by small scale bee-keepers you are helping to support the environment in Bristol. Eating local honey can also help guard against pollen related allergies, since the small amounts of local pollen in honey act like a vaccine. Local honey makes a great foodie gift and you can buy from lots of Bristol food retailers like Source in St Nick's market who stock BS1 honey or from fairs like the Bee and Honey festival held at Bristol Botanic Garden in September.
Legendary gifts –  £10-20 Absolute Bristol legends tea towel + t-shirt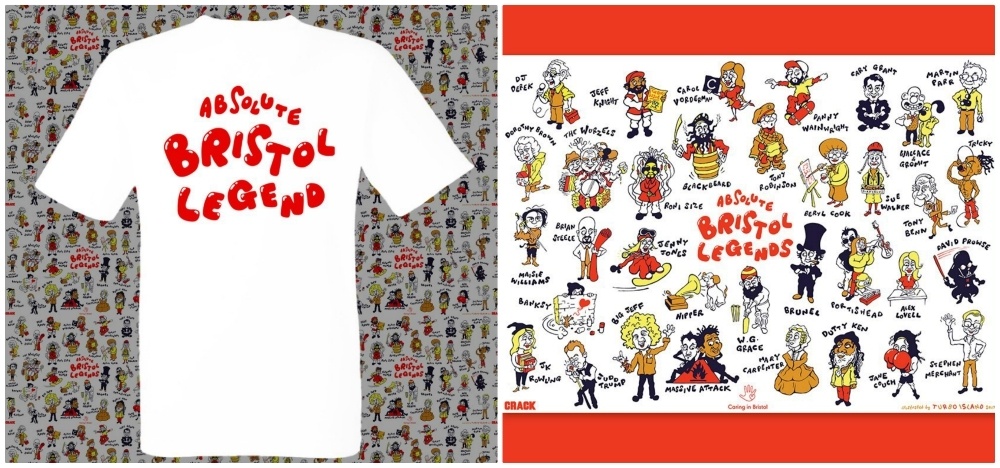 Raise a smile and support Caring in Bristol with a gift of their Absolute Legends Tea Towel or T-shirt featuring some of the legendary Bristol folk that you may or may not know. The t-towel features historic Bristol legends; W.G.Grace, Blackbeard and Brunel and contemporary Bristol treasures; Carol Vorderman, Massive Attack and lots more. The money from the tea towel £10 and T-shirt in black or white £20 goes towards supporting the homeless of Bristol at Christmas and is a collaboration with Crack magazine and Bristol illustrator Christopher Wright. Buy at stockists around Bristol and online from the Absolute Bristol Legends website.
Feel good in Bristol – £9.99 – 52 tips to feel good – book by Kim Ingleby
Bristol based Mind and Body coach Kim Ingleby has created a book with 52 easy, practical tips to help you overcome your fears and doubts, and create a happy life. The Hound of Happiness – 52 Tips to Feel Good (named after Kim's rescue dog Jake), blends NLP, fitness, nutrition, wellbeing, wealth and life coaching together in a little book which will make a nice gift for someone who is into health and wellbeing. £9.99 Buy Online or in local bookstores – more information on Kim Ingleby website.
Stationery Lovers – £4.95 Personalised notepaper from So-Sublime
Local Bristol business So Sublime make charming personalised notepaper and stationery, which would be a great gift for a friend or family member who loves to write. They make greeting cards, notecards and paper, notebooks and placemats that can all be personalised, with a good range of childrens designs. We like their notepaper sets £4.95 which come in lots of colourful designs, with matching stickers – ideal for all those thankyou letters after Christmas. More info on the So-Sublime Etsy shop.
Bristol Gifts Under £20
Photography Lovers – £15 Stokes Croft and Montpelier by Colin Moody
No place sums up the Bristol attitude of artistic creation and rebellion as Stokes Croft and Montpelier. Colin Moody's street photography and quirky captions take you under the skin of the people, cultures, and place in this unique area of the city, where lives intersect and a new world is being created every day. Price £15 – available online and local book sellers in Bristol.
Outdoor lovers – £15 Beyond Bristol: 24 Country Walks by Robin Tetlow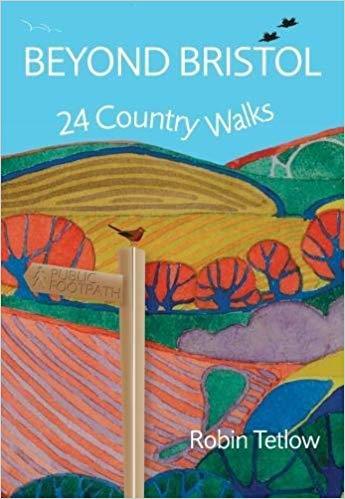 The book offers 24 easy-to-follow walks that take you out into the countryside that's on Bristol's doorstep. These circular walks range from 6-11 miles and include maps, route descriptions and pub stops, from the Mendip Hills to the Severn Estuary. Great for those weekend excursions when you need to escape the city for a few hours. Price £15 – available online and from local book sellers in Bristol
Cider lovers – £12 – Thatchers Cider Tour in Somerset
Price: £12 per person – book on the Thatchers website (gift vouchers available)
Cider lovers and foodies will enjoy the Thatchers Cider guided tour at Myrtle Farm in Sandford, Somerset just a 30 minute drive from Bristol. You'll learn how Thatchers have been crafting cider at Myrtle Farm for four generations, visit the orchards, see the giant oak casks and try a few ciders too!
This tour is for those aged 18 and over and takes place on Wednesday, Thursday, Friday and Saturday at 11am, lasting around 2 hours. Gift Vouchers are available that you can give as a gift and book for a tour at a later date. Finish your tour with lunch at the Railway Inn, a traditional Somerset pub with oak beams and excellent food, then pop into the Thatchers Cider shop to stock up on a choice of cider from the full Thatchers range as well as cider mugs and gifts. Thatchers Cider Farm and Shop is at Myrtle Farm, Sandford, Somerset, BS25 5RA
Bristol art lovers from £12.50 – Alice Rolfe Homeware
Price £12.50 – Bone china mugs from Alice Rolfe
Alice Rolfe is another Bristol artist creating fresh and modern illustrations of Bristol from her workshop in Easton. The environment is important to Alice – the t-shirts are printed with non-toxic, organic inks, cards are FSC certified and the prints are made from recycled card. The full range includes prints, cards, bone china mugs, coasters, placemats and t-shirts. Most items are under £15 – check out the bone china mugs £12.50, place mats £12, prints £15, greeting cards £2.50. All items available on Alice Rolfe Illustrations website or from Bristol stockists
Bristol art lovers £11.50 – a Bristol colouring book by Jenny Urquhart
Price £11.50 – available via Jenny Urquhart website here
Jenny Urquhart is a Bristol artist known for her vibrant contemporary paintings of favourite Bristol scenes, including the harbour, balloons and coloured houses. The Bristol scenes are available as prints and cushions, but I love Jenny's Bristol colouring book which would make a great gift for kids of all ages. The Jenny Urquhart colouring book is A4 size and includes 23 full colour pictures with blank templates to colour, available from local stockists and online priced £11.50. More information on Jenny's website
Outdoor lovers – from £18 Bike tours of Bristol by Cycle the city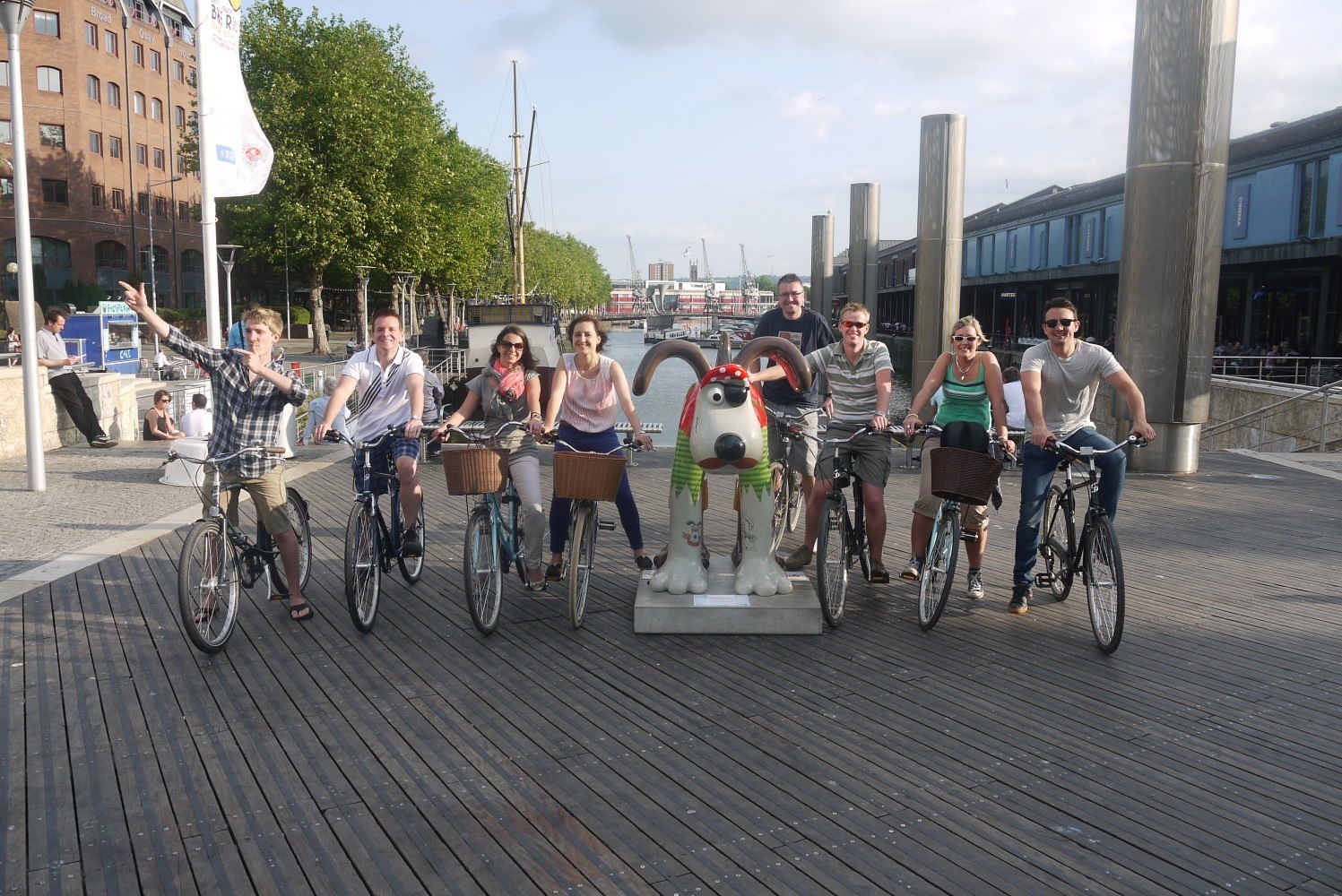 Cycle The City offer bike tours of Bristol using the network of safe cycle paths that will take you along beautiful landscapes, hidden viewpoints and brilliant pubs. You'll be riding one of the fleet of Pashley cycles and can choose from a Sightseeing tour £18, Great Bristol food tour £40 or Wine tasting tour £40. Gift vouchers can be purchased and last for a year. The Great Bristol Food Tour has been created with The Bristol Food Tour and you'll visit venues at the forefront of Bristol's trailblazing food scene. More information at Cycle the City
Food Lovers – £10 – Wriggle Gift card
Wriggle is a food and drink app that started in Bristol (now also covering Brighton and Cardiff) bringing you great food and drink deals tailored to your location. It helps indie food businesses in Bristol get extra customers through the door at slow times or allows them to offer great deals on certain menu items.
Let's say you're strolling through town, feeling a little peckish, you could check the app to find that your favourite cafe has a special deal on one of their lunchtime dishes. You make your purchase of said special deal through the Wriggle app and head to the cafe to redeem the lunch you've just purchased, feeling slightly smug that you bought your lunch at a special price. Wriggle do £10 gift cards that you can gift to that special someone who is always out and about in Bristol so they can treat themselves to some fab food from their favourite cafe. More info on the Wriggle website.
Foodie gifts – From £10 – Food gifts from indie food retailers through GoodSixty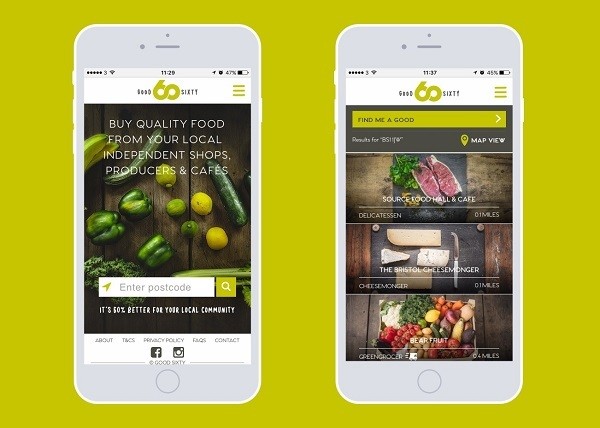 Good Sixty is an online marketplace for high quality independent food retailers and producers in Bristol. You may have your favourite wine merchant, florist or cheesemonger but often it's just not convenient to stop by their store. The Good Sixty store allows you to order online from the best indie food retailers in Bristol and have them to deliver at a convenient time.
Did you know that every pound you spend with a local independent store, café or producer has a 60% greater benefit to your local community, than spending it with a large supermarket? If you want to send a foodie gift to someone in Bristol, why not order something delicious to be delivered to their door through Good Sixty? They also do gift vouchers for £10, £20 or £50. More info on the Good Sixty Website.
Beer Lovers – £12 Beer Gift set from Bristol Beer Factory
Bristol Beer Facory is based in South Bristol on North Street, on the site of the old Ashton Gate brewery. The Bristol Brewery Factory micro brewery opened in 2014 and now stocks bottled, kask and keg beer in their shop and brewery, with plenty of choice in their core ranges and specials throughout the year. Gift ideas include a case of 12 mixed beers £36.50 (can be locally delivered), Gift pack of 3 bottles + glass £12 or a mini keg with 9 pints of your favourite beer £20. Buy a selection for the beer lover in your life from local stores and the tap room shop at 291 North St Southville. Gift vouchers are also available from £10 and they also run regular brewery tours £15. More information on Bristol Beer factory website
Beer Lovers – £16.50 – Brewery tour voucher for Wiper and True.
Another one for Bristol beer lovers is local brewery Wiper and True who are based in St Werburghs. Their beer is widely available in Bristol stockists and pubs and the tap room at the brewery (open Friday and Suturday evening) has beer on tap, bottled beer to buy and serves street-food provided by different chefs each month. Beer lovers will enjoy a brewery tour which runs every Saturday from 1-2pm and costs £16.50 – you can buy a voucher for the brewery tour as a gift. There's also a Friday night guided tasting session for £15. More info on Wiper and True website.
Proper Bristol Lovers – £12.99 – Bristol T-shirts from Beast Clothing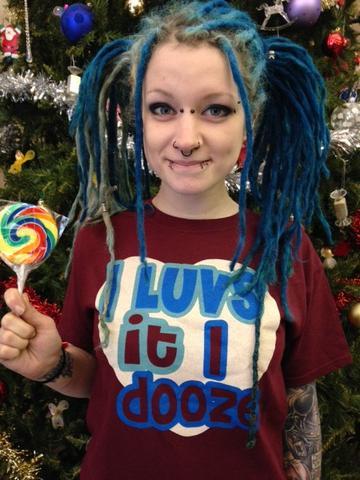 Beast Clothing is the place to get original Bristol clothing with a proper West Country flavour. They are best known for their t-shirts that speak the Bristol lingo – "Gurt Lush", "Where's ee to?", "Job's a good'un!" They have been around for 30 years and all the products are designed and screen printed by the company in Bristol – a great gift for them from Brizzle that Loves it, Wears it, Speaks it. T-shirts with a Bristol accent available in kids or adult size from £12.99 – available from the stand in St Nick's market or online from the Beast Clothing Website.
Street art lovers – £10-£100 – gifts from Bristol Street Artists at Upfest
Europe's largest street art festival happens every summer in Bristol, but in between you can support many of the local urban artists by buying prints and artwork from the Upfest Gallery on North Street in Southville, South Bristol. There are T-shirts £25,  bags £10, mugs £10, stickers £15 and limited edition Giclee prints from £65 available in the gallery and online from the Upfest website
For Creatives and activists – £12 – Stokes Croft China mug from PRSC
The Peoples Republic of Stokes Croft on Jamaica Street supports street art and creativity around Stokes Croft, with an outdoor gallery, practical help for street artists and activism to influence how the area should be used. Their shop on Jamaica Street is a great place to buy Street art prints and china from the Stokes Croft China range, which is also sold in stockists around Bristol. You could go for the pretty floral mug with the distinctive Bristol scroll lettering, or something a little more edgy like the Miss World 1970 protest mugs – "We're not beautiful, we're not ugly, we're angry!". You can also buy vouchers for one of their china decorating workshops £20. Buy at the PRSC shop or online on the PRSC Website
Gin lovers –  £19.50 – Boozy Baubles and Naturally infused spirits from Espensen Spirit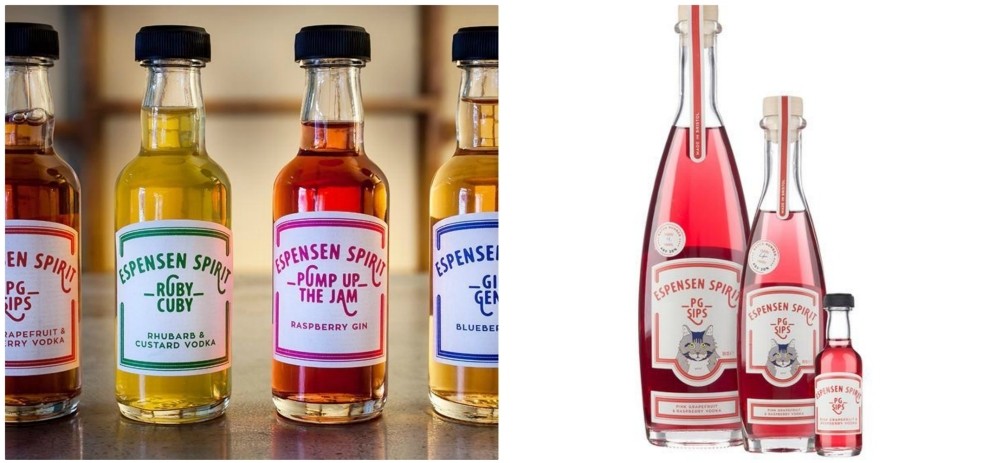 Espensen Spirit make naturally infused spirits which you can try or buy at their Bristol Spirit bar and kitchen in East Bristol. The Boozy Baubles gift set £19.50 includes four colourful gins and vodkas, complete with tree hangers and gift box, which are guaranteed to get you in a festive mood! Or try a bottle of the fruity and fresh PG Sips Pink Grapefruit and Raspberry Vodka (5 cl £5, 20 cl £14.50, 50 cl £26.50 ) which has endless possibilities as a shot or mixed with champagne or soda and would make a great gift for summer parties. Purchase from the Bristol Spirit Bar Kitchen (86 Whitehall Rd BS5) or Espensen spirit website for UK delivery.
For Creatives – £10+ Personalised Stationary from Chroma Stationary
Local Bristol business Chroma Stationary make stylish and colourful stationary in 20 different colours and their diaries are named after Bristol neighbourhoods. Choose your notebook or diary, choose the colour, choose what you'd like to be embossed on it to personalise. Can't decide what to write? They have a few already designed for you. The personalised diaries and notebooks are made in the UK and make the ideal gift for that creative person in your life. Notebooks from £10, Diaries from £14. Buy on the Chroma Stationary website
For the Bristol reader – £6 – £15 Books about Bristol
Weird Bristol £7.99  –  Buy online or from local booksellers. Based on the popular Twitter feed, Weird Bristol is an adventure through the dark, mysterious and secret history of an ancient city, from plagues, wars, ghosts and pirates to inventors, fraudsters, suffragettes and radicals.
Naked Guide to Bristol £12.99 – Buy online or from local booksellers. First published in 2004 and regularly updated this is the insider's guide to Bristol, popular with students, locals and visitors alike. It covers street art, student life and politics as well as the local neighbourhoods and best places to eat and drink.
The Bristol Cook Book £14.95 Buy online or from local booksellers. A one-of-a-kind cook book filled with stunning photos, beautiful recipes and anecdotes from Bristol's finest independent restaurants, cafes, delicatessens, pubs, farm shops and producers.
The A-Z of Curious Bristol £12.99  Buy online or from local booksellers. Bristol's history is packed with peculiar customs and curious characters. This compendium of the weird and wonderful will surprise even those Bristolians who thought they really knew their city.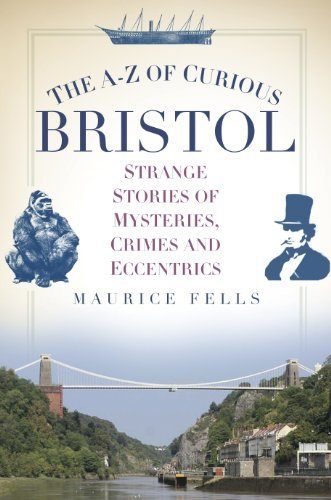 A Dictionary of Bristle £5.95 Buy online or from local booksellers. The authoritative guide to speaking Bristolian, with a humorous look at all the phrases and sayings you'll need to fit in and make yourself understood around these parts.
For Art lovers – £15 -Bristol prints and cards from Bemmie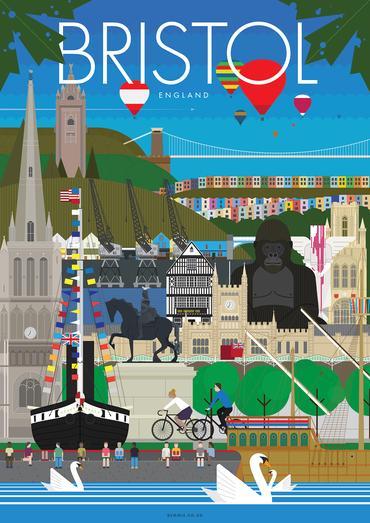 For Bristol art lovers, Bemmie make Bristol themed prints and cards from their studio (dining room table?) in Bedminster, South Bristol hence their name Bemmie. The Bristol Alphabet print would be cue for a kid's bedroom and their colourful prints £15 feature all the Bristol landmarks, with sets of 5 greeting cards for £10. You can find them at local craft fairs and maker's events or buy online from their Bemmie website.
Bristol Gifts £20-50
Cider Lovers – £20 Bristol Cider Shop – Cider Tasting in Bristol
Price: £20 per person – book on the Bristol Cider Shop Website – Gift Vouchers available
Every Friday night, The Bristol Cider Shop offer a cider tasting, where you can learn all about how cider is made and try some favourites from the shelves. Tastings last about an hour and a half and include 10 different ciders plus bread and cheese. They start with a welcome drink and an introduction to cider, and then go on to taste everything from traditional 'scrumpy' to Champagne-style cider and cider brandy. Gift Vouchers are available so that you can choose a tasting date later.
Wine Lovers – From £25 – Wine tasting events at Avery's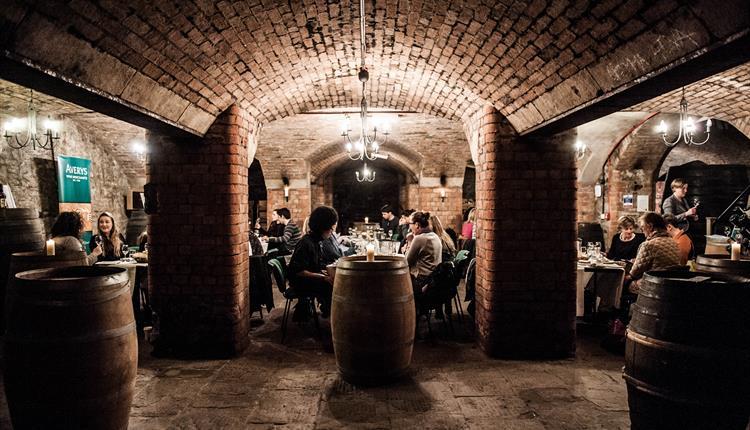 Averys began in 1793 and this fifth generation wine merchant can trace its history back to the days when barrels of wine were rolled up the hill from the merchant ships in Bristol harbour. A visit to the Bristol wine shop with it's atmospheric brick cellars is an experience in itself! If you are looking for a gift for anyone who is passionate about wine, take a look at the wine tasting events from £25, to learn more about fine wines or food and wine pairings, or pop into the shop for lots of advice on what to buy as a special wine gift. More information on  Avery's wine tasting events.
Home lovers – £35 Bristol-in-a-Box Lightboxes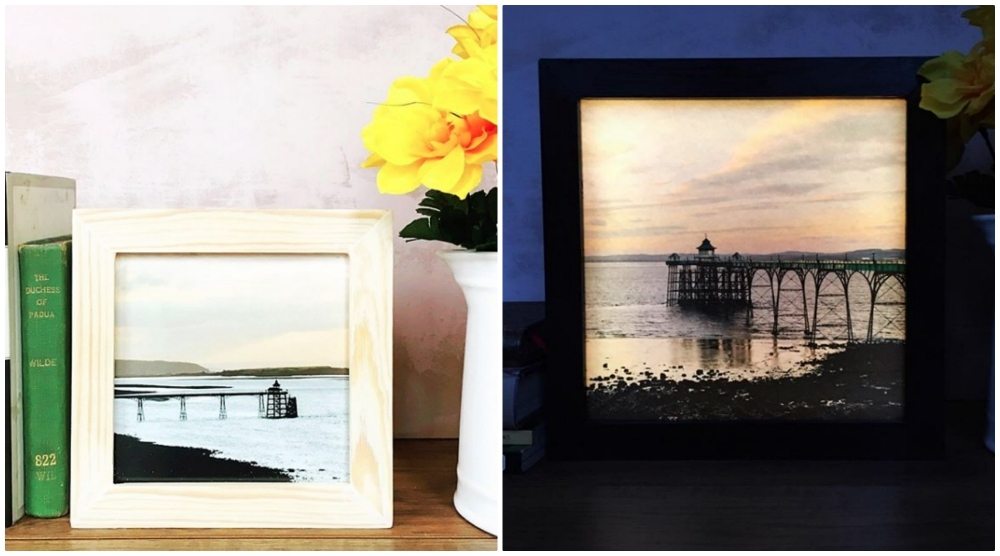 Price £35 – order from Nina on the Bristol in a box Etsy site or check which craft fairs the boxes will be on sale.
These Bristol in a box wooden lightboxes are hand made in Bristol and will add a warm light to any room. They come with a range of cute Bristol images and make the perfect night light to keep monsters away in a childs bedroom or add a dreamy warm light for grown-ups. Choose different Bristol designs from colourful Clifton houses to balloons and bunting.
For Foodies – From £40 A Food Tour of Bristol
There a couple of great food tours in Bristol that would make the perfect present for foodies who enjoy discovering what's new in Bristol's thriving and ever changing food scene.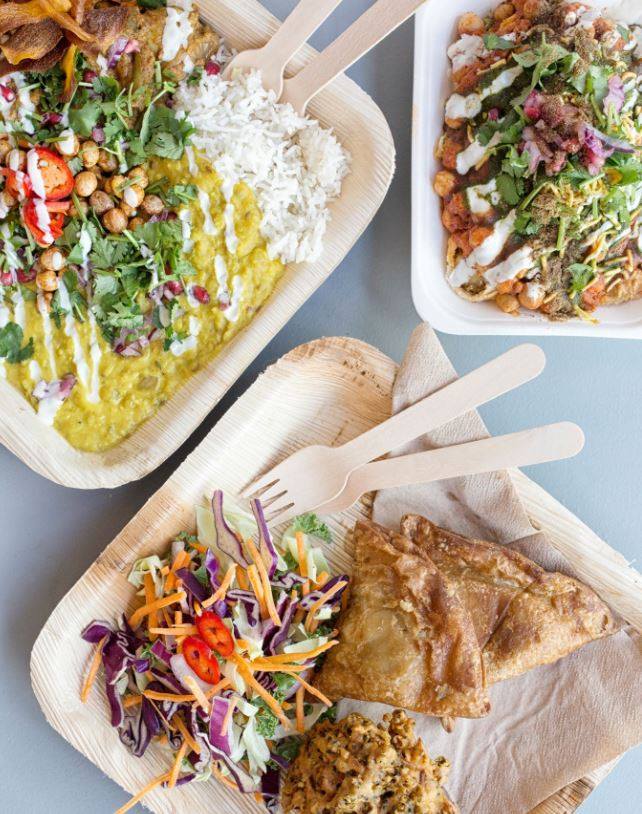 Eat. Walk. Talk Bristol Food Tours – Tours from £40 and include a food lover's tour through  Bristol's Historic Old City, A Just Deserts Food tour featuring cakes, pastries and gelato for the sweet toothed foodie, and the Street Food Markets tour. Brian is as knowledgeable on the history of Bristol as he is on the Bristol food scene and each tour may visit slightly different food vendors. Gift certificates are available for any value that can be sent to you instantly as a gift for the foodie in your life.
The Bristol Food Tour – Tours from £45. The company was founded by Bristol food lovers Alice and Jo who now have a team of local foodies to guide their tours. The original tours started around Stokes Croft but now include a South of the river tour that takes you from Wapping Wharf to Southville, an East to West tour that covers everything from Japanese to Italian and a Cycling food tour. All the tours offer tastings at 8 or more indie food specialists and gift vouchers are available.
Pampering – From £40 Swim and Eat vouchers at The Bristol Lido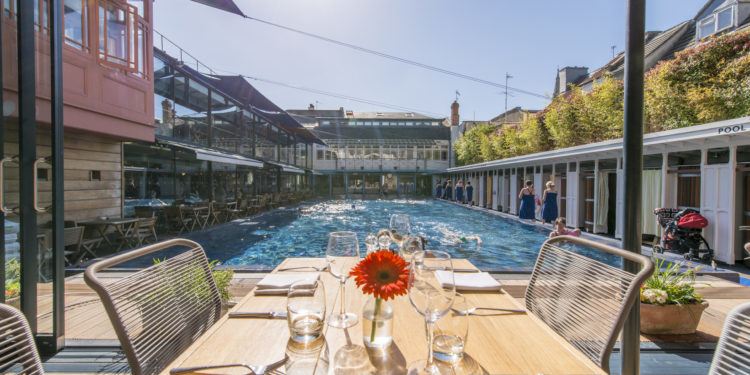 Price From £40 for swim and dine vouchers
Bristol Lido is a restored Victorian swimming pool in Clifton, with a downstairs cafe and upstairs restaurant, both with views over the pool. The swim and dine packages are a popular choice, allowing you to use the heated outdoor pool, sauna, steam room and hot tub before you enjoy a meal in the Lido cafe or restaurant. Different packages are available including swim and breakfast, lunch, dinner, or wine and tapas. There are lots of other vouchers available too that include treatments or a full spa day at the Lido spa. You can find more information on the Lido website and book for all the voucher options here.
For Families – £42.75 Annual Family ticket for SS Great Britain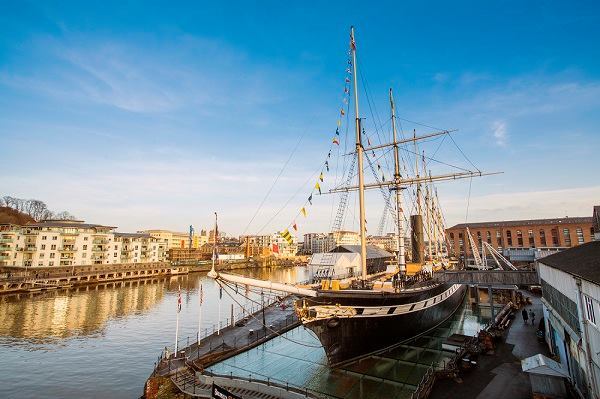 Price £42.75 for an annual family ticket on the SS Great Britain Website
Brunel's SS Great Britain is one of the most important historic ships in the world, built and launched in 1843 from Bristol and restored to create Bristol's leading visitor attraction. You'll see the Dockyard Museum, the cabins inside the ship, go under the ship, meet Mr Brunel and also visit the Being Brunel Museum which was opened in 2018.
There are lots of different special events and activities during school holidays, making SS Great Britain an ideal attraction for families to visit time and again throught the year. Tickets to Brunel's SS Great Britain include free unlimited return visits for one year from the date that the ticket is first used, and a gift certificate can be purchased and downloaded from the website. The annual family ticket will then be collected on the first visit.
Outdoor lovers – From £40 for half day – Tandem Cycle tour of Bristol – with Bristol Tandem Hire
Riding a tandem bike is a different  experience from being on 2 solo bikes and means you can explore the town and countryside together. There are lots of easy and interesting routes around Bristol and you can buy a gift voucher from Bristol Tandem Hire which is valid for a year – Half day rate from £40, Full day hire from £65
Outdoor Lovers – From £25 – a Taster session for stand up paddle boarding with SUP Bristol
You may have seen them paddling around the harbour – so now's your chance to try it out yourself! For the lover of all things outdoor and active, SUP Bristol run regular stand up paddle boarding sessions between March and October – choose from the weekday evening taster sessions £25 or the Harbourside adventure at weekends £37.50. Vouchers available that can be emailed to you at SUP Bristol
Chocoholics – From £21  – Gift box of chocolates from Guilberts Chocolates
Guilberts is a Bristol chocolate insitution, established in Bristol in 1910 and have been making chocolates here for over 100 years. You can find their small chocolate shop just off Corn Street at 16 Small St and their chocolates can also be purchased online. The centenary tins of chocolates with Bristol scenes (£21) or the vintage style book boxes of chocolate (23.50) would make a great gift. Look out for their signature floral cream chocolates with flavours of Rose, Violet, Lavender and Geranium. See the whole range and order on the Guilberts Chocolates website.
Theatre Lovers – £25 – Vouchers for Theatre tickets in Bristol
There's a thriving arts and theatre scene in Bristol, so if you are looking for a gift for a theatre lover look for gift vouchers that can be used for an enjoyable night out in Bristol. Take a look at;
The Hippodrome – Gift vouchers from ATG tickets can be used to book shows in any of their 33 theatres including Bristol Hippodrome £5-100 and valid for 18 months. Coming up: Motown the Musical, Matilda the Musical, Fame the musical.
The Bristol Old Vic – Gift vouchers from £5 available by email and valid for 1 year. Coming up: A Christmas Carol, Wise Children, The singing mermaid.
Tobacco Factory – Gift vouchers for any amount which can be tailored to the show you'd like to gift tickets for. Coming up: A hundred different words for love, Southside stories, No kids.
Music Lovers – £25+ Gift Vouchers for musical venues in Bristol

For those who love music, you can purchase a gift voucher that can be used to book the musical production of your choice.
St George's Bristol – Gift vouchers can be purchased for any amount and use to book any of their classical concerts and amazing international jazz, folk and world music. Vouchers are valid for 1 year.
Colston Hall  – Gift vouchers can be purchased for any amount and used to book any of their performances including major names in rock, pop, jazz, folk, world and classical music, stand up comedy and light entertainment, as well as local choirs, orchestras and schools.
Art lovers – £20+ – Glass baubles and gifts from Bristol Blue glass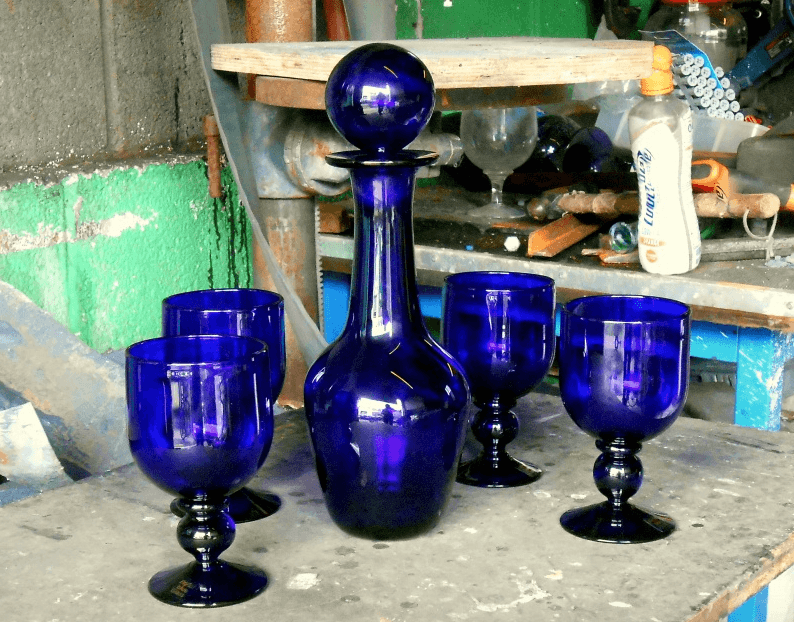 Bristol Blue glass keeps alive the glass-making traditions of the past when blue glass coloured with Cobalt Oxide widely made in Bristol. The glass vases, decanters, bowls and glasses can also be engraved, making them a perfect special occasion gift to mark a retirement, wedding or landmark birthday. If you are looking for a seasonal gift we like the glass baubles for £20-30 that could adorn a Christmas tree, Easter display or be used as a pretty decoration around the house. More on the Bristol Blue Glass website
Pampering – £28.50 Skincare sets from Amphora Aromatics
Bristol based Amphora Aromatics is a brilliant place to shop for small gifts of natural skincare and body and body products based on essential aromatic oils. In the shop on Cotham Hill you can browse the whole range, but everything is also available online. For travellers we love the shampoo bars £5.94 in 7 different fragrances, that are long lasting but avoid having to carry liquid shampoos through airports. There are lots of gift sets too, like the Face the day gift box £19.95 with a selection of the best selling skincare products or the AA Skincare gift sets like the Face Rejuvenating Kit £28.50 with five of the Frankinsence and Rose skincare products to slow down signs of aging.
For foodies – £30 – Supper club from 91 Ways to build a Global City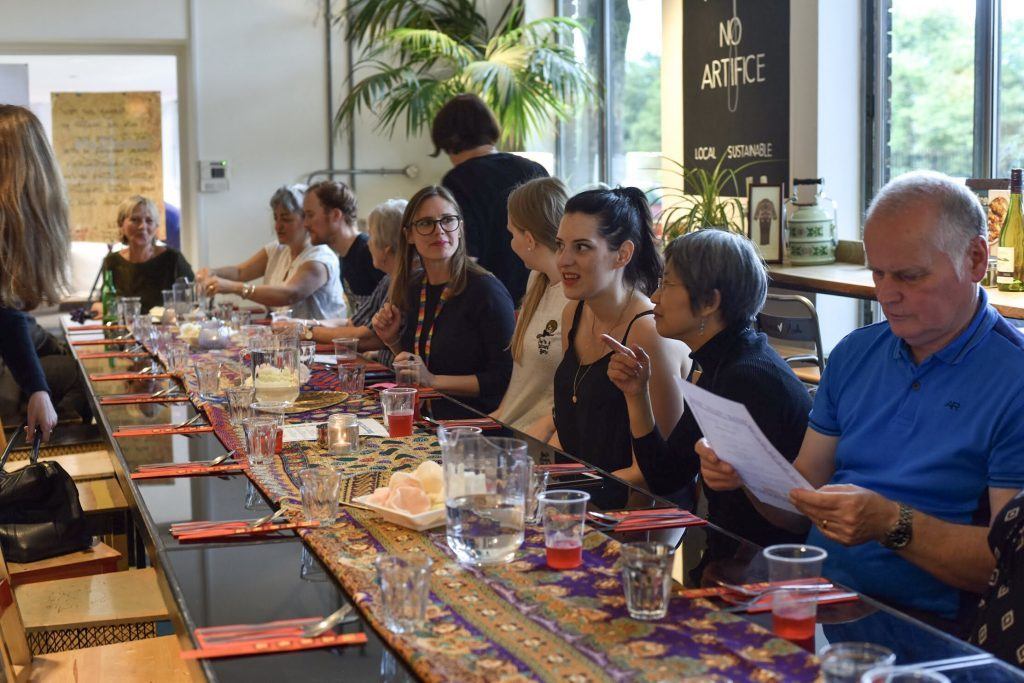 91 Ways to build a global city is a social enterprise named after the 91 languages spoken in Bristol. They collect recipes and food stories from Bristol's different language communities and create events to bring together groups who have never come into contact with one another before. You can support by buying a ticket to their supper clubs at The Station in Bristol £30 per ticket or buy a gift voucher for the event as a gift.
Language learners – £25+ Casa Blanca online Spanish lessons from a Bristol based teacher
If you are planning a holiday to Spain and would love to brush up on your Spanish, Bristol based Spanish teacher Blanca can help with online Spanish lessons. Her one-to-one or small group classes are run online so that you can take them from wherever you live and individual lessons start at £25, with a free trial if you'd like to try it out first. This could be a great gift for someone who is interested in learning or improving their Spanish. More information at CasaBlanca website
Personalised embroidery gift from £20 – Best Friends embroidery from Polly and Paisley
Bristol based embroiderers Polly and Paisley make personalised embroidery hoops from £20 that would make a cute gift for a sister, friend or mum. Send them a photo or description and they can personalise the hair colour and style to suit your besties in the sisterhood. More info on the Polly and Paisley Etsy shop.
Foodie experiences and gift vouchers – from £20 at Hyde & Co
The Hyde & Co group run some of the coolest restaurants and bars in the city, including cocktails bars at The Milk Thistle and Hyde & Co, creative Mediterranean flavours at Bambalan, steaks and charcuterie at The Ox and tapas at Pata Negra. You can buy the foodie in your life a gift voucher from £10 or look at the Hyde experiences such as the pre-dinner cocktails at Hyde & Co £20, burgers and beers at the Ox for two £40 or a Gin tasting cocktail tour for 2 people £50. More information at Hyde & Co
Bristol Gifts – £50-100
Bristol Activists – £50 Westmoreland House Memorial Screen Print – Poster from PRSC
If you live or work around Stokes Croft you'll have become accustomed to the concrete shell of Westmoreland House, with the wall panel that offer an ever changing canvas for street-artists. It became a symbol of the delapidation of Stokes Croft, with the Burning Candy skull  looking down from above and squatters living in the yard behind.
There's been a local campaign led by PRSC to ensure that the building use reflects the creativity of the neighbourhood, but a new development will soon be going up to begin a new era for Westmoreland House. You can buy a Westmoreland House Memorial screen print for £50 from PRSC, with £40 going to a fund for Stokes Croft Land Trust, which aims to safeguard local buildings and land as community assets and stem the tide of gentrification in Stokes Croft. Buy from the PRSC Shop on Jamaica Street or online from their website.
A drop of bubbly – £60 – 6 bottles Thatchers Family Reserve
For those special celebrations or for those who love a drop of bubbly, order some Thatchers Family Reserve, the West Country's answer to Champagne. This dry sparkling apple wine is made from the Katy apple, with light golden hues, gentle effervescence, with a great combination of intensity, delicacy and length. Best served chilled in a flute. Thatchers Cider Shop is at Myrtle Farm, Sandford, Somerset, BS25 5RA. Price £60 + £7.25 delivery – order on the Thatcher's Website for delivery to Mainland UK or buy in local supermarkets and cider stockists.
Cider Lovers – £39.50 Cider Tasting Gift Hamper – Bristol Cider Shop
Price £39.50 + £10 delivery – order on the Bristol Cider Shop Website or purchase from Bristol Cider Shop
This cider tasting gift hamper contains 10 of the best award-winning ciders in the West Country plus a miniature of Somerset Cider Brandy, a Bristol Cider Shop tasting glass and a Cider Tasting Guide with background information about each of the ciders. A perfect introduction to real cider and the ideal gift for the cider lover in your life. Available for delivery in Mainland UK. There are plenty of other cider tasting hampers available, including the 12 Ciders of Christmas £35 and Luxury Cider and Brandy Gift set £59.50. Bristol Cider Shop is at Wapping Wharf, Bristol, BS1 4RN
Pampering – From £65 – Spa Experience at the HarSpa in Harbour Hotel Bristol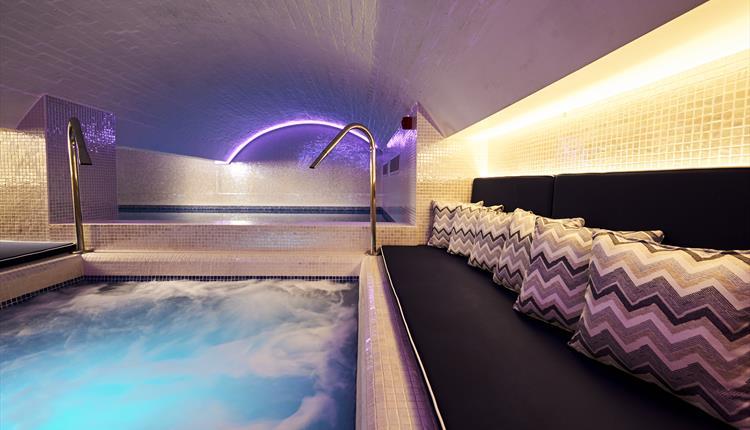 A spa experience at the Har Spa in Harbour Hotel Bristol is a little bit different, since the hotel was created from two historic bank buildings and the spa is in the old bank vaults which still retain the old doors of the safes. For those who need a few hours to relax and be pampered, a spa gift voucher would make the perfect Bristol present. Spa day packages include the Spa morning from £65 which includes use of the spa, a 25 minute treatment and lunch at the Jetty restaurant, or the Spa afternoon from £72.50 which includes use of the spa, a 40 minute treatment and afternoon tea in the Gold Bar. Vouchers available on the Harbour Hotel Bristol website.
For Foodies – Around £50 – Cookery workshop from The Little Kitchen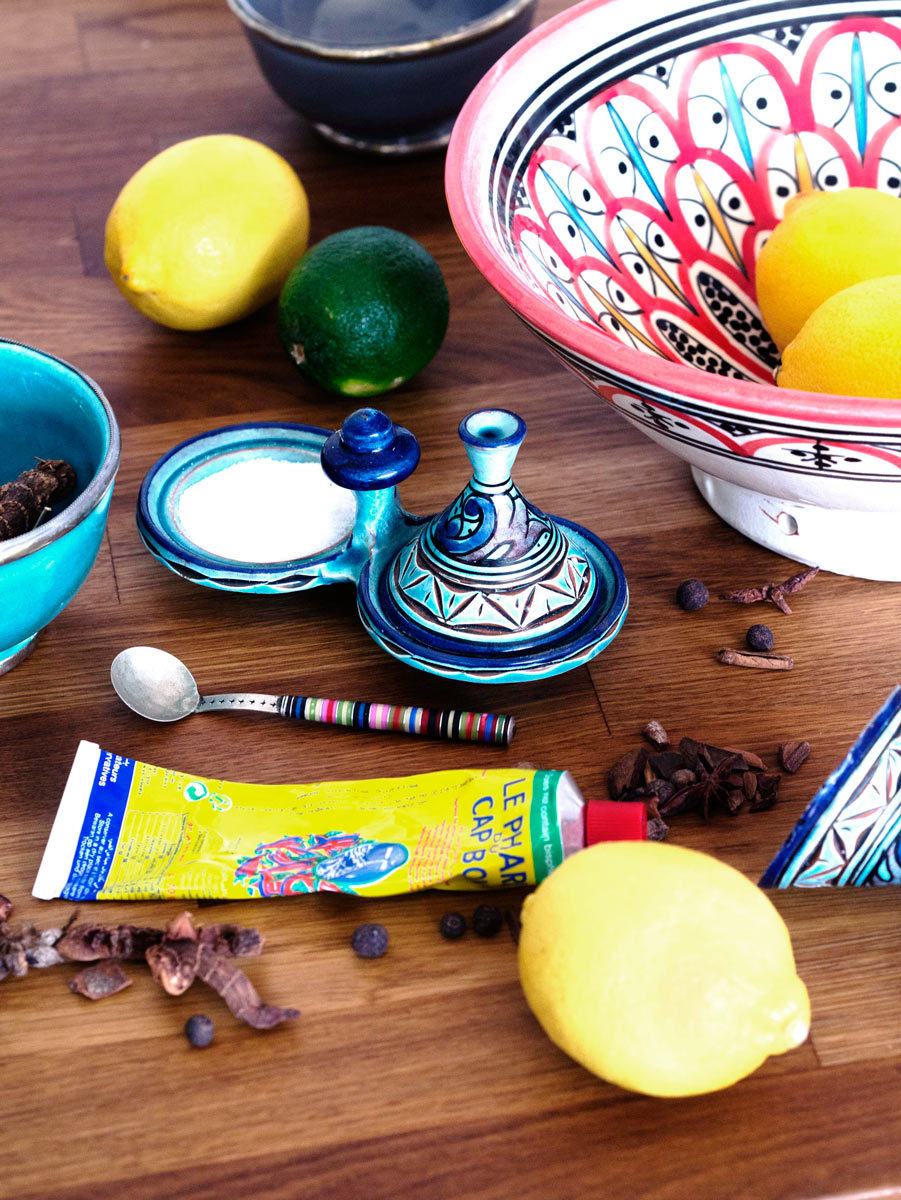 The Little Kitchen is a specialist cookery school based in South Bristol offering affordable workshops and courses for adults and children. Their workshops range from Macaron making and Bread Masterclass, to Meat free menus or Thai street food. Most of the workshops cost around £50 and of course you get to eat or take home the delicious things you've made. Gift vouchers are available, so you can decide which of the almost daily workshops and classes you'd like to try. Find out more on the Little Kitchen website.
For bakers and cake lovers – From £65 The Local Bakehouse cake decorating course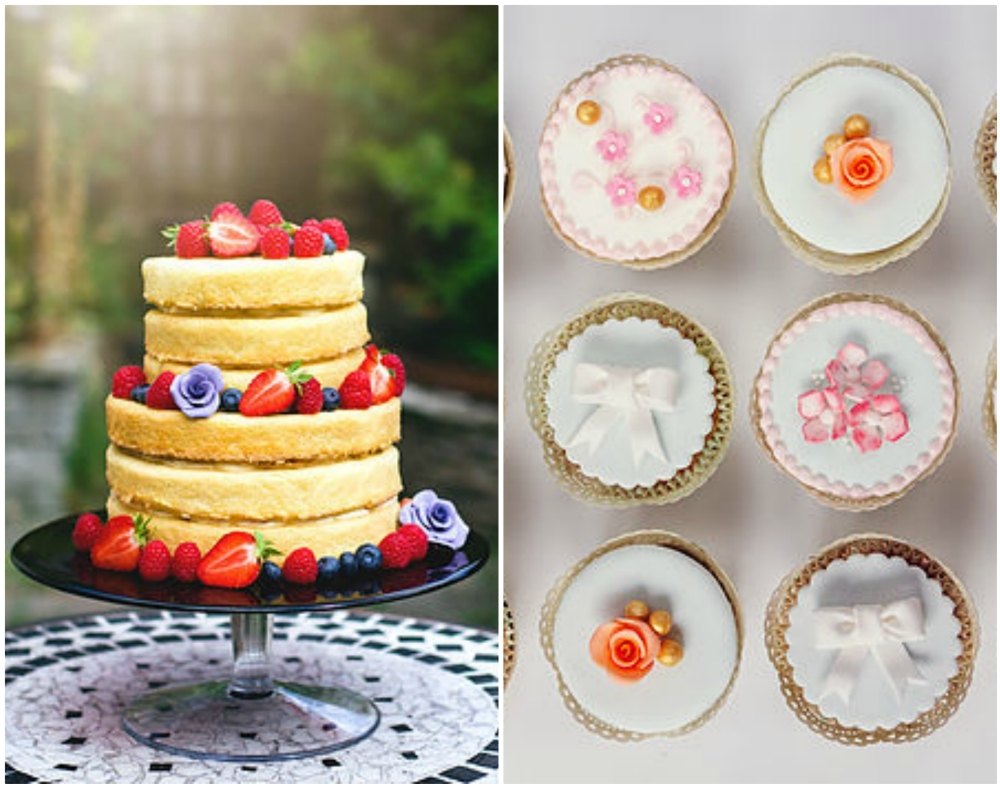 Ali at The Local Bakehouse creates beautiful gluten free cakes and can also cater for other requirements such as dairy free, egg free and vegan. Order your gluten free special occasion cake or try one of the cake decorating courses £65 – 100. The cake decorating courses are fun for groups or as a gift for someone who has a wedding or special occasion coming up. Gift vouchers available from £25. More info on The Local Bakehouse website
Bristol gifts for £100 plus
Experience lovers – From £125 – A Balloon Flight over Bristol
Price from £125 per person – book on the websites of Bristol Balloons and Bailey Balloons
Drifting over the city of Bristol is a uniquely Bristol experience and makes a more unusual gift for those who love to try something new. The balloon flights in Bristol generally take off from Ashton Court Estate during the flying season between March and October in the early morning at 6am or late afternoon when the wind speed is low. Depending on the wind direction, you'll drift over Bristol for around 1 hour to a green space on the edge of the city, where your pilot will find a safe place to land and the recovery vehicles will meet you to return to the takeoff point. Balloon flights in Bristol and Bath are offered by a number of well established companies including Bristol Balloons and Bailey Balloons.
Music Lovers – From £100-130 – Minirig mini portable bluetooth speaker
Stream music from your smartphone with this wireless portable speaker with you can use at home, in the park or out camping with up to 40 hours of battery life. You can connect to 2 devices at the same time for immersive wireless sound and it's intuitive and simple to use with a single button. Minirig is designed by a Bristol based company, starting in the engineering departments of Bristol University and UWE, with products manufactured in the UK. Price £100-130 on Amazon
To help you find the perfect Bristol Gift I've also arranged the items above by interest group
Boozie Bristol Gifts
£9 – Gin and tonic gift set or Coppa glass from 6 O'Clock Gin.
£12 – Thatchers Cider making tour at Thatchers Myrtle Farm
£16.50 – Brewery tour and beer tasting at Wiper and True.
£20 – Cider tasting in Bristol at Bristol Cider Shop
£25+ – Wine tasting events at Avery's
£19.50 Boozy Baubles set of naturally flavoured gin & vodka Espensen spirit website
£39.50 – Cider Tasting Gift Hamper – Bristol Cider Shop
£60 – 6 bottles Thatchers Family Reserve
Foodie Bristol Gifts
£3+ –  gift a coffee or sweet treat via the Huggg mobile app
£3.99 – Coffee bags sample pack from New Kings Coffee
£3-50 Chocolate gifts from Zara's Chocolates
£5+ A jar of Bristol honey from local delis, food shops and markets
£10 –  Wriggle gift card for great last minute deals in Bristol restaurants, bars and cafes.
£10+ Foodie gifts from indie retailers in Bristol via Good Sixty
£21+ – Chocolate gift boxes from Guilberts Chocolates
£20+ – Vouchers and foodie experiences from Hyde & Co Group
£30 – Supper club ticket from 91 Ways to build a global city
£40 – A Food Tour of Bristol from Eat. Walk. Talk Bristol Food Tours and The Bristol Food Tour
£50+ Cookery workshops at Little Kitchen Bristol
£65+ Cake decorating workshops at The Local Bakehouse
Family Bristol Gifts
From £1 – Bristol Pounds to make pocket money purchases around Bristol.
£6.95 – Book – Goram and Ghyston: The Bristol Giants by Oliver Rigby
£7.50 – Black and White baby books from the Little Black and White Book project.
£11.50 – Bristol colouring book by Jenny Urquhart
£42.75 – Annual family ticket for SS Great Britain
Books about Bristol
£7.99 –  Wierd Bristol Book
£12.99 –  Naked Guide to Bristol
£14.95 The Bristol Cookbook
£12.99  The A-Z of Curious Bristol
£5.95 A Dictionary of Bristle
Tours/Experiences Bristol Gifts
£12 – Thatchers Cider making tour at Thatchers Myrtle Farm
From £18 – Bike tours of Bristol by Cycle the city
£25+ – Online Spanish lessons from Bristol based teacher at CasaBlanca
£40 – A Food Tour of Bristol from Eat. Walk. Talk Bristol Food Tours and The Bristol Food Tour
£125 + – A Balloon Flight over Bristol from Bristol Balloons and Bailey Balloons
Outdoor lover Bristol Gifts
£15 – Book: Beyond Bristol – 24 Country walks
From £18 – Sightseeing cycle tour from Cycle the City
From £25 – Stand up paddle boarding voucher at SUP Bristol
£40 – Half day tandem bike hire with Bristol Tandem Hire
Pampering / Wellbeing Bristol Gifts
£9.99 – 52 Tips to Feel Good book
£40+ – Swim and dine vouchers from Bristol Lido
£65+ – Spa experience voucher at Bristol Harbour Hotel.
£28.50 – Natural skincare gift sets from Amphora Aromatics
Musical Bristol Gifts
£5+ St George's Bristol Gift vouchers
£5+ Colston Hall Gift vouchers
£100-130 – Minirig mini portable bluetooth speaker
Theatre Bristol Gifts
£5+ – Hippodrome gift vouchers
£5+ – Old Vic Gift Vouchers
£5+ – Tobacco Factory Gift Vouchers
Art/ Design / Home – Bristol Gifts
£4.95 Personalised notecards from So Sublime.
£8 – Images of Bristol notecards – Emmeline Simpson Homewares
£20+ personalised embroidery hoop from Polly and Paisley.
£10-£20 – Absolute Bristol Legends tea towel or t-shirt.
£10 – Bristol teatowels by Susan Taylor
£12.50 – Bristol scenes mugs – Alice Rolfe Homewares
£12.99 – Proper Bristol T-shirts from the Beast Clothing
£10+ – Personalised notebooks and diaries – Chroma Stationary
£10-15 – Bristol prints and greeting cards from Bemmie.
£15 – Photography Book – Stokes Croft and Montpelier by Colin Moody
£20+ – Glass baubles from Bristol Blue Glass
£35 – Bristol lightboxes from Bristol in a box
£10-100 Gifts from Bristol street artists from Upfest
£50 – Westmoreland House Memorial print from PRSC
Places to buy Bristol Gifts
Seasonal Places to buy Bristol Gifts
Pop up Etsy shop in The Galleries Bristol 16 Nov – 23 Dec 2018
Bristol Bazaar pop up shop at The Island, Old Bridewell Police Station, Broadmead, Bristol BS1 2LE 1-24 Dec 2018
Pin It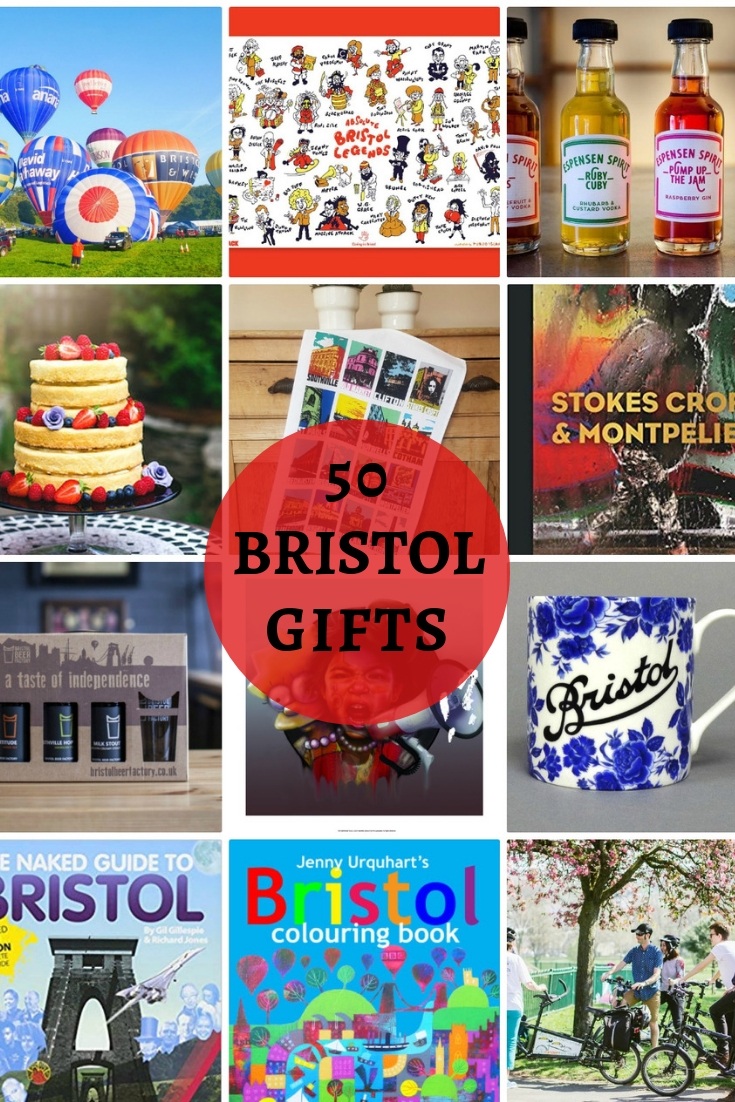 Some of the links in this article are affiliate links which earn me a small commission at no extra cost to you.
This article is originally published at Heatheronhertravels.com – Read the original article here