I've always fancied having a house in the country, a place to spend the weekend relaxing, with brisk fresh-air walks across the fields, coming home to a real log fire. A cosy hideaway when the wind's whistling in the chimney where we can stock up on eggs and bacon from the farm down the road for a huge fry up in the morning, before heading down to the pub for lunch. I found my Cotswold dream when I stayed in the luxury Cotswold cottages at Bruern. It may not be my own country house but I can certainly play at being Lady of the Manor!
Luxury Cotswolds Cottages at Bruern
Bruern Cottages certainly had the Wow! factor as we drove through the stone pillared gateway and into the gravel drive to unload outside our cottage. The cottages were originally the stables and workshops of Bruern Abbey, the big house that you can glimpse across the road and are arranged around what was once the stable yard.
At the back the old walled garden has been beautifully landscaped with herbaceous borders and a large grassy area, with each cottage having its own private terrace and garden borders. Parking is tucked away to the side of the cottages so that you can leave your car out of sight once you've unloaded.
You may also enjoy: Things to do in the Cotswolds in winter – our romantic short break
The Bruern estate was bought in the 1940s by Michael Astor and his wife Nancy Astor, who was the first woman in England to become a member of parliament. The Astor family continue to own the cottages and it was Judy Astor, who twenty years ago transformed the stables, carriage house and haylofts into luxurious country house holiday retreats.
Using top end fabrics and furnishings like Nina Campbell, Osborne and Little and Colefax and Fowler she created the cosy yet elegant style, with antiques, ornaments and books that give the feeling of a luxurious home-from-home. While the rich and colourful country house style is a big feature of Bruern Cottages, the accommodation is constantly being refreshed and updated, with new kitchens and bathrooms being the latest project this year.
You may also enjoy: 15 things to do in Stroud, in the Cotswolds
There are twelve cottages and we stayed in Sandown and Aintree, which were next door to each other. Since all the cottages are set around the courtyard, Bruern is ideal for groups of friends or families who all want to enjoy time together but still have their own space.
It's especially popular with young families, groups of friends and multi-generational family groups. All the cottages have names that are a reminder of the horses and racing heritage; Epsom, Goodwood, Cheltenham are also the names of race courses, Aintree cottage was once a stable with high ceilings while Sandown is in the centre of the courtyard and was the carriage house.
Aintree at Bruern Cottages in the Cotswolds
Our three bedroom country house was decorated in shades of soft green and terracotta, with rich colours, Persian rug and kilim covered central stool. The drawing room walls were stencilled with a fern pattern by Jocasta Innes who was the sister of Judy Astor and was well known for her decorative ragging and stencilling effects, publishing books like Paint Magic in the 1980's. Everything at Bruern is designed for comfort as well as style, with squashy sofas and down filled cushions, as well as the sea grass flooring that's a practical alternative to carpet in the country.
We were thrilled to find a selection of local goodies in the welcome pack awaiting us, with creamy yellow Holmleigh butter, local cheese, eggs and bacon, a homemade lemon drizzle cake, Benson's cloudy apple juice as well a most welcome bottle of champagne.
The kitchen was not only extremely well equipped, but there were all those small items that are appreciated when you've just arrived; a Nespresso machine, tea bags, fresh milk in the fridge, salt, pepper and local rapeseed oil for salad dressing.
It all takes the stress out of arriving after dark, so you won't go hungry even if you haven't had time to shop. Our drawing room was definitely the place to sip tea from a bone china cup, confident you won't find Ikea stamped on the bottom.
You may also enjoy: A weekend in Oxford, our 48 hour itinerary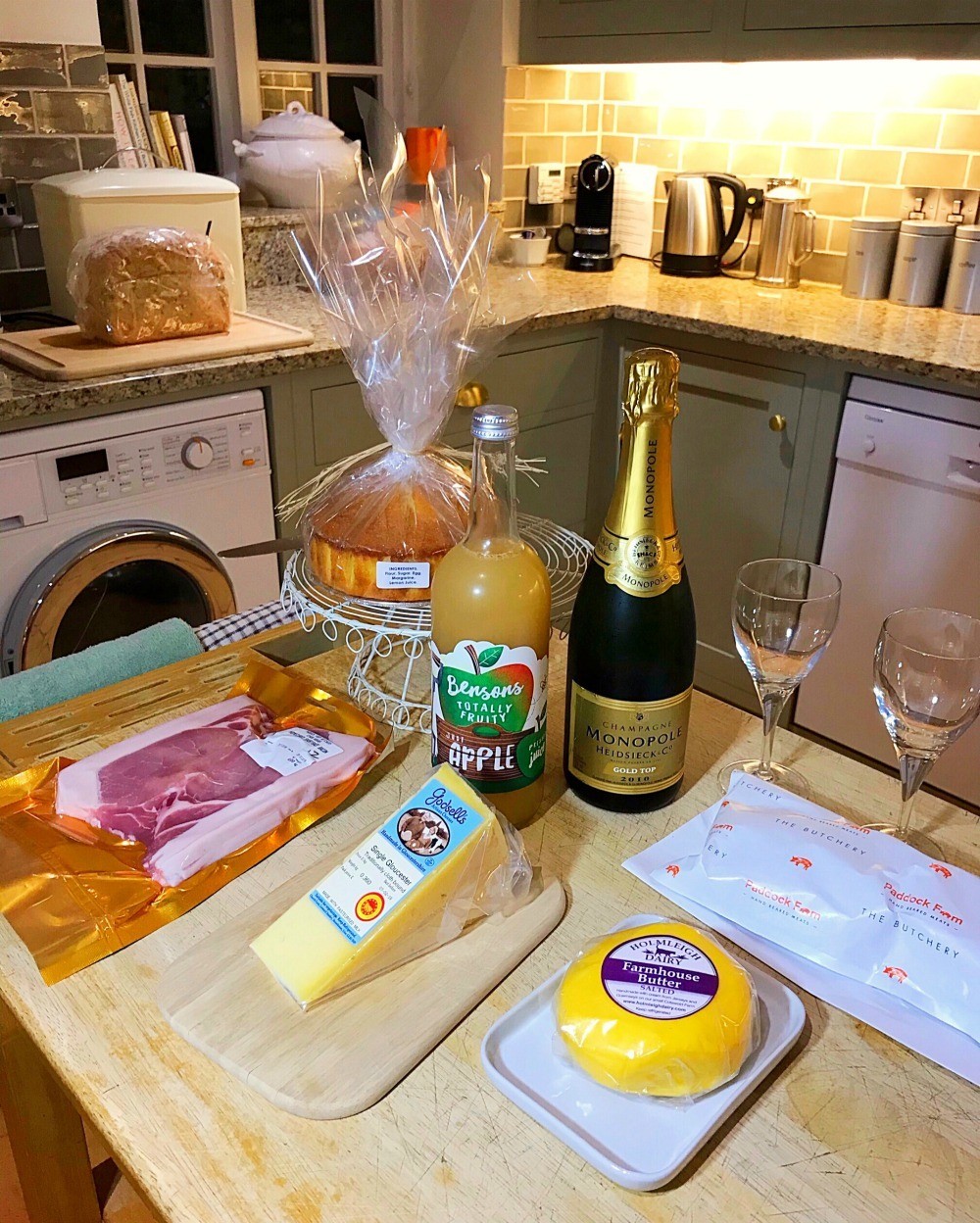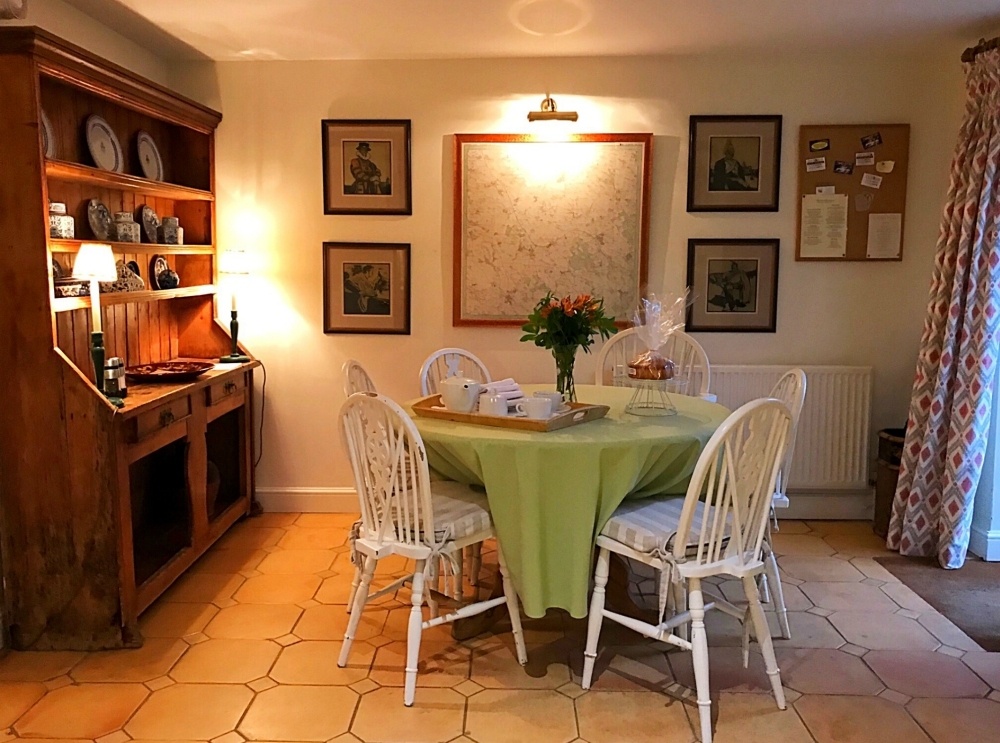 The bedrooms and bathrooms at Aintree
The master bedroom in Aintree cottage was the stuff of fairy tales, with a mahogany four-poster bed, draped in blue and white Ralph Lauren hangings and velvet easy chairs. The en-suite bathroom was equally stylish with marble topped washstand for the sink and plenty of delicious Elemis toiletries.
You may also enjoy: 10 things to do in Cheltenham in just one day
This cottage is ideal for a family, since the other two bedrooms were smaller with twin beds and charming decoration. I especially liked the chinoiserie theme in one with black painted bedsteads, Chinese style lacquer furniture and elegant black and gold pineapple lamps. The second family bathroom, used the same pale green toile-de-jouy wallpaper as the adjoining bedroom with marble tiles and washstand.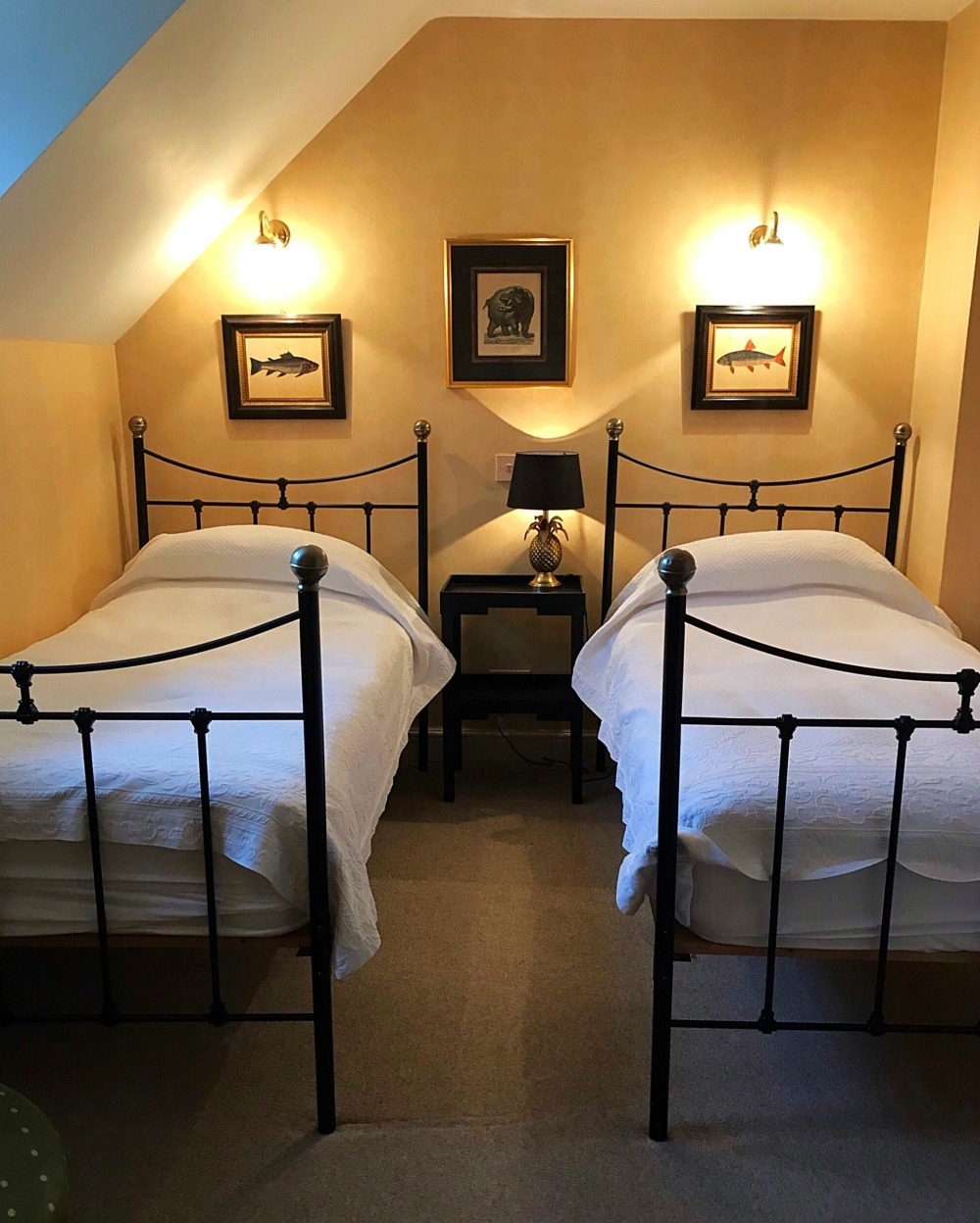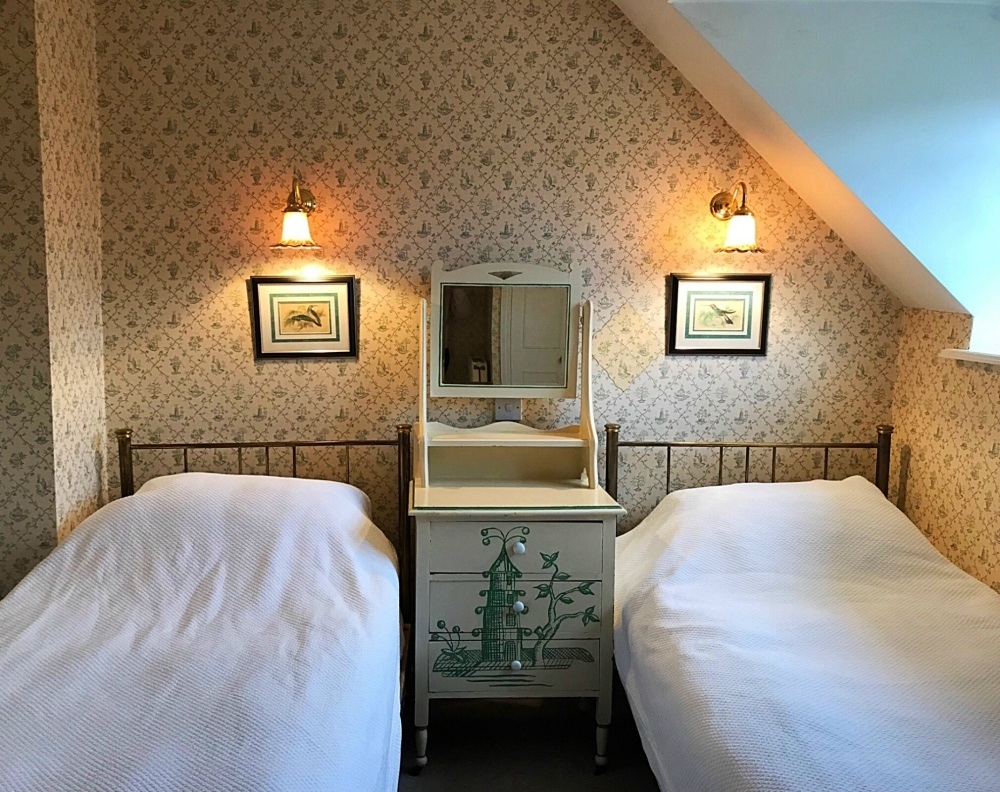 As in the drawing room, we found that comfort was not just a case of appearance, but in all the little details, such as heated towel rails, power shower, non-slip mats and comfortable mattresses combining to make this a truly 5 star experience.
While the cottages feel quite grown up, they also manage to be extremely family friendly. Our under-stairs cupboard opened to reveal a miniature playroom with dressing up clothes, chalkboard and toy box, that would keep little ones happy for hours.
Sandown Cottage at Bruern Cottages in the Cotswolds
I also had a chance to look around Sandown cottage which was the former carriage house with high ceilings and airy spaces. The style and colour scheme was similar to Aintree, although here the drawing room area flowed through to the kitchen with painted cabinets and marble work surfaces.
The collection of lamps, ornaments and pictures made the house feel much more like a home than a holiday cottage. We instantly comfortable and at ease, as if we'd stepped into our own country house with antiques and memories built up over generations.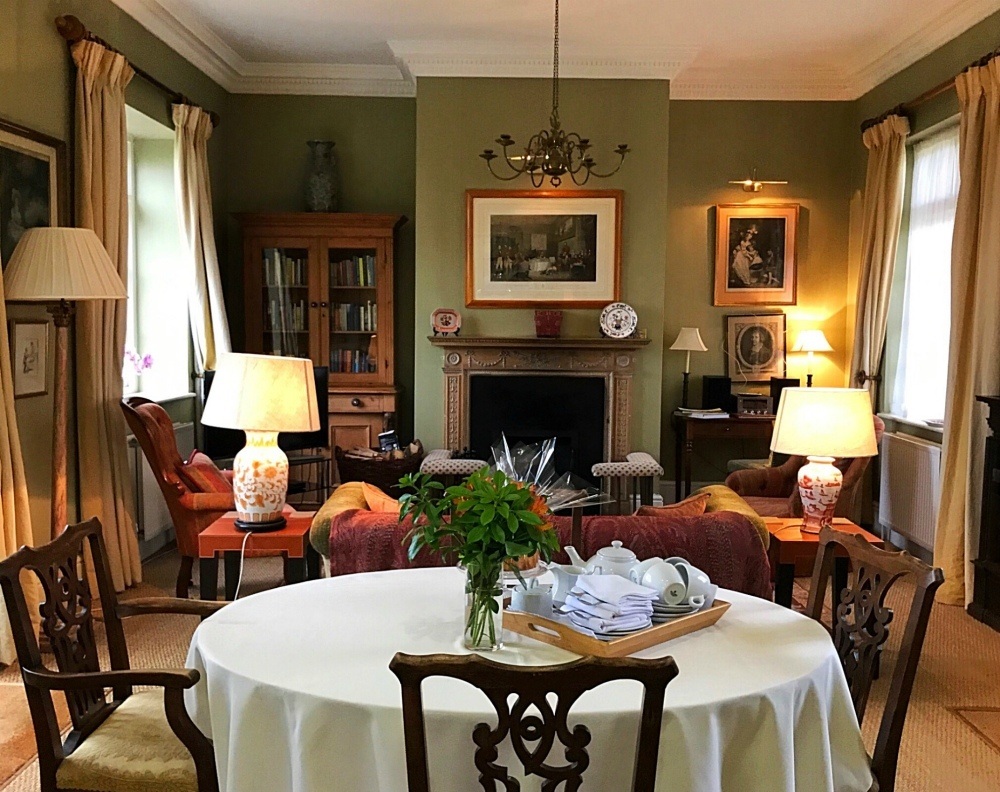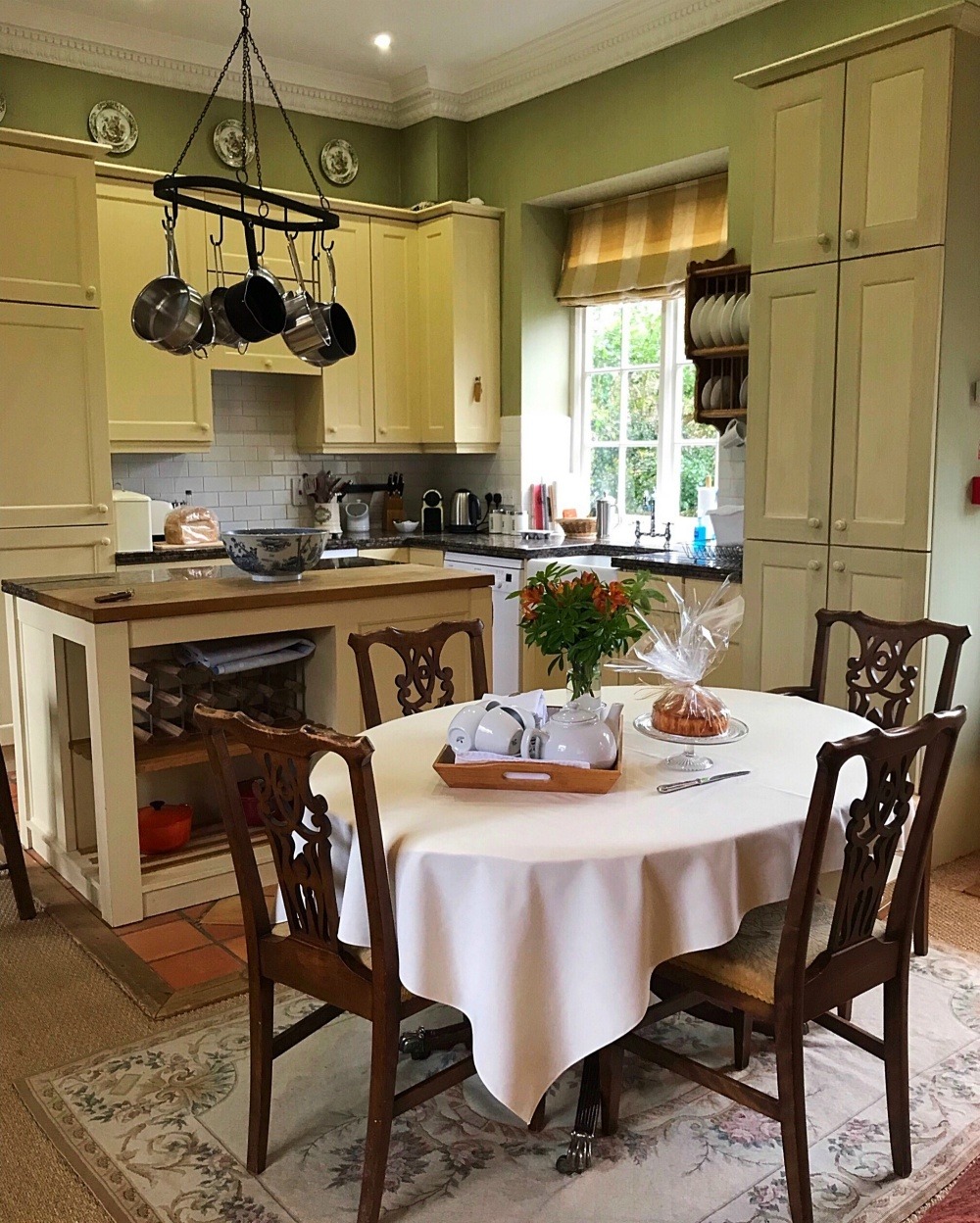 The ground floor bedroom was ideal for guests who don't want to have to manage stairs, with a four poster bed draped in ochre striped fabric and adjoining en-suite bathroom with marble tiles taking up the same colour scheme. Upstairs the pretty twin four poster beds were draped in fresh blue and white Provencal prints with an adjoining shower room.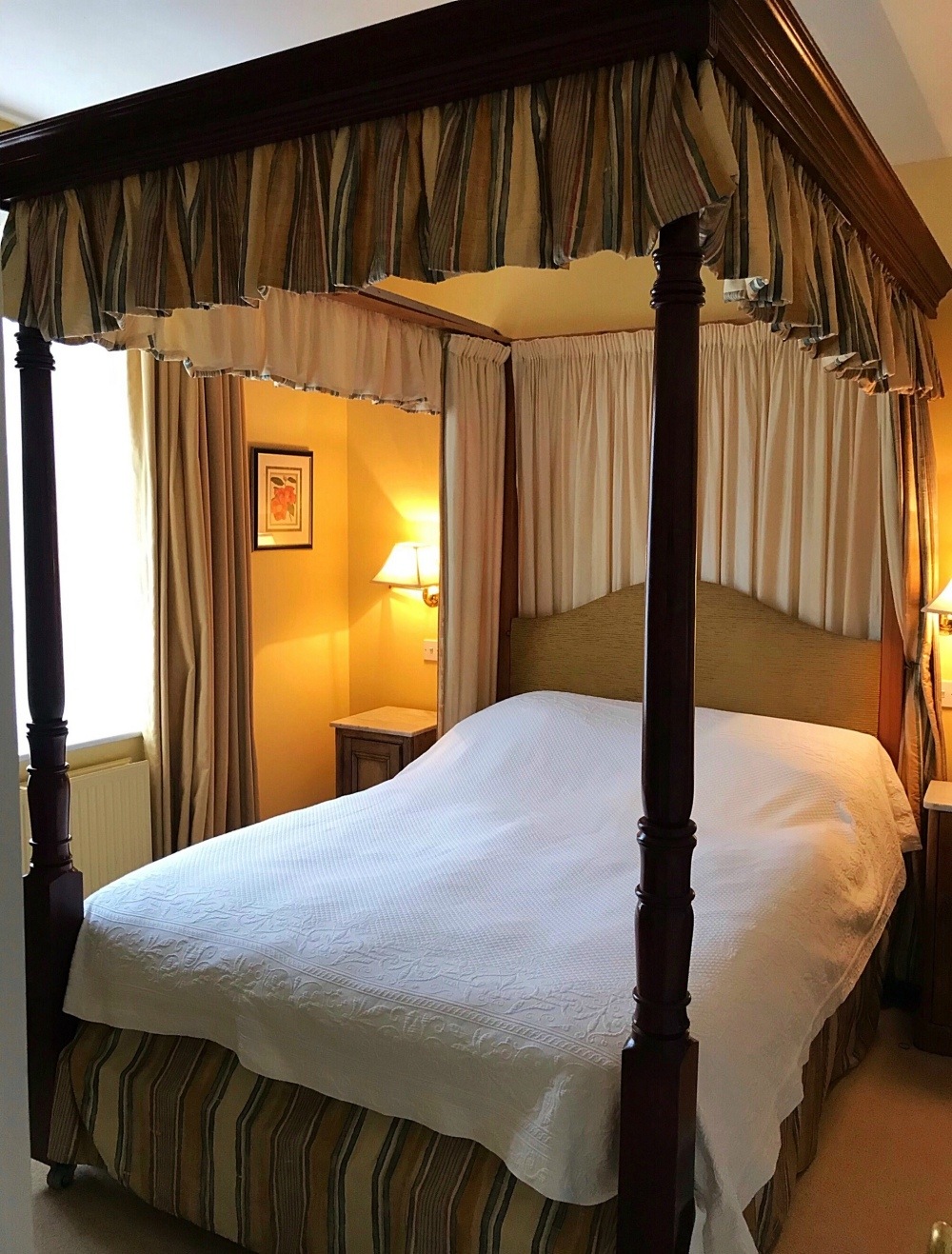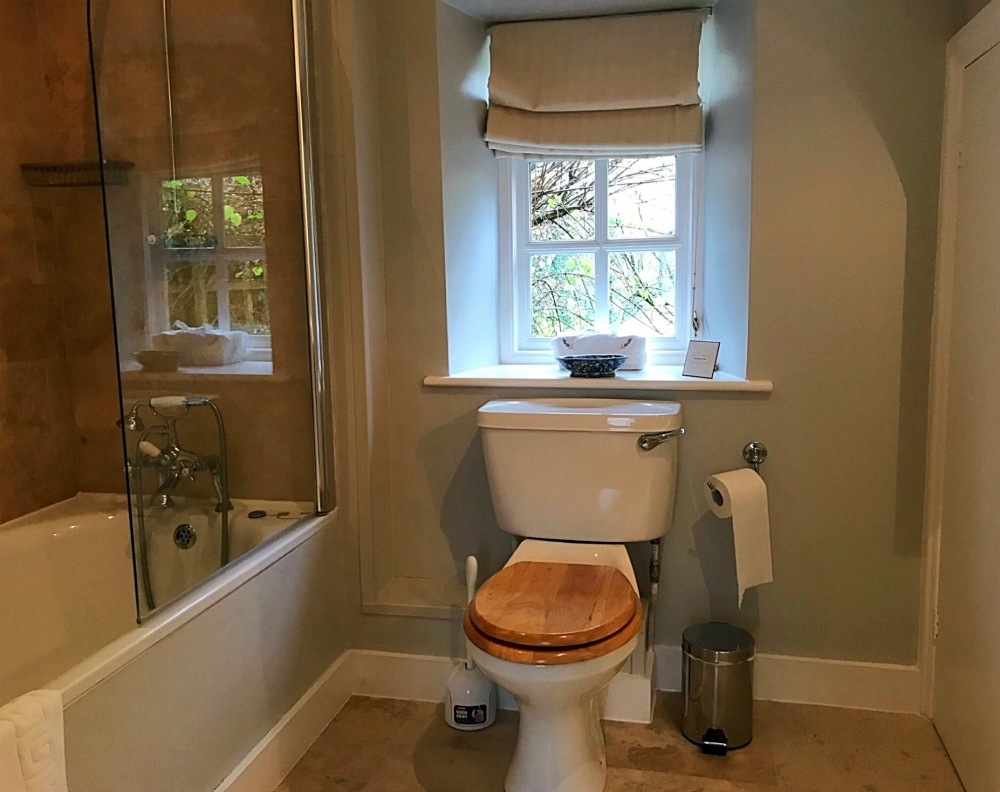 When you have bedrooms as lovely as these, it's tempting to stay in bed, ring for the butler and ask for breakfast to be sent up. But since the Country Manor service doesn't go quite that far, we organised our own cooked breakfast with the locally produced eggs, bacon and sausages that came in our welcome hamper.
Then it was time for a stroll in the beautifully kept gardens, which have a full time gardener keeping everything in trim. With trees and shrubs bare in winter, we had to imagine the roses in full bloom around the door and the wisteria walk dripping with purple buds or the thousands of daffodils that bloom in spring. Even so, we could play a game of hide and seek around the arches of the yew hedge framing the view of the cottages and imagine making a wreath with the holly and the ivy.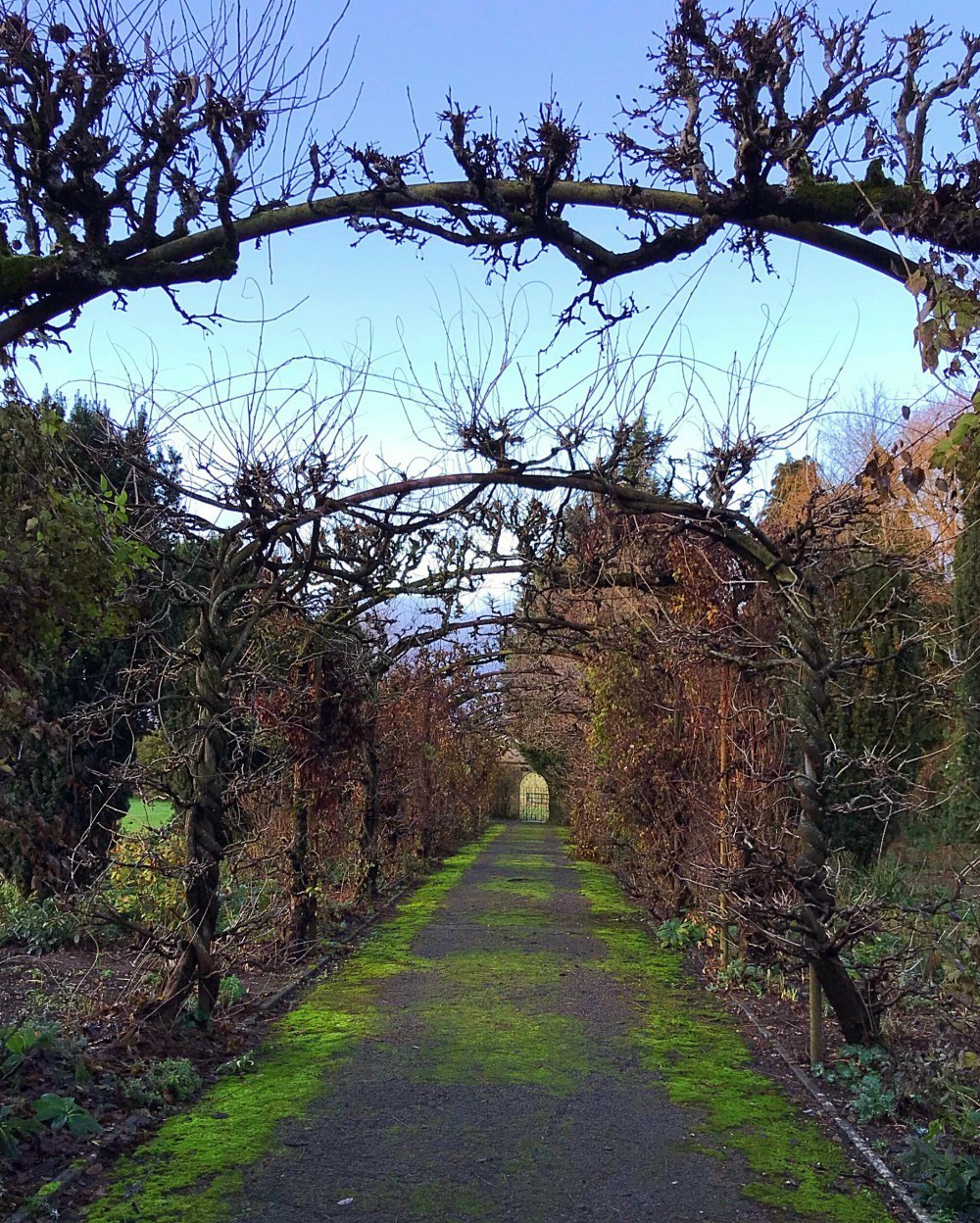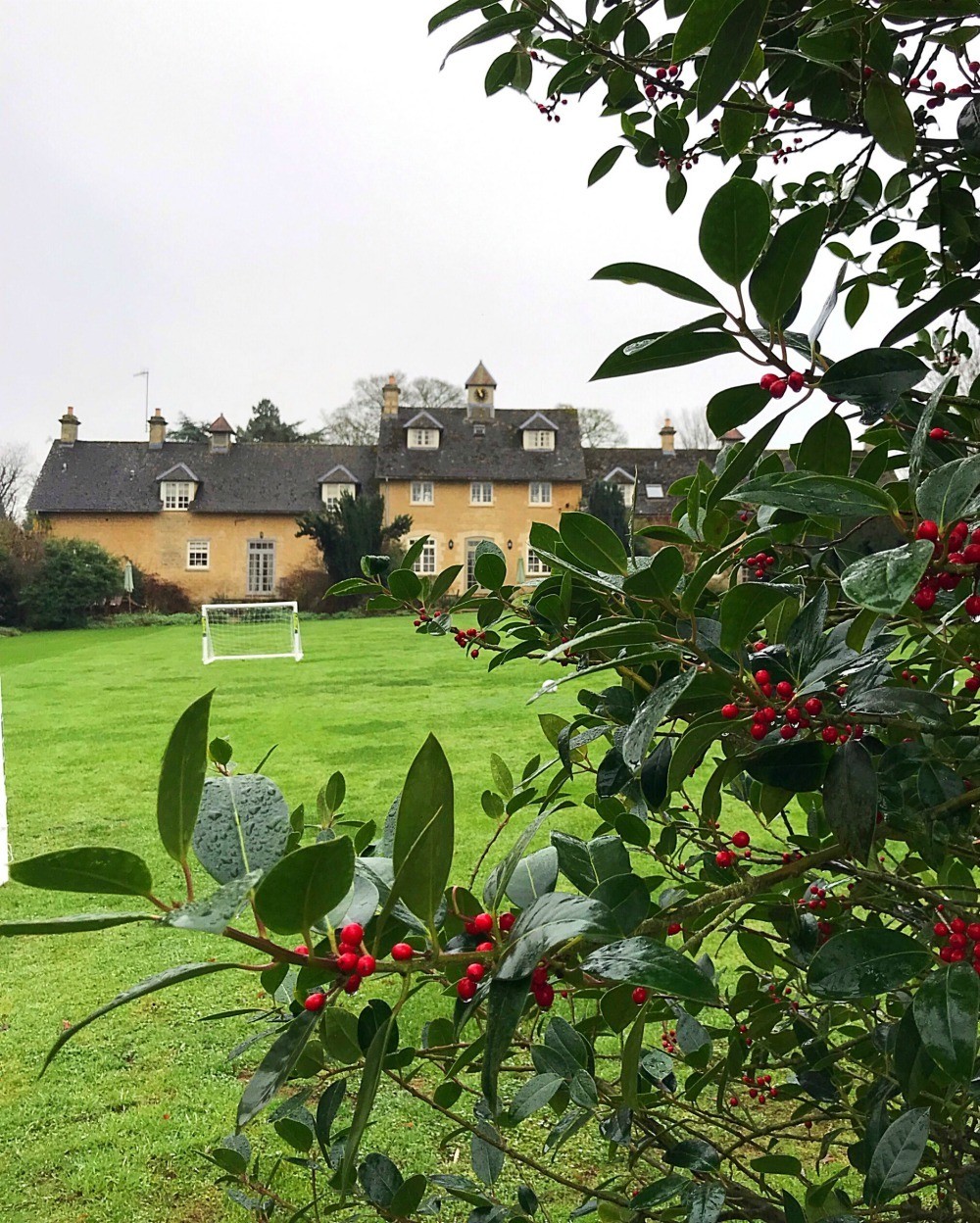 At the bottom of the walled garden is the indoor heated swimming pool, with a glass roof and doors that open in summer to a terrace. There's a gym too and lots of fun things to do for younger children in the play area, with a Wendy house and miniature vintage cars to take for a spin on the lawn. For older kids there's a games room with a pool table and table tennis as well as mini goal nets on the grass for a game of footer.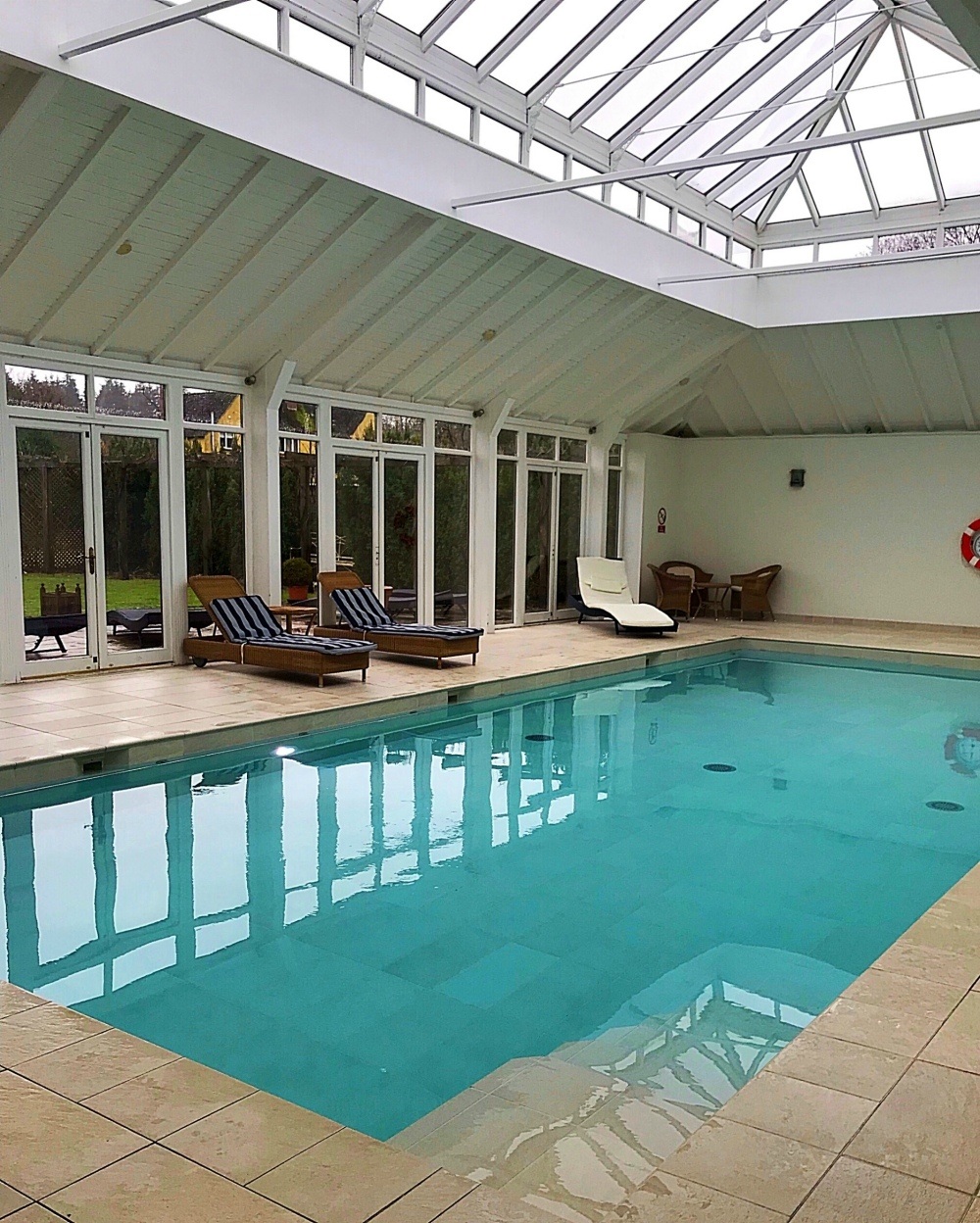 About Michael Paul Holidays
Our host for the weekend was Michael Paul Holidays who specialise in quality cottages, lodges and cabins, that have been personally hand picked by company founder Michael Paul. All of the accommodation is bookable through Michael Paul Holidays at the same price as the property's own website and because the booking system is always up to date with latest availability, you can make a booking with confidence and then look forward to the holiday. The Cotswolds cottages at Bruern are only some of the 1000+ holiday properties that are offered through Michael Paul Holidays, with new options being added all the time.
Things to do in the Cotswolds near Bruern Cottages
After our late breakfast we headed off to explore something of the Cotswolds, which is full of honey stone villages like Stow-on-the-Wold, which is just a 15 minute drive from the cottages. It's a picturesque village that grew fat in medieval times on the wool trade and now offers plenty of retail therapy, should you be looking for antiques and pretty things to decorate your home or yourself.
The pubs tend to be the sort that don't blink if you arrive in muddy wellies, while keeping up with the latest gastro-pub trends. If you just want a quick bite then look for a cute tea shop, like the Cotswold Garden Tearooms where we had sandwich and soup while admiring the huge inglenook fireplace.
Also well worth a visit is Daylesford Organics, a farm shop that has grown into a fashionable foodie emporium, a sort of "Fortnum and Mason comes to the Cotswolds'. I was astonished to arrive down a country road seemingly in the middle of nowhere and find a car park as chocca as Waitrose on the Saturday before Christmas.
The Daylesford estate has been farming organically for 35 years, expanded by Lady Carole Bamford into a business empire that encompasses a farm shop, restaurant, cookery school, natural beauty line, spa and cottages. Everything, from the leeks to the chutney to the homeware, is impeccably tasteful, beautifully presented and reassuringly expensive.
All of this might give you a flavour of some things to do in the Cotswolds, but of course there's much more, from historic homes and gardens to country walks and good local pubs. Families will find lots to keep them happy at the cottages as well as further afield at the Cotswold Wildlife Park and Gardens and the model village at Bourton-on-the-water. Our visit was all too short, but there's lots to keep you busy in the Cotswolds from a long weekend up to a week or more.
Who will enjoy Bruern Cottages with Michael Paul Holidays?
We loved our stay at Bruern and think the luxurious Cotswold cottages are ideal for;
Families with young children who want a relaxing countryside break that also gives parents a luxurious treat.
Groups of friends who want to gather and socialise with all the comforts of home, while having their own space and privacy.
Multi-generational groups or extended families where everyone can enjoy quality time together in beautiful surroundings, while having their own space.
There are also a couple of one bedroom cottages that are ideal for couples looking for a luxurious and romantic Cotswold getaway.
Good to know
There is a station around 10 minutes drive away at Kingham which is on the train line to London, Paddington. However you ideally need a car to get the most from your stay in the Cotswolds at Bruern, since there is no village shop on the doorstep and you need to drive to get to the other villages, towns and attractions.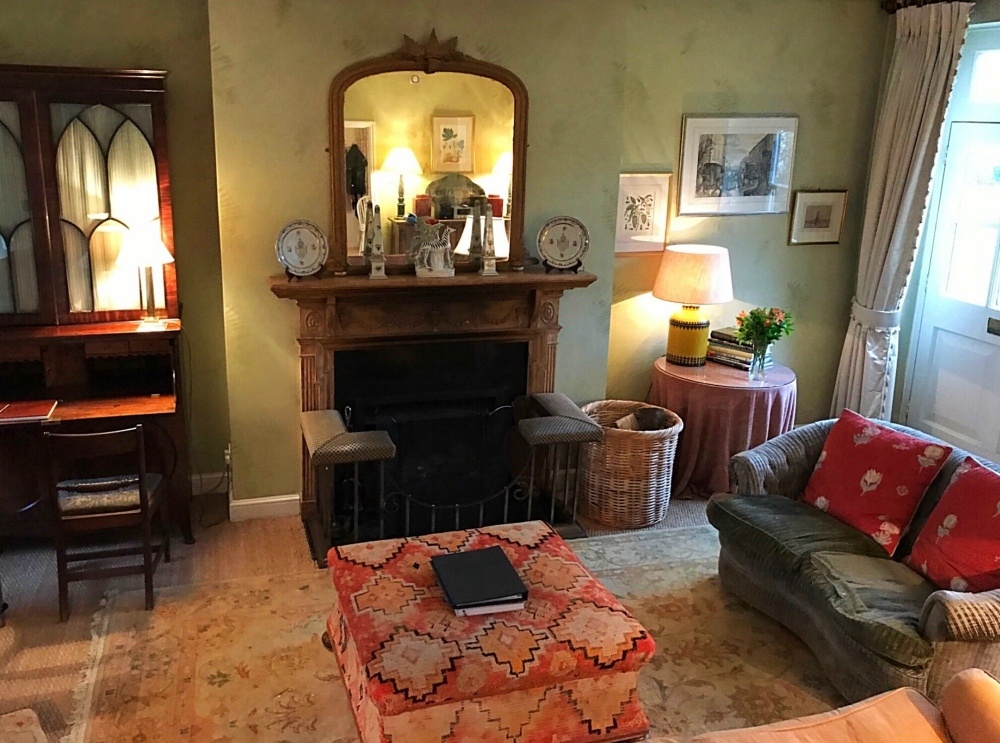 Planning your visit to the Cotswolds
Bruern Cottages near Chipping Norton, offer twelve luxury cottages in the heart of the Cotswolds. Although the cottages are self catering, you'll find the same high standards and attention to detail that you might expect in a 5 star hotel.
These Cotswold cottages are available to book through Michael Paul Holidays who offer high quality self-catering accommodation in the UK, with all their properties being vetted for service and quality. Prices vary depending on the cottage, season and time of week but as an example a low season holiday booked through Michael Paul Holidays starts from £1465 for a 1 week in Aintree sleeping 6 people and from £1300 for a 1 week low season break in Sandown sleeping 4 people.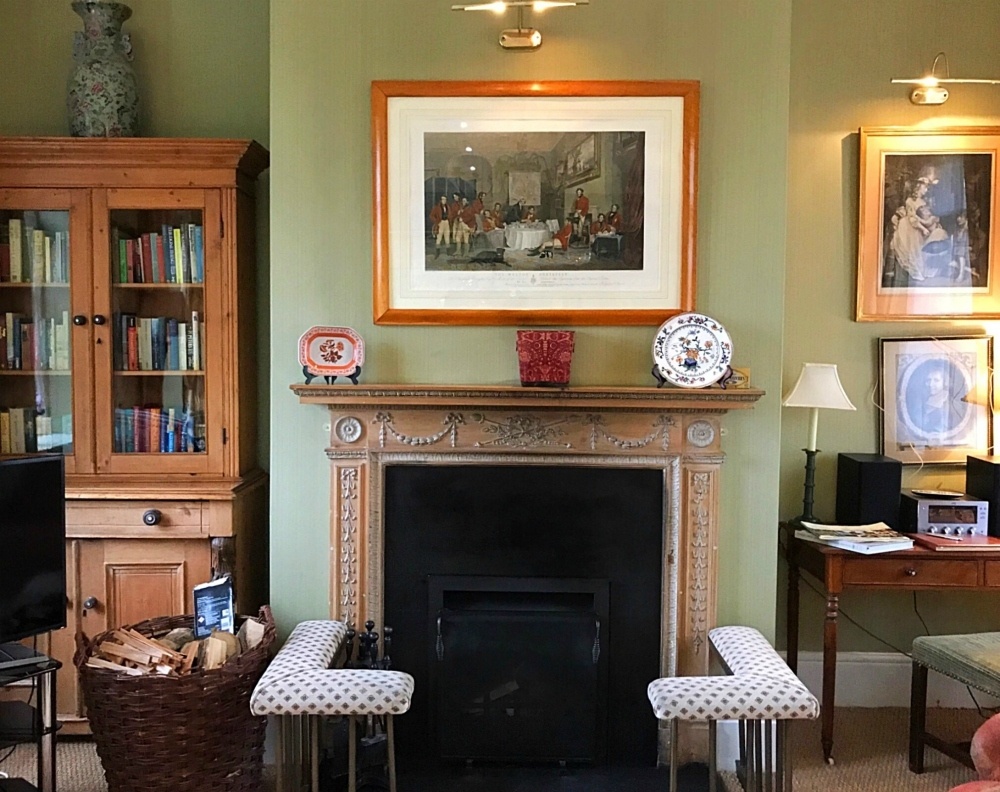 Need a guidebook for the Cotswolds? We recommend the Rough Guide to the Cotswolds, Stratford on Avon and Oxford
Getting to Bruern Cottages – Chipping Norton is most accessible by car although the closest station is 15 minutes drive away at Kingham. It's a 1.5 hour drive from Bristol and 2.5 hour drive from London.
Tours of the Cotswolds – If you don't have time for an overnight stay check out these tours of the Cotswolds
For things to do in the Cotswolds, visit the Cotswolds.com website
Pin it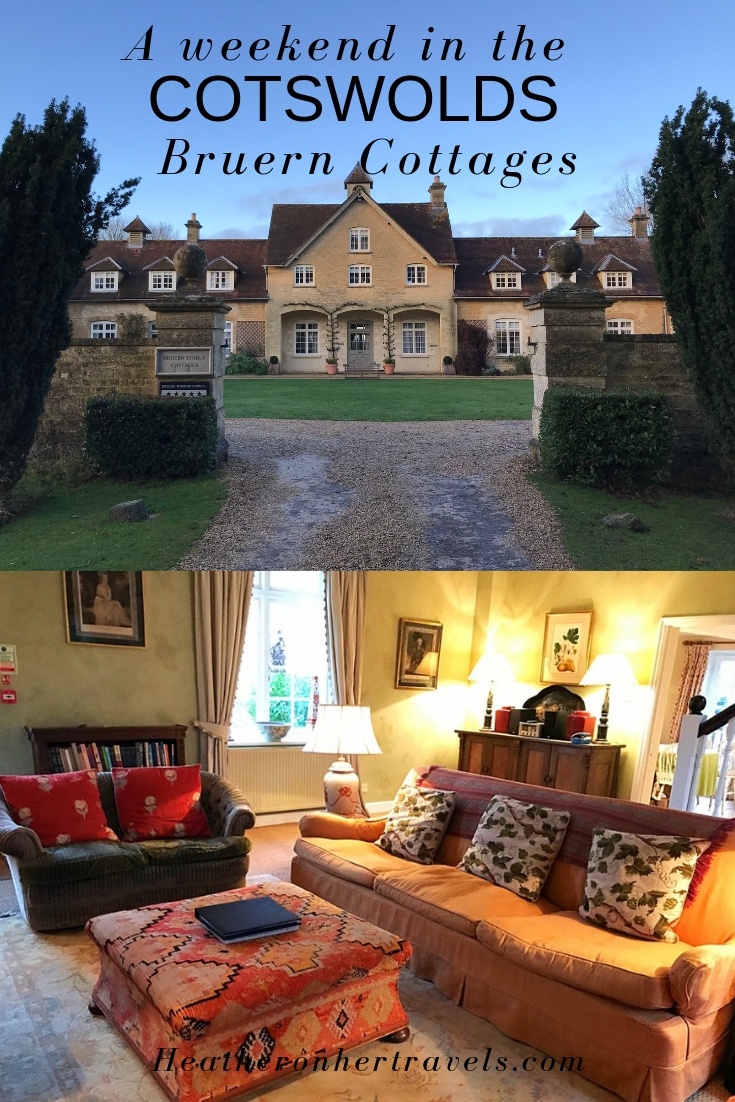 Thanks to Michael Paul Holidays and Bruern Cottages who sponsored my one night stay.
This article is originally published at Heatheronhertravels.com – Read the original article here
This article may contain affiliate links that provide commission on purchases you make at no extra cost to you. As an Amazon Associate I earn from qualifying purchases.