How many times have you spent a day out near home and enjoyed it so much that you wonder, "Why go on holiday, when there's so much to see on my doorstep?" That was my experience as I drove through Somerset, trying out the alternative car hire at Bristol Airport that has been launched by Car and Away. Their service is a version of car sharing, like Airbnb for cars, since you can rent out your car to another traveller while you're on holiday, or rent a car that belongs to someone else at Bristol Airport and Gatwick, where Car and Away are already established.
Thanks to Car and Away, I was able to pick up one of their rental cars from Bristol Airport and drive through the gorgeous rolling countryside of the Mendip Hills, just south of Bristol. My drive took me to the pretty village of Bruton in Somerset, where I met a friend for lunch and enjoyed the Hauser and Wirth art exhibitions and gardens. Of course I didn't get the full experience of hiring a car for a few days, but let's call it a taster of some of the fabulous things to do near Bristol Airport.
Picking up my hire car at Bristol Airport with Car and Away
Picking up my car at Bristol Airport was quick and straightforward. From the arrivals terminal it's a 5 minute walk to the multistory car park where your Car and Away rental car awaits you, close to where you pick up other hire cars. If you are dropping off your car so that Car and Away can rent it while you're away, it's the same process. You drive to the multistory car park and are buzzed in by the team, then leave your car in their ground floor parking area.
Because all the administration had been dealt with online before I arrived, it only took around 10 minutes before I was ready to drive away. I'd already uploaded my driving licence details and so just had to show my actual driving licence. Then I spent 10 minutes with the Car and Away team checking the car to make a note of any scratches and dents. The paperwork with insurance details and contact numbers was already waiting for me in the car, together with sweeties and bottled water – a nice touch!
You may also enjoy: Review: Cadbury House near Bristol – a countryside getaway close to the city
Bruton – a pretty Somerset village with a boho vibe.
I headed south of Bristol airport through the gorgeous rolling countryside of the Mendip Hills, drinking in the views of patchwork fields and woodland. I couldn't believe that such quintessential English countryside was right here on my doorstep and vowed I must get out of Bristol again to explore more of Somerset. Within the hour I was at the pretty village of Bruton, which with the trainline from London and attractive old stone houses has become a bit of a haven for arty types looking for a country lifestyle and an escape from the city.
Even a quick browse in the half timbered shops on the main street told me that Bruton was living the good life, with fashionable boutiques selling vintage clothing and luxurious boho pieces to furnish your country home.
I stuck my nose in the At the Chapel where I've been longing to stop for coffee, having seen so many insta-perfect photos of it, then I explored down some of the lanes that cut through between the houses.
Bruton is definitely the kind of place you could imagine wandering around in a floaty dress, with a wicker basket in hand, browsing for items to furnish your Somerset cottage in a deceptively expensive version of shabby chic.
Hauser and Wirth in Somerset – contemporary art and gardens
As I only had a little while before I was due to meet a friend for lunch, I managed to prise myself away from the boutiques of Bruton without too much damage to my credit card. Just outside the village centre, the old farm buildings of Durslade Farm have been converted into the Hauser and Wirth art centre, with innovative exhibitions of contemporary art set in the gorgeous old barns. (Read the Reviews)
The exhibitions are free to visit (donations appreciated), always thought provoking and great to discuss with friends. We had a good chat over the meaning of the green spiral of giant Bindi circles by Indian inspired artist Bharti Kher (A Wonderful Anarchy) and the black and white abstract markings like Japanese calligraphy of David Smith (Field Work).
You may also enjoy: A guide to Bristol Old City – things to do and places to eat
The gardens at Hauser and Wirth were glowing with autumnal colour and looking gorgeous when we visited. The broad path meanders through a meadow of perennial plantings, past a dark, reflective lily pond and ends at a pavillion shaped like a giant pebble.
The gardens and landscaping around the Hauser and Wirth buildings were created by Piet Oudolf, a renowned landscape designer based in the Netherlands, with soft domes of subtle colours in the flowerheads and grasses.
Lunch at Roth Bar and Grill
Within the same farm complex of Hauser and Wirth is Roth Bar and Grill where I had lunch with a friend. There's a colourful, quirky bar with that's channelling an arty, urban vibe and an open kitchen with salads and cakes on display. We walked through to the dining room in an open beamed barn, the walls covered with artworks, where there's a changing menu of dishes based on seasonal and local produce.
They love to grill over an open fire, with a large outdoor patio and BBQ area, which comes into its own in the summer. From the daily menu, we enjoyed a healthy boost from the fresh pressed juices – mine with the Autumn flavours of apple and blackberry. My sea bass arrived in a butter sauce on a mound of artichokes, scattered with tiny prawns, while my friend enjoyed the meltingly soft spicy Moroccan beef with a flatbread and couscous.
You may also enjoy: 25 fun things to see in Bristol with your friends
It was a fun day out exploring this corner of Somerset, with so much to see and an easy drive from Bristol Airport if you're visiting the West Country on holiday.
How Car Hire at Bristol Airport works with Car and Away
Although I was trying out the Car and Away experience in a slightly different way than a normal customer, it may be useful to run through how the booking process works.
Like any other car hire I put my dates into the website to see what came up and chose a VW Golf that was available. For the purposes of trying out the service I was taking the car out for the day, but normally the minimum is 2 days and you can rent for up to 3 months.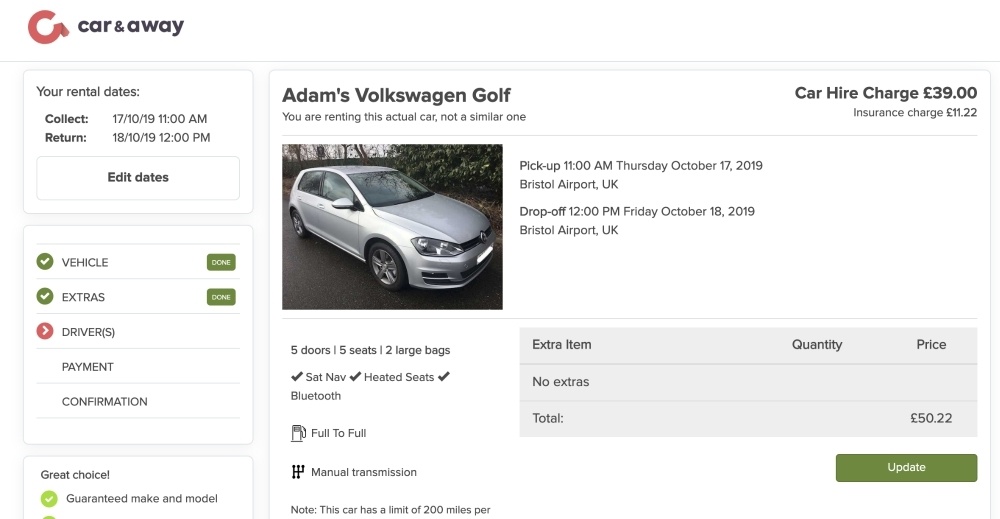 As part of the pre-rental online checks, you can give Car and Away a check code from the DVLA or you can provide your driving licence number, National Insurance number and postcode and Car and Away will do it for you. You'll also need to take a photo of the back and front of your driving licence and upload it. This is a one time activity and then you'll be able to rent other cars in the future from Car and Away without providing your licence details each time. If you prefer, you can leave the check of your driver's licence until you arrive but it makes sense to do it online in advance, as it speeds up the car pick up process.
Having uploaded my licence details, I received a confirmation and then an authorisation almost immediately that my licence checks were complete.
I provided my credit card details in case of any unexpected charges – just as I would normally do for other car rentals.

That's it – the booking was complete! It was all pretty painless and I'd estimate would take you 5-10 mins to complete these steps online as long as you have your licence details to hand.
How does Car and Away compare to other Car Hire pricing?
I did a quick check on a car hire price comparison site to check where Car and Away stood in terms of pricing. The range of prices for a VW Golf was £43-67 – so on this quick check I'd say that Car and Away rental price of around £50 was about the market rate. Car and Away told me that they aim to be a bit below the market base price for similar car hire. The Car and Away overall price could actually turn out a lot lower, once you factor in things like additional drivers, sat nav or childrens' car seats. These items are often "hidden extras" with other rental companies but with Car and Away they are either included (for additional driver) or just a small extra charge that's clear up front.
Other things you might want to know about Car and Away
For more information check out Carandaway.com
Car and Away is already established at Gatwick Airport and has just launched (October 2019) at Bristol Airport.
The concept is that privately owned cars are rented out – so you can leave your car for Car and Away to rent out while you're on holiday, or rent someone else's car through them.
To rent out your car via Car and Away it must be less than 9 years old, have valid MOT and tax and be covered by fully comprehensive insurance.
To rent a car from Car and Away you need to be 25 years old and certain professions are excluded.
Cars are covered with comprehensive insurance via Allianz Insurance and breakdown cover through RAC, so even if there were an accident you wouldn't need to claim on your own insurance.
The cars are fitted with a Telematic device that allows Car and Away to monitor driver behaviour.
The car is cleaned before it's rented out and again before it's returned to the owner.
Need to know for visiting Bristol and Somerset
More information about Bristol Airport, where Car and Away offer their rental service. If you are planning your trip, we recommend Skyscanner to plan flight routes and find the best prices.
More information about visiting Somerset – VisitSomerset.co.uk – official tourist information website
More information about visiting Bristol – VisitBristol.co.uk – official tourist information website
Hotels in Somerset
Although I was only out for the day I love the look of these places to stay close to Bruton.
Cadbury House Hotel near Congresbury (Read my review) – I've stayed in the past at this modern hotel and leisure complex attached to an old country house, just south of Bristol. It's a good choice if you need a place to stay near Bristol Airport and would make a great base if you want to explore Somerset but also be close to Bristol.
At the Chapel – (Read the reviews) There are 8 luxurious, contemporary bedrooms above the restaurant in this converted 18th century chapel. I like the sound of those fresh croissants in the morning!
Durslade Farmhouse – this luxurious 6 bedroom farmhouse is part of the Hauser and Wirth complex and has been renovated with vintage furniture and artworks from the Hauser and Wirth collections
Check out more hotels, guest houses and holiday homes in Bruton to see if there's something to suit you.
Tours – If you're visiting Bath and want to explore a bit more of Somerset, check out this tour of Wells, Cheddar Cheese and Cheddar Gorge which is a day tour from Bath.
Pin it
This article was sponsored* by Car and Away who provided the car hire and experiences mentioned.
* More info on my policies page
This article is originally published at Heatheronhertravels.com – Read the original article here