I love the range of landscapes on the Greek island of Zakynthos, from sandy beaches where the turtles nest, to green olive groves clothing the hillside and rocky cliffs and coves on the western shore. Also known as Zante, this popular holiday island in the Ionian chain has something for everyone, from swimming spots and waterparks, to the historic squares, shady cafes and shopping in Zante town.
If you are travelling as a family or just want a bit more space and independence, you can find plenty of delightful villas in Zakynthos, that make a great base to relax or explore. I've been visiting Zakynthos for years, since my sister lives there and in this article I've partnered with villa company Clickstay who offer over 75,000 villas, apartments and holiday rentals around the world, to bring you some of my favourite things to do in Zante.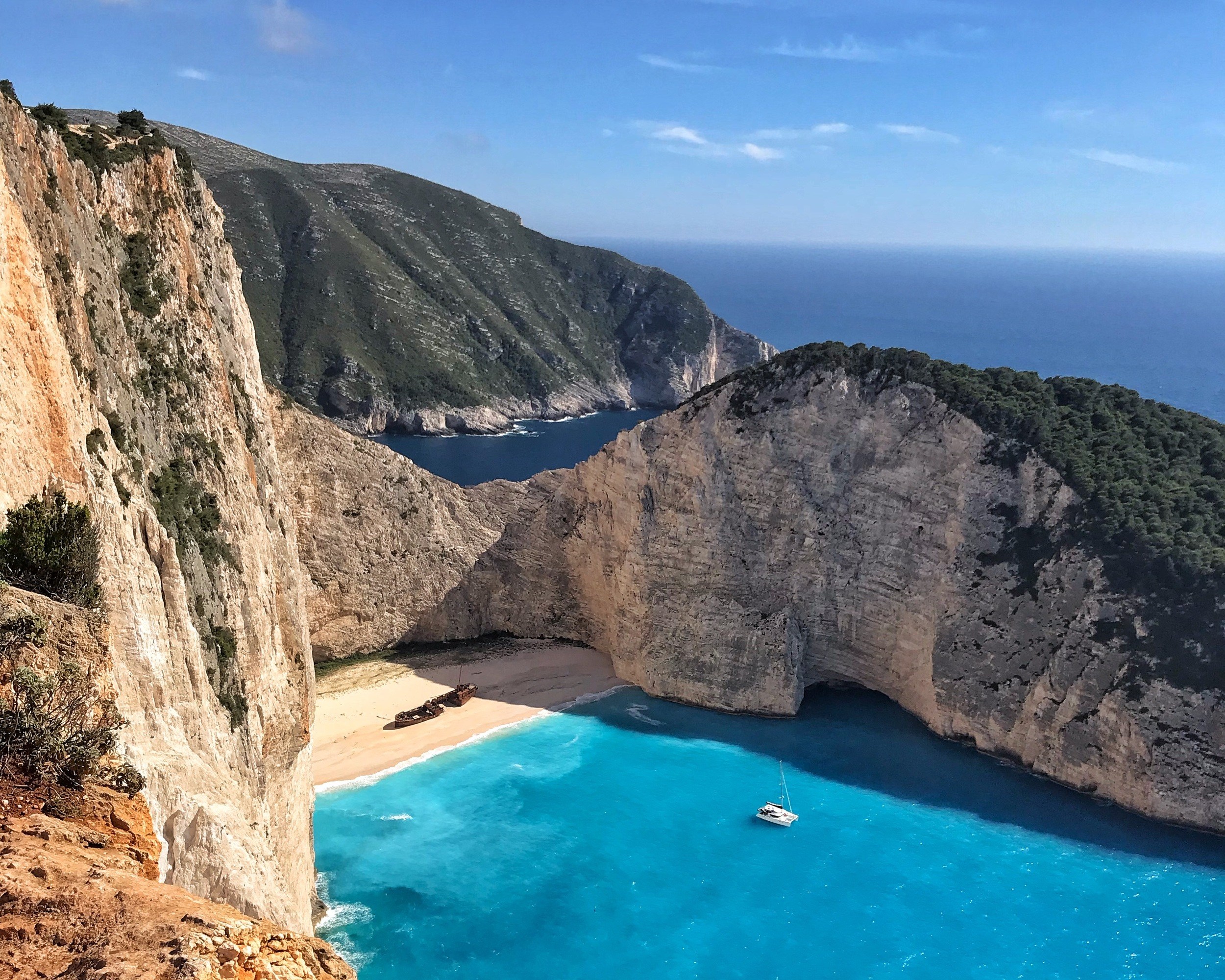 1. Wander around Zante town
Let's start with Zante Town, the island capital and main town on Zakynthos. It's where most ferries and cruise ships arrive with a large harbour and waterfront where you can admire the superyachts and wonder which billionaire they belong to. There are plenty of things to do in Zante town and it's a fun place to shop for local souvenirs and relax in one of the many pavement cafes.
At one end of town is Solomos Square, an open plaza close to the harbour surrounded by cafes and churches. Because the town was hit by a terrible earthquake in 1953, most of the buildings in Zante town were built after that time and even the older ones were restored so that they look new. You may like to visit the Zakynthos Byzantine museum in the square, containing many artworks and icons that were rescued from churches on the island after the earthquake.
Walk on to the smaller St Mark's square where the cafes and restaurants are always busy and there's another museum dedicated to the famous Zakynthian poet Dionysios Solomos who wrote the words to the Greek National Anthem. From here, follow the main street through town which is partly pedestrianised where you'll find lots of fashion boutiques and gift shops. It's also worth delving into the side streets as they tend to have more local shops and interesting food shops.
At the other end of town is the main town church of Agios Dionysios with its belltower, dedicated to St Dennis who is the patron saint of the island who lived on Zakynthos in the 16th century. The interior of the church is richly decorated with precious metals, stained glass and frescoes, and the remains of St Dennis reside in a silver casket which is brought out to parade the town on his feast day in August. Behind the church there's a small museum with a display of embroidered vestments and ecclesiastical objects.
In the morning, fishing boats moor up along the harbour with the nets piled up to dry, selling their catch direct from the boats. If you are planning a trip to Zante town, be sure to check the shop opening hours, which vary each day. Shops typically open in the morning, shut around 2pm and open again for the late afternoon and evening.
Villas in Zakynthos near Zante Town
Check out these Villas in Argassi, a resort which is a short drive from Zante town. If these don't suit you there are many more villas in Zakynthos with Clickstay who offer over 75,000 villas, apartments and holiday rentals around the world.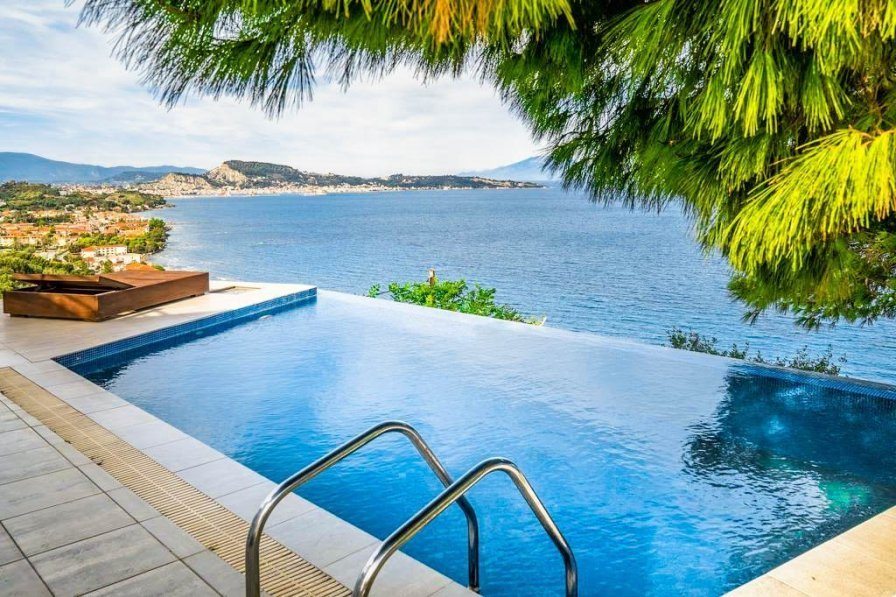 2. Visit the Venetian Fortress and have a coffee at Bohali
While you're in Zante town, you may like to drive up to Bohali, the hill that overlooks the town, where there's a terrace with several cafes that offer a fantastic view over the town and the port.
In the same area is the Venetian fortress built in the 17th century, with the winged lion of St Mark above the stone gateway. The British used this as their garrison when they ruled the Ionian islands in the early 1800s and most of the ruined buildings that you can see are their barracks, prison cells and houses that stood within the fortress walls.
The whole area is covered by shady pine trees and you can get views from the walls over the port and in the other direction over the plain behind the town.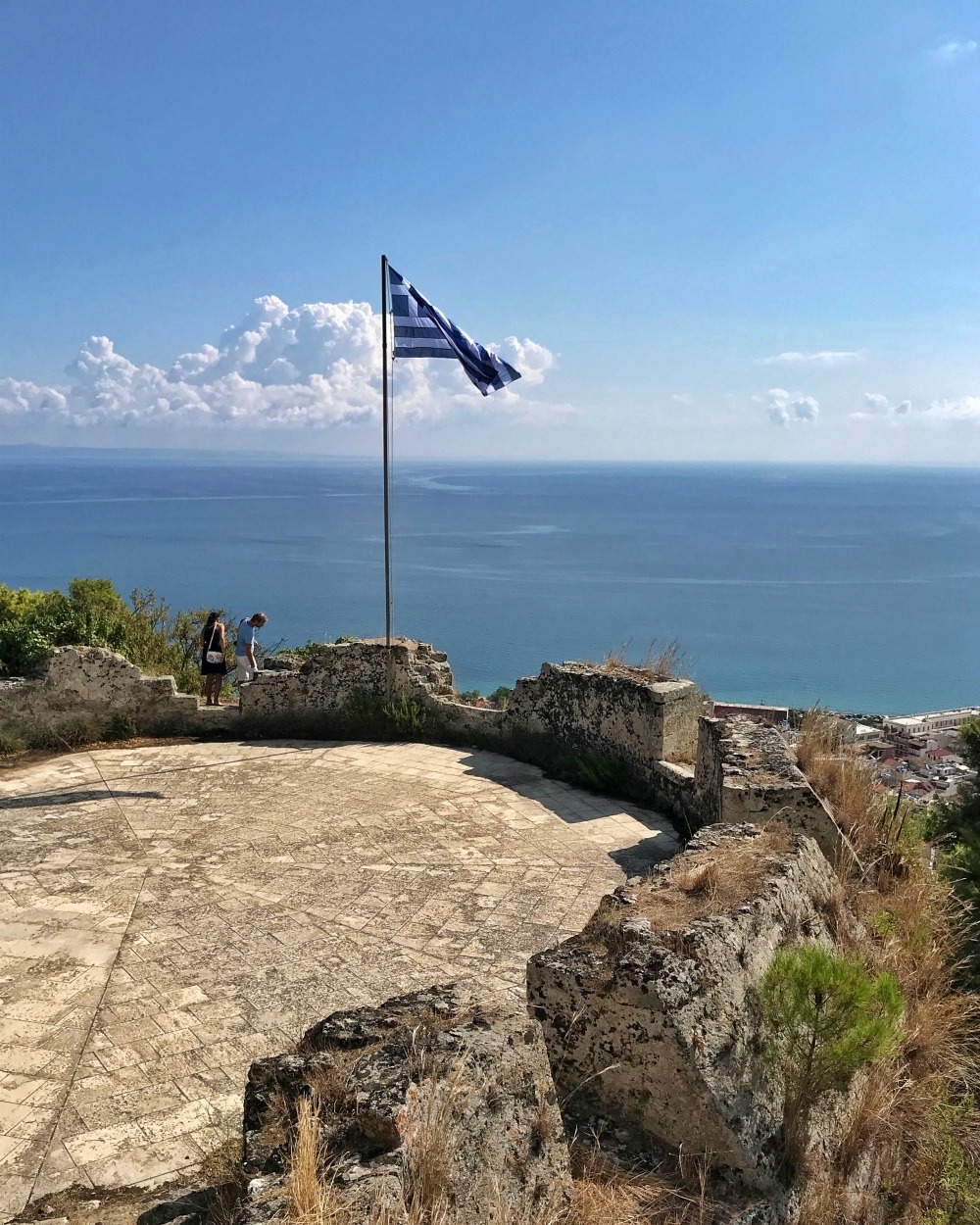 3. A boat trip to Shipwreck Beach in Zakynthos
Also top of the list of things to do in Zakynthos is a visit to Navagio or Shipwreck Beach. The stunning location, in the curve of limestone cliffs, not to mention the picturesque shipwreck, make this one of the most photographed beaches in Greece. You can only get there by boat and there are numerous boat trips to Navagio from St Nicholas port or Makris Gialos. Take a swim, a few photos and a look at the ship's rusty shell, but there are no facilities or shade here, so you probably won't need more than an hour or two.
The story goes that the ship ran aground in the 1980s while smuggling cigarettes although perhaps that's a story that's told for dramatic effect! Whatever the truth, that shipwreck has certainly helped the tourism industry on Zakynthos, since photos of the wreck on a golden crescent of sand are to be found in every coffee table book about Greece.
Last year there was a frightening rockfall while tourists were on the beach and although no-one was seriously hurt it was a warning to stay away from the cliff itself, even though the shade may be tempting. If you are taking a boat trip, be guided by local advice on the best day to go, since the sea can look deceptively calm when you set off on the sheltered side of the island, but become rough and windy once you round the northernmost tip of the island.
There's also a metal viewing platform on the cliffs above the beach which is well signposted and can be combined with a trip to the monasteries near Volimes. From here you can also follow the small paths along the cliff top, to reach a rocky point where you also get great photos.
This furthest viewpoint is where most of the dramatic instagram photos, with floaty dresses and high heels posing on the cliff edge, are taken. You can get to this point in relative safety if you stay away from the edge of the cliff but please take care, the memorial to a young man should be enough of a reminder not to take risks just to get the perfect instagram shot! Read more about our boat trip to Shipwreck Beach.
Villas in Zakynthos near Shipwreck Beach
Check out these Villas in Volimes Zakynthos, close to where the boats trips leave for Shipwreck Beach. If these don't suit you there are many more villas in Zakynthos with Clickstay, who offer over 75,000 villas, apartments and holiday rentals worldwide.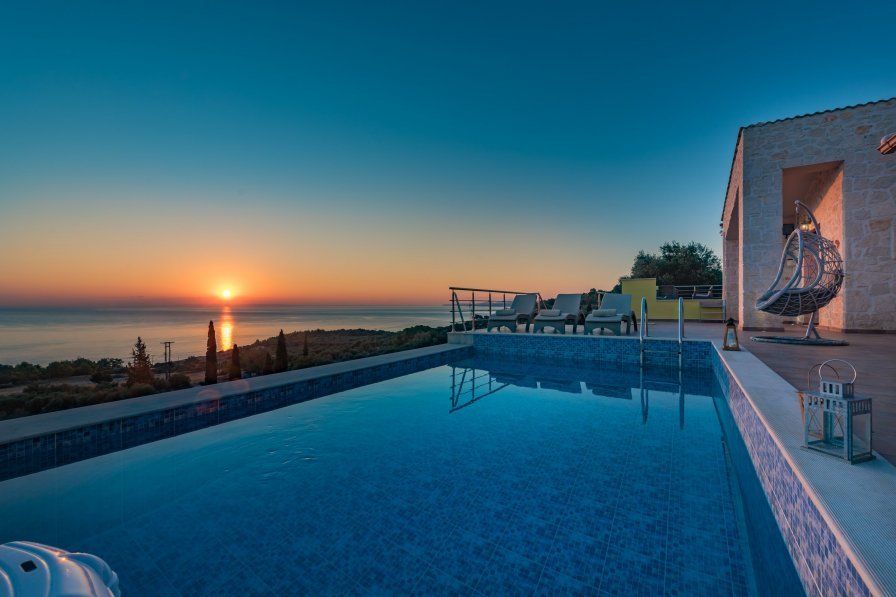 4. Visit the monasteries near Volimes
If you're driving up to the viewpoint of the Shipwreck Beach, there are some interesting monasteries in the area that are worth a stop. On out last visit we passed by St George's Monastery Agios Georgis ton Gremon where the walls enclose a defensive watchtower to look out for pirates and the church with a beautiful Madonna icon. Famous religious figures who lived here include Saint Gerasimos, the patron saint of Kefalonia and the theologian and historian Pachomios Rousanos whose books once filled the library.
In the same area is the Monastery of Panagia Anafonitria which was founded in the 15th century and this was the church where St Dennis, the patron saint of Zakynthos, lived as an abbot in his later years. Stalls selling local produce are found outside the monastery, a chance to buy some of the excellent honey that is made in the mountainous north of Zakynthos. When visiting any Greek church or monastery it is respectful to be modestly dressed, which means that both ladies and men should cover knees and shoulders. If you don't have a car, you could visit the monasteries as part of this island tour.
5. Learn about the turtles on Zakynthos
The Caretta Caretta or Loggerhead turtle is native to Zakynthos, with nesting beaches along the south-east side of the island. It's become the symbol of the island, which you'll see on postcards, fluffy toys, keyrings and every kind of turtle themed souvenir.
However ubiquitous the turtle is in the souvenir shops, it's sadly increasingly rare in the waters around Zakynthos with the numbers of nests in steep decline over the years. There is a protection programme in place with a marine park which restricts building near the turtle beaches and the operation of boats and watersports.
The best turtle beach in Zante to get more information is probably Gerakas, where there's a visitor centre near the steps down the beach and the Earth Sea Sky centre which also has plenty of information about the turtles and has been tracking the numbers of turtle nests over the years. On the beaches of Gerakas, Dafni and Laganas you may see markers of the nests where you should keep away to avoid trampling the turtle eggs.
Many boat trips from Laganas, Keri and Agios Sostis will take you on a turtle spotting boat trip, but be aware that there are strict rules about where the boats can go and how long they can spend with the turtles. Try to find a trip with a reputable company that will follow the rules – you are not allowed to touch or lift the turtles out of the water or harass them by getting too close. If you want to preserve the turtles for future generations it's better to enjoy your boat trip without any expectations and if you see a turtle it's a bonus.
Villas in Zakynthos near the turtle beaches
Check out these Villas in Lithakia, Laganas and Kalamaki which are close to the turtle beaches on Zakynthos. If these don't suit you there are many more villas in Zakynthos with Clickstay who offer over 75,000 villas, apartments and holiday rentals around the world.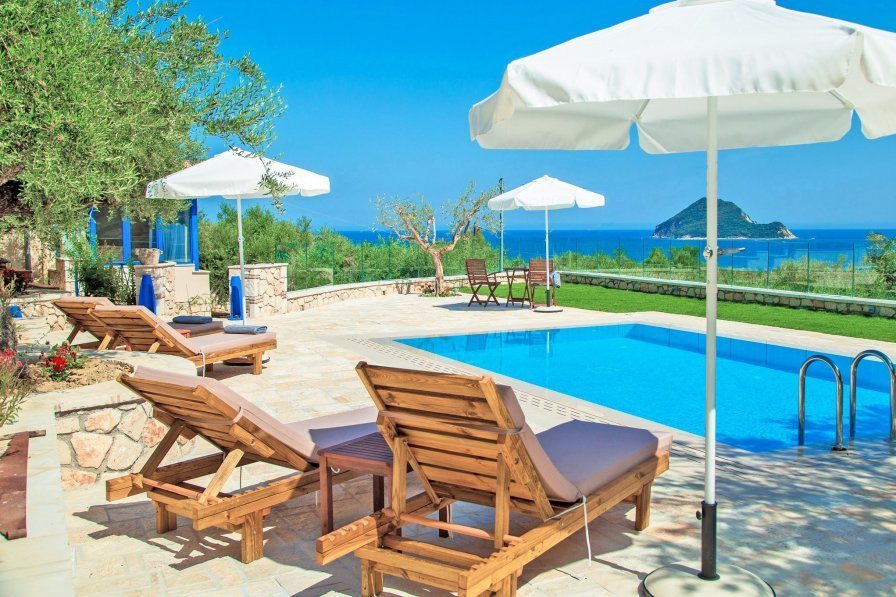 6. Relax and swim on Vasilikos beach in Zante
The best beaches in Zakynthos are located in the south east corner of the island, where they have been protected from development because of the turtles that nest in the deep, hot sand. One of our favourites is the beach at Vasilikos which stretches for miles and has several sections, each with its beach taverna where you can hire sunbeds and have a long, lazy lunch followed by swimming and sunbathing.
Our favourite spot is Banana Baya which has a restaurant overlooking the beach and sunbeds to rent by the water, where they will take any orders for drinks and snacks. Other spots along this stretch include the Ionian beach with a pleasant stone built taverna and a less visited stretch of beach, or the St Nicholas beach which tends to attract the younger party crowd with watersports and loud music. A little further on, Porto Roma Beach has some stunning rock formations you can swim around and a stylish beach bar. Read more about the best beaches in Zakynthos.
Villas in Zakynthos near Vasilikos
Check out these Villas in Vasilikos, close to some of the most beautiful beaches on Zakynthos. If these don't suit you there are many more villas in Zakynthos with Clickstay who offer over 75,000 villas, apartments and holiday rentals worldwide.
7. Take a boat trip to the Keri caves
The same boat trips that take you turtle spotting in Laganas bay, will generally also take you on to see the sea caves near Keri. The sea here is an intense turquoise and you can weave in and out of the sea arches. The boats will generally drop anchor here to let you have a swim, so that you can snorkel around and spot any fish near the rocks.
The boats will also often take you to Marathonisi island, also known as Turtle island as it looks like a swimming turtle. There's a sea cave and small beach on one side of the island, where boats selling drinks and snacks often moor up. The larger beach on the other side of the island is a turtle nesting site and stopping your boat here is forbidden due to the turtle nests here that need to be preserved.
8. Cool off at a Zante water park
If all this sea swimming is not enough and you want more fun, you can head to the waterparks on Zakynthos as there are two on the island. Zante Water Village is the largest water park on Zakynthos, and a short drive from Zante town in the village of Sarakinado. You'll find waterslides and chutes, a lazy river, cafes and plenty of room for sunbathing. This is a good option for all ages and tickets cost €20 for a full day or €15 for a half day.
As an alternative Tsilivi Water Park offers a number of water slides and children's play areas. This water park is smaller and tickets cost around €10 or are included if you are staying at one of the adjoining hotels owned by the same company. If you don't have a car, you can book this tour that will take you to the Zante Water Village including park entrance.
9. Swimming at Porto Limnionas in Zakynthos
Personally I'm more of a fan of sea swimming in Greece than the waterparks and Porto Limnionas on the rocky west coast of the island is a wonderful place to swim in the clear blue waters of a fjord like inlet. There's no beach here but the taverna has created terraces on the hillside for sunbathing and places that you can enter the water.
You jump straight into deep water, so it's a place for confident swimmers and not ideal for young children or anyone with mobility issues. In recent years Porto Limnionas has become super popular, so go early to bag your sunbed and parking space, pack your water shoes for the rocks and enjoy the swimming and snorkelling in the cool, clear water. If you find it too crowded Porto Roxa is an alternative swimming spot which is close by. Read more about swimming at Porto Limnionas.
10. Head to the mountain villages with sunset views at Keri or Kampi
The western side of Zakynthos is rocky and wild, and it's here that you'll find traditional mountain villages and clifftop tavernas. It's also the best side of the island to see the sun set over the ocean, so if you want to experience his you can head to the restaurants at Keri or Kampi that have some great views.
On my last trip we tried to visit the viewpoint at Keri lighthouse during the daytime, but the restaurant owners have put up a fence with a gate to the car park which is only open in the evening, thus blocking access to the viewpoint at other times. Unfortunately we visited in the morning when car park was closed and the cafe owner was unwilling to unlock the gate, so don't make the same mistake and have a wasted trip.
Instead we visited the cute village of Keri where there are a few pretty cafes in the square and had a coffee there. I've heard that you get nice sunset views from the Keri lighthouse restaurant in the evening and an alternative spot that also has several tavernas for sunset views is Kampi – you'll know when you are there by the large cross in the village.
11. Try the delicious food on Zakynthos
There are lots of local specialties that you might want to look out for in Zakynthos to take home as souvenirs;
Honey – Most honey is made in the mountainous north of the island and we saw roadside stalls selling honey and local produce when we visited the village of Volimes and the monasteries nearby.
Olive oil – High quality olive oil that's pressed on Zakynthos is easy to find in the shops or roadside stalls where you're buying direct from the producer.
Zakynthian wine – There are several wineries where you can taste and buy local wines, including Oenolpi winery at Machairado (read my review), Grampsas winery at Lagopodo and Solomos winery close to Zante town.
Mantolato – white nougat made from egg whites, sugar, almonds and honey which is usually cut up into squares and wrapped individually.
Pastelli – another kind of nougat made with sesame seeds, honey and almonds that's served cut into rectangles.
Mantoles – individual almonds that are covered with a sweet honey coating, sometimes coloured red with a natural food coloring.
Many shops in Zante town sell a range of local produce and wines, such Mantolato Zakynthos in Venizelou Square.
Our favourite restaurants in Zakynthos
Anadalis – This stylish restaurant in Argassi is the go-to destination to have dinner by the sea with a lovely view of the sun setting over Zante town. It serves excellent Mediterranean dishes with Greek flavours, including fantastic seafood and organic age dried steaks. Anadalis is owned by my sister's family so I've eaten there many times and can personally recommend it. Read my review of Anadalis here.
Nobelos – In the north of the island near St Nicholas Port, this is an idyllic place to spend a day with a lazy lunch or dinner overlooking the sea. There's a small private beach area with crystal water and sun loungers that you can use if you are eating at the restaurant. The menu is full of the most instagrammable and delicious dishes that are based on Greek cuisine with a modern twist. Be sure to try their home made ice creams which are incredibly creamy and delicious.
Some other restaurants we can personally recommend from our visits;
Votsalo at Marathias – If you pass Keri port and continue up the hill you'll find some hidden pebble beaches and swimming places at Marathias, overlooking the turtle island, where the water is clear as glass. There are a few tavernas up there and our favourite is Votsalo which is a stylish taverna set on the hill with sea views where you can enjoy all your favourite Greek dishes.
Kanelos between Argassi and Kalamaki – This charming summer restaurant is a bit of a local's secret set in the hills above Argassi. You can reach it by car from Argassi – turn opposite the church in Argassi and follow the road up the hill past the aqueduct until you see the signs for Kanelos. Many people also walk up the paths from Kalamaki on the other side of the hill, passing a few hidden beaches on the way. At Kanelos they serve all the classic Greek dishes, the food is really good and the service also very friendly. This is a great one for walkers as you can take a walk down to the Kalamaki beach for a swim and back up again.
Banana Baya at Vasilikos – there are many beach bars along Vasilikos beach, but we love Banana Baya for the views over the beach and sea and it's a great place for a chilled lunch.
You'll see lots of typical Greek dishes on the menus in Zakynthos, so look out for;
Greek salad – the traditional Greek salad is made with tomatoes, cucumber, slices of sweet onion, black olives and topped with a sprinkle of fresh oregano and a slab of feta cheese. Drizzle on your own dressing of olive oil and vinegar which will be on the table.
Moussaka – mouthwatering layers of minced lamb in a tomato sauce, potatoes and aubergines topped with béchamel sauce and a cheesy topping.
Beef Stifado – a slow cooked stew where the beef should be meltingly soft, with small onions in a rich tomato sauce, served with rice, in a nod to the Venetian heritage of the island.
Lamb Kleftiko – slow cooked stew of lamb with vegetables oil and lemon. Kleftiko means "stolen", the idea being that this dish would be cooked by shepherds or bandits in the mountains who might have stolen the lamb and cooked it in a pit in the ground with just the ingredients they could easily find around them.
If you're out and about in Zante town and need a quick snack, look out for;
Koulouri – rings of bread covered with sesame seeds that you can buy from all traditional Greek bakeries and roadside stalls.
Tyropita – cheese or spinach pies made with layers of filo pastry and local Greek cheese or spinach, sold in slices in bakeries or cafes.
Find your perfect villa in Zakynthos
Check out these Villas in Zakynthos with Clickstay who have over 50 villas of all sizes on Zakynthos. Clickstay offers over 75,000 villas, apartments and holiday rentals worldwide with lots of choice throughout the Mediterranean, USA, Canada and the Caribbean. While you are renting direct from the property owner, the Clickstay renter protection policy also means that you can book with confidence. Check out Clickstay to find the perfect villa for your next holiday in Zakynthos.
How to get to Zakynthos
There are plenty of flights to Zakynthos which are mainly seasonal starting in May until the end of October. We recommend Skyscanner to find the best flights and prices. The main airlines that fly direct to Zakynthos from UK airports include Easyjet, TUI, Jet2.com and British Airways with additional direct flights from other countries.
If you are travelling in Greece you can also fly to Zakynthos from Athens or take a ferry from Kyllini or Kefalonia.
Tours of Zakynthos
If you don't drive then take a look at these tours in Zakynthos to enable you to visit the best spots on the island.
Pin it for later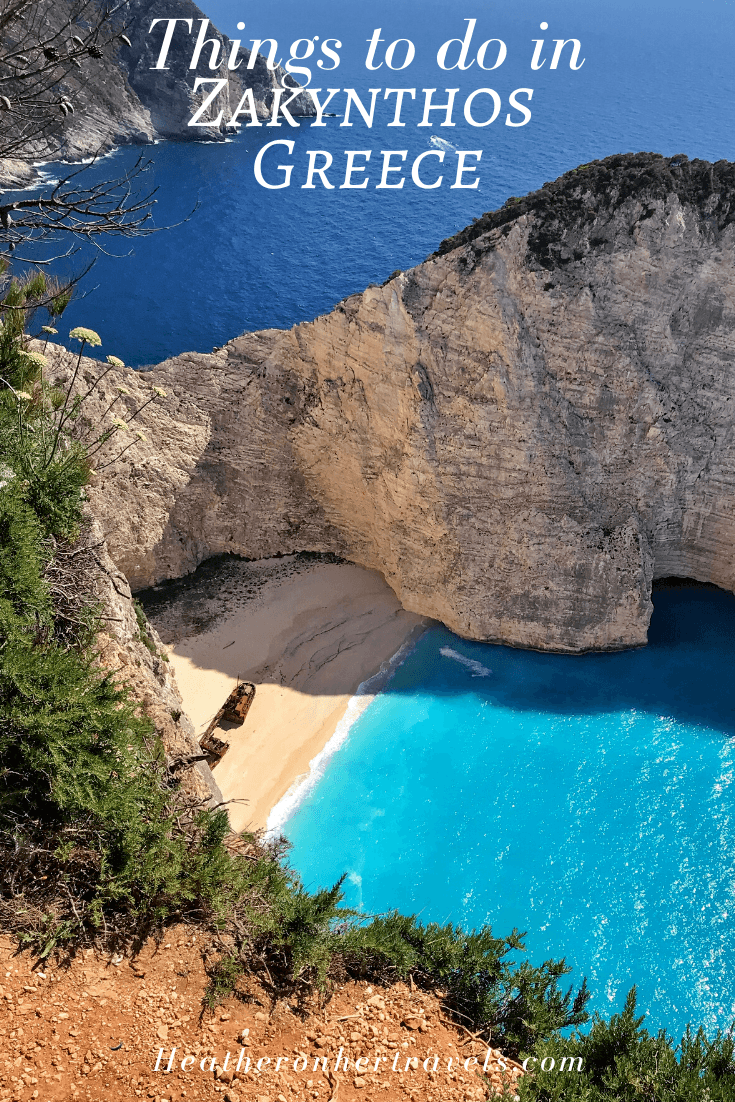 This article is written by Heather Cowper and sponsored* by Clickstay.
* More info on my policies page
Some of the links in the article may be affiliate links that earn a small commission for this site.
This article is originally published at Heatheronhertravels.com – Read the original article here