If you enjoy a resort style cruise experience with plenty of fun activities and entertainment, Norwegian Encore could be a great choice for your next cruise. It's the latest ship to launch with Norwegian Cruise Line and I joined a 2 night inaugural cruise to see what the ship has to offer.
NCL is known for its flexible "Freestyle" cruising and Norwegian Encore is the fourth shop in the Breakaway Plus class, with larger ships for around 4000 guests that offer a very wide range of activities on board. The ship launched in November 2019 with a colourful hull design by artist Eduardo Arranz-Bravo and I was on board the first short cruise from Bremerhaven to Southampton, to get a taste of what the ship has to offer.
One of the main reason that people cruise with Norwegian Cruise Line is for the very wide range of options on board, making it a great choice for groups of friends or extended families of different ages. At Norwegian they like to say you can "choose your own adventure" and this was certainly my experience on Norwegian Encore, with lots of variety to choose from in the dining options and entertainment.
The Norwegian experience is all about "Freestyle" cruising with ultimate flexibility to choose what you want to do and when, no set dining times and no dress code, so it suits those who want a relaxed and fun cruise.
Our Stateroom on Norwegian Encore
On arrival for this short inaugural cruise we were excited to check into our stateroom, which was 14772 , a mid-ship mini suite with balcony. I think the brightly coloured artwork on the Norwegian Encore hull had given me the impression that the ship's interior might be a little brash in its decoration, so I was pleasantly surprised to find the decor of our stateroom was upscale and understated.
You may also enjoy: A guide to luxury cruising on Azamara Pursuit – with Azamara Club Cruises
As you'd expect from a new ship, the style is contemporary but there was a classic and restful feel in the navy and chocolate scheme with high quality linens and abstract artwork. Our suite included a sofa that would convert into another bed, plentiful wardrobe space with a safe, a desk area with more storage and fridge, as well as room under the bed for our suitcases. The outside balcony space with two chairs and a table would be a lovely place to relax and look out at the ocean when cruising in warm weather destinations.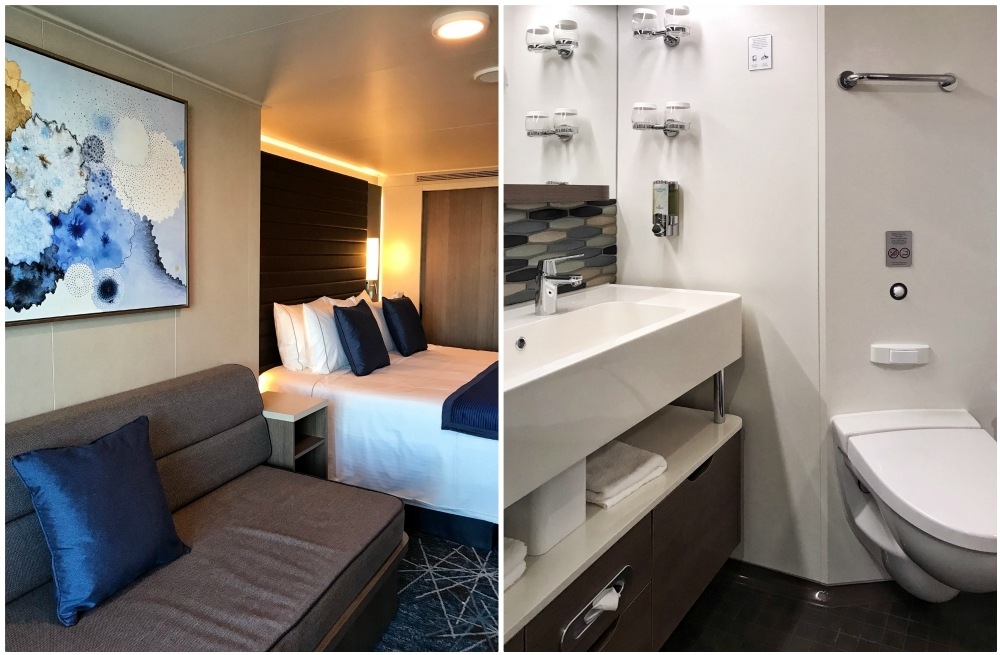 As part of their move away from single use plastics, Norwegian offer recyclable paper based cartons of water in the stateroom from Just Water – you can read more about Norwegian's environmental efforts here. You can refill the water bottle to use on excursions to cut down on unnecessary packaging, and of course drinking water is freely available in restaurant areas. The compact bathroom was contemporary in style with a long sink, shower and WC and in line with efforts to reduce waste, the soap and body wash was in refillable containers.
Norwegian Encore – Pools and Aquapark
Oh, to be cruising in the sunny Mediterranean or Caribbean, when I could have tried out the Aquapark on board Norwegian Encore! This is a ship that's all about fun, so I predict those waterslides will be getting lots of use! You can slide side by side down the Aqua Racer or whoosh over side of the ship in the Ocean loops and there's a smaller Kid's Aquapark area for the little ones who aren't old enough to use the main water slides. Sadly as we sailed out of Bremerhaven in November, there wasn't much chance of doing justice to it all!
You may also enjoy: Azamara Club Cruises – 10 things to expect on your luxury cruise – video
There are some other pool and sun deck areas, although these may not be available to you if you are cruising on a standard package. There's the Vibe Beach Club on Deck 19 with hot tubs and relaxation areas where you can chill out in an adults only environment – for an additional $99 per person or $209 per person for a week's pass.
The Haven ship within a ship also has a gorgeous pool and relaxation area with a retractable roof which is just for guests who book this premium cruise experience.
While we weren't able to see how the pool areas operated on a normal cruise, I suspect that they could become quite crowded with a full ship of almost 4000 guests. In school holiday times with lots of families on board, I somehow feel that this would not be a very relaxing place to be, even if you can find a free sun bed.
Norwegian Encore – around the ship
One of the parts of the ship I loved passing through was the triple height atrium with a huge light installation like a contemporary chandelier. Each time I passed by the lights were slowly changing colours, from pinks and purples to white and blue plus a glass staircase that was worthy of a Cinderella fairytale. With its sparkling stars on the ceiling and gorgeous colours, this spot will surely become the most instagrammed on the ship!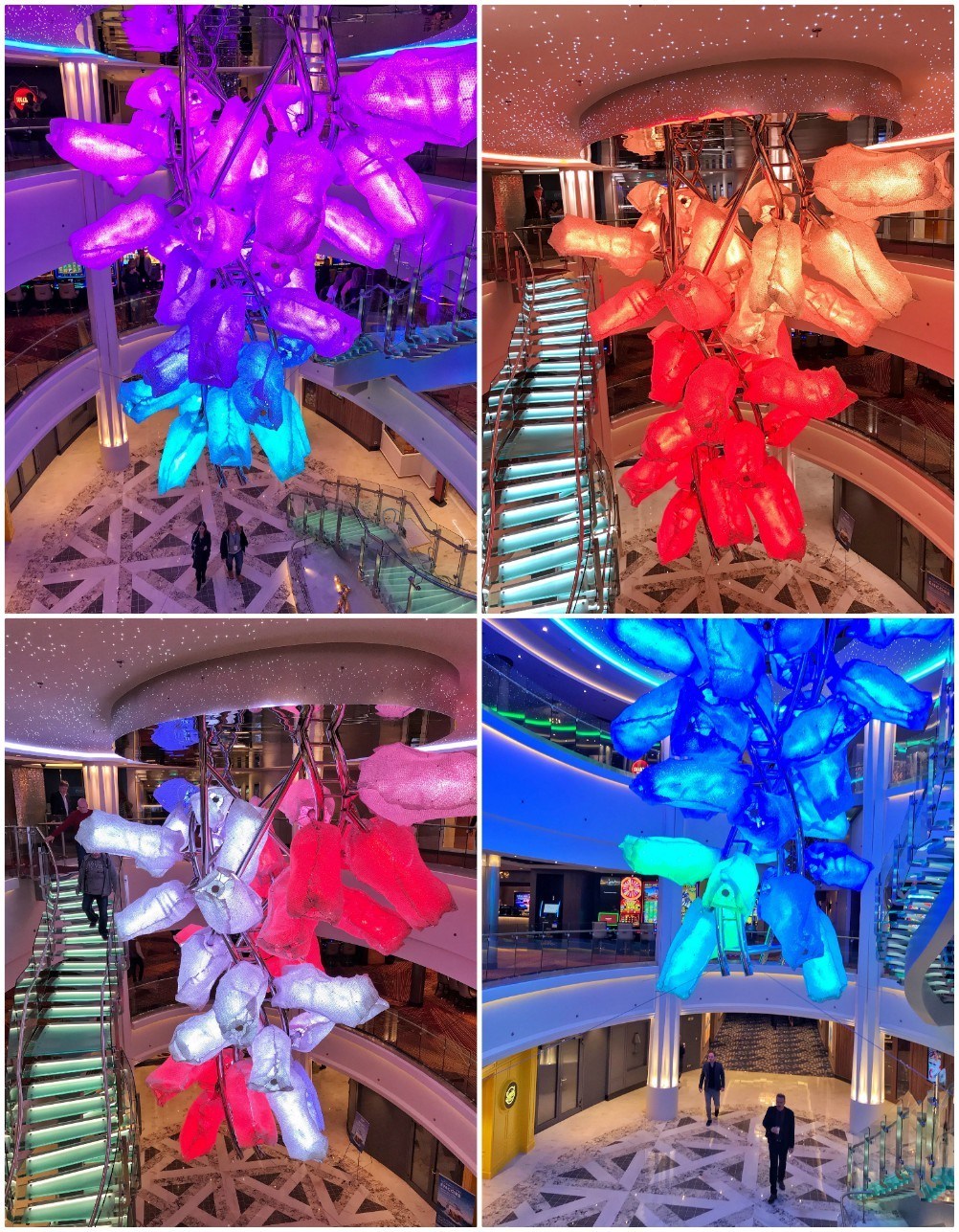 Norwegian Encore – Lounges and public spaces
It was pleasing to see that there are plenty of different lounges and indoor relaxation areas on Norwegian Encore and one of my favourites was the Observation Lounge which takes up around half of Deck 15. The decor here is restful and elegant, with lots of different seating areas. I could certainly imagine myself settling in with a good book to stretch out on one of those day beds, with a mesmerising view of the ocean.
For those who want a bit more of the action, the Atrium area acts as a town square with a big screen for sports games and The Local pub style restaurant above, so this would be the place to hang out for a bit of fun and entertainment during your cruise.
If you like a few drinks with friends there are plenty of options around the ship you'll want to check out. There's a bar in the Atrium and the Observation lounge that I've already mentioned and in addition;
The District Brew House – dedicated to 50 different bottled and 22 draught beers.
The Cellars – a wine bar where you can also order light bites.
Mixx Bar – centrally located for pre or post-dinner drinks with live piano music
Maltings Whiskey Bar – As the name suggests this one's dedicated to Whiskey and other spirits
Sugar Cane – if I was cruising in the tropics, this is where you'd find me sipping a Mojito!
A-listers Bar – for cocktails and any drink you fancy
As with most cruises, drinks prices tend to be on the premium side, so I'd recommend taking a drinks package or upgrading with the Free at Sea option that I'll tell you more about in the article.
You may also enjoy: A Mediterranean cruise for culture lovers – with Voyages To Antiquity
Norwegian Encore Dining – What's included ?
While there are lots of world cuisines on offer on Norwegian Encore in the specialty restaurants, it's worth looking first at the complimentary dining options that are included in your cruise price.
The Garden Café on Norwegian Encore – buffet style café with a something for everyone.
At the heart of the dining is the big, busy Garden Café which is buffet style so that you can choose whatever you like. There's a huge selection here so there really is something for every taste and dietary requirement and you can get something to eat at any time of day. The Garden Café is where you're likely to end up for breakfast and lunch, especially if you are part of a group where everyone has different tastes.
Although the different food stations are self service, with cutlery and condiments on each table, the staff are swift and efficient in clearing tables and helping you with any extras you require. This is a big, busy area, so although the seating areas around the outside are a bit more separate, I wouldn't want to eat here for every meal, as the noise and bustle can be overwhelming, especially at the peak meal times. Although there's no outside waterfront area, many of the tables are by the window with ocean views.
The Manhattan Room on Norwegian Encore
If you prefer table service to buffet style, then you'll probably gravitate to the Manhattan room, a large, light and airy restaurant with contemporary style furnishings. This is the largest of the three complimentary restaurants on board Norwegian Encore and offers a varied menu which changes daily, with a mix of modern and classic dishes. Although I didn't eat a typical menu in the Manhattan Room, as we were instead trying out a selection of all the specialty dishes, I know from past cruises that the food is generally excellent, with choices to suit most tastes on the daily menus.
Taste and Savor on Norwegian Encore
If you prefer to eat in a smaller dining room, there are two other complimentary restaurants on board which are half the size of the Manhattan Room and with their lower ceilings have a more intimate feel. Like the Manhattan room, the Taste and Savor restaurants both offer a wide ranging menu that's likely to have something for every taste, so I suspect that there's not much difference in the style of food. Your choice of restaurant probably comes down to the decor you like and what happens to be on the menu that takes your fancy.
The Local on Norwegian Encore
If you want something that's casual dining with table service and are looking for a more lively atmosphere, the final complimentary dining option is The Local. The bar and dining areas are situated in a busy area around the Atrium and serve pub style favourites such as burgers, ribs and fish & chips. There's often sport or a pub style quiz as entertainment on the big screen which you can watch while you eat.
More things to do for free on Norwegian Encore
For a great overview of all the things you can enjoy for free on board Norwegian Encore, check out this video from Gary Bembridge of Tips for Travellers, who was also on board the inaugural cruise.
Norwegian Encore – 8 best free things to do on board.
Free at Sea on Norwegian Encore
Because we were on a 2 night inaugural cruise designed to give a quick taste of the ship I wasn't able to experience the ship as it would be on a normal sailing or get information on all the additional costs of the many specialty dining options. Many of the specialty restaurants offer a la carte pricing which means you are paying the full additional costs similar to a restaurant on land. This could quickly add up if you're a foodie like me and want to try out the temping dining options that Norwegian Encore offers.
However, I recommend that you take a look at the Free at Sea packages which for a £99 per person upgrade enable you to choose two of the following packages. If you book a suite, concierge stateroom or The Haven you get all five of the packages within the Free at Sea offer. This enables you to enjoy many of the specialty dining options within the Free at Sea package, without worrying about additional charges.
Premium Beverage package – covers wine with dinner, umbrella drinks poolside, evening cocktails, morning mimosas, a wide selection of soft drinks, spirits, cocktails, wines by the glass in up to 22 bars and lounges.
Specialty Dining Package – a dining package with up to 5 free meals at the Specialty Dining venues on board.
Shore Excursion Credit – US$50 credit per port to spend on excursions.
Wifi Package – use the wifi free anywhere on board.
Friends and Family sail at reduced rate – Guests 3&4 enjoy complimentary cruise fares on select cruises.
Norwegian Encore – Specialty Restaurants
In addition to the complimentary dining options on board Norwegian Encore there are nine separate specialty restaurants where you will be charged on top of your cruise fare, which enable food lovers to try lots of different tastes from around the world. While I wasn't able to try every restaurant, we did have a lunch during the cruise with a tasting menu of some of the dishes from the specialty restaurants.
Ocean Blue – Seafood restaurant on Norwegian Encore
Dinner on our first night was at Ocean Blue, the seafood specialty restaurant and I was really pleased with the choice as like many people I'm trying to cut down on meat and eat more fish and vegetables. Ocean Blue offers an elegant dining experience and it also has some tables on the Waterfront, which would be a lovely place to sit in warmer weather.
I started with a campari aperitif and ordered the Hong Kong style snapper with Soy Ginger Lime Broth and Asian vegetables as my main with a lemon meringue tart for dessert, although I barely had room. I seemed to be drawn to all the Asian style dishes and loved the style of this contemporary but rather upscale restaurant.
Food Republic – Asian Fusion restaurant on Norwegian Encore
In contrast to the elegant and calm atmosphere of Ocean Blue, the Food Republic restaurant where we ate on the second night was more casual with a buzzing atmosphere. Here you'll find a fusion of Asian and world flavours, with lots of sushi from Japan, Chinese style noodles and ceviche from Peru.
Orders are places via the touchscreens on each table and the small plates are ideal for sharing, with a recommendation of 3-4 dishes per person. I liked the youthful and relaxed atmosphere at Food Republic, with high bar tables and seating facing the kitchen to watch the chefs at work – a bit of food theatre!
During our tasting lunch I'd tried these dishes from Food Republic
Thai Steak and Noodle Salad – marinated tenderloin, lo mein, mango, cabbage, peanuts, coconut and honey lime dressing
Shiitake and Water Chestnut dumplings – sriracha kewpie mayo and sesame
When we ate at Food Republic in the evening we ordered a selection of noodles, ramen and sushi for the table to share and I couldn't resist some more of those dumplings which were delicious.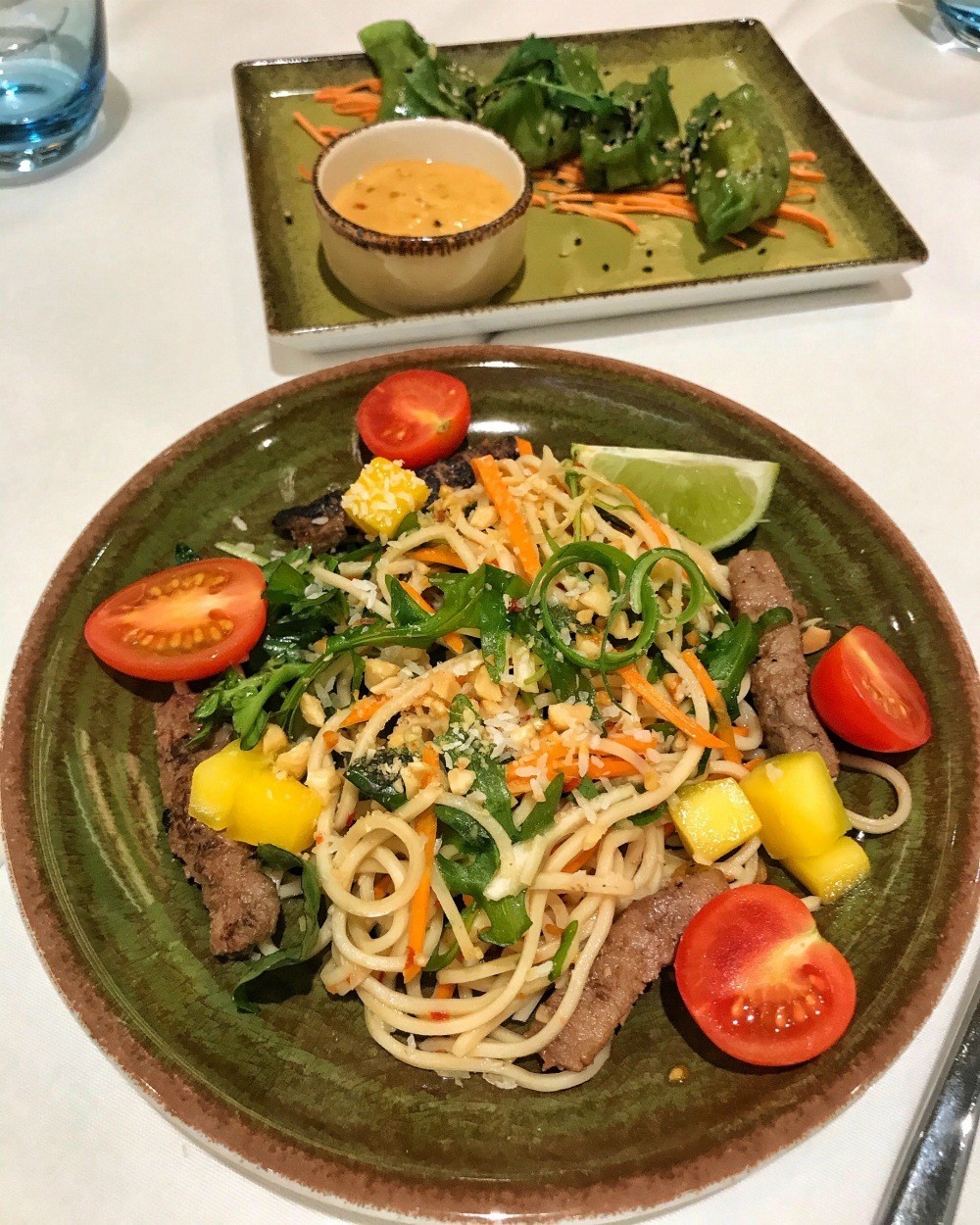 Onda by Scarpetta – Italian restaurant on Norwegian Encore
Onda by Scarpetta is one of the new restaurants on board Norwegian Encore, designed to give an authentic Italian dining experience, and I tried a couple of their dishes as part of our tasting menu;
Tuna Susci – marinated carrot, chive, black truffle and pickled white beech mushrooms
Mezzelune – ricotta, spinach, preserved truffle, butter and eggs
Q Texas BBQ Restaurant on Norwegian Encore
As part of our tasting lunch I also tried the Q pitmaster's platter with oak-smoked brisket, pork spare ribs, cheese smoked sausage and smoked chicken served with jalapeno and cheese cornbread, cole slaw, potato salad, pinto beans and pickles. This Texas inspired BBQ restaurant is one for the meat lover, with the BBQ smoked over hickory and oak wood. The wood styled interior and live country and western band help create the atmosphere of some Southern Honky Tonk roadside diner in the USA.
The Bistro French restaurant on Norwegian Encore
I was impressed by the elegant dining style of Le Bistro which would suit those looking for a special occasion or more formal dining experience. Like the other specialty restaurants, Le Bistro offers a la carte pricing so you pay typical restaurant prices for each dish you choose, with starters at $8-12 and main courses $24-39. At our tasting lunch I tried
Escargots Bourguignonne – mushrooms, herbed garlic butter, almonds and hazelnuts
Salade au Crottin de Chèvre Chaud – frisee salad, warm goats cheese and sauteed pancetta
Cagney's Steakhouse on Norwegian Encore
This American style steakhouse is one for the meat lovers, specialising in aged Aberdeen Angus steaks and has a great Waterfront area.
American Diner on Norwegian Encore
The American Diner is likely to be the family favourite, since it's close to the pool area and other entertainments. Open at lunchtime, it serves burgers, fried chicken and diner style dishes, with fun decor that incorporates a classic car theme.
Los Lobos Mexican Restaurant on Norwegian Encore
This is a premium Mexican restaurant celebrating traditional flavours with a modern twist, from handcrafted margaritas and carne asada marinated in guajillo chiles, to Ibarra chocolate ice cream topped with dulce de leche sauce.
Teppanyaki – as I'm enjoying more Asian food these days I'd have liked to have tried this Japanese hibachi restaurant where the chefs chop, slice and grill the food before your eyes in a culinary theatre experience.
Sweet Treats on Norwegian Encore
One area where I found myself lingering a little too long was the Coco's shop at the bottom of that glamourous glass staircase under the chandelier. This chocoholic's paradise offers a delectable array of premium deserts, ice creams and those hot chocolate mugs that are piled high with whipped cream and marshmallows.
The Bake Shop is another place that I imagine I could be drawn to, with a selection of gourmet cupcakes and French macarons which we tried as our desert during the tasting lunch. Also to suit the sweet toothed among you there's the Dolce Gelato ice cream shop on the Waterfront and for coffee lovers, there's a Starbucks concession in the Atrium. All of these incur an additional charge depending on what you order.
Norwegian Encore Haven – Luxurious ship within a ship
On the top three decks of the ships in Norwegian Encore's luxurious Haven enclave, the ship within a ship that's a bit like booking first class on an aeroplane. The Haven is a private area of premium accommodation and areas that are for the exclusive use of Haven guests, such as private lounge, dining room, sun decks and pool area with retractable sun roof.
We had a tour during the inaugural cruise and found that everything in this area is beautifully luxurious, with service to match. You get the attentions of a butler, concierge and courtyard attendants as well as priority bookings for dinner reservation, and lots of treats and extras in your stateroom. The Haven is the place to be if you want to be away from the hustle and bustle of the main ship, yet have access to all the dining, entertainment and activity options.
The Haven is open for families so it's not just an adults only experience, something to be aware of if you were hoping for a bit of child free relaxation. I could imagine that this would be a great place to stay if you are travelling in an extended family group, some of whom would prefer to have a more calm and luxurious experience, while still being able to see each other around the ship.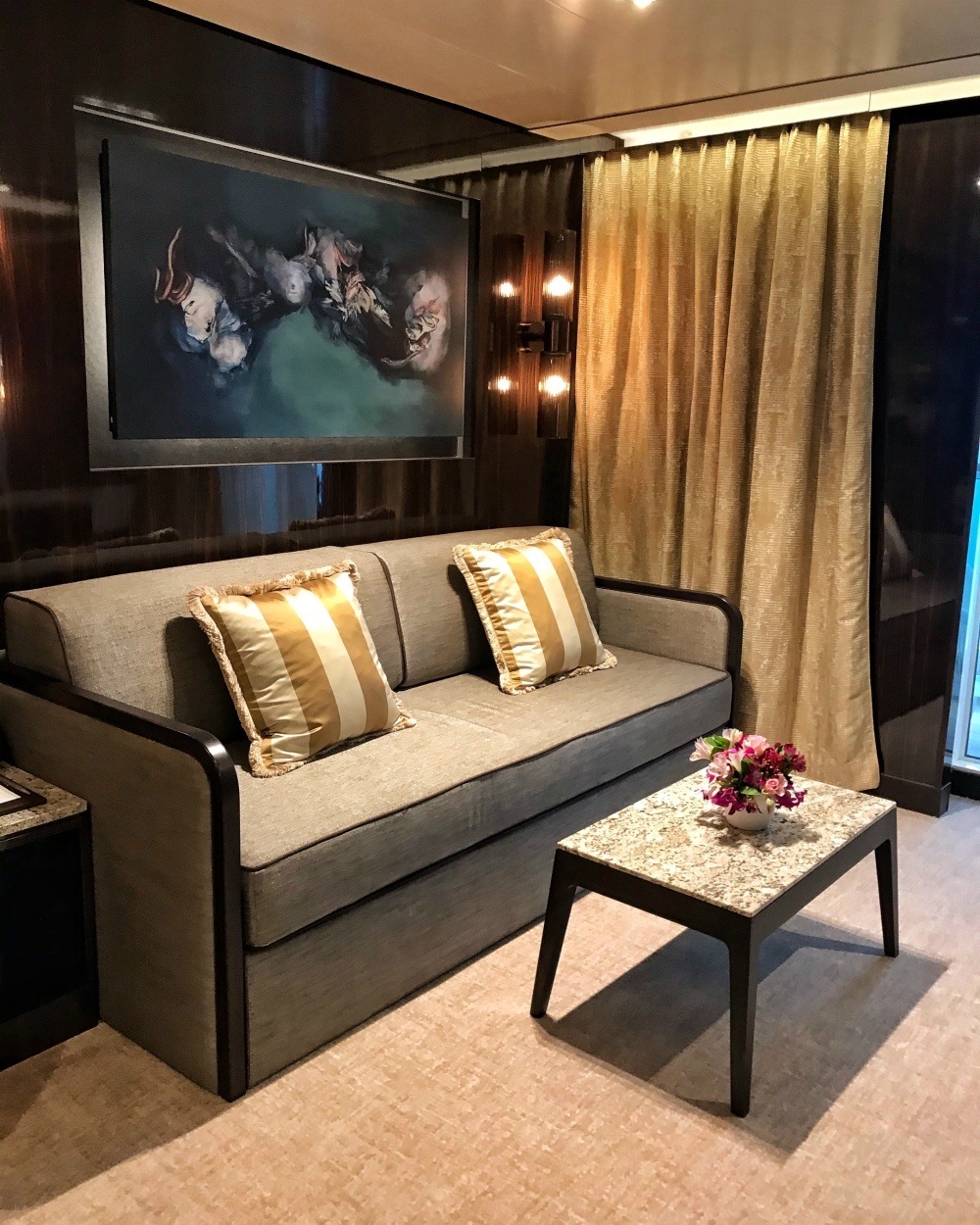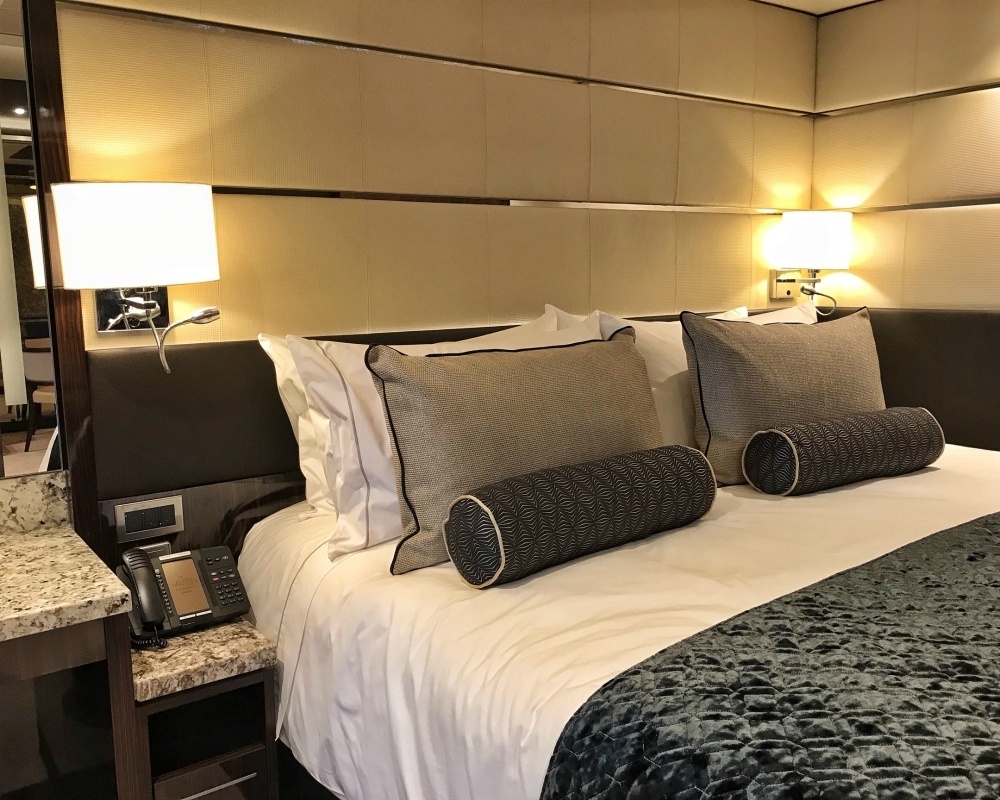 Norwegian Encore – Entertainment on board
One of the features of a larger ship like Norwegian Encore is that you get plenty of entertainment, including full scale West End style shows. We enjoyed the performance of Kinky Boots, a musical with music and lyrics by Cyndi Lauper. It's a peculiarly British tale of a failing shoe factory in Northampton that achieves a turnaround in fortunes when it starts catering for a special niche market of drag queens, by making glamourous "Kinky Boots".
Another very enjoyable show was Choir of Man, set in an English pub, where all the highs and lows of life are seen through the bottom of a beer glass. The cast gave an energetic performance of song and dance with classic rock hits and ballads. I liked the fact that the performers looked like a bunch of normal blokes, complete with beer bellies, which some of us in the audience might identify with!
We also stopped in to The Cavern, named after the legendary Liverpool club that hosted the Beatles as well as many other great bands of the era. We enjoyed our after-dinner sing along to a Beatles tribute band, and the music sounded very convincing although I wasn't fooled by the stick on beards and wigs which looked a bit fake!
As you'd expect with a cruise ship this size there's plenty more entertainment in different areas of the ship, with other live music, quiz events and something to keep every age and interest happy. If you love to have fun and be entertained on your cruise, Norwegian Encore will be a great choice of ship for you.
Norwegian Encore – Activities on board
One of the big draws of Norwegian Encore is some surprising activities that you might not expect to find on board such as the Speedway racing. On the top deck, the race track twists and turns, even taking you over the side of the ship, and this is one that will keep the teenagers and thrill seekers happy. There's an additional $15 per person charge for 8 laps with weekly passes available.
Another of the signature entertainments is the Laser Tag themed on the Lost City of Atlantis, where you shoot your way to complete your mission, hiding behind the ruined buildings and through the tentacles of sea creatures. There's an additional $10 per person for a 10 minute session with week passes available.
Finally, the Galaxy Pavilion offers immersive Virtual Reality experiences and simulator rides with a hour's pass available for $29.
Who will enjoy a cruise on Norwegian Encore?
If you are a fan of resort style holidays and love the bigger cruise ships that have plenty of entertainment, Norwegian Encore will be a great choice of cruise ship for you. I was impressed by how elegant and upscale the decor was around the ship and many parts of Norwegian Encore would fit with what I'd be looking for in a cruise.
There were other aspects that would be wasted on me, like the Laser Tag and the Speedway, although hubbie was quite keen to give them a go! Some elements I was not keen on, like the large casino area that's in a prime spot in the heart of the ship, so that you have to walk through it to many of the restaurants, which I wouldn't be happy with if travelling with younger children.
This is a ship that really has something for everyone, so it's ideal for groups of friends, multi generational groups and families with tween or teenage children. I'd definitely consider a cruise on Norwegian Encore if I was in a family party with my grown up children who would enjoy the variety of entertainment and food experiences.
However, it probably wouldn't be my first choice of ship if travelling as a 50+ couple, when I personally would prefer a smaller ship with a more intimate feel.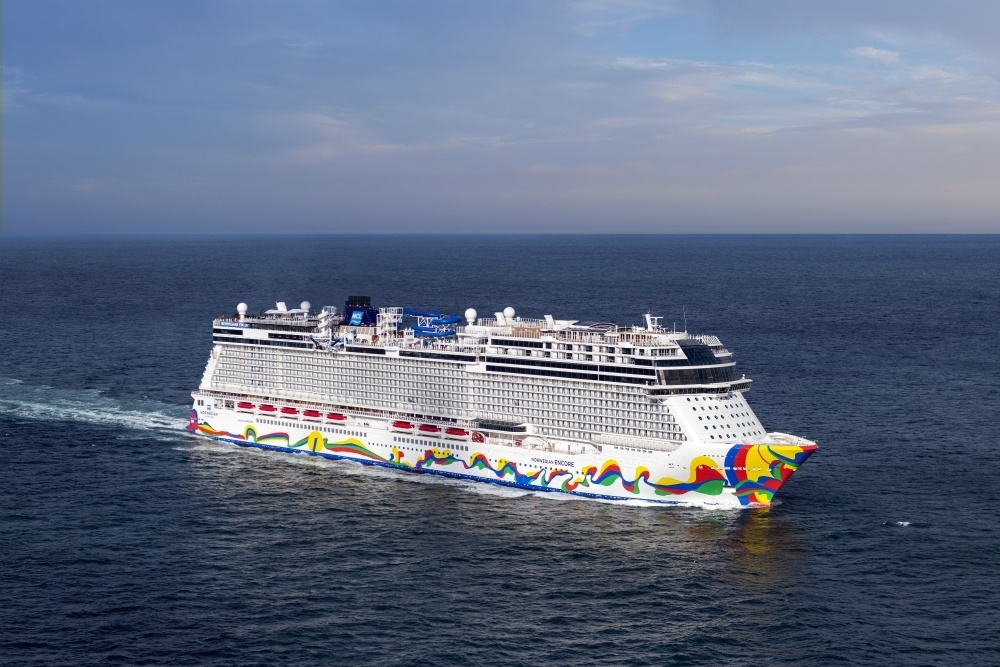 What to watch out for on Norwegian Encore
If you enjoy the big ship experience that Norwegian Encore offers, there are still a few things to watch out for when you book a cruise on Norwegian Encore.
The first thing, which applies to most cruise lines is that you need to budget realistically for the extras that come on top of your basic cruise price. I've listed these below as a guide but I felt that there were quite a lot of "extras" on Norwegian Encore although of course there's still plenty included in your fare. This especially applies if you have family members who are going to want to try all the entertainments such as Laser Tag, Speedway Racing and Galaxy Pavilion, all of which come at an additional charge.
The ship offers an incredible amount of food options with exciting specialty restaurants, but these also incur additional charges, since you pay a la carte menu prices on top of your cruise fare. It would be a wasted opportunity to cruise on Norwegian Encore and not be able to try these lovely dining choices, so I'd recommend taking the Free at Sea option which is good value at £99 per person extra, if you use it for the dining and beverage packages.
The other watch out is that the pool areas that are open to everyone seem quite limited for the size of the ship and amount of guests, so if you are looking for relaxing and child free experience, avoid booking during school holidays. If you are travelling as a family you may want to consider how much you'll want to use the pool areas v other activities on board.
Additional items on Norwegian Encore
On Norwegian Encore you may need to budget extra for the following, in addition to your basic cruise price.
Service charge of $15 per person per day or $18 for suite guests which will be automatically added to your bill. For a couple on a 7 day cruise this is an extra $210. This was introduced to replace discretionary tips, although you can still feel free to give individual tips where you've received exceptional service.
Vibe Beach Club from $99 per person per day if you fancy some adults only relaxation away from the busy pool area.
Galaxy Pavilion from $29 for an hour's pass (weekly passes also available)
Speedway Racing from $15 per person for 8 laps (weekly passes also available)
Laserquest from $10 per person for a 5 minute session (weekly passes also available)
Specialty Restaurants at a la carte prices + service charge – unless you upgrade to a Free at Sea package for £99 per person
Alcoholic and premium non alcoholic drinks and coffees – unless you pay for a drinks package or upgrade to a Free at Sea package for £99 per person
On shore excursions – a typical excursion costs £50-100 per person
To book your cruise on Norwegian Encore
You can find lots more information about cruising with Norwegian Encore on the NCL website where there's in depth information about the offering on Norwegian Encore. If you are booking for a family or larger group, I'd recommend using a specialist cruise agent or travel agent that has expertise in cruises, since they can guide you through the different cruise prices and optional extras, and may save you money on your cruise.
If you need to book flights to get you to your starting cruise port, we recommend Skyscanner to plan flight routes and find the best prices.
Pin it
My visit to Norwegian Encore was hosted* by Norwegian Cruise Lines as part of the complimentary 2 night inaugural cruise press event.
* More info on my policies page
Photo Credit: Exterior photos and some interior photos by Norwegian Cruise Line
This article is originally published at Heatheronhertravels.com – Read the original article here