May 19, 2014 by Guest Author
Filed under World, Leisure, Misc, featured, Africa, Art and design, Eating and drinking, Guest post, Morocco, Museums, Shopping, Sightseeing
In this article, our guest author Anna Rice gives us some great reasons to visit Casablanca in Morocco, which is often passed by as visitors head on to Marrakech and Fes, yet you can find great food, sightseeing and street-life to keep you entertained for a few days.
Casablanca is often overlooked as a travel destination, since most tourists coming to Morocco make a beeline for the more exotic parts of the country: Marrakech, Fes, Chefchaouen, the Sahara, or the Atlas Mountains. But Casablanca is the place many visitors land first – including those arriving on the only direct flight from New York. Instead of writing off Casablanca and immediately hopping on a train or connecting flight, it's worth it to spend at least a day or two in Morocco's industrial capital.
This is something I learned after visiting the city twice. I'd read the same guides as everyone else, saying Casablanca wasn't worth much time. But I had a reason to stick around: my sister lives there! She's been teaching in the city for the past two years, which is plenty of time to uncover Casblanca's best spots. This was fortunate for me, as I had an expert tour guide. So before rushing off to Marrakech, here are 5 reasons I think you should stay in Casablanca for more than a couple hours:
Casablanca has a very cosmopolitan dining and nightlife scene
Marrakech is certainly the destination of choice for the fashionable set visiting Morocco. But Casablanca has enough new (and more affordable) trendy restaurants to be a culinary destination of its own. The hot spot of the moment is Blend, a burger restaurant where you will probably have a hard time getting a table during prime dining hours. After indulging in one of their gourmet burgers, hit up La Bodega, a Spanish-style tapas bar where expats gather for drinks in a loud but fun atmosphere.
Looking for something a little more refined? Make a reservation at upscale, waterfront establishment Le Cabestan and ask for a table by the water. Prepare to shell out American prices for ocean views, beautiful patrons and top-notch food. For weekend brunch, visit La Sqala, which serves fresh squeezed juices and traditional Moroccan breakfast foods in a beautiful outdoor setting within the walls of an old fortress.
Mosque Hassan II
Most Westerners have never been inside a mosque, but Mosque Hassan II offers the rare opportunity to take a tour. Sitting on the edge of the Atlantic Ocean, its one of Morocco's top architectural wonders. It was commissioned by King Hassan II, took seven years to build, and can fit up to 25,000 worshipers. Tours are offered in several languages at set times daily, except on Fridays. Visitors to Mosque Hassan II should dress conservatively and respectfully (make sure your arms, shoulders, neckline and knees are covered) and bring a pair of socks, as you'll be required to remove your shoes for part of the tour.
Art Deco Architecture
Bustling downtown Casablanca will leave you feeling like you stepped into a time machine. French architects who embraced the Art Deco movement of the early 20th century practically took over Casablanca, and there are plenty of historic buildings to see. Some of them are unfortunately in crumbling disrepair while others are well maintained. Overall, this neighborhood is an authentic slice of Morocco's history as a French colony.
The best place to take in the sights is Boulevard Mohammed V, where you can stroll alongside Casablanca's brand new tram. The street eventually leads to Place des Nations Unies, a large and busy square surrounded by shops, restaurants and offices. Other notable sites to see examples of Moroccan/French architecture in Casablanca include the Grande Poste, the clock tower of the Wilaya (government building), the Banque d'Etat and the Sacre Coeur Cathedral, which is no longer a functioning church.
Markets in Casablanca
While there are definitely more historical and attractive medinas in Marakech and Fes, the Casablanca medina is worth checking out simply because there are few other tourists there. It's a rare peek into the daily life of the city's Moroccan residents. Don't spend too much time shopping here – most of the souvenirs are imported from other parts of the country and therefore more expensive. The entrance to the medina is located off of Place des Nations Unies.
A better shopping destination to visit (even if you aren't shopping) is Marche Central. This buzzing street market was originally designed for Europeans but today it caters to both expats and Moroccans. If you like seafood, you can select a freshly caught fish and then take it around the corner to a grill to have it cooked to perfection. The market also sells fruits, vegetables and other food items, making it a great spot to stop before a picnic on the beach. Just don't forget to haggle for the best price!
Growing Art Scene
Cheap rent makes Casablanca an ideal place for artists to live, and a plethora of abandoned buildings provides a canvas. One can't-miss is Les Anciens Abbatoirs, a former slaughterhouse that still has meat hooks hanging and blood stains on the floor. A collective of cultural associations and artists, La Fabrique Culturelle, has taken it over recently and turned it into a gallery space and performance venue.
Another popular up-and-coming space is La Galerie 38, which supports local Moroccan artists as well as international names. La Galerie 38 is connected to Le Studio des Arts Vivants, a large studio that is at the center of Morocco's contemporary art scene. Students of all ages can take lessons in music, art, dance and theatre with teachers from all over the world. The best representation of the increasingly modern Moroccan art scene is Galerie L'Atelier 21, which offers pieces from both emerging and established local designers.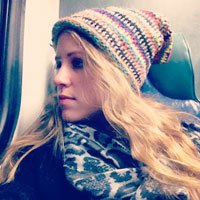 Anna Rice is the writer behind The Weekend Jetsetter, a travel blog written for those want to see the world – without quitting their day job. A publicist by day, Rice spends her weekends, holidays and vacation days globetrotting in 2-5 day chunks. You can read more of her Morocco tips on her site, or follow her on Instagram
For more information on Morocco:
Paradise Valley – blue pools and waterfalls in Morocco
A scrub and massage in the Hammam in Agadir, Morocco
Life's a beach – watching the surfers at Taghazout – Morocco
This article by Heather Cowper is originally published at Heatheronhertravels.com – Read the original article here
You'll also find our sister blog with tips on how to build a successful travel blog at My Blogging Journey
When Mike and Lucie Wood found an old property in the Marrakech Medina to add to their small group of Marrakech Boutique Riads, they named it Riad Star, for not much more reason than their daughter liked the name. It was only when neighbours asked them if they were naming it after the star who had lived there, that they learned this had once been home to Josephine Baker; the American born cabaret artist of the 1920s, 30s and 40s who had been the toast of Paris, who had been awarded the Legion d'Honeur by Charles de Gaule for her wartime work in the French Resistance and who was a leader in the civil rights movement for racial equality. In honour of Josephine Baker, the renovation of Riad Star, with its art deco woodwork and coloured glass took a new theme, incorporating jazz age glamour and sparkle and a sprinkling of objets and memorabilia from the period.
I hope you enjoy the video below of Finding Josephine Baker at Riad Star in Marrakech
If you can't see the video above of Finding Josephine Baker at Riad Star in Marrakech view it on my blog here or on YouTube here
Download the Josephine Baker at Riad Star Video
Subscribe to all my videos in I-tunes
If you enjoyed this video, check out the others in my Video archive
We spent a weekend staying at Riad Star in May, taking advantage of the new easyJet direct flight from Bristol with a schedule that is well timed for long weekend breaks. Our taxi from the airport dropped us as close as it could could get to the Riad, where Abdel, the energetic Riad manager greeted us and led us through the narrow lanes to the unassuming door of the Riad, marked only with a small star. Miriam, the Riad's excellent cook had prepared a traditional Moroccan meal for us with a selection of side dishes as starters; coleslaw with walnuts and sweet dried fruits, a delicious rice dish with green and red peppers, courgettes and green beans cooked with oil, lemon, parsley and cumin. After such a feast we barely had room for the succulant and fruity lamb tagine cooked with prunes, a dish that is often served at celebration meals in Morocco.
The Josephine room where stayed is thought to be where Josephine Baker herself slept, and the white walls were hung with Jazz age prints from the Revue Negre as well as a large portrait of Grace Kelly who befriended Josephine Baker and invited her to perform in Monacco. The double bed covered with a soft gold bedspread was framed by an arch of traditional carved plasterwork, while silver cutwork metal lamps threw patterns of light on the ceiling. On the tiled floor was a Zayan Berber marriage shawl serving as a rug, with silver sequins woven into the fabric to represent money and a few small tables and stools scattered with catalogues and records from Josephine Baker's musical performances.
Our en suite bathroom was a similar fusion of traditional Moroccan polished plasterwork and art deco inspired polished black marble with delicious orange blossom shower gel and body lotion from Les Sens de Marrakech. The powerful shower was contained in a bathing area with a high step which I tackled rather carefully for fear of slipping on the tiled surfaces. At the internal window from which voices wafted up from the kitchen below, was a wire sculpture of Josephine Baker dangling in the space, complete with banana skirt and pouting lips.
From reading the books and biographies about Josephine Baker that were scattered around the Riad, I learned more fascinating stories of her time in Marrakech. In the early years of the Second World War, Josephine had started to work for the French resistance, secretly passing information about German operations within occupied France which she hid in her underwear or wrote in invisible ink on her music scores. In 1941 she received orders to move on the North Africa, arriving first in Algiers and then moving on the Casablanca and Marrakech, and it was during this time that she met one of the most powerful and wealthy men in Morocco, T'hami el Glaoui, the Pasha of Marrakech. Josephine had left France suffering with pneumonia and fatigue but now El Glaoui offered her a place to rest and recuperate in his palace, now the Museum of Marrakech next door to Riad Star, putting on a grand dinner in her honour.
The two became close friends and in 1942 Josephine became pregnant and late in her pregnancy suffered a miscarriage in the clinic in Casablanca. She developed an acute infection  from which she nearly died and had an emergency hysterectomy which meant that she could never have children of her own. When she was well enough Josephine returned to Marrakech where El Glaoui offered her the use of the guest wing of his palace, now Riad Star, to recuperate. It is said that the Pasha paid children to stand under her window and recite verses from the Koran, as we might say a prayer for someone's good health and speedy recovery.
As the Josephine room where we stayed is the only room in the riad that overlooks the street, which is unusual as most look inwards to the courtyard, it is believed that this must have been her bedroom. In the street she was known for her generosity and the elderly neighbour remembered being given sweets and modelling clay by her when he was a child. After her recovery Josephine Baker spent the remaining war years touring North Africa entertaining the American, English and French troops and later adopted a 'Rainbow tribe' of thirteen children to make up for the children of her own she could never have.
We loved the fusion of Moroccan craftsmanship at Riad Star with the elegant furnishings and metalwork from the souk and the Art Deco antiques and objets that owners, Mike and Lucie Wood have collected on their travels. Each room is decorated in unique style and is named after a part of Josephine Baker's life; The Paris room after the Casino de Paris that made her a star; the Rainbow room after her Rainbow tribe of adoptive children and the Chiquita room on the roof terrace after her pet cheetah.
Each morning we were served a delicious breakfast of fruit salad, pancakes and scrambled eggs, seated at the green banquette in the alcove to one side of the inner courtyard, which had a small dipping pool to cool off on hot days. While many of the Riads of Marrakech have been converted into holiday homes or small boutique hotels, they were originally family homes designed to house extended families, with different generations living in the rooms that overlook the internal courtyard. The narrow street outside may look a little scruffy, but the unassuming door opens to reveal an elegant private world, designed to shield the women from prying eyes and to keep the house cool in the heat of summer. Owner, Mike Wood told me how most of the skilled craftsmen he had employed to recreate the traditional Beijmat teracotta tiled floors, Tadlakt polished plasterwork and hand carved plasterwork friezes and arches, could be found within 10 minutes of the Riad. From the souk had come embroidered cushions, small silver poufs and stools, silver cut metalwork lanterns and berber sequin marriage rugs, as well as art deco statues and ornaments in keeping with the Jazz Age theme.
The roof terrace has been converted into a delightful area for relaxation, with a wrought iron ballustrade around the central opening which has a clever retractable roof to keep the courtyard below dry and warm in the cooler months. The terrace is cleverly designed with different seating and sunbathing areas separated by arrangements of shrubs and herbs in pots, and in the evening the fairy lights twinkle in the bouganvillia with a fireplace for cooler evenings. There's also a private hammam that leads off the terrace, where private treatments can be arranged, which is ideal for couples who want to try the hammam experience together, as the public hammams are strictly segregated.
In keeping with the Josephine Baker theme, there's a rail of sparkling, sequinned dresses and other costumes provided for guests to dress up, with a jewellery box of 1920s style hair ornaments and necklaces to try. While we were there, the Riad had a special display of costumes for the Marrakech Bienniale cultural festival, including a red evening gown worn by Josephine Baker in during one of her final performances in Paris before she died in 1975. The Woods managed to purchase the dress, along with a sequined costume worn by the celebrated French singer, Mistinguett, letters, a movie script and other Josephine Baker memorabilia at a recent auction at the Casino de Paris.
We very much enjoyed our stay at Riad Star, being looked after by the wonderful staff, relaxing in the beautifully restored surroundings and reliving a little Jazz Age glamour. I'm sure Josephine Baker would have approved.
Visiting Riad Star and Marrakech
Thanks to Riad Star who hosted our stay in Marrakech. Rooms at the Riad start at £140 per night bed and breakfast. The Riad is one of four in the Marrakech-Riad family, which are all well located close to all the major sights of the Medina, with English-speaking Moroccan staff who will offer advice, airport transfers, book restaurants, and lend you a local mobile so they can rescue you if you get lost in the Souk! Each Riad has between 4 and 7 bedrooms, making them ideal to book as a group if you are planning a gathering of family or friends, or for couples planning a romantic getaway.
Heather and Guy flew to Marrakech courtesy of easyJet who fly from Bristol to Marrakech on Tuesdays and Saturdays – perfect for a long weekend break. EasyJet also fly to Marrakech from Gatwick, Stanstead and Manchester so you really have no excuse!
We also found the free Marrakech-Riad app was indispensable for finding our way around the Medina and full of useful tips and information about sightseeing, restaurants and shopping. The app features a GPS responsive map of the old town medina which saves you from getting lost in the maze of narrow lanes and the latest version has been extended to cover the new town area of Marrakech. Download the free Marrakech-Riad app from iTunes here
More things to see in Morocco
Marrakech – on shopping, sightseeing and (not) getting lost in the souk
Paradise Valley – Blue pools and waterfalls in Morocco – video
Top 10 things to do in Marrakech
This article by Heather Cowper is originally published at Heatheronhertravels.com – Read the original article here
You'll also find our sister blog with tips on how to build a successful travel blog at My Blogging Journey
My recent trip to Marrakech has brought back mouth-watering memories of last year's trip to Morrocco with the family, when we stayed in Taghazout, the surf-capital of Morocco. Our week was spent in an apartment that overlooked the ocean and we spent our time either trying to surf (the kids) or hanging out in the many little cafes along the sea front (me) surfing in our imagination while sipping a refreshing orange juice or a sweet mint tea.
We were there around Easter a year ago, and since Morocco is a warm and sunny spring destination and a number of airlines, such as Monarch offer cheap flights to Agadir, there's really no excuse to go. Here are some of the happy food memories from our trip to Taghazout and Agadir to tempt you;
Because of the years that Morocco was under a French protectorate, it's easy to find delicious freshly baked baguettes as well as the more traditional Moroccan flat-bread to eat for breakfast. With it we tried the local Amlou, a dip made of ground almonds, Argan oil and local honey which was so moreish that we had to bring a jar home with us. It makes a smooth, oily mixture, a bit like runny peanut butter to dip your bread into and on one of our day trips we stopped at the Argan oil co-operative to learn how the argan kernels are pressed to make the oil used both in cooking and in skin and hair preparations.
Lunch was often a Moroccan salad which is served in all the cafes and restaurants as a side dish or starter, preferably with a view of the expert surfers twisting and turning their way into the beach. The salad is made from the vegetables that most families might have growing in their back garden, chopped small, such as tomatoes, cucumber, green and red peppers and red onion tossed in vinaigrette and served with French bread.
Being a Muslim country, alcohol is not generally served, except in cafes and restaurants that cater for Europeans, but instead we drank gallons of freshly pressed orange juice. In the markets you'll see huge stalls full of oranges waiting to be taken home and pressed into juice and we also came across a few juice bars that sold more interesting juice combinations, using carrots, beetroot and ginger such as the kiosk next to L'Auberge in Taghazout.
Another ingredient that featured in many of the Moroccan dishes we ate was chickpeas, which is made into hummus but also used in the green salad that we often ordered, mixed with other Mediterannean ingredients such as tomatoes, black olives and goats cheese, or cooked in tagine dishes in place of meat.
A staple of the North African cuisine is of course cous cous, a small grain that is steamed and then served with oven cooked vegetables and sometimes pieces of meat or chickpeas. I began to realise that the same repertoire of Moroccan dishes appears in almost every restaurant, from the street-food vendor to the smart restaurant, so you are often paying more for the decor and ambiance of the restaurant than any difference in the style or quality of the food.
We ate cous cous several times in different variations in Taghazout, from the elegant French-style version at L'Auberge, to a party version for the guest night put on by the owners of the Surf'n'Stay apartment where we stayed, as well as a home cooked version prepared over the open fire after our walk up to Paradise Valley. Each time there is a base of cooked cous cous in the bottom of the clay tagine dish, topped with chunks of meat and then a layer of large vegetable pieces, such as carrots and courgettes and potatoes laid over the mound of cous cous, with a dish of spicy harissa sauce of the side or poured over the top to give extra flavour. I gather that the French almost regard cous cous, which they inherited from their North African colonies as a national dish, just as we Brits love a good curry even though our Indian empire is long gone.
The final favourite that we discovered in every restaurant was the Tagine, which refers more to the style of oven cooking in a clay pot than to any specific combination of meat and vegetables. Just as we might talk about a stew or casserole cooked in the oven, the Moroccan tagine dishes rely on being cooked oh so slowly in the oven (think six hours). Since every neighbourhood would have a hammam, you might leave your tagine dish with the man stoking the wood fired boiler for the hammam and come back a few hours later after your bath to pick it up for your lunch.
The tagines we tried seemed to often combine meat with fruit flavours, such as lamb cooked with prunes or chicken cooked with preserved lemons and green olives which were delicious.
I know that in a week near Agadir we only scratched the surface of Moroccan cuisine and were probably experiencing the tourist favourite dishes. From reading some of the Moroccan Food blogs out there such as The View from Fez and Maroc Mama I know there is plenty of variety in Moroccan home cooking, so if you are tempted, I commend some of their recipes to you. Enjoy!
More inspiration from Morocco
Paradise Valley – blue pools and Waterfalls in Morocco
Life's a beach – watching the surfers in Taghazout
Marrakech – on shopping, sightseeing and (not) getting lost in the souk
This article was brought to you in partnership with Monarch Airlines who fly twice a week from Manchester to Morocco.
This article by Heather Cowper is originally published at Heatheronhertravels.com – Read the original article here
You'll also find our sister blog with tips on how to build a successful travel blog at My Blogging Journey