Madrid is well known because of its stunning architecture and history, but Spain's capital also offers visitors the opportunity to discover the city's alternative lifestyle and local neighbourhoods. Our guest author Javier Garcia shares his local's view of all the cool things to do in Madrid, from street art, bohemian neighbourhoods and trendy restaurants, to art fairs and music festivals.
Cool neighbourhoods in Madrid
While most travellers visiting Madrid stay in the city centre, there's lots more to see off the beaten track. You'll find some cool neighbourhoods in Madrid within walking distance of the centre, including some that are rarely mentioned in your guidebook.
1. Visit Lavapies in Madrid – for a multicultural vibe
If gentrification is the process by which an area turns from run down to trendy, then Lavapies is the perfect example of what is taking place in Madrid. The area around Lavapies metro station is one of the most multicultural districts in the city, where the local atmosphere is created by Senegalese, Moroccan and Indian restaurants.
Among the places you shouldn't miss in the Lavapies neighbourhood are:
Please be careful with your belongings while walking around the area, as the number of pickpockets has increased in the past few years.
If you're looking for a street art tour of Lavapies and other cool neighbourhoods, we can recommend this Madrid Street art tour with a local graffiti hunter
2. Visit Malasaña in Madrid – for bohemian, vintage style
Madrid's most bohemian and vintage style neighbourhood is located between Tribunal and San Bernardo metro stations. If you're looking for alternative things to do in Madrid, the neighbourhood of Malasaña has a youthful vibe during the weekends and evenings, with commercial life and shopping during the day time.
Fashion and vintage shops, with restaurants offering modern cuisine are the district's highlights for alternative travellers who want to discover the more local spots.
The must-visit locations within the Malasaña neighbourhood of Madrid include:
Solar Antonio Grilo, a community urban garden in Calle Antonio Grilo.
Mercado de los Mostenses, Madrid's legendary food market.
La Causa, a contemporary art gallery selling post-graffiti prints at an affordable price.
You may also enjoy: Three can't miss summer spots in Madrid
Discover the cool bars in Madrid
Spanish gastronomy is delicious and varied, influenced by its different regions. Whether you go north or south in the country you will find delicious dishes and award winning restaurants. In Madrid, there are two areas we would recommend to discover local style bars and restaurants:
3. Calle Ponzano in Madrid – for tapas with friends
'Ponzaning' is the trend by which group of friends visit the bars and restaurants around a kilometer long street called Ponzano (Rios Rosas metro station).
For some of the best tapas in Madrid, just wander along Calle Ponzano where the 72 different bars offer dishes like croquetas de cocido (stew based croquettes), pulpo a la gallega (Galician style octopus with peppers and olive oil) or Tortilla de Patata (Spanish omelette)among other delicious plates, tapas and regional raciones.
Modern cuisine is also available at Sala de Despiece, a gastronomic space with barstools where the walls are decorated with fishermen polystyrene boxes and the bartenders wear fishmonger's aprons.
For extra atmosphere, we recommend visiting the area during the El Carmen festivities, which take place the first weekend of July.
Check out this food tour to discover more about Madrid's Tapas scene – Madrid Tapas Experience Walking tour
4. La Latina in Madrid – bar hopping on Cava Baja and Cava Alta
On Sunday afternoons, groups of friends gather in the city centre for bar hopping known as Latineo. That's the term that locals use to refer to a Sunday meet up with friends at the bars around La Latina metro station.
Stretching 300 meters in each direction on Calle Cava Baja and Calle Cava Alta, are bars where you can eat tapas or appetizers and drink until late into the evening when the music finishes.
Casa Lucio is the most emblematic restaurant in the area, serving the popular "huevos rotos" plate, a full meal of poached eggs, slow-cooked potatoes and Spanish jamón (cured ham).
You may also enjoy: A delicious guide to the food of Castellon
Cool markets in Madrid
Spanish people are known for their warmth and friendliness and their love for rastros, the local markets. Whether your spend your time in flea markets buying vintage finds, or at food stalls choosing fresh and organic products, the markets in Madrid will always have a story to tell.
You may also enjoy: Things to do in Extremadura – a driving tour from Madrid
5. El Rastro flea market in Madrid
The most important, famous and visited street market is El Rastro market in Madrid, taking place on Sunday mornings and local and national bank holidays, from 08.00 AM to 3.00PM
One of the fun things to do in Madrid is to browse through the many stalls selling vintage finds, with different parts of the flea market specialising in unusual collectables:
For anarchist fanzines, pins and merchandising visit Tirso de Molina square.
Sports stickers exchange at Plaza del Campillo del Nuevo Mundo.
Mountain equipment in Ribera de Curtidores.
Electric components & second-hand furniture all along Calle Carlos Arniches.
The nearest metro stations for El Rastro market are La Latina and Tirso de Molina.
If you are looking for somewhere to eat near El Rastro market, then visit Malacatin for a special & never-ending chickpeas & noodles stew called Cocido Madrileño, or Casa Amadeo for his delicious caracoles, slow cooked wild snails with sauce.
6. Mercado Antón Martín – food markets in Madrid
The most trendy and modern food markets in Madrid is Mercado Antón Martín located next to Atocha Renfe Station. It's one of the cool places in Madrid, where food stalls and restaurants share a gastronomic indoor venue which is decorated with street art on the exterior.
In Mercado Antón Martín you can buy Spanish olives, ham, cheese and other local produce, but you'll also find a range of delicious food such as Argentinian steak style butchers, Japanese foodie bars and Michelin star restaurants.
The market opens on weekdays from 9.00 am to 9.00 pm and reservations are suggested for Thursday and Friday nights.
You may also enjoy: Where to find the best tapas in Barcelona
Cool hotels in Madrid
Set in a 19th century building, Only You Hotel Atocha is a cool boutique hotel that's close to many of the places mentioned in this article. The light filled rooftop restaurant and bar has amazing views over the city. | Only Your Hotel Atocha website | Check prices and book for Only You Hotel Atocha| More hotels in Madrid
Street art in Madrid
One of the cool things to see is the Madrid street art, especially since the city hosts several street art festivals and contemporary art fairs each spring.
If you're looking for a street art tour in Madrid? – check out this Madrid street art bike tour that shows you the murals and street art created during festivals such as Urvanity and CALLE Lavapies
7. Urvanity – new contemporary art fair in Madrid
Urvanity hosts a new contemporary art fair in an indoors location, but it also promotes commissioned street art in Madrid, with murals around the city. The event provides a showcase for European, international and national art galleries with emergent artists from the local scene. Past editions have featured the artworks of
PONI, female street artist from Mexico. Her wall decorates Puerta Cerrada square.
PRO176, French graffiti writer who painted cubist figures in Lavapies district.
Artez, photorealism muralist from Yugoslavia.
Urvanity takes place in February at COAM, the official Madrid's Architecture committee in Calle Hortaleza, 63
If you're looking for a street art tour in Madrid, we can recommend this Madrid Street art tour with a local graffiti hunter
8. Los artistas del barrio
Los Artistas del Barrio or Artists from the neighborhood is an artists' platform that was created in order to promote the artworks of local, talented artists.
Their biggest project is an annual event in which more than 100 private art studios in the Malasaña and Chueca neighbourhoods, are opened at the same time to the public.
Prints from local artists can also purchased at Los Artistas del Barrio new store, which opened next to El Rastro flea market in Calle de las Dos Hermanas, 24.
Travelling with the family? Also check out this 2 day itinerary to explore Madrid with kids
9. CALLE Lavapies – urban art festival in Madrid
An outdoors event which takes place in Lavapies neighbourhood. Dozens of bars, shops and restaurants allow urban artists to paint or elaborate their artworks in their metal shutters, windows and facades.
CALLE Lavapies is popular among the local emergent art scene because it offers the best opportunity for artists to promote their work in the streets, but famous for alternative travellers too because of the street art tour that you could do in the area.
The festival's last edition invited two national artists to develop their work in the avenues and streets off the beaten track:
Piro, abstract & colorful modern art installations.
Isaac Cordal, human-like little sculptures spread around the balconies.
The artworks will remain by contract for the time that the festivals lasts, plus the amount of time that the owner decides.
If you're looking for a street art tour in Madrid? – check out this Madrid street art bike tour that shows you the murals and street art created during festivals such as Urvanity and CALLE Lavapies
Cool and unusual cultural spots in Madrid
El Prado, Reina Sofia, and quite surprisingly Bernabeu Stadium are the most visited museums in Madrid. But there are also some unusual art museums in Madrid that may surprise you.
10. La Tabacalera – cultural centre in Madrid
As the name suggests, La Tabacalera in Madrid is a former 19th century tobacco factory that's been transformed into a unique cultural centre open to the public. The centre's 16,000 square meters area is divided in two parts, where all kinds of contemporary art feature in monthly exhibitions and workshops.
CSAO (Centro Social Autogestionado La Tabacalera) Tabacalera is a place to meet the local art community: music, DIY, cycling, urban art and gardening, among other things. Check the website to find out about events being held at La Tabacalera.
More info: La Tabacalera website | Address: Calle Embajadores, 53
Check out this street art tour in Madrid which visits La Tabacalera – Madrid Street art tour with a local graffiti hunter
11. Museo La Neomudejar – art centre in Madrid
Nestor and Fran are the organizers of an avant-garde art museum in Madrid which is not well known, even among locals. It's a unique location of its own! They curate monthly exhibitions related to Brut art, visual art and other LGBTQ performances.
Museo La Neomudejar is located in an almost derelict warehouse which was used during the 19th century by the Spanish railway laborers. Its unique architectonic style combined with post-modern artworks makes this contemporary art centre a unique addition to Madrid's art circuit.
The art museum is located in Calle Antonio Nebrija next to Atocha RENFE, the most important railway station in Spain. This alternative museum opens Wednesdays to Sundays, and it should take you about an hour to walk over the whole indoors venue and garden.
More info: La Neomudejar website | Address: Calle de Antonio Nebrija
Parks in Madrid that are less well known
Adventurers who stick only to the top sites of Puerta del Sol, Plaza Mayor and Almudena Cathedral may not find the connection to nature they are looking for. So if you're craving for green space, in under an hour by metro from the city centre you can find some unusual and lesser known parks in Madrid:
12. Parque de las Siete Tetas
Originally known as Parque del Cerro del Tio Pio, this Park of the seven hills gives one of the best panoramic views over Madrid. Choose the hill where you would like to get the perfect photograph of the city center and its iconic landmarks and don't forget to bring a drink to watch the sunset.
Parque de las Siete Tetas is located in Vallecas neighborhood, one of Madrid's classic working-class areas. You'll find it 15 minutes walking distance from Buenos Aires metro station (10 stops away from Sol).
Offbeat tip for sport lovers: Watch a game of women's football at Rayo Vallecano FC, the local football team playing in the Women's National Football league.

You may also enjoy: Family friendly and fun things to do in Madrid
13. Parque El Capricho
This natural wonder, hidden in the airport's district, which was once home to the Spanish nobility during the 18th century. Parque El Capricho is one of the most beautiful parks in Madrid, but at the same time one of the most forgotten.
The park was created with British, French and Italian influence and its most visited spots are:
A 2,000 sq. meters bunker built during the Spanish Civil War 15 metres under the ground.
The Palace located in the park's western side
You'll find Parque del Capricho 7 minutes walking distance from El Capricho metro station. Access is free and there are guided tours of the Bunker which need to be booked in advance.
Music festivals in Madrid
Open-air events and music festivals are popular in Madrid from May to October, when parks and large green spaces host rock music and alternative indie concerts.
14. Mad Cool in Madrid
One of the most important festivals in the national rock music circuit is Mad Cool in Madrid, celebrated in July next to Madrid Barajas International Airport, with the next edition featuring;
Vampire Weekend
The Smashing Pumpkins
The Cure
Noel Gallagher
Mad Cool has been celebrated in several locations and the current emplacement is located next to the Airport, so shuttle buses connect the city centre for the event.
15. Las Noches del Botánico
Madrid Complutense University gardens hosts a music event where you can discover the hottest Spanish bands of the moment. Each concert takes around 3 hours and tickets often sell out months in advance.
Las Noches del Botanico takes place in June, the night of San Juan being one of the most magical nights of the event (the year's longest day).
About the author: Javier Garcia is a graffiti enthusiast and street art Madrid blogger for Cooltourspain, a social, cultural and educational project in Madrid, Spain.
Plan your trip to Madrid
You'll find more information to plan your trip on the Spain tourism website and Madrid Tourism websites.
Lots more information on street art in Madrid is available on the Cooltourspain website
Read more about some of the most beautiful places to visit in Spain
Tours in Madrid
Check out this street art walking tour in Madrid – Madrid Street art tour with a local graffiti hunter
Check out this tapas food tour in Madrid – Madrid Tapas experience walking tour
Check out this street art tour by bike in Madrid – Madrid street art bike tour
Pin it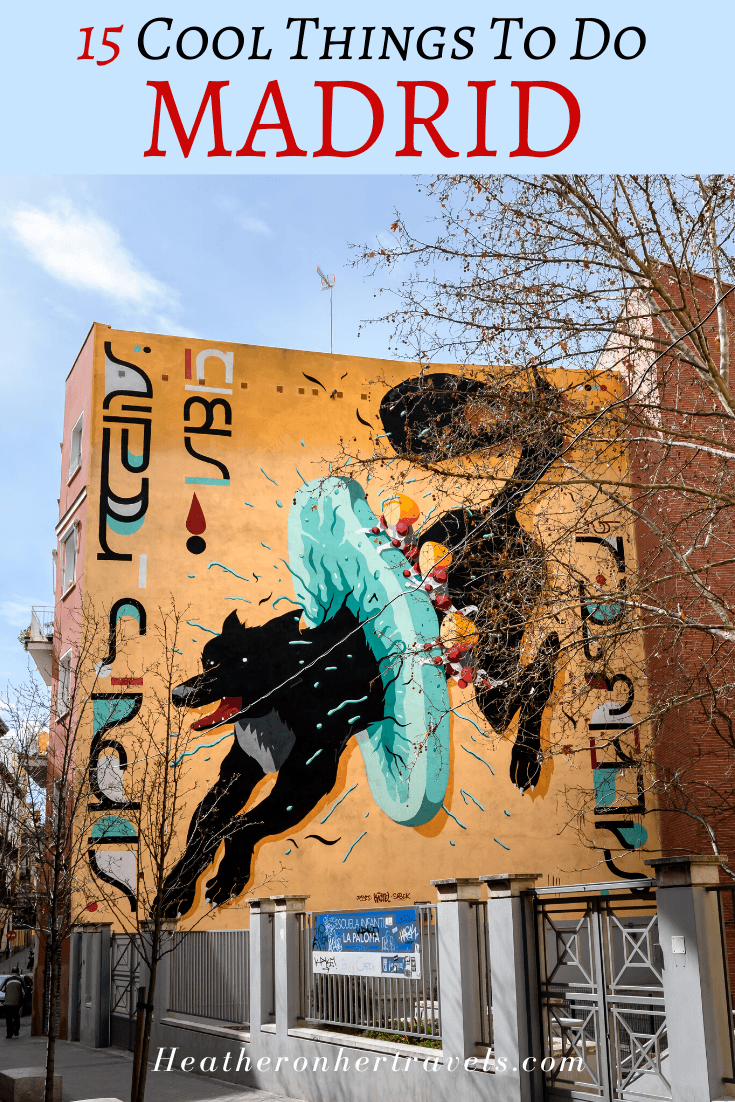 This article is a Guest Post* by Javier Garcia
* More info on my policies page
Photo credits: Lavapies by Ondas de Ruido | Lavapies in Madrid by Mick Amrock | Malasaña night by Nicolas Vigier | Malasaña day by Nicolas Vigier | Polzano street food by Nan Palmero | Calle Ponzano bars by Nan Palmero | Octopus by Javier Lastras | La Chata by Manuel M V | Cava Baja by Manuel M V | Lavapies Street art r2hox | El Rastro by r2hox | El Rastro by Nicolas Vigier | El Rastro music by Nicolas Vigier | Mercado de Anton Martin by Manuel M V | Mercado de Anton Martin by Mark Peacock | Urvanity by Oscar Guerra | Urvanity by Oscar Guerra | Urvanity by Oscar Guerra | CALLE Lavapies by Oscar Guerra | CALLE Lavapies by Oscar Guerra | La Tabacalera by Nicola Vigier | La Tabacalera by Marta Nimeva Nimeviene | La Tabacalera by Marta Nimeva Nimeviene | Parque de las Ciete Tetas by Jose A | Parque de las Ciete Tetas by Jose A | Parque del Capricho by Jose Luis RDS | Parque del Capricho by Jose Luis RDS | Mad Cool by Arnold Valentino | Mad Cool by Rodrigo Barquera | Noches del Botanico from nochesdelbotanico.com| Featured photo Sabek bull by Oscar Guerra | Pinterest image by Oscar Guerra | Pinterest image by Oscar Guerra
This article is originally published at Heatheronhertravels.com – Read the original article here