Standing in the shade of one of Grenada's many cocoa trees we cracked open the yellow cocoa pod, revealing the white cocoa beans inside covered in slime. "Taste one, it's like every fruit in the Caribbean" our guide assured us and sure enough it was like sucking on a fruity blend of mango, papaya and lime. My visit to the Grenada Chocolate festival was full of experiences like this to make the senses tingle; the tobacco, leather and plum sensation of dark chocolate on the tongue, the walk through the cocoa plantation to find an old stone Great House covered in creepers that time forgot, the taste of rum and chocolate on the Savvy yacht as the sun set over the Caribbean.
I'd heard about the Grenada Chocolate festival when I met founder Magdalena Fielden who owns True Blue Bay Resort a few years ago, so I was thrilled to be invited to fly out to Grenada to attend the festival in May 2018. The nine day festival is a great addition to the other festivals in Grenada, that include the Grenada Sailing festival in January and the Carriacou Carnival in March.
It's a celebration of the tree to bar chocolate production in Grenada and has rapidly grown, pioneered in 2014 by Grenada Chocolate company founders Mott Green, Edmund Brown and Doug Browne. Grenada's newest chocolate company Tri-island launched at the 2018 Grenada Chocolate Fest. All the main cocoa and chocolate producers on Grenada take part in the festival, with activities at Belmont Estate, Jouvay Chocolate, Tri-island chocolate farm, Crayfish Bay Organic Farm, Mount Edgecombe and Grenada Chocolate Company.
You may also enjoy: Hiking in Grenada – waterfalls, hot springs and plantation walks
The 2018 festival kicked off with a chocolate yoga and rituals session, exploring the health-giving properties of cocoa and chocolate. Some days in the festival covered visits to different cocoa producers and plantations on Grenada and there were culinary chocolate tasting experiences and a chocolate and rum-tasting sunset cruise. Evening events included the Chocolate at the Brewery night, Street-food Wednesday at True Blue Bay and a Chocolate beach party on Grand Anse beach.
Each of the experiences in the Grenada Chocolate Fest is bookable individually (from $44 per adult including transport and lunch) or in a week long ticket ($435 per adult), so it would be easy to combine some chocolate fest events with other activities on your holiday in Grenada. The next Grenada chocolate fest is planned for 2021, so now is the perfect time to start planning your chocolate themed trip to Grenada.
Of course Tree to Bar chocolate making continues in Grenada all year round, so as well as giving you a taste of what I enjoyed during the festival, I've highlighted ten of the things to do in Grenada for chocolate lovers that you can enjoy whenever you visit.
Read more: The Grenada Chocolate Festival – the sweet taste of the Caribbean
What is Tree to Bar Chocolate?
You may have heard about Bean to Bar chocolate, a term often used by artizan chocolate makers where the chocolatier buys dried cocoa beans and then follows the whole process through to making a bar of chocolate. However in Grenada they go one better and make Tree to Bar chocolate, which means that the cocoa is grown by local farmers on or near the plantation where the chocolate is also made.
This means that there is absolute control over the flavour and the producer can ensure high quality of bean for the best tasting chocolate. Almost all the cocoa produced in Grenada is considered in the top 5% of quality cocoa in the world, due to growing the best flavour cocoa varieties such as Creola, combined with rich volcanic soil and abundance of both water and sunshine.
So how is Tree to Bar chocolate made? Well, I'm glad you asked that since we were able to visit three of the the Tree to Bar chocolate producers during the Grenada chocolate fest to see the end to end process for ourselves.
First the richly coloured red and yellow cocoa pods are harvested by hand from the trees where they are grown in plantations, mixed in with other fruit and spice trees, which gives the cocoa a better flavour. The pods are split open and the pulpy white beans fermented for around a week to develop the flavour, after which they are dried in the sun on open trays. The beans are roasted and the shell of the roasted bean removed by hand or machine, leaving the dry roasted cocoa beans known as the cocoa nibs.
You may also enjoy: KAABOOCayman – A fabulous festival for music and luxury lovers in the Cayman Islands
I found I couldn't stop nibbling the cocoa nibs which make a very moreish snack, with intense cocoa flavour but no sweetness, a bit like a dried almond. No surprise to learn that they contain antioxidents and substances that naturally help lift your mood, a bit like caffeine, although with a more gentle and long lasting energising effect. From here the cocoa nibs are crushed and ground into a thick oily paste which is the base of the Tree to Bar chocolate.
1. Visit the House of Chocolate in St George's in Grenada
If you are visiting Grenada for just a short time, one of the easiest places to get your chocolate fix is the House of Chocolate, in one of the side streets that leads up from the Carenage inner harbour of St George's. It's an ideal location if you're visiting on a cruise or are sightseeing in this most picturesque part of Grenada's island capital.
Inside the 18th century stone building you'll find a boutique that's packed with not only chocolate but beautiful chocolate related souvenirs and island made gifts, so it's great place to shop for authentic souvenirs from Grenada. There are bars of chocolate and also a small cafe area with chocolate bonbons, cakes, ices creams and cocoa tea to purchase.
We visited during the Grenada Chocolate Fest and learned how their delicious iced cocoa tea is made. There are colourful paintings on the wall showing the chocolate making process and a small museum section where you can try your hand at grinding the cocoa nibs.
You may also enjoy: 20 things to do in Grand Cayman – a week in the Cayman Islands
You'll find the House of Chocolate at 10 Young Street in St George's Grenada in the old part of town, just off the Carenage. Facebook | Open daily 10am – 6pm (closes 2pm Sundays)
2. Buy your cocoa souvenirs at the St George's Spice Market Grenada
Not too far away in St George's is Market Square, an open air market of stalls selling fresh fruit and vegetables and an indoor section where you can shop for spices and edible souvenirs. There are many different vendors and they mostly sell the same kinds of things, but it's worth wandering around and chatting a bit to the stall-holders to find out the different things on offer.
Grenada is known as The Spice Isle, and you'll find packets of many of the local spices like nutmeg, turmeric and cinnamon as well as cocoa balls, cocoa powder and cocoa scented locally made soap. If you've got a taste for cocoa tea, this is the place to buy some cocoa balls, made from the raw cocoa nibs. The dried and roasted cocoa beans are crushed into a paste and formed into solid cocoa balls or sticks, that you grate and boil with hot water to make your energising cocoa tea, perhaps sweetened and spiced with a little nutmeg, bayleaf or ginger.
You may also enjoy: Shopping in St Kitts – where to shop for local crafts and souvenirs
3. Drink a cup of Cocoa Tea in Grenada
We tried cocoa tea at The House of Chocolate, but this local drink is widely available in hotels and cafés throughout Grenada, often enjoyed as a breakfast drink in the same way as coffee.
You need to forget any pre-conceptions of hot chocolate, as in it's natural form cocoa tea is not a sweet or milky drink; think of it more like drinking a black coffee but with a slightly bitter dark chocolate flavour. The Cocoa tea is made from the dried and roasted cocoa nibs that have been ground into a powder or grated from a dry cocoa ball or stick that you can buy in the market.
You may also enjoy: 15 Fair Trade Chocolate Facts
Once the cocoa tea has been brewed with boiling water, you can add milk and sugar if you like. I think it's actually better without milk as you get the raw, roasted cacao flavour which is very energising, although I can't resist adding a little honey for natural sweetness. I definitely experienced the energising effect of cacao from drinking this tea, as the cacao not only contains antioxidants, but boosts levels of Serotonin in your brain which has a feel-good effect and it's a gentle stimulant and helps clear your brain.
Read more: Top 10 things to eat and drink on St Kitts
4. Belmont Estate Grenada – a day on an old style plantation
Of the Tree to Bar chocolate estates that we visited on Grenada, Belmont is one of the most established and offers a polished visitor experience. The setting is beautiful, with the open sided restaurant overlooking the fermenting sheds and drying houses, with their long trays of cocoa beans set out to dry in the sun.
The plantation dates back to the 18th century and is owned by the Nyack family who have developed it as a thriving agro-tourism business, now recovered from Hurricane Ivan which decimated their nutmeg trees and destroyed many of the estate buildings. Cocoa has now replaced nutmeg as the main agricultural crop and the estate recently developed their own chocolate factory and shop, to make and sell their own Belmont Estate Tree to Bar chocolate.
We enjoyed the Bean to Bar chocolate tour, which took us to see the cocoa beans fermenting in the sheds and drying on the racks outside. We even got a chance to Walk the cocoa, the traditional way to turn the cocoa with your feet to ensure that it drys evenly. There's a small heritage museum and you can walk through the gardens filled with medicinal plants as well as see some of the pet animals, tortoise, donkeys and parrots.
The new chocolate shop is a place to sample and buy the different varieties of chocolate produced on the estate; my favourite was the "Pure Grenada" flavour that incorporates some of the spices grown on the estate such as nutmeg and ginger. We enjoyed the delicious set lunch in the restaurant, with the local speciality of callalou soup ( a bit like spinach) as a starter, spicy Grenadian dishes from the hot buffet station and a selection of deserts like chocolate cake and home-made nutmeg ice cream.
The restaurant is non-alcoholic with fruit juices and soft drinks available. If you just want to go for lunch the 3 course set lunch is $62.50 EC and the various tours of the estate are often included in cruise excursions or organised island tours. If you are visiting Belmont Estate independently, you can go for lunch, visit the chocolate shop and wander around the gardens, but if you'd like an organised tour it's best to check in advance which tours may be available on the day of your visit.
Read more: My 10 favourite things to do in Aruba
Belmont Estate Grenada Website | Facebook | Twitter @BelmontEstates | Directions | Email [email protected]

The Belmont Estate Tree to Bar experience was offered as part of the Grenada Chocolate Fest, including transport from True Blue Bay hotel, a Bean to Bar tour of the estate, chocolate themed lunch, tour and tasting of Belmont's new chocolate factory and shop Adults $58 US Child $35 US
5. Crayfish Bay Grenada – Live the cocoa lifestyle in Grenada
By contrast, Crayfish Bay Grenada offers more of a "back to nature" experience, and I found this to be one of the most inspiring tours that we did as part of the Grenada Chocolate Fest. The 'custodians' of the estate are Kim who is originally from the UK and Lylette who is from Guyana, who run the plantation, chocolate factory and homestay, renting out simple self catering accommodation.
Crayfish Bay has been a working plantation since the 17th century when the island was under French rule and the molasses factory on this land was called Non Pareil. Like many estates on Grenada, Crayfish Bay was severely damaged by Hurricane Ivan in 2004 but since then Kim and Lylette have been working to make it a thriving organic farm, with a mixture of cocoa, fruit and spice trees and more recently a Tree to Bar chocolate production unit.
"What does organic really mean?" Kim asked us, before sharing his philosophy that it goes beyond the farming methods we use and extends to a sustainable way of living. The farm is run on a co-operative basis with small-scale farmers who lease the land from Kim and get paid a top price for their cocoa, which is made into organic Crayfish Bay chocolate bars.
"We built our factory on peanut money" Kim told us, as he showed how he had recycled old hair dryers, oil drums and bits of machinery, to create a cocoa processing plant that had more than a touch of the Heath-Robinson inventor about it. Kim's "Chocolate on a Shoestring" talk for the Grenada Chocolate Fest was all about methods that the local cocoa farmers can use to make a decent living for their families, without high machinery costs or outside investment.
Read more: 20 Fabulous things to do in St Lucia
After a walk through the plantation up to the original 18th century iron bridge, we enjoyed a chocolate tasting and cocoa tea on the wooden verandah of the "Treehouse" that Kim and Lylette built, with a couple of bedrooms and sea views to die for. The Tree House and another two bedroom cottage The Little House are available to rent on Air B&B from $70 US per night, offering simple self-catering accommodation, with the option of breakfast and dinner provided by Kim and Lylette.
When you stay there you get to experience life on the plantation and guests are welcome to participate in any plantation activities, such as cocoa picking or turning the cocoa. I'm not sure if the plantation offers a regular tour, but if you are looking for a private tour you can contact Kim and Lylette to make special arrangements.
Crayfish Bay Website | Kim Russel | Email: [email protected] | phone: +1 (473) 442 1897

I visited Crayfish Bay Organic Estate as part of the Grenada Chocolate Fest experience which included transport from True Blue Bay Hotel to Crayfish Bay Organic Estate, a tour of the plantation and chocolate making demonstration, lunch at Petite Anse Hotel, a visit to House of Chocolate in St George. Adults $72 US, Children $35 US.
6. Grenada Chocolate Company – the original tree to bar chocolate experience
The Grenada Chocolate Company was the pioneer of Tree to Bar chocolate production on Grenada and was founded in 1999 by Mott Green, Douglas Browne and Edmond Brown. The co-operative they created involves the whole village of Hermitage, although sadly Doug died of cancer in 2008 and Mott died in a tragic electrical accident in 2013.
Edmond Browne continues to lead the company and was there to show us around the plantation, when we visited as part of the Grenada Chocolate Fest. The chocolate factory is actually just a normal house painted lime, orange and turquoise, where each of the rooms houses a different piece of machinery. At the window Miss Joyce, a local lady nearing retirement, sat patiently sorting through the cocoa beans to ensure only the best quality made it into the chocolate.
We took a look at the different parts of the chocolate making process, but the highlight came when Edmund led us across the road, down an overgrown slope and through one of the plantations that supply the organic cocoa beans for the Grenada Chocolate company.
If it wasn't for Edmond, pointing out the nutmegs with their red nut enclosed by a fleshy green shell, or the fuchsia pink petals of the cashew nut clothing the floor, or the shiny wax apple fruits with a crisp texture, we might have thought we were wandering through a random patch of wasteland. There's an edible bounty growing everywhere you turn in Grenada, you just need to know what you are looking at.
Our walk brought us to an abandoned Great House, a beautiful old stone plantation house that had fallen to ruin with creepers over-running its doors and windows. The house seemed to be lost in time, just waiting for someone with deep pockets to restore it to its former glory.
As part of the Grenada Chocolate Fest experience, we tried a lunch of Oildown, Grenada's national dish, a one pot stew of root vegetables, meat and dumplings, bright coloured with yellow turmeric.
Finally there was a chance to look in the Grenada Chocolate Factory shop, painted bright yellow and cool with air conditioning to keep the chocolate and bon-bons at the perfect temperature.
All the chocolate is organic and in addition to the dark chocolate of intensity varying from 60% to 100% we loved the Salty-Licious made with Caribbean sea salt and the Nib-a-Licious with some added cocoa nibs for extra crunch.
If you visit independently, you can usually do a free and informal Grenada Chocolate factory tour. Tips are welcome and be sure to visit their small shop to buy some of the delicious chocolate.
Grenada Chocolate Company | Twitter @GrenadaChocolat | Facebook | Located in the village of Hermitage, St Patrick's, Grenada

I visited Grenada Chocolate Company as part of the Grenada Chocolate Fest experience which included transport from True Blue Bay Hotel, walk through the plantation to the deserted house, tour of the chocolate factory, traditional lunch of BBQ and oildown. Adults $44US Child $20US
7. Mount Edgecombe in Grenada – stay in elegant plantation style
We spent a day at the beautiful Mount Edgecombe Estate as part of the Grenada Chocolate Fest and had lunch and a chocolate tasting there. Although the estate does not make its own chocolate, it is a major producer of cocoa and other spice crops such as nutmeg.
Set on the lush green hillside overlooking the ocean, Mount Edgecombe is now boutique hotel which sleeps up to 16 people, so is ideal to be taken over by larger groups of friends or families. The plantation house dates back to the 18th century and over the past centuries the plantation has produced sugar cane and molasses, then cocoa, rum and nutmeg. Now the plantation mainly produces cocoa, and there's a vegetable garden and a range of fruit trees that provide produce for guests staying at Mount Edgecombe.
The Plantation House is a traditional estate owner's house that sleeps 8 people with lots of living space and a wrap around verandah with views over the garden and hillside. There are an additional 4 rooms in the Nutmeg house that was used to dry the spices and a large open sided Great Room which makes a semi-outdoor bar, restaurant and living space, with a beautiful infinity pool below.
You may enjoy: 5 boutique hotels in Jamaica (and what to do when you're there)
We took a circular walk around part of the estate and I was intrigued to find along the path a series of well preserved stone carvings, that I was told were made by the original Carib people who lived on Grenada. There are petroglyph carvings on large boulders in other parts of Grenada, but it was unusual to see so many unique carvings lying casually beside the path like this.
We had a wonderful chocolate tasting as part of our Grenada Chocolate Fest experience at Mount Edgecombe, but if you get a chance to visit or stay at Mount Edgecombe while visiting Grenada, it's a beautiful spot to relax away from it all.
I visited Mount Edgecombe as part of a Grenada Chocolate Fest experience which included transport from True Blue Bay Hotel to Mt Edgecombe, a plantation walk, lunch at the hotel, chocolate tasting with Will Torrent, afternoon by the pool. Adults $68 You can also arrange plantation walks and experiences directly with Mount Edgecombe subject to other bookings they may have.
8. Chocolate tasting in Grenada
Single origin chocolate is like fine wine, with complex flavours, so if you get the chance it's fun to try a chocolate tasting in Grenada. All the chocolate producers that you may visit while in Grenada have small samples of the chocolate to try before you buy, so take the time to savour the different flavours. Top quality chocolate like that produced in Grenada should have a glossy appearance and a crisp texture that will break with a 'snap' if it's been properly tempered.
As part of the Grenada Chocolate Fest we had a wonderful chocolate tasting with Will Torrent, a leading UK patissier and chocolatier who works with the finest chocolates all over the world. We were able to compare chocolates from all the main Grenadian producers and come up with our own tasting impressions. Looking back at my tasting notes, I wrote down;
mango fruit then smoky tobacco intense
butter toffee prune – smoky but sweet
a comfort chocolate cherry aftertaste
I was also given an interesting chocolate flavour tasting map created by Hazel Lee which made associations between flavour and colour, showing how closely our different senses are connected. Some people may see the flavours of chocolate in terms of colour – so you could associate;
Purple with; Prune, red wine, dried cherries
Brown with; Molasses, leather, tobacco, nutmeg
Yellow with; honey, tropical fruit, butter, pineapple
Will had created some gorgeous Grenadian chocolate truffles to celebrate the Royal Wedding – with Gold truffles filled with Earl Grey tea ganache and marmalade for Prince Harry and Plum truffles with peanut butter ganache and raspberry jelly for Meghan Markle.
We tried some of Will's super delicious rum and raisin Genadian chocolate brownies and he kindly shared the recipe with us below;
Will Torrent's Rum & Raisin Grenadian chocolate brownie recipe
Ingredients: 200g raisins | 6tbsp dark rum | 1tsp ground nutmeg | 1 tsp ground cinnamon | ½ tsp ground cloves | 1 orange, juice and zest | 250g dark Grenada chocolate, 70% cocoa solids or more, broken into small pieces | 200g salted butter | 3 large eggs | 1tsp vanilla extract | 100g plain flour | 1tsp baking powder | 2tbsp demerara sugar | 2tbsp cocoa nibs
Method:
1. Place the raisins with half of the rum, the spices and the juice and zest of the orange into a small sauce pan and slowly heat, while stirring. Once the rum and orange juice have rehydrated the raisins, pour into a bowl and wrap with cling film – leave to cool, before placing the bowl into the fridge overnight.
2. Pre-heat the oven to 170C and line a 20cm x 30cm deep baking tray with greaseproof paper.
3. Place the chocolate and butter into a heat-proof bowl and melt slowly over a pan of simmering water until completely melted.
4. Meanwhile, place the eggs and vanilla extract into a bowl of a stand mixer for about 5 minutes, or until doubled in volume or pale and fluffy.
5. Once the chocolate and butter mixture has melted and cooled slightly, whisk into the eggs and sugar mixture until fully incorporated.
6. Sift in the flour and baking powder then gently combine, being careful not to overwork the mixture. Add in the rum-soaked raisins and mix.
7. Pour into the pre-pared baking tray and spread equally into the tray. Sprinkle with the demerara sugar and cocoa nibs for an extra crunch when baked.
8. Bake for 25-30 minutes. Once baked, leave to cool before slicing, or place in the fridge to cut the day after to make it extra fudgey.
9. Have a chocolate flavour beer at the West Indies Beer Company in Grenada
There are a few other ways you can get your chocolate fix on Grenada and one that we tried during the Grenada Chocolate Fest was some chocolate beer brewed by the West Indies Beer Company. This micro-brewery and bar in Lance aux Epines gets pretty lively and its beers are served in other places around Grenada, including True Blue Bay Resort, where the brewery started.
We tried the chocolate beer they'd produced for the festival, as part of one of their beer tasting flights, which had a subtle dark cocoa flavour and was not at all sweet. It may not be on the menu all year round, but should be there if you're visiting during the chocolate festival, and there are plenty of other great beer options. They serve simple pub grub and there's Salsa dancing on a Thursday and live music at the weekends.
West Indies Beer Co. Website | Facebook | Instagram @WestIndiesBeer
10. Chocolate cocktails at True Blue Bay
Finally, as part of your chocolate experience in Grenada you might look out for some of the delicious chocolate cocktails in bars around the island, like this chocolate martini that we tried at True Blue Bay's Dodgy Dock bar and Restaurant. I'm not sure if this was specially created for the fun evening that we had during the "Street Food Wednesday" event during the Grenada Chocolate Festival, but I'm sure that the barmen could mix it again for you if you are needing that chocolate fix, as an after dinner sweeter instead of desert!
If you like the idea of a chocolate tipple to take home, you should look out for the Amaz-in chocolate creme liqueur that's been launched combining Grenada chocolate with Grenada rum – it would be a great after dinner drink or one to pour over ice cream deserts.
I visited True Blue Bay as part of the Grenada Chocolate Fest during 'Street Food Wednesday' with free entrance, pay bar and street food to purchase from many different vendors.
Pin It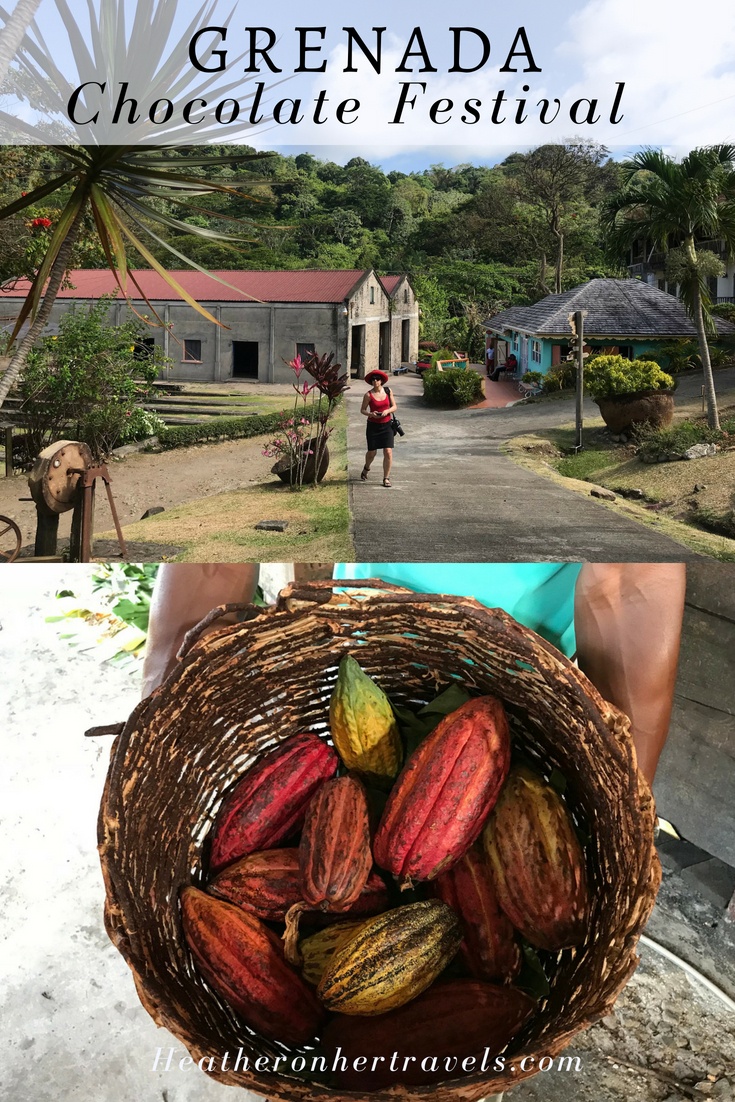 Hotels in Grenada
Calabash Hotel Grenada – elegant, relaxed luxury
For the first half of my stay I was a Calabash Hotel Grenada, a gorgeous 5 star luxury hotel that overlooks the Lance aux Epines beach in the south of Grenada. Voted one of the top luxury hotels in Grenada and in the Caribbean, this elegant hotel offers suites in individual white houses, set around a sweeping lawn with flowering shrubs and palm trees. There is plenty of open garden space, which gives the hotel a calm and relaxed atmosphere and extends to the luxurious white furnishings of the bedroom suites.
My suite close to the sea was decorated in restful pale shades with pretty coral lamps and references to the seashore in the paintings and cushions. The bathroom was huge, with a wardrobe area, marble tiles, an open shower area and plenty of luxurious touches in the white gowns and Elemis toiletries. All the rooms have a verandah area, where you can have breakfast brought to you if you wish, and some of the suites have their own private deck with a plunge pool and bathtub.
The infinity pool was set back from the ocean with views over the garden and we were invited one evening to have drinks on the pool terrace with other guests and the Garbutt family who own the hotel and are closely involved in the day to to day management. There are only 30 suites at Calabash Grenada which means that while there is plenty of space, the feeling is of privacy and individual attention.
I found the service was top class, the staff very welcoming and eager to help with any guest requests. While the atmosphere is very relaxed at the hotel, there's still plenty to do, with sailing boats and kayaks available for guests to use and the Scubatech Grenada diving centre on the beach within the hotel grounds. The spa overlooks the gardens, offering yoga and holistic treatments for a luxurious treat on your holiday.
While the view from my verandah was lovely, I decided to have breakfast in the Beach Cub, where tables are set out on the beach so you can dine close to the sea, with a view of the yachts in Prickly Bay. This bay is very sheltered and a haven for yachts, so the waves are gentle here and the sea quite calm for swimming.
Because I was attending Grenada Chocolate fest activities I didn't get the chance to dine in the Rhodes restaurant, but it has a top reputation on Grenada for fine dining, and there is a piano player or other live music in the evenings. For more relaxed dining, lunch is served in the Beach Club daily with seafood, salads and light dishes, as well as afternoon cocktails.
Calabash Grenada is a hotel where guests come to relax and unwind and there is plenty of space if you want privacy, but opportunities to mix with other guests at the Beach Club or in the piano bar. It would be ideal for couples of all ages, perfect for honeymooners who want to unwind or older couples looking for a relaxing Caribbean break.
Calabash Grenada Website | Facebook | Instagram | Twitter
Where to stay on Grenada
Petite Anse Grenada – a welcoming boutique hotel in the wild north of the island
For the second half for my stay in Grenada, I moved to Petite Anse, a pretty, boutique hotel on the northern coast of the island. This part of the coastline is where the Atlantic and Caribbean seas meet, so the waves crash on the shore and the nature feels wild and untamed. Locals from the south of the island love to come up north for a weekend getaway to get an authentic taste of the island away from the more touristy areas in the south.
The small hotel has only 13 rooms, most of them in individual cottages that are set on the hillside, around the central hotel restaurant and bar with its large verandah overlooking the beach. The hotel was built by Philip and Annie Clift, an English couple who fell in love with Grenada and decided to stay; now they and their hotel are very much part of the local community. The welcome is warm and the atmosphere relaxed, as Annie impressed on me as soon as we met they want you to feel at home and relax Grenadian style with "no shoes, no shirt, no worries"
My cottage was simply furnished with a four poster bed, wooden furniture and adjoining shower room, with a hammock and verandah overlooking the palm trees and beach below. There's a quirky British charm here, with London buses for salt and pepper on the dining table and a huge overblown arrangement of tropical flowers on the table laden with old magazines, that's worthy of any English country house. Despite the quirky touches, everything works efficiently, the wifi is fast and Philip and Annie, together with their staff ensure that all their guests and visitors are well looked after.
The food is excellent at Petite Anse and most of the fruit and vegetables are grown in the hotel's own gardens or by small local farmers that they work with. The menu changes daily with local seafood and international flavours and the restaurant and bar are open to non-residents and a popular choice for locals at the weekend. I used my time at Petite Anse to explore the wilder north of the island, visiting nearby Sauteurs and doing some hiking with Simon from Hidden Treasures hiking tours.
Philip and Annie are extremely welcoming hosts and if you are interested in the local community they are happy to show you what's going on nearby, with a Sunday walk for guests to the nearby sheltered beach at Duquesne Bay and Philip involved in the local Hash running club. Their pets also feature at the hotel, as Annie loves her dogs and has adopted Darius, a donkey from the nearby island of Carriacou, who is on loan to a local farmer but gets regular visits.
The hotel is very welcoming but totally unstuffy and will appeal to those with an adventurous spirit, who are looking for an authentic and unspoiled Caribbean experience with a little luxury and comfort thrown in.
Where to eat in Grenada
In the north – Petite Anse
There are not too many hotels or restaurants in the north of the island, and Petite Anse Hotel where I stayed, is known for its excellent food. We had a lunch of traditional Grenadian dishes when we visited as part of the Grenada Chocolate festival and I enjoyed my dinners there too.
The dishes use local vegetables and fruit from the hotel gardens, there's an all day menu of salads, sandwiches and snacks and a more formal dinner menu with international dishes that nod to the local flavours and cuisine. Coffee and cakes are also served in the afternoon, so this is a good hotel to call in while exploring the north of the island, even if you are not staying there.
In St George's carenage – BB's Crabback
If you're looking for relaxed harbourside dining in St George's with plenty of seafood, you'll enjoy BB's Crabback. The restaurant is open for lunch and dinner and chef/ owner Brian Benjamin a.k.a BB creates Caribbean dishes that are inspired by his grandmother's recipes, with lots of seafood and local spice. I tried the delicious crabback which gives the restaurant its name and is an appetiser of fresh crabmeat in a creamy wine and cheese sauce stuffed back into the crab shell.
On Grand Anse Beach – Umbrellas
Umbrellas is a popular beach bar with visitors and locals alike that's right on Grand Anse Beach and a good spot to retire for lunch or a snack when you want a break from swimming and liming on Grenada's most popular white sand beach. There's an outside terrace and an air conditioned indoor area, which is a cool relief if you've been in the sun all day. I stopped here for a quick lunch at the end of my stay and tried the beer battered shrimp and quinoa salad, which I really enjoyed. The atmosphere is relaxed by day and I suspect a bit more lively at night when they have live music at the weekends.

Visitor Information for Grenada
For more information about the chocolate festival, visit the Grenada Chocolate fest website | Facebook | Twitter |Instagram | YouTube |
For more information to plan your holiday in Grenada visit the Pure Grenada official tourism website | Twitter @discovergrenada | Instagram @discovergrenada | Facebook
Getting to Grenada from the UK
There are twice weekly flights with both British Airways and Virgin Atlantic from London Gatwick airport. More information about flights from USA and other destinations here.
Getting around in Grenada
Local buses are inexpensive, cover most of the main routes and are a great way to experience local life. They normally run from 6am – 9pm Monday – Saturday
Your hotel or restaurant can arrange a local taxi if you need to quickly and efficiently get from place to place.
It's easy to hire a car and this will enable you to get around the island easily. However bear in mind that Grenada is hilly, the roads often steep and narrow, so you may want to wait until a day or two into your holiday before hiring a car, so that you can acclimatise to the Grenadian roads.
A good option for days out sightseeing or airport transfers is to hire a vehicle and driver for the day – we recommend Royalty Taxi and Tours. Owner Sheldon Noel drove us around for part of our Grenada stay in their comfortable air conditioned mini van and is available for full and half day island tours and airport transfers.
Disclosure: I was invited* to Grenada as a guest of the Grenada Tourism board and the Grenada Chocolate Fest.
* More info on my policies page
This article is originally published at Heatheronhertravels.com
This article may contain affiliate links that provide commission on purchases you make at no extra cost to you. As an Amazon Associate I earn from qualifying purchases.