When I first heard about KAABOO I was intrigued at the idea of a Caribbean festival designed with a little luxury in mind. A festival in the Cayman Islands billed as an 'adult escape', with no need to sacrifice comfort just to hear great music. I'd let Glastonbury Festival pass me by, even though it's practically on my doorstep, put off by the huge crowds, the rain and the mud. Here was my chance for a festival in the sunshine with art, food and music for all tastes, featuring bands like Duran Duran, Blondie and Brian Adams that I could actually sing along to.
The KAABOOCayman festival is an extension of the successful KAABOO Del Mar festival in San Diego which has been running for 5 years and has the same approach of relaxed festival in the sun within sight of the ocean. A huge amount of money and planning had clearly been put into the first KAABOOCayman, which had partnered with Cayman Islands for its first Caribbean festival, since Grand Cayman offers easy access via Miami and a well developed tourism infrastructure.
The KAABOOCayman weekend begins
I spent my first three days on Grand Cayman touring around this island that is especially popular with those looking for gorgeous beaches, diving and water-sports. The festival started gently on Friday lunchtime with some of the more local and low key bands and I enjoyed swaying to the mellow reggae sounds of Canadian band MAGIC!
The energy levels ramped up as the afternoon progressed with Flo Rida taking the stage as dusk fell and I was lucky to be close to the front for his crowd pleasing set. His music that's played in all the clubs has rather passed me by, but the energy was infectious and it turned out to be one of my favourite performances of the whole festival. I loved the way Flo Rida involved the audience, bringing up his fans onto the stage to sing along with him, taking selfies and leaving the stage to mingle with the rapturous crowd. He even brought Richard Branson who was at the festival up on stage for a sing along, as the dancer in a barely-there spangly costume shook her booty in their face!
If Flo Rida's lyrics are about poor boy making good, Bryan Adam's are full of feel-good moments and the nostalgia of love remembered. These were songs of the 80s and 90s that we could all sing along to, with rock ballards like Summer of 69 and Everything I do. The Friday night closed with The Chainsmokers, who were introduced by Richard Branson, but by that time I was feeling the jet lag and heading for my comfy hotel bed at the Kimpton Seafire Resort next door.
You may also enjoy: Grenada Chocolate Festival and 10 things to do in Grenada for chocolate lovers
The Murals at KAABOOCayman
One of my favourite parts of the festival was the murals that had been created by local and international artists around the festival site, which continued to be worked on throughout the two days of the festival. Shipping containers seem to a favourite these days, being readily available to create that cool urban feel. We even have a whole foodie neighbourhood in Bristol made up of shipping containers at Wapping Wharf.
A long wall of shipping containers had been used to create this striking mural which was a favourite spot for selfies, with plenty of people including me having their photo taken there! The mural is by Elle StreetArt / Instagram @ellestreetart who started in New York and is one of the top female touring street artists with a passion for feminism and environmental issues, featuring strong female images, with colourful flora and fauna.
This towering piece was created before the festival and greeted everyone on arrival at the Tibbetts Highway entrance – again plenty of selfie opportunities! It was created by Lauren YS / Instagram: @Squid.Licker a Los Angeles based artists whose work is influenced by love, dreams and mythology, with her style reflecting her Asian-American heritage.
I watched this mural by Montreal based artist Jason Botkin / Instagram: @Robotkin develop over the course of the festival as he worked on it. The piece seems to create a distorted picture of reality, as if looking inside a body with organic and natural surrealistic forms.
I kept stopping by throughout the festival to see this mural by Paola Delfin  / Instagram: @paola_delfin as it developed over the course of the festival, starting from just an outline to the completed black and white mural. I kept wondering if she was going to add some colour but she never did. Paola is a Mexican artist and often works in black and white or monochrome, with the use of female forms, split faces and swirling lush foliage being typical of her artworks.
Artwork in progress at KAABOOCayman
In between the music acts I regularly stopped by the popup art gallery at KAABOOCayman with lots of local artists, curated by the festival's Art Director AmandaLynn, with help from the team at National Gallery of the Cayman Islands. Unfortunately I didn't have time to visit the National Gallery on Grand Cayman, but it looks well worth a visit, featuring a permanent exhibition of  artworks, a space for temporary exhibitions and events, sculpture gardens and The Art Cafe. Open 10am – 5pm Monday to Saturday.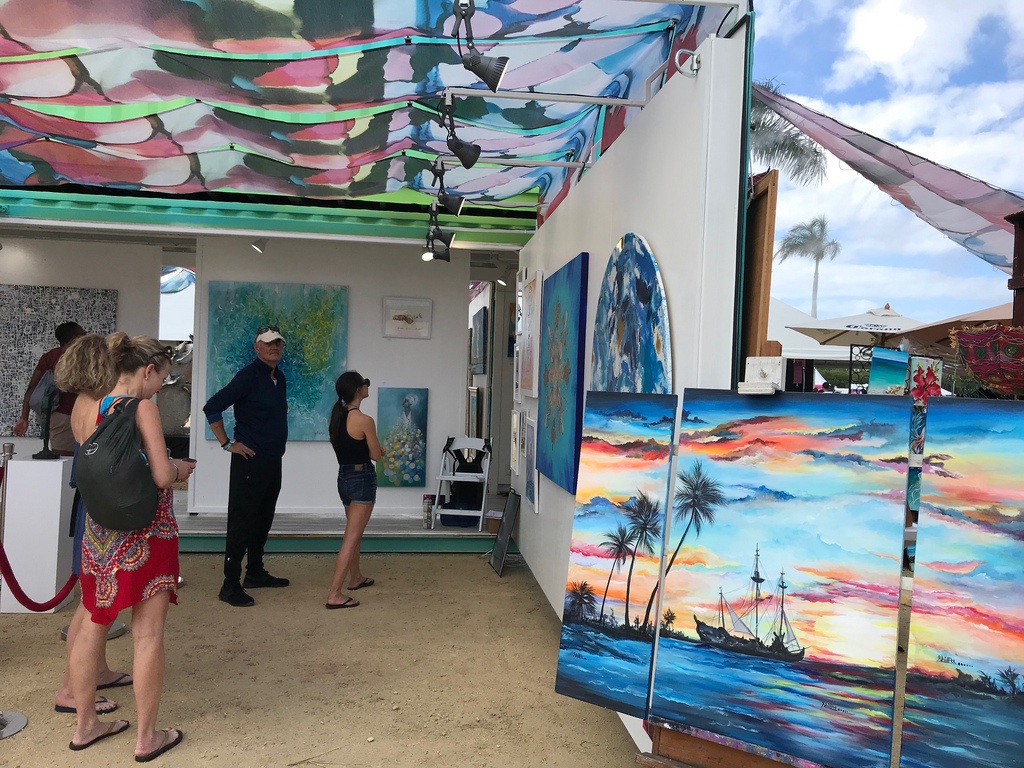 Many of the artists were available at the exhibition to chat to festival goers and I met up with local artist Shane Aquart aka Dready who had visited Bristol when he brought his artwork to the Caribbean restaurant at Turtle Bay. Shane is known for his 'stick figure' pictures and his work has an easy going feeling of Caribbean life, whether it's diving and dancing or couples on a bike or cute retro car. Check out his prints, posters or t-shirts on his Dreadyworld website.
Some of the artists were busy working on larger artworks like this fabulous carnival queen being created by AmandaLynn Instagram: @AlynnPaint and Tansy Maki Instagram: @TansyMaki
and this piece which I enjoyed as it developed by Elitheman Instagram: @1elitheman1 who is based in California.
It was good to see local Cayman artizans and crafts represented at the festival and I stopped by at the 3 Girls and a Kiln stall to admire their pottery and bought a couple of souvenirs to take home. You can find their store in Camana Bay and check where else around the island they sell their colourful pottery on their website.
Even though the festival's over for this year you can still see a couple of other murals that had been created elsewhere on Grand Cayman by festival artists to help promote KAABOOCayman. If you visit Grand Cayman on holiday, look out for this painted office building by Ian Ross on West Bay Road and the butterfly mural by AmandaLynn near the underpass at Camana Bay.
You may also enjoy: 20 fabulous things to do in St Lucia
More great bands at KAABOOCayman on Saturday
There were two bands I really wanted to see on the Saturday of the festival, which were the anthems of my 20s; Blondie and Duran Duran. Once I knew I was going to KAABOOCayman these were the ones I listened to on my runs, keeping me energised as I pounded the streets of Bristol. The KAABOOCayman model seems to be not so much about the cutting edge bands or a specific music style but rather bringing the hits that people want to hear and they had cleverly catered for all ages and tastes. A younger crowd and Caribbean audience were looking out for Salt-N-Peppa, Shaggy and Sean Paul and I dipped into these from a distance on the big screens. But for Blondie and Duran Duran I made sure to take my place early for a good view of the stage.
Debbie Harrie has to be an inspiration for ladies of, ahem, a certain age, the ultimate Rock Chick who has been entertaining us on and off for four decades. Her newest album Pollinator has a message about the importance of bees in the ecosystem and she made her message clear with her stage costume decorated with bee symbols and an uncompromising slogan on the back. The band has a loyal following with those who enjoyed them in the 80s, as I earwigged an expat banker behind me telling his friends that she was the main reason for coming to the festival. Blondie kept us entertained with all the great numbers we'd hoped to hear; Call me! and Hanging on the telephone.
Duran Duran were the band that closed the show on Saturday night and gave a polished performance, with their distinctive electronic sound and colourful light show. I really enjoyed singing along from a position relatively close to the front (I'd staked out my place!) Despite recently turning 60, Simon Le Bon was still holding the audience in his Wild Boys T-shirt and all the big hits; Hungry Like The Wolf, Girls On Film and Reflex. It was a great finale to KAABOOCayman, with so many great names and crowd-pleasing bands.
Festival sparkle at KAABOO Cayman
Even though I'm a bit of a festival novice I enjoyed getting into the spirit of the moment with a little sparkle at the Sand Angels pop-up shop at KAABOOCayman. I chatted to the English owner who told me that their collection of swimwear in the Sand Angels shop I'd already spotted at Camana Bay is so extensive, that customers even fly in from Miami to get fitted for their swimsuit. If you are looking to upgrade your swimwear collection to enjoy the gorgeous white sand beaches of Grand Cayman, this should definitely be your place to shop. For the festival I went for the understated Brit's look with some golden temporary festival tattoos for my festival glitter, although the girls at the shop were going for the sparkly festival look big time!
Local chefs in the Palate Theatre at KAABOOCayman
As I love to eat, the Palate theatre was another part of the festival where I spent a fair bit of time, with local and US chefs creating dishes that we could taste at the end. It was a great insight into the local food scene, as Cody Bush and Anthony Lawson aka Smokin Bros created a delicious lobster rundown, a Caribbean dish made with fish in a coconut milk sauce.
The pair are known for the jerk chicken that Anthony used to create at home, and as amateur chefs the pair won the "Best Jerk Chicken" contest against all the top Cayman restaurant. Their style of cooking is all about smoky flavours and BBQ and they run a food truck that sells their smoked meats which appears at events around Grand Cayman. More info: Smokin Bros Website
I also caught the end of the Thomas Seifreid session, just in time to try this very moreish chargrilled lobster in a chorizo sauce. Chef Thomas Seifried is Chef de Cuisine at the Caribbean's only AAA Five Diamond restaurant, Blue by Eric Ripert which is just down the road from the festival at The Ritz-Carlton on Seven Mile Beach.
Thomas Tennant ran one of the most interesting gourmet sessions with his talk about sustainable food on the Cayman Islands. His answer to invasive species such as the prolific green iguana which is crowding out the the native blue iguana, and the voracious lion fish which consumes all the smaller reef fish, is to eat them! Green iguanas are a popular food in South America but in the Caribbean there is a reluctance to cook their meat, much as we might go YUK! at the thought of eating our own invasive species like rats or seagulls.
Thomas showed how the green iguana tail meat could be made into a rillettes style of pâté, while he made lionfish into a tasty fishball served with one of his own spicy pepper sauces. When you visit Cayman Islands, look out for green iguana and lionfish on the menu at local cafes like Tukka in the East End neighbourhood, where you can eat local Caribbean dishes and fresh fish. Thomas also has a business making delicious hot pepper sauces like his Coco Fiya mild hot coconut sauce or the Plantains on the Side spicy sauce, as well as running private cookery courses and private home catering – more information at Tomfoodery Kitchen.
Lionfish Jewellery by Kelly Reineking
Continuing the theme of creative ways to support conservation, I was intrigued by the iridescent colours of the jewellery on Kelly Reineking's stand at KAABOOCayman. As a diver Kelly takes part in culls of the invasive lionfish which can then be sold to restaurants. But rather than seeing the vibrant fins go to waste she has used them to make beautiful pendants and cufflinks with the spines used as earrings. The fins go through a lengthy process to wash and preserve them before they are protected with resin and made into these necklaces. Kelly also makes jewellery from the skins of the invasive green iguanas. If you visit Cayman Islands, this jewellery would make an unusual souvenir that supports conservation efforts on Cayman and is on sale at various shops and at various Artizan markets such as those at Grand Harbour and The Strand – check the website for times and locations. More info: Mermaids Touch
Sustainability at KAABOO Cayman
Noticing more colourful artwork made of plastic bottle tops and plastic bags, I stopped by the stand where the Pangeaseed Foundation were providing information about their work with KAABOOCayman to reduce the festival's carbon footprint. They have been working with stallholders and local businesses to reduce use of plastics at the festival which is good news, since so much of the Cayman Island's appeal is in the beautiful beaches, diving and marine experiences.
I noticed that food vendors and the Palate stage chef demos were using natural recyclable tableware rather than plastics and that there was division of rubbish to enable recycling which was planned to happen off island if not available locally. Water fountains available in two locations around the festival enabled visitors to fill up water bottles rather than buy more plastic.
You may also enjoy: 10 views of St Kitts that would make the perfect postcard
The first KAABOOCayman was a roaring success, everything was well organised and the experience was about as luxurious as you'd hope for at a music festival. The tickets for 2019 started at just over $200 for the general 2 day pass, rising to $800 and more for VIP passes. With the high standard of this year's festival being established, the 2020 festival is already in planning and I expect it will be even more popular.
If you enjoy music, art and comedy but want to enjoy it in comfort, without the grunge and mud, this could definitely be the festival for you. With world class bands, great food and entertainment and all of it under the Caribbean sun, what's not to love? KAABOOCayman is definitely one to plan your next Caribbean holiday around!
More information about KAABOOCayman available on their website – sign up to their newsletter now for updates on the 2020 festival ticket releases.

More information to plan your holiday is available on the Cayman Islands Tourism Website

Getting to Cayman Islands
Heather flew from the UK with British Airways, which flies direct from London Heathrow to Grand Cayman via Nassau four times a week, with a Saturday departure available from April 2019. Other flights are available via Miami and there are many direct flights from US airports. More information on getting to Cayman Islands on the Cayman Islands Tourism website.
Where to stay for KAABOOCayman
Kimpton Seafire Resort
The obvious place to stay if you are at KAABOOCayman next year is the gorgeous Kimpton Seafire resort and spa, which is right next door to the festival site. I spent several nights at the Kimpton Seafire which is a truly luxurious property with stunning interiors and design, inspired by the vibrant Caribbean sunsets. While the materials of stone, marble and woven cotton used in the design are very relaxed and natural, there are punches of colour in the fuchsia pink accents within the bedrooms and the long carpet of the lobby.
The design is upscale and contemporary, with intriguing details everywhere that reference the natural beauty and heritage of the Cayman Islands. The bedroom headboards are inspired by local fauna and the ground floor library features the local silver thatch rope and faded framed photographs that hark back to the old style Cayman. The Kimpton Seafire Resort and Spa is just three years old and is the newest property to be built on the gorgeous Seven Mile Beach, with access to all the watersports and ocean activities you could wish for.
Book for Kimpton Seafire Resort | Instagram | Twitter | Facebook
The Westin Grand Cayman Resort and Spa
A little further down Seven Mile Beach is the Westin Resort Grand Cayman where I stayed for a couple of nights, which would also be an excellent choice for those visiting KAABOOCayman or coming for a holiday on Grand Cayman. My room with balcony overlooked the pool area, which was popular with families, couples and groups of friends enjoying the Tortuga Beach Grill and swim up bar. The Westin Grand Cayman has recently completed a complete refurbishment and the decor feels calm and relaxed.
The style is modern yet inspired by nature with the colours of the ocean being reflected in iridescent finishes and soft blue accents. As you walk into the airy lobby the air is fragrant and friends gather at the bar that's modelled on the shape of a local fisherman's catboat. There's a kid's club and busy programme of free activities here but of course you can also just relax, swim and enjoy water-sports on the broad stretch of Seven Mile beach.
Book for The Westin Grand Cayman | Instagram | Twitter | Facebook
Pin it
My trip was hosted* by the Cayman Islands Tourism Authority who provided the festival tickets, accommodation stays, meals and experiences mentioned.
* More info on my policies page
This article is originally published at Heatheronhertravels.com – Read the original article here