Set in the beautiful south Cotswolds, the market town of Stroud sits at the meeting point of five valleys, overlooked by Rodborough Common with walks and stunning views over the town. There's a lively and creative feel here, that has born writers like Laurie Lee and attracted artists and crafts makers to the town, with a book festival and plenty of cultural things to do in Stroud.
We decided to visit Stroud on Saturday when the farmer's market was in full swing, with artisan foods from the local area and the smell of sizzling bacon in the air (organic and sustainable of course!) We explored the fascinating industrial heritage, the canals that once connected Bristol with London and supported hundreds of mills making wooden cloth to keep the army in uniforms. Read on for where to stay and all the things to do in the Cotswolds.
What to do in the Cotswolds
1. The Stroud Farmer's Market
After a fun evening at 5 Valleys Aparthotel, we set off into Stroud on Saturday morning, to explore the famous farmer's market in the town centre. The market runs from The Shambles in the shadow of St Laurence Parish Church, crossing the pedestrianised High Street and running down Union Street to the Cornhill Market Place where we found the Farmer's Market.
The Stroud market is a mecca for foodies and draws shoppers from throughout the Cotswolds. It's a fun Saturday morning outing and everyone's favorite tip for what to do in Stroud. Browse and taste your way around the stalls, chat to the artizan producers, buy some tasty hot food for brunch and perhaps catch up with friends for a chat in one of the local cafes.
In the Shambles Market, which was once the area of butcher's blocks and meat hooks, there's now a covered market hall housing crafts, collectibles and vintage stalls. You might even hear the sound of a vinyl record playing from one of the stalls.
At the bottom end in Union Street is the old Cornhill Market Place with food stalls squeezed between the stone pillars around the open air courtyard. This is where you'll find everything that's in season, fat orange pumpkins, crisp green cabbage and swedes with the earth of the farmer's field rather than a plastic wrapper.
You may also enjoy: Ultimate guide to Cheltenham: Things to do with kids
I was tempted by creamy goat's cheese, cloudy apple juice and lardy cake speckled with raisins and oozing with sweet syrup, that I remember eating as a child when we visited friends in the Cotswolds. The Farmer's market runs alongside the Threadneedle Market with stalls along Union Street selling fairtrade, vintage and bric a brac alongside a few more food stalls.
The market was a big hit with all of the friends I was with and Jenni told me;
"As a foodie I loved exploring the Farmers Market. I particularly like trying local produce when I visit a new destination and this is one market you need to go to hungry as you will soon fill up on all the delicious goods" – Jenni Sheldon of Travel to Recovery
More info: Stroud Farmer's Market website | Stroud Threadneedle market | Stroud Shambles Market |The Farmer's market runs 9am – 2pm and the Shambles Market on Friday and Saturday but we recommend you come early when there is most atmosphere.
2. The Stoudwater Canal in Stroud
Stroud is far more than a picture book Cotswolds town, with a fascinating industrial heritage that was built around the canals. In the 18th century two canals, the Stroudwater Navigation and the Thames & Severn canal joined two of England's greatest rivers, the Severn and the Thames, enabling goods to be transported across the country from Bristol to London.
The canal climbed from the Severn estuary at Gloucester, up a series of steps through locks and passed through Stroud to the two mile long Sapperton canal tunnel. With no towpath, the barges were literally walked through the tunnel by people lying on a plank across the boat and using their legs to move the boat forward.
There is a major Heritage Lottery funded project underway to restore the canal in stages, so that it can be used again by canal boats and eventually connect the Cotswold Canals with the whole English waterway network. At Stroud's Wallbridge Lock you can find the Cotswold Canals Trust visitor centre with enthusiastic staff who will tell you all about the Stroudwater Canal restoration, and the popular Upper Lock Café (open 9am-3pm daily) where you can sit in fine weather on the grass overlooking the canal.
It was also a pleasant walk from 5 Valleys Aparthotel where we were staying, down to the canal a few minutes away and then a 15 minute walk along the canal into Stroud. We passed three young swans who hoped we would give them some breakfast and Lodgemore Mill where there has been a mill since the 15th century and still produces the cloth that covers billiard tables and the tennis balls used at Wimbledon.
Under the Brewery bridge as we approached Wallbridge Lock, we enjoyed the intricate patterns and colours in the mural created in 2016 by local artist "Matt the Muralist" inspired by the geometry of the natural world. If we'd continued past Stroud and Wallbridge Lock, the canal path leads as far as the Sapperton Tunnel where you can walk through the beautiful Golden Valley. You can follow this Canal Walk along the Thames and Severn Waterway from Stroud.
3. History and Heritage in Stroud
If you are interested in discovering the history of Stroud, there is an interesting series of information boards that starts in St Laurence churchyard and takes you in a circular route around the town, with stories of the things you'll see on the way.
The town of Stroud is situated where five Cotswolds valleys converge, hence the name of 5 Valleys Aparthotel where we stayed. With plentiful water supply and good access via the canals, Stroud become wealthy from the production of woolen cloth, with hundreds of mills along the banks of the canal and river Frome. You may hear about the Stroudwater red cloth and the Uley Blue cloth that were supplied to the army for uniforms, as well as the green baize used for snooker tables and felt covered Wimbledon tennis balls.
The past prosperity of the town means there are many fine Victorian buildings around town, like the Subscription Rooms that is used for music and entertainment as well as housing the Visitor Information centre. If you walk through the town, you'll also pass under the Victorian railway viaduct that carries the Great Western Railway through the Cotswolds.
You can also walk along the town heritage trail created by the Stroud Local History Society to spot all the local landmark buildings in town and the stories behind them.
4. Food in Stroud – where to eat
After our walk around the Saturday morning farmer's market in Stroud, we were ready to sit down for lunch and spotted Woodruff's Organic Cafe, one of the indie cafes that we'd seen recommended on the 5 Valleys Aparthotel website. The cafe is situated in a prime position on Stroud's High Street and is a bit of a local institution, serving mainly vegetarian and organic food throughout the day 8.30am-5pm (except Sundays).
Playing to the cafe's healthy eating strengths I ordered a plate of salads with a granary roll which were very tasty and despite the cafe being very busy I didn't have to wait long for my lunch.
It looks small from the outside but there's also an upstairs room and if you can bag the corner seat, you have a prime view down the high street. It's also a very popular family friendly choice as there's a separate family room with a play area and child gate for toddlers.
There are quite a few independently run Stroud restaurants and cafes and although we were not able to check them all out, a few that were recommended to us were;
Upper Lock Cafe – Light lunches, homemade cakes and coffee beside the canal at Wallbridge Lock. A good start or end point for your canalside walk | Open 9am-3pm | Wallbridge, Stroud. (Simon of 5 Valleys Aparthotel recommends the sausage and egg sandwich)
Mills Cafe – Just off the High Street tucked down a side alley and with a pretty courtyard | Open 9am – 5pm Closed Sundays | Withey's Yard, 55B High St, Stroud GL5 1AS (Simon of 5 Valleys Aparthotel recommends Avocado with a runny egg on top of some exotic bread)
Star Anise Arts Cafe – Mainly vegetarian and whole food, seasonal and organic | Open 8am-5pm (close 4pm on Sat and 2pm on Sun) | 1 Gloucester St, Stroud, GL5 1QG
Falafal Mama – Falafel bar serving healthy Mediterranean food, lemonade and sweet treats | Open 11am – 4pm | 6 Cotswold Chambers, 1 London Rd, Stroud GL5 2AA
Cafes just outside Stroud, if you go for a walk
The Kitchen Minchenhampton – In a pretty Cotswold Stone house with bay window where you'll sometimes see cattle from the common roaming free outside. Serves freshly made, locally sourced light meals, cakes, coffee and afternoon tea | Open daily 8am – 5.30pm | 7 High Street, Minchinhampton, Stroud, Gloucestershire GL6 9BN
Lavender Bakehouse and Coffee Shop – At the top of the Golden Valley in Chalford serving hearty breakfasts, light lunches and afternoon tea with home made cakes and patisseries | Open 9am – 5pm (4pm some days) | 20 London Road, Chalford, Stroud, Gloucestershire, GL6 8NW (Simon from 5 Valleys Aparthotel recommends the moist and yummy Lavender and Orange cake)
Local food specialities in Stroud
I love to try the local dishes when I travel and when I saw some Lardy Cake at the Hobb House Bakery stall in the farmer's market, it brought back memories from my childhood. This West Country favourite is a cake that's layered with fat and raisins, oozing a sticky sweet syrup and is a delicious treat to try while you're in Stroud. We always used to have it when we came to the area to visit my Godmother.
Stroud Brewery – Beer lovers will also enjoy tasting their way through the Stroud Brewery range of organic beers, which were on sale at the Farmer's Market and in pubs around town. The Stroud Brewery is a 35 minute walk down the canal on the edge of Stroud where there is an informal bar and sourdough pizzas in a wood-fired oven from the Velo Bakery from 12pm Saturdays. There are brewery tours first Thursday every month 7.30pm – 9pm.
Winstones Ice Cream – I can personally recommend Winstones Ice Cream who have a small shop on Rodborough Common on the hillside overlooking Stroud. You can buy a tub or cone in lots of different flavours, as well as tubs to take away and eat at home. Open daily 10am – 5pm this is a popular stop when you've been for a walk on Rodborough Common.
Pubs near Stroud
If you are looking for a country pub near Stroud, for a beer and a bite to eat, here are a few that were recommended by 5 Valleys Aparthotel;
The Golden Fleece in Stroud – One of the recommended pubs in Stroud for craft beer, gourmet burgers and bar snacks
The Woolpack Inn in Slad – 300 year old pub in the stunning Slad Valley, home of Laurie Lee and the setting of Cider with Rosie.
The Prince Albert on Rodborough Hill – Good beers, bands and comedy
The Bell at Selsley – a picturesque Cotswold Inn on the edge of Selsey common with pub classics and casual fine dining in the evening.
5. The Malthouse Collective and Malthouse Bar and Kitchen
While we are on the topic of cool cafes in Stroud, I'd like to also suggest the Malthouse Bar and Kitchen that's situated on the edge of Stroud in the Salmon Springs business park. It's right next door to the Malthouse Collective, a spacious warehouse on two floors that is packed full of vintage, antiques and gorgeous locally made crafts for the home.
If you are furnishing a new house and looking for quirky antiques and unusual objects, or shopping for Christmas gifts that can't be found on every high street, this is your place. I could have spent hours looking around and wondering about the stories behind each of the beautifully curated collections, with over 50 dealers and makers, but with one place to pay at the entrance.
The old red brick buildings were once a malthouse where cereal was converted into malt for use in brewing beer. The Malthouse Bar and Kitchen is adjoining the collective, serving high quality comfort food in a relaxed setting, so that you can do all your shopping and then stop there for lunch or a well earned coffee (Open 10am – 5pm).
You may also enjoy: How to spend a perfect weekend in Petworth
6. Museum in the Park in Stroud
The Museum in the Park is on the edge of Stroud and an easy walk from the centre of town, or you can drive if you prefer as there is plenty of parking. The museum is in a beautiful 17th century mansion set within Stratford Park, which is managed by the town council and also includes a leisure centre, skate park, childrens playground and plenty of open green space.
Within the mansion you'll find a free museum, with information about local history showing how people lived in the past. There's a beautiful new glazed extension that contains the shop, cafe and two larger exhibition spaces, which when I visited were showing a Remembrance exhibition about the local connections with the two world wars, and an exhibition of Cheltenham print makers.
I was impressed by the walled garden at the back of the museum, with sculptures, stone terraces and herbaceous plantings, leading up to a wild meadow, orchard and vegetable beds at the top of the garden. Here was also a separate Garden Pavilion, designed for learning events and crafts workshops. The Museum had a lovely creative but peaceful atmosphere and is free to visit although donations are welcome.
You may also enjoy: A weekend in Oxford – our 48 hour itinerary
7. Art and Literature in Stroud
Stroud is a centre of art and literature within the Cotswolds and Simon from 5 Valleys Aparthotel told me;
"This small Cotswold market town is steeped in art. There are numerous studios, some open all the time, others during the spring festival when artists open their doors. It's a wonderful opportunity to take a look into this fascinating world. Rotating exhibitions take place at SVA (Stroud Valley Artspace) and Select Studio with other exhibitions popping up through out the year in other venues too. There is art and craft all around from wonderful locally made cushions and lamp shades to the shop dedicated to local producers at Made in Stroud on Kendrick Street."
We were visiting Stroud during the Stroud Book Festival where events were taking place throughout the week and venues like the Subscription Rooms and the Museum in the Park. There were plenty of children events, illustration classes, media and literary personalities and events to showcase local writing talent. On the Sunday afternoon, while I was looking around the Museum in the Park, others in our group were off to see Mary Portas who is a Stroud resident, TV presenter and "Queen of Shops", speak about how to "Work Like a Woman".
Jane Batt of Practically Perfect Mums who was at the talk told me;
"I was interested in hearing Mary Portas speak simply because I've enjoyed programmes I've seen her in on television. I hadn't realised beforehand what a charismatic and inspirational speaker she was. She spoke passionately about feminism and giving women an equal chance in the workplace. I was lucky enough to nab a front row seat and enjoyed it so much that I queued up to buy a signed copy of her new book to discuss with my bookclub group. Mary was so pleased that I'd enjoyed her talk and enthused about it on social media that her face lit up and she gave me a big spontaneous hug!"
8. Laurie Lee and the Slad Valley near Stroud
The most famous literary local is perhaps Laurie Lee, author of As I walked out one midsummer morning and Cider with Rosie, which he wrote about his childhood in the Slad valley close to Stroud. Laurie Lee returned to live in his later years at Slad and on his death in 1997 was buried in the local churchyard, where you can see his headstone.
If you want to connect with Laurie Lee and the rural Cotswold Valley that he described, you can follow the recommendations of Simon from 5 Valleys Aparthotel;
"I went in search of Cider with Rosie, prompted in part by a circular walk of the Slad Valley I'd found. I was also half way through the book, so it seemed to be a good moment. So off to the Woolpack for lunch, a bowl of mussels and half of cloudy cider in a very pretty pub perched by the road, then over the road to the church to find Laurie Lee's gravestone and a wander up the road to gaze upon his childhood home. It's a beautiful valley, but I had to go back to work so the walk will have to wait for another day."
9. Rodborough Common in Stroud
After visiting the Museum in the Park and the Malthouse Collective, I decided to use the final hours of daylight to get some views from Rodborough Common which sits on the hill overlooking Stroud. This area of open limestone grassland is managed by the National Trust and is a site of special scientific interest, with native orchids and other wildflowers.
The cows graze in some areas of the common and there are a number of parking spots as you drive up the hill from Stroud and onto the grassy plateau. From the road I took a walk along the path that ran slightly downhill, to get a distant view of Stroud with houses lit up in the late afternoon sunshine.
You may also enjoy: Westonbirt Arboretum for spectacular autumn colour
A little further down the road, I stopped at Winstones Ice Cream shop which is always popular and enjoyed a creamy tub of honey and ginger flavour of this locally made Cotswold Ice Cream.
10. Coaley Peak in Stroud
On the way home from Stroud I stopped at Coaley Peak that had been recommended by Marcus and Melissa Williams of Fly Drive Explore who had stopped there earlier in the day and got some great photos, while I arrived at dusk when the light was fading.
Marcus shared this tip;
Coaley Peak Picnic Site is only 10 minutes from Stroud along the signposted scenic route of the B4066. It has an ample amount of parking, it's dog friendly and open from dawn to dusk. There are great views over the Severn Valley and down towards the Severn Estuary. It's also a popular stopping point for walkers as it is situated along the 100 mile long Cotswold Way, a National Trail which runs along the Cotswold escarpment from Bath to Chipping Campden.
Other things to do near Stroud
11. Cotswold Walks in and around Stroud
Although I didn't have long enough in Stroud to go for a long walk, there are plenty of Cotswold Walks in the area. Most notably, the Cotswold Way, a long distance trail that runs from Bath to Chipping Campden, runs through Stroud and sections of it can be easily walked if you are staying locally.
Craig and Linda Martin share their Cotswold Way hiking resources:
"The Cotswold Way passes close to Stroud, and if you'd like to break the walk into two roughly equal parts, it's a logical stopping point. If not, Stroud itself is a short detour off the walk, but the extra couple of miles are rewarded with a good range of food and accommodation — a rarity on this walk!
In fact, there are two choices of route as you approach Stroud on the Cotswold Way: a straightforward connection between Middleyard and Ryeford, or an official alternative that's slightly longer, but takes you across Selsley Common and along the Stroudwater Navigation. The alternative is a lovely walk, and highly recommended — and passes near The Bell, one of our favourite pubs in the area, with an excellent Sunday roast.
If you're looking for a circular walk, you can consult Viewranger and combine both routes for a 5-mile round trip"
Need a guide to the Cotswold Way? We recommend the Cicerone Walking the Cotswold Way Guide
Simon of 5 Valleys Aparthotel told me about his favourite local walk to Standish Woods;
"I love the the views from the Cotswold Edge. It's impossible to get bored of it and it almost doesn't matter where you go to enjoy it, but here's a quick walking guide to one spot. The Cotswold Way is about 500m along the canal tow path heading West from 5 Valleys Aparthotel and the choice is left to Selsley Common or right up Standish woods. Both are a stern climb but very rewarding, and you can drive to both too. I cycle. It's up the lanes and bridal-ways to Standish Woods on the mountain bike, pausing at the small car park at the top of Ash Lane to drink in the view before plunging into the forest. Keep following the Cotswold Way signs and you'll end up and Standish Woods car park. It's a short walk to the bronze relief of the landscape which sits on a headland, a wonderful spot."
Walking in the Golden Valley near Stroud
Photo credit: Richard Szwejkowski on Flickr
Michael Paul of Michael Paul Holidays told me about his favourite walk in The Golden Valley
"This delightful valley so called because of its strong autumnal colours offers one of the most varied walks in the county. Brimscombe and Chalford are two villages along the way both of which add interest but it's the variety of the scenery set against the remnants (not the ruins) of its industrial heritage that makes this valley as popular a walk as most in the Cotswolds.
The tow path to the Thames and Severn canal takes in several small lakes and ponds which support bird and wildlife of tremendous variety and encourage the walker to almost tip toe and to keep their dog close. Now for the thirsty there are pubs to visit and for the photographer there are old mills some now converted canal locks and bridges to size up .
The marked walk is around 11 miles but if you detour to take in 6 villages including Minchinhampton with its amazingly preserved common well this Golden Valley walk will take all day and most of a summer evening."
If cycling is your preference, check out the Stroud Valleys Trail on the Sustrans website, a traffic free cycle route that follows the line of the old Midlands Railway.
Visit the Cotswolds also have some more suggestions for easy Weekend Walks in and around Stroud
12. Woodchester Winery near Stroud
For other things to do near Stroud wine lovers may like to visit Woodchester Winery, a family owned boutique vineyard in the Stroud Valley. There are three vineyard sites in the Stroud valleys which produce a range of still white, rosé and sparkling wines and you can visit the Woodchester winery at Stonehouse.
There are regular Woodchester Vineyard tours and tastings where you can find out about English wine, tour the vineyard and winery, with a further tasting of the latest wines after the tour. Nearby you can pop into the Cellar Door Shop to buy the Woodchester wine, even if you're not taking a tour. Tours take place at various times in the week and cost £15 – book in advance.
Linda and Craig of Indie Travel Podcast told me about their experience at Woodchester Valley Winery
"When we stayed in Stroud for a seven-week housesit recently, we discovered the Woodchester Valley winery. We joined a mid-week tour of the winery: exploring the vines and factory and finishing up with a taste of several wines. The guide was friendly and knowledgeable, and we walked away with a much better understanding of English wine production.
We're big wine-drinkers, and English wine is a particular interest, since it's very hard to find in our home country of New Zealand. Plus, some of the varieties that are common here are unheard of back home — like the Bacchus, which was probably our favourite among the options we tried."
13. Visit Painswick near Stroud
If you have a couple of days in Stroud, it's worth visiting some of the beautiful Cotswold villages and gardens nearby, like Painswick which is 15 minutes drive away. I've long wanted to visit the Painswick Rococco Garden which was designed in 1740 as a pleasure garden, set in a hidden valley with spectacular views of the surrounding countryside and intriguing garden buildings.
Although I didn't have time to visit on this trip, Karis Bouher of But First we Eat gave me this tip;
"I can definitely recommend a visit to the Painswick Rococo Garden. I went in April and even on a cold, grey day I was happy to spend time gazing at daffodils and hellebores (one of my favourite flowers), but if you're after a lot of colour and soft flowers I think a visit a bit later in the year would be best. However, at any time of year, it's a beautiful spot to spend an afternoon either walking through the woodland or just exploring the follies. Plus, there's a maze for the kids (or those of us who are young at heart) and when you're done exploring you can reward yourself with tea and cake at the cafe. Oh, and if you love a good gift shop like me, you're in luck!" Gardens Open 10.30 – 4pm £7.50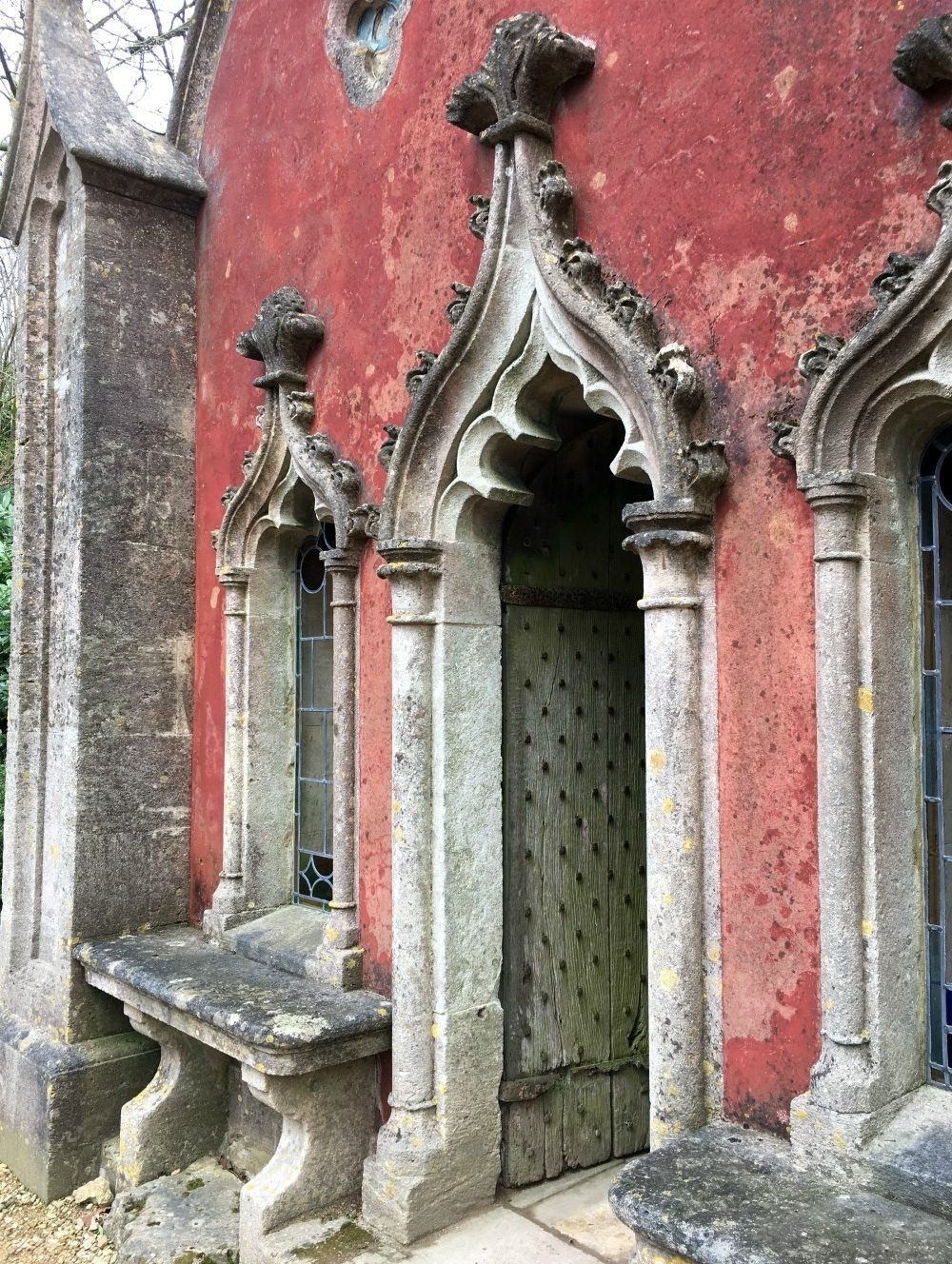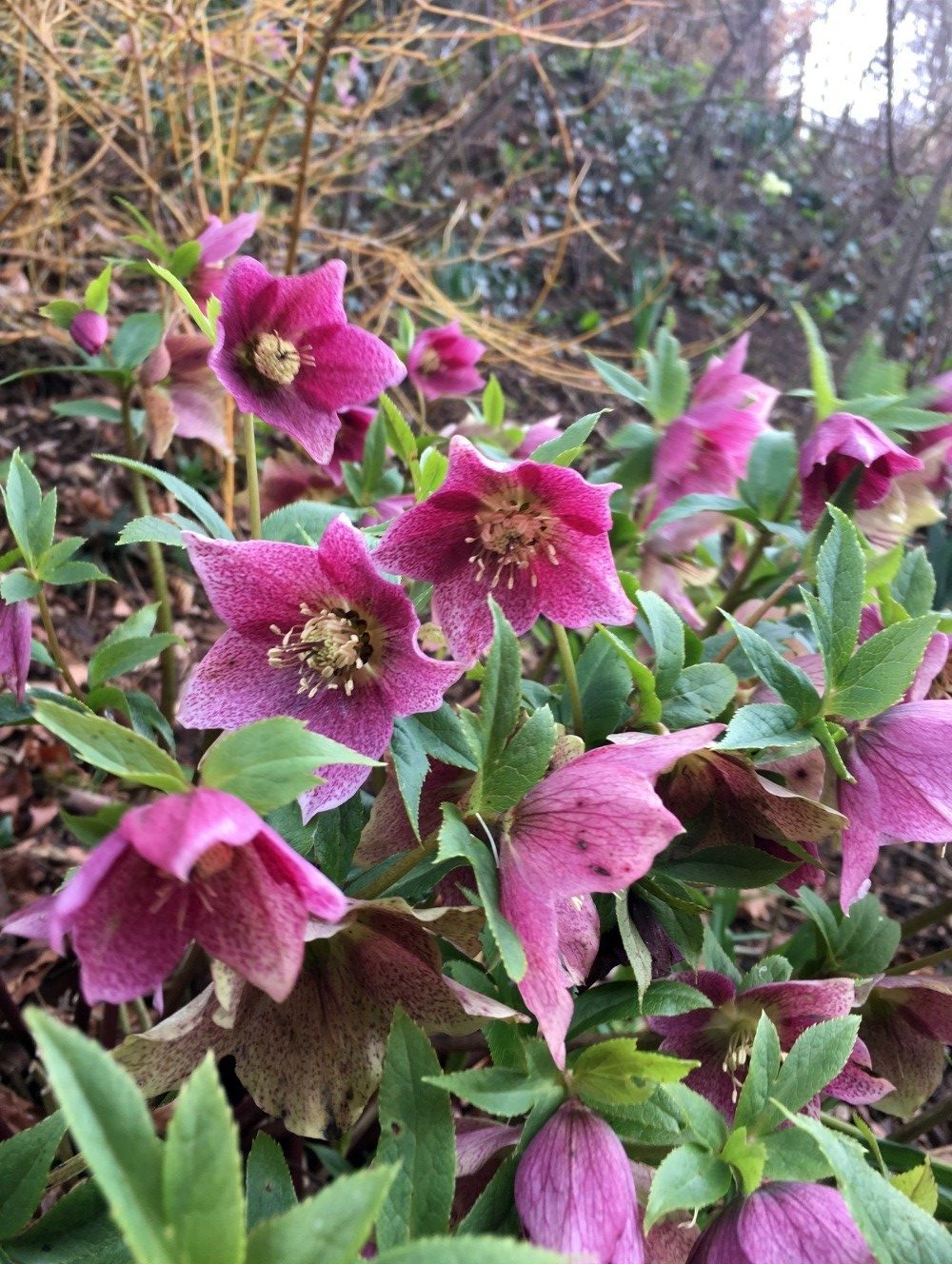 Nearby there are a few more things to do in Painswick as Simon of 5 Valleys Aparthotel told me;
"If you want something very rewarding that doesn't require mountaineering skills, but still gets you to a stunning spot on the Cotswold Edge, Painswick Beacon is for you. I love it. An Iron Age fort perches on a Cotswold high point, 900ft up and the 360 degree view will take your breath away.
The River Severn with the city of Gloucester are at your feet. And if you like to play golf there is even a course weaving it's way across the uplands and through the fort (the 8th hole is a gas).
As your reward for the short walk from the parking area I'd recommend a stonking afternoon tea at the Painswick Hotel. Book for say 4.30, don't have a big lunch and you won't need an evening meal!. What a way to spend an afternoon."
14. Visit Miserden Garden near Stroud
Another beautiful Cotswold Garden that's only 20 minutes drive away from Stroud is Miserden garden. The garden was designed in the 17th century with a topiary walk and herbaceous borders. There are extensive yew hedges, including a notable topiary yew walk designed by Lutyens as well as some magnificent mixed borders, which contain a wide range of roses, clematis, shrubs and herbaceous plants that provide colour right through from spring to autumn. Once you have enjoyed the garden and spectacular views over the deerpark and rolling Cotswold Hills, you can stop for tea and cake in the Miserden Garden cafe in a converted glasshouse. Garden open 10-5pm £7.50
15. Slimbridge Wetland Centre
If you love wildlife and nature, Leanne from The Globetrotter GP gave me this tip;
Just 20 minutes from Stroud is the fantastic Slimbridge Wetland Centre where I have many fond childhood memories. I spent many a happy day here with my family spotting birds and mammals alike. My favourites were always the colourful flamingos! Nowadays, you can hire canoes to explore the rivers and try to spot some shy river otters!
Hotels in Stroud – 5 Valleys Aparthotel in Stroud with Michael Paul Holidays
We found the ideal base for our short stay in Stroud at 5 Valleys Aparthotel, a substantial Victorian villa that has been converted into 15 studio apartments. If you are wondering where to stay in the Cotswolds, the 5 Valleys Aparthotel offers a spacious alternative to a normal hotel or b&b stay. The hotel opened in the summer and is a new project for experienced hotelier Simon Wells. After seeing the aparthotel concept succeed in other parts of the world, Simon decided to try something different to other hotels in Stroud, and bring the aparthotel concept in the Cotswolds.
You may also enjoy: A weekend stay in luxury Cotswold cottages – at Bruern Cottages
It's a no fuss experience with a key-code to get into your apartment and Simon on call in case of any problems. Inside you get bags of space in each mini apartment with a comfy bed (which can be arranged as doubles or twins), a seating area and TV, kitchen with microwave, hob and dishwasher and a shower room.
The decor is contemporary and creative, using recycled pallets for headboards, funky furniture from the Malthouse Collective down the road and cushions and artworks from local makers. The photography on the wall features local landmarks, such as the Victorian viaduct, interesting historic buildings in Stroud and Coaley Peak with views towards the Severn.
You may also enjoy: 5 Valleys Aparthotel with Michael Paul Holidays
The Aparthotel is getting lots of bookings with those doing business around Stroud in the week, as it offers a comfortable home-from-home at the same price as a budget hotel. At weekends, it's popular with walkers, those visiting family and friends in the area, guests attending local weddings and travellers who want a base to explore the beautiful south Cotswolds. There's parking on site for all the apartments, and one is an accessible apartment with an open shower that would be suitable for a wheelchair user. Some of the apartments also offer dog-friendly accommodation.
As a keen cyclist, Simon has also provided a secure bike store in a metal container and an outside washing area for dogs and bicycles, so this accommodation is ideal for those who want to get out and enjoy the Cotswolds countryside. The hotel is around 5 minutes drive or 15 minutes walk from Stroud along the canal, a pretty walk passing swans and old mills and much more fun than walking along the main road. All the rooms offer 1 bedroom for 1-2 people but some have an interconnecting door, so that they could be turned into a spacious 2 bedroom apartment for use by a family, with futons providing extra sleeping potential.
You may also enjoy: 5 Valleys Aparthotel with Michael Paul Holidays
The apartments are available to book through Michael Paul Holidays who offer high quality self-catering accommodation in the UK, with all their properties being vetted for service and quality. Prices vary depending on the apartment, season and time of week but as an example a Friday/ Saturday low season break booked through Michael Paul Holidays starts from £200 (2 nights) or around £600 (7 nights).
Planning your visit to Stroud
We stayed at 5 Valleys Aparthotel in Stroud, which offers a flexible alternative to a hotel room, B&B, or self-catering cottage when you are staying in the Cotswolds for work or leisure. There are 15 studio stylish apartments with parking space, including an accessible apartment, dog friendly apartments and some apartments with interconnecting doors for families.
This Cotswold accommodation is available to book through Michael Paul Holidays who offer high quality self-catering accommodation in the UK, with all their properties being vetted for service and quality. Prices vary depending on the apartment, season and time of week but as an example a Friday/ Saturday low season break booked through Michael Paul Holidays starts from £200 (2 nights) or around £600 (7 nights).

For other UK holidays check out Michael Paul Holidays who offer quality UK holiday cottages, lettings, homes, lodges and cabins, with all accommodation being carefully selected and personally vetted by Michael Paul.
Need a guidebook for the Cotswolds? We recommend the Rough Guide to the Cotswolds, Stratford on Avon and Oxford
Getting to Stroud – Stroud is easily accessible by road and rail. It's a 45 minute drive from Bristol and 2.5 hour drive from London. There is a station at Stroud and it is on the main line from London Paddington with a journey time of 1hr 35 minutes. If you want to bring your bike, there is a secure storage container at 5 Valleys Aparthotel.
Tours of the Cotswolds – If you don't have time for an overnight stay check out these tours of the Cotswolds
You can find more information on things to do in Stroud District, on the Visit the Cotswold website.
For things to do in the Cotswold, visit the Cotswolds.com website
Pin it
Thanks to Michael Paul Holidays and 5 Valleys Aparthotel who sponsored my stay in Stroud
This article is originally published at Heatheronhertravels.com – Read the original article here