Paddington Station is a constant buzz of activity, as passengers travel through Brunel's landmark of Victorian engineering on their way to and from the west of England. But it's worth pausing a little if you are visiting London, as the neighbourhood of Paddington is an excellent place to stay with easy access to all the major attractions. There are plenty of things to do near Paddington Station, not to mention the connections with a certain marmalade loving bear. I spent the day looking around and came up with lots of fun things to do that would make a great day out.
1. Things to do in Paddington – The Paddington Bear Connection
If you've watched the Paddington Bear movie or read the children's books on which they are based, you'll know that Paddington bear was named after the station at which he arrived from Peru and was found by Mr and Mrs Brown. Under the clock on Platform 1 is found a life sized bronze statue of Paddington Bear, created by the sculptor Marcus Cornish and unveiled by the author Michael Bond in 2000. Following the Paddington Bear trail is one of the fun things to do in Paddington, especially for families.
You may also enjoy: Things to do near Marble Arch in London

I joined the queue of Paddington Bear fans to have my photo taken with the marmalade loving bear, and sat on the nearby Paddington Bear bench where there's a green plaque commemorating the arrival of Paddington bear in 1958. Within the Lawn area of shops and cafes, I had a look around the world's only Paddington Bear shop where I also picked up a leaflet with a charming Paddington Pawprint Trail with ideas for family friendly things to do near Paddington. If you'd like to find out about all the Paddington Bear locations with a guide, try this inexpensive Guided Paddington Walking Tour
2. The Paddington Public Arts Trail
Paddington station is also the start of the Paddington Public Art Trail, which begins with the Paddington statues on Platform 1 of Paddington station and takes you on a walk to see a total of 22 sculptures throughout the Paddington area.
I took a look at the Brunel statue on Platform 8, since being from Bristol I'm great friends with Isambard Kingdom Brunel and his many projects including the Clifton Suspension Bridge and the SS Great Britain. On my wanders later in the day I also spotted a few of the other sculptures like the Two Figures by Sean Henry and the Message from an Unseen World, a flickering poem which is a homage to code breaker Alan Turing who was born in Paddington. More information about things to do around Paddington Station and the Paddington Art Trail here – you can download the illustrated map in long form here or short form here.
3. Explore the mews near Paddington Station
My initial explorations took me around the street that surround the station, which have many pretty squares and elegant porticoed houses. Coming out of Paddington Station onto Craven Road I glimpsed many pretty mews with pastel coloured houses.
These communities within communities were once the stables where wealthy Londoners kept their horses and carriages, but now converted into bijou and highly sought after cottages. It's worth wandering down a few of the mews which are normally open at both ends to see the very 'instagrammable' houses and get away from the bustle of the main road.
You may also enjoy: Six great things to do in King's Cross London
Hotels near Paddington Station – The Devonshire
If you're looking for a hotel near Paddington Station, take a look at The Devonshire which is just a 5 minute walk from the station and offers stylish and comfortable boutique rooms in two elegant townhouses. The 35 rooms have been recently renovated with contemporary decor and are equipped with WiFi, tea and coffee making facilities and a microwave, with stylish marble bathrooms. Breakfast and other facilities are available at the sister hotel Park Grand Paddington Court, which is immediately across the road.
For more information and to book check out The Devonshire London Paddington Hotel | Address: 1-2 Devonshire Terrace, Paddington London, W2 3DN | Email: reservations@thedevonshirelondon.co.uk | Tel: +44(0)2077451200
4. The Garden Squares of Paddington
On your wanderings to the south of Paddington Station you'll see several leafy green squares with enclosed gardens, which are sometimes private for the use of nearby residents, but sometimes open to the public. Talbot Square Gardens is a green space with benches and tall trees, while Norfolk Square Gardens is a larger public garden with picnic spots under the trees, a children's play area and free ping pong tables, with another statue of Paddington Bear on the sculpture trail.
You may also enjoy: A perfect day in Hyde Park and Kensington Gardens
If you happen to find yourself in need of lunch or supper in this area, try The Victoria pub and step back in time with cosy banquette seating and polished wood paneling – they have a bar downstairs and pub food upstairs.
Looking for more things to do in London? Check out these London Tours
5. Museums near Paddington Station – The Alexander Fleming museum
As I made my way back towards Paddington Station, I passed the Alexander Fleming Museum which is part of St Mary's Hospital. At the museum you can see Fleming's laboratory, restored to its 1928 condition, and explore the story of Fleming and the discovery and development of penicillin through displays and video. Unfortunately there was building work going on and I wasn't able to visit but it could make an interesting stop if you're in the area.
More info: Fleming Museum Website | Address: St Mary's Hospital, Praed Street, London W2 1NY | Open Monday – Thursday 10.00 to 13.00 or by appointment at other times | Adults £4, Concessions £2
6. The Floating park in Paddington
Further along Praed Street I cut through to the Paddington Basin, part of the network of waterways that wind through north London, past Little Venice and on to Regents Park. This whole area has been rejuvenated with new offices and public spaces around the water and it makes a great place to start for walks around Paddington and up to Little Venice.
In the basin there's now a floating pocket park, a man-made island of floating pontoons, with plantings and a wildlife area. There's a refreshment truck if you want to buy a coffee but equally you can bring your picnic and sit on the benches among the shrubs and greenery.
You may also enjoy: Regent's Canal: London's Best Kept Secret
7. The Fan Bridge in Paddington
Close to the floating park, you may notice a footbridge across the basin with a sculptural fan of metal at one end. This bridge is also an art installation, with five beams which rise into the air in sequence when the bridge opens, looking like a Japanese fan. You can see the bridge opening on Wednesdays and Fridays at 12 noon and on Saturdays at 2pm.
Looking for more things to do in London? Check out these London Tours
8. Merchant Square in Paddington
Next to the floating park is the area known as Merchants Square where there are a collection of offices, eateries and space to relax on the grass with free deckchairs provided. You can also sit around the water maze, with jets of water spouting from the ground providing a relaxing water sculpture where kids could have fun dodging the jets to try and reach the centre of the maze.
There are a couple more sculptures here, a seated figure of Sir Simon Milton who was leader of Westminster City Council and drove the regeneration of the Paddington Basin, as well as another brick version of the Paddington statue in the small M&S cafe at the entrance to some offices. Merchant Square also hosts the Crave street-food market on Tuesdays and Thursdays from 12-3pm. More info: Merchant Square Website
9. Hire a boat in London in the Paddington Basin
With so much water accessible around this area, it would be a fun thing to get out and about to explore the canal system. Just beyond Merchants Square you'll find the canal barge that is HQ of GoBoat. They hire electric boats that are easy to manage for small groups and I saw several families and groups of friends having fun, as there isn't a huge amount of boat traffic on the canals. The boats take up to eight people and you don't need any previous boating experience to drive one, you even have your own picnic table in the middle to sit around. In around an hour you could get as far as Regents Park and back, and two hours is even better as you can reach Camden Market.
More info: GoBoat Website | Prices Mon-Fri £59 1 hr, £89 2 hrs, Sat-Sun £79 1 hr, £109 2 hrs | The boats are very popular so it's best to book online in advance
If you are up for getting even more active, you can arrange to go paddle boarding from the same part of the Paddington Basin, where Active 360 have their base. They run SUP training sessions and SUP Yoga sessions in the basin, which need to be booked in advance. More info: Active 360 website
10. The Rolling bridge in Paddington
You'll next cross over the Rolling Bridge as you head down the basin, which is inconspicuous as you cross over it, but like the Fan Bridge it has a second function as a sculptural installation. The bridge is made from eight triangular segments, which when the bridge is raised curl up like a caterpillar, forming an octagonal sculpture that stands on one side of the canal towpath. You can see the bridge opening on Wednesdays and Fridays at 12 noon and on Saturdays at 2pm.
I crossed over the St Mary's bridge towards the back of the hospital, where the children of the Duke and Duchess of Cambridge were all born. Walking along you reach the entrance to Paddington Station and if you just have a short time you might want to come out here to have a walk along the canal (exit the station along the side of platforms 8 and 9).
There are a few fun eateries close to the station exit, like the waterside Beany Green cafe and the sister cafes on floating barges Darcie & May Green, which have been colourfully decorated by pop artist Sir Peter Blake. Look out for the sculptures that are part of the Paddington Sculpture trail I mentioned; Two Figures by Sean Henry and the Message from an Unseen World, under the road bridge, as well as a colourful metal installation.
11. Sheldon Square in Paddington
Follow the path away from the canal into Sheldon Square, an attractive amphitheatre that's surrounded by restaurants and cafes, where sporting events and films are shown on the big screen and there are some free ping pong tables. The street food collective Kerb hold a monthly lunchtime market here on Wednesdays every fortnight 12-3pm – you can find out more about the food vendors and upcoming dates on the Kerb website.
More info: Paddington Central Website
12. Little Venice in London
As you continue your walk along the canal, you arrive in the Little Venice basin, with offshoots that continue towards Regents Park and Camden Lock in one direction and through West London in the other. The area is thought to have been given its name by poet Robert Browning who returned to live in the area from Italy after spending time in Venice. If you want to relax for a while, cross over to the Rembrandt Gardens where there are benches and plenty of grass to spread out your picnic rug (also a handy free public WC). I also loved the Waterside Cafe, which looked very tempting on one of the canal barges where they serve drinks, cakes and sandwiches.
13. Take a Little Venice boat trip
From the Little Venice basin you can take a boat trip with the London Waterbus Company down to Camden Lock or London Zoo daily between April-September and at weekends in winter. There's no booking required and you can check the website for details of times (around 6 times per day) and fares (Adults £9 one way cash only). Another option is to take a canal boat with Jason's Trips who offer a similar tour down to Camden Lock around 3 times per day (Adults £10)
14. The Puppet Theatre Barge
Within the Little Venice Basin, look out for the Puppet Theatre Barge for some unusual puppet show entertainment. The barge alternates between Richmond and Little Venice, so check the Puppet Theatre Barge website for when it will be in Little Venice and the shows on offer – in the autumn of 2018 there will be a Little Venice show about The Town Mouse and The Country Mouse.
15. Check out these Little Venice restaurants by the water
If you are looking for a proper waterside restaurant in Little Venice, you can check out the famous Bridge House pub near the canal which has a comedy show upstairs, and is set back from the water. If you continue west along the canal you'll also come to The Summerhouse which specialises in seafood and its sister restaurant The Waterway which sit next to the canal and offer beautiful views all year round.
This was a far as I was able to explore in my walk around Paddington in London, and from here it's an easy walk back along the canal to Paddington Station. If you have a whole day to explore, you could follow the same trail as me or if you just have an hour or two and are looking for things to do around Paddington Station, then I would come out at the canal exit and walk around the Little Venice area or Paddington Basin.

More information to plan your visit
Pin It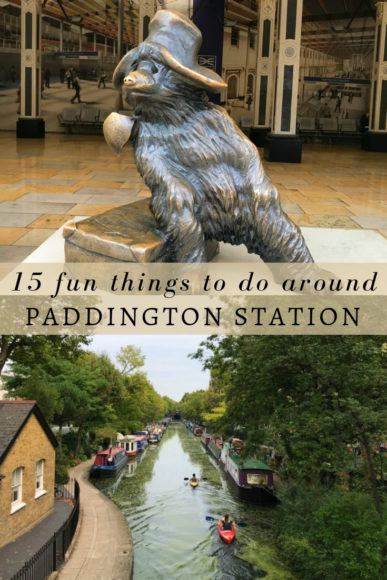 This sponsored* post was created in partnership with The Devonshire London Paddington Hotel
* More info on my policies page
This article is originally published at Heatheronhertravels.com – Read the original article here
This article may contain affiliate links that provide commission on purchases you make at no extra cost to you. As an Amazon Associate I earn from qualifying purchases.