Marble Arch is a bit of an oddity in London, stuck on the corner of what was once Hyde Park, but is now a large traffic island with buses and cars flowing all around it. It's a well known and much photographed landmark in the heart of London. If you are visiting the capital, there's plenty to do nearby, from world class shopping and a peek into the opulent world of the grand London mansions to a relaxing walk through the green space of Hyde Park. We took a look around the prestigious neighbourhoods of Mayfair and Marylebone to discover all the things to do near Marble Arch in London.
A quick history of Marble Arch in London
The triumphal arch of white Carrara marble originally stood in front of Buckingham Palace, designed in 1827 by John Nash to be the palace's state entrance and commemorate victories at Waterloo and Trafalgar during the Napoleonic Wars.
It was modelled on other triumphal arches like the Arch of Constantine in Rome and the Arc de Triomphe in Rome, but King George IV considered it too expensive, so the grandiose design had to be scaled down when it was built. You can still see a model of the original design in the Victoria and Albert museum. In 1851 a new wing was added to Buckingham Palace and the archway did not fit in, so was moved stone by stone to the corner of Hyde Park, where it made a grand entrance for the Great Exhibition that took place during that year.
You may also enjoy: My complete guide to Kensington Gardens and Kensington Palace in London
In the 1960s the widening of Park Lane created a road that cut between Hyde park and Marble Arch, isolating it on what is effectively a large traffic island. Only members of the Royal Family and the King's Troop Royal House Artillery are allowed to pass through the arch and it was on the route for the Royal Coronation in 1953, when Queen Elizabeth II's golden coach passed through the gates.
In a more gruesome history, the current position of the arch is said to be close to the site of Tyburn tree, a scaffold where mass executions took place from the 16th to the 18th centuries, until the executions were moved to Newgate prison. Nearby is Tyburn Convent which contains the shrine to the Catholic martyrs who died at Tyburn during the Reformation.
Still Water horse sculpture at Marble Arch in London
Close to Marble Arch is the Still Water bronze sculpture of a horse's head by Nic Fiddion-Green. The 10 metre high horse's head stands disembodied on its plinth, its mouth touching the ground as if just about to drink from a pool. The sculptor is well known for his horse cultures, inspired by his own chestnut hunter George.
You may also enjoy: 10 Free things to do in The City of London
Hotels near Marble Arch in London
If you are looking for a hotel near Marble Arch in London, check out The Montcalm London Marble Arch which is just a 5 minute walk away along Great Cumberland Place.
Behind the elegant Georgian crescent of Wallenberg Place, lies a luxurious 5 star hotel which is in one of the most prestigious neighbourhoods of London, close to Mayfair and Marylebone. The Montcalm Hotel offers 153 tastefully designed rooms and suites, and you'll find two restaurants, including Hankies, which is well known for its upscale take on Indian street food. At The Montcalm London Marble Arch, you really are in the heart of London and close to all the attractions of world class shopping, parks and museums packed with art and history.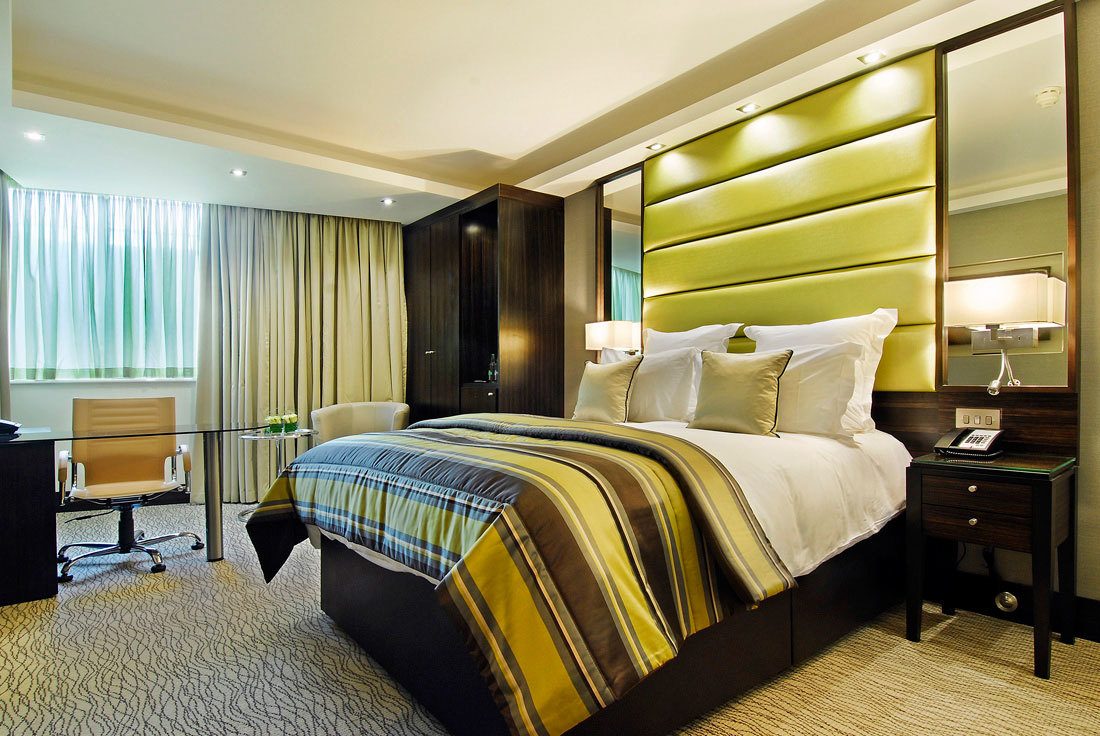 Shopping near Marble Arch
From Marble Arch you can walk down Oxford Street, which is probably the best known and most popular shopping street in London, where you'll find all the top high street brands. It's normally very busy and is a bit of a tourist magnet, so unless I'm going for something specific I prefer to explore down the streets that lead off Oxford Street, which tend to be quieter and more interesting.
You may also enjoy: 15 fun things to do around Paddington Station
Shopping at Marks and Spencer Marble Arch
However two of the bigger stores that you must visit at the Marble Arch end of Oxford Street, are the Marks and Spencer Marble Arch store and the luxury department store Selfridges Oxford Street. Although there's an M&S in almost every major UK town or city, the Marble Arch branch is the flagship store, so this is where you'll find the more fashionable and luxurious lines, as well as their food hall, which is great for reasonably priced but delicious gifts to take home.
Looking for a London tour? Check out this London by Night 90 minute Open Top Bus Tour
Designer shopping at Selfridges in London
Selfridges is also an essential store to visit, if only to walk through and enjoy the elegance and sparkle, as well as to shop for designer clothes and accessories. Opened in 1908 by Harry Gordon Selfridge, the department store transformed shopping of that era into a fun, leisure activity where women could indulge themselves and get close to the beautiful products. If you are looking for designer shopping, you will be in heaven to find all the top names under one roof, making a special but not so intimidating experience.
Shopping in St Christopher's Place in London
Close to Selfridges, you may spot the narrow lane of Gee's Court that leads to St Christopher's Place and this is the direction I like to head when when the Oxford Street crowds get too much. These narrow lanes were packed with specialist shops in the 18th and 19th centuries but after a decline in the early 20th century, the area was redeveloped in the 1970s to make it a centre for individual and more unique shopping again. The pretty, pedestrian lanes lead to the courtyard of St Christopher's Place, where there are lots of cafes, many with pavement seating and heaters in the winter months, so you can easily find a choice of different restaurants for lunch.
Shopping in Marylebone, London
If you continue walking away from Oxford Street, you'll be heading towards Marylebone Lane where there are other cute shops and cafes for lunch. I always love to browse in the inspirational ribbon emporium VV Rouleaux and spotted some small and healthy cafes close to here like The Good Life Eatery and On the Bab that would be a good option for lunch. If you continue walking, you'll be in Marylebone High Street which has a village atmosphere and is also full of high end and individual shops.
Looking for a London Sightseeing Tour? Check out the Original London Hop-on-hop-off Sightseeing Bus tour
The Wallace Collection in London
Just a couple of blocks from St Christopher's Place is The Wallace Collection, which I always feel is one of those hidden treasures that Londoners like to keep to themselves. While the crowds head to the V&A or the National Gallery, this gorgeous art museum in a historic London mansion is a haven for art lovers. It seems amazing that you get to see all these old masters, opulent antiques and gilding for free, with a glimpse into what a grand London residence would have looked like.
The collection of fine artworks, sculpture, porcelain and furniture was collected during the 18th and 19th centuries by the Marquesses of Hertford and Sir Richard Wallace. Sir Richard, who was brought up in Paris, is believed to be the illegitimate son of the 4th Marquess and inherited the collection on his death. The collection is housed in Hertford House, the grand London residence of the Hertford family, overlooking Manchester Square and opened to the public as an art museum in 1900.
What I love about the Wallace Collection is its intimite feel. As you wander from one room of the house to the next, you could really imagine that it was a family home as well as a stage set for entertaining and London parties on a grand scale. Each room is filled with over-the-top rococco gilding and rooms lined with silk brocade in jewel-like  colours. You'll wander past Wallace Collection highlights like the Laughing Cavalier by Frans Hals and the playful Girl on the swing by Fragonard, as well as the familiar scenes of Venice by Canaletto and cabinets of highly decorated Sevres porcelain.
I joined a free daily highlights tour with an expert guide who took us around all the highlights from the collection and told us the stories behind each of the rooms. The tours take place at either 2.30 or 11.30 depending on the day and you don't need to pre-book, but as there are only 25 places available you may need to enquire at the desk a little in advance. In addition to the magnificent artworks on display in the main house, there's a new exhibition space in the lower ground floor, where I enjoyed seeing the exhibition about Sir Richard Wallace, the collector as well as some of the star items from the collections.
I also recommend visiting the Wallace Collection restaurant, which is the glazed courtyard of the mansion and provides an airy and elegant space, run by Peyton and Byrne. There's table service and at lunchtime you get the option to choose from a menu of hot dishes, or from the cafe menu with drinks, cakes and light lunchtime dishes such as baguette, wraps and quiche. On my last couple of visits I found the choice of dishes a bit limited, but it's worth going for the beautiful surroundings and atmosphere alone. Since the Wallace Collection is free, you can visit the cafe even if you haven't got time to look around the whole collection properly.
A walk in Hyde Park, London
As Marble Arch was once on the corner of Hyde Park, before the road was cut through the corner, you can cross over and take walk down through the park as I did. There's a broad path for bikes and buggies but I preferred to walk on the grass with the autumn leaves crunching underfoot.
Looking for more things to do in London? Check out these London Tours
Speaker's Corner in Hyde Park
Just inside the Cumberland Gate opposite Marble Arch is known as Speaker's Corner where on a Sunday morning you may watch the orators climb onto a plastic crate to make a public speech that invariably gathers a crowd. This spot is not far from where Tyburn gallows stood, where the condemned where allowed to make a final speech before their execution. The tradition of free speech has continued with Hyde Park hosting numerous rallies and protests over the years. Anyone is free to "get on their soapbox" and make a speech so long as it's lawful, but there's plenty of entertainment with debate and heckling too.
Animals in War Memorial in London
Not far from Marble Arch, along the eastern edge of Hyde Park you'll also find the moving memorial to Animals in War on Park Lane. It's situated on the strip between the two busy carriageways of Park Lane and was unveiled in 2014 to pay tribute to all the animals that served, suffered and died alongside the British, Commonwealth and Allied forces in the wars and conflicts of the 20th century.
On one side of the memorial, two heavily laden mules struggle on up the steps that leads to the grassy area beyond where a horse and dog are moving playfully forward. Eight million horses and mules died during the First World Wars, and dogs, pigeons, even elephants served the soldiers and armies. This monument commemorates the animals who served in terrible conditions without having any choice.
Hyde Park Winter Wonderland
In the centre of the park, workmen were setting up for the Hyde Park Winter Wonderland which adds a touch of Christmas magic to the park from late November to early January, with ice skating, festive stalls, Christmas shows and fairground attractions.
I passed the Joy of Life fountain on my walk in Hyde Park, with water spilling over the stone bowl and figures dancing in a circle. The fountain was designed by T. B. Huxley-Jones, placed here in 1963 when Park Lane was widened and in spring it's surrounded by daffodils.
The Rose Garden in Hyde Park
When you reach the end of the park at the Queen Elizabeth gates, it's time to take a look around the beautiful rose garden where the roses were still blooming late into the autumn. Of course, the garden is at its best from May to July when the roses are in full bloom, but there are still plenty of interesting plants and herbaceous bedding, as well as the statues and fountains, like the one of Diana the huntress shooting her arrow.
You may also enjoy: A perfect day in Hyde Park and Kensington Gardens London
The rose garden is one of the most popular areas of Hyde Park, with roses trained in the old fashioned way along chains that hang from wooden pillars, making a floral walkway. There are always colourful bedding schemes in the shaped flowerbeds, providing colour at any time of year. Our walk from Marble Arch comes to an end here, but you are well placed to catch the tube from Hyde Park Corner, or watch the ducks and geese from the Serpentine bar and kitchen that's at one end of the Serpentine lake that cuts through the park.
Marble Arch is one of London's best known landmarks, and if you are staying nearby this guide should give you some fun suggestions for things to see and do nearby.
More information to plan your visit
Pin it
This article is originally published at Heatheronhertravels.com – Read the original article here
Disclosure: This article is brought to you in partnership with the The Montcalm London Marble Arch Hotel. Some of the links in this article are affiliate links which earn me a small commission at no extra cost to you.