With formal gardens, water features and 265 acres of parkland, Kensington Gardens must be one of the most beautiful of the London parks. While open to the public, it somehow has an intimate feel, due to its association as the 'back garden' of Kensington Palace, home to many members of the Royal Family. I took a walk to discover all the things to do in Kensington Gardens, as well as visiting Kensington Palace, which you can read about below in my guide on what to see and do during your visit to London.
About Kensington Gardens
Kensington Gardens connects seamlessly with Hyde Park, the two forming one green space, the only division being The Serpentine and West Carriage Drive that runs through the park. King William and Queen Mary first purchased and extended the mansion of Kensington Palace in the late 17th century, since they required a residence that would be healthier than Whitehall Palace. Subsequent monarchs laid out the gardens, with Queen Charlotte creating the artificial lake of The Serpentine by damming the river running through the park.
Royal Connections in Kensington Palace and Gardens
The Kensington Palace apartments are home to so many royals that it's something of an upmarket housing estate, offering privacy and security without all the costs associated with buying a substantial London residence. If you are wondering who lives at Kensington Palace, it was home to Princess Margaret and Princess Diana who lived there from 1981 – 1997 as well as the Duke and Duchess of Kent who currently have their home there.
William and Kate, the Duke and Duchess of Cambridge have a large apartment within the palace while Harry and Meghan, the Duke and Duchess of Sussex originally lived in Nottingham Cottage. The younger generation of royals have recently been joined by Princess Eugenie who moved in with husband Jack Brooksbank after their marriage.
Read more about Kensington Palace in this book: The Story of Kensington Palace
Kensington Palace is where Queen Victoria grew up, sheltered from the public eye, sharing a bedroom with her mother until the age of 18 when she became queen. You can visit the symbol of love between Queen Victoria and her consort Prince Albert in the romantic Italian gardens that Albert commissioned as a gift for his wife, as well as the Albert Memorial that Queen Victoria erected to commemorate him when he died, aged only 42 years old.
You may also enjoy: A perfect day in Hyde Park and Kensington Gardens
Princess Diana loved the sunken gardens next to Kensington Palace and 20 years after her death in 2017, the garden was planted with white flowers in her memory. There are more lasting reminders too in the Princess Diana Memorial Playground, complete with pirate ship and the Princess Diana Memorial Fountain which is a magnet for families. You can follow the Diana Princess of Wales Memorial Walk around London, taking in four royal parks as well as the palaces and homes that are associated with her.
Things to do in Kensington Gardens
There's so much to see in Kensington Gardens that you could spend a whole day there, especially if you also visit Kensington Palace, which could take a couple of hours on its own. As we take a walk around some of the main attractions, I recommend starting from Kensington Palace, as it's an easy walk from Kensington High Street tube, passing the smart embassies on Kensington Palace Gardens. We'll come back to look around Kensington Palace later, but for now let's discover some of the things to do in Kensington Gardens itself.
The Kensington Palace Sunken Garden
I love the beautiful sunken gardens beside Kensington Palace which were laid out in 1908 and are enclosed by a shady walkway of rose covered arches and hedges. You can't walk inside the gardens, which are planted with flowering borders, but can look in to admire the still water of the formal pond and the fountains playing.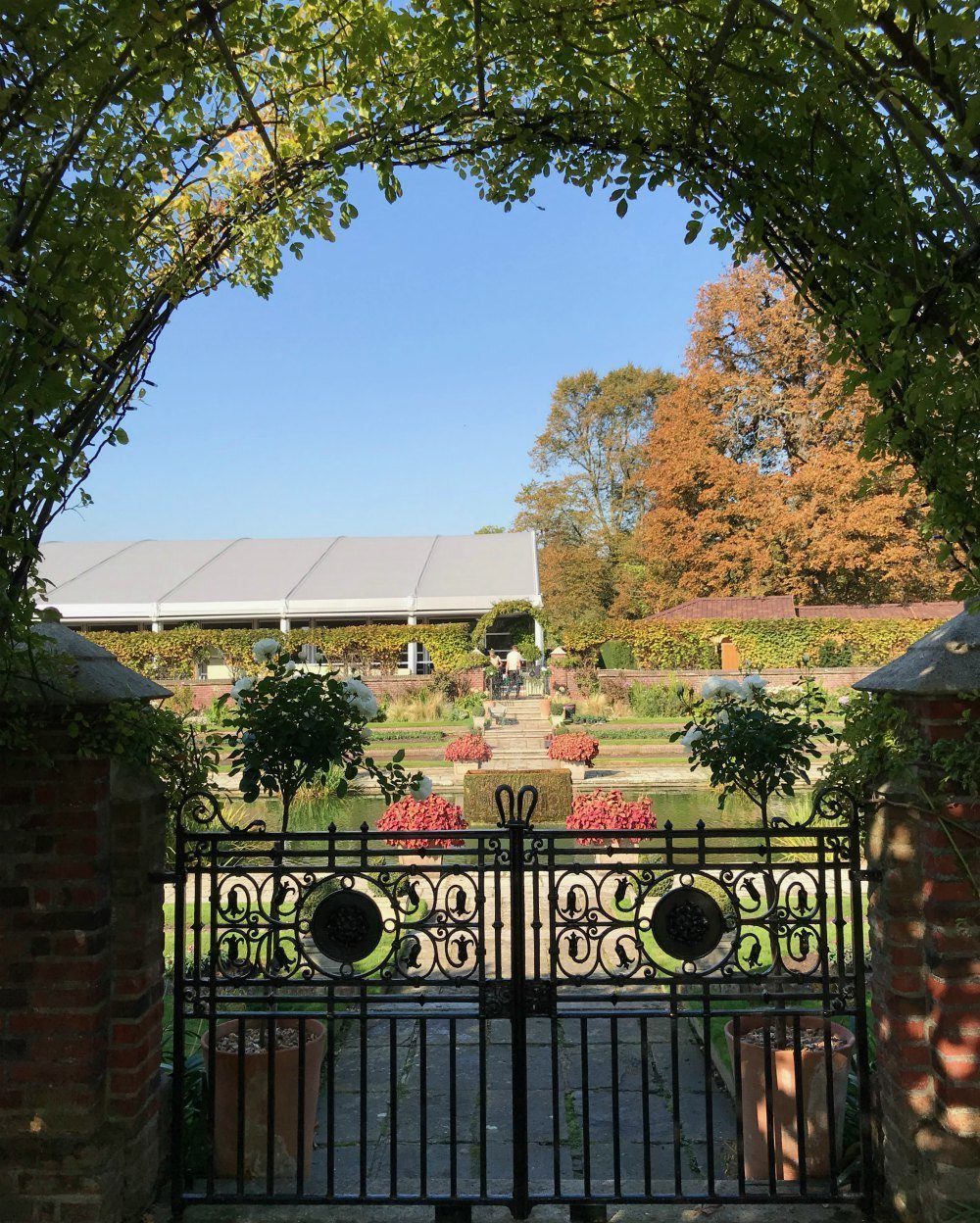 The Kensington Palace garden is like a jewel box that you can look into from all four sides through the pretty wrought iron gates, to admire the plantings that change through the seasons. In 2017 the whole garden was planted in a white colour scheme to commemorate 20 years since the death of Princess Diana, but now the colour schemes vary with the time of year.
If you'd love to see more gardens in London, check out this Secret Gardens of London Full Day Tour
Meet the ducks at the Round Pond in Kensington Gardens
From the slightly raised position of the sunken garden pathways you get a great view of the Round Pond, so that's where our walk will take us next. The Round Pond was created by Queen Charlotte, who developed Kensington Gardens from 1728 to include many of the water features.
This shallow pond is a great place to see the geese, ducks and swans who are only too happy to be fed. Although this is a favourite place to see the wildfowl, it's actually not recommended to feed them with bread or cakes as these are not part of their normal diet, although they will greedily eat whatever you throw at them.
You may also enjoy: 10 free things to do in the City of London
The Albert Memorial in Kensington Gardens
Our walk continues to the south side of the park, bordering Kensington and Knightsbridge, where we'll find the impressive Albert Memorial, with its ornate spire looking almost like a church. Inside the monument sits the golden figure of Prince Albert who died aged only 42, leaving Queen Victoria grief stricken and in mourning for the rest of her life.
You may also enjoy: Things to do near Marble Arch in London
The monument was unveiled following his death in 1872 and it feels as if Victoria was telling the world that this was the man who should have been king, all clothed in gold. At each corner of the monument are marble figures representing the far corners of the British Empire in Europe, Asia, Africa and America, and other parts of the decoration reflect Albert's interest in manufacturing and engineering as well as his enthusiasm for the arts. If you'd like to also visit the Albert Hall which is opposite the Albert Memorial, check out this one hour Guided Tour of the Royal Albert Hall
You can also take a tour to learn more about the monument on the first Sunday of each month, March – December at 2 pm cost £9.
The Serpentine Gallery and Serpentine Sackler Gallery
From the Albert memorial, we can walk up West Carriage Drive, to the Serpentine Gallery which hosts contemporary art exhibitions and is completely free (although donations appreciated). If I'm in the park I always like to pop in and see what's on, since it's generally thought provoking and interesting, even if not always the pretty-pretty art that you find in the classic London art galleries.
You may also enjoy: 10 fun things to do around Paddington Station
Last time I passed through there was the an exhibition by Pierre Huyghe of flickering LED images, that represent the brain activity of a human, with subtle reconstruction of the building. The sand and dust on the floor and the live flies buzzing around are all part of the art installation, although the website states that "utmost care of the flies" has been taken!
This is definitely art in its most conceptual and best taken without overthinking, to let the images wash over you to leave an impression on your mind as you pass through. On the other side of the Serpentine Bridge is the Serpentine Sackler Gallery, which strictly speaking is in Hyde Park, and also offers a free gallery space for contemporary art, with a striking glass restaurant called Chucs designed by Zaha Hadid.
You may also enjoy: Top things to do in Covent Garden
The Princess Diana Memorial Fountain
Also in Hyde Park if we are being precise is the Diana Princess of Wales Memorial Fountain, but it would be shame to miss this on our walk, so let's cross over West Carriage Drive to take a look. Created from Cornish Granite, the circular water course creates an unbroken flow of shallow water, that was designed to reflect Diana's life.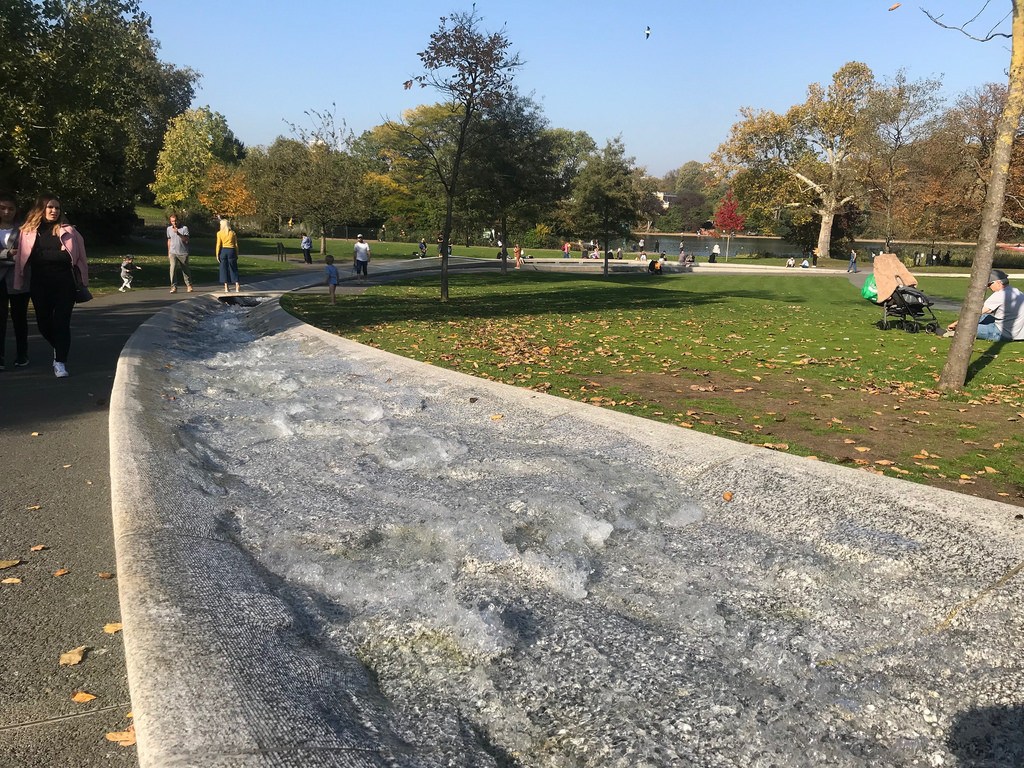 Sometimes flowing calmly, in other places bubbling and rippling, the water flows in a circle and is a popular place to sit on the edge and reflect. Although you can dabble your feet in the water, walking through the water is not encouraged, although no-one minds the children having a paddle. Close to the Diana Memorial Fountain is the Lido Cafe and Bar where you can sit on a fine day on their outdoor terrace, with a view of the Serpentine.
If you'd like to cycle through Kensington Gardens and other parts of London, check out this London Essentials 3 hour Bike Tour
Peter Pan in Kensington Gardens
Although we could head into Hyde Park where there's lots more to explore, let's turn north and follow the edge of the Long Water which is another part of the park that's a habitat for ducks and geese. The path will bring us to the well known statue of Peter Pan in Kensington Gardens, from the classic children's story tale by J M Barrie of the boy who never grew up. The statue includes other characters from the story around its base, as well as squirrels, rabbits, mice and fairies.
It was J M Barrie himself who was a resident of Kensington and commissioned the statue, having it installed in one night on 1st May 1912 as a surprise for the children in the park. The Peter Pan is one of the Talking Statues project, so you can swipe your phone on a plaque and get a call back from Peter Pan himself to hear his story.
Read More: Peter Pan in Kensington Gardens by JM Barrie
A little further along the path, you may see people feeding the green parakeets that have become established in the park and give an exotic air to the landscape, as there are lots of them in the trees in this part of the park.
On the other side of the Long Water you can also see The Arch, a sculpture by Henry Moore, made of Italian Travertine stone, which sits at the end of the vista that looks right across the park towards Kensington Palace.
Hotels near Kensington Gardens
While visiting Kensington Gardens, a great place to stay is Park Grand London Lancaster Gate, which is just a 10 minute walk from the Lancaster Gate park entrance and the Italian Gardens. The hotel is also close to Lancaster Gate tube station with easy access to all the major sights of London.
This 5 star hotel is in an elegant London townhouse, with 64 bedrooms, contemporary style and all the amenities you'd expect such as complimentary WiFi, safe and tea/ coffee making facilities in your room.
To find out more and book your stay: Park Grand London Lancaster Gate Website | Facebook | contact: info@parkgrandlancastergate.co.uk
The Italian Gardens in Kensington Gardens
At the end of the Long Water, bordering Hyde Park are the beautiful Italian Gardens, created in 1860 as a gift from Prince Albert to his wife Queen Victoria. The gardens are inspired by the romantic Renaissance classical style that was fashionable at the time, with marble urns, formal pools, fountains and geometric flower beds. The pavilion at one end of the gardens is a pleasant place to sit and actually disguised the pump room, where a steam engine was used to operate the fountains.
On the northern edge of the gardens, there's the Italian Garden Cafe, with a glass fronted inside space and outdoor terrace which is a good place to sit and admire the gardens. Look out for the white Rolls Royce ice cream van by the Italian Gardens, where you can treat yourself to an ice cream cone.
Diana Memorial Playground in Kensington Gardens
If you follow the path along the northern border of Kensington Gardens, or perhaps through the wild and natural areas of trees and grassland, you'll reach the western edge of the park and the Diana Memorial Playground, by the Queensway Gate. This popular playground in Kensington Gardens, includes a wooden pirate ship and play sculptures, set in a protected enclosure of trees and shrubs, and was opened in 2000 in memory of Princess Diana who always loved children.
You won't be able to enter the playground unless you are accompanied by children (except between 9.30 and 10 am) and the playground is very popular, so at the busiest times queues may form as the numbers allowed in are regulated.
Beside the playground there's the Broad Walk Cafe with the clock tower bearing the inscription Time Flies. Next to it the Elfin Oak, an ancient oak trunk that is made into a charming sculpture with figures of elves climbing over it, which comedian Spike Milligan paid to have restored.
The Orangery in Kensington Gardens
Walking back towards Kensington Palace, we'll pass the Orangery, which is currently closed for renovation. It was built in 1704 as a place to entertain for Queen Mary and her younger sister Anne. At that time, having a glass house to keep ornamental orange and other fruit trees through the winter, was a fashionable and luxurious display of wealth and position.
The Orangery was previously open as an elegant tea rooms, but while it's being restored you can have afternoon tea in Kensington Gardens at The Kensington Palace Pavilion which has been erected close to the sunken gardens.
You may also enjoy: A perfect day in Hyde Park and Kensington Gardens London
Visiting Kensington Palace
Having explored Kensington Gardens, you'll want to visit Kensington Palace, which has strong connections with Queen Victoria and Princess Diana reflected in its exhibitions.If you are planning to visit several Royal Palaces in London, check out this Royal Palaces Pass to give you entry to multiple palaces and is valid for 2 years.
There are many beautiful rooms and apartments in the palace, but the highlights that I most enjoyed were;
The King's Staircase
This beautiful painted staircase is one of the first things that you see when entering Kensington Palace and was painted by William Kent to depict the court of King George I. The elegant and well dressed nobility mix with the King's guards and his servants, as well as characters from the court. Look up and you may spot the artist himself on the ceiling holding his artist's palate.
The King's Gallery
This long gallery was designed to show the king's art collection and the striking red silk damask is just as it looked when it was renovated for King George I in 1725.
Diana: Her fashion story Exhibition
The collection of Diana dresses at Kensington Palace show her changing taste and style through her public life. In the early years of her marriage, the style is romantic and flowing, with cream and pink dresses that are embellished with frills and lace.
As Diana's fashion style became more confident and she required elegant gowns for public appearances, we see stronger colours, clean lines and embellishment in the evening dresses she wore for public and state occasions.
After Charles and Diana divorced, there were many public appearances for the charities Diana supported, but she was more free in her choice of dresses. The body conscious dresses with narrow straps send a clear message; "I'm a confident woman making my own decisions".
Victoria Revealed Exhibition
Queen Victoria was born in Kensington Palace and grew up there carefully sheltered from the world by her mother, the Duchess of Kent and her adviser Sir John Conroy. You can see the table in palace's Red Saloon at which she first received her first Privy Council on becoming queen at the age of 18 after the death of her uncle King William IV.
The exhibition shows intimate objects from her daily life, some of her clothes, the romantic portrait of her by Winterhalter that she gave to Prince Albert and her stunning tiaras and jewels.
Visiting Kensington Palace
Although you can visit Kensington Palace and buy tickets on the day, it is cheaper to book online. Also at busy times it is advisable to book in advance to be sure of your chosen time slot for entry. The exhibition, Diana: her fashion story is especially popular and entry to this is included in the main palace ticket. Tickets are £19.50 for Adults. Kensington Palace opening hours are normally 10 am – 6 pm with last entry at 5 pm.
There is a security search to enter the palace which may also cause queues, even if you have already pre-booked your ticket. There is a cafe and gift shop at Kensington Palace which is accessible even if you are not visiting the palace.
More info: Kensington Palace Website | You can also pre-book your Kensington Palace Sightseeing tickets here.

Map of Kensington Gardens
There are excellent maps of Kensington Gardens available on the official website including the map below.
Click here for a downloadable pdf map of Kensington Gardens
Getting to Kensington Gardens
Kensington Gardens is easily reached by public transport and the closest tube stations are Kensington High Street (best for Kensington Palace), Queensway and Lancaster gate on the north side of the park, or Knightsbridge and Hyde Park Corner on the south side of the park if you wish to walk through Hyde Park.
More information to plan your visit
Pin it
This article is originally published at Heatheronhertravels.com – Read the original article here
Disclosure: This article is brought to you in partnership with the Park Grand London Lancaster Gate.
This article may contain affiliate links that provide commission on purchases you make at no extra cost to you. As an Amazon Associate I earn from qualifying purchases.