Just in case you hadn't noticed from my lack of posts, in the last few days I've been up the mountain and down again, following the path of the Tour de Mont Blanc above the Chamonix valley, with my friend Julia. Unfortunately we didn't have the time or the energy to do the full eleven day long distance walk through Italy, France and Switzerland but we thoroughly enjoyed the last three days getting a taste of what the full TMB might be like.
We've climbed up from the valley and have the aching calves to prove it. We've slept in the Refuge Bellechat in close proximity to 20 or so other sweaty walkers and washed under the cold tap with a grandstand view of Mont Blanc across the valley. We've passed,  with a quiet sense of superiority all those 'day tripper' walkers coming down for a short stroll from the cable car at Brevant, and observed with admiration those who were actually close to completing the full eleven day Tour de Mont Blanc.
We've come down from the mountain still smiling and vowing that we'll be back another year to continue our Tour de Mont Blanc. We have the before and after pictures to prove it.  I'll be telling you all the stories very soon….
In the Chamonix valley we stayed at the modern, stylish,  Hotel Slalom that is perfectly placed in Les Houches for summer walking opposite the start of the anti-clockwise TMB route. Double rooms in the summer season €86-99 plus €10 breakfast. Check for the best hotel prices in Chamonix and book here.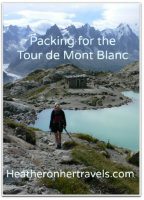 You'll also be subscribed to our free monthly newsletter for great travel resources, news and offers, but you can unsubscribe at any time and we'll never share your e-mail.
Other articles from our mini Tour de Mont Blanc
Day 1 on the Tour de Mont Blanc – Les Houches to Refuge de Bellachat
Day 2 on the Tour de Mont Blanc – Refuge de Bellachat to Flégère
Day 3 on the Tour de Mont Blanc – Flégère to Lac Blanc
This article is originally published at Heatheronhertravels.com – Read more travel articles at Travel Blog Home
Don't miss out – subscribe to Heather on her travels