The second half of my walk on the Tour de Mont Blanc earlier this September took me and my friend Julia over high mountain passes, with panoramic views of the peaks and valleys surrounding us, as well as the emotional highs we felt on finally completing this demanding high mountain trail which we have walked in stages over the last four years. Read about the highs and lows of the the final three days of this year's trek as we walked from Chapieux to our journey's end at Les Houches in the Chamonix valley. (You may like to also read about Day 1 and 2 of this year's trek )
Day 3 – Chapieux to Refuge de Balme
Having passed a pleasant evening in the Vallee des Glaciers at Auberge de la Nova in Chapieux, we climbed up behind the refuge on a grassy path, over the bridge by a small hydro-electric station and up the mountain side. The path wound steadily upwards, getting more rocky towards the top, with occasional glimpses of Refuge de la Croix du Bonhomme on the crest, an hour before we actually reached it. Finally, after 3 hours of steady walking we reached the refuge, which was set on an intersection of many different paths. The large refuge was built of wood and glass but there was no sign of them selling refreshments, so we rested a while before walking up the to Col de la Croix du Bonhomme and took the detour up to Tete Nord de Fours for the most amazing panoramic views.
I hope you enjoy the Qwiki video below about our Tour de Mont Blanc walk from Chapieux to Les Houches
If you can't see the Qwiki video below, view it on my blog here or View on Qwiki
The walk now took as back down to Col de la Croix du Bonhomme and then wound along a grassy hillside to Col du Bonhomme, where we started to get views down the Val Montjoie towards Contamines. The descent to Refuge de la Balme took us down over a bed of glacial morraine with views of Lac Jovet hanging above the valley, then through a marshy meadow where cows were grazing and finally down a difficult shale path to Refuge de la Balme at the head of the valley.
Highlights of Day 3
We really enjoyed the late afternoon sunshine and our dinner at Auberge de la Nova, which included a home-made vegetable soup (in the refuges it is often packet soup), a tender beef stew and a custard tart with berries.
Tete Nord de Fours at over 2750M had been recommended to us by a French couple in Chapieux and although I was all for pressing on, I'm so glad that Julia insisted we take the 1 hr detour to climb up there, first to the saddle of Col de Fours and then to the viewing point of Tete Nord de Fours. The final part of the path followed a line of cairns over an outcrop of red rock, walking over patches of snow in places and up the ridge to the viewing point where there was a table with names of all the surrounding peaks. Before us was Mont Blanc itself and on both sides, we could look right down to the valleys as well as to the route we'd climbed up. This was where we stopped for a late picnic lunch, feeling on top of the world, at one with the mountains.
I hope you enjoy the panorama video of Tete Nord de Fours below
If you can't see the Panorama video above of Tete Nord de Fours, view it on my blog here  or View on Youtube here
The view from Col du Bonhomme was also stunning as we were now at the head of the Val Montjoie, looking down towards Contamines in the distance, with views of the glacial Lac Jouet. There was a viewing table, a small shelter and this was a flat area where many walkers stopped for a rest. It was great to know that from here it would be all downhill.
Lowlights of Day 3
As we got closer to Refuge Col de Balme, the path turned into hard shale that was steep and slippery, making it difficult to keep your footing. While we had thought of retracing our steps back up to see Lac Jovet the next day, after this path we decided not to bother as we couldn't face the hour's hard climb.
At Plan de Dames, in the meadow above Refuge de la Balme we passed a large rock cairn, which the guidebook said was where an Englishwoman had perished in a storm. I felt a bit sad, wondering who this lady was and how she had come to be lost in the storm.
Day 4 Refuge de la Balme to Contamines
We enjoyed our stay at the Refuge de la Balme, a collection of old converted dairy buildings, which was run by a group of exceptionally friendly and efficient young men. They were working hard to keep the place spick and span and had almost finished their chores by the time we left around 9am with the sun creeping over the mountain peak behind us while the Refuge was still in shadow. It was an easy walk down the valley, with the odd chalet now appearing in the meadows and forest on either side of the path. After 40 minutes we reached the pretty Refuge Nant Borrant where we stopped for morning coffee, before continuing our leisurely stroll down to the chapel at Notre Dame de la Gorge, where we stopped for a while to look around. By now we were getting close to Contamines and passing day walkers who had come up to see the chapel as well as the nearby boating lake with pedalos and a cafe. The surroundings were becoming more suburban with holiday apartments and proper roads and by early afternoon we reached the village of Contamines itself, with plenty of bars and restaurants. After checking into Hotel le Christiana we sat on the terrace of one of the cafes in the sunshine for a late lunch of Salade Nicoise for me (in honour of my recent girl's weekend in Nice) and spent the rest of the afternoon relaxing.
Highlights of Day 4
We enjoyed our relaxing morning coffee in the sunny garden of Refuge Nant Borrant, which was covered with colourful window boxes with an array of orange, yellow and green deckchairs, just inviting us to take the weight off our feet. We felt pretty smug as we watched the walkers heading up the hill, in the opposite direction, knowing that they would certainly have a gruelling 6 hour climb before they reached the top and arrive exhausted at Refuge Croix de Bonhomme.
The chapel at Notre Dame de la Gorge is a place of pilgrimage, built on the site of 13th century hermitage and was beautiful inside with plenty of colour and charming carved wooden statues at the side altars. We also enjoyed looking at the boards from the photo exhibition within the grounds of the chapel, with stunning mountain photography.
It was good to be back in the relative luxury of a proper hotel at Hotel le Christiania, after the bunk rooms and outside shower blocks of the mountain refuges, and we enjoyed our traditional Savoyard meal of Tartiflette, with plenty of cream and cheese that evening.
Lowlights of Day 4
We were a little sad to be leaving the grandeur of the high mountain passes, especially as we reached the suburbs of Contamines. The pedalos on the boating lake and slides of the leisure park felt a little fake after the wild beauty of the mountains and we felt rather superior to the day walkers, who were taking a much easier trek than the one we had just done.
Day 5 Contamines to Les Houches
Our final day took us mainly through meadows and attractive alpine hamlets with pretty gardens and window boxes, then climbing through forest higher and higher, occasionally dipping down to cross a fast rushing glacial stream. There are two routes to Contamines and we had decided to take the low road, while the high route would have taken us steeply up under the Bionnassay Glacier, which we had in sight for much of the walk. At the village of Bionnassay we stopped for lunch at the Auberge de Bionnassay, before continuing up through forest to Col de Voza, a high point from which we could look down on the Chamonix Valley. This is a stop for the Tramway that comes up from St Gervais-les-bains, bringing many mountain-bikers, who were gathering for their cycle back down to the valley. After a stop in the cafe we made the final descent for a couple of hours on the winding piste track, under the cable cars to Les Houches where we had started our trek 3 years before. We'd finally finished the Tour de Mont Blanc!
Highlights of Day 5
We had a very pleasant lunch, sitting on the grassy outdoor terrace of Auberge de Bionnassay, with a view of the Bionnassay glacier hanging on the opposite side of the valley. We were surrounded by tables of locals and shared the Plat de Jour followed by the traditional Tarte aux mytilles. We really enjoyed the atmosphere of the Auberge with an enclosure of rabbits hopping around under the shade of a tree laden with yellow plums.
By afternoon we were sitting in the cafe garden at Col de Voza watching a large group of mountainbikers who were gathering for their cycle down the mountain back to Chamonix. There was a train stop for the mountain tramway that comes up from St Gervais-les-bains with a fascinating exhibition of old photos and information about the history of the railway.
Despite the fact that the final couple of days had been less demanding, we felt elated and gave each other a big hug, when we finally reached Hotel Slalom in Les Houches, the place that we had left from 3 years earlier. It was a great sense of achievement, knowing that we had completed the Tour de Mont Blanc. We collared a couple of passing walkers to take a final "End of Walk" photo to complete the series.
Lowlights of Day 5
As we walked up to Col de Voza our tranquility was disturbed by the buzz of chainsaws in the forest and our path was blocked by a big lorry hoisting tree trunks into the back of the truck. They showed no signs of stopping, so we had to clamber up a grassy bank to get past – no respect for intrepid walkers like us!
The path down to Les Houches was along a gravel road of the ski piste which was slippery and very difficult to walk on, and occasionally we were nearly run over by mountain bikers whizzing past, although luckily they mainly kept to their own path. It was not the most attractive descent to end our walk.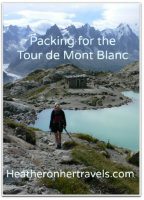 You'll also be subscribed to our free monthly newsletter for great travel resources, news and offers, but you can unsubscribe at any time and we'll never share your e-mail.
Resources for walking the Tour de Mont Blanc
On this part of the Tour de Mont Blanc we stopped at the following hotels and mountain refuges;
 In Chapieux we stayed at Auberge de la Nova, a friendly inn at the end of the Vallee des Glaciers at 1550m with private and dorm rooms and a large restaurant and garden. We paid €43 per person per night for half board (dinner and breakfast) in a 12 person dorm. You can book by e-mail info@refugelanova.com or Telephone +33 479 89 07 15 or via the TMB website.
Our next night was at Refuge de la Balme, a friendly refuge made up of several different buildings of an old dairy farm, with the dorms, bathroom block and dining room all being in separate adjoining buildings. We shared a private room with bunk beds and paid €45 per person for half board (dinner and breakfast). You can book by e-mail refuge-labalme@club-internet.fr or Telephone +33 04 50 47 03 54 or via the TMB website.
In Contamines we stayed at Hotel le Christiania, a family run hotel with an outdoor swimming pool where we stayed in an en suite twin room and paid €69 per person half board (dinner and breakfast). There are many different bars and restaurants in Contamines, but we did not see any other hotels. The dinner was enjoyable but there are other eating out options in the village if you want to keep costs down. I tried to book the hotel directly though their website contact form but got no response so I had to book by telephone.
In Les Houches we stayed at Hotel Slalom, a very pleasant boutique hotel that is right at the bottom of the TMB path, and ideal for walkers who want a bit more comfort and style. We paid €89 per en suite room plus €10 per person for breakfast. The hotel has a bar, but no restaurant although there are some good restaurant options within a few minutes walk. Read my review of Hotel Slalom.
My waterproof North Face jacket and walking trousers and Leki Micro Vario walking poles were provided by outdoor clothing specialist, Ellis Brigham who have a wide range of mountain clothing and walking gear you might need for a trek in the mountains, which are available both through their website and UK stores. Connect with them on Twitter @ellis_brigham, on their Facebook page and YouTube Channel
My Berghaus Explorer Light Gore-Tex walking boots were provided by Blacks, with online and high street stores in the UK, specialising in Outdoor Clothing for walking, hiking and trail-running as well as camping and travel gear. Connect with them on Twitter @blacks_online, and on their Facebook page, Google+ and YouTube channel
We used the Cicerone Tour of Mont Blanc guide by Kev Reynolds – we found it to be an excellent guide for both the clockwise and anti-clockwise route with detailed route guide, maps, accommodation information and points of interest along the route.
This article by Heather Cowper is originally published at Heatheronhertravels.com – Read the original article here
You'll also find our sister blog with tips on how to build a successful travel blog at My Blogging Journey
 Don't miss out – subscribe to Heather on her travels