When my friend Julia and I started walking the Tour de Mont Blanc three years ago, we weren't convinced that we needed walking poles at all. We'd done plenty of walks around Britain without them and couldn't really see the point. In fact I remember that Julia had to hire one pole from the local ski hire shop in Les Houches, while I had one and borrowed another from Hotel Slalom, which I managed to break before the end of the trip.
Three years on and we are both totally convinced that walking poles are essential on a mountain hike that is as arduous as the Tour de Mont Blanc. In the second year of our walk Julia suffered from altitude sickness and we had to cut short one of our days walking because of it, so she really regretted only having one pole to support her on that trip. Last year I had some inexpensive telescopic poles, but they managed to get wedged together, so that I couldn't pack them down small, and they had to go. This year I was convinced that I needed some quality walking poles that would stay the course and see me a through a few mountain treks in years to come, so I checked out what my local Ellis Brigham store in Bristol had to offer. My eye was caught by a pair of Leki Micro Vario carbon poles which admittedly weren't cheap at around £145 but which had the great advantage of packing down much smaller than anything else I'd seen.
Why do you need walking poles?
Perhaps you're planning a long mountain trek like the Tour de Mont Blanc and are undecided on whether you need walking poles, so let me tell explain why they are essential. Firstly, if you are walking for up to 10 hours a day, carrying a backpack that is 10kg or more, your legs deserve all the support you can give them. The poles spread the load on your knees, legs and ankles through your whole body, so you'll be less exhausted at the end of the day and with less risk of twists and sprains. Secondly, the walking poles help you balance on uneven ground and sleep slopes, when your rucksack makes you top heavy, or you're picking your way across a slippery stream.
Trudge up the mountain for 3 hours or more as we did regularly on the Tour de Mont Blanc and the poles will help propel you up the hill, steadying you on the climb. I remember that when I went Nordic Walking on Dartmoor, it was described as "like walking in 4 wheel drive", which is just the traction you want on an uneven mountain trail. You might think that once you're over that mountain crest, the walk downhill will be a breeze in comparison, but in fact that can be just as tough, if not more so on your knees. The path may be quite slippery with shale or mud and there could be stones or boulders along the way, so you are just as much in need to poles to support your legs on the downhill run.
Why I chose the Leki Micro Vario walking poles
When I looked around the range of walking poles in Ellis Brigham, I knew that Leki were one of the leading manufacturers of high quality walking poles, so I shouldn't have any of the mishaps with breaking or locking poles as I'd experienced in previous years. I decided to try the Leki Micro Vario poles because they have a unique design and fold up into sections for storage, making them some of the smallest and lightest poles I'd seen. We were travelling to Geneva on cabin baggage only, keeping our packs as small as possible, so this was a big bonus, as my poles could easily fit easily into the side pocket of my rucksack. The fold-up design also meant that I could pack up my poles and store them in my  room in the mountain refuges, rather than leaving them in the communal boot area. Although I'd met the most friendly people on the mountain, I did have a mysterious experience one year when I discovered a piece of my pole had gone missing, so I was a little wary.
How to assemble your Leki Micro Vario Poles
You may think that it would be completely obvious how to assemble a pair of walking poles, but I found that my Leki micro vario poles had a locking button that was hidden when the poles were broken down, and I puzzled for quite a while to work it out, so I've made the video below to show you how.
First fit the two lower sections that are joined by cord together
Next extend the third section until a small metal button clicks into place to secure the whole pole firmly
Extend the fourth upper section until you have it at the correct height, marked by the rings on the pole, then push the locking lever down against the pole to secure
Finally adjust the wrist straps by pulling the top strap upwards to flip up the locking mechanism, adjust the strap length from the underneath and then flip the locking mechanism back down to secure.
I hope you find the video below useful, about how to assemble your Leki Micro Vario Walking Poles
If you can't see the video above about the Leki Micro Vario walking poles, watch it on my blog here or on Youtube here and you can subscribe using the button above.
Subscribe to all my videos in I-tunes
If you enjoyed this video, check out the others in my Video archive
Another great feature of these poles is the grip handle which was extremely comfortable with an egg shaped top that fitted into the palm of your hand and an equally comfortable shaped grip with soft wrist supports.
Who are these poles good for?
I should mention that at around £145 the Leki Micro Vario poles are at the expensive end of the range of poles stocked by Ellis Brigham. There are plenty of options for poles from Leki and other manufacturers, but none that pack so small and light. If you are not a regular hiker and plan to do the Tour de Mont Blanc or a similar mountain trek as a one-off, then I would probably buy some walking poles at the cheaper end of the range. However, for frequent walkers and those who like to travel light, the Leki Micro Vario poles are an excellent investment, the sort of kit that is always a pleasure to use. These poles are also great for those who combine hiking with climbing and need poles that will pack away easily into a rucksack pocket when they need their hands free. Whatever your budget,do make sure that you have walking poles of some sort on the Tour de Mont Blanc as it's an arduous trek and you really do need them.
The Leki Micro Vario poles are made from carbon for minimum weight with maximum strength. They pack down to around 38cm and extend from 110cm to 130 cm in height. The poles feature the Leki Aergon grip which allows a range of gripping options, with a wrist strap adjustment that is easy to use, even when wearing gloves. The speedlock, external locking mechanism allows the height of the poles to be adjusted easily and securely. The poles also have replaceable metal tips in case one gets caught or breaks. These poles retail at around £145 for the pair, but other walking poles are on sale from £50 per pair.  Thanks to Ellis Brigham who gave me a pair of Leki Micro Vario Carbon Poles to try for this review and specialise in all kinds of Mountain clothing and equipment.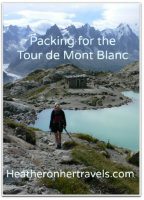 You'll also be subscribed to our free monthly newsletter for great travel resources, news and offers, but you can unsubscribe at any time and we'll never share your e-mail.
More great gear for the Tour de Mont Blanc
How to choose the perfect hiking boots for the Tour de Mont Blanc
The mountain clothing you'll need for treking on the Tour de Mont Blanc – video
What I packed for my mini Tour de Mont Blanc – video
This article by Heather Cowper is originally published at Heatheronhertravels.com – Read the original article here
You'll also find our sister blog with tips on how to build a successful travel blog at My Blogging Journey
 Don't miss out – subscribe to Heather on her travels