If you are visiting London but want to escape the traffic and crowds, allow me to introduce you to leafy, riverside Richmond-upon-Thames. The well-heeled residents would really rather keep Richmond's 2,500 acre park, views of the Thames, and oh-so-English cricket green to themselves. But with the newly renovated Richmond Harbour Hotel and Spa, there's no reason why you shouldn't enjoy the country-comes-to-town feel too! It's one of the nicest boutique hotels in Richmond, where the bustle of Central London is an easy train ride but feels a world away, making the perfect weekend break for those who want the best of all worlds. At the Richmond Harbour Hotel you can combine stylish city sophistication with country relaxation, not to mention great food and a spa for essential pampering.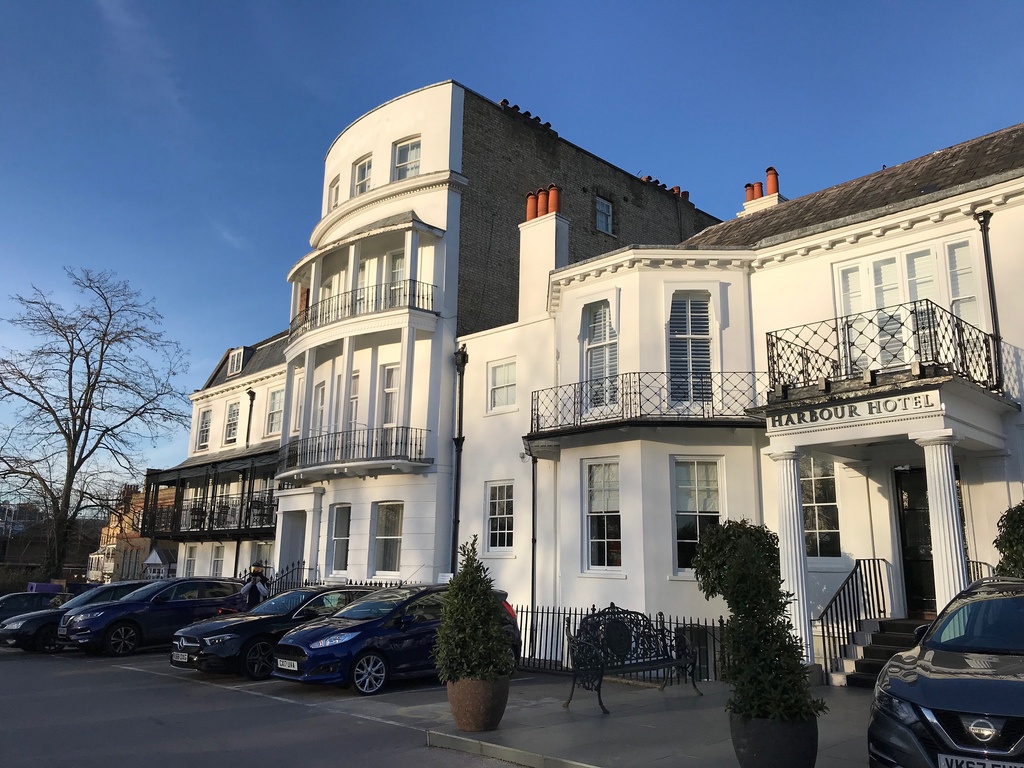 About the Richmond Harbour Hotel and Spa
You may wonder why a hotel so far from the sea is named the Harbour Hotel? The answer of course is that the Harbour Group of luxury boutique hotels started with seaside properties on the South Coast of England. As they have expanded, their hotels continue to provide a personalised experience and strong sense of place. At the Richmond Harbour Hotel you'll find a boutique hotel near London, with artwork that reflects the green space of Richmond Park with its deer and wildlife, as well as a selection of Hunter wellies in the lobby to borrow for your muddy walks. The hotel is contained in a row of 18th century Georgian buildings which makes for bags of charm and character, complete with winding stairways and creaky floorboards.
Hotels in Richmond upon Thames – the location of Richmond Harbour Hotel
Since the former Richmond Gate Hotel was acquired by the Harbour Hotel Group about a year ago, it has been put through a gradual renovation programme. The public areas have been remodelled and The Gate Restaurant offers a stylish but welcoming bar and kitchen that reflects the leafy charm of Richmond. This is one of the best located boutique hotels in Richmond upon Thames, set at the top of Richmond Hill, a stone's throw from the gates of Richmond Park and the broad terrace with views over the River Thames. It's an ideal location for those who want a relaxing break with country walks and beautiful views, yet a short stroll from the shopping and restaurants of Richmond town centre. Richmond station is just 30 minute on foot or 10 minutes by car, giving you excellent access to Central London and Heathrow Airport.
First impressions at the Richmond Harbour Hotel and Spa
Walking up the steps of the hotel entrance with its imposing Georgian columns, we entered the marble floored lobby. The elegant fireplace and classical busts were just as you might hope to find in a country house, while the table was covered with the leafy ferns that are found in Richmond Park and a tree branch seemed to be growing from the ceiling.
To our left was a drawing room with wooden parquet floors, contemporary artwork and lots of coffee table books, where you might sit a while waiting for friends. The reception desk was next door in the adjoining annex, where we were given a friendly and professional welcome and shown to our room, with help for our bags.
Our bedroom at the Richmond Harbour Hotel and Spa
Our light and airy suite room (Room 22), looked out towards the front of the hotel, where the river could just be glimpsed between the trees. The autumnal shades of green and brown seemed to echo the parkland nearby, with the contemporary artwork of a Mr Stag and Mr Fox on the walls, bringing Richmond Park into the hotel. Perhaps the ocean blue throw and the deckchair stripes of the cushions were there to remind us of the Harbour hotel's seaside heritage too!
In the wardrobe we found the hotel necessities of a safe (which I was pleased to see was a decent size), kettle and tea/ coffee making, iron and ironing board. The sideboard hid an empty fridge and best of all there was a complimentary drinks tray with gin and sherry for our use. Mixers are charged separately but we found none in the fridge, so I guess we would have needed to request these from the bar.
The bed felt huge, with a super-comfy padded mattress and Egyptian cotton bedlinen. It was also quite high and I felt I might have walked into the princess and the pea fairytale, with feather mattresses piled high. It was the sort of bed I could imagine the butler bringing me breakfast in bed, which I would enjoy sitting up like Princess Margaret, wearing a cashmere bed-jacket and string of pearls.
You may also enjoy: Bristol Harbour Hotel and Spa – A stylish boutique hotel in Bristol's Old City
The only thing we wished different was that the large sash windows could have opened, as there was no means of getting fresh air into to room apart from to turn on the air conditioning, which is not quite the same. At the time of our visit (February 2019) around half of the hotel's 72 rooms had been redecorated in this new style, but another half were still to go through their refurbishment. Depending on when you book, I'd be sure to check what style of room you'll get.
Our Bathroom at Richmond Harbour Hotel
While 45 of the 72 bedrooms of the Richmond Harbour Hotel had been redecorated, far less of the bathrooms had been refurbished and at the time of our visit there were only 9 of the new style bathrooms. The newer style bathrooms feature luxurious white marble style tiles, with a contemporary feel in the sinks and fittings. The original style bathroom, that we had in our room, was looking a bit dated and showing signs of wear and tear. However it was perfectly clean, with lovely White Company toiletries and a powerful shower over the bath. Since the bathrooms are gradually being updated so you may wish to check what style of bathroom you will have in the room when you book – I've shown both styles below so that you can see the difference.
You may also enjoy: Review: Vanbrugh House Hotel – a boutique hotel in Oxford
The HarSPA at Richmond Harbour Hotel and Spa
After we had settled into our room, I went for a swim to try out the HarSpa facilities, which are complimentary for hotel guests. The HarSpa was formerly The Cedars Health and Leisure Club and it continues to run as a leisure club with non-resident members who come to use the gym, pool and saunas. As part of the hotel refurbishment, the leisure facilities have also been updated and we loved the light and airy feel of the pool area with a colourful mural at one end.
Tucked away was a sauna and steam room where we relaxed for a bit and then tried a few lengths to test out the pool. Although were were not feeling especially energetic, it's a good size pool if you like to get your exercise through swimming. Between the pool and the changing rooms were banks of exercise machines which were being well used. There's also a Juice Bar & Café which doubles as the gym reception, serving sandwiches, cakes, coffee and juices (open 7am – 6.30pm). If you don't want to have a full hotel breakfast, this would be an ideal spot to grab something light and healthy.
The spa includes 13 treatment rooms with a relaxation area and a selection of the ESPA range as a well as the Harbour Hotel's own HarSpa range using naturally sourced marine elements and botanicals. You can book a wide range of treatments, including manicures, pedicures, facials and massages to leave you feeling relaxed and pampered during your stay.
You may also enjoy: How to spend a perfect weekend in Petworth, Sussex
Dinner at The Gate Restaurant
One of the favourite parts of our stay at Richmond Harbour Hotel was our Friday night dinner at The Gate Restaurant, named after the nearby Richmond Park gates. The restaurant spans the whole back of the hotel, with a light and airy conservatory feel from the large arched windows and glazed roof. At one end of the room is a cosy bar area, the place to enjoy a cocktail or beer, with live music and DJ's at the weekends. There's a wicker day bed to provide the perfect date-night instagram selfie opportunity, that seems to be a requirement of every trendy bar these days.
The bar area has a 70s inspired Moroccan vibe with kelim cushions, velvet banquettes, oriental lamps and potted ferns hanging from the ceiling. The main dining area bordered on one side by a marble counter bar, had more of a Scandi meets William Morris feel. The furnishings were light and contemporary, but with a definite hint of exotic Edwardian in the patterned fabrics, fringed lampshades and moulded mirrors. The restaurant looks out on a spacious paved terrace which would be a perfect place for a drink on sunny summer weekends.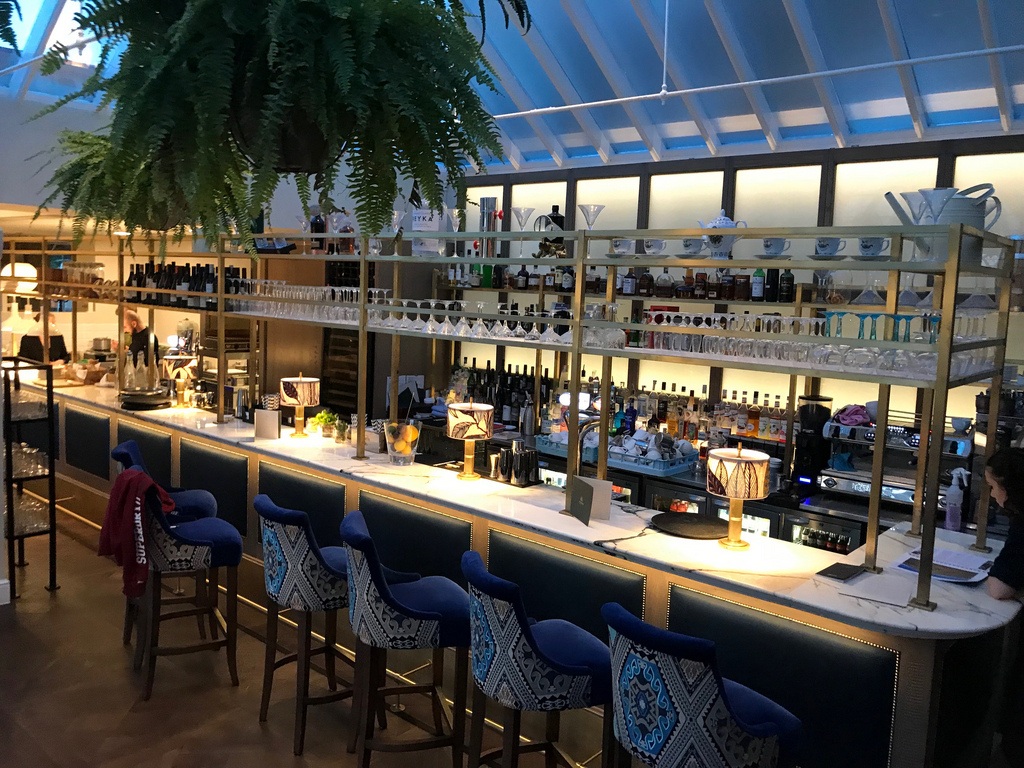 What we ate at The Gate Restaurant
We were joined by our grown up son and daughter for drinks and dinner and started with a couple of cocktails from the bar. My Grapefruit Margarita had plenty of zing but my daughter's Whiskey Sour was full of crushed ice rather than shaken over ice. As we were getting quite hungry I ordered one of the small plates to go with our drinks instead of waiting for a starter; an avocado and chilli dip with Taro chips which was delicious and ideal for sharing with our drinks.
Guy tried the smoked haddock soufflé for his starter, which was sensationally rich and smoky, with a fluffy twice baked soufflé at the centre of the dish, sitting in a pool of cheesy sauce. I liked it so much that I ordered it again when we returned for lunch another day. The Harbour Hotel restaurants are well known for their excellent seafood and three of us ordered the halibut which was excellent. The fish was perfectly cooked and arranged on a pile of clams and tiny girolle mushrooms in a buttery sauce, which we ate with shared sides of mash and some seasonal greens.
You may also enjoy: A weekend stay at luxury Cotswold Cottages – at Bruern Cottages
For desert we shared a lemon tart and a pomegranate trifle which were fine but not exceptional – we felt that the strength was in the main dishes and starters. Overall we were really impressed with the The Gate Restaurant which offers a well balanced menu with plenty of fish and plant based options, as well as meat dishes. The ambiance is relaxed but a little bit special, without being at all stuffy.
We ate –  Starters: Avocado and Chilli dip £6, Twice baked smoked haddock souffle £8, Mains: Halibut with Girolles and Clams £21, Creamed mash potato £4, Seasonal greens £5, rib-eye steak on the bone with triple cooked chips £24, Deserts: Lemon tart £6, Pomegranate trifle £6. Look out for the set menu available Monday – Friday 11.30am – 6pm with 2 courses for £19 and 3 courses for £22.50 and a choice of 3 starters, 3 mains, 3 deserts plus sides at £4.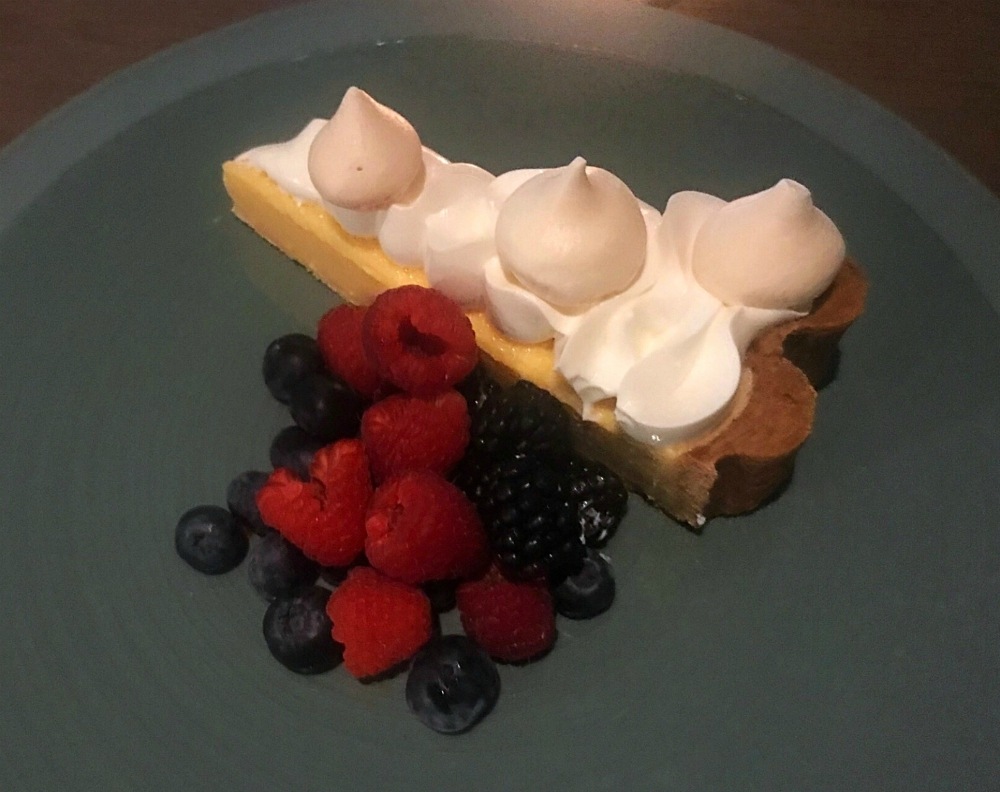 Breakfast at the Richmond Harbour Hotel and Spa
After a great night's sleep we were back in The Gate restaurant for our breakfast, with an excellent spread of cereals, fresh fruit, yoghurts and compotes, cheese and ham, with table service for coffee and freshly made toast. We really enjoyed the cooked options that upheld the great British tradition of a hearty breakfast to start the day.
Over the two mornings of our stay I ordered my favourite Eggs Royale with soft poached eggs on a muffin, smoked salmon and hollandaise. Guy tried the vegetarian breakfast with mushrooms, tomato, spinach and grilled halloumi on sourdough, which was so tasty that I ordered it on our second morning too.
Guy also tried a very rich and moreish Omelette Arnold Bennett with smoked haddock, gruyere cheese and hollandaise, which was reputedly created at the Savoy Hotel in the 1920s for the English novelist who was staying there. If you don't have breakfast included with your stay, the cost is £11.95 for the continental breakfast or £16.95 if you want the cooked breakfast as well.
Events spaces at Richmond Harbour Hotel
We noticed a couple of reception elegant rooms at the hotel which could be used for business events or private parties and celebrations. On the corner of the building, with windows on two sides was The Library, which was open for guests to sit and look at coffee table books or work, when not in use for private functions.
Who will enjoy staying at Richmond Harbour Hotel?
The Richmond Harbour Hotel is a luxurious boutique hotel that will suit stylish couples looking for a leisure break. It's the ideal hotel to combine the well-heeled sophistication of Richmond with the green spaces of Richmond Park and views from Richmond Hill. The hotel will probably attract those travelling for leisure rather than business, especially those who enjoy the boutique feel and contemporary English style of The Harbour Hotels. I didn't see many children at the hotel, although I'm sure they would be happy to accommodate babies or older children, but the hotel is generally better suited for couples than families.

Book for the Richmond Harbour Hotel
For more information and to book visit The Richmond Harbour Hotel Website | Instagram | Twitter | Facebook
Good to know about Richmond Harbour Hotel
Because the hotel is set in a group of adjoining of 18th century buildings, you need to be prepared for some of the things that go with older properties, namely narrow corridors and staircases, changing levels, sloping floors and creaky floorboards.
At the time of our visit in February 2019 not all the bedrooms or bathrooms had been updated, so you may wish to check the style of room and bathroom you will get when you book.
How to get to Richmond Harbour Hotel
The hotel is located on the edge of Richmond park, a short walk from Richmond station with excellent links into London. The hotel is easily accessed by car, with a car park at the front of the hotel and routes into Richmond from the M3 and M4.
From London Heathrow Airport: Take the London underground line from all Heathrow airport terminals, using the Piccadilly line (Dark Blue) eastbound to Hammersmith, then change for the District line (Green) westbound for Richmond. A taxi from the airport will take 35-40 minutes depending on the traffic.
From Central London: Take the London Underground on the district line to Richmond or the overground Waterloo line from London Waterloo to Richmond. The hotel is a 25 minute walk or 10 minute taxi ride from Richmond station.
Parking: Parking is charged at a rate of £8.00 per 24 hours. The car park is open air with street access at the front of the hotel and there is CCTV, although cars are left at owner's risk.
Looking for a tour of Richmond Park? Check out this Royal Deer Park Private Bike tour and picnic to explore Richmond Park
Information for visiting Richmond
For more information on things to do in the area, check out the Visit Richmond website.
If you are planning to spend time in and around London, there's lots of information on the Visit London website
Compare prices and check availability on all hotels in Richmond
If you'd like to read more about Richmond upon Thames we recommend the following books;
Richmond-upon-Thames through time
Richmond Park: From Medieval pasture to Royal Park
Richmond Park: A walker's guide
You may also enjoy: Bristol Harbour Hotel and Spa – A stylish boutique hotel in Bristol's Old City
Pin it
Disclosure: Heather and Guy were hosted* by the Harbour Hotel Richmond who provided our 2 night hotel stay with breakfast and dinner for 2 people.
* More info on my policies page
This article is originally published at Heatheronhertravels.com – Read the original article here