I'd like to share with you what I packed for my 3 days walking above Chamonix on the Tour de Mont Blanc Path, as you'll want to pack light but take the right things, especially if you're walking the full 11 day TMB circuit.
Although we were only walking for 3 days I don't think I'd pack much more even if I was doing the full Tour de Mont Blanc, although there were one or two extra things that I'd pack if I went again. You need to take account of the fact that you could occasionally face snow on the high passes, even in the middle of summer, but you could also be lucky and have sunshine and blue skies, and there again, you're unlikely to go for the full 11 days without some rain. Pack for every possibility seems to be the watchword.
At Refuge Bellachat I sat next to a French lady at dinner who told me about a previous Tour de Mont Blanc where she was camping in a snow storm in July. Bear in mind that we were walking on a stretch of the TMB that is popular and easily accessible through cable cars and chair lifts and that other stretches may be more remote. The things I've mentioned below are based on my experience over 3 days but I'd suggest that you consult guide books and other TMB resources to decide what you personally need to take – there's an excellent packing checklist on the Walkingthetmb website.
If you cannot see the embedded video above, view it on my blog here
Download What to pack TMB Video [MP4]
View the video on YouTube here
Clothes
I took a set of clothes for walking each day and a set for the refuge, the idea being that you get hot and sweaty walking, then get to the refuge and shower and change into your clean set. Most people wear technical walking clothing, walking trousers with plenty of pockets and zip off legs and sports t-shirts that will dry quickly. I also had clean underwear and t-shirts for each day, but if you were being minimalist, you could cut down and try to wash clothes at the refugees each night. You'll also need a good, light, waterproof jacket and waterproof leggings to keep you dry when it rains or possibly a poncho that has the advantage of covering your rucksack. Alternatively you might want to take a rucksack cover, but I just got by by packing everything within the rucksack in plastic bags. Make sure you have good hiking socks and comfortable boots – you need to take care of your feet on such a long walk. As we had excellent, sunny weather, I also wore my sunhat on the open stretches – you don't want to get sunstroke. I also packed a swimsuit as you may pass various lakes, although I didn't feel tempted to use it, preferring to bask in the sun than dip a toe in the ice cold water.
You may also enjoy: Hiking clothes for women – what to wear for comfort and style
In the refuge
At most refugees you'll be lent a pair of slippers to wear inside, as you'll be requested to take off your walking boots at the door, so if you're particular you may want to bring some light plastic flip flops of your own. I did bring pyjamas but I didn't use them as the sleeping arrangements were communal and I also felt quite cold, so I just slept in my refuge clothes. You'll want to make sure that any toiletries you bring are very small and light and you may want to consider multi-purpose items such as soap/shampoo or creams. I took a light technical towel that dried quickly and a sheet sleeping bag which you'll need as you will just be provided with blankets and a pillow. If you're really cutting down on clothes, you'll want to wash out T-shirts and underwear when you arrive, so anything that will dry quickly is best.
Rucksack & Poles
I used a 35 litre rucksack and found it was the ideal size and encouraged me to pack light. It was designed for walking of this kind and had plenty of zip compartments and outside pouches to keep water, map and snacks. Everything inside was packed into plastic bags to keep it dry in case of downpours and I also had a few spare plastic bags. I couldn't have done without a pair of walking poles to help take the strain off knees and legs and rather than bring them from the UK, we hired them from the local sports shop for €5 per pair per day. This was economical for a short walk, but if we'd been going for longer, we could have bought a set starting at €35. I recommend that you book into the same hotel for the start and finish, so that you can leave any extra luggage there. I travelled with a carry-on case with the empty rucksack inside and then left the case in the luggage store at Hotel Slalom in Les Houches where we stayed.
You may also enjoy: Hiking clothes for women – what to wear for comfort and style
Safety and Health
I did take a few items for safety, such as a compass, whistle and silver safety blanket that I never used, and a pocket map that I bought locally but only occasionally referred to as we mainly used the excellent Cicerone Tour of Mont Blanc Guide by Kev Reynolds. I packed a mini medical kit with pills for headaches & diarrhea, loads of plasters and few other things to ward off minor ailments. You'll meet plenty of other walkers on the trail, so if you were taken ill on the trail I believe you'd find someone to help, but you need to be sure your travel insurance will cover you for mountain rescue in an emergency – helicopters don't come cheap!
Eating on the trail
If you are staying in refuges on the trail, the price of €40-50 per night should include breakfast and evening meal, and this will typically be home style cooking, from ingredients that all have to be brought up from the valley. During the day, you will probably pass other cafes or refuges that are also open for ski-ers in winter and walkers in summer although on some stretches these may be few and far between, so you shouldn't count on it. The cafes tend to be expensive – everything in the Chamonix valley is pretty expensive and also the costs of getting things up to high altitude bumps up the price. Typically a beer, soft drink or ice cream was €3-4 and a slice of tart €6 – we kept the cost down and didn't really eat any full meals at lunch time, although we did stop for a drink and rest at every opportunity.
We carried enough snacks of cheese slices, dried fruit and nuts, rye bread and biscuits to keep us going for 3 days of picnic lunches and snacks, and it's worth checking the route to see where there might be opportunities to pass through villages where you can stock up again. I also enjoyed having a few boiled sweets in my pocket for an energy boost on the tough uphill stretches. You will need lots of water – we each had 3 half-litre bottles and were on a popular stretch where we could easily top up if we needed to, but I spoke to one man who carried several litres of water with him, which adds to the weight of your pack.
Cameras and technical equipment
As a travel blogger I obviously travel with more gear than most and I took my laptop which I was able to use with the free wifi at Hotel Slalom, then left it in their office until our return. I walked with my audio recorder in my pack and my camera and video recorder close to hand when I was walking. With such amazing mountain views it would be a shame not to take at least a few photos of the trip and I think it creates great memories to take photos at different parts of the walk to make a photo-diary on your return and share your achievement. It is worth keeping cameras or video cameras in a case that you can put on your belt or sling around your body, as if you are walking with a friend or in a group you don't always have time to stop for long to fish things out of your pack. We had good reception on our mobile phones and you may need to ring ahead to book the next refuge, which are often only contactable by phone.
Other things I wished I'd taken
I could have done with an extra fleece or long sleeved T-shirt for the evenings – even if you've had hot days, it can be very cold in the evenings at high altitude. As I'd seen that the forecast was good I didn't worry too much about a warm hat or gloves, but after hearing the stories of walking through snow on the high passes, I could understand why you'd need them.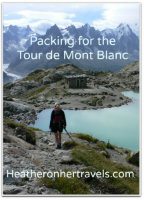 You'll also be subscribed to our free monthly newsletter for great travel resources, news and offers, but you can unsubscribe at any time and we'll never share your email.
Resources for those walking the Tour de Mont Blanc
We used the Cicerone Tour of Mont Blanc guide by Kev Reynolds – we found it to be an excellent guide for both the clockwise and anti-clockwise route with detailed route guide, maps, accommodation information and points of interest along the route.
We stayed at Refuges de Bellachat and la Flegere above Chamonix. Bookings for Refuge de Bellachat can be made only by telephone (04 50 53 43 23) and cost €40 for dinner, bed & breakfast. The cost of staying at Refuge la Flégère was €47 per person for dinner, bed and breakfast and bookings can be made by e-mail [email protected] or telephone (04 50 55 85 88 ). To avoid disappointment and a long walk, you should book your place in all refugees but can normally do so a day or two before, or from the previous refuge.
In the Chamonix valley we stayed at the modern, stylish, budget boutique Hotel Slalom that is perfectly placed in Les Houches for summer walking opposite the start of the anti-clockwise TMB route and close to the ski lifts for winter skiing. Double rooms in the summer season €86-99 plus €10 breakfast. Check for the best hotel prices in Chamonix and book here.
We booked our transfer from Geneva airport to Les Houches through Chamexpress and found them to run an extremely efficient airport to hotel service – cost was €25 + tax per person each way.
The walkingthetmb website has useful information to help you plan and prepare for your Tour de Mont Blanc walk, with a packing list and some links to other people's photographs and online diaries to inspire you.
This article is originally published at Heatheronhertravels.com
This article may contain affiliate links that provide commission on purchases you make at no extra cost to you. As an Amazon Associate I earn from qualifying purchases.