Last September, my friend Julia and I completed a 4 day walk on the Tour de Mont Blanc, experiencing a few aching limbs, but no major mishaps. However, our walk the previous year on the earlier part of the route had been a lot more stressful, and it was only due to the kindness of strangers that we made it to our end point by nightfall – you can read the full story here.
We realised later, that Julia had been suffering badly from altitude sickness, also known as Altitude Mountain Sickness or AMS. Determined to have a better experience this year, Julia researched the condition and sought medical help, which meant that this year she was well prepared and was back to her normal fit self, forging ahead of me on the path, where last year she had been lagging behind. Here's Julia's advice on AMS and how to avoid it.
The Symptoms of AMS
In retrospect it's obvious why Julia was so badly affected by AMS last year, as we arrived in Chamonix at 1100M and the next day took the cable car up the mountain to 1875M at Flegere then proceeded to walk up to 2100 M in difficult terrain. The path descended to the valley at Tre-le-champs 1400M but then took us up again over the Aiguillette du Possette at 2200M, so we experienced large variations in altitude, combined with extremely strenuous walking.
Julia learned later that she was suffering from Ataxia, where you experience a loss of strength on your muscles. She described it as like walking on jelly and feeling that her legs would give way at any moment. The feeling was quite frightening, especially walking down hill with a rucksack. Combined with this was a feeling of extreme fatigue, being faint and dizzy with a feeling of heaviness. At one point on our descent Julia felt that she might not make it down to the cafe at the bottom of the valley without fainting. The only common symptom of Ataxia that Julia didn't seem to suffer from was a headache. While we were walking together, I was aware that Julia was struggling, but not quite how bad she was feeling and in retrospect I should have stayed beside her or offered to carry some of her baggage.
The treatment for Altitude sickness
After our trip last year, Julia researched her symptoms on the Internet and was sure that she was suffering from AMS, which she had also experienced some years before in the Canadian Rockies. She sought medical advice from the nurse at a specialist travel clinic, who gave her an information leaflet about the drug Dimoxyl, which Julia was able to purchase through private prescription from her doctor.
Julia's reading also told her that dehydration is a big contributing factor in AMS, combined with the fact that she had not always been wearing a sunhat and was only using one rather than two walking poles to support her legs. To address the hydration issues, Julia purchased a clear plastic water-pouch with a tube, which she was able to put in her rucksack, and take regular sips of water as she walked which she found really helped. She also tried to regulate her breathing, by taking deep breaths and then breathing out fully, to avoid a buildup of Carbon Dioxide.
Knees, legs, twists and strains
Another hazard of walking a mountain trail, like the Tour de Mont Blanc, is the strains on your legs and knees. For the first two years that I walked on the Tour de Mont Blanc I had no problems at all with my legs and knees, but this third year one of my knees had was giving me a problem with an inflamed cartilage. My physiotherapist prescribed some anti-inflammatory medication – initially the strongest version of Ibuprofen that you can get over the counter in the UK and when that didn't seem to be improving things I had a slightly stronger anti-inflammatory drug, which is available on prescription only. Although these helped calm down the inflammation and discomfort, I was still wary of putting my knee under any major strain, while walking on mountain terrain.
As an extra precaution, I continued to take Ibuprofen while we were on the walk, to dampen down inflammation and I also wore a neoprene knee support that you can buy at pharmacies, which helped to keep my knee warm and supported. Walking poles are essential on the Tour de Mont Blanc and even more essential if you have any knee problems, because they give tremendous support to the knees and legs, helping you to keep your balance on slippery, muddy and steep paths to prevent any twists and strains. Obviously if you are having joint problems, you should seek medical advice as your condition may be different to mine, but I would recommend keeping some over-the-counter ibuprofen in your medical kit as it is an anti-inflammatory as well as a pain killer.
What was in our medical kit?
Hearing about the fitness problems we suffered you may be surprised to hear that we both travelled with a very small medical kit. Mine was all contained in a clear plastic pencil case that I borrowed from my son. The key thing is that the Tour de Mont Blanc is a popular trail, and while you can get to some wild or remote places, there are normally other walkers on the trail and you are never more than a day's walk down to the valley where you can get medical attention if you need it. With this in mind, the things in our medical kit were designed to alleviate minor ailments and discomfort, the sort of things that could spoil your holiday. Between us we were carrying; Antiseptic cream and wipes, plasters for blisters, nasal spray for blocked noses, lip sore cream for cold sores, antibiotic eye ointment, athletes foot cream, a general antibiotic and diarrhea treatment (the strongest available over the counter). As many of the mountain refuges were pretty basic, some not having a shower, and you'll be popping behind a bush for a call of nature, we both had a good supply of wipes to keep both body and hands clean.
Major Medical Emergencies
Although there are parts of the Tour de Mont Blanc that are wild and take you well away from civilization, which is part of the attractions of the walk, you are never more than a few hours walk from a hut or a town or a village in the valley that you could get down to if you had a serious medical emergency. The Tour de Mont Blanc is a strenuous walk in parts, but nothing to put you off if you're generally healthy and with a moderate level of fitness. Of course, you should have health insurance that covers you in case of a serious medical emergency that would require you to be evacuated from the mountain. If you already have a health insurance policy in place, make sure that you read the small print to check that it covers you for mountain walking and some policies have an exclusion when you go over a certain height, as you will be going over 2500m on the Tour de Mont Blanc.
Having said that, if this is something that concerns you, I would make sure that you follow the most popular way of walking which is clockwise, We did our tour anti-clockwise which meant that we were going against the flow and the clockwise direction is by far the most popular so you will get at all times during the walking season between May and September a steady flow of walkers who would help you get at least to the next refuge if you're in trouble.
The Tour de Mont Blanc can be a strenuous walk, especially if you take the whole 12 days in one go, but if you are aware of the potential health hazards and take reasonable precautions, you should have an enjoyable trek as we did.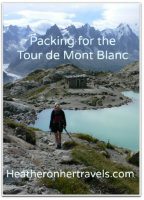 You'll also be subscribed to our free monthly newsletter for great travel resources, news and offers, but you can unsubscribe at any time and we'll never share your e-mail.
Resources for walking the Tour de Mont Blanc
We used the Cicerone Tour of Mont Blanc guide by Kev Reynolds – we found it to be an excellent guide for both the clockwise and anti-clockwise route with detailed route guide, maps, accommodation information and points of interest along the route.
My jacket and walking trousers were provided by outdoor clothing specialist, Ellis Brigham who have a wide range of mountain clothing and walking gear you might need for a trek on the mountains, which are available both through their website and UK stores.
More adventures on the Tour de Mont Blanc
The TMB Diaries Day 3 – Mont Blanc from the Italian side – Rifugio Elena to Rifugio Bonatti
The Tour de Mont Blanc Diaries Day 2 – Ferret to Rifugio Elena and over the pass to Italy
The Tour de Mont Blanc Diaries Day 1 – Champex Lac to Ferret and a walk in the woods
This article is originally published at Heatheronhertravels.com
This article may contain affiliate links that provide commission on purchases you make at no extra cost to you. As an Amazon Associate I earn from qualifying purchases.